CULINARY COUP   .   .   .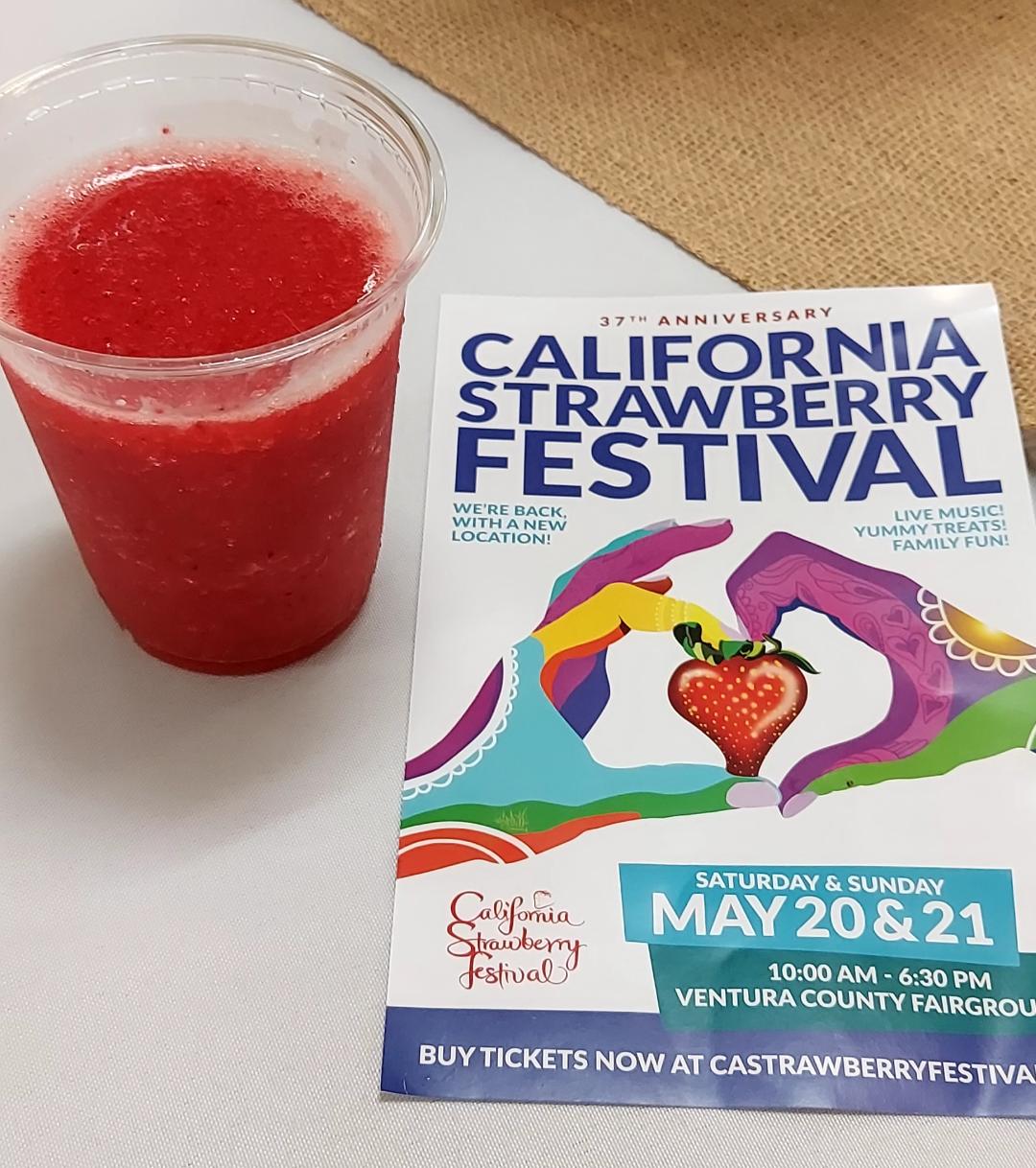 2023 CALIFORNIA STRAWBERRY FESTIVAL THRIVES AT VENTURA COUNTY FAIRGROUNDS
ARTIST KIMBERLY DURAN'S 2020 WINNING POSTER ON DISPLAY
By Bonnie Carroll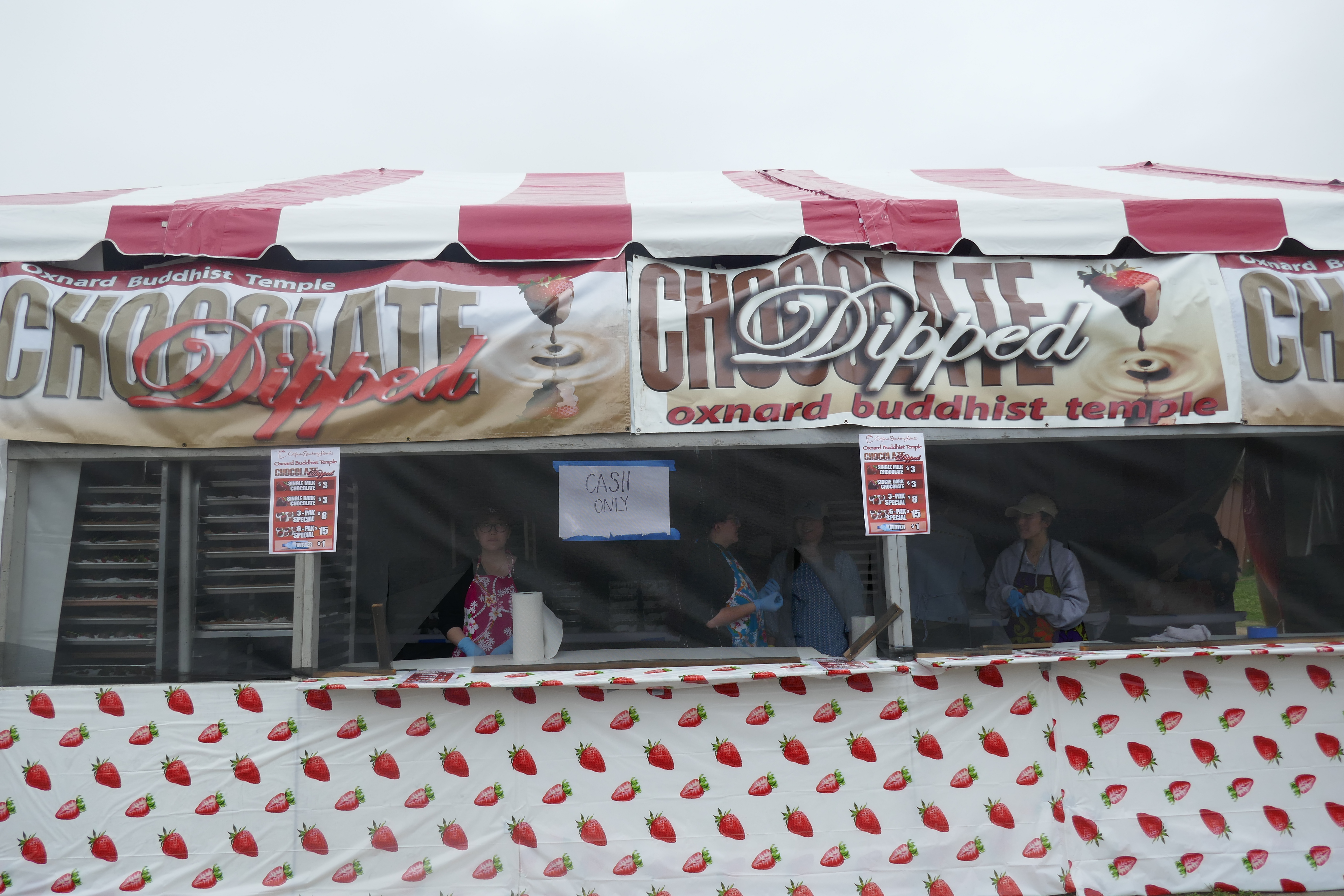 Chocolate Dipped Strawberries
On March 3, 2020, the winner of the year's California Strawberry Festival poster contest was officially announced, but sixteen days later, the festival was canceled due to the pandemic. Finally, after three years, artist Kimberly Duran's winning poster became the center point of the festival on May 20 and 21 at the Ventura County Fairgrounds.
"We've been waiting to show off Kimberly's design for three years," says Dean Kato, festival chairperson. "She's a gifted artist and her design captures the wonderful community spirit that's always present at the festival." Duran's artwork was chosen from more than 60 entries.
I enjoyed speaking with Kimberly Duran during the festival and shared my amazement at her stunning artwork. Kimberly, who was thrilled to finally be able to display her beautiful award-winning poster, is a self-taught artist, which is hard to believe due to her outstanding and creative use of original artistic imagination and brilliant color statements.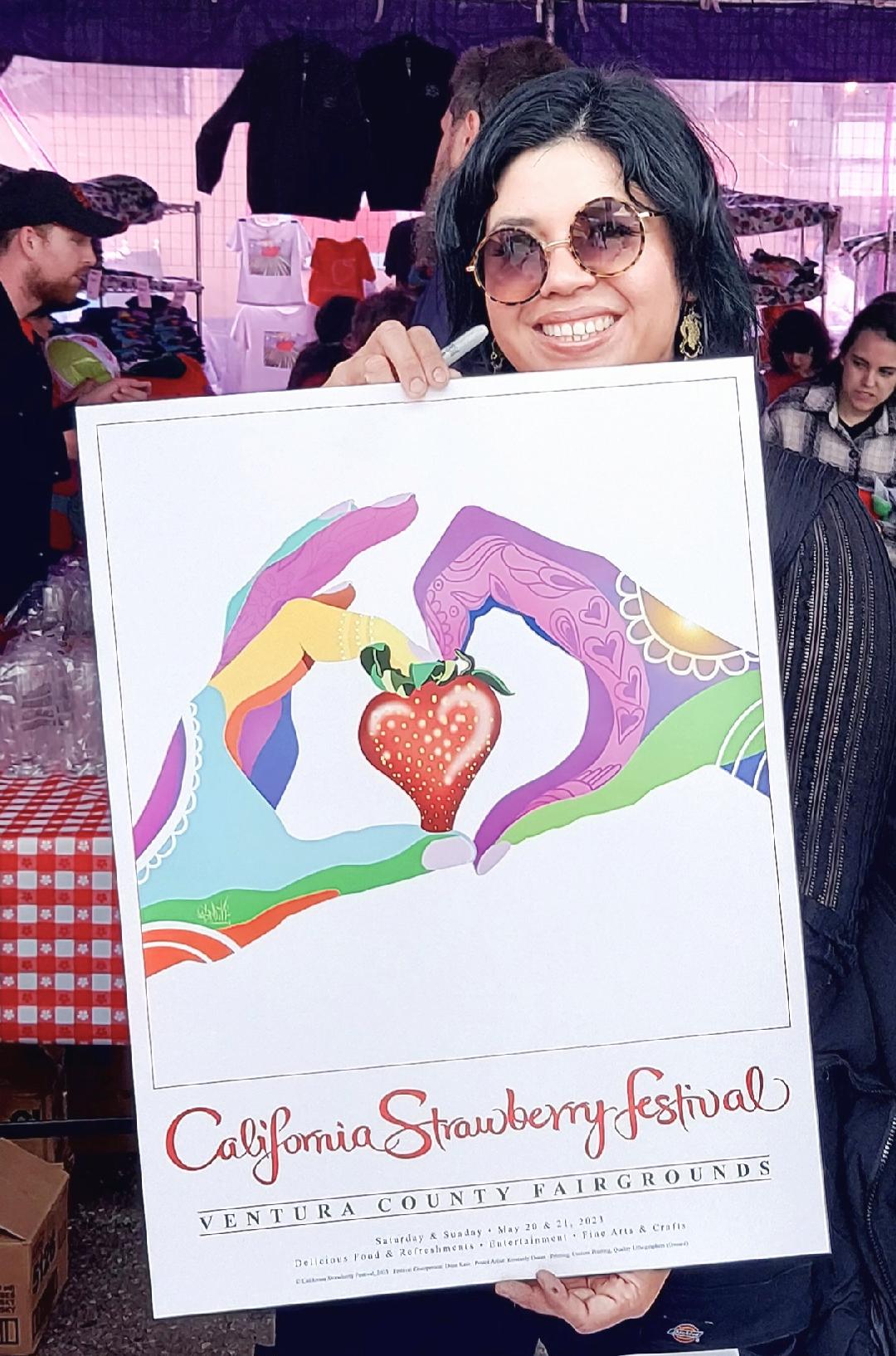 Kimberly Duran is a Chicana muralist based out of Santa Ana, Calif. She is co-founder of the mural team, The Heavy, with artist Bud Herrera. Her work is on display throughout Southern California to Mexico City. The 2020 poster combines a message of love with her love of strawberries (which she eats every morning). She says the shape of a strawberry reminds her of a heart. "Spreading love one strawberry at a time."
The 37th Annual California Strawberry Festival beloved traditional experience was moved to a new location Ventura County Fairgrounds this year, and people told me they much preferred the larger and more family friendly space. The festival featured more than 50 food and beverage booths, mostly with strawberry inspired dishes or drinks, live entertainment, a Strawberryland fun zone, and Ninja Nation obstacle course.
VIPs savored the fine food and service of DJ's California Catering in a colorful lounge decorated with historic Strawberry Festival Posters. My guest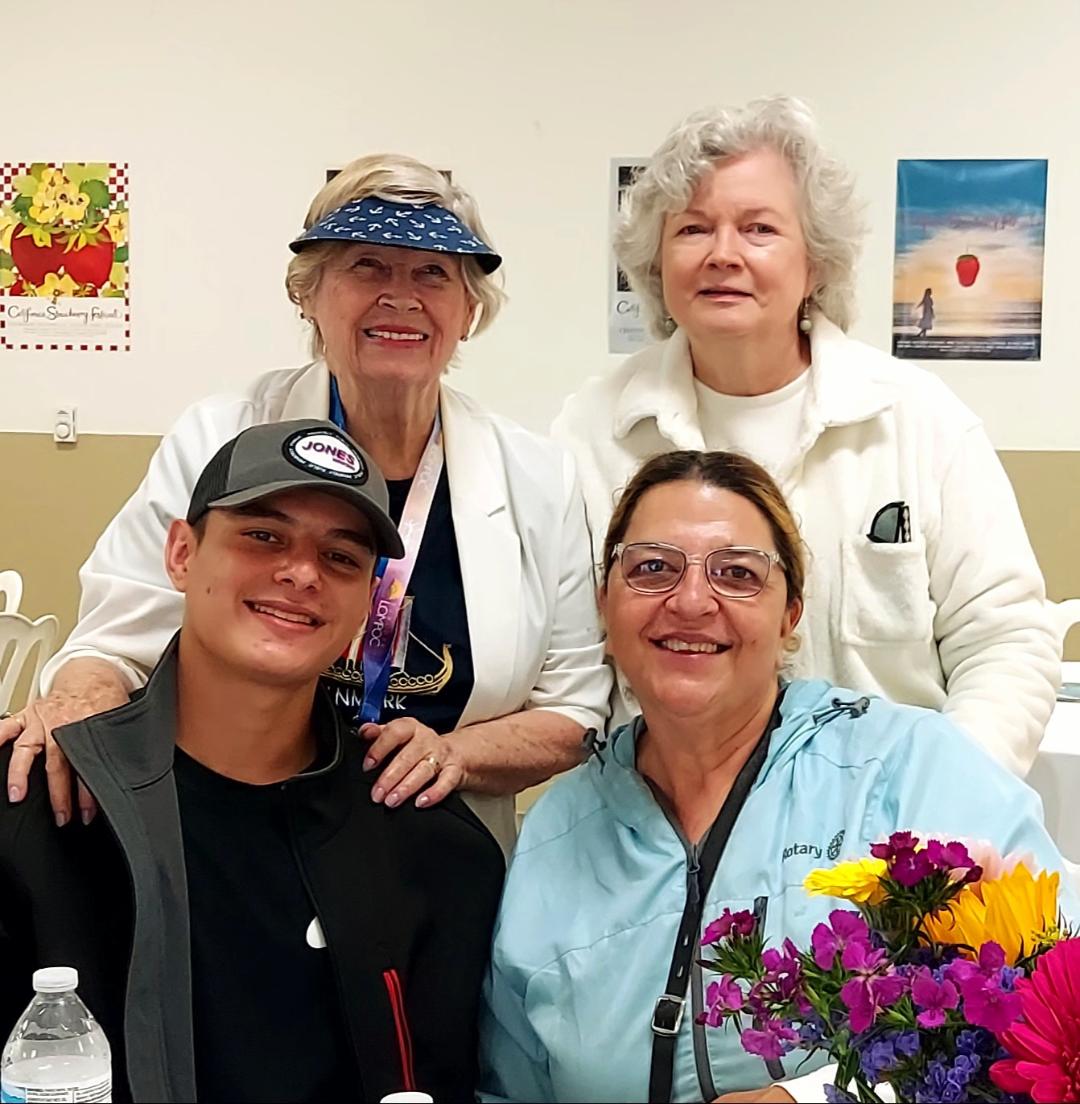 and I met an interesting Malibu Chamber of Commerce grandmother and her visiting Costa Rican grandson to chat with over lunch, who were delighted to learn we were board members of the Santa Barbara Puerto Vallarta Sister Cities Board of Directors, and we had both traveled to Costa Rica and loved it. Also had fun meeting a few dedicated California Highway Patrol officers, California Sheriff's, and emergency medical service members on-site who were sharing information and assisting anyone who needed them.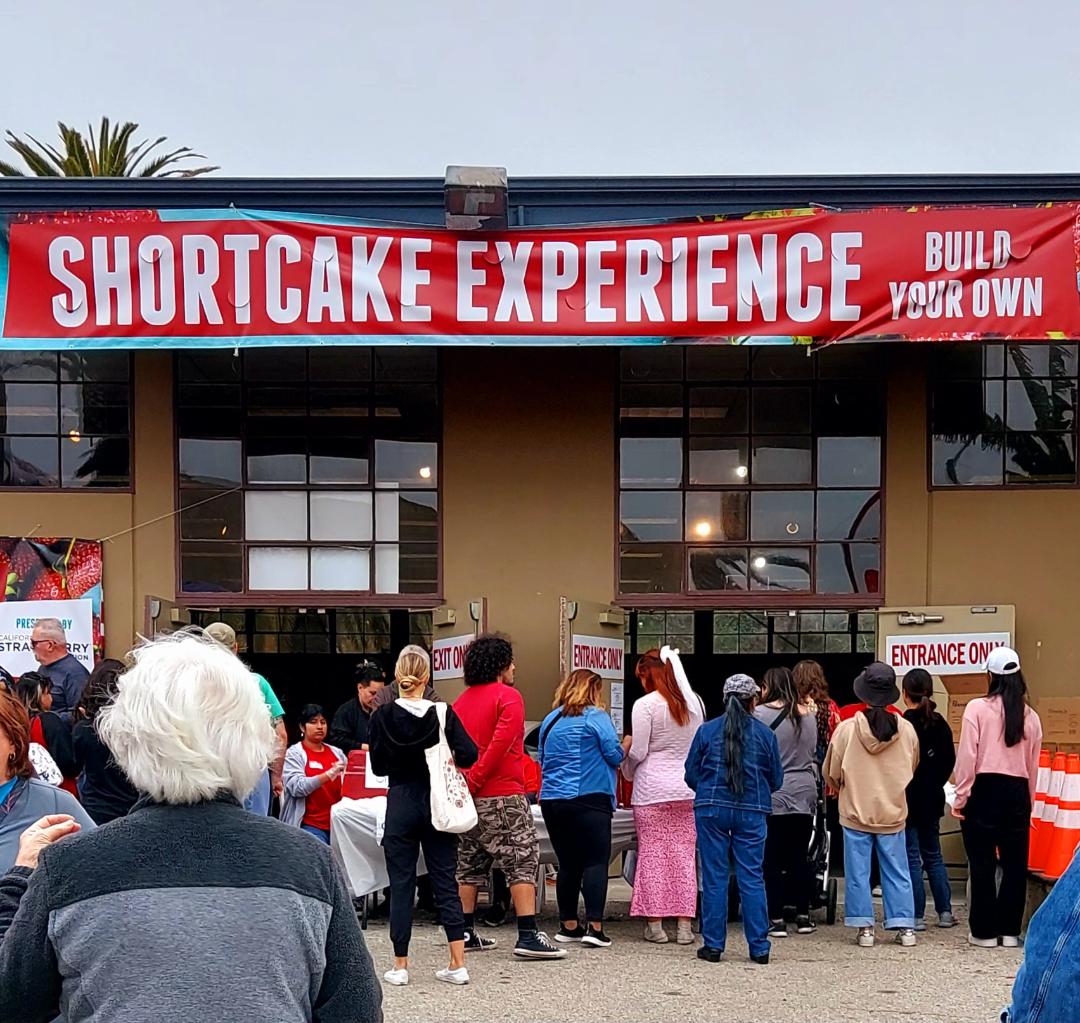 The build-your-own strawberry shortcake area was as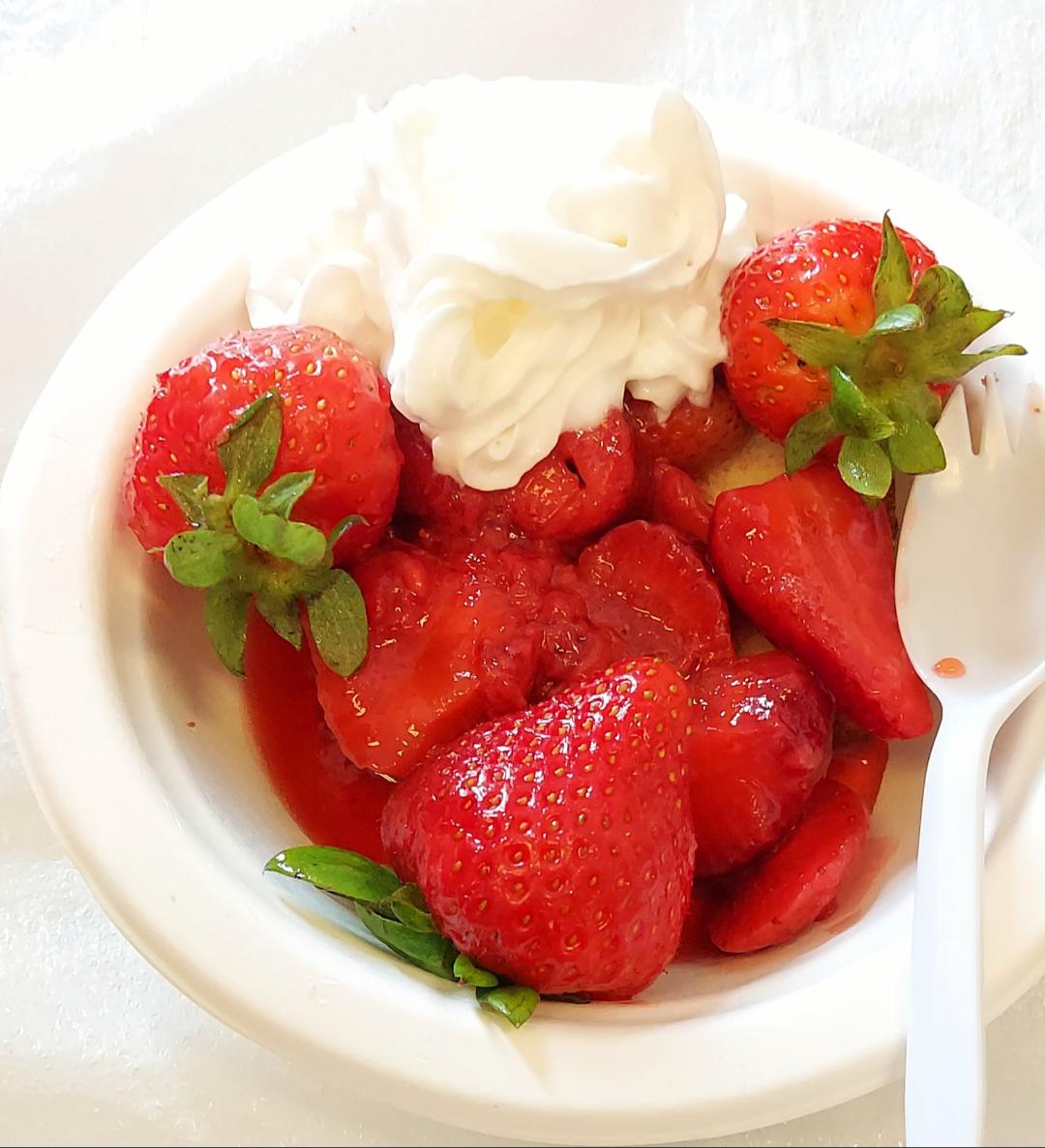 usual a huge hit and was a delicious introduction for many to one amazing traditional strawberry dessert. Over 150 arts and crafts booths offered everything from chic cork purses, cookies & candy, to talented artists showing their work. Local growers were selling huge, sweet vine-ripened strawberries in baskets and flats that people were happily buying to enjoy at home as they left the grounds.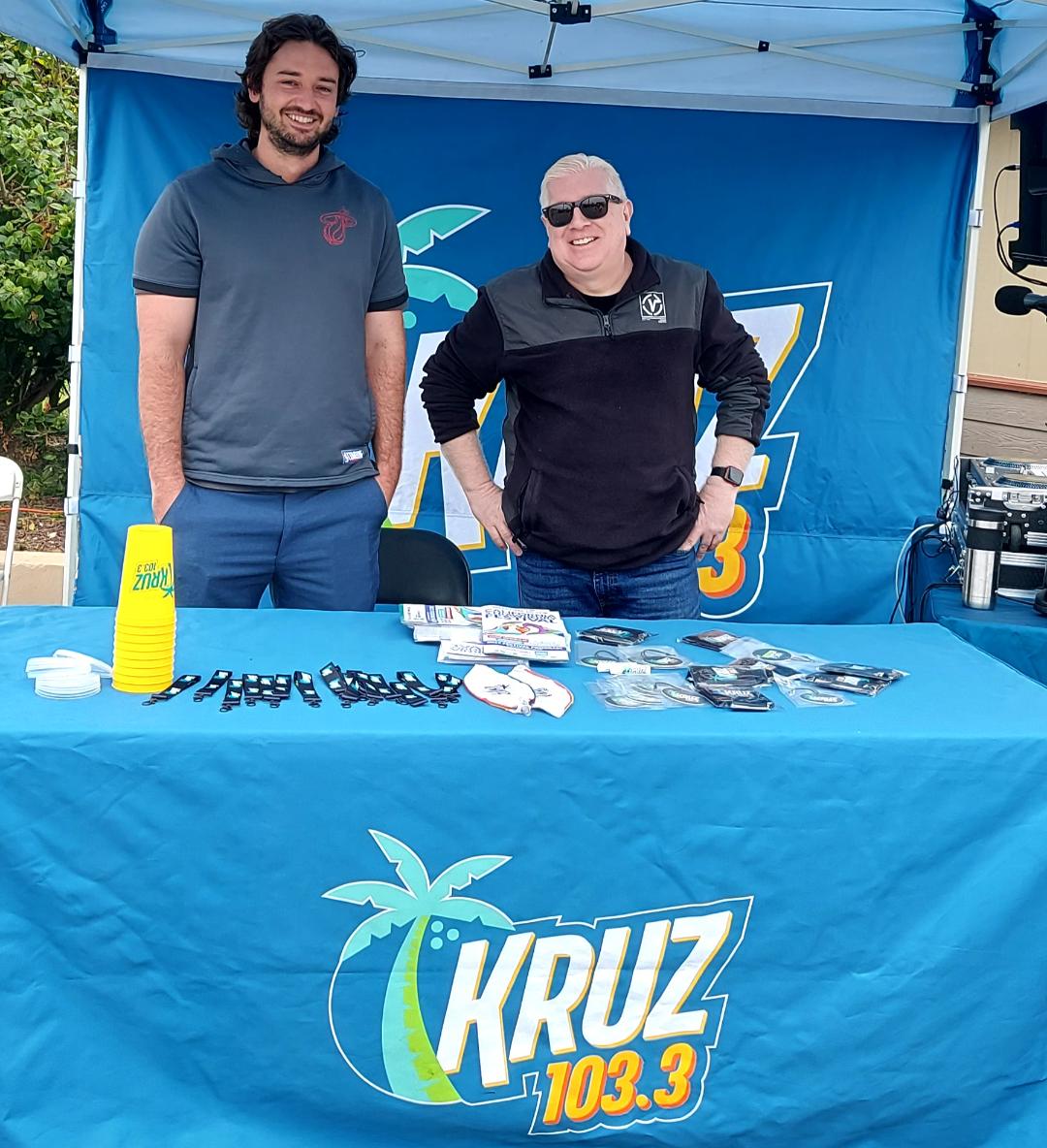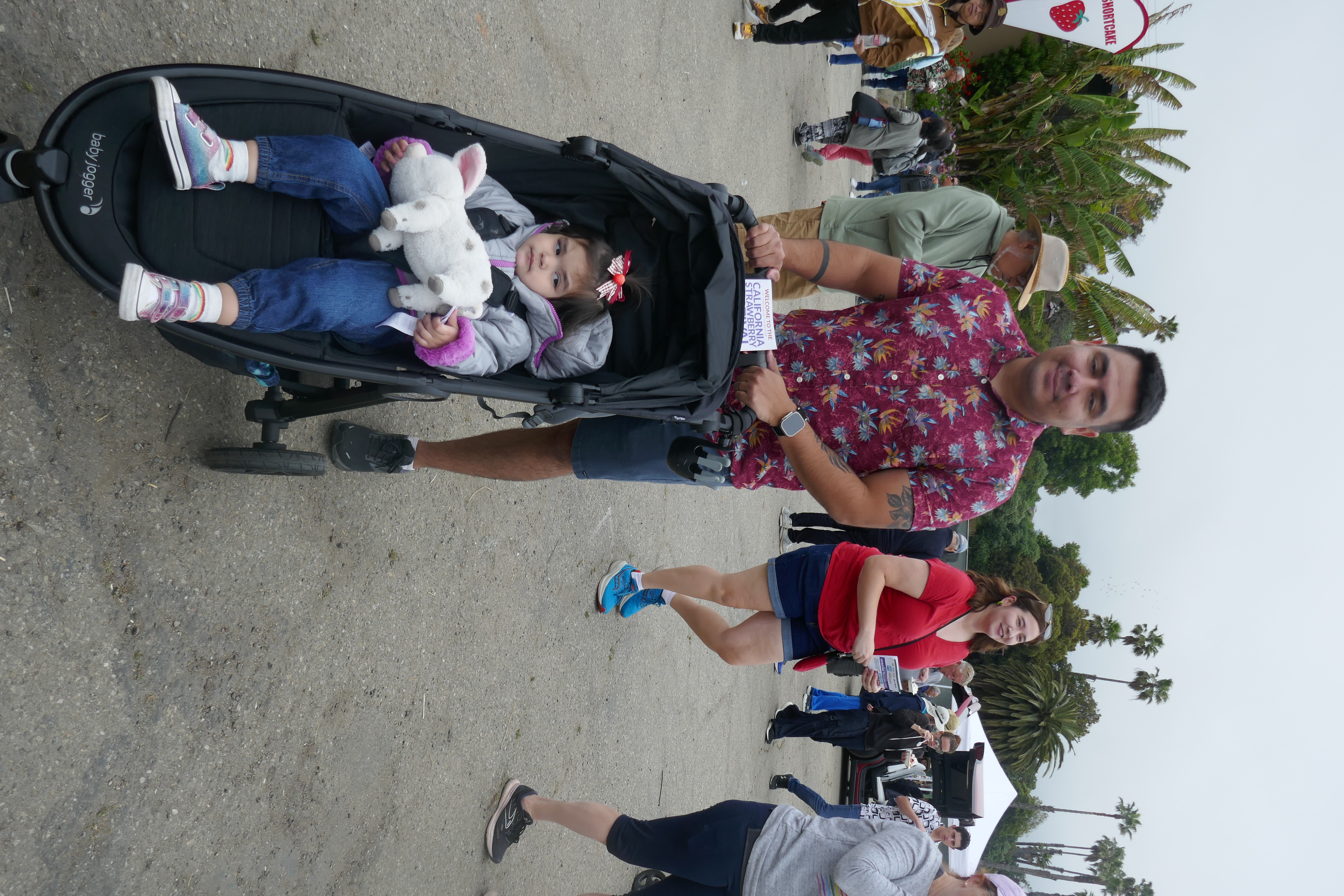 The KRUZ 103.3 radio guys kept it light with music all day and the Oxnard High School Yellow Jackets Marching Band had everyone rocking. Bravo to their band Master for an outstanding job directing this talented group of local young people! Live entertainment was scheduled throughout the day from 10 am to 6:30 pm and people seemed so relaxed and happy sitting on bales of hay eating delicious bites. It was fun to watch the families with kids enjoying themselves, and little people dressed in strawberry print clothing.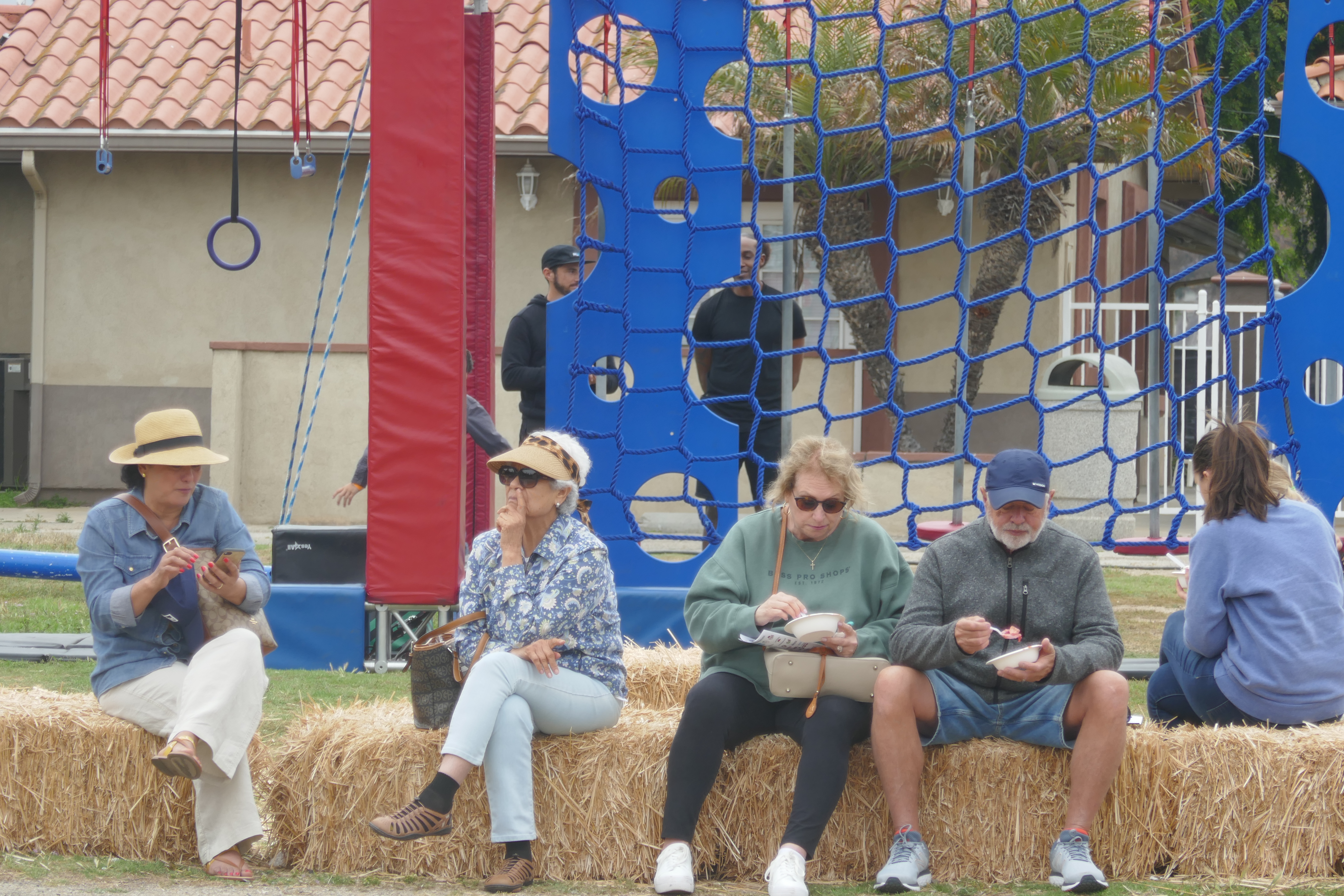 General admission for the 2023 event was $15, active military and family with ID and seniors 62 and over, $10, youth ages 5 to 12, $8 and children four and under were free. Hours were 10:00 a.m. to 6:30 p.m. both days. A limited amount of parking was available onsite for $20 per vehicle, but free shuttles were running every 15 minutes from locations in Oxnard and Ventura. The Ventura Amtrak Station is onsite for out-of-area visitors.
Organizers reported people really enjoyed the new location, and their team will be organizing to work out any bumpy spots found at this first run in the Ventura Fairgrounds to make everything perfect for the 2024 California Strawberry Festival. For additional information visit www.CAStrawberryFestival.org, email info@castrawberryfestival.org or follow the festival on Facebook and Instagram.
♦  ♦  ♦
_____________________________________________________
LOQUITA - DINNER TO REMEMBER and REBIRTH FOLLOWING PANDEMIC CHALLENGES IN SANTA BARBARA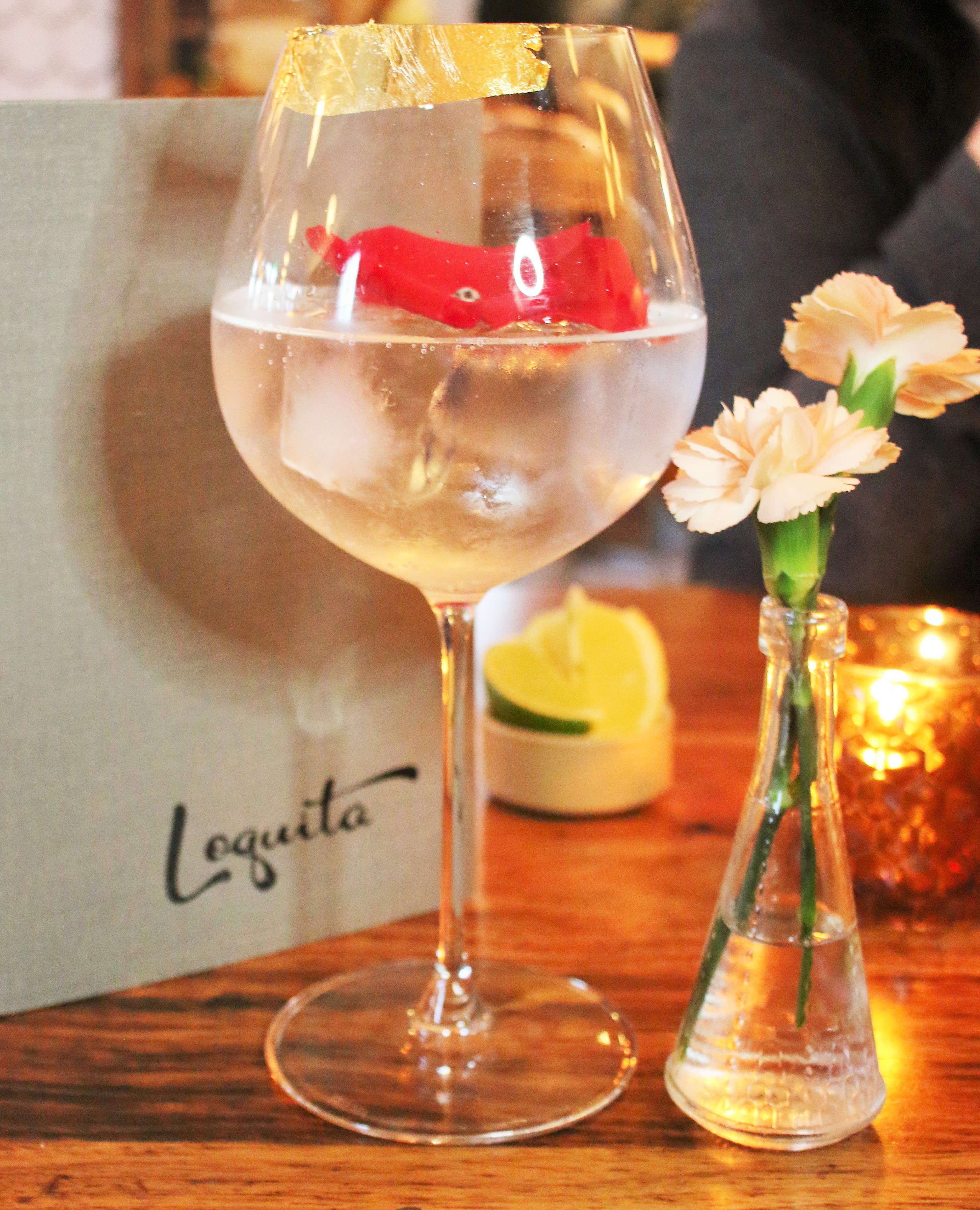 It was a rainy afternoon in Santa Barbara as two of my travel writer friends from LA and I trudged over to the Funk Zone in Santa Barbara to have a special dinner at Loquita Restaurant on State Street, across from the Amtrak Station entrance.
The place was buzzing with dinner activity and attentive servers who were determined to please welcomed us and shared information on the cocktail and dinner menu. The open kitchen sends a warmth of welcome into the room and bar area as you come in the front door and sitting near the open kitchen watching the talented chefs and staff putting finishing touches on the dishes made the experience so much more alive.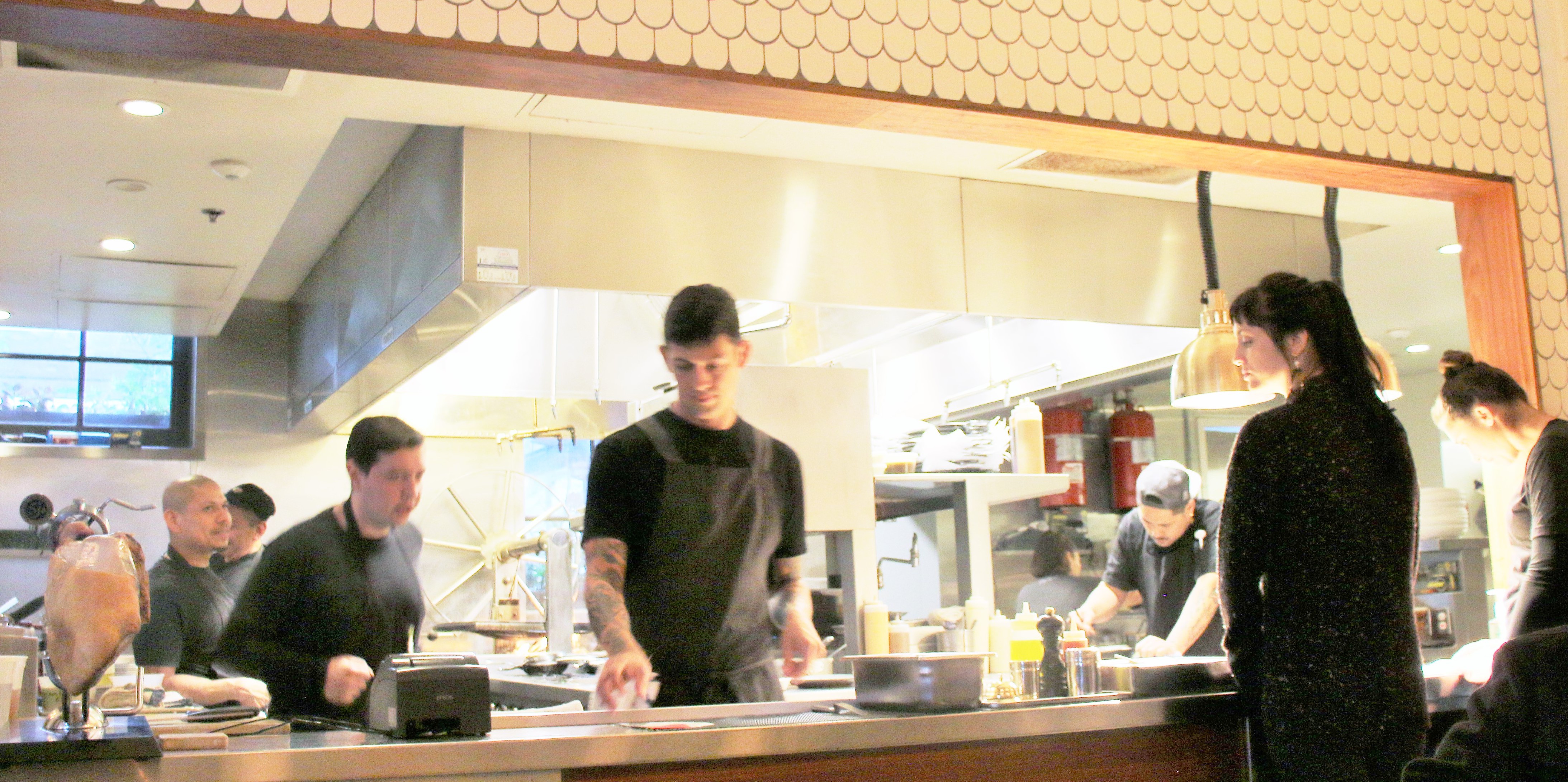 Chefs Working in the Loquita Open Kitchen
The dining area includes tables to accomodate varying size groups and the booths overlooking the kitchen with a close up and personal chef's view is the best seat in the house. Old fashioned Spanish films are projected on the back wall for guests enjoyment and the bar is large and colorful with big stools where guests were enjoying drinks.
We selected a cocktail from the menu Playa Y Oro, a combination of Monkey 47, elderflower tonic, 24kt gold and silver that was golden, beautiful and an outstanding start with the El Bulli Olive, liquid manzanilla olives.  A parade of beautifully prepared small plates began filling the table to share and the fun began. Their menu offers such a variety of tapas, bocaditos, charcuteria, quesos, paella and dreamy desserts that it is difficult to settle on a few.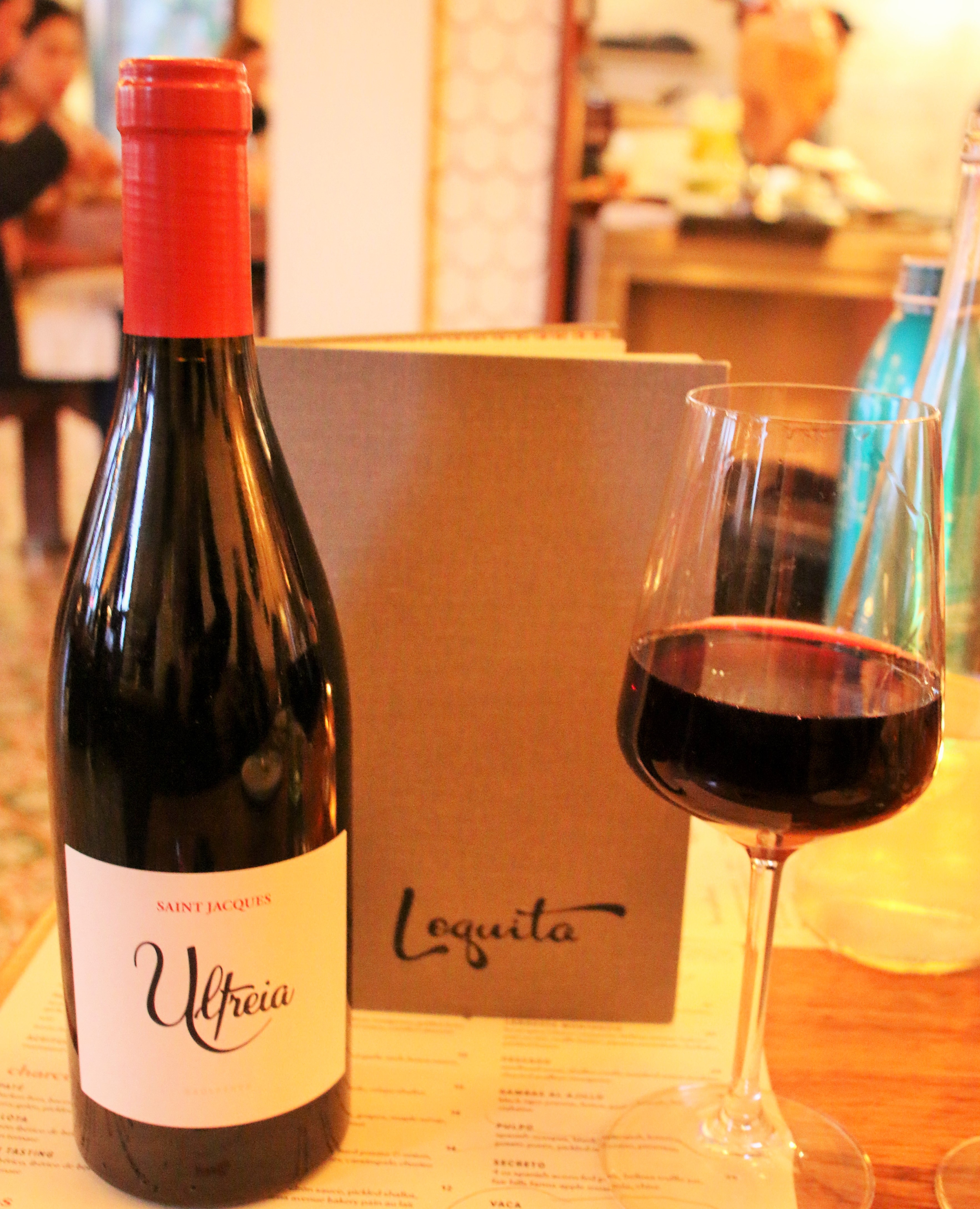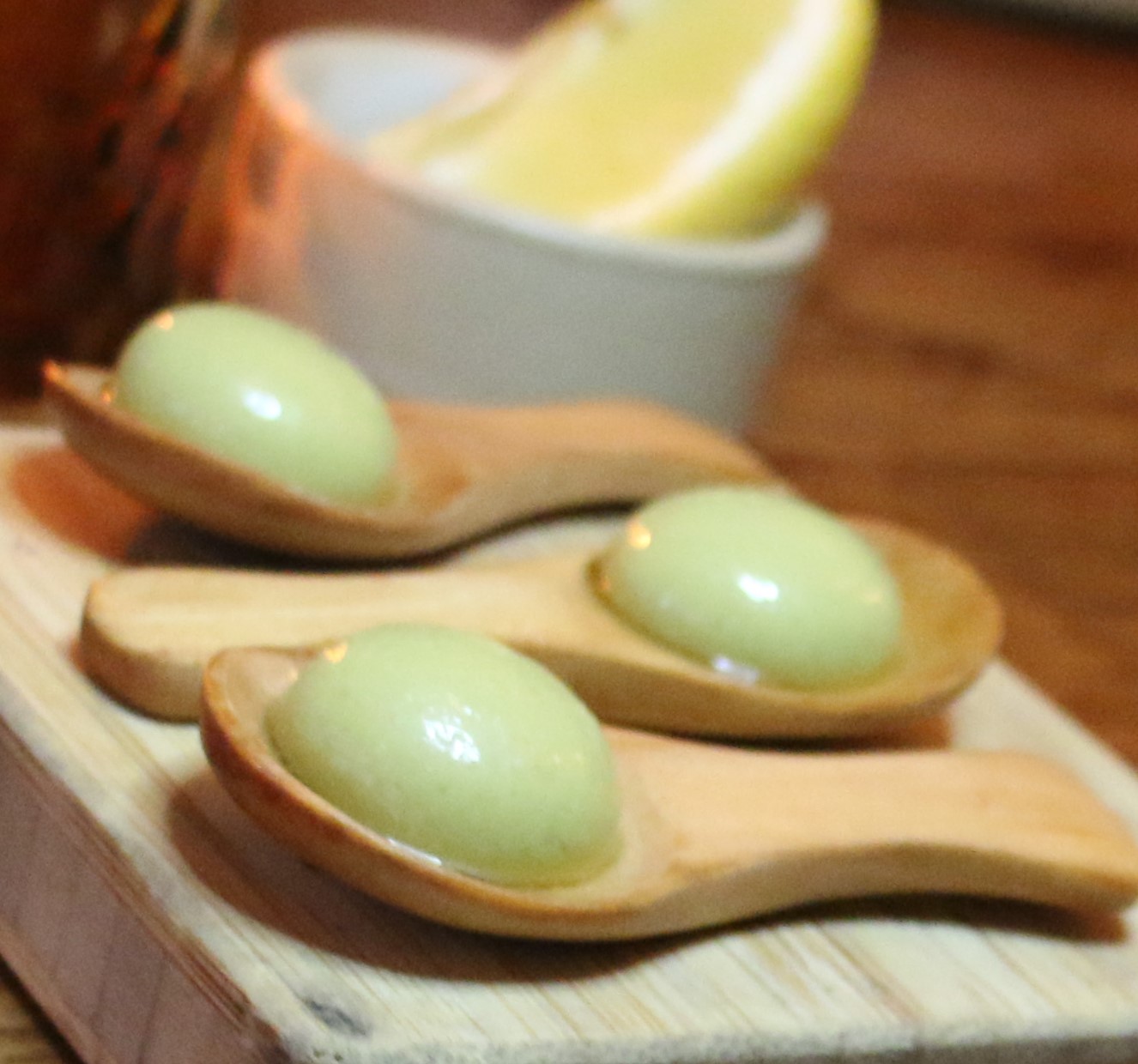 Fine Spanish Wine & Liquid Olives
The wine list is a good size and includes not only local favaorites but also some very fine Spanish selections. We chose a Spanish wine from their fine pairing menu, and it was magical with our food choices, however, our server did lead us a bit on the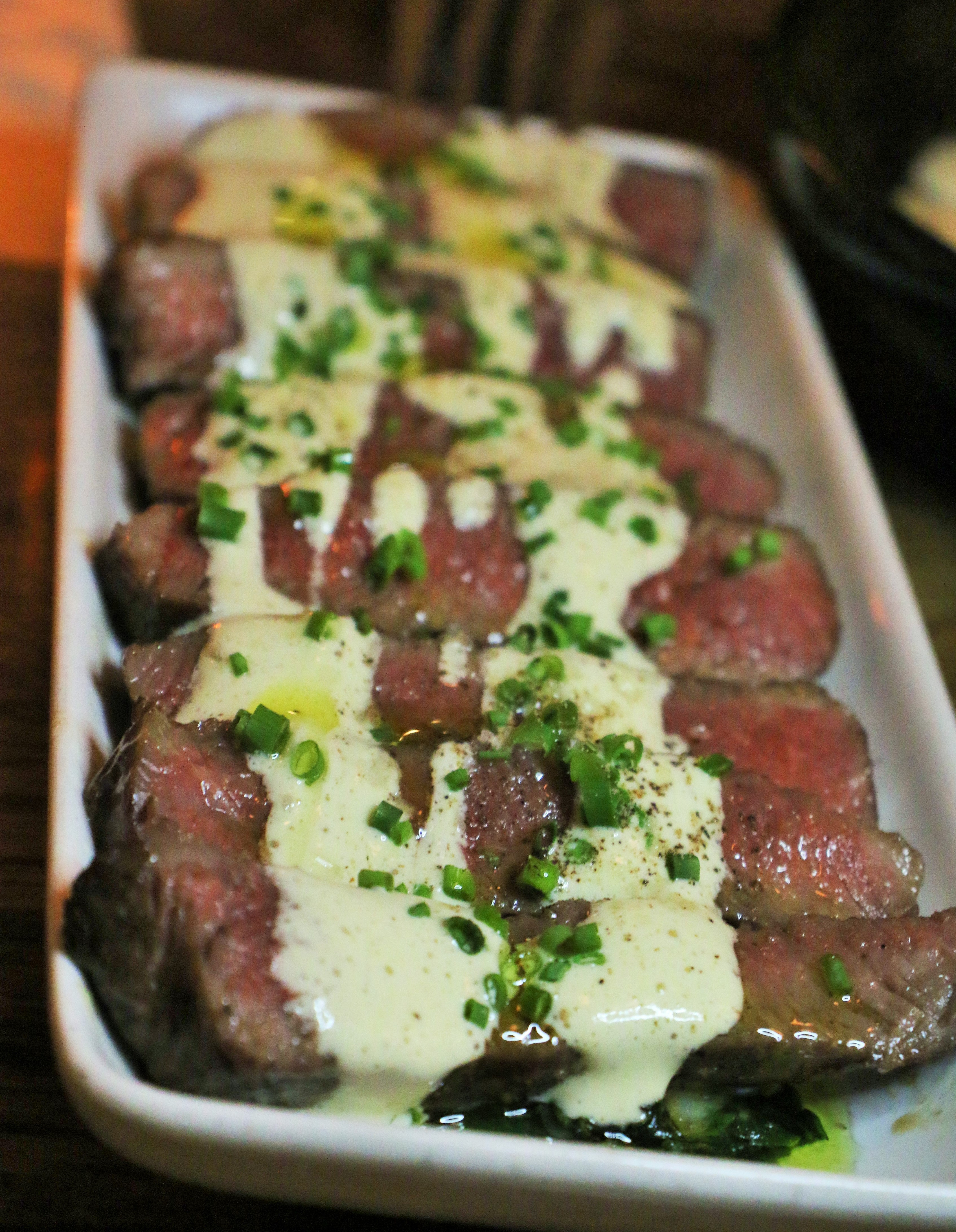 wine selection. I did not taste the Sangria but will the next time as I saw one at the next table that looked amazing.
Our Tapas specialties included Carpaccio De Carne, grass-fed beef, manzanilla olive, pickled mustard seed, 12 year shery vinegar and arbequina olive oil; Patatas Bravas, pommes dauphine, roasted garlic aioli, brava sauce and pimenton with parsley; Pescado, steelhead trout, shallot confit, smoked onion soubise and charred scallion vinaigrette; Pulpo Spanish octopus with black garlic aioli, lemon vinaigrette, potato puree, pickled red onion and pimenton;  Vaca 6 oz flat iron steak, spinach, smoked cabbage with tomatillo bearnaise sauce. These plates were all unique and outstanding!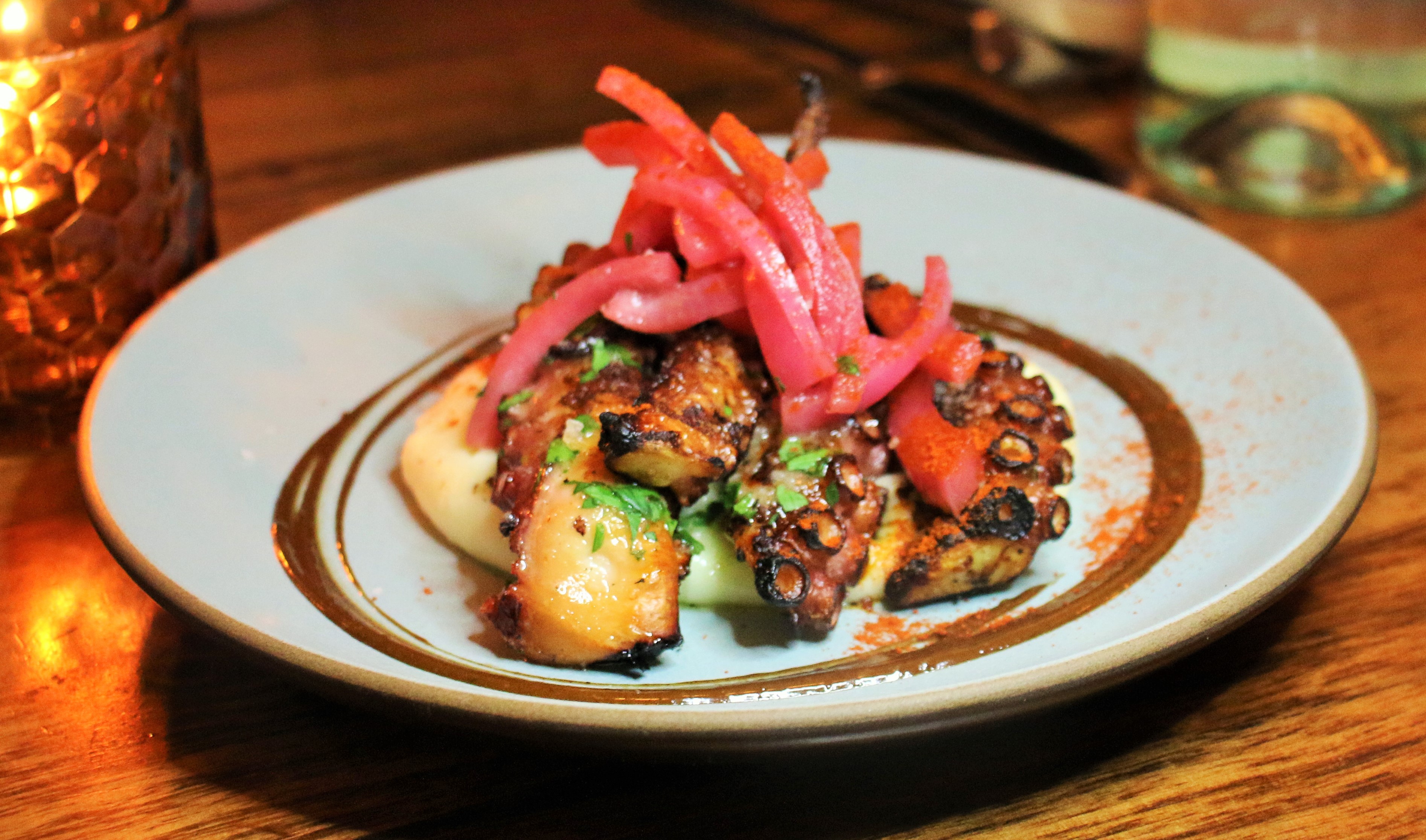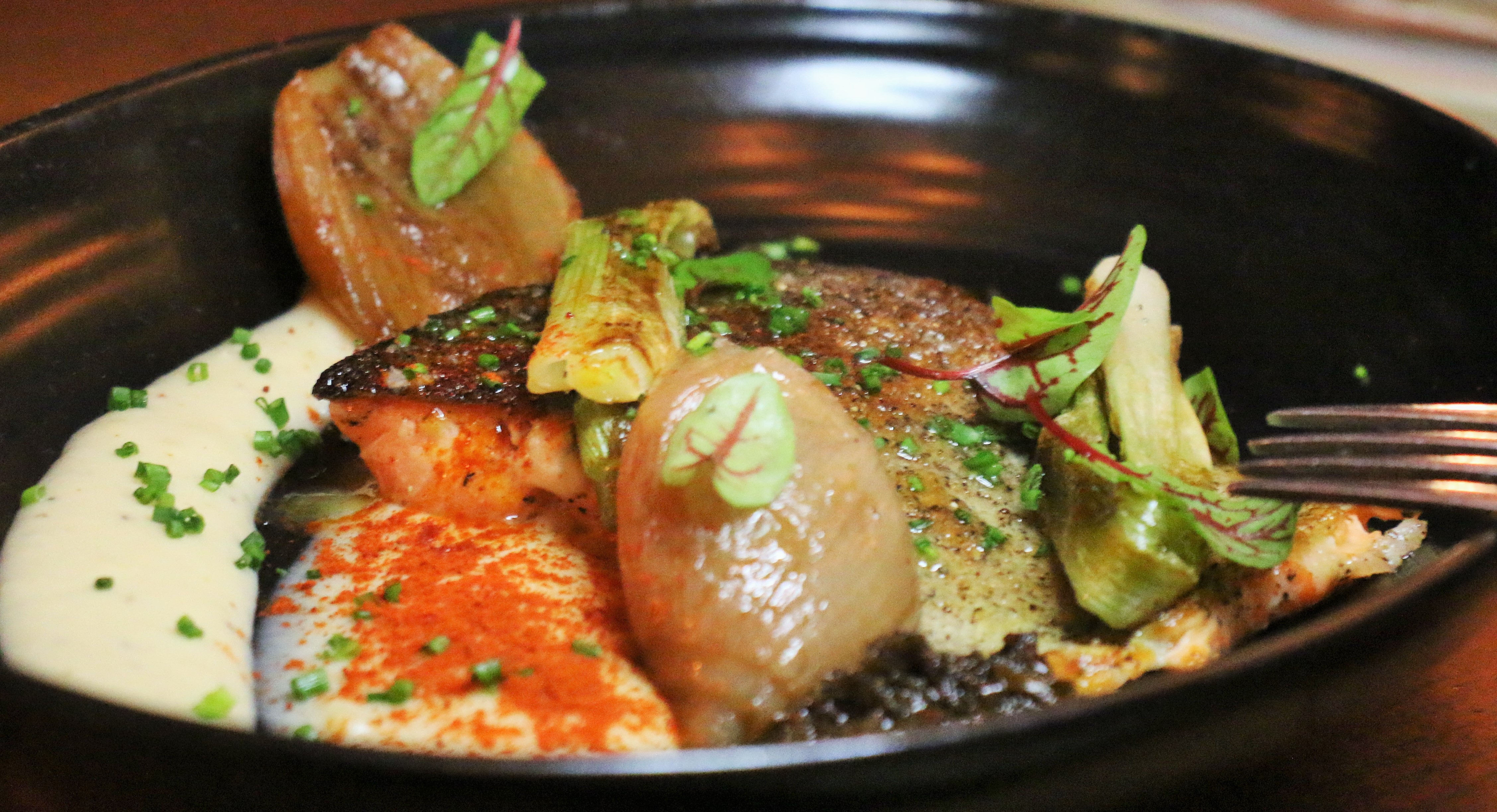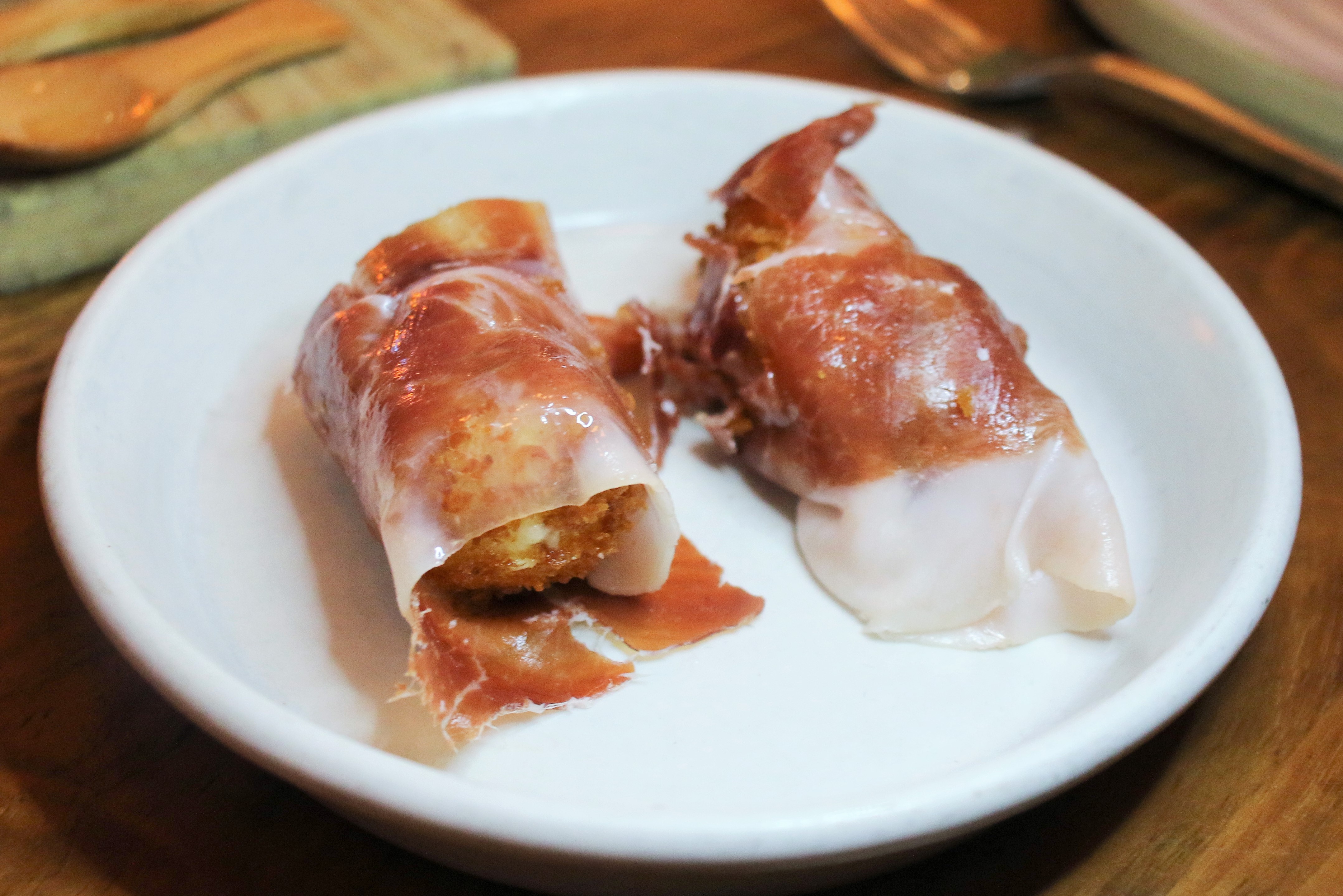 The desserts we enjoyed included a flowerless chocolate cake with all the bells and whistles and Churos with a variety of sweet dipping sauces. It was such a fun sweet ending to our Spanish culinary adventure in the Funk Zone.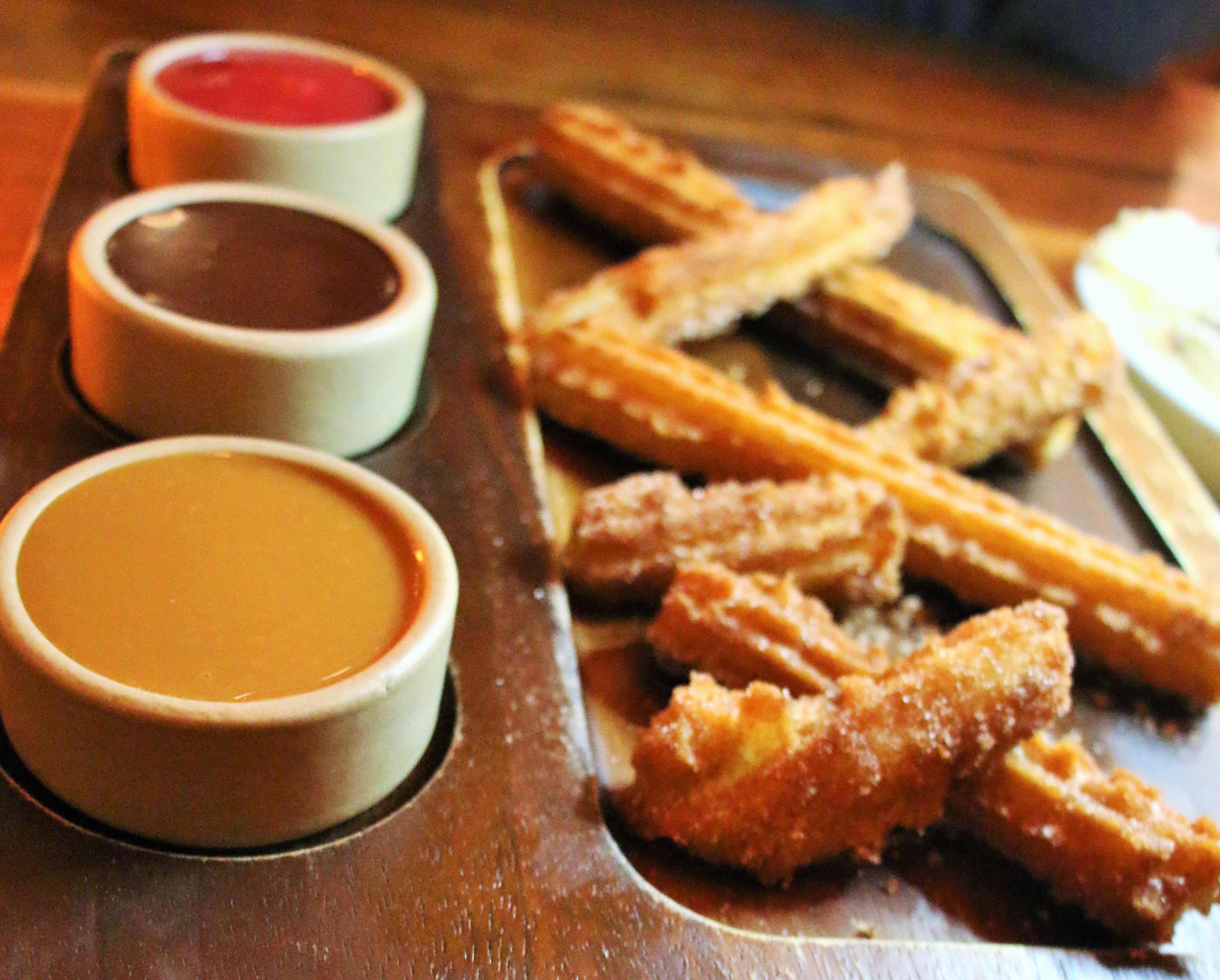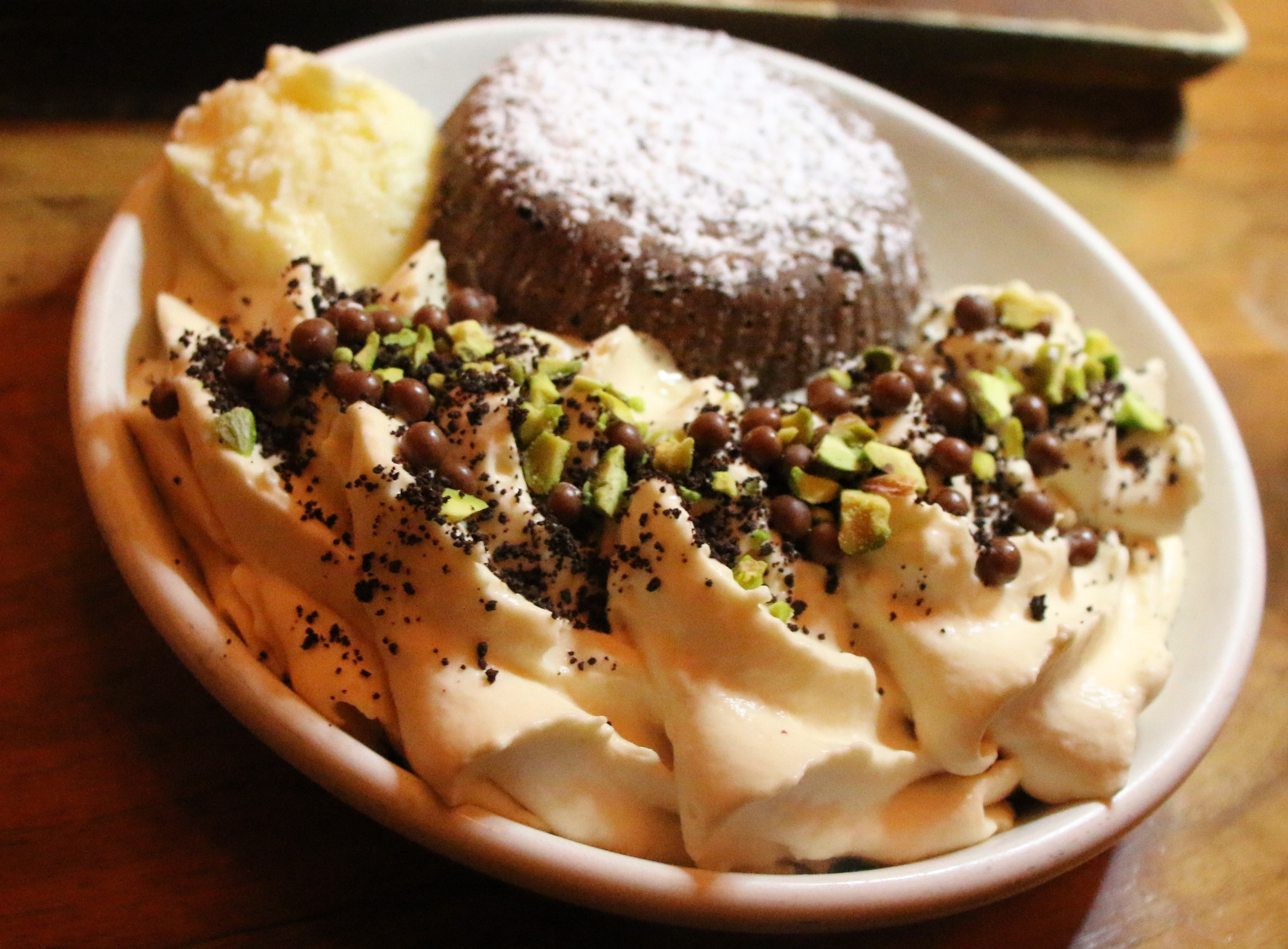 This was without our realizing it our "last supper" in Santa Barbara as the Coronavirus quarantine was imposed on the City of Santa Barbara the next day, but with things back to normal once again I am looking forward to enjoying Loquita once again, especially during Fiesta 23. Kudos and thanks to Loquita Chefs Nikolas Ramirez,Tim Connolly and Christian Chavez for an amazing dining experience and an evening to remember. Viva la Fiesta!
Loquita
The Funk Zone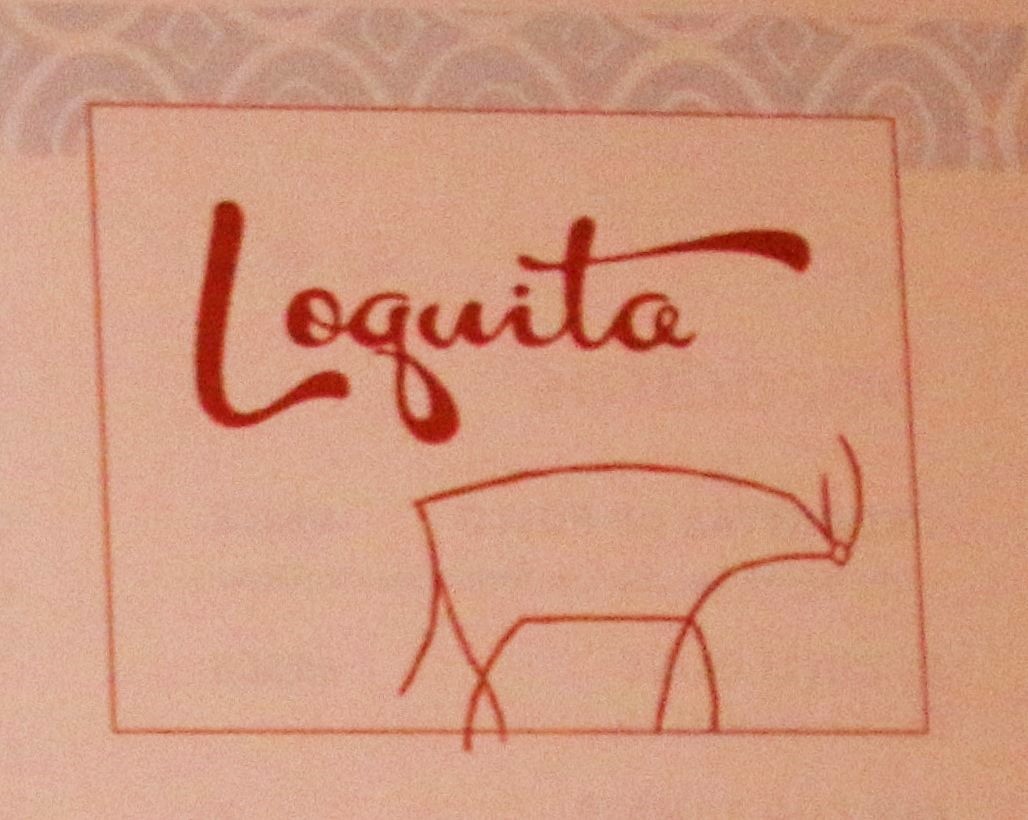 202 State Street - Santa Barbara, California
805-880-3380  www.loquitasb.com
♦  ♦  ♦
CELEBRATE FIESTA 2023 HERE!

____________________________________________________________________
COASTING with BONNIE CARROLL .   .   .

Family Friendly . . .  Favorites for the Whole Family in Santa Barbara
I so enjoy eating out with my family and friends, therefore I'm always on the look out for places that keep everyone in my group happy, especially places with a past history in the food and atmosphere departments. The restaurants located in Santa Barbara below are ideal for great grandmothers, great grandchildren, and everyone in between. They offer something for everyone in a relaxed venue that the whole family can enjoy, including those with handicap requirements.
ISLANDS – HOME 0F FINE BURGERS & FAMILY FUN
Open at La Cumbre Plaza
Finally a great food group that understands the needs of the Santa Barbara La Cumbre crowd. For many years this location was a beloved Red Robbin restaurant that attracted people of all ages, and was mourned when it left. Once again locals are smiling because they have a family friendly place to gather for fun dining moments with family members, friends and business associates.
No one can dispute they have amazing burgers at Islands, especially me. I love the Big Wave Burger with their original sweet potato fries (possibly the best I've ever tasted), and the lite turkey burger will be appreciated by patrons watching their weight; they also feature a meatless burger. From tortilla's to taco's to wraps they have it all down at Islands. Appetizers start the experience and the spinach & artichoke dip is my favorite. Salads and soups for healthy diners offer some tasteful surprises, including their unique Tortilla soup, along with a collection of delicious 'Birds of Paradise' chicken choices.
Of course, there are shakes and smoothies, a bevy of beverages (full bar available with tropical drinks) including local wines and draft beers, as well as some fantastic desserts. The chocolate lava cake is one sinful ending to a delicious and fun family dinner.
This is a fun atmosphere for families and friends of all ages to savor some great Island specials, watch their favorite games on wall televisions and just chill out! Visit: www.islandsrestaurants.com/locations/santa-barbara.com.
EUREKA! GREAT FOOD BEFORE OR AFTER A MOVIE
Paseo Nuevo Favorite For Film Buffs
Eureka! is alive on the weekends, were couples and families stop to enjoy lunch or dinner when attending a movie at the Metropolitan Theatre. The lovely cocktails and luscious appetizers on the menu offer a nice lifht snack. Original and unique falafel, hot short ribs and shrimp ceviche are sensational starters to enjoy with a bevy of beer and ale options, wine and delicious more. General Manager Michael Kennedy and his staff aim to please. It is also a great place to relax with friends who prefer a Bloody Mary lunch, which is what you get – a salad in a glass.
My Perfect Mother's Day at Paseo Nuevo in Santa Barbara was a Mother's Day brunch at Eureka! complete with a MOMosa Flight of champagne favorites paired with a steak & eggs platter covered with all you could wish for in a 'good to the last bite' brunch, and then came the bourbon cake topped with Mc Connell's ice cream that is covered with pecans and for sure a treat that any mother would have loved. Everyting at Eureka! Is delicious, and a big thank you  to server Jessica Ross for the wonderful start to my special day! Eureka has ongoing specials to enjoy so go to their website and see what's cookin' at this friendly neighborhood favorite spot. For additional menu and event information visit: www.eurekarestaurantgroup.com.
BLUEWATER GRILL – Lighthouse with a History
The historic Rusty's Pizza Lighthouse location on Cabrillo Boulevard, where so many locals celebrated their birthday's with pizza parties, is now opened as a chic and airy Bluewater Grill. They are serving a variety of seafood favorites for lunch and dinner, and are quickly becoming a popular 'meet up' destination. The upstairs patio with a view of Stearn's Wharf offers an outstanding view harbor view, and the menu includes a wicked sirloin steak for meat lovers as well as spectacular seafood favorites. www.bluewatergrill.com/locations/santa-barbara.
About Bonnie: Bonnie Carroll is former owner of  Bonnie Carroll Public Relations, an award winning journalist specializing in  food/travel/lifestyle since 1983. She is the founder & publisher of Bonnie Carroll's Life Bites News (www.lifebitesnews.com), does travel, health, entertainment and food reporting in print, online and on local Radio/TV, and contributes to a variety of national and international travel/lifestyle publications including Getting On Travel. She is a member of IFWTWA, NATJA and an award winning member of Association for Women in Communication. Contact her at writebc@aol.com.
__________________________________________________________________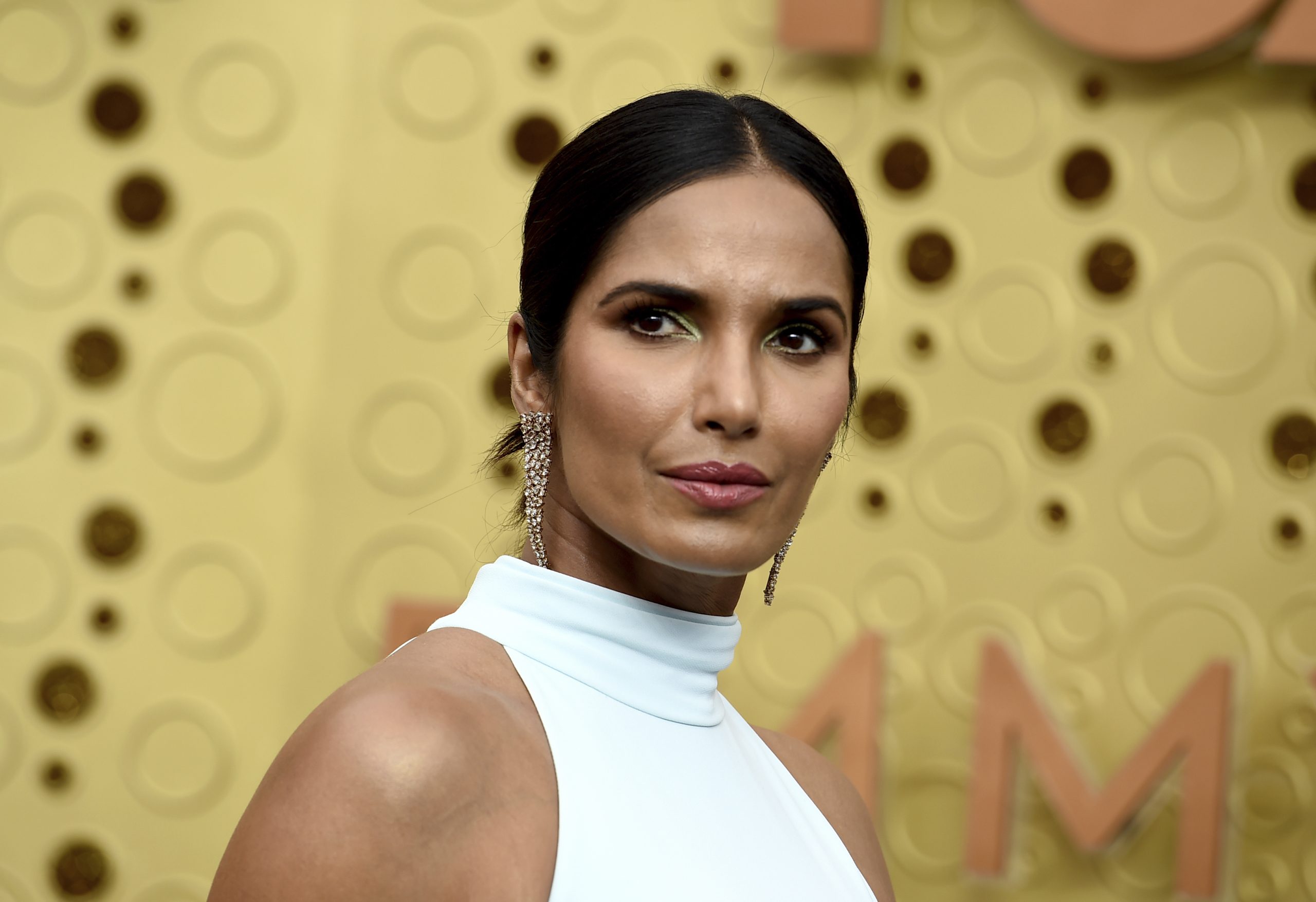 Chef Padma Lakshmi
 Padma Lakshmi will pack her knives and go. The star is exiting Top Chef after 17 years and 19 seasons.
 Lakshmi, 52, released a statement on Twitter announcing her leave from the Bravo cooking competition show. 
"After much soul searching, I have made the difficult decision to leave Top Chef," the host and judge wrote. "Having completed a glorious 20th season as host and executive producer, I am extremely proud to have been part of building such a successful show."
___________________________________________________________________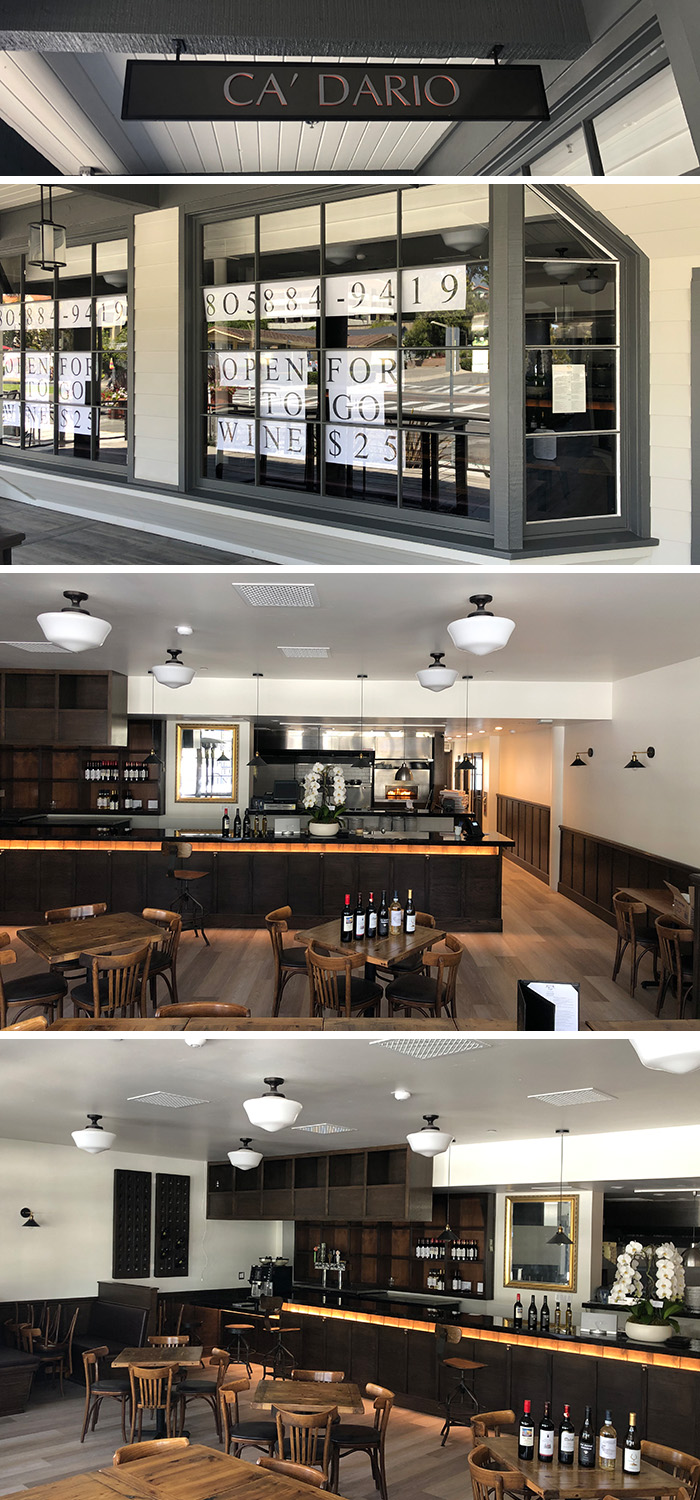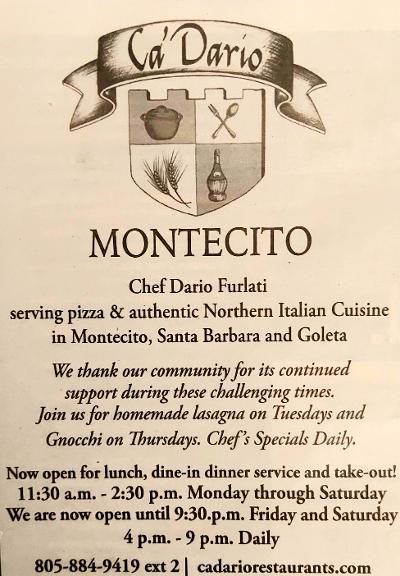 ---