CULINARY COUP  .  .  . 
INDIAN CHIC AT SPICE AFFAIR
Beverly Hills Restaurant Offers Tradition & Style by Bonnie Carroll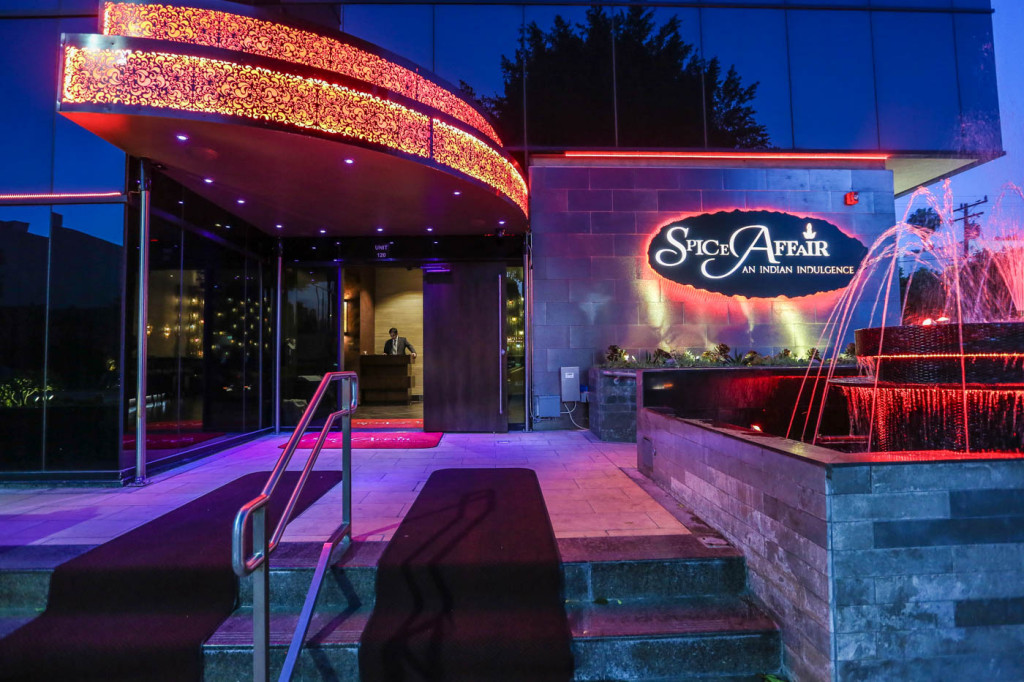 My recent foodie adventure in LA to discover new world flavors took me to a magical Indian respite named Spice Affair on La Cienega Boulevard at Beverly Hills, on the former site of Gaylords of India, where the talented owners have designed a chic new dining venue with an ambiance that is elegant, yet entirely comfortable. The dining room overflows with warm colors, wistful fabrics, tasteful art and flickering candles. The bar at the right upon entering is a popular gathering place for pre-dinner cocktails, and live music performances on weekends are the perfect touch for a memorable experience.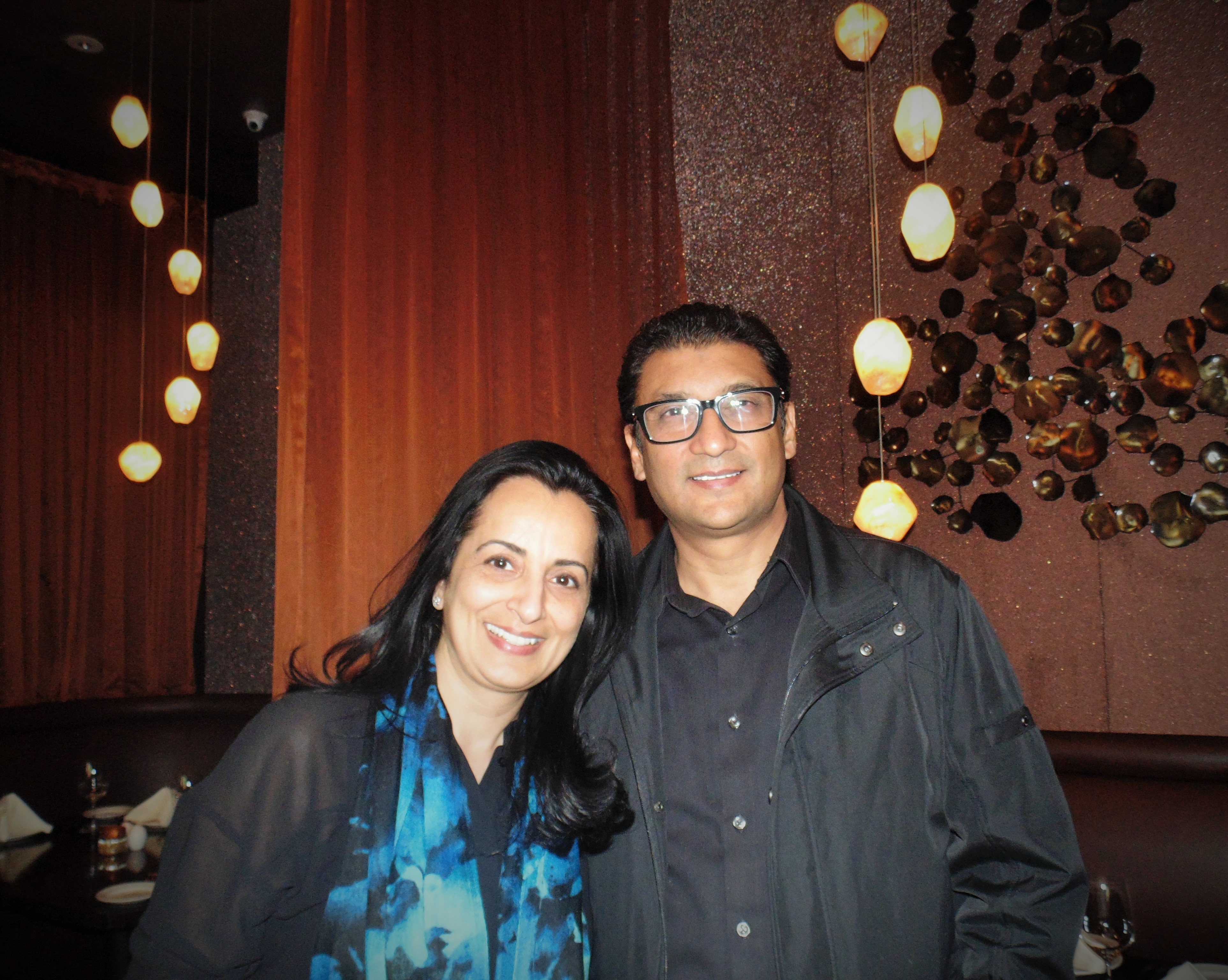 Spice Affair Co-Owners Puneet Chandak & Sonia Batra
Spice Affair co-owners Puneet Chandak and Sonia Batra have created a restaurant with sophisticated ambiance, and also beautiful rooms for large company or family gatherings and banquets. The authentic flavors and tastes are so spot on, and will excite any real Indian food lover. Surely, after a meal at this Indian beautiful destination you may be dreaming about riding an elephant through the streets of Mumbi.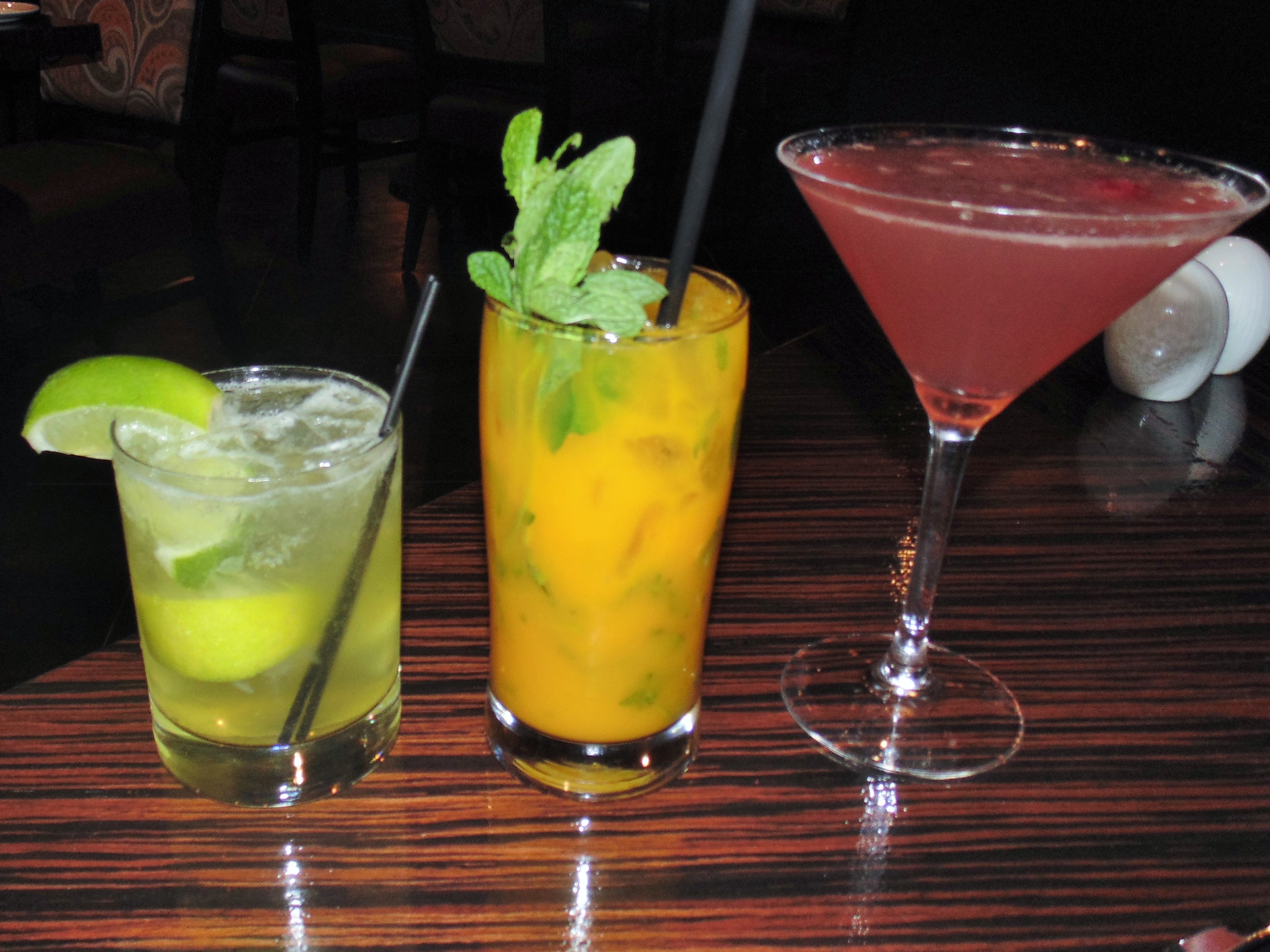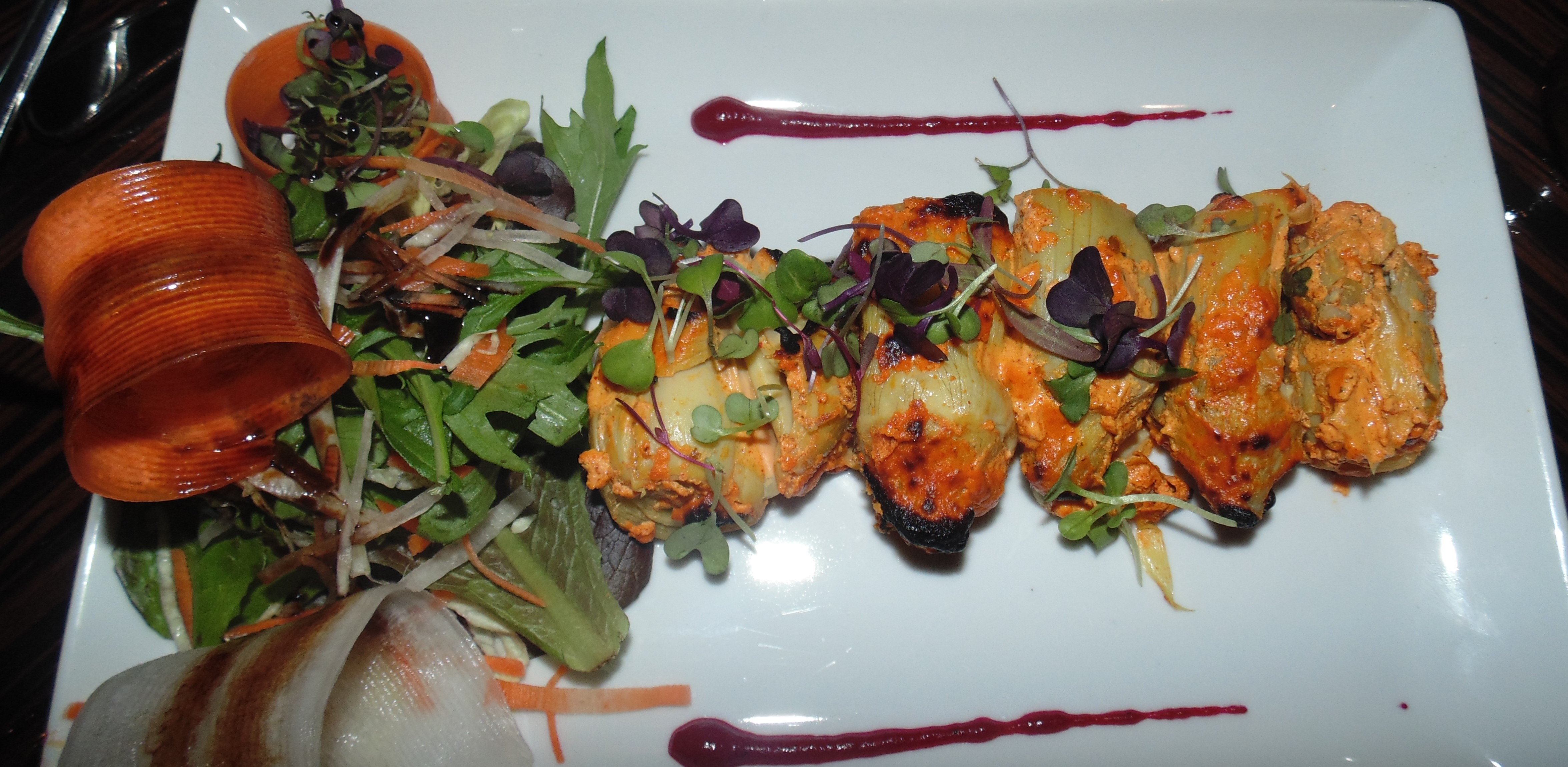 Caleb Cocktail Medley                                                                   Tandoori Artichoke Hearts
The bar mixologist Jeremiah Caleb has created a very original cocktail menu, including one called Angelina after his wife. These sensational sips provide healthy, exciting, innovative cocktails, and the recipes are guarded secrets of Spice Affair. A few we sampled included Mumbi Mule, Coconut Lustre, and Indian Heat Margarita. Appetizers can be enjoyed at the bar with with these light and lovely liquid starters. The wine and beer list at Spice Affair has been designed to pair perfectly with their menu items.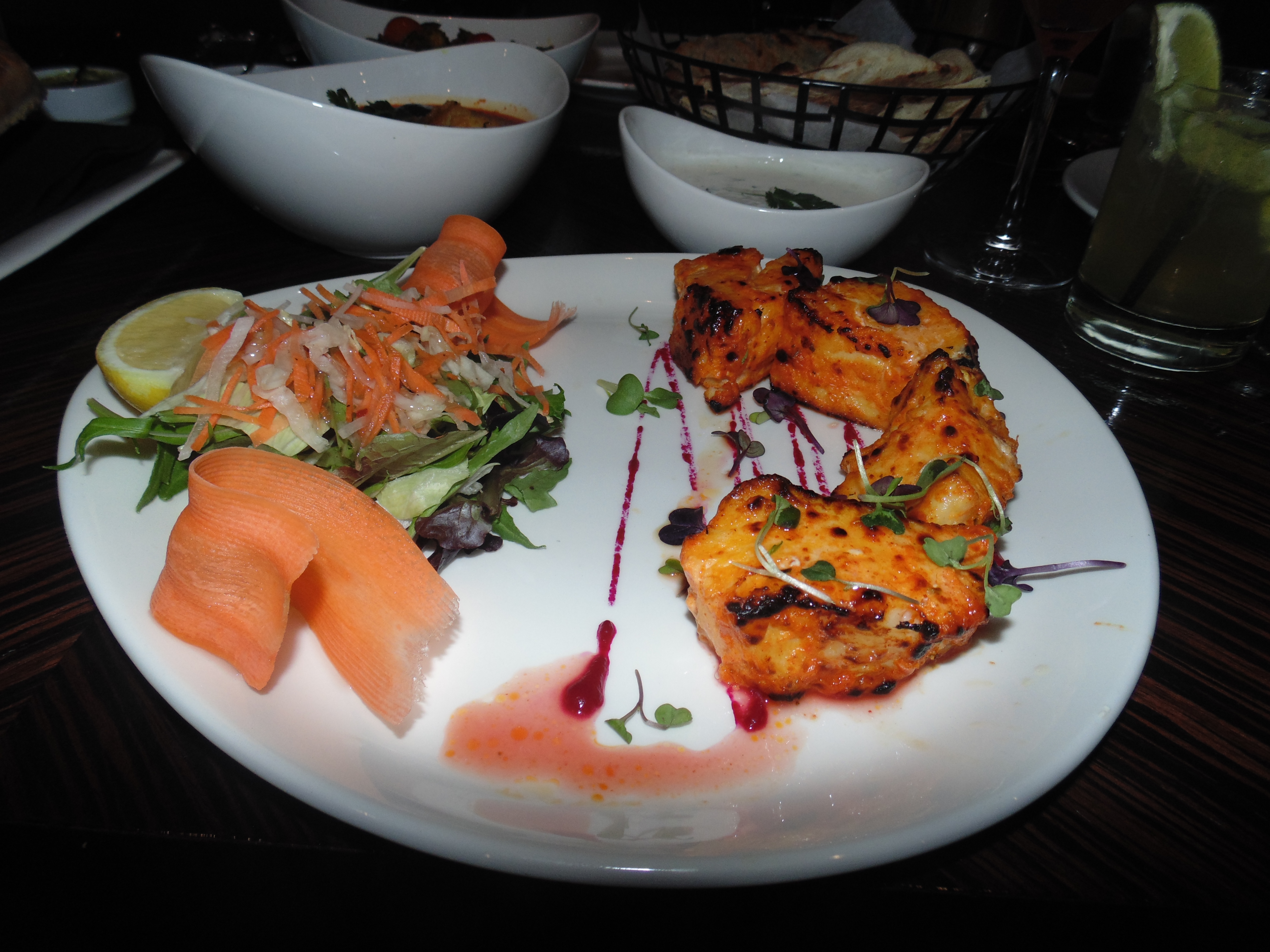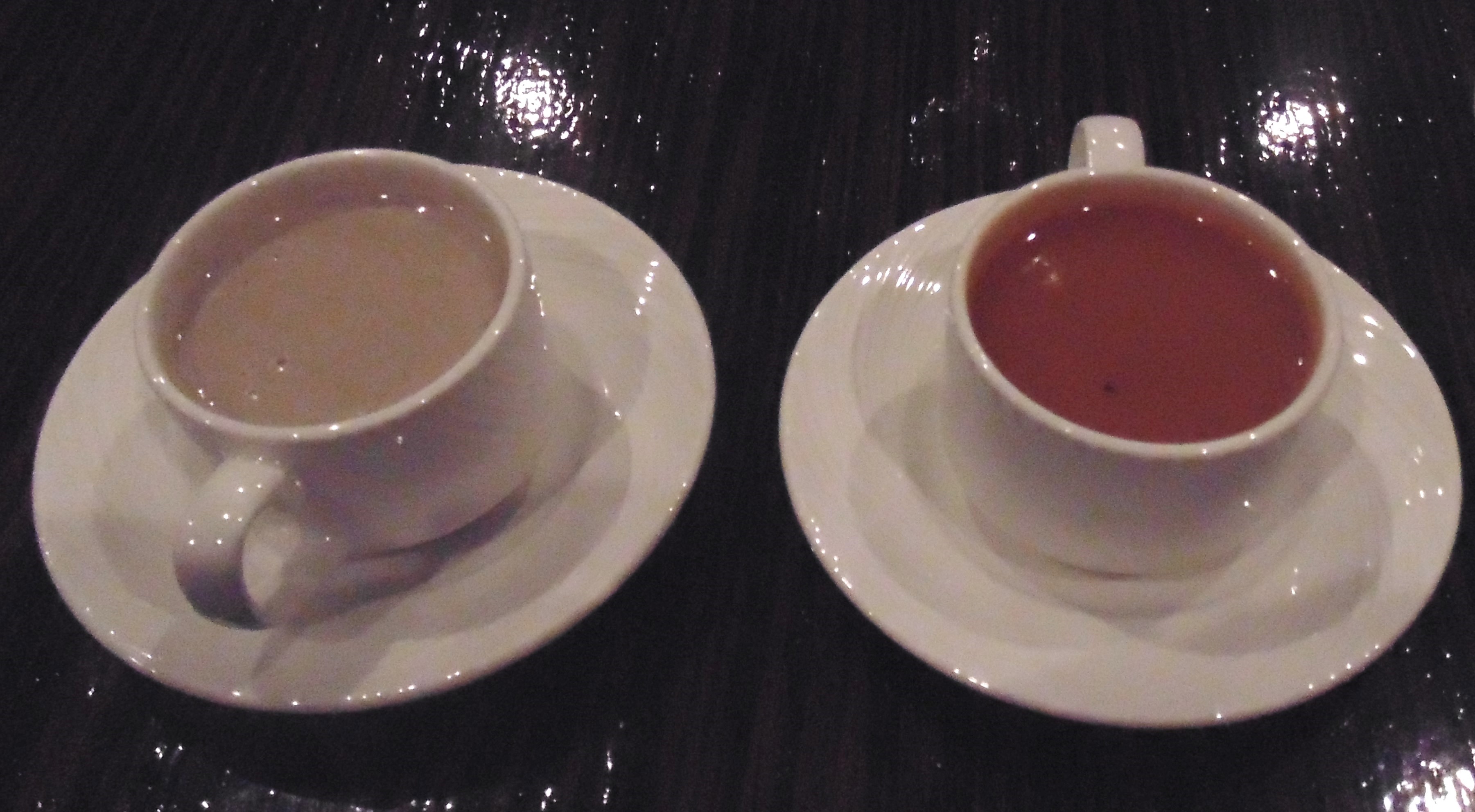 Butter Chicken                                  Mushroom Cappiccino & Tomato Carrot Shorba
Dinner here is so challenging due to the numerous outstanding menu items. From starters to main courses, salads, soups and divine desserts it's really a different food preparation and presentation than I have experienced. Spice Affair's Butter Chicken melts in your mouth and will bring you back to Spice Affair for more. The mushroom capuccino and tomato with carrot shorba soups are outstanding as well.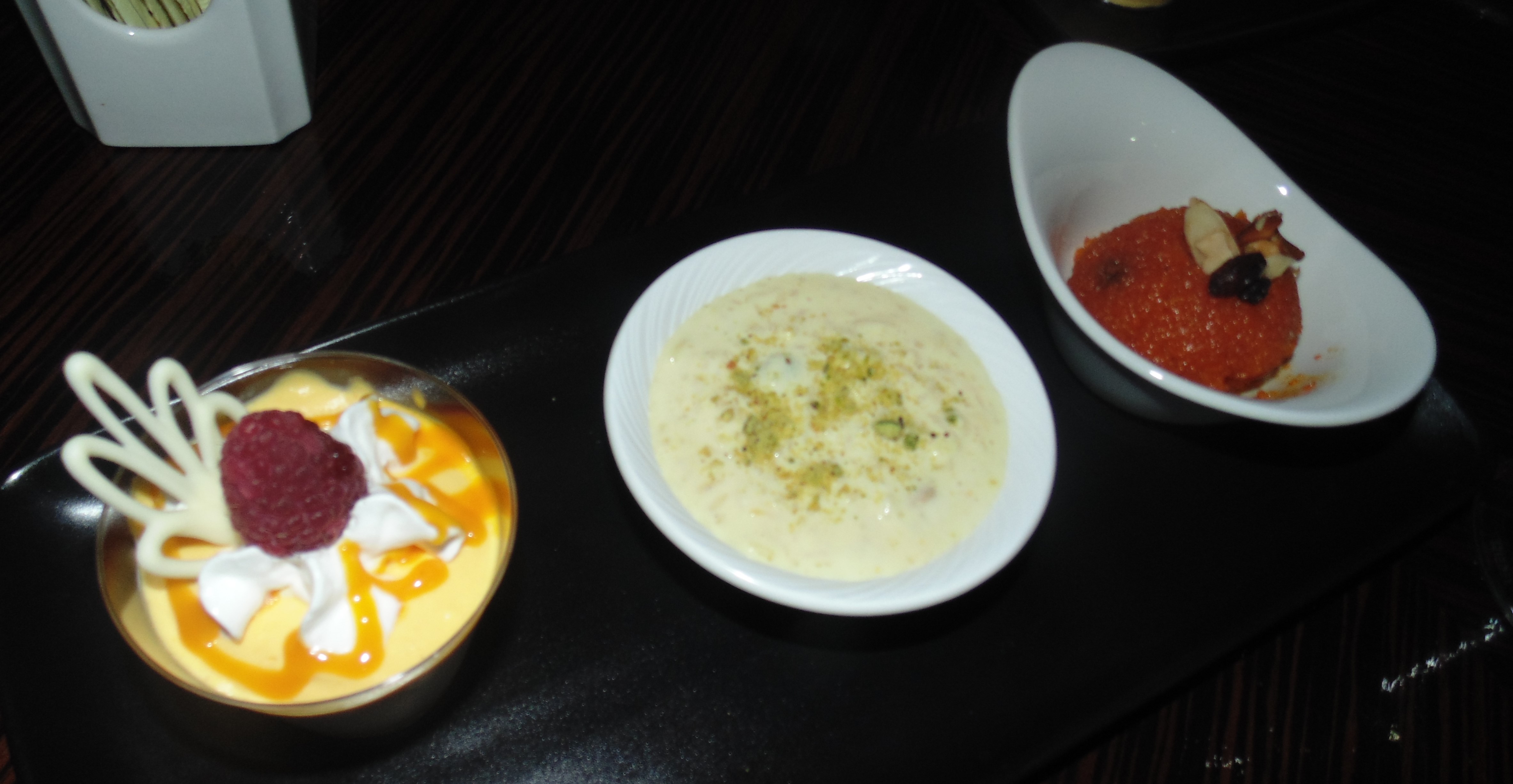 Spice Affair Desset Medley
Appetizers include Northie Lamb Bliss, Spinach veiled with Pine Nuts and Fresh Cheese, Chickpea and Caramelized Walnut patties, Black Pepper Shrimp South Indian Style, Salmon with extra virgin olive oil, Duck and Date Mélange on crisp Papdi bread, Indian Spiced Lamb and Flash Grilled Sea Bass with turmeric, an unforgettable preparation and presentation of sea bass. Their chef uses tandoor ovens and grills to prepare many items, which are served with several varieties of delicious naan. The side dishes inlcluding dum dum & wah wah mushrooms, and salads are fresh and unique, and the desserts are sexy to look at and sweet to savor along with a lovely cup of chai tea for a sinful finish to a perfect Indian inspired evening. Visit: www.Spice-Affair.com.
SPICE AFFAIR
50 N La Cienega Boulevard. Suite 120.
Beverly Hills, California 90211.
t: (310) 400-6800
e: info@spice-affair.com
Private Events Contact: events@spice-affair.com
OPERATING HOURS
Lunch: Monday – Friday 11:30AM to 2:30PM
Dinner: Sunday – Thursday 5PM to 10PM
Dinner: Friday, Saturday 5PM to 11PM
Buffet Brunch: Saturday, Sunday 11:30AM to 3PM
Happy Hour: 4:30PM to 7PM Everyday
__________________________________________________________________
OPEN SESAME OFFERS AUTHENTIC TASTE OF LEBANON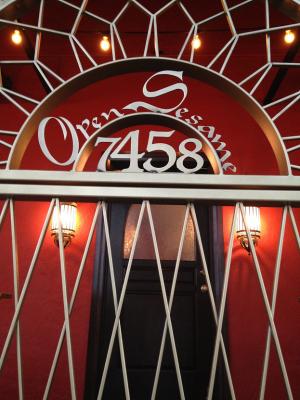 I genuinely envy people who live in the hip neighborhoods surrounding the Beverly Hills and West and Hollywood area due to their easy access for dining in some of the most interesting and authentic close to home destinations. I am very willing to drive a long distance for an amazing meal, but think it would be amazing to just walk to them.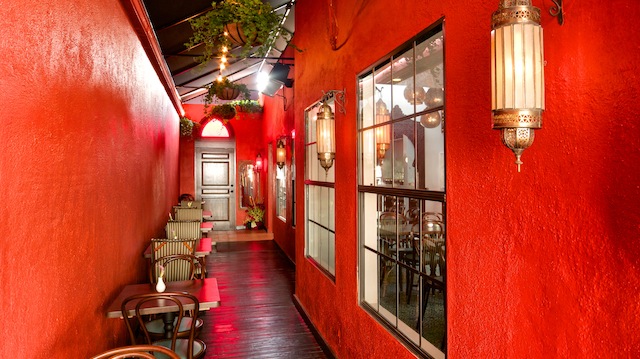 My recent foodie journey to discover world flavors took me to a magical Lebanese restaurant on Beverly Boulevard in Los Angeles, where authentic ambiance, warm atmosphere and an amazing Lebanese menu say 'welcome home'! The staff are thoughtful so very attentive.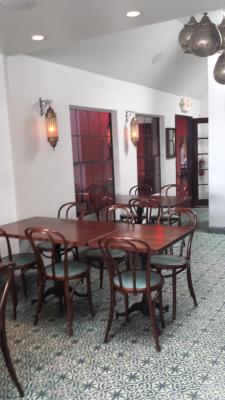 Open Sesame is a great bet for anyone who is Lebanese or anyone who genuinely loves middle-eastern style food preparation and presentation. The restaurant is located in a quaint old house tucked away on a busy section of Beverly Boulevard. A friend from Lebanon accompanied me for this dinner, and said the tiles on the floor were authentic of the type found in older homes in Lebanon. The open pation, which wraps around the restaurant, is a romantic spot for dining with soft lighting and music playing, and the inside dining room features tempting aromas of chefs preparing the plates.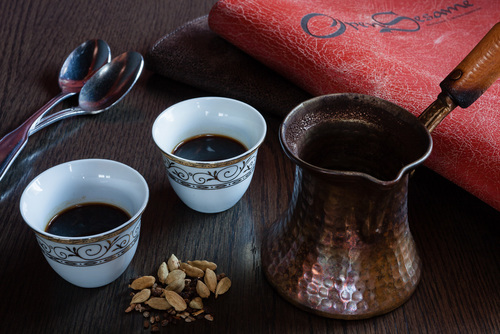 Ali, the charming GM is a delightful host, and his staff are very skilled at suggesting specialty dishes, as well as offering wine paring or cocktails to sip with your dinner selections. The Salads and appetizer dips with freshly made pita bread are outstanding. Lebanese style desserts are sweet tastes I am familiar with and love, including their amazing baklavah that can be savored with a Lebanese ice crème trio of Ashta, pistachio, and almondice.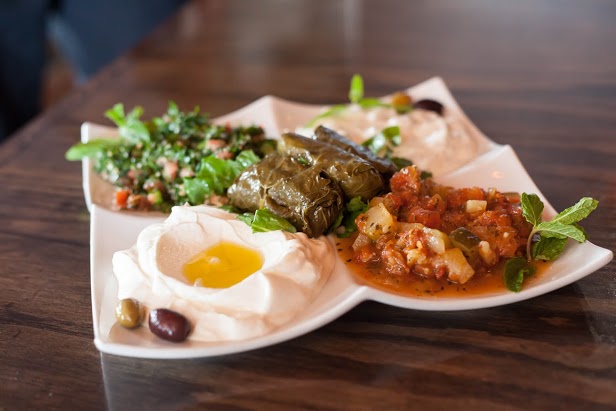 According the the owners in Lebanon to eat is to feast and in doing so evoke a celebration. The idea is to share, so start with the basics…A Mezza of Hummus, Kibbi, Fried Potatoes and Tabouleh. Let the bread act as your utensil with which to eat. Use it to scoop up the food… SAHTEIN!
Delicious menu items include Lamb Kabob marinated lamb charbroiled and served over kabob salad and basmati rice $24, Lamb Chops charbroiled French cut lamb chops marinated in fresh lemon juice, garlic and extra virgin olive oil. Served over kabob salad and basmati rice $24, Filet Mignon Kabok charbroiled filet served over kabob salad and basmati rice $26, The Sulta a combination of marinated lamb chops, grilled tiger shrimp and filet mignon all charbroiled. Served over basmati rice $16.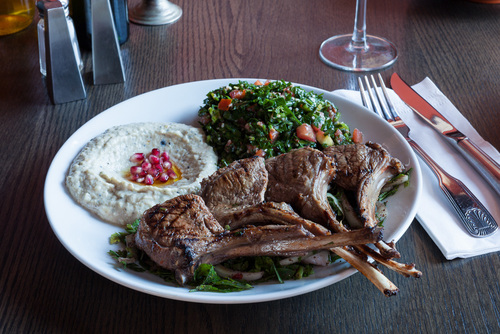 Also Chicken Shawarma marinated chicken breast & thigh cooked on an upright spit, thinly sliced, served with garlic sauce and wild cucumber pickles and rice (2) $17. Beef Shawarma marinated top round cooked on an upright spit, thinly sliced and served with tahini sauce. Kafta skewers of extra lean ground beef, lamb, parsley, onion and spices, charbroiled. Served over kabob salad and basmati rice $18, Ali's Favorite charbroiled sliced top sirloin steak on a layer of spicy roasted tomatoes and onions. Served over basmati rice. ChickenTawook, skewered cubes of marinated, charbroiled chicken breast served with garlic sauce and wild cucumber pickles, rice (2) $16. Kafta skewers of extra lean ground beef, lamb, parsley, onion and spices, charbroiled. Served over kabob salad and basmati rice $18, and more.
It's all wonderful at this experience of the senses venue, where the atmosphere is one of having a good time while savoring the authentic flavors of Lebanon, in the company of friends and family. The original Open Sesame is located in Long Beach, where Ali Kobeissi is the CEO.
Open Sesame Los Angeles
7458 Beverly Blvd
Los Angeles, CA
(323) 525-1698
_________________________________________________________________
FROMAGER D' AFFINOIS CHEESE NEWS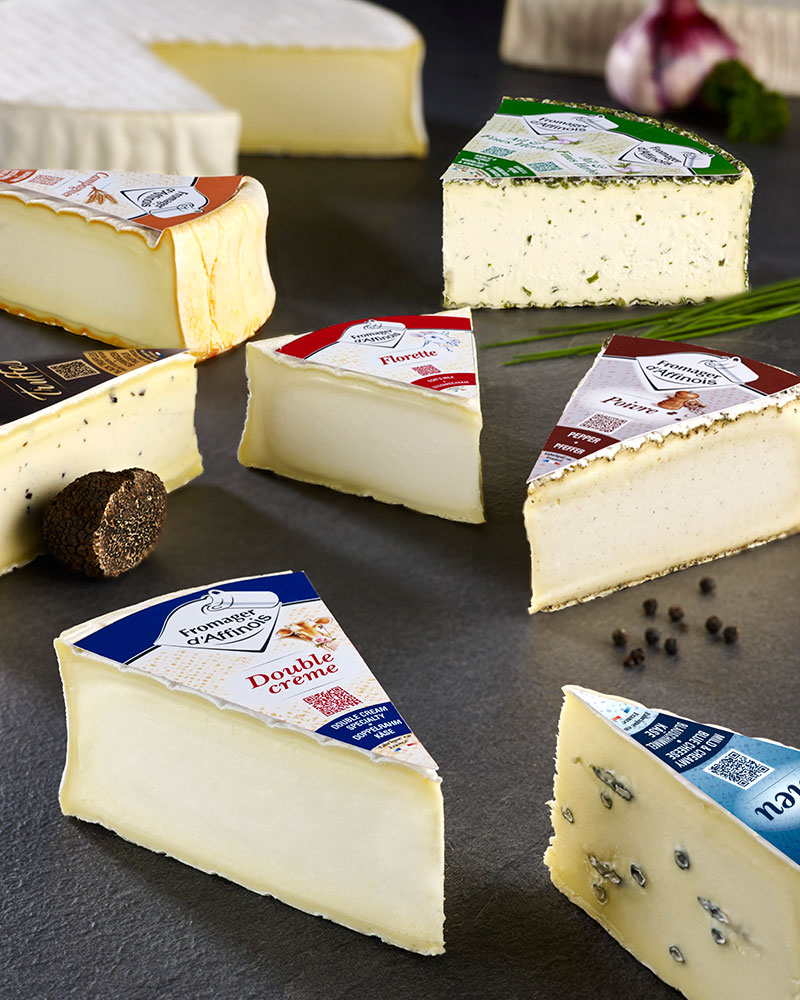 Fromagerie Guilloteau (www.fromagerdaffinois.com), one of France's finest specialty cheese producers, is pleased to announce it has recently re-designed and introduced a new label for its top-selling cheese line - Fromager d'Affinois - to the consumer market. The company, renowned for having pioneered the use of ultrafiltration in cheesemaking, an ingenious process which retains a higher concentration of nutrients and ensures creamier and richer cheeses, has made Fromagerie Guilloteau one of the most-desired cheese brands in Europe, America, and beyond.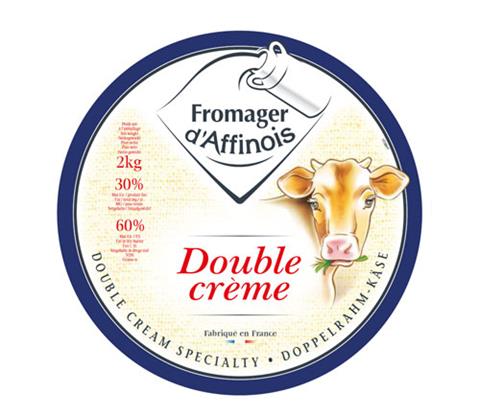 "The new look for Fromagerd'Affinois reflects our desire to ensure long-lasting success for the brand and its products, and to harmonize the brand identity within our range of products," states Pierre Stéphane Leyrat, Vice President of Marketing and Sales for Fromagerie Guilloteau. "We felt it was time to modernize the look of the brand, while retaining the core visual components which are easily recognizable to American consumers."
Fromager d'Affinois is similar to Brie in production, appearance and flavour. Unlike in Brie production however, before cheese making the cow's milk undergoes a process called ultrafiltration. Ultrafiltration removes water from the pasteurised milk, concentrating all other components. [1] One effect of this process is that it allows the acceleration of the cheese making process. Whereas classic Brie takes eight weeks to make, Fromager d'Affinois can be made in two weeks. Ultrafiltration also results in a milk that retains more nutrients and proteins, and the cheese has a relatively high fat content of 60%.
Some of the new components introduced to the logo include: a round line (characteristics of the round and soft taste of the products); a simple, natural, slate color; a smile reminiscent of a friendly brand; and a pointed shape similar to the shape of a piece of cheese.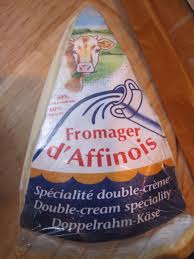 Fromagerie Guilloteau is a family-owned business with two production sites located in the southeast part of France, near the Alps. Fromagerie Guilloteau was created in 1981 with the production of the first Pavé d'Affinois cheese, using ultra-filtration methods. This process retains all the nutrients of the milk in the cheese, which gives a unique taste and texture to the cheese.
Fromagerie Guilloteau best sellers are Fromager d'Affinois Plain, Fromager d'Affinois Garlic and Herbs, Fromager d'Affinois Pepper, Fromager d'Affinois Truffle, Fromager d'Affinois Blue, Saint Angel, Florette, and Campagnier.
We tested these delicious cheeses that really take you back to your last visit to France, reminding you of enjoying foie gras and fromage in a charming cafe, where the freshly baked bread is covered with this outstanding creamy cheese. So good!
You can find these cheeses in many stores throughout the United States, from Whole Foods to specialty cheese shops.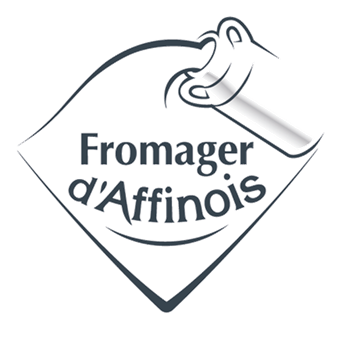 ________________________________________________________________
---