MADE IN SPAIN, PREPARED AT HOME
Explore Spain's Regional Cuisine with Chef José Andrés on PBS
This fall, Spain and its cuisine are being highlighted in 13 new episodes of Made in Spain, a captivating PBS television series that explores the culinary customs, traditional dishes and unique products of Spain.  Hosted by José Andrés, an award-winning chef and restaurateur, Made in Spain is a 26-part series that takes viewers on a voyage through all 17 Spanish regions.  (See www.pbs.org for local listings.)
In each of this season's episodes, José explores a particular region where he visits local produce markets, farms and festivals and meets with chefs, fishermen and farmers.  Then he returns to his Washington, D.C. home kitchen to recreate authentic dishes with Spanish products any budding American cook can find. 
In "Paella Day," José takes viewers to Valencia, famed for its rice fields and as the birthplace of this renowned rice dish.  Later, he teaches Americans how to cook their own version on a backyard barbeque.  In "Cold Soup and Hot Flamenco," he journeys to the Andalucian city of Granada and concocts gazpacho and ajo blanco.  Later he dances his way through one of Spain's popular festivals, the Feria de Abril in another Andalucian city, Seville. Tune in for "The Land of Fire" as José visits the fabled Castile and León – full of castles and cathedrals – and samples the region's delicious roast suckling pig and roast lamb.  Here, he encounters one of the country's great delicacies, the Iberico ham from the black-footed pigs that feed on acorns.  Once unavailable in the U.S., it has recently become a sought after addition to menus across the country.  In "The Onion That Would Be King," José explores Catalonia and attends the Calçot Festival in honor of the region's unusual onion.  While on the trail of a local cheese, in "A Tale of the Drunken Goat," he visits Murcia and the Roman theatre at Cartagena and tries his hand at a unique style of fishing.
More episodes highlight the seafood of Galicia, the trout and truffles of Aragon, the cider and famed blue cheese, cabrales of Asturias and the anchovies of Cantabria.  While others showcase recipes like the sobrasada sausage of the Balearic Islands, cojodongo, an unusual salad found in Extremadura and a dish from the Canary Islands with wrinkled potatoes and two sauces: mojo rojo and mojo verde.
Born in Asturias and raised in Barcelona, José has spent the last 17 years in America as a chef and restaurateur of Café Atlántico, Zaytinya, Oyamel and Jaleo and minibar by josé andrés.  Opening soon is The Bazaar by José Andrés at the new SLS Hotel at Beverly Hills.  He has helped raise the profile of Spanish cuisine and products in the U.S.
"In my TV series, I wanted to bring the best of Spain to a national audience.  Americans have come to know Spanish food through tapas, paella and the wines of Rioja, but they don't know where it all comes from or how easy it is to enjoy at home," José explained.  "Now viewers will be able to bring a taste of Spain into their own kitchens," he said.
The first season's 13 episodes which debuted in February highlighted Madrid, Navarre, the Basque County, Andalucia, Asturias, Castile-La Mancha, Catalonia, Galicia and La Rioja.  New episodes of Made in Spain began airing on PBS stations nationwide in September.  The program can be seen in more than 200 markets, reaching nearly 80 percent of American households.
The first 13 episodes of Made in Spain are available on a double-DVD set on www.ShopPBS.com.  This November, Clarkson Potter will publish a companion cookbook to the Made in Spain series.  For recipes and show highlights, visit www.josemadeinspain.com
---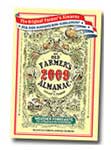 FARMERS ALMANAC RECIPE
New and different recipes will spice up a get-together, a small party, or even a typical dinner at home. Good tasting, easy-to-fix recipes are a staple of The Old Farmer's Almanac. Check out this one from the 2009 edition.
French Farmer's Baked Beef and Barley

1 1/2 pounds stew beef

3 tablespoons vegetable oil

1 medium onion

5 cups beef stock

1/2 teaspoon dried thyme

1/2 teaspoon dried marjoram

1/4 teaspoon dried rosemary

1 cup pearl barley

1 tablespoon finely chopped fresh parsley, for garnish
Preheat the oven to 350º. Trim all of the fat from the beef and cut 1/2-inch cubes. Heat the oil in a large skillet and sauté the onion. Add the beef cubes and brown them on all sides. Transfer the onion and beef to a 3-quart ungreased casserole and set aside. Combine the stock, herbs, and barley in the skillet and bring to a boil. Pour the stock mixture over the sautéed onion and beef, cover, and bake for 1 hour. Garnish with parsley and serve in shallow soup bowls with French bread.
Makes 4 servings.
---
CHEF JACQUES TORRES AND THE EVIAN GIRLS
SHINE AT THE NY FOOD & WINE SHOW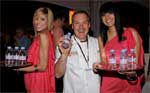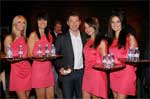 ---

Perfect turkey gravy is a hallmark of the holidays.  Don't let fears of thin, tasteless and lumpy gravy stir up angst.  Make gravy as good as mom's (or maybe even better) with McCormick Turkey Gravy Mix.  It's a cook's secret water, or try one these delicious flavor variations for great homemade taste.
Turkey Gravy Flavor Variations:
Apple Sage Turkey Gravy

Garlic and White Wine Turkey Gravy

Cinnamon-Chipotle Turkey Gravy

Hearty Sage Turkey Gravy

Mushroom-Onion Turkey Gravy

Hearty Herbed Turkey Gravy
Tip: Make sure you have a few extra Turkey Gravy Mix packages on hand for your leftovers.
---
GODIVA CHOCOLATIER 2008 HOLIDAY OFFERINGS
Sweets for the Holidays can now be ordered from your laptop!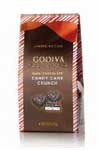 NEW Godiva Chocoiste Candy Cane Crunch:
Get into the holiday spirit with the NEW Godiva Chocoiste Candy Cane Crunch, sold exclusively at Godiva.com and specialty retailers this holiday season. Deliciously creamy Godiva white chocolate, mixed with cool, crunchy candy cane pieces, is enrobed in Godiva dark chocolate and topped with a sprinkling of holiday crunchies. It's the perfect tre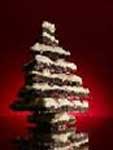 at to enjoy yourself or share with friends at your holiday gatherings. 
 
Godiva Candy Cane Bark:
Hand dipped daily during the holiday season at Godiva boutiques nationwide, Godiva Candy Cane Bark features deliciously layered dark and white chocolate, mixed with crunchy candy cane pieces. This decadent treat, sold in individual cellophane bags or in a special holiday box, is perfect for spicing up any holiday party.
Godiva Boutiques Nationwide
 
NEW Godiva Seasonal Chocolates:
The holidays would be incomplete without deeply decadent Godiva chocolates. This season, the Holiday Gift Assortment contains 4 delectable new pieces: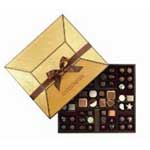 Mandarin Snowflake: A pure white chocolate snowflake melting over a sweet Mandarin orange center.
Mocha Snowflake: A delicate milk chocolate snowflake blanketing an indulgent mocha filling.
Winter Cocoa: A classic dark chocolate pallet filled with the wondrous flavor of hot chocolate.
Winter Almond: The luscious flavor of almond marzipan wrapped in rich dark chocolate.
Available in 10-piece, 18-piece and 36-piece  Holiday Gift Boxes, Godiva Boutiques Nationwide, Godiva.com, Specialty Retailers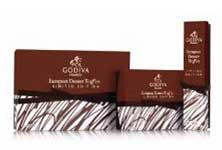 The Godiva Ultimate Collection:
This holiday season explore the ultimate chocolate luxury from Godiva. The Godiva Ultimate Collection features the finest selection of signature Godiva chocolates, truffles, and biscuits, all brought together in an extraordinarily decadent assortment. The collection includes 20 truffles, 36 chocolates and 23 Biscuits.
 
Godiva Limited Edition European Dessert Truffles:
Reward your hostess this holiday with a tour of Europe's finest patisseries. This exclusive line, available for a limited time only, allows you to indulge your sweet tooth and select your favorite dessert from the best of European pastry and confection. Godiva has masterfully reinterpreted six desserts as decadent Godiva truffles - Lemon Chiffon Cake, Caramelized Apple Tarte, Crème Brûlée, Chocolate Soufflé, Bananas Foster and Black Forest Torte.
Gift boxes are available in 6-piece , 12-piece  and 24-piece packages, Godiva Boutqiues Nationwide, Godiva.com, Specialty Retailers 
---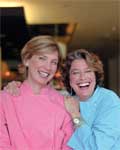 CONGRATULATIONS TO THE
TWO HOT TAMALES - CUIDAD IS 10
 
Mary Sue Miliken and Susan Feniger Celebrate !0 Years at Ciudad Restaurant in Los Angeles. What a great place--what a great menu--what great chef's they are. Bravo!!! For information visit: www.ciudad.com.

---