CULINARY COUP   .    .    .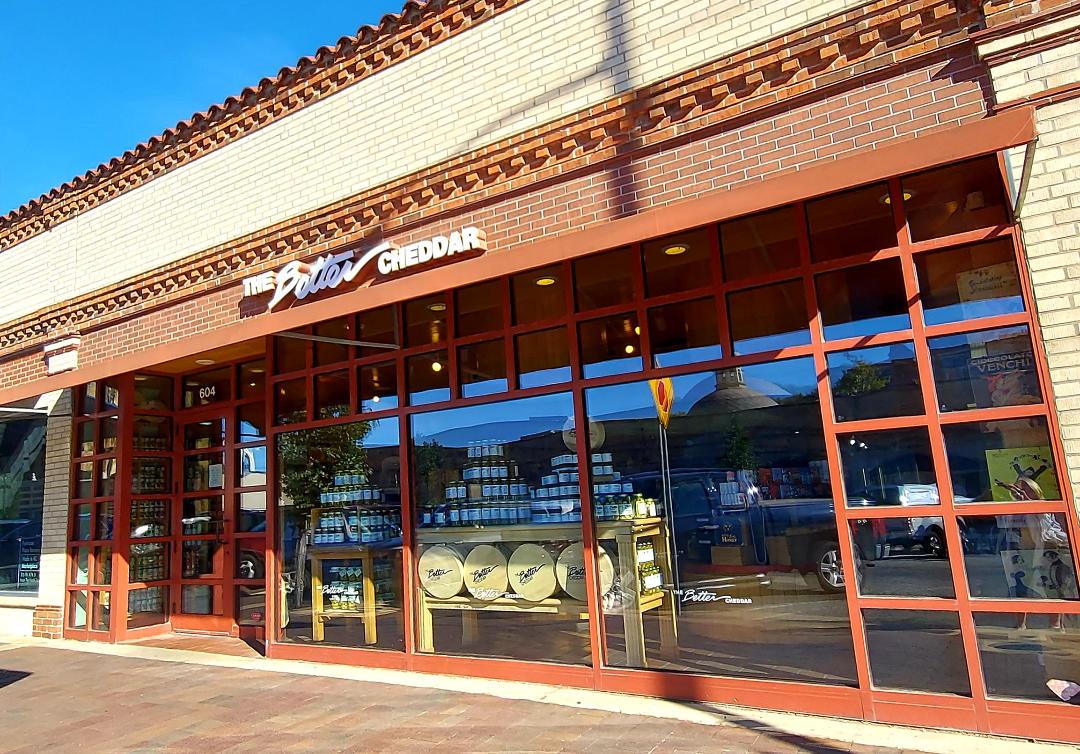 THE BETTER CHEDDAR
Award-winning Foodie Find in Kansas City
By Bonnie Carroll
While taking a break from the Association for Women in Communications national professional development conference, held at The Fontaine Hotel in Kansas City this October, I began photographing the many interesting old buildings in the area. Soon I found myself in the Country Club Plaza area established in 1922, an amazing place to get a complete feel for the community through their diverse architectural styles, shopping, and dining venues.
As I was walking down 48th Street my eye caught the word Cheddar atop a nice-looking brick building and soon I was inside talking with the owner Ron Shalinsky and Lincoln Broadbrocks of The Better Cheddar, a welcoming award-winning shop overflowing with gourmet food items, along with a huge selection of American artesian and farmstead cheese and imported varieties that would warm the heart of any real cheese lover.  The international selections were so impressive, but the local cheeses, some of which I had never seen, were outstanding and unique. The store shelves were lined with every type of accoutrement for fine entertaining and dining.
Shalinsky explained that he worked in a corporation and visited the cheese shop that was built in the late1970s, and in 1977-78 it was a cheese villa that was ready to close, a bad flood in the area sealed their fate. When he bought the shop in 1983 it was bare bones, and slowly they renovated for improved food & wine sales. The private label products are a consignment arrangement, and their label on 48th Street Cheese or young local and aged cheddar are very popular but are not aged more than French style cheeses. According to Shalinsky they carry 175 cheeses at The Better Cheddar, and more during the holidays.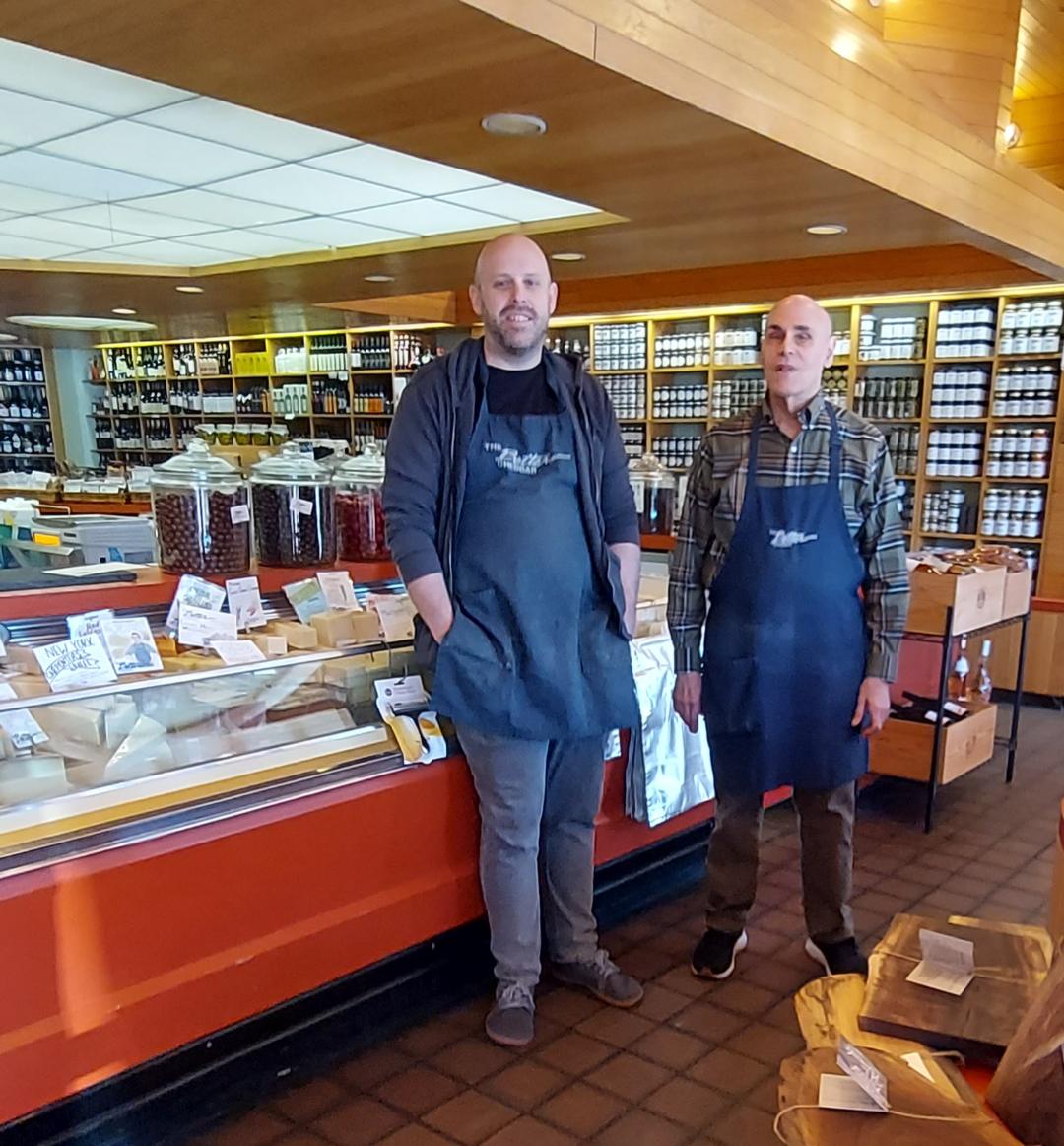 Lincoln Broadbrocks and Ron Shalinsky
Lincoln Broadbrocks has worked with Shalinsky for years and he is a certified professional cheese evaluator. He took test to obtain this title following many years' experiences working with cheese to develop taste and smell and complete knowledge of cheese; he is a cheese evaluator among 1,000 in the US and Canada.
Being an enthusiastic foodie, I was all over their shop and found some delightful early Christmas stash gifts including Mc Steven's Hot Cocoa from Vancouver Washington, an unbelievable variety of Anderson House Frontier Soups (which I made a week later that were delicious), as well as signature label chili, sauces, vegetables, fine caramels and more.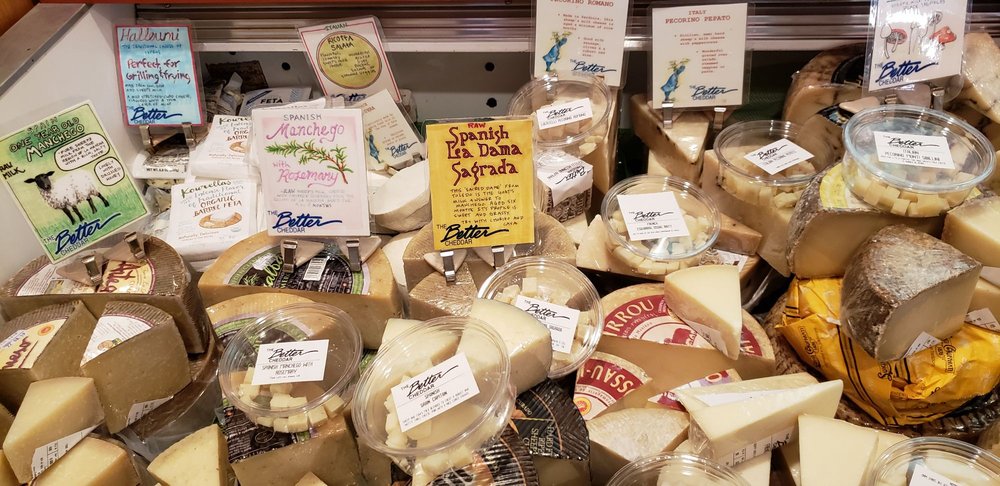 Endless Varieties of Fine Cheese at The Better Cheddar
Their wines, surprisingly, included many California wines, as well as Washington State and of course imported bubbly. Imported olives, gourmet pickles from France, every kind of fine cracker and nut filed before these little blue gourmand eyes, and it was exciting to learn they have a cheese club that offers members select insider tastes of their newest cheese arrivals.
I only left because I had to, with a bag of goodies to slide into my suitcase for the trip back to Santa Barbara, but I hope to get back there again for more delicious samples, and totally recommend this treasure-trove of deliciousness to any and all visiting Kansas City, Missouri. I also found a great wine and cheese tasting suggestion on their website that highlighted a cheese, saki and soju cocktail combination.
The Better Cheddar, 604 W. 48th Street, Kansas City, Missouri. See Map below. Store hours: Monday-Thursday 9am to 7pm, Friday – Saturday 9am – 9pm, Sunday 10am – 6pm. Their sister location is at #5 on the Mall at Prairie Village. Visit them at www.TheBetterCheddar.com for additional information.
___________________________________________________________________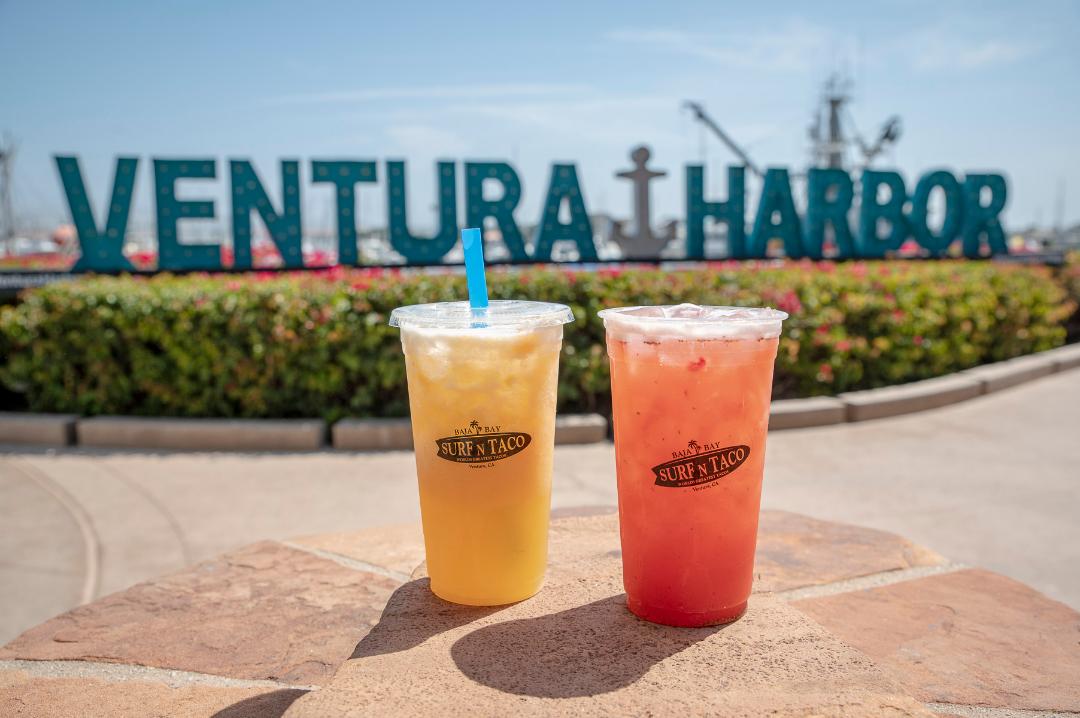 FARM TO TABLE INGREDIENTS ARE ON THE MENU
AT BAJA BAY SURF N' TACO IN VENTURA HARBOR VILLAGE OFF OF CA HIGHWAY 101
It's A Family Affair As New Owners of Family Eatery Create Authentic Mexican Fare
Using The Owners Mother's Original Recipes from Ensenada, Baja California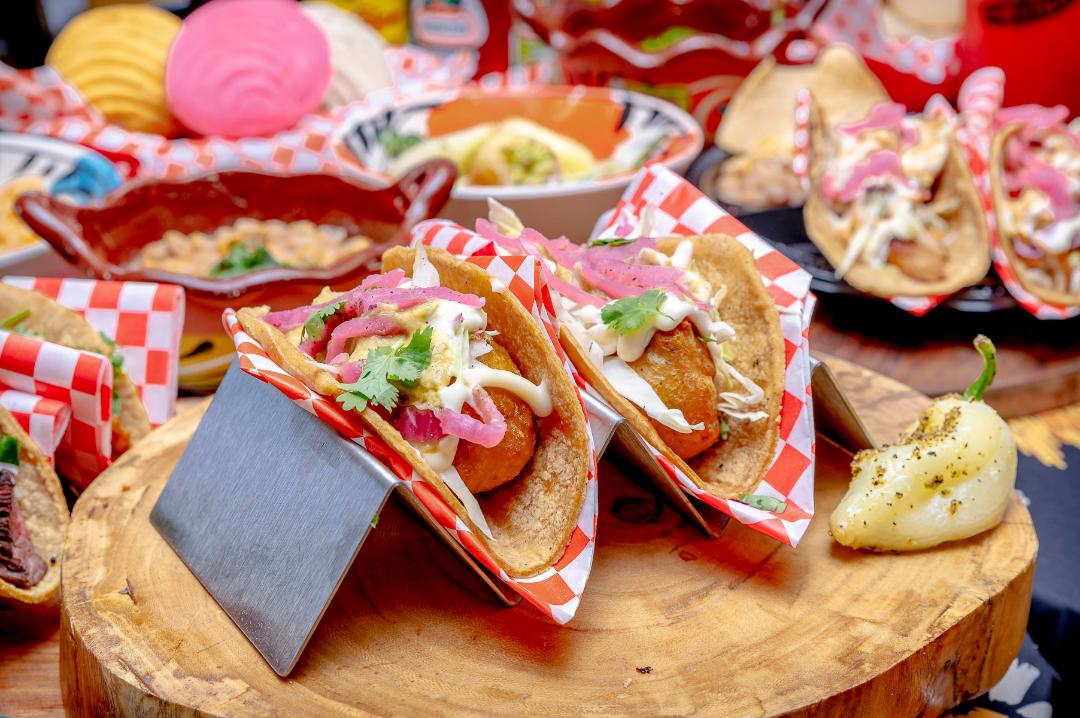 Inspired by the coastal cuisine of Ensenada, Baja California, the new owners of Baja Bay Surf N' Taco in Ventura Harbor Village are dishing up a fresh menu featuring savory  Mexican fare.  Entrees originate from Co-Owner, Ricardo (Rick) Magana's Mom's Baja style home-cooked meals and her experience working in a fish factory in Baja, California where she shared her authentic recipes. 
"We were inspired to open up a Mexican restaurant in Ventura Harbor Village because of our love and passion for cooking homemade Mexican food.  We dreamed of one day having our own restaurant which has now become a reality," says Co-owners Rick Magana and his wife Christina.
Baja Bay Surf N' Taco (one of 18 dockside restaurants at scenic Ventura Harbor Village) uses fresh, local ingredients in everything from the flavorful fresh fruit in their signature drink, Agua frescas, to the fresh catch of the day, including the eatery's signature dish, delicious halibut fish tacos that are beer battered mix from a secret family recipe.  
Other popular daily specials include:
Ensenada-style battered or marinated grilled halibut, shark or shrimp tacos

Mouth-watering  grilled Carne asada and chicken tacos

Delicious burritos with shark, halibut, shrimp, chicken, Carne asada or a veggie option

Handcrafted Agua frescas, using locally grown fruit from Ventura County produce vendors.  The refreshing drinks include cantaloupe, cucumber, horchata, pineapple, lime, mango, strawberry, watermelon.
Diners from near and far can also savor the taco combo plates that provide a choice of tacos accompanied by fluffy Jasmine rice and fresh Peruvian-style beans, in addition to delectable side dishes such as fresh chips and homemade salsas.  A great vegetarian option is the veggie burrito.
The restaurant offers both indoor, patio and take-out dining and prices range from $4 for side dishes to $15 for a combo plate.
Located in a prime location in Ventura Harbor, the Restaurant is located at 1567 Spinnaker Dr #104, Ventura, California, 93001 in Ventura Harbor Village adjacent to the picturesque Surfers Knoll Beach.
For more information about Baja Bay Surf N' Taco, visit https://www.venturaharborvillage.com/directory/baja-bay-surf-n-taco/ or call 805-535-4160.
Follow the Restaurant on Instagram and Tik Tok:  @bajabaysurfntaco_
About Ventura Harbor Village:
Situated along the picturesque California Central Coast, endowed with breathtaking
views, Ventura County's Ventura Harbor is bordered by the City of Ventura on three sides and the Pacific Ocean on the west. Ventura Harbor Village and Ventura Harbor boast 16 unique shops, 18 dockside restaurants and fish markets, two waterfront hotels, beaches, green spaces, water sports, boating, public launch ramp, fuel dock, markets, waterfront hotels, and cruising options (dive and fishing boats, harbor tours, kayaks, electric and pedal boat rentals) and a beautiful walking Promenade, which make this all part of an affordable, multigenerational vacation destination.  The Ventura Harbor Village also offers visitors an escape for coastal visitors and residents with live weekend entertainment, dog-friendly facilities, soft adventure, and spectacular sunset views of the Pacific coastline. Home to the Channel Islands National Park Visitor Center, (open daily with free admission, within walking distance to the Village), this stunning national park center features its own viewing tower, exhibits, movie theater, and bookstore. It is here that visitors can learn more about exploring the Channel Islands for world-class island diving, snorkeling, hiking, kayaking, sea cave exploration, photography, camping and wildlife viewing via Island Packers and a number of local outfitters.
Ventura Harbor is 20 miles from Santa Barbara and is 60 miles from Los Angeles International Airport. It is accessible in just minutes from scenic US Highway 101/Highway1 and via the 126 from the 5 Freeway.  For additional visitor information, contact Ventura Harbor Village at 805-477-0470, or visit www.VenturaHarborVillage.com.  Ventura Harbor Village is located at 1583 Spinnaker Drive in Ventura.
Post, share, and like @VenturaHarbor.
___________________________________________________________________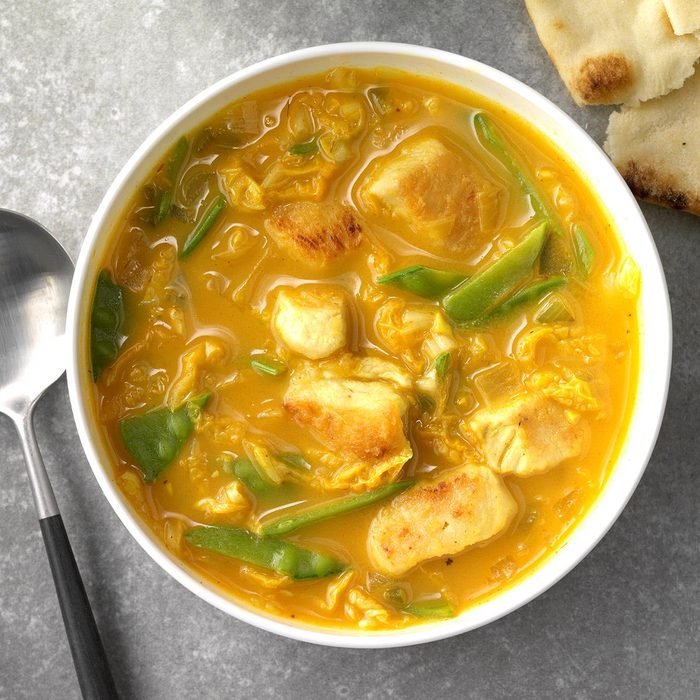 FALL THAI SOUP
Spicy Thai Coconut Chicken Soup Recipe photo by Taste of Home
Ingredients
1 pound boneless skinless chicken breasts, cut into 3/4-inch cubes

3 tablespoons cornstarch

3 tablespoons peanut or canola oil, divided

1 large onion, chopped

1 small jalapeno pepper, seeded and minced

2 garlic cloves, minced

2 teaspoons red curry powder

1 teaspoon ground ginger

3/4 teaspoon salt

1/2 teaspoon ground turmeric

1 teaspoon Sriracha chili sauce

1 can (13.66 ounces) light coconut milk

1 carton (32 ounces) chicken broth

2 cups thinly sliced Chinese or napa cabbage

1 cup thinly sliced fresh snow peas

Thinly sliced green onions

Lime wedge
Directions
1.      Toss chicken with cornstarch. In a 6-qt. stockpot, heat 2 tablespoons oil over medium-high heat; saute chicken until lightly browned, 2-3 minutes. Remove from pot.
2.      In same pan, saute onion, jalapeno and garlic in remaining oil over medium-high heat until onion is tender, 3-4 minutes. Stir in seasonings, chili sauce, coconut milk and broth; bring to a boil. Reduce heat; simmer, covered, 20 minutes.
3.      Stir in cabbage, snow peas and chicken; cook, uncovered, just until cabbage is crisp-tender and chicken is cooked through, 3-4 minutes. Serve with green onions and lime wedges.
__________________________________________________________________
WINTER FANCY FOOD SHOW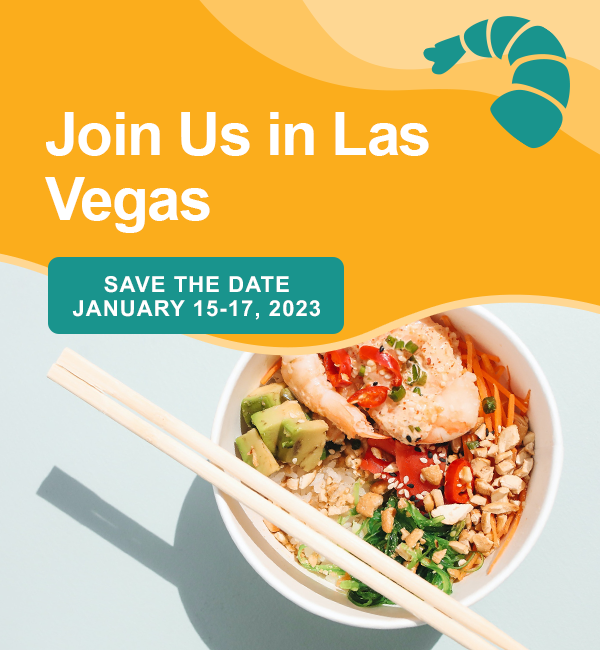 The Winter Fancy Food Show is where you can sample the newest food and beverages in more than 40 product categories, learn about the hottest trends and innovations from industry leaders, and engage in networking opportunities to grow your professional relationships. 

The Show is your one-stop-shop to discover — and taste — the latest and best-selling specialty food products. 

Registration opens next Monday, October 24.  Be sure to register early for the best rates!
__________________________________________________________________
---