CULINARY COUP . . .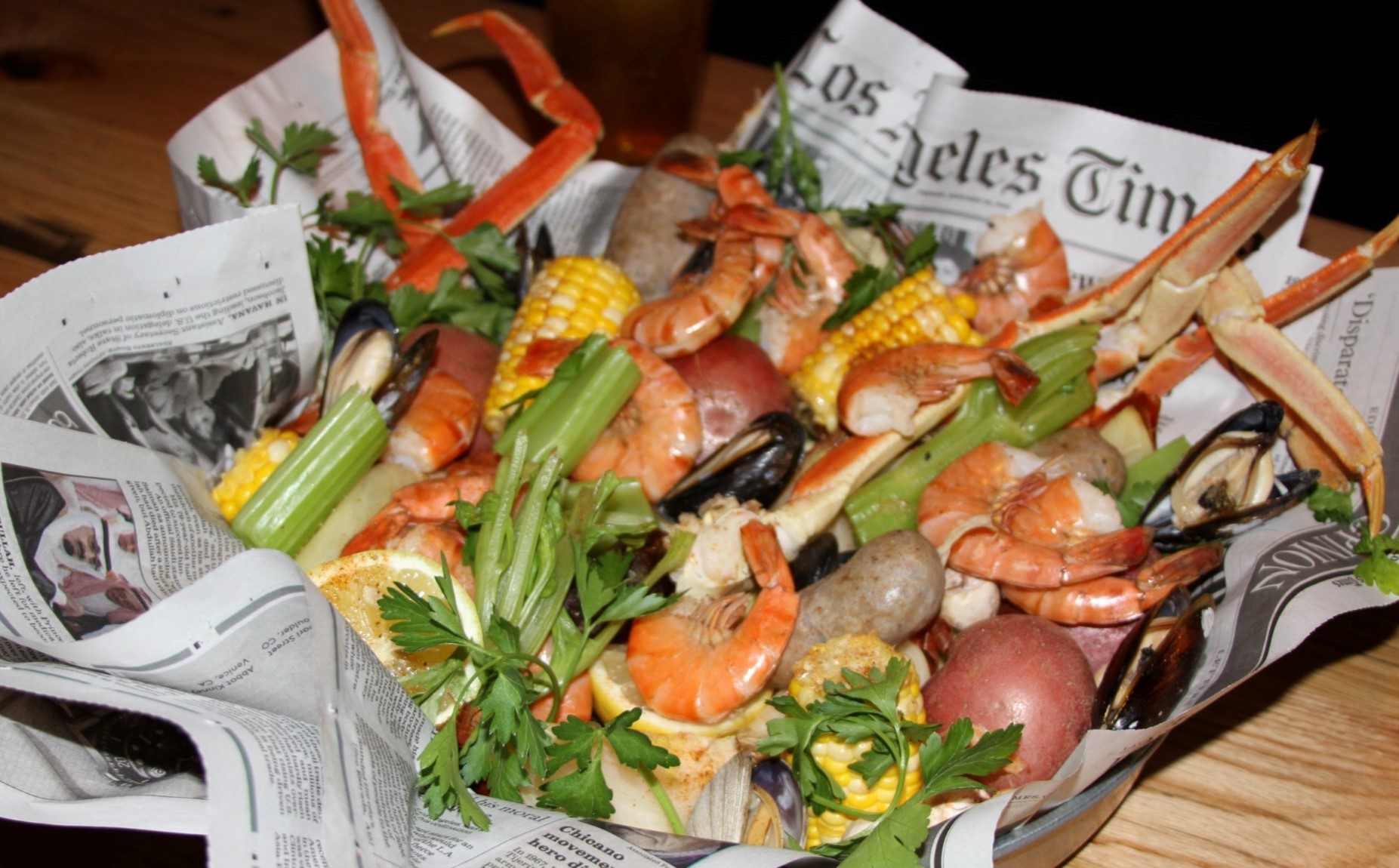 Messhall's New Chef Arrived just in time for Mardi Gras
Messhall's new Executive Chef Shane Pritchett arrived in Los Angeles direct from New Orleans.  Chef Pritchett was hand-picked by Emeril Lagasse to work at his original Emeril's Restaurant and then became Executive Chef at Emeril's famed Delmonico restaurant in New Orleans.  He received rave reviews and perfected his talent bringing big bold flavors to classic recipes. 
The new menu at Messhall will be a mix of new specialties from Pritchett  - Hog Chop with Tchoupitoulas sauce; Stone Ground Grits; Crab Cakes with house slaw and Turkey chili with jalapeno cornbread plus Messhall standards like Willard Fried Chicken, The Messburger and  our "Best of LA" Corn Fritters .  Pritchett promises lots of seafood specials starting with Fried oysters with black eyed peas and brie cream; Ceviche du Jour; and 'peel + eat' Shrimp.  We'll also be adding some "breakfast for lunch items" like Shrimp and Grits and Chicken and Waffles   Next up, Chef Pritchett will be showing off his sweet tooth so stay tuned.
Fat Tuesday Party February 17
"Laissez les bons temps rouler" or as they said in LA, "Come hungry and thirsty"!  There was plenty of food, drink, music, and fun. Special of the Night will be a two-course Mardi Gras feast:  an authentic Crawfish and Shrimp Boil* (with corn, sausage + mushrooms) served on newspaper in a tin can lid and a Cinnamon Raisin Bread pudding with praline sauce for dessert (Feast $36).  And since it's (Fat) Tuesday, all Oysters and all Tacos are just $1. 
In addition to our not-so-traditional Hurricane (recipe below), drinks also included for the night were named after the Seven Deadly Sins – pick your favorite:  Lust, Gluttony, Greed, Sloth, Envy, Wrath and Pride (recipes below). 

$1  Oysters and Taco Tuesday returns to Messhall
Our popular 'no limit' $1 Oysters and Tacos return every Tuesday night. 
That's all night long – not just a happy hour.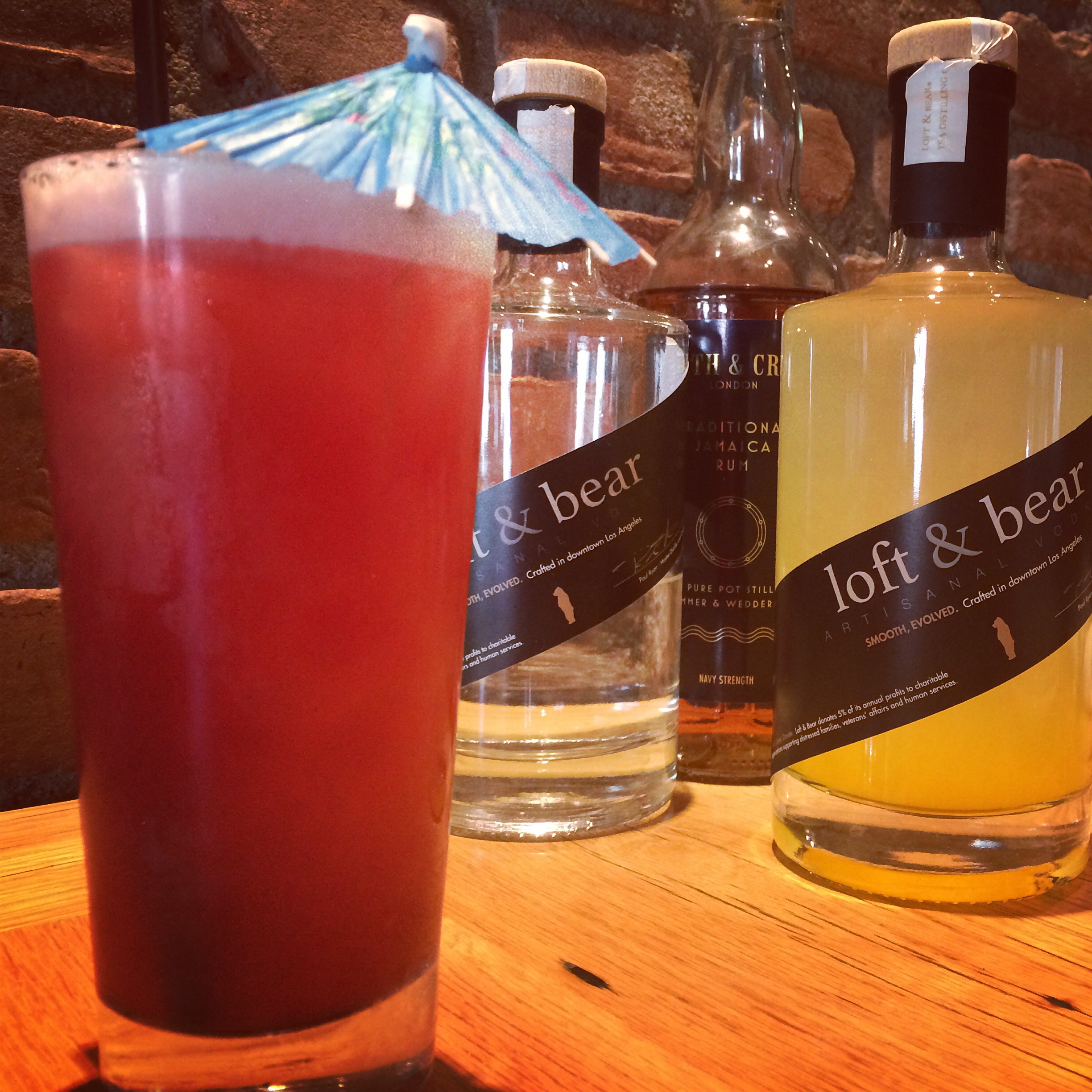 Hurricane (umbrella included)   $10  
3/4 lime juice
½ oz grenadine
1 oz  pineapple juice
1 oz  blood orange juice
1 1/2  oz  Passion Fruit infused Loft + Bear vodka  
3/4 oz  Smith and Cross Rum
Pride  (one of Seven Deadly Sin drinks)
  $12
2 oz  Isle of Skye Scotch 
¾ 
oz Meletti
1/2 oz  Poli Miele
Dash of Angostura and Peychaud's bitters
4500 Los Feliz Blvd
_______________________________________________________
JIMMY'S THEN AND NOW . . .
"Grasshopper for Grandpa" the history of 'Jimmy's Oriental Gardens' to Premiere at SBIFF 2015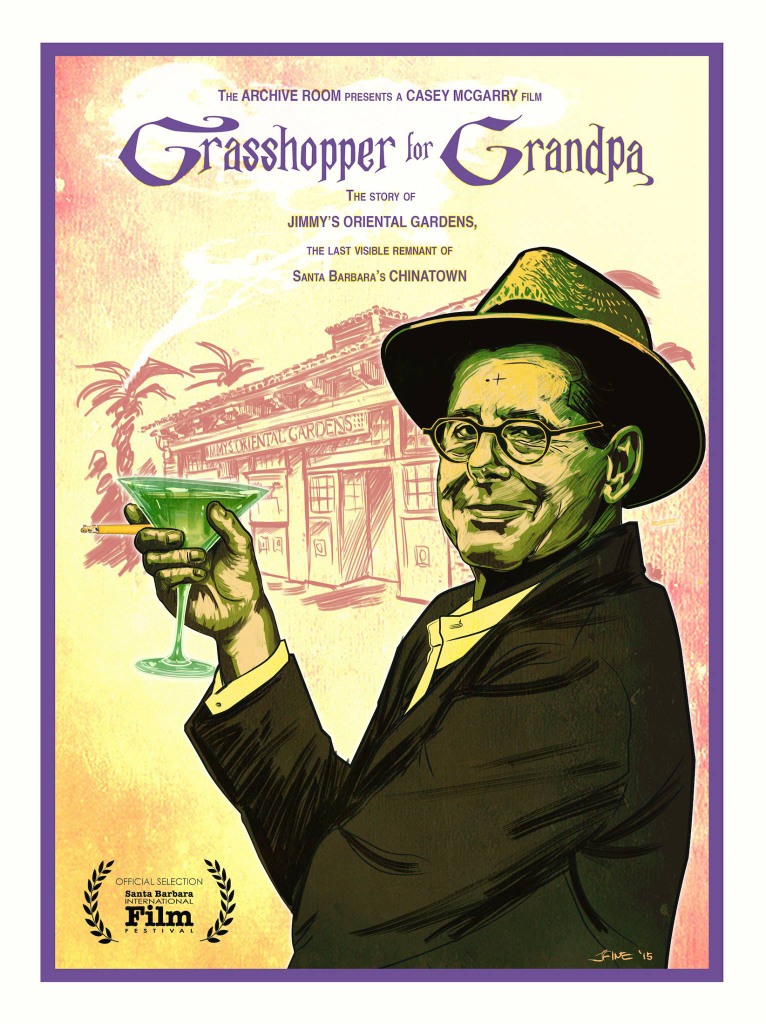 The world premiere of the documentary on the history of 'Jimmy's Oriental Gardens' is titled: "Grasshopper for Grandpa" is set for the Santa Barbara International Film Festival! Showing Thurs., February 5th & Fri. 6th @4:30pm at the Lobero Theatre. Come see it! Directed by Casey McGarry, Produced by Milo Wolf, Maureen McFadden & Casey McGarry, Edited by Eric Pritchard, Music by Nate Birkey, Film poster by Jenny Fine. (runs about 30 minutes). For additional information visit: www.sbiff.org.
Grasshopper for Grandpa is a film about Jimmy's a celebrated, hometown neighborhood bar and an adjoining Chinese restaurant that is the sole remaining landmark of Old Chinatown, Santa Barbara. Today it is the home of Three Pickles, and the PICKLE ROOM lounge features egg rolls and classic cocktails.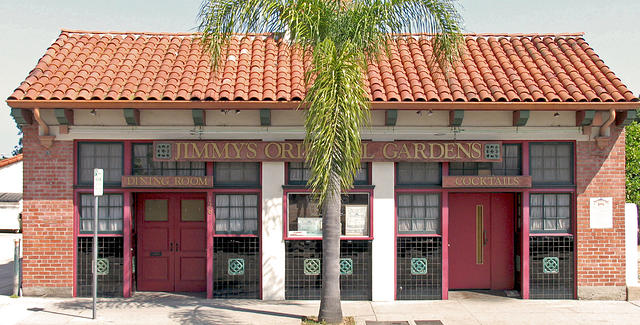 When Jimmy Chung opened this restaurant in Santa Barbara in 1936, he served American Chinese food. Chop suey, steaks, burgers, and such were some early favorites. There was other comfort food, typical Cantonese dishes such as won ton soup and noodle soups. According to local writer Matt Kettmann "It was a joy to observe patrons slurping up a giant bowl of steaming noodles on a cold night." Kettmann penned a story in 2006 when Jimmy's closed sharing his personal experiences of Jimmy's which described the generosity and devotion of the Chung family as being their legacy to the community of Santa Barbara. (painting above by
Today Bob and Clay Lovejoy, owners of Three Pickles, which opened several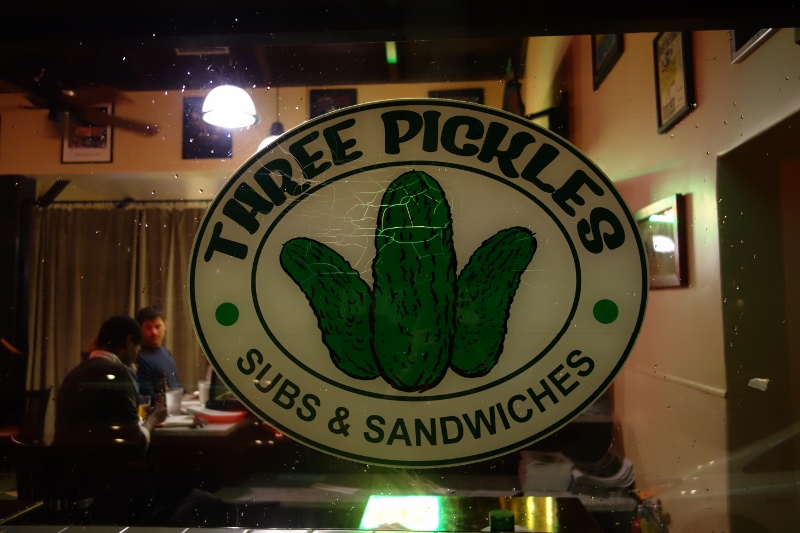 years ago in the historic Jimmy's location at 126 E. Canon Perdido Street, have become known for their delicious catering and lunch menus, including their authentic Chicago style Italian beef sandwich, which quickly became a favorite of Chicago transplants.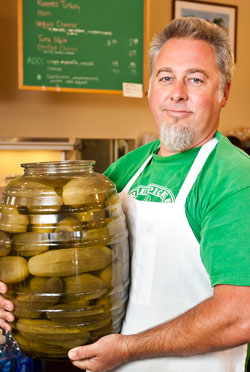 According to Clay "This Italian beef sandwich keeps diners coming back for more and said the creation of their unique sandwich all started on a trip to Chicago to visit his best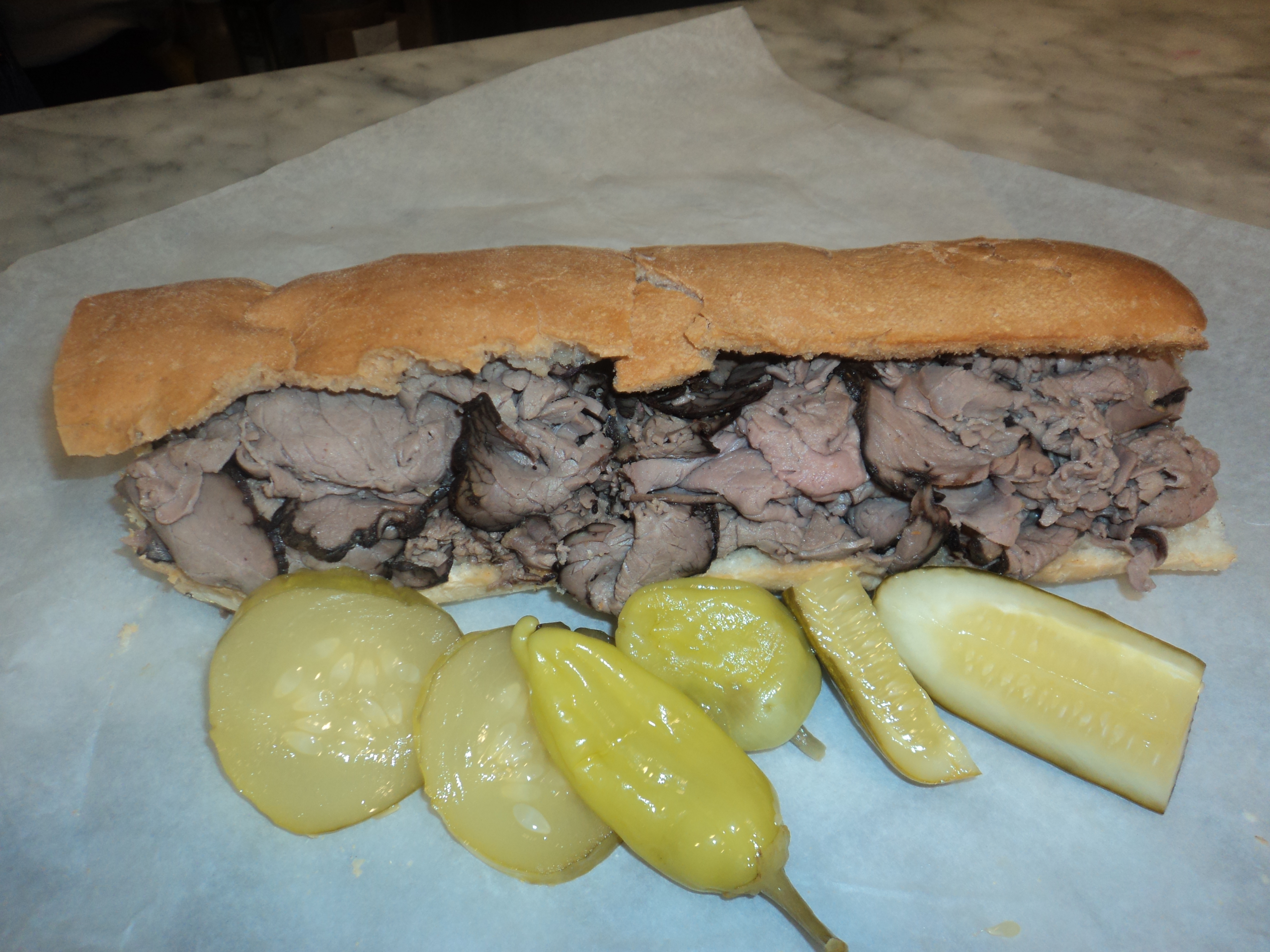 friend's girl who was in college. This is where they discovered Al's #1 Italian Beef Sandwiches, a mid-west favorite that later became the inspiration for their own Three Pickles delicious sandwich served with three pickles. The popular lunch haunt has an extensive menu that includes everything from deli favorites to healthy salads and soups, paired wine & beer.
Customers of Three Pickles, as well as locals who have great family memories of Jimmy's, are looking forward to the world premiere of "Grasshopper for Grandpa." For restaurant hours and menu selection visit: www.threepickles.com.
__________________________________________________________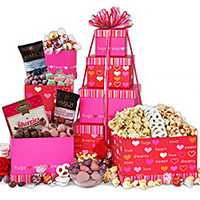 Remember your Sweetheart with a unique Gift Basket from

__________________________________________________________________
VIA MAESTRO 42 ...
THINK ROMANTIC ITALIAN FOR VALENTINES DAY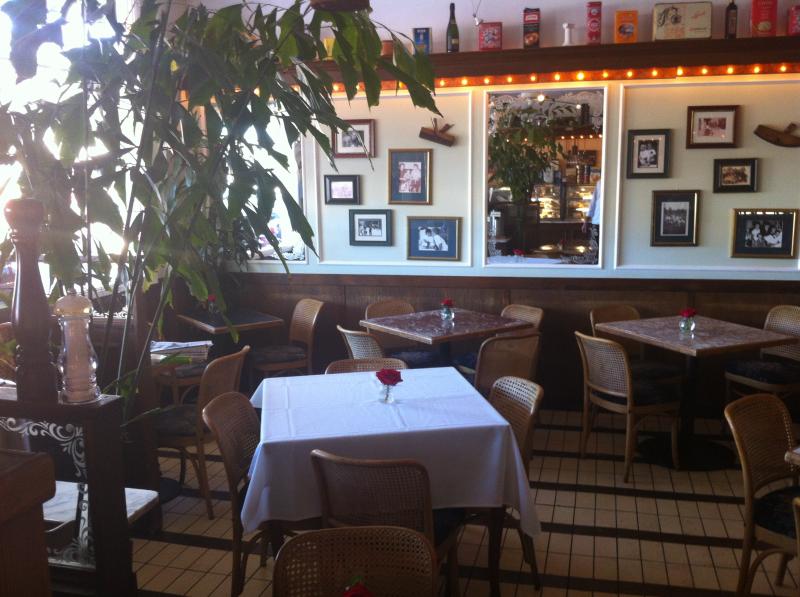 Share a delightful and romantic dinner in Santa Barbara's sweetest and most authentic Italian venue. Via Maestra 42 was named for the owner's home address in Piedmonte, Italy, and the dishes are from original family favorites. Enjoy breakfast, a lunch inside or on the patio, and dinner in the cozy diningroom. Wines are perfectly paired with signature dishes, and the gelato or sweet endings are amazing. Buon Appetito!
Via Maestra 42  3343 State St
Santa Barbara, CA 93105
(805) 569-6522
_____________________________________________________________________
VALENTINE SWEETS FOR YOUR SWEETIE
Baked by Melissa . . . How It Started
Ever since she was a little girl, Melissa has loved to bake. So when she was fired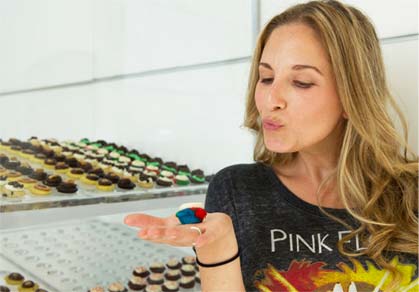 from her job in advertising in 2008, Melissa decided from that moment on she was going to do what she loved. Drawing on inspiration from the care-free rock 'n roll culture of the 60's and 70's and the idea that people should be able to taste more flavors without that post-dessert guilt trip, Melissa engaged the help of some key people in her life, and in 2009 opened the first Baked by Melissa shop, in New York City's SoHo district.
The company has twelve locations in New York and offers and endless variety of cupcakes and special occasion gift cupcakes, as well as monthly creations. They are all delicious and so beautiful! If you're looking for 'just a mouthful' of sweetness for Valenrtine's Day call Baked by Melissa at 212.842.0220 or visit Visit: BakedbyMelissa.com
White Chocolate Crunch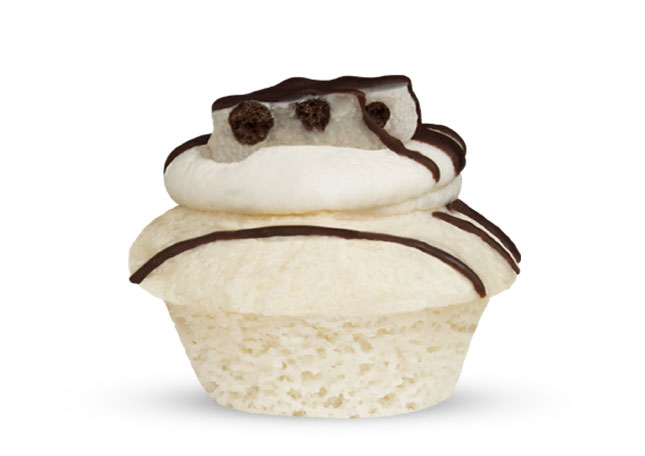 MINI OF THE MONTH
Black, and white, and sweet all over!
CAKE: Vanilla
ICING: Vanilla
STUFFING: Cookie Butter
TOPPING: White Chocolate Crunch & Chocolate Drizzl
Mint Chocolate Chip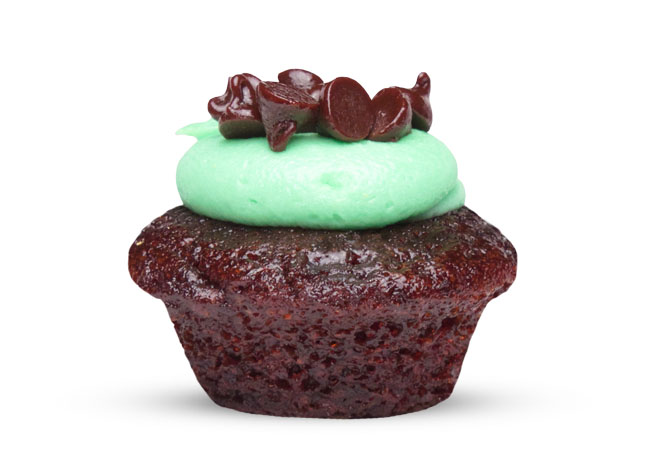 ORIGINAL FLAVORS
Watch out! The Mint Chocolate Chip cupcake is the perfect blend of chocolate and mint in a single bite!
CAKE: Chocolate
ICING: Mint
STUFFING: Chocolate Pudding
TOPPING: Mini Chocolate Chips
12 Locations
Visit: BakedbyMelissa.com
Columbus Circle Location:
975 8th Ave
between 57th & 58th
New York NY 10019
Monday - Friday: 8am - 11pm
Saturday: 9am - 11pm
Sunday: 9am - 10pm
____________________________________________________________________
---