Culinary Coup
dbBRASSERIE REOPENING IN LAS VEGAS
BUDDY V SURPRISE CAKE FOR DANIEL BOULUD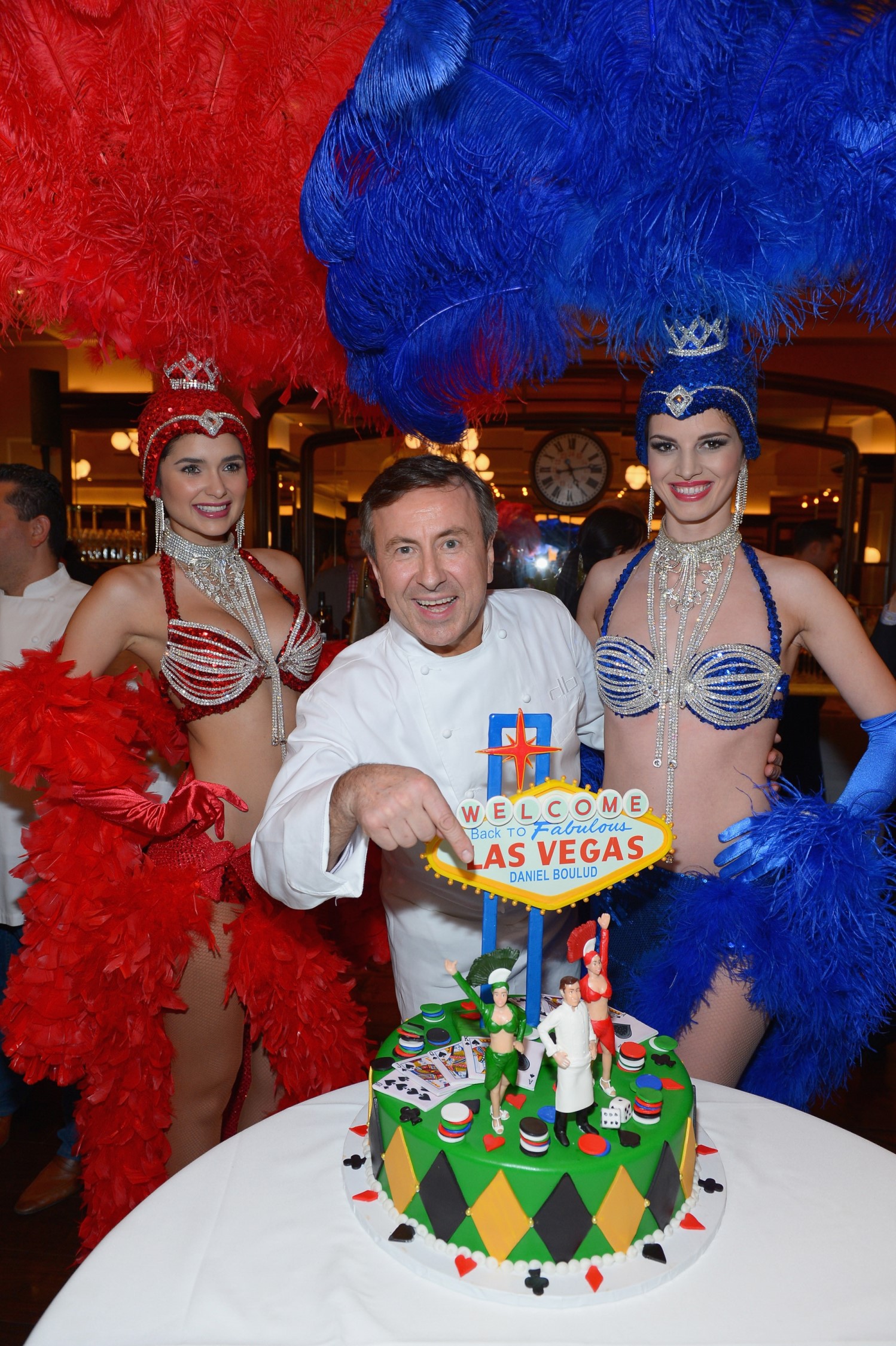 Guests were treated to a surprise when Buddy "The Cake Boss" Valastro, who also has Buddy V's Ristorante and Carlo's Bakery on the Venetian property, arrived in true Vegas style with a showgirl on each arm to present Daniel with a welcome "back" to Las Vegas cake.
Guests included chefs Thomas Keller, Jean-Georges Vongerichte, Nobu Matsuhisa, Paul Bartolotta, Francois Payard and Sam "Sammy D" Demarco, host of Travel Channel's "Chow Masters." Visit: www.danielboulud.com. for details.
___________________________________________________________________
LUXE RODEO HOTEL CENTER OF BEVERLY HILLS CENTENNIAL
Fantastic Rodeo Drive 100th Birthday Block Party & Historic Guittard Cake
1914-2014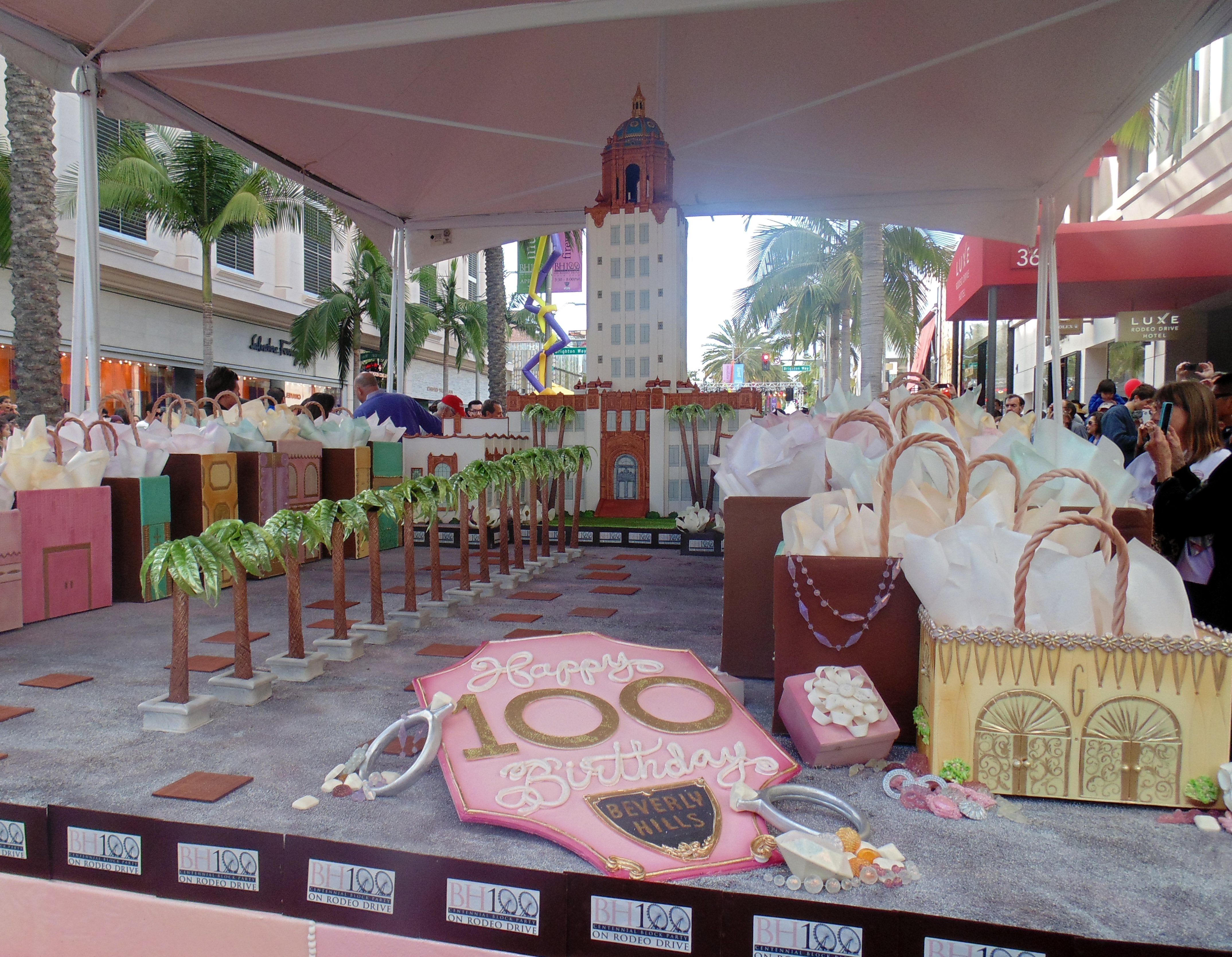 Luxe Rodeo Guittard Cake by Chef Donald Wressell & Team
The Centennial Block Party Celebrating the 100th Birthday of Beverly Hills (1914-2014) was overflowing with people on three blocks of Rodeo Drive. Sponsors for the birthday party included Guittard, Luxe Rodeo Hotel, Beverly Hills Centennial Committee, Rodeo Drive Committee, Rolex, Geary's of Beverly Hills and Mercedes Benz of Beverly Hills.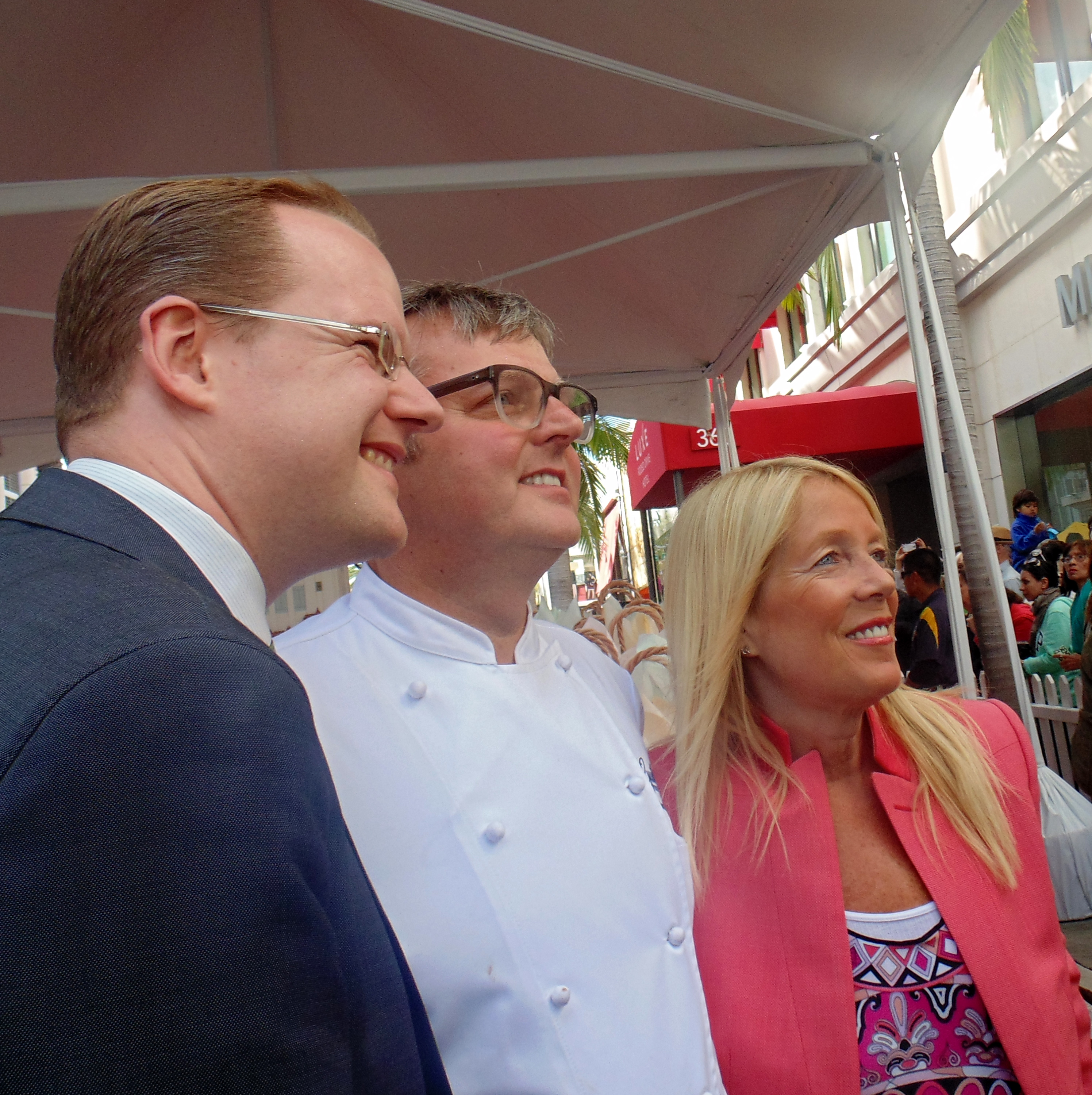 Marcus Mueller GM Luxe Rodeo, Chef Wressell and Mayor Lili Bosse
The centerpiece of the event was the Guittard Chocolate Cake donated by Efrem Harkham, founder of Luxe Hotels, who provided tastes on Rodeo and also hosted celebs in the penthouse of his lovely Rodeo Drive Hotel, where Chef David Padilla and his staff offered cold and hot appetizers, fresh chucked oysters with lemon, mini-burgers and a variety of wines and champagnes, including organic choices. There was a room with a soft drink and soda bar, as well as a table filled with candies for the children, and a popcorn vendor.
The one-of-a-kind Guittard Company cake depicting City Hall and Rodeo Drive was prepared by Executive Chef Donald Wressell and his pastry team was 10 feet high, 15 feet wide, and 20 feet long. It was designed to serve more than 15,000 slices to the community and visitors. According to Wressell "it was seven months in the making." "We are thrilled to work with the Rodeo Drive Committee and Guittard to honor the City of Beverly Hills on this important day in history," said Efrem Harkham. The cake featured a perfect replica of Beverly Hills City Hall, with artistic colored candy palm trees, and surrounded by beautiful colored candy gift bags and flowers.
The crowd was filled with excitement as Mayor Lili Bosse, Efrem Harkham, Luxe Rodeo Hotel, Martha Reeves, Chef Wressell & Team, and members of the City Council cut the cake and the Guittard servers began serving cake to thousands of guests, who all loved it!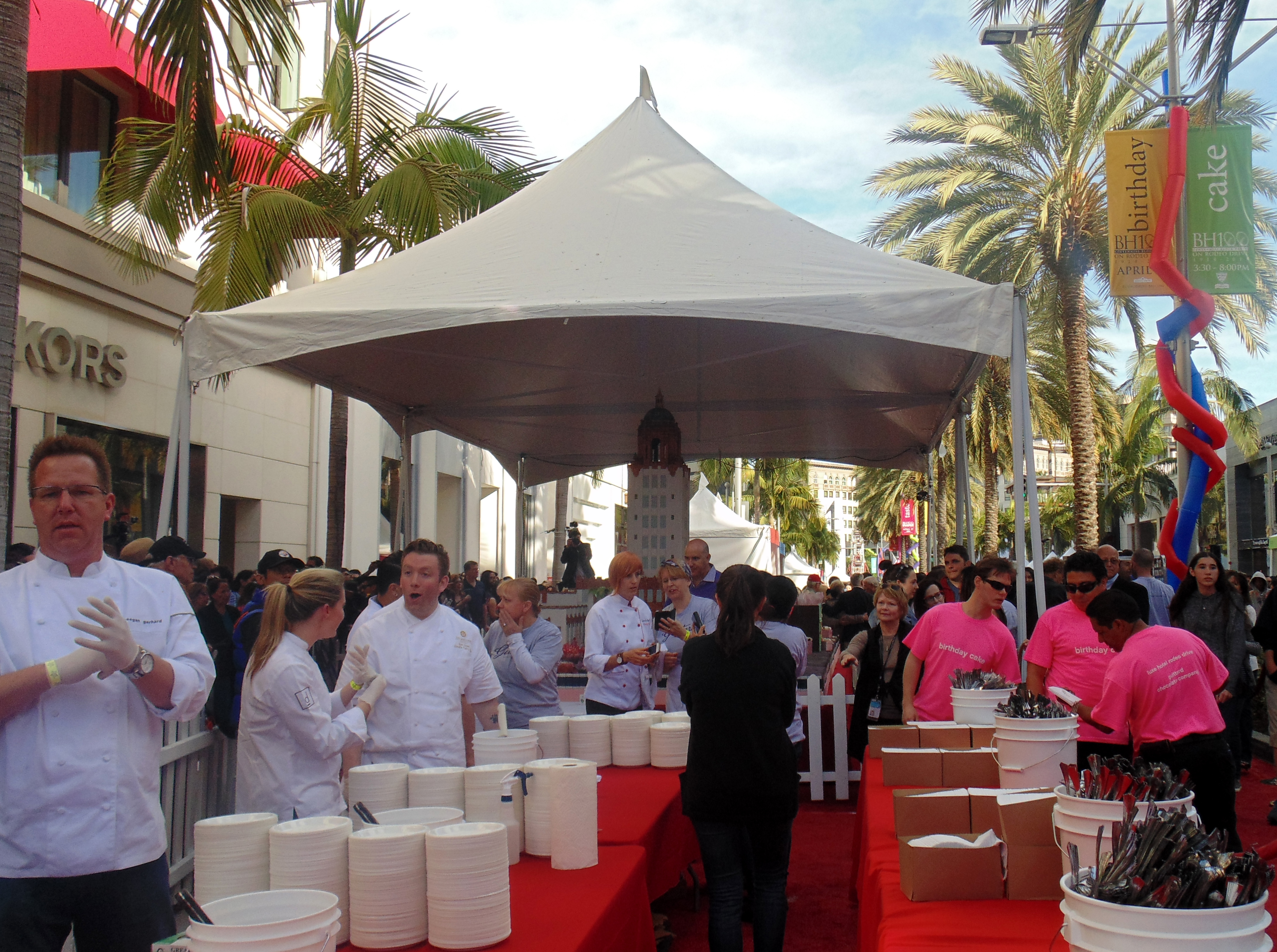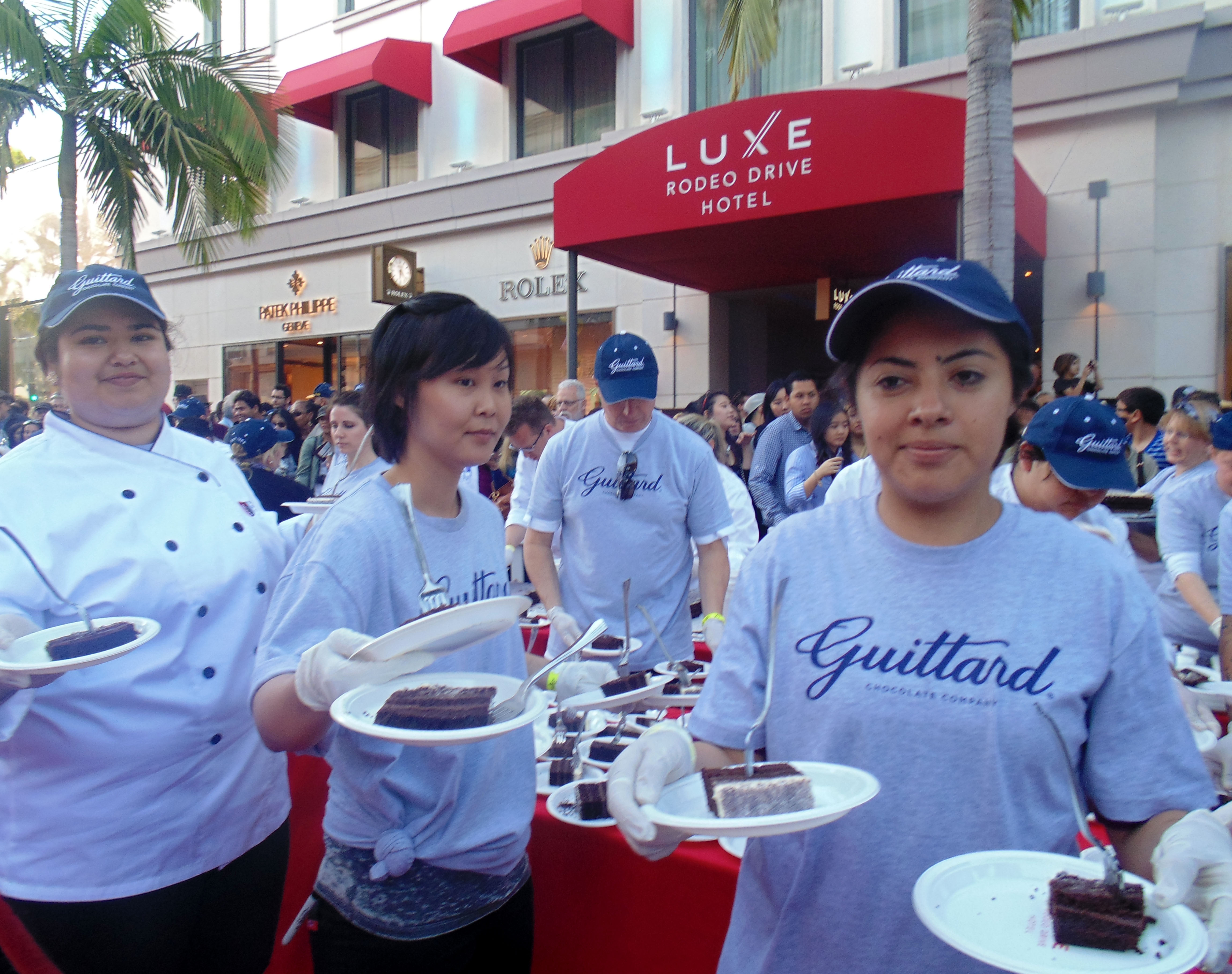 Pastry Dream Team and Guittard Cake Servers
The recipe for this amazing cake included 262 lbs of cake flour, 460 lbs. of granulated sugar, 56 lbs. of Guittard Collection Etienne "Cacao Rough" Unsweetened Cocoa Powder, 900 eggs. 110 qts. Of buttermilk, 210 lbs. of butter, 280 tbs. Guittard Collection Etienne Unsweetened Chocolate Baking Bars 100 percent Cacao, 135 lbs. Guittard Collection Etienne Semisweet Chocolate Bars 64% Cacao, 360 lbs. of powdered sugar, 40 lbs. of Guittard Collection Etienne White Chocolate wafers 31 % Cacao, 55 lbs. Guittard Collection Etienne Semisweet Chocolate wafers 61% Cacao. The Beverly Hills Courier has a delicious recipe for a home version by Executive Chef Wressell. www.bhcourier.com.
The extraordinary day also offered carnival rides, a "Taste of Beverly Hills," sponsored by American Express, with bites from the City's legendary restaurants including the The BLVD in The Beverly Wilshire Four Seasons, The Polo Lounge in The Beverly Hills Hotel, The Grill on the Alley, Wolfgang Puck's CUT and Spago Restaurants, The Montage Hotel, Mr. Chow, M Café, 208 Rodeo, On Rodeo Bistro & Lounge-Luxe Rodeo Hotel, Sprinkles desserts, Via Alloro, Fleming's Prime Steakhouse. Also, Water from BH902HO and beverages from Coffee Bean and Tea Leaf was served. Proceeds from the party went to benefit the City of Beverly Hills Charitable Foundation.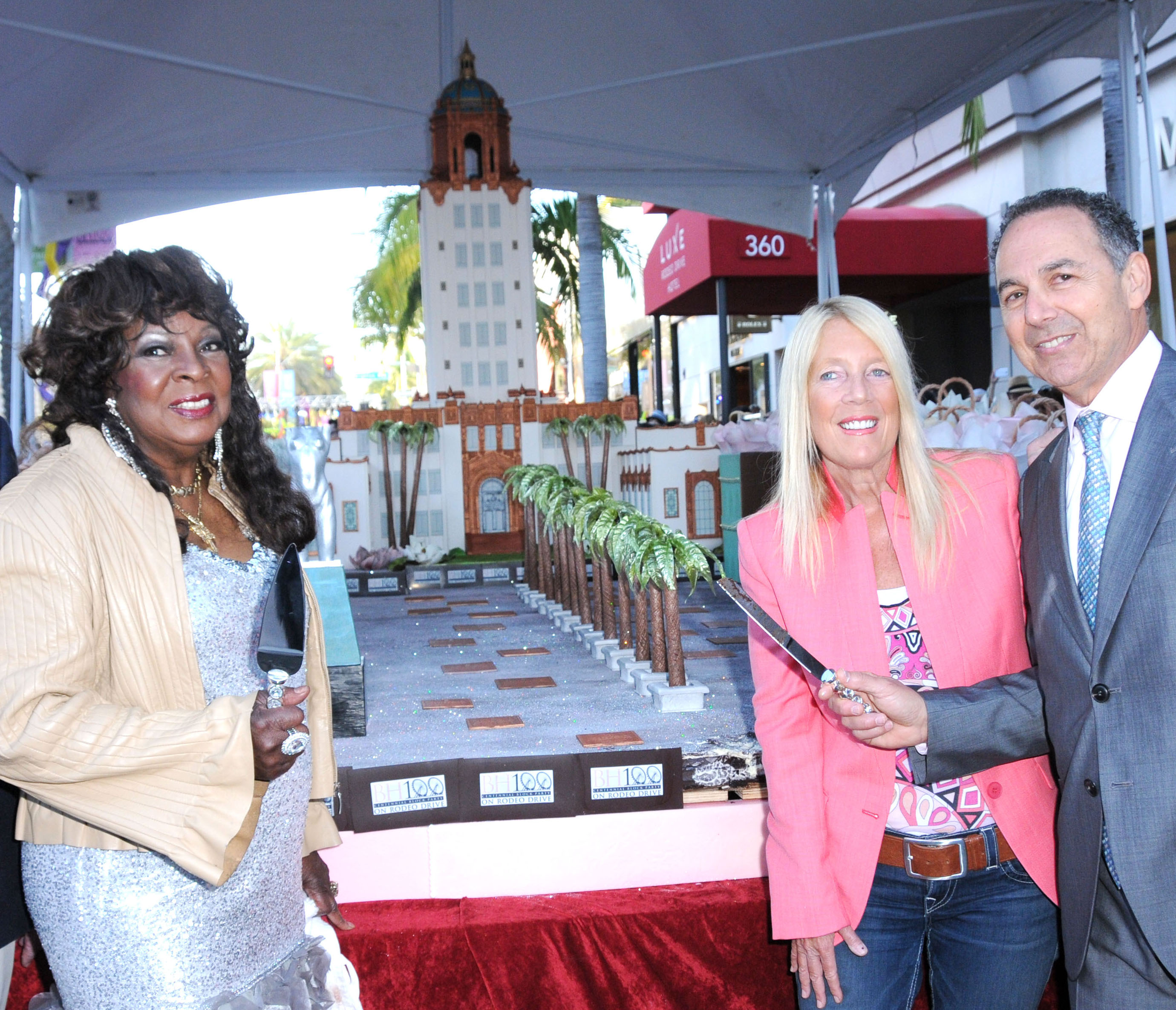 R&B Legend Martha Reeves, Mayor Lili Bosse & Efrem Harkham Cut the Cake
The main stage featured a 20-piece dance band and R&B legend Martha Reeves, who performed Dancin' in the Street, and Arthur Murray dancers inspired everyone to get out there and shake it. Their were also a collection of fun Beverly Hills games for families to enjoy. The Beverly Hills Conference & Visitors Bureau provided copies of the Beverly Hills Centennial Cookbook to guests.
The evening ended with a beautiful fireworks display from a Rodeo Drive rooftop, and it certainly will be a celebration night no one will ever forget.
                                                                                        Bonnie Carroll LBN
____________________________________________________________________
EUREKA!
The University of American Craft Beer
By Bonnie Carroll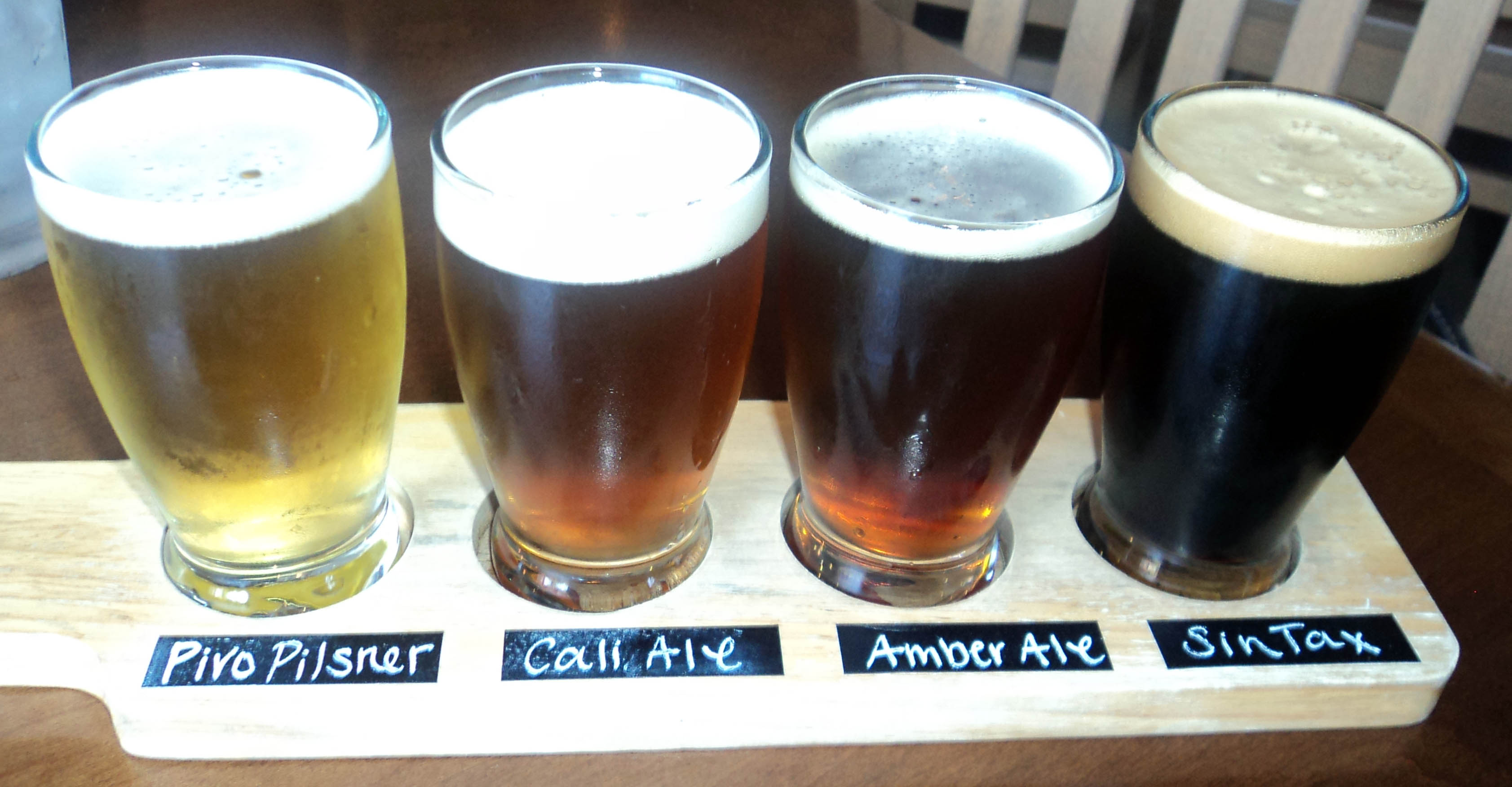 Eureka! Santa Barbara welcomes guest to merge with their fun indoor-outdoor atmosphere in the El Paseo Center, where handpicked house music, television sports and weekly events create an amazing background to learn about and thoroughly enjoy American craft beer. The restaurant offers over fourteen permanent beer handles on tap, as well as rotating names each week. 
A great start is the beer flyer, a selection of four beers you choose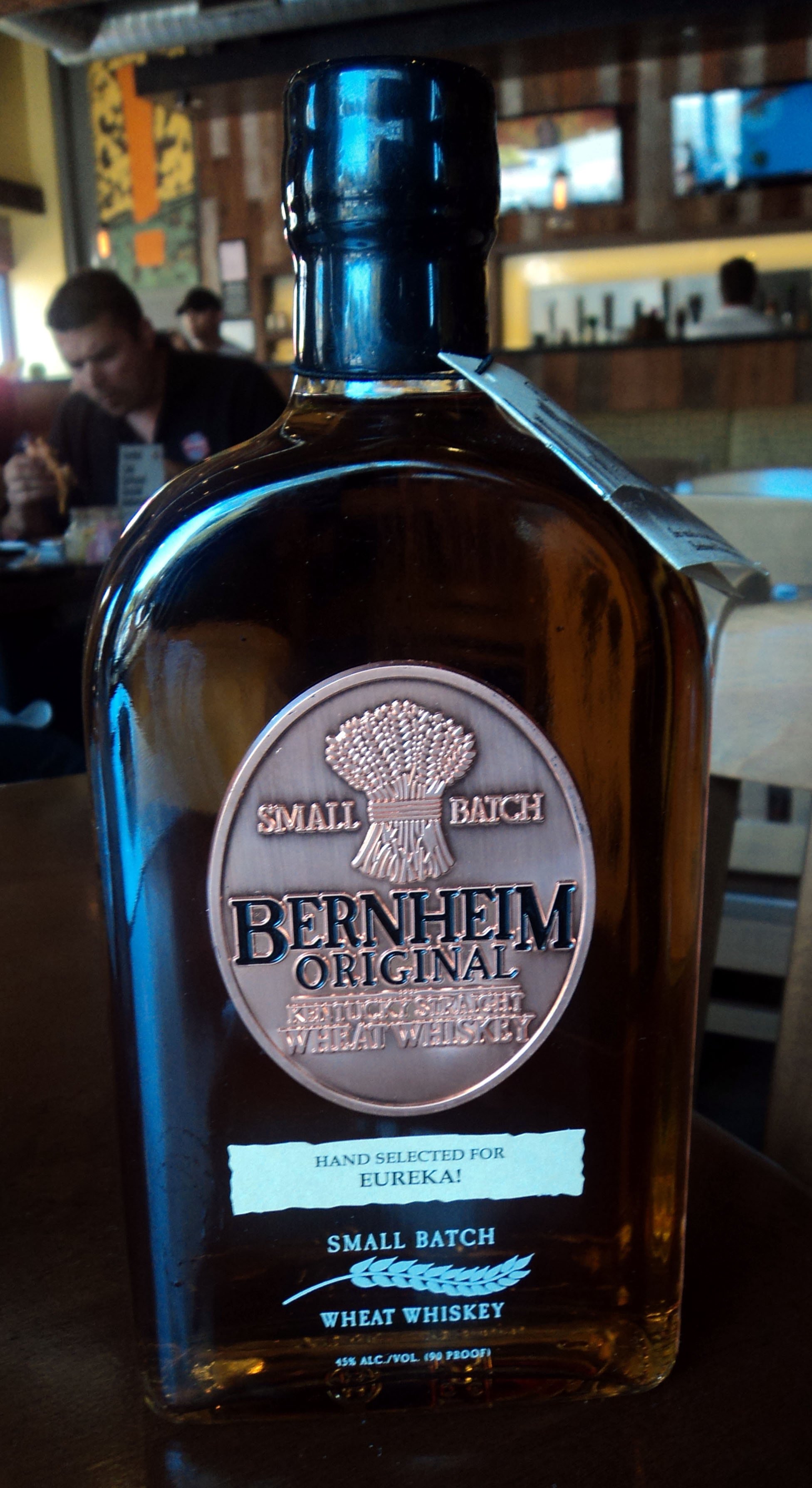 from their menu. The ale combination can include Amber Ale, Cali Ale, Pivo Pilsner and Sintar Ale. The Sintar ale tastes like peanut butter cream, and this is an ale any women would love. They also do whiskey flyers from their great whiskey collection, including orignial Bernheim Wheat Whiskey. For guests who prefer their basic favorite cocktail the mixologist will fill their request, or blend then a signature cocktail. 
Learning everything there is to know about these EUREKA! beverages can seem  a bit overwhelming on your first visit, however, the able staff are brilliant in describing all the options, and recommending best paring choices for their diverse food menu. The servers are trained in the same way sommeliers are, and have an amazing knowledge of the products available.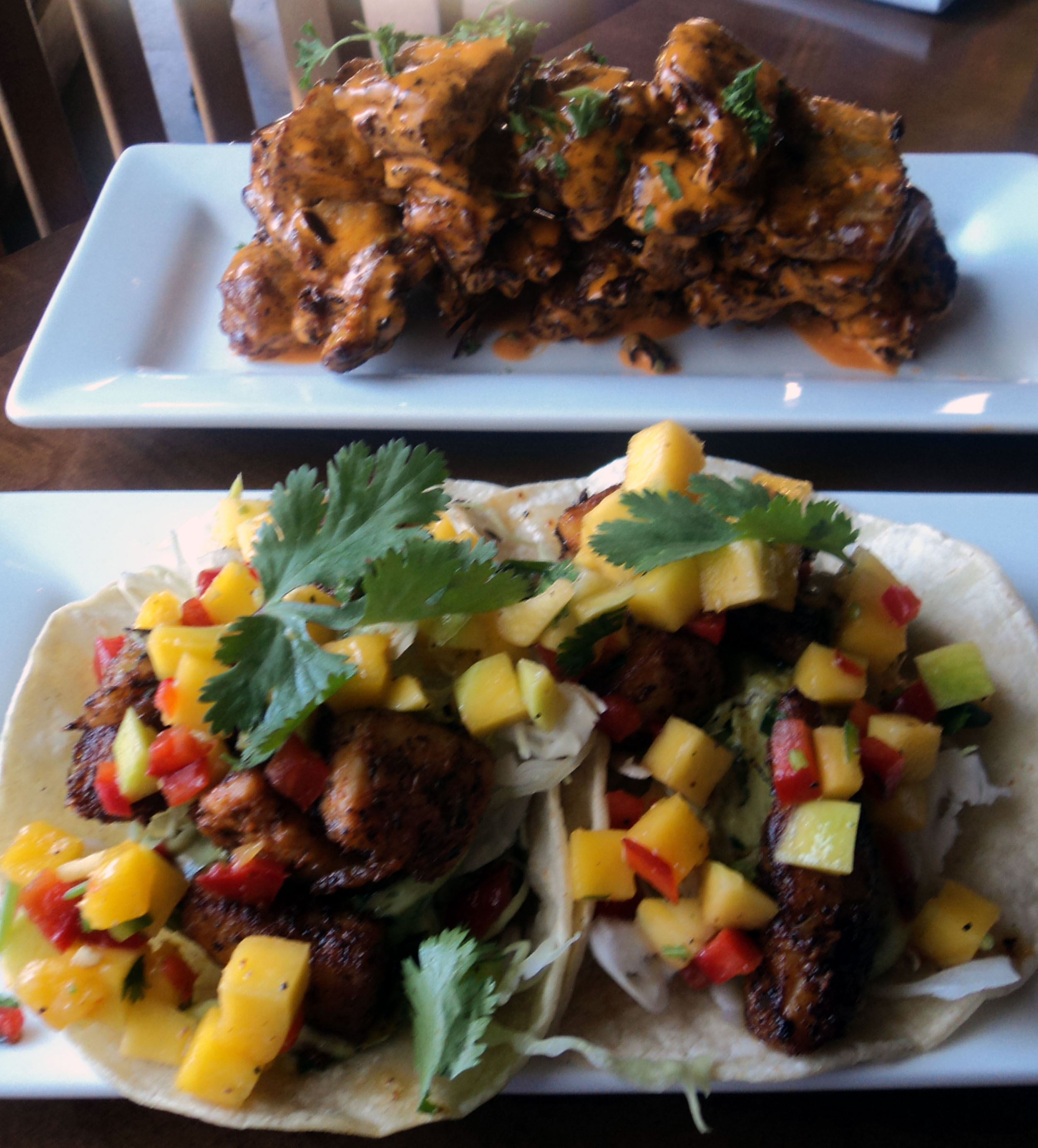 Appetizers are not really small plates, they are a small meal. Some favorites include the osso buco riblet dish made with sherry braised pork, covered with firecracker aioli. The fish tacos come in a few varieties, but the white fish lightly blackened, covered with shredded cabbage, avocado aioli and mango salsa with cilantro is outstanding. EUREKA! is also known for the local California wines they serve, which are a bargain during happy hour. Check the web for location hours for drink specials. 
If you love delicious and inventive crafted burgers you're home. Their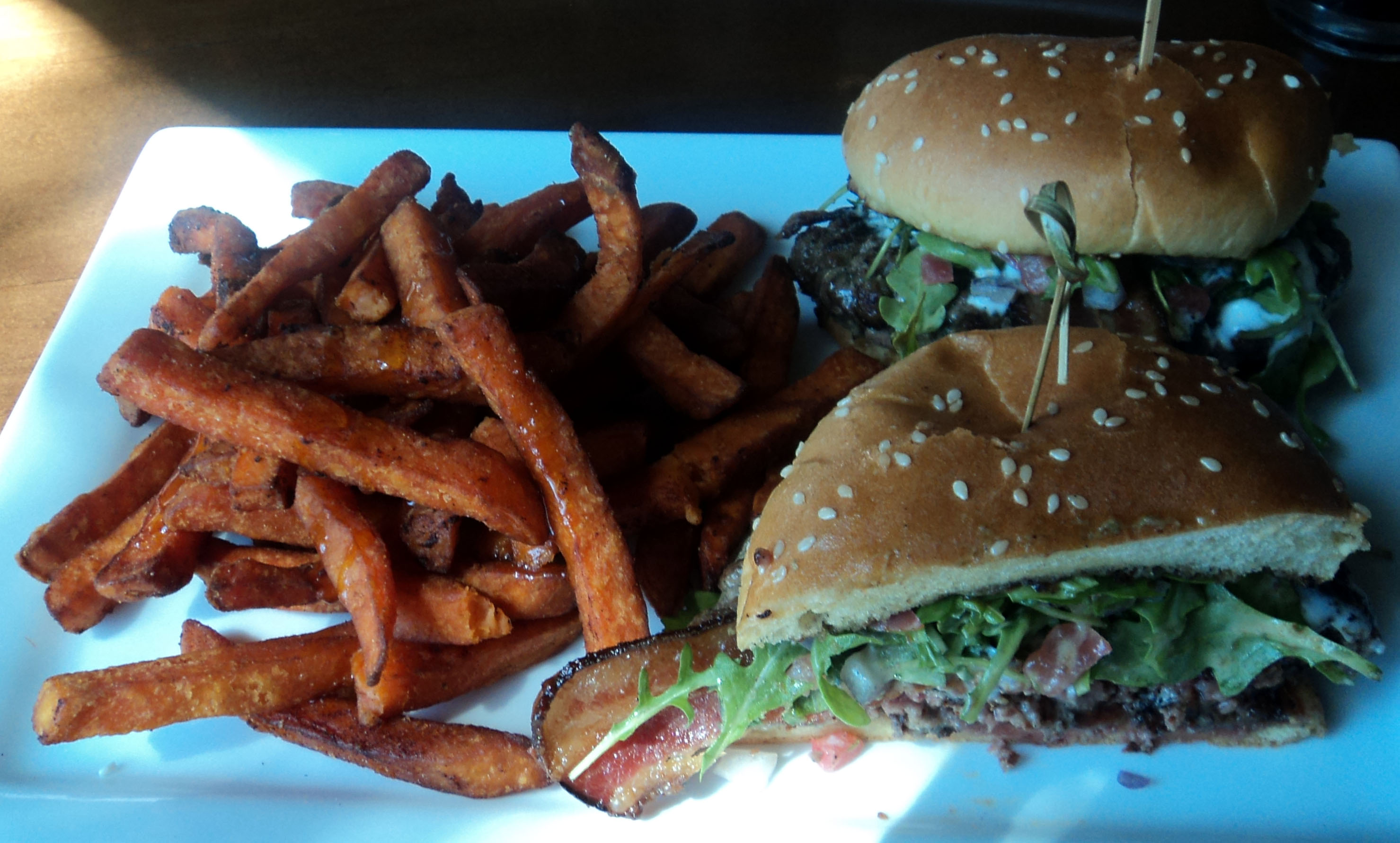 menu of ten signature burgers includes everything from a basic burger with tomato, lettuce, red onion and special sauce to the Pearl Street Blues burger made with melted blue cheese, herb sautéed mushrooms, grilled onions and chipotle ketchup. They are both perfect with the honey cinnamon sweet potato fries.  For dinner entrees they feature beer braised duck, naked chicken saltimbocca, pan seared salmon and more. A great sweet ending dessert is the Goldengate butterscotch rum pudding, topped with whipped cream, caramel sauce and flaky sea salt.
To enjoy a lively lunch or dinner, with amazing selections in food and wine, EUREKA! is a sure bet to challenge your taste buds in every way. The restaurant group has eleven venues throughout California and one in Seattle, Washington. Check their website for locations near you at www.eurekarestauantgroup.com.
EUREKA! 601 Paseo Nuevo
Santa Barbara 93101 (805) 618-3388
___________________________________________________________________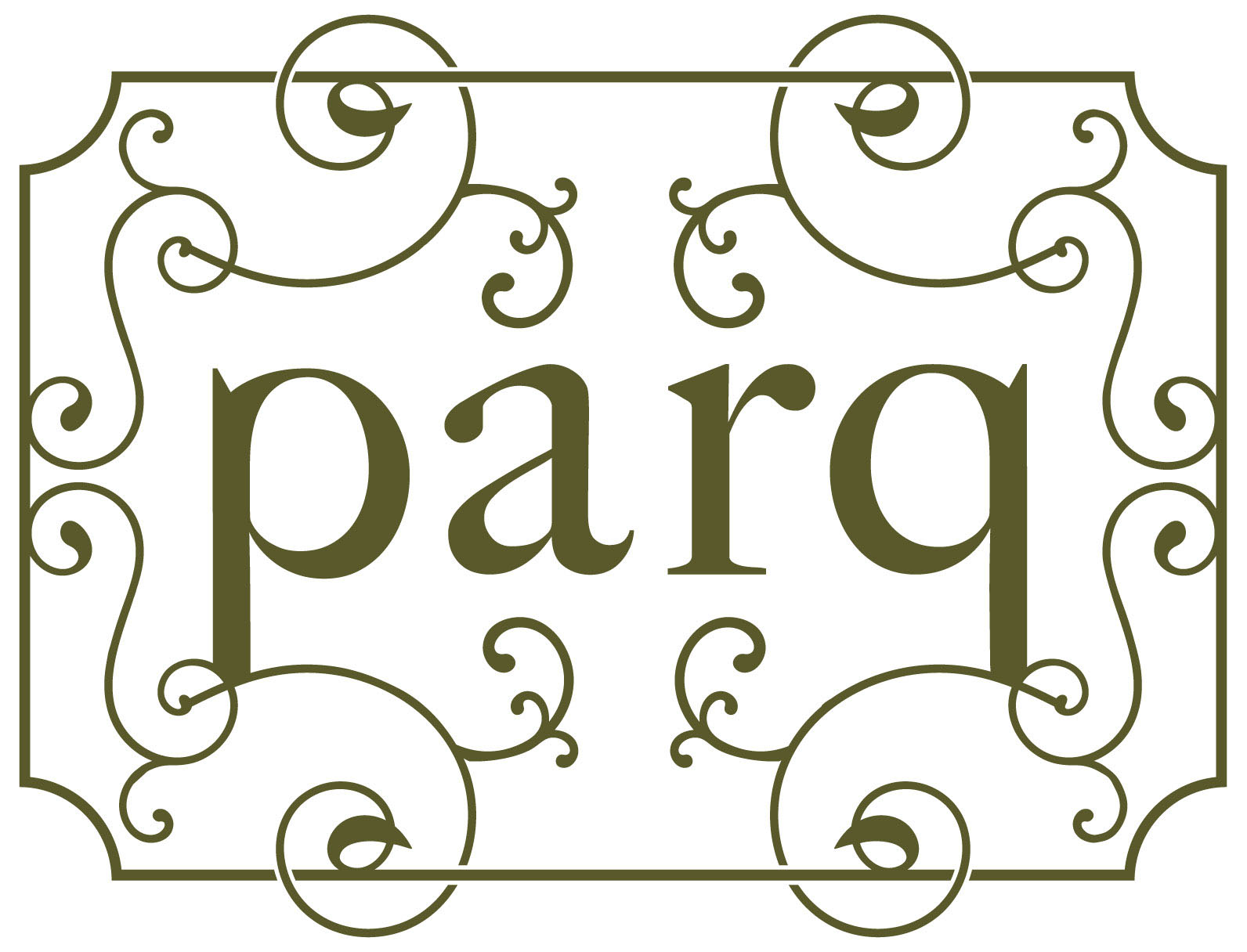 225 N Cañon Dr.
Beverly Hills, CA 90210
To find the best chocolate tart in Beverly Hills, look no further than Montage Beverly Hills' own Parq Bar. As part of the restaurant's delectable selection of tasty desserts and pastries, the Raspberry Ganache Tart is one of Executive Pastry Chef Julie Jangali's latest masterpiece creations. Complete with fresh house made raspberry jam, smooth chocolate ganache, and sweet raspberry gelee, this savory treat oozes with rich berry flavor and delicious chocolate cream. Quite simply, a must-try delicacy for anyone with a soft spot for chocolate tart.
___________________________________________________________________
PERFECT POACHED EGG 
Eggs are amongst the world´s oldest foods . An egg is a fully-fledged dish; the only thing missing is the vitamin C. Interestingly the correlation between egg consumption and an elevated cholesterol level has not been proven. The yolk actually contains more protein than the egg white. For me, an egg dish is a real treat and one of my favorite dishes is the poached egg!
Many do not dare to try it because it seems complicated. But it's easy!
You will need: water, vinegar and eggs (not from the fridge). Very important: do not salt the water! The egg white will lose its consistency and become porous.
Take 4 bowls or cups and add 1 tablespoon of vinegar. Now break open the eggs and carefully slip one into each bowl, without breaking the yolk. Boil the water with a shot of vinegar and produce a swirl with a spoon!
Slide the egg carefully into the water and vinegar mix and thanks to the swirl the egg white will wrap itself around the yolk. Remove the pan from the heat and leave it for 4-6 minutes depending on the desired consistency.
Now remove the eggs with a slotted spoon, put them in a bowl with cold water and leave them for about 1 minute.
Have I succeeded in making the perfect poached egg? I hope you will try it for yourself - perhaps make your mom breakfast in bed this year!
Note: Grupo Tristan are the owners of the most outstanding restaurant on the island of Mallorca, Spain. 
_________________________________________________________________________________________
TRAVEL & LEISURE MAGAZINE
PRESENTS THE BEST ANNUAL FOOD & WINE EVENTS ON THE PLANET
FOR SUMMER AND FALL UPCOMING 'NOT TO MISS' EVENTS VISIT 
http://www.foodandwine.com/classic
ASPEN  June 20-22, 2014
____________________________________________________________
BUY IT FROM JAMES BEARD THIS YEAR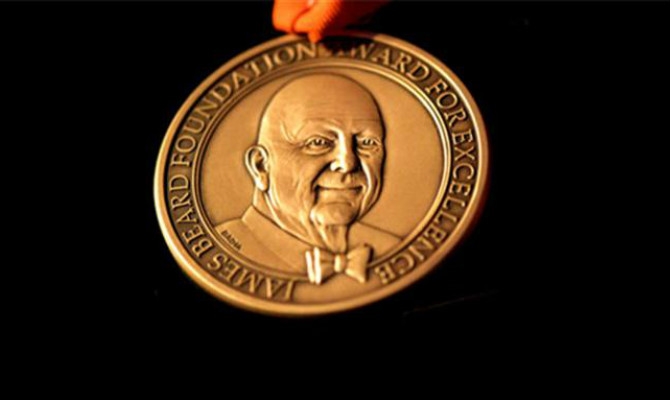 Have you ever wanted to explore a farmer's market with April Bloomfield or had Alice Waters cook you a private meal in your home? Well for the right price, now you can. The James Beard Foundation has announced that it is partnering with If Only, a website that lets you bid on dream-come-true experiences with celebrities, athletes, musicians and now, James Beard chefs.
This year, you will be able to bid on any number of experiences from 28 of the best chefs in the country who were all nominated for, or have been past winners of, the James Beard awards. Some of the experiences are bid on silent auction style, where you enter a bid on the item that you want, and for some experiences you have to request a quote. Some of the highlights we've seen include an apprenticeship with Jonathan Waxman for $2,000; VIP access to the James Beard awards in May for $2,000; a custom-designed kitchen from Tyler Florence for $45,000; and a private meal cooked by Matthew Accarino.
Visit: www.jamesbeard.org
___________________________________________________________________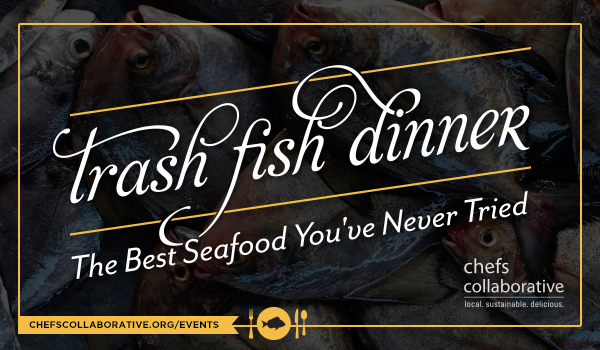 Savoring Trash Fish In

Chicago
On May 19, ten of Chicago's finest chefs will prove that there's really no such thing as trash fish. Working with our environmental partners at Shedd and Monterey Bay aquariums and Fortune Fish and Gourmet we came up with a species list for our Trash Fish Dinner that read like a who's who of misrepresented, misunderstood, under-utilized species of fish. The chefs each take a hand at polishing these diamonds in the rough, with delicious results.
Invasive lake species such as Asian Carp and Rainbow Smelt were elevated high above their ill-deserved low culinary stature by  star chefs. The point of the trash fish dinner is to change opinions and expectations.
 As consumers, both chefs and diners alike, we often focus too much on too few species when there are other delicious options. We must change this, we must come to understand that there's no such thing as a trash fish, and that when managed responsibly, choosing to eat these under-appreciated fish can help improve the health of our oceans, improve our own health, and may help to support the beleaguered fishing communities along our nation's coasts. And, these alternative species are delicious! In Chicago, the chefs proved it.
Visit: www.chefscollaborative.org for Trash Fish Dinner 2014.
---