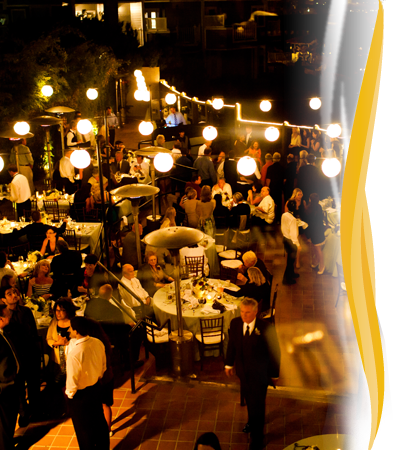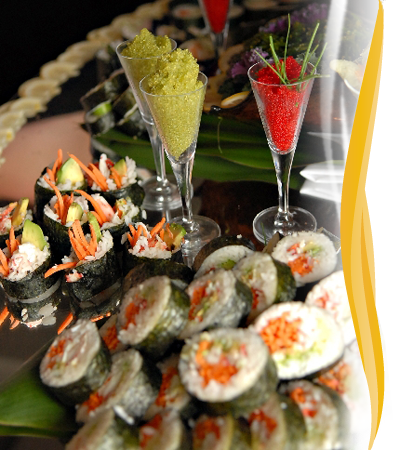 CANNONS SEAFOOD GRILL RESTAURANT
Room with The Ultimate View in Dana Point
by Bonnie Carroll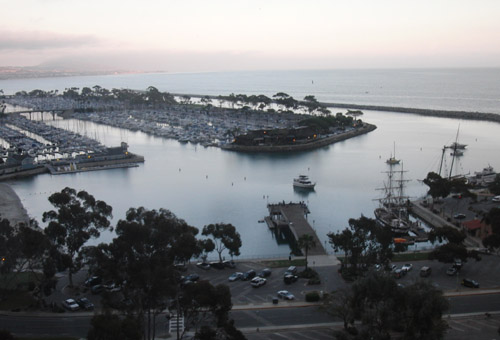 Once you get your Lantern Streets right and you roll into the parking lot of Cannons Seafood Grill Restaurant in Dana Point get ready for a totally outrageous experience of the senses. The entrance is cozy and warm, and leads to a staircase to the upper level where upon entering you can hardly believe what you are seeing; the entire harbor, filled with yachts and a showcase view of the replica ships of Richard Henry directly below you.
If you dine at sunset, which I highly recommend, you will watch the sun setting and see the lights of Dana Point Harbor and Southern California Coastline begin to shine. This is possibly one of the most romantic settings because of this awe inspiring view. The restaurant bustles with patrons and servers and the aroma of tempting dishes passing by offers a hunt of good things to come. A bevy of cocktails for before dinner enjoyment with signature appetizers like Castroville herbed artichokes or seafood nibbles.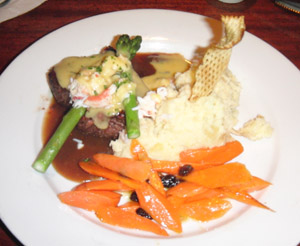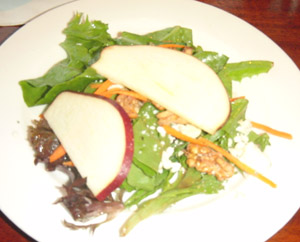 Dinner specialties include a fantastic Filet Oscar with king crab, and asparagus smothered in béarnaise sauce. This perfectly prepared steak is served with garlic mashed potatoes and fresh seasonal vegetables. Additional menu items include the best in culinary preparation of fresh seafood, steak, prime rib, rack of lamb, pasta and jerk chicken. The signature Cannons salad is a delicious blend of apples, blue cheese and carrots on greens with balsamic dressing. Servers are happy to assist with great wine pairing from their fully loaded wine menu, featuring wines from California and Europe.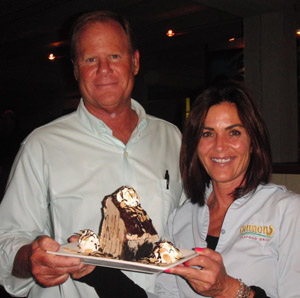 Our host Greg Mortimer, Operating Partner and his able assistant served up a wonderful Chocolate Decadent Cake with Hawaiian Ice Cream that was too much, but sinfully delicious. Greg spent years in the restaurant industry managing another well known seafood venue. Then he and his partner decided to create their own entrepreneurial brand, and use their career knowledge to operate a really great seafood restaurant and catering business in Dana Point. The restaurant building has several levels, and the top level is a favorite destination for private parties overlooking the California coast. The outdoor patio is a very popular spot on warm summer nights, and a favorite for corporate or family parties.
If you are in the Cannon Seafood Grill area don't miss an opportunity to treat your senses a delicious meal while enjoying a one-of-a-kind awe inspiring view of Dana Point Harbor.
Cannon Seafood Grill
34344 Green Lantern
Dana Point, California 92629
(949) 496-6146
---
Getting a Taste of Canada: Real Canuck Cuisine at Edible Canada Bistro
What is real Canadian cuisine?  Maple syrup?  Poutine?  Smoked salmon?  Or does Canada's culinary bounty go a little deeper than that?    

A unique new restaurant in Vancouver is determined to show just how rich and varied the country's cuisine truly is.  Edible Canada, located near the waterfront on Granville Island, showcases ingredients and dishes from the province and across the country.  The 150-seat bistro and bar, with a lively outdoor patio, offers visitors to the city an opportunity to sample the best that Canada has to offer, all in one place. 

Breakfasts, lunches and dinners all highlight fresh, local ingredients and Canadian culinary aesthetics.  Start the day with the Island Breakfast, with scrambled eggs, Sloping Hills sausage from Vancouver Island and grilled pork belly.  Over lunch, enjoy the Canadian Burger, featuring a gourmet beef patty, Fraser Valley double-smoked bacon and house-made pickles.  For dinner, experience Vancouver's signature Asian fusion by trying the local kasu-roasted sablefish, marinated with birch syrup and served with fava beans and pickled ginger.

Wine lovers can also sample from the extensive list of British Columbia wines.  In fact, all beverages – from the juices to the beers and the teas – are 100-percent Canadian.  For more information about Edible Canada, and all the delicious Canadian fare on offer, check out their website.

---
              2012 IACP Cookbook Awards
IACP Honors Excellence in Cookbook Writing
and Publishing Through Annual Awards 
The International Association of Culinary Professionals invites authors and publishers to submit their books for the 2012 IACP Cookbook Awards by October 28, 2011, to encourage and promote quality and creativity in writing and publishing, and expand the public's awareness of culinary literature through one of the most prestigious awards programs in the industry.

To reflect the growing global culture of food, IACP introduces Culinary Travel to the awards categories. These can be guidebooks, travelogues, or other types of books that illuminate the culture of a place through an exploration of its food. The Professional Kitchens category has also been expanded and clarified to include books written on flavor profiles or specific ingredients meant for foodservice professionals.

Last year, IACP received more than 500 entries into the distinguished program. Finalists and winners join the ranks of elite culinarians, including Rick Bayless, Mark Bittman and Julia Child, CCP, who have demonstrated excellence in their craft. IACP is proud to honor exceptional contributions to the cookbook arena and to further advancements in the field through this annual awards program.

Judging for the 18 categories is accomplished through a two-tiered process executed by the Cookbook Awards Committee, using a jury of three food and beverage professionals for each category. Three finalists and ultimately one winner are chosen from the highest ranked books in each category. The committee may also award the Jane Grigson Award, the Design Award or the Judge's Choice Award if a book qualifies.
The 2012 finalists will be announced in February, at which time IACP members and the general public may vote for the People's Choice Award. Winners will be honored at the IACP Awards Gala, held during the IACP Annual Conference in New York, March 29 - April 2, 2012.
For detailed guidelines, eligibility, category descriptions and entry forms, as well as a listing of past recipients, please visit www.iacp.com or contact Ericka Henderson by e-mail or phone, (678) 303-2991.
---
Italian Royalty 
Esteemed Chef Franck Cerutti reigns over 100 other chefs 
and an elegant quartet of restaurants in Monaco 
As featured on Tastes Of Italia, August 2011
Italian Royalty 
 Click to read the article in Tastes of Italia  
Executive Chef Franck Cerutti, with three Michelin stars,  
reigns in the kitchen at the Louis XV located in the Hotel de Paris in Monaco,  
wowing guests with his sensational seasonal food. 
By Lauren Birmingham Piscitelli
      Cooking Vacations International
         USA: 20 Park Plaza · #400 · Boston, MA · 02116
Tele: 617.247.4112 · Toll Free: 800.916.1152 · Fax: 617.247.4850
     Italy: Via G. Marconi, 177-84017 · Positano, Italy 
            Tele: 39.339.604.29.33
---