CULINARY COUP  .   .   .

HOTEL CERRO SLO
A DELICIOUS CENTRAL COAST GET-A-WAY

By Bonnie Carroll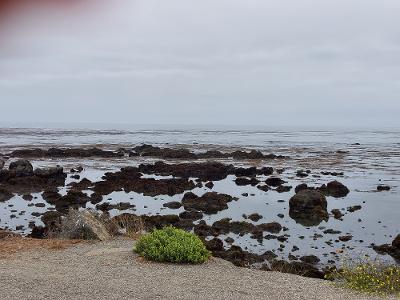 Ocean View from Highway 1 Near Hearst Castle (photo: Bonnie Carroll)
Driving up the 101 Freeway toward San Luis Obispo my mind was active organizing and asking questions about my weekend visit to the Hotel Cerro, which opened just prior to the pandemic, then closed, and now is being reopened to guests by General Manager Natalie Ward and staff with all the necessary compliances to insure the safety of all guests and staff being implemented.
The hotel is located at 1125 Garden Street in SLO, just a few blocks from the 101 freeway on the Marsh Street exit, and their valet parking entrance was easy to spot. The staff working the registration desk were extremely helpful on check-in and throughout my visit. This hotel destination was made for a weekend get-a-way or a delightful respite while traveling up the California Highway toward Carmel or San Francisco.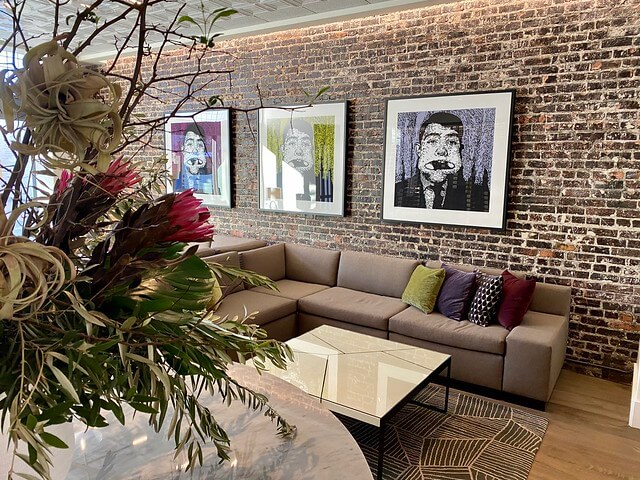 Lobby Hotel Cerro (photo: Hotel Cerro)
The visuals of Hotel Cerro are a delight! Two historic structures on Garden Street were merged to create the actual hotel housing, and then the exceptional internal architectural and design teams created magic! This is one of the most attractive and comfortable boutique hotels I have ever experienced. The sophisticated new interiors are merged skillfully with rustic original brick walls and smart touches that suggest the stylish historic renovations I have seen in major cities like New York or Chicago.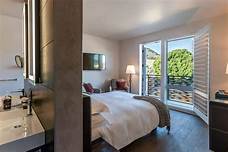 Hotel Cerro Queen Classic Room  (photo: Hotel Cerro)
Hotel Cerro offers all the latest 'bells and whistles' and my Cerro Classic Queen Room was beautiful with amenities that were totally 'yin and yang' to please every taste. The room interior design was a charming combination of luscious fabrics, leather appointed furniture pieces, clean lines and artwork focusing on feminine softness and masculine strength. The details I loved included the connected hair dryer within the drawer of the sink vanity, luxurious bedding, a lighted magnifying mirror, latest European style coffee/tea maker, and a gift water bottle with pure water stations on each floor for refills.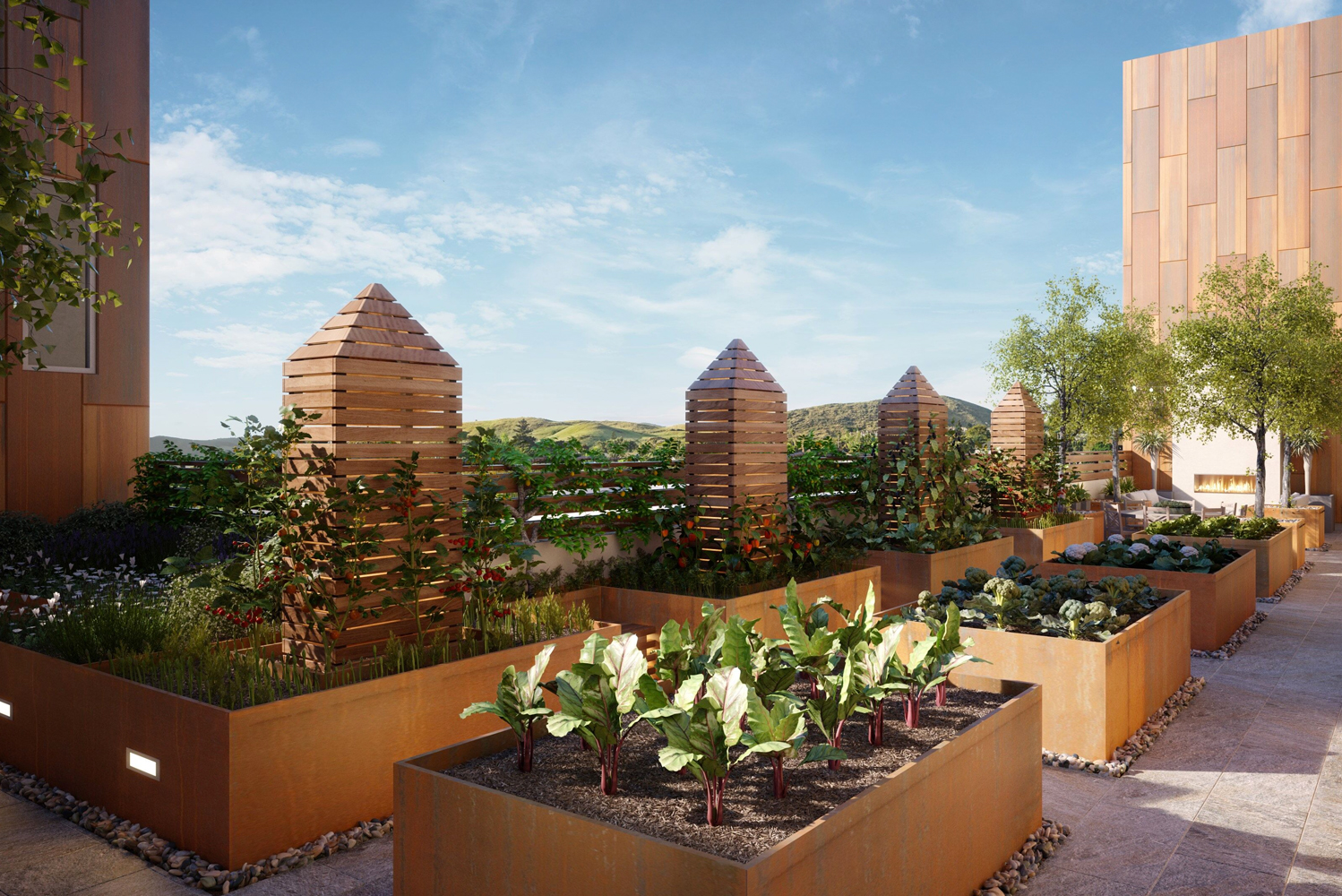 Hotel Cerro Chef's Garden (photo: Hotel Cerro)
The view from my room patio featured the mountains at sunrise, and the beautiful chef's garden. Chefs' James, Brandon and Stacy all include the vegetables, citrus, herbs, and micro-greens from this garden in their daily menu items. The Cerro pool was located steps from my room, and I enjoyed relaxing there after dark as well as taking in the SLO views while sunbathing during the day. Unfortunately, the Spa was still closed until further notice due to current health restrictions, but their menu of services is very inviting, and the design features are spectacular.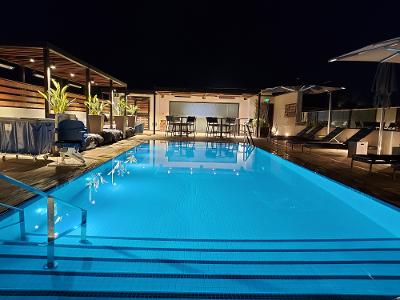 Hotel Cerro Pool (photo: Bonnie Carroll)
Brasserie SLO is a colorful restaurant & bar where a new Life of Pie Shop spotlights the divine pies and desserts created by Pastry Chef Stacy Day. The room has a rustic charm and the street patio is now being used for pick-up and dining. The Fig Tree Patio has also become a special hotel dining destination and is a magical place for dinner as the sun is setting and the lighting effects from the chic firepits and firewall create an enchanting experience at nightfall. Due to compliance this patio has become a very intimate and romantic little venue for dinner. My breakfast there was also sunny, upbeat, and delightful.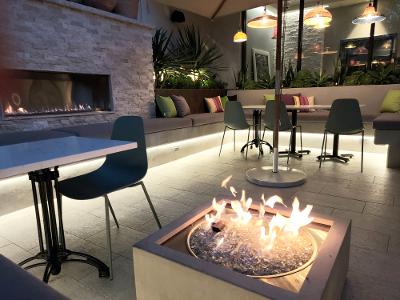 Fig Patio Dining (photo: Bonnie Carroll)
As a food and beverage writer for over twenty-five years I always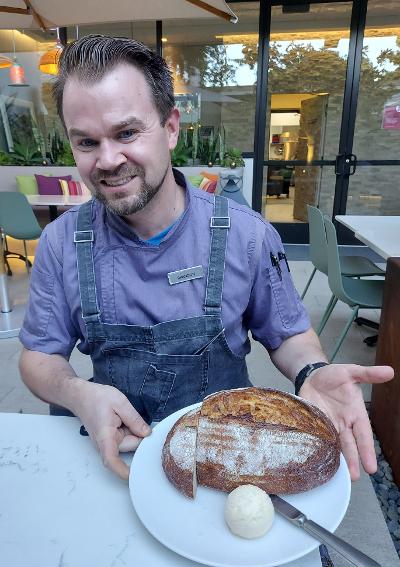 have high hopes when visiting a new hotel restaurant and Brasserie SLO did not disappoint! I enjoyed a visit with savory chef Brandon Barksdale who shared his enthusiasm to be working with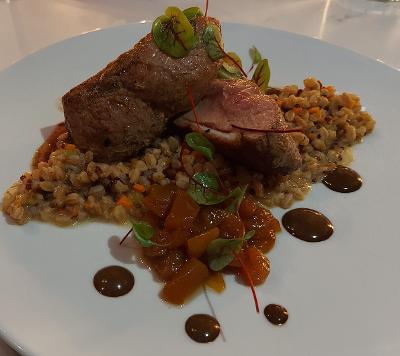 Hotel Cerro. Chef Barksdale has an impressive work history in culinary arts, including as a member of the chef team at Basil in Vail, and his plates are magnificent. The English pea coulis made with fresh peas and mint from the chef's garden, feta cheese and chili olive oil was vibrant with color and a brilliant flavor combination. The Oak Roasted Muscovy Duck Breast was visually not the traditional style I am accustomed to, but I loved it with the ancient grains, black garlic, and freshly prepared peach-brandy compote. These new taste sensations were simply outstanding.
Wine lovers will be more than impressed with the extensive selections on the Brasserie SLO menu, which includes choices from Europe and the finest wine valleys from Monterey to Santa Barbara represented and features bubbles, whites, rose, reds, and dessert wines. My pinot noir from Zotovich "Estate Grown" in Santa Rita Hills proved an ideal pairing with Chef Brandon's divine duck.
A signature presentation at the restaurant is the Chef James artisan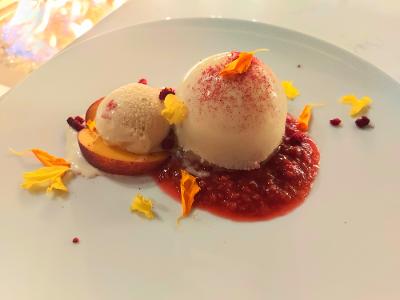 country bread, which I sampled and enjoyed with warm butter. The sweetest ending to my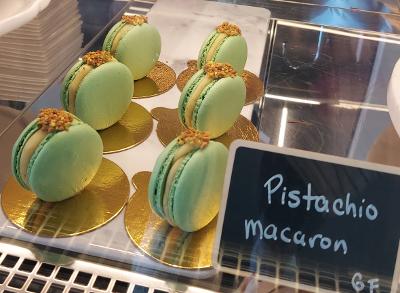 delightful dinner was a peach melba by Chef Stacy Day that was stunning and included roasted fresh peaches, raspberry compote and burnt white chocolate ice cream. The moist cake filling had sweet creamy subtle flavors and it was an award-winning presentation. I so admired the pastry items Chef Day had on display in The Life of Pie Shop including the pistachio macaron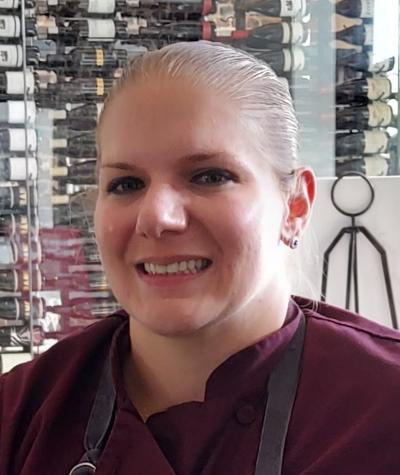 cookies and lemon meringue pie. Last year I learned the hard way in a cooking class at LA Foodist in Paris that making true French Macaron cookies is very labor intensive and I now have enormous respect for those who do it well.
I wish to mention this was my first travel journey since home sheltering in March, and it was so good to hear the people dining with me share what a 'nearly normal' experience they were all having on the Hotel Cerro patio that night for the first time in months, and how much they were enjoying the beautiful food despite the necessary compliance measures being enforced. The staff are all professional, very food intelligent and completely service oriented which made for a nearly perfect evening during an unforeseen pandemic.
Breakfast on the patio enjoying my first ever glass of freshly squeezed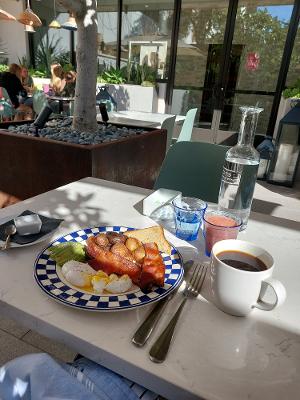 tomato juice with eggs and bacon was a glorious way to start a gorgeous SLO day just sitting under the Fig tree looking forward to spending the morning by the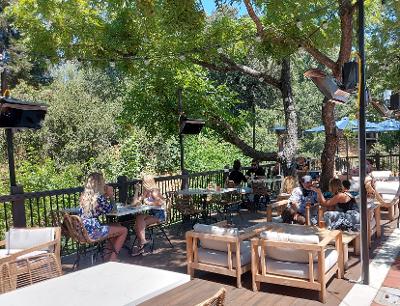 pool reading, sunbathing, and drinking lots of pure water from my gifted bottle. An afternoon adventure in the nearby neighborhood proved to be such fun. The area near the hotel is overflowing with shops, lounges, restaurants and a sweet little thrift shop. I walked across the street to The Carissa, a lovely outdoor spot overlooking the San Luis Obispo creek, and enjoyed a light lunch of a watermelon margarita and chicken taco while sitting in the shade of tree on their patio.
The San Luis Obispo area has so many choices in things to do during a stay at Hotel Cerro. A bevy of beautiful beaches with water activities can be found minutes away by car including my favorite Avila Beach. The Hotel Cerro also offers guests bicycles for use to peruse the surrounding SLO area if one is so inclined. A few of my favorite SLO tourist attractions include the downtown Historic Old Mission, and the Madonna Inn, a historic hotel off the 101 Freeway that is renowned for its pink artistic flair and it is a fun place to take photos and enjoy the views.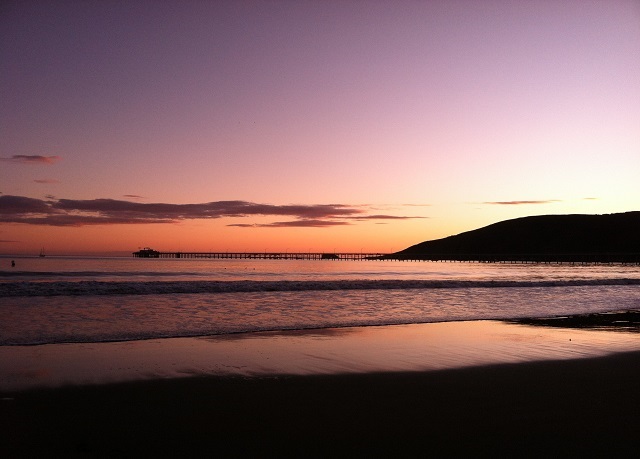 Avila Beach Pier at Sunset (photo: Visit SLO)
Hotel Cerro offers guests a selection of 65 rooms and suites, valet paid parking and free parking at a city lot one block away, a smoke and vape free environment, Cerro Spa center (closed due to pandemic until further notice), and is a family, dog, and service animal friendly property. The hotel is located 1.5 hours from Santa Barbara, California. For reservations, directions, airport, train, ground transport information please visit www.hotelcerro.com or call 805-548-1000 or email hello@hotelcerro.com.
HOTEL CERRO, 1125 GARDEN STREET, SAN LUIS OBISPO, CA, 805-845-1000, HELLO@HOTELCERO.COM
___________________________________________________________________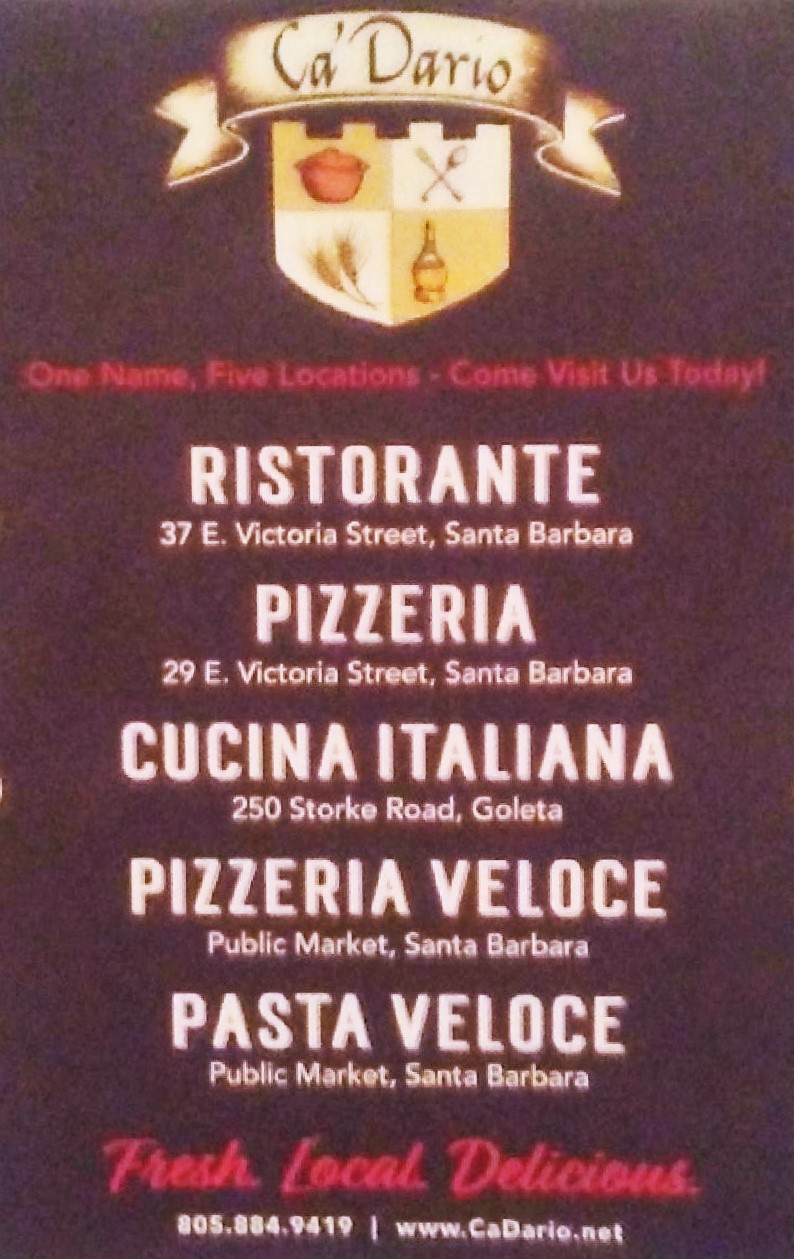 Ca'Dario Ristorante
37 E. Victoria Street
Santa Barbara, California 93101
805-884-9419
Also on Old Coast Road in Montecito, California
---