"Going Green" hits Gourmet Housewares
New "green" criteria outlined for upscale housewares show in 2008

In it's 32nd year, the Gourmet Housewares Show goes "Green," adding an eco-friendly flare to the premier marketplace for upscale housewares. "Going Green" has been at the forefront of mainstream pop culture and has increasingly become more popular throughout the gourmet and luxury products industry. For the first time ever, the Gourmet Housewares show will present a "Green Award" as part of the 2008 Gourmet Gold Awards. Organizers of this year's event are proud to set forth a list of "green standards"-asking each exhibitor to meet at least 3 in order to refer to themselves as "green by design."

A Selection of the Criteria Includes:
Use of recycled materials in making of product
Energy efficient products
Wood from sustainable forests or use of rediscovered woods or FSC certified wood
Companies that have enforced a reclamation policy
Certification by a regional, national or international organization
Philanthropic endeavors - manufacturers who support specific not-for-profit activities

The Gourmet Gold Awards are judged by a panel of trade and consumer press and highlight the show's best new products in, with the addition of the "Green Award," 6 categories including : Cookware/Bakeware; Kitchen Electrics; Gadgets, Cutlery and Accessories; Gourmet Gifts and Specialty Food; and Tabletop and Textiles. In addition to the new "Green Award," the highly sought after "Best in Show" award is also presented during the show's opening night event.

With over 400 exhibitors, the 2008 Gourmet Housewares Show represents over 1000 lines to a broad audience of industry attendees. Exhibitors displaying "Green by Design" will now have to meet a minimum of 3 out of 12 criteria as outlined by GHS organizers.

2008 brings some exciting returning exhibitors to the show, including: Scanpan, iSi, Polder, Revol, Signature Housewares, Better Houseware/Rovel, Yamazaki Tableware and John Ritzenthaler. These well-known companies will be joined by some of the who's who within the industry including; Cuisinart, All-Clad, Meyer, Bonjour, Harold Imports, DeMeyere, Messermeister, Eastman Outdoors, Gibson Overseas, Mastrad, Staub, Pillivuyt, Neighbors Coffee, , Old Dutch, SCI, SiliconeZone, Edgecraft, Columbian Home, Wisconsin Aluminum, Prepara, Nordicware, Nor-Pro, Helman, Viking, William Bounds, Lodge, and Trudeau. With its focus on high-end and design-driven housewares, The Gourmet Show offers buyers the finest selection of cookware, cutlery, bakeware, tabletop, gadgets, small electrics, kitchen textiles, specialty foods, and more. The 2008 Gourmet Housewares show is scheduled for May 6-8, at the Sands Expo and Convention Center in Las Vegas, NV-co-located with GLM's Global Home Textiles ™ and Global Home Décor ™ shows.

For further information, please visit www.thegourmetshow.com.
---
Mint Mountains Recipe Comes Out On Top Towering Over the Competition As Grand Prize Winner of Nordic Ware's Bundts® Across America Contest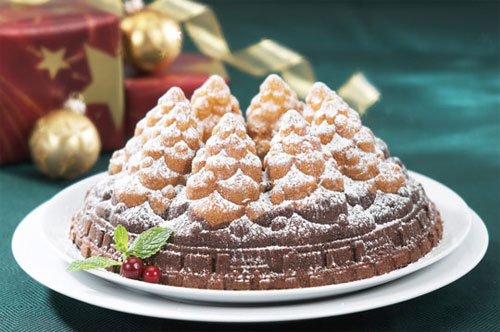 2007 Grand Prize Contest Winner by Anne Kornow
Melt in your mouth; holiday tree-shaped cake takes
judges' taste buds to new heights!

Today, Anne Kornow from Dexter, Michigan captured the $10,000 grand prize for the "Bundts Across America" baking contest sponsored by Nordic Ware, creator of the Bundt pan. This year's contest theme was "Holiday Bundts, a pan for all seasons" and Anne Kornow created an original recipe that is melt-in-your-mouth-marvelous! For her winning Bundt cake, Anne also received a trip to New York City to sit in the audience of the Martha Stewart Show on November 15 during the 2nd Annual "National Bundt Day" celebration where she will be recognized for her winning recipe.
"This recipe is truly outstanding," says David Dalquist, president of Nordic Ware. "It has everything that a prize winning Bundt cake should have, with its nice dense texture and its rich chocolate flavor dramatically blended with white chocolate and mint. It is the perfect dessert to serve families and friends while celebrating the upcoming holidays and one that will assure lasting memories of the time spent together."
The Recipe
Anne Kornow's winning recipe, "Mint Mountains" celebrates the holiday season using Nordic Ware's Holiday Tree Bundt Pan. The dense and decadent cake is a combination of white chocolate and chocolate fudge featuring a hint of mint. The pan showcases the cake's "mountain peaks" through a circle of "snow-capped" evergreen trees. Mint sprigs and crushed red peppermint candy garnish the cake which pleases both the eye and pallet!

As a recent retiree from 35 years in Special Education, Anne Kornow says her "Mint Mountains" recipe entry came about after extra free time, a few rounds of trial and error and encouragement from her friends. "I took the cake over to some friends at a football party and they loved it! Then when my granddaughter came to visit for week she ate almost the entire cake! That's when I knew it could be a winner."
Along with her grand prize win, Anne Kornow is celebrating a second round of good news that came while she was in San Francisco at the bake-off for the "Bundts Across America" competition. "I was with another finalist on a cable car ride. When I stepped off, my phone began to ring. I answered and got the news my son-in-law Brian was coming home from Iraq. Coupled with the Nordic Ware win, you can imagine how blessed I feel."
Christmas
"Mint Mountains"
Submitted By Anne Kornow, Dexter, MI Baked in the Holiday Tree Bundt Pan
Ingredients:
Shortening for greasing the pan
2 Tbsp flour, preferably Wondra
¾ cup shortening
1 ¼ cup granulated sugar
3 large eggs, separated
1 (3.9 oz) package instant white chocolate pudding mix
1 tsp peppermint extract
¾ cup sour cream or plain yogurt (6 oz)
2 cups all-purpose flour
¾ tsp salt
2 ½ tsp baking powder
1-cup milk, divided
4 ounces white chocolate chips or chunks
1/3 cup cocoa
1 (3.9 oz) package chocolate fudge instant pudding mix
8 ounces chocolate chips

Garnish:
Confectioner's Sugar
Mint sprigs or plastic holly sprigs (do not use real holly since holly berries are poisonous)
Crushed peppermint candies

Instructions:
Preheat oven to 350 degrees.
Prepare Holiday Tree Pan. Use pastry brush to thoroughly coat all parts of pan with shortening. Sprinkle flour evenly over top of shortening; invert pan and shake out excess.
Cream shortening and sugar in large mixing bowl until thoroughly blended. Separate eggs and reserve yolks. Add whites to shortening mixture and beat an additional two minutes or until light and fluffy. Beat in white chocolate instant pudding mix, peppermint extract, yogurt OR sour cream (mixture may look curdled).
Sift flour, salt and baking powder together. Slowly beat in about half of flour mixture, then ¾ cup milk, then last of flour mixture, scraping bowl after each addition. Increase speed and beat until thoroughly combined, 2-3 minutes.
Remove two cups of batter, stir in white chocolate chips or chunks.
Dollop white chocolate batter into pan. Do not try to make it smooth and even. Keep it unevenly distributed in peaks and on sides. Push gently up against sides. Add reserved yolks, cocoa; fudge pudding mix and additional ¼ cup milk to rest of batter in bowl. Beat until completely combined. Stir in chocolate chips.
Layer chocolate batter over top of white batter; push gently up against sides. Gently tap the filled pan on the counter a few times to remove air bubbles and pockets.

Baking instructions:
Place pan on cookie sheet. Bake in preheated 350-degree oven for 50-60 minutes or until wooden skewer inserted in center of cake comes out clean (do not use a metal skewer). Cool in pan ten minutes, shake pan from side to side to check for thumping or loosening from sides of pan. If needed, use a plastic knife to carefully loosen the cake from center and sides, if stuck. Invert onto cooling rack.

Serving recommendations:
When completely cooled, dust tops with confectioner's sugar. Place on platter and arrange sprigs and crushed candies around edge of platter at bottom of cake.
The Winning Pan
Anne Kornow used Nordic Ware's Holiday Tree Bundt Pan (SRP $35) to create the holiday tree shape of her winning cake. The pan's intricate detail comes complete with ornaments and a toy train to charm children and adults alike. This pan is part of Nordic Ware's platinum holiday bakeware collection, and is made of heavy cast aluminum.

The Judging
The panel of judges included Anita Chu, dessert aficionado and founder of Dessert First; Margo Murdock Murphy, the grand prize winner in the 2006 "Bundts Across America" contest; and Kathy Severson, Vice President Sales and National Sales Manager and a 29+-year employee of Nordic Ware.

After seeing and tasting so many Bundt cakes the judges had a hard decision to make but Anne Kornow's Mint Mountains clearly stood tall above the others. "This looks like a perfect snow covered forest, from layers of white and chocolate cake mimicking the coloring of a mountainside to the dusting of confectioner's sugar "snow"." Says Anita Chu, "Bundts Across America" contest judge. "I thought this entry best utilized the shape of the Bundt pan and captured spirit of the holiday best, as well as being fabulously delicious."
The Contest
Nordic Ware's search for the best Bundt in the land began in May and ended Sept 1. Nordic Ware announced state winners and 10 national finalists in October. Each national finalist received a $500 Nordic Ware gift certificate, and state winners received $100 certificates.
---
GINGERBREAD HOUSE CONTEST AND SILENT AUCTION
RETURN TO THE RITZ-CARLTON, HALF MOON BAY
A portion of proceeds to benefit Coastside Children's Programs
From iced Victorians to candy-covered castles, professional and amateur chefs of all ages will place finishing touches on gingerbread creations for the fourth annual Gingerbread House Contest at The Ritz-Carlton, Half Moon Bay this holiday season. Entries will be accepted Nov. 30 to Dec. 3, with winners announced by Liam Mayclem, host of "Eye on the Bay" on CBS 5 at the resort's annual Holiday Tree Lighting Celebration, Sunday, Dec. 9. Houses from all entry categories will be featured in a silent auction the same evening to benefit Coastside Children's Programs (CCP) in Half Moon Bay. CCP is the number one childcare agency on the coast and has been serving children and families from multicultural and diverse socio-economic backgrounds for over 30 years.

"The annual Gingerbread House contest attracts spectacular entries in each category every year, and the number of participants has grown exponentially," said Pete Ells, general manager. "The official rules allow for a great deal of creativity, and we've seen cathedrals, haunted houses, magic castles, beach chalets, and entire neighborhoods constructed of every edible substance imaginable. We're looking forward to an even more exciting offering this year, and to continuing what is now a treasured resort tradition of gingerbread houses and community giving during the holiday season."

All gingerbread house creations will be on public display beginning Tuesday, Dec. 4, in the resort's lobby. Auction bids are accepted for houses Dec. 4, beginning at 12 p.m., to Sunday, Dec. 9, at 7 p.m.

Pastry chefs from The Ritz-Carlton, Half Moon Bay will lead a cadre of judges, including local food writers and media personalities, in selecting the winners in each category. Criteria include structural design, creative use of materials, detailing, and overall design excellence. Judging of all gingerbread house entries will take place 1 to 3 p.m. Sunday, December 9. Award winners will be announced during the annual holiday tree lighting ceremony on Sunday, Dec. 9, at 5 p.m.

Contest entrants who are registered overnight guests on Sunday, Dec. 9, receive a $100 credit towards their stay at the resort upon check-out.

The three categories in the Gingerbread House contest include: Children (12 and under); Home Cooks; and Culinary Students and Professional Chefs. All houses must measure a maximum of 3'x3'x3' and be supported by a strong, flat base that is fully transportable. Entries will be accepted at the resort's main entrance at One Miramontes Point Road in Half Moon Bay, Friday, Nov. 30, through Monday, Dec. 3, 8 a.m. to 8 p.m. To qualify, all materials used in the gingerbread houses must be edible, with the exception of the support structure or frame, lighting and flat base. Although entering the contest is complimentary, a completed entry form is required for each creation. The deadline for entry forms is Thursday, November 29, without exception.

Each qualifying gingerbread house entered into the contest is eligible for the following awards:

Children, 12 and under: 1st – $200; 2nd - $150, 3rd – $100; People's Choice – $50.

Home Cooks: 1st – One Overnight Stay in Coastal View Room and Chef's Tasting Dinner for Two in Navio; 2nd – Chef's Tasting Dinner for Two in Navio; 3rd – Admission for two to any two"Inside the Kitchen" cooking class from January through April, 2008; People's Choice – Two 60-minute treatments of choice in The Ritz-Carlton Spa.

Professional Chefs and Culinary School Students: 1st –Admission for two to the 2007 New Year's Eve Gala; 2nd – One Overnight Stay in a Coastal View Room; 3rd – Chef's Tasting Dinner for Two in Navio; People's Choice – Two 60-minute treatments of choice in The Ritz-Carlton Spa.

Prizes cannot be exchanged and are subject to change.

For additional information, official contest rules and entry forms for the Gingerbread House Contest, please call 650-712-7696 or visit www.ritzcarlton.com.

The Ritz-Carlton, Half Moon Bay is a 261-room destination spa and golf resort, 30 miles south of San Francisco. Set atop a rugged bluff overlooking 50 miles of pristine California coastline, the timeless oceanfront estate provides guests with a relaxed yet refined experience, whether for a romantic getaway, meeting or special event. The resort opened spring 2001 and has earned the prestigious AAA Five Diamond Award for the sixth consecutive year. For reservations, please contact your travel professional or toll-free at (800) 241-3333. For additional information, please call the resort directly at (650) 712-7000, or visit www.ritzcarlton.com.
---
A PERFECT PEAR from NAPA VALLEY

If everything sweet and good appeals to your for the Holiday Season you need to know about this company. They have such an unusual variety of unique products made with pears, figs, chocolate and wine to be used in every possible dish you may create for celebrations or just regular meals. Please see the recipe below and
visit www.APerfectPearfromNapaValley.com for great gift ideas.
| | | |
| --- | --- | --- |
| | | |
| Chocolate Pear Cabernet Sauce | Cinnamon Pear Jelly | Cinnamon Pear Maple Syrup |
CLICK HERE for SPICY CHICKEN SALAD
(this could also be perfect for Turkey left overs)