BARRY CALLEBAUT CANADA ANNOUNCES
WORLD CHOCOLATE MASTERS FINALIST
Morel to represent Canada in Paris
Chicago, IL (May 30th, 2007) –Canadian pastry expert Christophe Morel has been announced as the representative for the Canadians at the World Chocolate Masters event, sponsored by Barry Callebaut, producers of professional gourmet brands Cacao-Barry, Callebaut, and Carma Swiss Chocolate.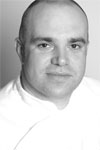 "We are so pleased to have Christophe in the competition this year," said Eric Martinet, Vice President Gourmet and Specialties, Barry Callebaut, North America. "He has participated in the past, and really has shown himself to be a skilled artisan and the consummate chef…a man to beat at the World Chocolate Masters in Paris."
Chef Morel has spent the last two decades in the pastry industry in Canada, The 39 year-old manager of Chocolaterie Rolland in Boucherville, Québec, has a decidedly diverse background, and his education in the culinary world of France has helped to round out his expanding portfolio.
His appointment as the Canadian finalist by the "Association des Artisans Chocolatiers du Québec" (AACQ) is a true reflection of his talents and his high regard within the culinary community.
Christophe Morel started as an apprentice in a pastry shop near Paris. In 1986 he obtained his "CAP" of patissier, chocolatier and glacier, a rigorous process to pastry accrediation. After his military service and further professional experiences in different pastry shops, he started his own business "La Patisserie à la Griottin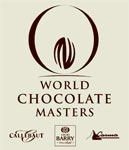 e" in 1995, quickly followed by a second location the next year.
In 2001 Morel moved to Canada where he opened "La Patisserie l'Amandier" and has since gone on to work in research and development for a large manufacturer.
The preliminary competitions in all of the 22 countries (such as Switzerland, Belgium, Germany, United Kingdom, and Italy) will each produce one winner to be jetted off to the finals in Paris, France this October to compete for the title of World Chocolate Master 2007.
Barry Callebaut (www.barry-callebaut.com):
With annual sales of more than CHF 4 billion for fiscal year 2005/06, Zurich-based Barry Callebaut is the world's leading manufacturer of high-quality cocoa, chocolate and confectionery products – from the cocoa bean to the finished product on the store shelf. Barry Callebaut is present in 24 countries, operates more than 30 production facilities and employs approximately 8,000 people. The company serves the entire food industry, from food manufacturers to professional users of chocolate (such as chocolatiers, pastry chefs or bakers), to global retailers. It also provides a comprehensive range of services in the fields of product development, processing, training and marketing.
---
BARRY CALLEBAUT ANNOUNCES
WORLD CHOCOLATE MASTERS WINNER
Pilon to represent the U.S. in Paris
Chicago, IL (May 19, 2007) –Walking off with both the "Finest Taste Award 2007" as well as the "World Chocolate Masters" award, U. S. contestant Vincent Pilon proved to be the one to beat in Chicago on May 19th at the French Pastry School. After several intense hours of hand to hand chocolate combat, Chef Pilon managed to dazzle not only the celebrity judges, but also the crowd of peers, media, and professionals.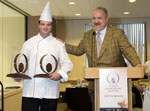 "PUT A QUOTE HERE FOR ERIC PLEASE," said Eric Martinet, Vice President Gourmet and Specialties, Barry Callebaut, North America.
Seven U.S. based chefs were challenged to utilize different techniques in the assembly of the pre-determined chocolate creations, such as an the artistic showpiece, moulded pralines, dipped pralines, and a "Mystery" dessert in which the ingredients used were only revealed to the candidates a few minutes before the beginning of the competition. Throughout the day, the kitchen at the French Pastry School churned out a dazzling array of chocolate combinations, with each selection mulled over with delightful intensity by the panel of culinary professionals and celebrity judges.
The preliminary competitions in all of the 22 countries (such as Switzerland, Belgium, Germany, United Kingdom, and Italy) will each produce one winner to be jetted off to the finals in France to compete for the World Chocolate Master title.
The United States national competition was held in Chicago on May 19, 2007 at the esteemed French Pastry School. A jury of well-respected culinary notables helped to pick the U.S. winner; Vin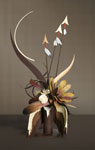 cent Pilon. Celebrity judges for this competition included Art Smith, best known for his foray into cookbooks, and subsequent James Beard Award in 2002, as well as his stint as Oprah's personal chef, and now as a contributing editor to her namesake magazine. Also on board was Food Network's Gale Gand, who, in addition to also being a James Beard nominee for her cookbooks, is considered one of America's top pastry chefs.
Winner Vincent Pilon is the executive pastry chef at the Mandalay Bay Resort in Las Vegas, and hails originally from Villepinte France. He was selected as one of Pastry Art & Design's Ten Best Pastry Chefs in America for 2007, and was part of the National Pastry Team in 2003, earning a first place gold metal. He received the silver metal in the Food Network Chocolate Challenge in 2004, and went on to earn the gold metal in the following years' challenge. He also received a gold metal in 2006 for the Food Network Chocolate Runway competition, and continues to look for new opportunities to expand and improve his talents and culinary skills.
---
MOJO RENEWS AFTER HOURS WITH DANIEL FOR SECOND SEASON
POPULAR SERIES IN PRODUCTION AT TOP LOS ANGELES RESTAURANTS
Celebrated Chef/Restaurateur Daniel Boulud Brings Together Top Chefs and Celebrity Guests for a Series of Ultimate and Intimate Late Night Feasts
Where do chefs go for a great meal? And when can they find the time? Award winning celebrity chef/restaurateur/author Daniel Boulud of Daniel, Café Boulud, DB Bistro Moderne and Daniel Boulud Brasserie reveals the answers on the just-renewed After Hours with Daniel on the HD network MOJO. This behind-the-scenes series is a window into the tradition of great chefs gathering after work to cook for each other and wind down with spectacular late-night meals. The ten episode series will premiere in October, 2007 on MOJO.
Season two of After Hours with Daniel is being shot in ten Los Angeles restaurants well loved by the city's chefs. Each half-hour episode takes place in a different restaurant and culminates in a sumptuous feast prepared by Daniel and his chef friends. Following are this season's "after hours" restaurants, their chefs and just a few of the guest celebrities (an episode breakdown follows this release): Pizzeria Mozza, Chef Nancy Silverton, Phil Rosenthal (Everybody Loves Raymond), Josh Charles (Six Degrees); Hatfield's, Chefs Karen and Quinn Hatfield, David Dean Bottrell (Boston Legal), Jim Lampley (TV Sports Commentator/Entertainment Producer); Father's Office, Chef Sang Yoon, Gabrielle Reece (Model), Peter Greenberg (NBC); Sona, Chef David Myers, Eva LaRue (CSI:Miami); Ford's Filling Station, Chef Benjamin Ford, Keith David (Crash); Providence, Chef Michael Cimarusti, Melora Hardin (The Office), Kathleen York (Crash); Grace, Chef Neal Fraser, Harry Shearer (This is Spinal Tap), Connie Britton (Friday Night Lights); Simon LA@Sofitel Hotel, Chef Kerry Simon, Willie Garson (John From Cincinnati), Tyler Evans (Motocross); Campanile Restaurant, Chef Mark Peel, Ron Rifkin (Alias), Ricky Jay (Magician); as well as a special dinner at the home of chef Joachim Splichal (owner of Patina Restaurant), Robert Wuhl (Arliss) and Wendi McLendon-Covey (Reno 911). Plus, MOJO's own Zane Lamprey, host of the popular Three Sheets series is a guest at Sona.
Meals prepared don't appear on any menu and experiments abound. Each show begins with Daniel visiting the chosen restaurant and "conspiring" with the head chef for the surprise meal to come. Extremely spirited, sometimes competitive, and often funny, After Hours with Daniel provides viewers with a rare, hi-def look into the world of top chefs that is usually hidden behind locked restaurant doors.
Daniel Boulud was raised on his family's farm outside of Lyon, a region known as France's culinary capital. However, it is in New York City that he has made his mark. He trained with some of the great French chefs of the era, and now continues this tradition of apprenticeship by training countless young chefs in his kitchens here in the US.
Daniel has been one of the elite culinary trendsetters in New York City where he has lived and worked for over 25 years. In 1993 Daniel opened his first restaurant, called Daniel. This was followed by Café Boulud in 1998, an expanded and relocated Restaurant Daniel in 1999, and DB Bistro Moderne in 2001. Daniel ventured outside New York City in 2003 with a Café Boulud in the Brazilian Court Hotel in Palm Beach FL and Daniel Boulud Brasserie which opened in the Wynn Resort in Las Vegas in 2005. He is scheduled to open BAR BOULUD, a casual bistro and wine bar in fall 2008 directly across from Manhattan's Lincoln Center. Further afield, he will open Maison Boulud in Beijing's Legation Quarter in early 2008.
After Hours with Daniel's first season on MOJO was filmed at eight of New York City's restaurants especially well loved by the community of chefs. Boulud has made many television and radio appearances including on The Today Show, CBS Sunday Morning, The Late Show with David Letterman, Emeril Live as well as additional appearances on NBC, CNN, CNBC, PBS, the WB and NPR. He was named "Outstanding Restaurateur" in May 2006 by the James Beard Foundation.
After Hours with Daniel is produced by Tiara Blu Films. The first season aired in the fall of 2006. It was created by Diane Nabatoff and Daniel Boulud. Nabatoff serves as executive producer. Jodi Hurwitz is Executive Producer. Tony Faske is producer. Ivan Dudynsky is Director. Emilio Nunez is executive producer for iN DEMAND. Siobhan Graham is supervising producer.
About Diane Nabatoff, Executive Producer:
In 2000 Diane founded her own company Tiara Blu Films. Since then she has produced Take The Lead starring Antonio Banderas and Narc, starring Ray Liotta and Jason Patric. She Executive-Produced Knights of the South Bronx starring Ted Danson (nominated for a SAG award) and Malcolm David Kelley (nominated for a Namic Vision Award) for A&E; as well as Co-Executive Produced the pilot for the HBO series Baseball Wives by Tom Fontana and Julie Martin. She is currently developing projects at a number of studios and cable networks as well as several features that will be independently financed. Prior to founding her company, Diane was a Producer at Interscope Communications, developing and producing numerous films including Very Bad Things and Operation Dumbo Drop.
About MOJO (www.mojohd.com) MOJO was created exclusively for the discerning male, with attitude, wit and style, and became the network name as of May 1, 2007. Formerly INHD, it has been a pioneer in hi-def television since 2003, and is among the most widely distributed HD networks on cable. It consistently earns high marks from HD viewers for the pristine quality of its 1080i picture and Dolby 5.1 sound and ranks as a viewer favorite. Original shows are about wide-ranging upscale men's interests including high tech, finance, comedy-reality, adventurous travel, music, cuisine and spirits. Other programming includes high profile professional and college sports, movies, concerts and big events. The network is 100% high definition and available as part of the HD offerings from Time Warner Cable, Comcast, Cox Communications, Bright House Networks, Cablevision, Mediacom, Patriot and others. MOJO is owned by iN DEMAND Networks, whose shareholders are Comcast iN DEMAND Holdings, Inc., Cox Communications Holdings, Inc., and Time Warner Entertainment - Advance/Newhouse Partnership.
---
About Chef Nicky Morse "The Racing Chef"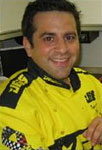 Northern Ohio Live: "Culinary Stars Wolfgang Puck, Nicky Morse and more than 30 others cooked for the crowd; Andrew Firestone, star of television's The Bachelor, showed off wines from Firestone Vineyards…The event Raised $1.4 million for cancer research." Nicky Morse is a cancer survivor.
Nicky Morse is the chef for Jeg Couglin, Jr. (3 time National Hot Rod Association (NHRA champion). This is Nicky's sixth year with the team. I realize that being at a race track is not an affiliation that you would closely associate with fine dining. When speaking of a race track one first thinks of hamburgers, hot dogs and fries. However, I have a story idea you might be interested in.
Since racing is an all day event over the course of four days, team members do not have a chance to leave and get a nutritious meal. Jeg Coughlin Jr. has hired Nicky Morse as a full-time chef to solve that problem. Nicky Morse is from London, Ohio. He cooks lunch and dinner for anywhere between 20-30 people and travels around the country with the team from Feb.-Nov. Among other things, he has worked for a four star restaurant in Columbus, Ohio, he has cooked on the set of different shows on Country Music Television (CMT). He specializes in French and Italian-style cooking and all of his food is prepared at the track in the JEG'S customized industrial-equipped kitchen.
The NHRA POWERADE Drag Racing Series is the premier series for the sport of drag racing in the United States and is one of the most popular forms of auto racing nationwide. The 23-race, $50 million series makes 20 stops across the country including Los Angeles, Chicago, Houston, Atlanta, Seattle, Las Vegas, Phoenix, San Francisco, Dallas, Indianapolis, St. Louis and Denver. Thank you for your time and consideration.
---
Lawry's The Prime Rib Goes On Location
New Catering Division Delivers World Famous Service & Prime Rib
To Los Angeles Area Events
From its renowned Roasted Prime Ribs of Beef carved tableside from silver carts to its famed attention to detail, Lawry's The Prime Rib is a household name synonymous with the best of Southern California tradition. After years of guest requests for off-site catering, Lawry's has launched the new Lawry's Catering, transporting its famous Prime Rib and impeccable service to any private event location in the Southland.
For the first time since the 1938 restaurant opening on Beverly Hills' La Cienega Boulevard, the world-class fare and unmistakable style will be available outside of the landmark location. Lawry's Catering features full-service catering for private celebrations, weddings and corporate events, among other venues. Lawry's synchronized service and showmanship are a presence at every event. The signature rolling silver service carts are available for off-site events upon request.
"We have been making memories for our guests by hosting special events at Lawry's The Prime Rib for decades," said Richard R. Frank, third generation owner and President/ CEO of Lawry's Restaurants, Inc. Frank adds, "We are delighted to extend the Lawry's experience to private events throughout Southern California."

Executive Chef Walter Eckstein, the long-time force behind the renowned special and private events at Lawry's The Prime Rib, is also the creative force behind the new expanded menu for Lawry's Catering. Event hosts can choose from a selection of catering menu packages or work with Lawry's award-winning chef to create an individually tailored event menu.
New items appearing among the seasonally changing á la carte selections are Scallops with Endives and Lemon Glaze, Pan Roasted Breast of Pheasant with Vanilla and Pears, and Raspberry Baked Alaska. A new selection of sides and complementary dishes are also available. Additionally guests can enjoy Lawry's trademark classics, including carved-to-order Roasted Prime Ribs of Beef, Yorkshire pudding, creamed corn, creamed spinach and whipped cream horseradish.
With Lawry's Catering capacity to prepare and serve small in-home groups to large venues numbering in the thousands, guests can expect the same quality and attention to detail that has made Lawry's The Prime Rib a legendary institution for almost 70 years. Drawing from decades of in-restaurant experience, Lawry's Catering also brings to the offsite market complete themed culinary events, such as Oktoberfest.
For more information about Lawry's Catering, please visit www.LawrysCatering.com or call (310)360-6281 extension 5.
---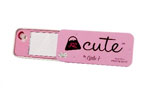 AN AFTER DINNER MINT WITH A MIRROR
TO FIX YOUR LIPSTICK -- IT'S CUTE!!!
Visit www.littlei.com.