CULINARY COUP . . .
5th annual

Jan 16-19, 2015

.
Magical tastes by world's top truffle chefs! eat, drink and cook truffles with master chefs
..
Ken Frank of La Toque, Napa
..
Riccardo Agostini of Ristoranti il Piastrino, Italy
..
Roberto Donna of Al Dente Ristorante, DC
Tony Esnault of Church & State, Los Angeles
Truffles–anyone who does not declare himself ready to leave
Paradise or Hell
for such a treat is not worthy to be born again. ― Maurice Goudeket
MEET OUR MASTER CHEFS
The Napa Truffle Festival's exciting 2015 line-up of programs features some of the world's best truffle chefs. Not just any chefs–Michelin star chefs and other Master chefs–
from all corners of the U.S. plus Italy. Join them as they discuss, demonstrate and prepare magical truffle dishes for you to feast upon for breakfast, lunch and dinner.
Perfectly paired with rare and superb wines!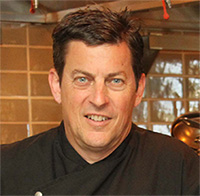 Chef Ken Frank
Host Chef
Executive Chef and Owner, La Toque
Napa, CA
..
Chef  Ken began his career at 16 with a dishwashing job in France and quickly worked his way to become the first "young American chef" on the West coast. He was the opening Chef at Michael's in Santa Monica–birthplace of "California Cuisine"...In 1998, he moved to Napa Valley to open a new La Toque and has since been awarded a Michelin star and named one of the 20 "Best Restaurants in America" by Wine Spectator. read more
Chef Riccardo Agostini
Executive Chef and Owner
Ristoranti il Piastrino
Pennabilli Rimini, Italy
..
Chef Riccardo knew he wanted to cook from a very young age...His career includes working at Casa Vissani, where he became Chef Vissani's protégé and executive sous chef...opening his own restaurant in 2007: Il Piastrino, located in a beautiful, old stone building surrounded by gardens. Within two years, he had received the Michelin stars rating. read more
Chef Roberto Donna
Executive Chef, Al Dente Ristorante
Washington, DC
..
Born in the Piedmont region of Italy, Chef Roberto arrived in Washington, DC at the age of 19...he opened Galileo in the DC Metropolitan area...named one of the "10 Best Italian Restaurants in America" by Wine Spectator and one of finest Italian restaurants in the world by the President of Italy. Galileo has also won a James Beard Award and was inducted into "The Fine Dining Hall of Fame" by the Nation's Restaurant News. read more
Chef Tony Esnault
Executive Chef, Church & State
Los Angeles, CA
..
Chef Tony honed his craft at various Michelin star restaurants and found his mentor in the legendary Alain Ducasse. At the Ritz Carlton Boston, he earned "Best Hotel Chef of America" by Food & Wine, and was awarded four AAA Diamonds and four Mobil Stars. At the Essex House, he garnered three Michelin stars and went on to open Adour with Ducasse at the St. Regis, receiving three stars from The New York Times and two from The Michelin Guide... read more
Chang Meets Guy!
Guy Fieri, chef, restaurateur, author and host of Food Network's top-rated show Diners, Drive-Ins and Dives, mugs for the camera with Robert Chang at a recent TV show shoot for Guy's Grocery Games, featuring white and black truffles provided by American Truffle Company.

exclusive winery lunches • wild mushroom forage • Truffles & Wine Dinner
and one big Marketplace!
..
ORDER YOUR TICKETS NOW!
Gift yourself, and the foodies in your life, a very special truffle weekend with a
Grand or Epicurean Truffle Weekend Package.
www.napatrufflefestival.com
_____________________________________________________________________
MANGIA BENE IN THE NEW YEAR . . . YOUR PLACE OR THEIRS!
VIA MAESTRA 42
Treat your family and friends to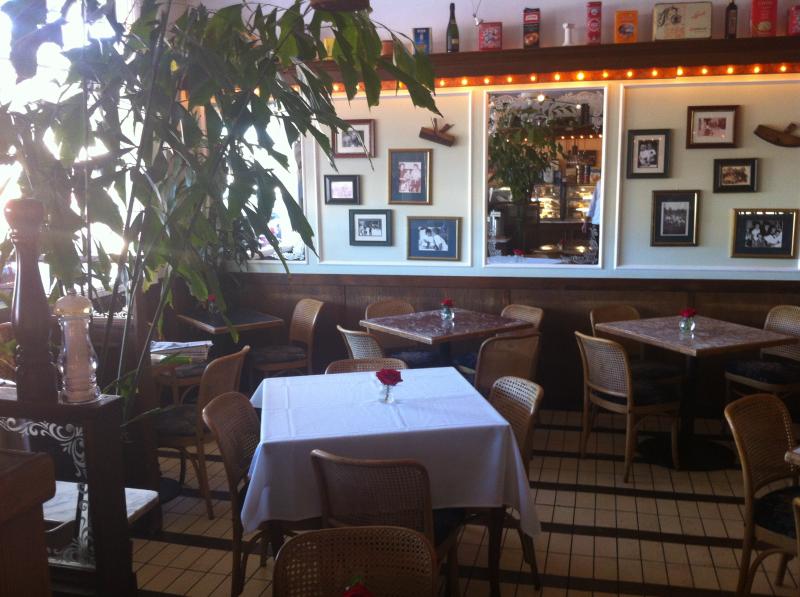 memorable family meals at

Santa Barbara's most authentic

Italian Restaurant, where excellent food

served with love are paramount on the menu.
They will cater your special events or

celebrations with elegant Italian taste and style.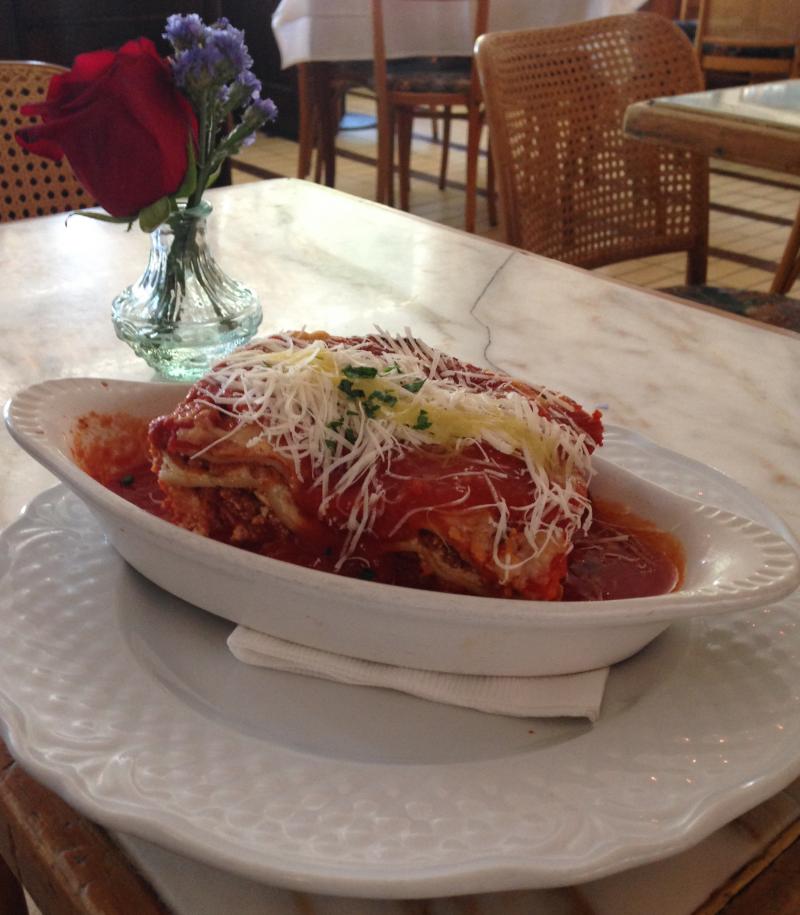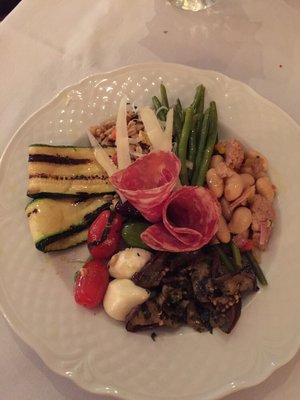 Via Maestra 42 will be serving exceptional Italian favorites throughout the holiday season. Breakfast, Lunch & Dinner
Hours are Monday - Saturday 8:30 am - 9:00 pm, Sunday 11:00 - 5:00 pm.
3343 State Street - Santa Barbara, CA - (805) 569-6522
______________________________________________________________________
ITALIAN CHILI FOR GOURMET FOOTBALL FANS

CIAO BELLA CHILI
by Bonnie Carroll
INGREDIENTS:
Light olive oil as needed
3 large cans Northern white beans (Gelsons Market)
2 large cans white sweet corn
4 cups finely diced celery
4 cups finely chopped yellow & green Italian squash
1 large yellow pepper
2 large cans yellow Roma tomatoes (.99 Stores)
1 cup each: ground veal, chicken, turkey
3 cups chopped white onion
3 tbs chopped shallots
½ cup chopped scallions
½ cup chopped water chestnuts
1 can finely chopped artichoke hearts (15 oz. can)
1 cup dry white Italian wine (Bristol Farms)
3 cloves garlic finely chopped
1 tbs. white Worchester sauce
1 tsp. white rice vinegar
1 tsp white balsamic vinegar (Surfas chef supply)
juice of 1 lemon
1 tsp cinnamon
1 tsp cumin
1 tsp oregano
1 tsp chili powder
1 bayleaf
3 large mushroom chopped
1 tbs white chocolate cocoa powder (Bellagio Brand at Bristol Farms Market)
keylime white pepper and salt to taste
(8-10 servings)
PREPARATION:
Brown meat, remove from pan and add onion, scallions, shallots, celery, pepper, squash in enough oil to cover bottom of the pan; cook over medium heat until lightly brown. The liquid can then be drained or can be left for added flavor. Add all spices (except white key lime pepper and salt, which should be added 30 minutes before serving) along with lemon juice, Worchester sauce, rice and balsamic vinegar, and simmer for 30 minutes. Place mixture in a gallon size pot and add the northern beans, white sweet corn, tomatoes, water chestnuts, artichokes and white wine and continue to cook on low heat until ready to serve. Don't forget white key lime pepper and salt in last 30 minutes.
GARNISH:
Fresh grated Parmesan cheese
Sliced tiny yellow and red tomatoes
1 small basil leaf
2 small breadsticks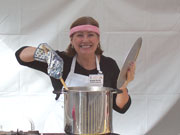 Note; I won fourth place for this chili competing against some star chili chefs in the Beverly Hills Farmers Market 11th annual Chili Cook-off. I got some great support from Star Chef Celestino Drago and his daughter. I hope you enjoy it!
____________________________________________________________________
---