FOUR SEASONS BEVERLY WILSHIRE
Sweet Street of Dreams Desserts
by Bonnie Carroll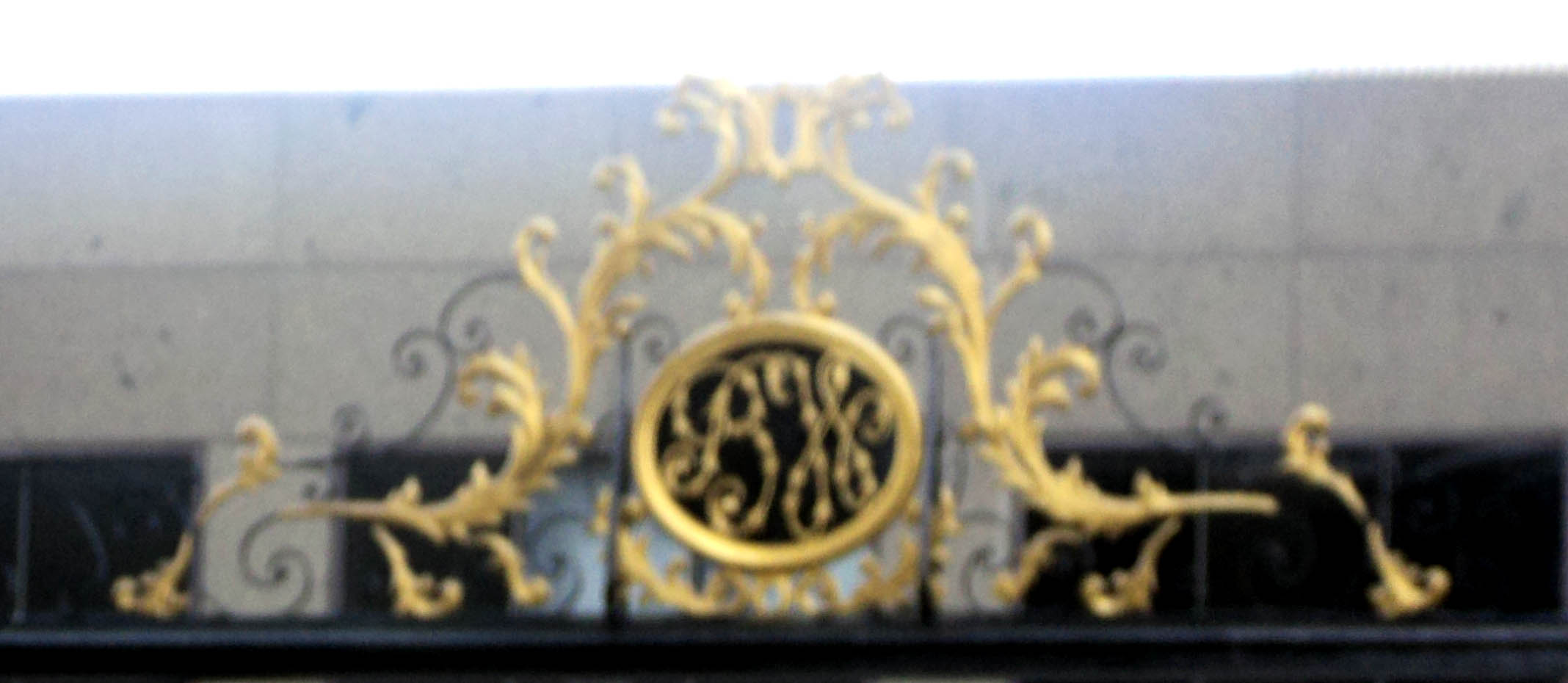 During my recent visit to Los Angeles to cover the 65th Emmy Awards activities I spent a little time at the Beverly Wilshire Hotel and Spa, where the exceptional assistant pastry chef Ryan Schmitt created a "Street of Dreams" dessert that would certainly stop traffic on Rodeo Drive.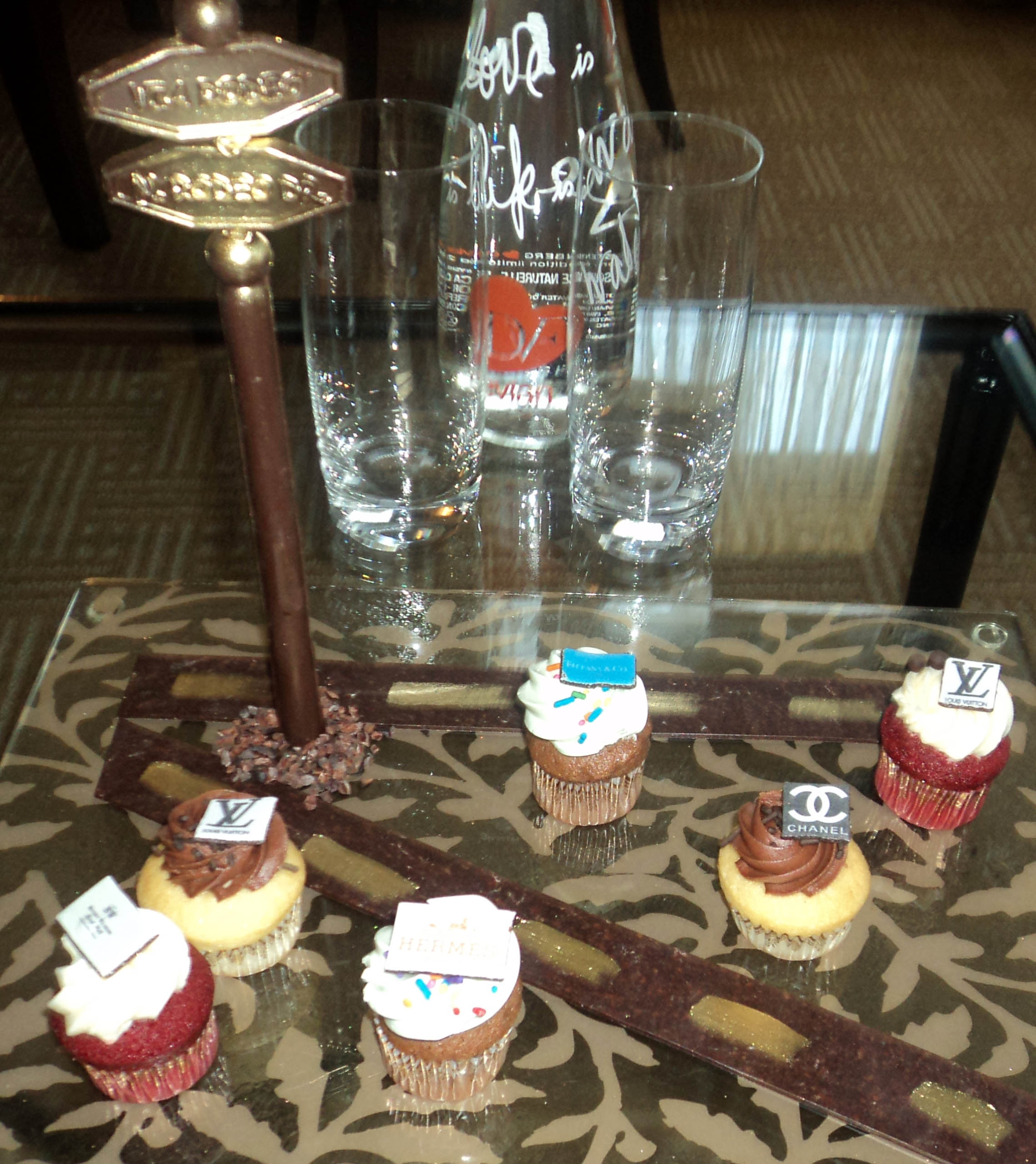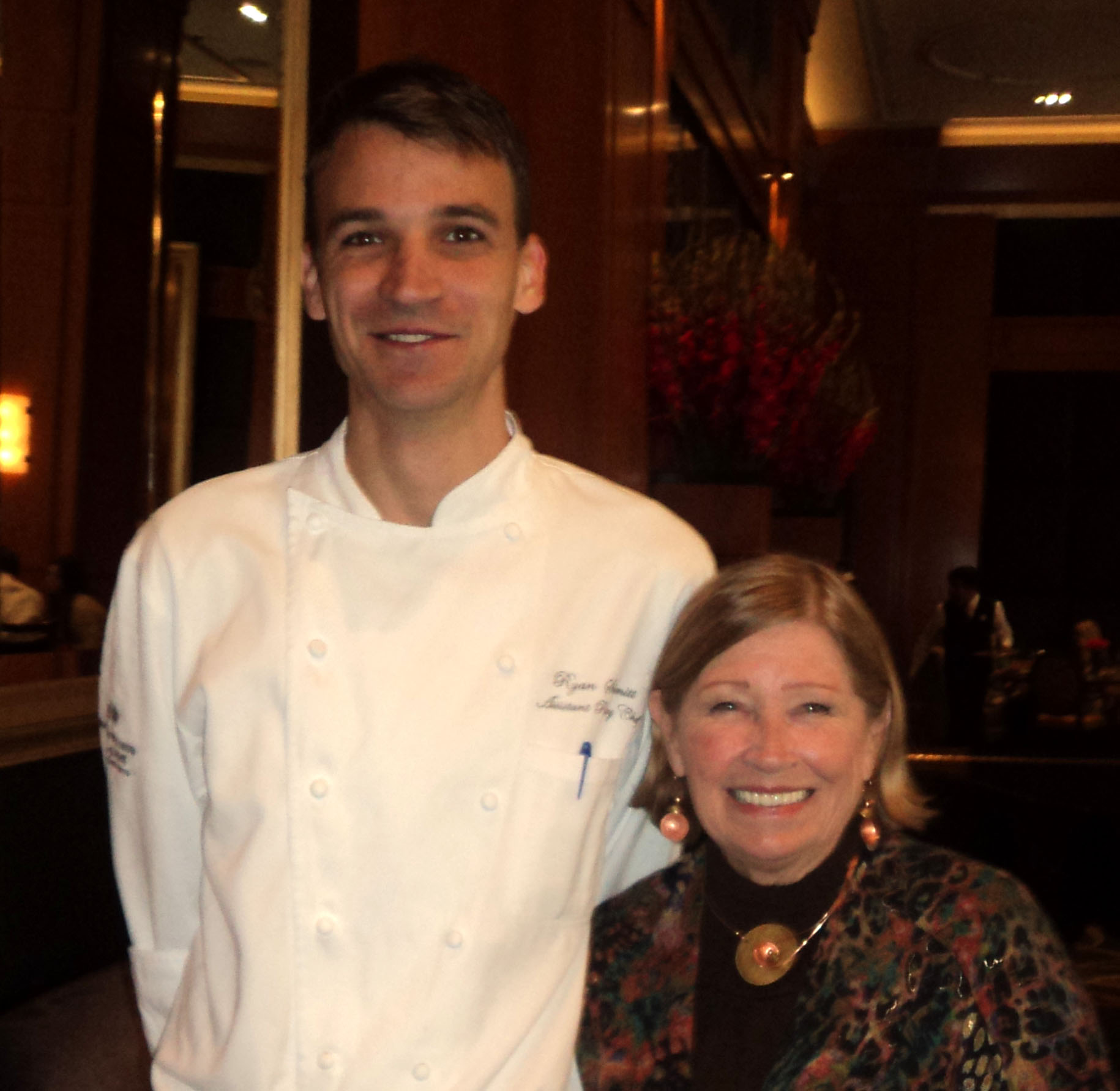 Chocolate streets were touched with gold and a brilliant street sign to match, along with petit cupcakes in many varieties bearing chocolate designer logo tags for all the fabulous shops that line the world renowned street. Every bite was delicious, and my best wishes to the talented pastry team at one of my very favorite hotel properties. So sweet, so sensational, thank you so much! www.fourseasons.com.

 WHAT THE STARS ATE AT THE EMMY'S 2013!
65th Primetime Emmy® Awards Governors Ball Recipes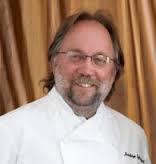 By Chef and Founder, Joachim Splichal of Patina Restaurant Group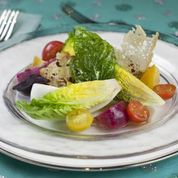 First Course
Little Gem Lettuce Salad
Basil Scented Mozzarella, Marinated Sun-Ripened Tomatoes, Heirloom Baby Beets, Cider Maple Syrup and Sunflower Seeds, Basil Chips, Virgin olive oil
Suggested wine pairing: 2011 Beaulieu Vineyard® Carneros Chardonnay
4 Servings
4 heads little gem lettuce
4 baby yellow beets
4 baby pink beets
4 baby red beets
4 tablespoons sherry vinegar
1 cup virgin olive oil
4 tablespoons cider maple syrup
2 tablespoons sunflower seeds
3 baby heirloom tomatoes
1 small loaf ciabatta or other rustic bread
16 leaves fresh basil
12 pieces bocconcini mozzarella
1 teaspoon cracked black pepper
¼ cup balsamic vinegar
¾ cup olive oil
1 teaspoon finely chopped garlic
1 teaspoon brown sugar
Sea salt and fresh ground black pepper to taste
For the Beets:
Roast beets in a 350°F oven until cooked through. Remove from oven and let cool. Peel and cut into quarters; mix together the sherry vinegar, maple syrup and 4 tablespoons of the olive oil. Toss beets in dressing and sprinkle with sunflower seeds.
For the Croutons;
Slice the bread as thinly as possible; drizzle generously with olive oil. Toast in 350°F oven until crisp light golden color.
For the Mozzarella:
Slice 4 leaves of the basil into very fine strips. Cut the bocconcini mozzarella balls in half; season with salt and pepper, basil, and a few drops of olive oil.
For the Tomatoes:
Cut the tomatoes in half; season with salt, pepper, and a few drops of olive oil.
For the Balsamic dressing:
Mix vinegar, sugar, garlic, salt and pepper; whisk in olive oil.
For the Fried Basil Chips:
Heat oil to 375°F and fry remaining basil leaves until crisp (approximately 10 seconds). Season chips lightly with salt.
To serve:
Cut the gem lettuce into quarters lengthwise, and place 4 on each plate.
Place the tomatoes, mozzarella and beets sporadically on salad; top with the croutons and fried basil. Spoon vinaigrette on top, and serve.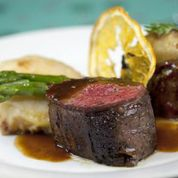 Main Course
Beef Filet Mignon
Red Wine Braised Short Rib, Cippollini Onion, Potato-Pear Gratin, Asparagus
Suggested wine pairing: 2009 Beaulieu Vineyard® Georges de Latour Private Reserve Cabernet Sauvignon
4 Servings
1 pound beef tenderloin
1 pound boneless beef short rib
2 carrots, sliced
1 onion, sliced
2 branch thyme
2 cloves garlic, whole
2 cups beef or chicken broth
4 cippollini onions
8 large spears of asparagus, 5 inches long
2 russet potatoes
1 tablespoon garlic, minced
½ cup cream
1 tablespoon olive oil
3 anjou pears
4 leaves feuille d'brick dough (appropriate alternative is filo dough)
2 ounces mild blue cheese
1 orange
¼ cup sugar
4 tablespoons onion, finely chopped
1 clove garlic, smashed
1 cup red wine
7 tablespoons unsalted butter
1 teaspoon dijon mustard
For the Beef:
Roast the filet in 2 ounces sizzling butter in oven, until brown on the outside and a nice rosy color on the inside. (It should read 128°F on a meat thermometer for medium rare). Cut slices into 3 ounce medallions. Remove from heat prior to plating.
For the Short rib:
Season the short rib, and sauté until browned all over; remove from pan. Place carrots and thyme into the same sauté pan; cook with thyme and smashed garlic cloves until tender and caramelized. Transfer to a small braising pot; add short rib and broth. Cook covered in a 350°F oven until tender (about 2 ½ hours). Cut into 3 ounce pieces; strain liquid over top of short ribs.
For the Onion:
Sear peeled cippollini onions in a touch of olive oil until golden brown. Remove from pan and place in airtight foil container with a touch of olive oil and branch of thyme. Cook slowly in 300°F oven (approximately 45 minutes) until tender.
For the Gratin:
Peel potatoes and slice into ¼ inch thick pieces.  Line a small pan with olive oil and minced garlic. Lay potatoes in pan and add cream. Bake in 350°F oven until cooked through (approximately 1 hour); set aside to cool. Peel and slice 2 of the pears; juice remaining pear. Place pear slices and juice in a pan. Cook over low heat, covered, until pears are cooked through; let cool. Line 3 inch circular ring mold with brick pastry; fill mold with potatoes, pear and blue cheese alternating layers. Fold the top over. Repeat to make 4 gratin molds.
For the Red Wine Sauce:
Sauté sliced onion over low heat for 2 minutes. Pour in red wine; add garlic and 1 branch of the thyme. Raise heat and cook until the wine is reduced by half. Remove pan from heat and stir in 7 tablespoons butter. Add mustard and season with salt and pepper.
For the Orange Chip:
Make a light syrup with the sugar and 1 cup of water. Slice orange into 1/8 inch slices; cook in simmering syrup for 30 seconds. Place in a 200°F oven until crisp and translucent (about 2 ½ hours). Remove and let cool.
To Serve:
Sear gratins in 2 ounces of sizzling butter until both sides are crisp and golden; place in 300°F oven until hot. Place beef, short rib, and gratin on the plate, along with the asparagus and onion. Pour red wine sauce on the short rib; garnish with the orange chip and serve.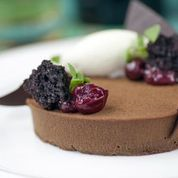 Dessert
Caramelia Namelaka
Devil's Food Cake, Roasted Cherries, Mascarpone Cream
Suggested wine pairing: 2010 Beaulieu Vineyard® Maestro Collection Napa Valley Port and Muscat de Beaulieu
For Namelaka pudding:
2 cups milk
1 ¾ cup heavy cream
½ cup sugar
4 ½ cups Valrhona Caramelia chocolate
3 gelatin sheets, each
2/3 cup butter
In a pot bring to boil the milk, cream, and sugar.  Pour the hot mix over the egg yolks and whisk.  Put the egg mix back into the pot and cook until 85°C; stir constantly with a rubber spatula.  Once cooked pour over the chocolate; mix together until chocolate is completely combined.  Chill mix down to 45°C; whisk in the butter until completely combined.  Pour chocolate pudding into ramekins and put in refrigerator to chill.
For Devil's Food Cake:
1 1/3 cup warm water
¾ cup cocoa powder
4 ¼ cups sugar
3 cups all purpose flour
2 tablespoons baking soda
2 cups vegetable oil
1 1/3 cup whole eggs
1 ¾ tablespoon vanilla
2 2/3 cups buttermilk
Mix cocoa powder and warm water; stir until smooth texture.  Sift dry ingredients and put in a Kitchen Aid with paddle attachment.  Add oil, eggs, and vanilla while mixing at medium speed.  Add the cocoa powder mix and buttermilk; mix just until combined.  Pour mix into sheet pan and bake at 300°F for about 15-20 minutes.
For Mascarpone Cream:
1 ¾ cups mascarpone cheese
2/3 cup powder sugar
1 ¾ cups cream
Put all ingredients into a bowl in Kitchen Aid with whisk attachment; whisk until thick cream.
For Roasted Cherries:
2 cups cherries, pitted and frozen
¼ cup sugar, raw
Lay cherries in a sheet pan.  Pour raw sugar over the cherries and mix.  Put in the oven at 250°F for 7-9 minutes. 
For Cherry Tapioca:
6 cups water
¾ cup tapioca
3 cups cherry puree
½ cup sugar
Bring to water to boil; pour in the tapioca.  Stir occasionally so tapioca doesn't stick to the bottom of the pot.  Once tapioca becomes translucent, strain; mix with cherry puree and sugar.  Store tapioca mixture in refrigerator and let rest for 2 hours.
To Serve:
Create pudding bed on plate. Cut pieces of the devil's food cake and place on top of the pudding.  Put a little of the cherry tapioca on the side and put a few pieces of the roasted cherries.  Garnish with a dollop of the mascarpone cream.                                                     _________________________________________________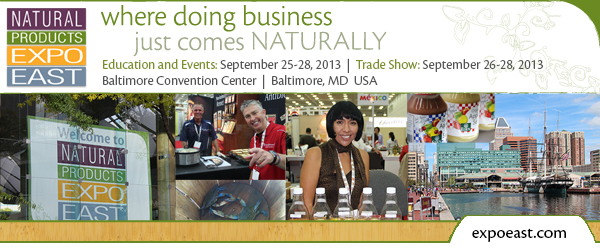 ---