21st Annual "Taste of Solvang" Set for March 13-17, 2013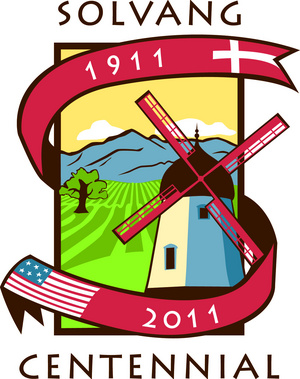 ~Special Chef Walk through Farmers Market begins festivities
Presented by the Solvang Conference & Visitors Bureau since 1993 with sponsorship support from the Santa Ynez Valley Hotel Association, Taste of Solvang features locally grown foods, wines and diverse cuisine to celebrate the rich cultural and culinary heritage of the area. Following the success of the expanded 20th annual festival in 2012, the 2013 Taste of Solvang will offer five days of savory flavors and sensory explorations.
Events begin on Wednesday, March 13, 2013 at the Solvang Village Farmers Market (First Street between Mission & Copenhagen Drive) with the Chef Walk & Demos series between 2:00-6:00pm (final schedule and any fees will be announced). Featured chefs will include Chef David Cecchini, Cecco Ristorante; Master Chef Norbert Schulz, Mirabelle Restaurant and Chef Heather Rae Hovey, Hadsten House Restaurant. Meet these Chefs at the corner of First Street and Copenhagen Drive for a personalized tour through Solvang's Farmers Market as they source ingredients and dish up tips on farm fresh inspiration. RSVPs are requested by registering at www.SolvangUSA.com
From Wednesday, March 13 through Friday, March 15, 2013, Taste of Solvang Luxury Santa Ynez Valley Wine Tours will be offered including taste stops at four wineries, gourmet picnic lunch and souvenir wine glass. Special pricing and itineraries will be offered by Grapeline Wine Tours; Serenity Limousine & Sedans; and Stagecoach Tours.
The three, traditional popular "Taste of Solvang Passport" events return starting on Friday, March 15, 2013 from 7:00-9:00pm with a scrumptious Dessert Reception and live jazz music at the Veterans Memorial Hall, 1765 Mission Drive in downtown Solvang.

On Saturday, March 16, 2013, from 11:00 am-4:00pm, the Walking Smorgaasbord features 40 taste stops around the village featuring delicious bites of Danish, American, Latin, Japanese and Italian cuisines offered by restaurants, bakeries as well as retailers. On Saturday evening, March 16 from 5:00-8:00pm plus on Sunday, March 17, 2013, from Noon-4:00pm, enjoy the Solvang Wine & Beer Walk offering a dozen downtown tasting rooms pouring their vintages into the prized souvenir
Taste of Solvang etched glass.
During Taste of Solvang and year-round, visitors are encouraged to BYOP—Bring Your Own Picnic—to one of many free public parks such as Solvang Park (corner of Mission Drive & First Street); Hans Christian Anderson Park (633 Chalk Hill Road) or Sunny Fields Park (900 Alamo Pintado Road). Taste of Solvang is a rain or shine event but since Solvang means "sunny field" in Danish, chances of rain are marginal.
Advance ticket purchases are highly recommended. A Weekend Passport including logo wine glass, wine charm & souvenir canvas tote bag is $75 per person or individual event tickets (ala carte) may be purchased— (Dessert Reception $25; Walking Smorgaasbord $30; Wine & Beer Walk $40). To purchase tickets by phone call 1-800-719-9106 or online at www.SolvangUSA.com
Solvang Conference & Visitors Bureau, Box 70, Solvang, CA 93464
● Visitor Center: 1639 Copenhagen Drive
TEL: 805-688-6144 ● FAX:
805-688-8620 ● TOLL-FREE: 1-800-468-6765
● www.SolvangUSA.com.
------------------------------------------------------------------------------------------------

Anaheim Convention Center
March 7 - 10, 2013
_________________________________________________
Four Seasons Hotel Gresham Palace Budapest Welcomes New Executive Chef Leonardo Di Clemente. Bringing a touch of Italian flair, creativity and experience from some of the world's finest kitchens to Budapest.
Four Seasons
Hotel Gresham Palace Budapest welcomes
Leonardo Di Clemente
as Executive Chef, boosting its already established reputation as one of the most exciting
dining
destinations in the Hungarian capital.
Bringing with him a healthy dose of Italian flair and creativity, along with experience of working in the kitchens of some of the world's best restaurants, Chef Leonardo is very excited about learning what Budapest and Hungary have to offer the chef and foodie.
Executive Chef Leonardo Di Clemente is a long-serving member of Four Seasons talented global culinary brigade, having previously worked at Four Seasons Hotel Canary Wharf London and the former Four Seasons Hotel Tokyo at Chinzan-so, in addition to several world-class establishments in Italy and Switzerland.
Leonardo has been working as an Executive Chef in the past six years, and has a wealth of experience garnered during stages at countless outstanding restaurants throughout Italy, including the fascinating I Luoghi di Pitti Relais, Altamura, and many more besides. He's also had the opportunity to experience many different elements of hotel food and beverage operations, managing everything from breakfast orders to food festivals and fine dining, as well as being invited to participate in numerous high-profile culinary events, food promotions and competitions.
It's these experiences, and his travels and subsequent food discoveries, that keep him inspired and assist his creativity. In his new role, Chef Leonardo will oversee the Hotel's Hungarian and Italian Gresham Restaurant, as well as all banqueting and event catering functions.
Together, Chef Leonardo and the kitchen team are readying themselves to revamp the Hotel's culinary offerings with exciting new menus and signature dishes that reflect the tastes of Budapest's cosmopolitan culinary scene.
"The addition of the new Chef of such high expertise represents a real professional asset for Four Seasons Hotel Gresham Palace Budapest, especially when the Budapest dining scene is becoming more sophisticated and competitive," says Yves Giacometti, general manager, Four Seasons Hotel Gresham Palace Budapest.
According to Executive Chef Leonardo Di Clemente, diners can look forward to new menu offerings that reflect a growing trend for health-conscious cuisine that showcases the quality and origins of ingredients.
"Our focus is to bring prime, quality and local products to the market –this is the value and secret behind the new menu," says Di Clemente, adding that menus will reflect an appreciation of seasonal ingredients.
Chef Leonardo is keen to put his stamp on the Hotel's culinary offerings and give guests something distinctive and different to bring a sweet ending to every guest's dining experience at Four Seasons Hotel Gresham Palace Budapest.
---