HOT HOLIDAY DISHES FROM THE "TOO HOT TAMALES"
"Too Hot Tamales" Mary Sue Milliken and Susan Feniger are holding holiday cooking classes on Saturday, December 3, 11 a.m. to 1 p.m. at the Border Grill to share their wonderful Winter Feast dishes. The menu included:
Winter Feast Cooking Class Menu
Celebrita
refreshing margarita flavored with fresh celery juice, rimmed with
handmade celery salt
Turkey Albondigas Soup
jazzed up soup featuring cilantro spiked turkey meatballs and a colorful
broth of fresh vegetables
Cranberry Poached Pear and Cabrales Salad
delicate, cranberry infused poached pears, pungent Spanish cabrales blue
cheese, and arugula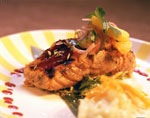 Tamarind Glazed Salmon with Braised Cabbage and Mashed Yucca
wild salmon flavored with a delicious, sweet and sour tamarind glaze, topped with a tangy orange salsa
Sweet Potato S'Mores
tender graham cracker encrusted sweet potatoes topped with melted Plush
Puffs gourmet marshmallows and drizzled with a rich, dark chocolate
sauce
Border Grill
1445 4th St. Santa Monica, CA 90401
310.451.1655 - www.bordergrill.com
---
Recipe Of The Month
From www.info@cooking-vacations.com
Spaghetti Alle Olive Verde
This recipes is a traditional pasta dish from Puglia
Preparation - Medium
Serves 4
6 T extra virgin olive oil
3/4 cup freshly grated bread crumbs
3 salted anchovies or 6 oil-packed anchovy fillets
3 garlic cloves
1/2 small dried hot red chile pepper, crumbled, or 1/4 t crushed red pepper flakes
1 cup coarsely chopped pitted green olives (about 1 lb whole olives)
salt to taste
1 lb spaghetti
Put a teaspoon of the olive oil in a small saucepan and toast the bread crumbs in the oil over medium heat for a few minutes, until they are golden brown and crisp. Remove from the heat and set aside. If you are using salted anchovies, rinse them under running water to rid them of salt, strip away the bones, and chop coarsely; if using anchovy fillets, simply chop them. In 3 tablespoons of the remaining oil, sauté the garlic cloves over medium heat until they are brown. Add the chopped anchovies and, using a fork, stir and crush them into the oil. Crumble the chile pepper into the oil. Remove the garlic cloves and discard. Stir the olives into the oil and let cook for about 3 minutes, just long enough to mix the flavors. Set aside.
Bring a large pot of lightly salted water to a rolling boil. Drop in the spaghetti and cook until done-10 to 12 minutes. As the pasta finishes cooking, reheat the olive sauce. Drain the pasta and turn into a heated serving bowl. Add the remaining olive oil and the toasted bread crumbs to the olive sauce and toss with the pasta. Serve immediately.
---
A MOVEABLE FEAST
Award-Winning Restaurants Can Be Found Across New York State
More than 50 New York State restaurants won the AAA Four Diamond award in 2005, and many others were recognized for their exquisite wine lists. While New York City is known as a culinary capital, other New York State regions offer award winning restaurants, as well.
A TASTE OF THE HUDSON VALLEY
THE HUB OF CULINARY ARTS
Home to some of the oldest farms and vineyards in America, the Hudson Valley has a rich culinary tradition. Famous for producing the world's "master chefs" at the Culinary Institute of America in Hyde Park, many of the school's graduates stay in the region, launching restaurants that receive some of the highest awards in the culinary industry. Restaurants and culinary activities include:
Aubergine (Hillsdale, NY): For nine straight years, this Hudson Valley restaurant has received the AAA Four Diamond rating, its highest restaurant honor. The French-inspired country cooking combined with the comfortable atmosphere of a 1783 Dutch Colonial house is a popular destination for serious "foodies." Call 518.325.3412 or visit www.aubergine.com.
Old Drovers Inn (Dover Plains, NY): From roasted pork tenderloin with fresh herb risotto to legendary browned turkey hash, Old Drovers Inn combines 70-year-old 'classics' with innovative new meals. Honored with Wine Spectator's "Award for Excellence" for its wine list, the restaurant has also received the AAA Four Diamond rating. Old Drovers Inn offers acclaimed cuisine, antique furnishings and a unique history. For more information, visit www.olddroversinn.com or call 917.363.2284.
Cooking Vacations in the Hudson Valley: Spend three days visiting different restaurants across the Hudson Valley, including Old Drovers Inn and Aubergine. While learning new cooking skills from the area's "master chefs," guests also explore the region's beautiful landscape and prestigious mansions. Separate accommodations must be made for the Hudson Valley's "cooking vacations." For more information, visit www.vintagehudsonvalley.com or call 914.591.4503.
FINE DINING AND WORLD RECORDS IN THE FINGER LAKES
With more than 80 wineries producing more than 100 million bottles of wine annually in the Finger Lakes, many restaurants offer local vintages with outstanding menus. Some of the top local restaurants include:
The Dining Room at Mirbeau Inn & Spa (Skaneateles, NY): Recognized for the quality of its wine list by Wine Spectator, this AAA Four Diamond award winner is one of the region's most popular restaurants. Inspired by Claude Monet's French country home, the Dining Room opens to a scenic view of beautiful gardens and tiered ponds, providing the perfect background to compliment a multi-course meal, using the region's freshest and most flavorful ingredients. For more information, visit www.mirbeau.com or call 315.685.5006.
Sorge's Italian and American Restaurant (Corning, NY): Located just south of the Finger Lakes in Corning, Sorge's is the Guinness World Record holder for the longest homemade pasta noodle (418 feet). Sorge's is looking to break its own record in 2006 as part of its 55th anniversary celebration. Considered one of the best Italian restaurants in New York State's Southern Tier, Sorge's offers an assortment of Italian dishes from penne pasta to cannelloni Florentine. For more information, call 607.937.5422 or visit www.sorges.com.
HEAD WEST IN SEARCH OF BUFFALO – WINGS, THAT IS
Home of the world-famous Buffalo wings, Anchor Bar shares a variety of stories about the exact origin of this snack, which changed forever the way Americans eat chicken. Serving more than a thousand pounds of wings each day, visitors to this Western New York landmark include international tourists, movie stars, professional athletes and political leaders. For skeptics who may scoff at chicken wings as top cuisine, consider this: Buffalo's Anchor Bar recently won the prestigious James Beard Award, which recognizes the finest chefs and restaurants in the country. For more information, visit www.anchorbar.com or call 716.886.8920.