SPIRITLAND BISTRO
A Little Slice of Healthy Heaven in Santa Barbara
by Bonnie Carroll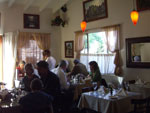 SpiritLand Bistro is considered to be the home of organic Global Cuisine, and is located at 230 E. Victoria Street, in a quiet and charming section of Santa Barbara, California. The exterior beckons hungry visitors in for what will in all probability be a life changing meal, especially if they ha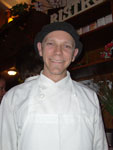 ve never experienced vegetarian organic cuisine at its best.
Chef Joel Koch has my adoration for the spectacular level of gourmet preparation and presentation he provides at SpriitLand. His exquisitely created sauces, gravies, marinades and fruit/vegetable toppings are world class quality, and are the secret to the amazing dishes being sent out of his kitchen. Recipes representing numerous countries including, Italy, Asia, Greece, India, Hawaii, Belgium, Japan and the Mediterranean all have the uniqu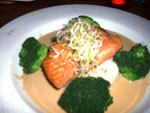 e Koch culinary stamp. Clearly, his fine career history cooking for renowned hotels and restaurants has honed his skills and set his amazing talent free.
Do try the French beet and butternut squash salad, Venetian polenta cakes, Hawaiian macadamia nut crusted Mahi and the Italian vegetable risotto. The Belgium stuffed salmon or Tuscan primavera and fusilli rice pasta are also memorable choices. Beverages to compliment your appetizers or entrees include Elixer tonics and teas, juices, fine herbal teas, organic coffee and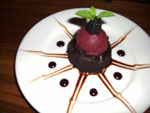 wonderful organic wine selections.
The desserts are equally outstanding, and my favorites include the flowerless chocolate cake and lavender brulee. If you are conscious enough to know your body needs organic healthy food, but you crave dishes that have that 'sauce to die for' essence, please honor your health and your life by dining at SpiritLand Bistro.
For information visit www.spiritland.com.
---
THE CHEFS' WAREHOUSE TO BE EXCLUSIVE PRESS ROOM
FOOD SPONSOR AT THE 2007 JAMES BEARD FOUNDATION AWARDS
CW to serve a selection of their ultrapremium products to press, nominees and winners at Awards Ceremony

The Chefs' Warehouse, the nation's leading importer and distributor of specialty foods to top chefs around the country, will be the exclusive Press Room Food Sponsor at this year's James Beard Foundation Awards at Avery Fisher Hall. CW will feature an array of their latest culinary finds and award-winning products from around the world to lucky press room guests.
The press room tasting menu will include: Fra' Mani—a selection from Paul Bertolli's exquisite line of handcrafted salumi; a first U.S. release of organic goat's milk robiola cheese from Italy; rustic Castel Medieval cow's milk cheese from Veneto, Italy; sweet and spicy South African peppadews stuffed with creamy goat cheese, and hand-rolled Bibenesi Italian breadsticks. To round out the menu, CW will feature Twelve; a new, culinary inspired, non-alcoholic beverage created to accompany fine food or to enjoy on its own as an elegant alternative to wine or cocktails.
The Chefs' Warehouse counts numerous James Beard Foundation Award nominees and winners, past and present, as customers. "We are honored to be part of such a prestigious event that acknowledges our peers in the industry", says Chris Pappas, CEO The Chefs' Warehouse.
For consumers who want to shop where the chefs shop, a vast selection of CW's products are available on chefswarehouse.com.
ABOUT THE CHEFS' WAREHOUSE
Established over 20 years ago, The Chefs' Warehouse (Dairyland) is a leading full-service specialty food importer/distributor, supplying a full-spectrum of ingredients to the country's finest restaurants, specialty food stores and sub-distributors, operating out of facilities in New York, Las Vegas, Los Angeles, San Francisco and Washington DC
---
Summertime is Salad Time with Wisconsin Potatoes
As the summer sun beckons you to meals on the patio and picnics in the park, serve up fresh seasonal flavors in a salad that features the satisfying tastes and textures of Wisconsin potatoes.
Whether you're making a casual family meal or something special for guests, the versatility and simply great flavor of healthful Wisconsin potatoes make them a great choice for sensational salads.
An easy but distinctive main-dish salad you're sure to love is Wisconsin Potato Louie Salad, an updated Crab Louie Salad made with Wisconsin Red-Skinned Potatoes, created by Chef Jimmy Wade, of the popular Heaven City restaurant in Mukwonago, Wisconsin, near Milwaukee.
In Chef Wade's creative interpretation of this salad, classic Crab Louie ingredients – garden-fresh mixed greens, lump crabmeat and hard-cooked egg, all topped with a creamy, tangy sauce – are served atop delectable boiled and thin-sliced Wisconsin Red-Skinned Potatoes. As a flavorful flourish, the potatoes are drizzled with "Jimmy's Special Sauce," a zesty blend of fresh chopped onion, jalapeno and garlic, roasted pine nuts, and earthy ground turmeric.
The Wisconsin Potato Louie Salad is deceptive: It looks complicated and upscale, but it actually requires only a few simple preparation steps. Some tips from Chef Wade: Use fresh and top-quality ingredients, including fresh Wisconsin potatoes and, if possible, fresh crabmeat. And he offers a secret used by professional chefs: Put a little effort into arranging the salad on individual plates for each diner, so it looks as good as it tastes.
The key ingredients in this salad have special meaning for Chef Wade. The crab recalls the fresh seafood he savored as a boy in coastal Virginia, and the Wisconsin Red-Skinned Potatoes are a star agricultural product in his adopted state. "Wisconsin farmers take such great care in what they do, and they're careful stewards of the land," said Wade. "I could tell the minute I put a Wisconsin potato in my mouth."
Wisconsin Red-Skinned Potatoes, which are available as early as July 1st, have rosy red skin, white flesh and a round or oblong shape. Their firm and moist texture makes them especially well suited for salads, and they can be prepared by roasting, boiling and steaming.
Popular Red-Skinned Potatoes are just one choice in a wide selection of healthful, great-tasting Wisconsin potato varieties. Check your local supermarket or farmers' market for fresh Wisconsin potatoes, and enjoy their earthy goodness in a salad that your family and friends will love.
The Wisconsin Potato & Vegetable Growers Association (WPVGA) was established in 1948, and is headquartered in Antigo, WI, where it provides grower education, government support, and consumer education for the150-grower organization. For more information, contact Tim Feit at (715) 623-7683 or tfeit@wisconsinpotatoes.com and visit www.wisconsinpotatoes.com.

CLICK HERE for Heaven City's Wisconsin Potato "Louie" Salad recipe.
---
CARR'S CRACKERS REVEALS "MAKE IT SPECIAL"
RECIPE CONTEST WINNERS
With calls for recipes ranging from hors d'oeuvres to desserts, the Carr's "Make It Special" recipe contest inspired some of the most innovative recipes of the year. A panel of judges, led by award-winning Chef and proprietor of New York City's Riingo restaurant and co-founder of the Townhouse Restaurant Group, Marcus Samuelsson, poured through the recipe submissions to select the winners. When judging concluded in March, one recipe stood out from the competition. The Grand Prize winning recipe, Torta Rustica, is an hors d'oeuvre that combines a range of Italian flavors and two flavors of Carr's crackers for a winning taste combination.
Created by Andre Alban, a chef at Mercy Manor North nursing home in Ft. Lauderdale, Fla., the recipe combines two flavors of Carr's crackers, Croissant and Poppy & Sesame, to create the crust for the dish. The crust is then topped with fresh spinach, a variety of Italian herbs, along with fresh Parmesan and goat cheeses. Alban's culinary efforts have earned him a four-night/five-day round trip for two to the Coventry Food Festival in England (approximate retail value $7,000) in June 2007.
Three additional crowd-pleasing recipes were selected as the best in each of the contest's three categories: catering, hors d'oeuvres and dessert. For her Savory Blue Cheesecake, a concoction of Carr's Table Water Crackers with Cracked Pepper, Parmesan and blue cheeses, Diana Dillard of Seattle took home First Prize in the catering category. In the hors d'oeuvres category, Robert Bell of Albany, Ga. won for his First Coast Crab Cakes accompanied by Cajun remoulade, Key Lime Beurre Blanc and fresh salsa. Danielle Kattan of Winston-Salem, N.C, created the winning dessert recipe. Her Rosemary Cream Cheesecake with Raspberry-Chipotle Sauce is an interesting combination of sweet and spicy. Each of the First Prize winners will receive a two-night/three-day trip for two to Napa Valley, Calif. (approximate retail value $3,040).
"Seeing the creativity used by these chefs should inspire both professional and home chefs alike to create their own recipes using the versatile selection of Carr's crackers," said Chef Samuelsson. "The diversity of the recipes really reflects the true culinary skills that all of the entrants possess."
In addition to the Grand and First Prize winners, eight second place winners received a $50 gift certificate to Amazon.com to help build their cooking libraries. In the catering category, three chefs were honored for their creations: Wolfgang Hanau for his Crisp Rock Shrimp and Louisiana Vegetable Casserole, Nancy Maurer for her Buttery Almond-Berry Brule Bites and Diana Dumitru for her Carr's Tiramisu Martini. Three chefs also were recognized for their dessert creations: Thomas Mackinnon for his Caribbean Snaps, Dana Lipkin for her Chocolate, Toffee and Pistachio Covered Crackers and Diane Halferty for her Lemon-Nutty Chocolate Angel Bites. Cindy Ruzak's Carr's Blue Cheese Crackers and Thomas Long's Carr's Torta Rustica won second place in the hors d'oeuvres category.
For more information on the contest, including all of the winning recipes, call the Kellogg Company at 1-877-511-5777.
---
THE SWEET LIFE
Celebrity chefs join in to judge World Chocolate Masters on May 19th
It's a tough job, but someone's got to do it. The tasting of chocolate creations by some of the nations finest pastry chefs and confectionary wiz kids certainly sounds difficult, but thankfully a handful of culinary world hot shots have stepped up to the plate to lend a hand.
Judge Gale Gand, executive pastry chef and partner in nationally acclaimed restaurant Tru in Chicago, James Beard nominated author, as well as Food Network host of Sweet Dreams offers this up, "I can't wait to immerse myself in the World of Chocolate….whether it's milk, semi sweet, or very dark, almost everyone loves Chocolate. Its intense, warm flavor and smooth texture make it irresistible to all ages."
Joining Gale is a man who also has sung the praises of chocolate, chef and author Art Smith. A contributing editor to O, the Oprah Magazine and Oprah.com, Chef Smith has also appeared several times on The Oprah Winfrey Show. He is featured regularly on television programs, appearing nationally on NBC's The Today Show and serving as a regular tasting judge on Food Network's Iron Chef America. Smith's newest cookbook - Back to the Family: Food Tastes Better Shared with the Ones You Love – features recipes which stress the importance of recognizing old food traditions, as well as creating new and healthier food traditions in your own family.
Judge Alain Roby is the Senior Corporate Pastry Chef for Hyatt Hotels, as well as the winner of the Food Network Challenge based entirely on chocolate. He created a 20-foot, 8-inch tall replica of the Rockefeller Center, the Empire State Building and the Chrysler Building, which now boasts the world record for tallest chocolate structure. As to his turn as a World Chocolate Masters judge, he says, "This is without a doubt the most prestigious chocolate event in the world. I am just thrilled to be a part of this competition and look forward to the tasting."
The outcome of the event on May 19th at the French Pastry School will provide the United States finalist for the World Chocolate Masters event, which will culminate with the 22 national winners competing for the title of World Chocolate Master 2007 at the Salon du Chocolate in Porte de Versailles, Paris, from October 20-22, 2007.

The World Chocolate Masters is the premier international event for top chocolate professionals. The international competition; initiated and sponsored by Barry Callebaut; recognizes and celebrates the professionals' innovation, artistry and technical skills. Contestants are chosen for their flair and competence – talents that are put to the test in front of an international panel of food experts, and is considered the Oscar in chocolate making.

The World Chocolate Masters competition was initiated in 2004. It brought together two of the gourmet profession's most prestigious competitions: the "Grand Prix International de la Chocolaterie" organized in France by Cacao Barry and the "International Belgian Chocolate Award" organized by Callebaut in Belgium to create one world wide event.
On www.worldchocolatemasters.com you will find detailed information on the World Chocolate Masters competition, as well as previous winners and their creations.

Barry Callebaut (www.barry-callebaut.com):
With annual sales of more than CHF 4 billion for fiscal year 2005/06, Zurich-based Barry Callebaut is the world's leading manufacturer of high-quality cocoa, chocolate and confectionery products – from the cocoa bean to the finished product on the store shelf. Barry Callebaut is present in 24 countries, operates more than 30 production facilities and employs approximately 8,000 people. The company serves the entire food industry, from food manufacturers to professional users of chocolate (such as chocolatiers, pastry chefs or bakers), to global retailers. It also provides a comprehensive range of services in the fields of product development, processing, training and marketing.
---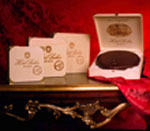 SACRE tORTE
April 12, 2007: The world s most famous cake is celebrating its birthday: the Original Sacher-Torte is 175 years old. It is not just a piece of culinary contemporary history, but also an export hit and economic factor: more than 360,000 cakes are sold at home and abroad every year, 41 employees work in the Sacher Patisserie to produce, pack and dispatch the Original Sacher-Torte.

---
Chef Khai Duong's Culinary Tour of Vietnam
A travel vlog & blog from magical Vietnam

Chef Khai Duong, Executive Chef and Managing Partner of San Francisco's Ana Mandara restaurant, has been taking groups on culinary tours of Vietnam for the last several years.

He recently completed his April 2007 tour, which has been the largest and the longest in duration, 40 people over 14 days. One of Chef Khai's long-time colleagues, Chef Lawrence Chu, was part of this tour, as were other food industry principals. The focus was on the best cuisine in the country, whether at a five-star hotel, on a cruise or from food purchased at a farmer 's market, then cooked at one of the many island accommodations by Duong and colleagues.

The extensive itinerary included Chef Khai 's home, Nha Trang, on the lush south coast, the Bac Waterfall, Ham Rong Mountain and suspension bridge, Ha Long Bay (UNESCO Heritage site), Ngoc Son Temple, the Imperial Palace in Hanoi, the Perfume River, the Unification Palace, Notre Dame Cathedral and Caibe Floating Market of Ho Chi Minh City, and many others, including traditional cultural exhibitions and celebrations.

This tour also included an instructor from the Culinary Institute of America at Greystone in St. Helena, California. The tour was filmed for instructional purposes and will be available for use by the media.

For more information on publishing the images and video footage of this culinary tour, please contact: Kimberly Hathaway, Hathaway PR, 415-989-0230, or
email hprmedia@hathawaypr.com BLOG: http://www.anamandara.blogspot.com/
---
Gourmet Housewares Show Announces
2007 Gourmet Golds Winners
Show's Best Product Introductions Named in Five Categories
The 31st Annual Gourmet Housewares Show® is pleased to announce the winners of this year's Gourmet Golds Awards, honoring the show's most breakthrough culinary products. Judged by a panel of trade and consumer press, the Gourmet Golds highlight the show's best products in five categories: Cookware/Bakeware; Kitchen Electrics; Gadgets, Cutlery and Accessories; Gourmet Gifts and Specialty Food; and Tabletop and Textiles. A Best in Show Award is also given. Managed by George Little Management and co-located with the National Hardware Show® and the Global Home Textiles Show™, the Gourmet Housewares Show ran May 8-10, 2007 at the Orange County Convention Center, in Orlando, FL
This year's Gourmet Golds competition saw a total of 127 entries—a 75% increase over last year's show. The winners and finalists were as follows:
Cookware/Bakeware:
Finalists: Staub for the Braiser Honey Comb and Emile Henry for the Flame Top Roaster
Winner: B/R/K of Germany represented by Kitchen Resource for the Pressure Cooking System
Kitchen Electrics:
Finalists: Capresso for the Jura Capresso J5 Impressa and Nespresso for the Lattissima
Winner: Zojirushii for the Rizo Micom Rice Cooker and Warmer
Gadgets, Cutlery, and Accessories:
Finalists: Enrico Products for their Grater with Serving Bowl and Furitechnics for the Rachael Ray Froggy
Winner: Fusionbrands represented by Harold Imports for the Poach Pod
Gourmet Gifts and Specialty Food:
Finalists: Callisons Fine Foods for the Fruit Stickles and Kentucky Bourbon Q for the Bourbon Q Gift Pack
Winner: Real Chef for Flavor Magic
Tabletop and Textiles:
Finalists: Ritzenhoff for the My Lian and WMF for the Zaha Flatware
Winner: Zak Designs for the Confetti Dinnerware
Best in Show:
Seasoned Palate for the TSP Spices
(a first time exhibitor at the Gourmet Show).
Winners of the 2007 awards were announced at the Gourmet Housewares Show Opening Night Party, May 8th in downtown Orlando's History Center. The event was also a fundraiser for leading anti-hunger non-profit Share Our Strength, which received an honorary Gourmet Gold Award. In return, Share Our Strength awarded CHEFS Catalog's Tim Littleton with this year's Retailer Humanitarian Award for the company's tremendous commitment to philanthropic initiatives.
The 2007 Gourmet Golds were judged by a panel of editors and writers from Bon Appetit, Gourmet News, The Gourmet Retailer, HFN, Kitchenware News, and O: The Oprah Magazine.
Following the 2007 event in Orlando, the Gourmet Housewares Show returns to Las Vegas for 2008—a move that will accommodate the show's growth in exhibitors and retail buyers. The Las Vegas show will take place May 6-8, 2008.
For further information, please visit www.thegourmetshow.com.