CULINARY COUP   .     .     .
PORTLAND'S ITALIAN FAVORITES SCHEDULED TO OPEN
A white tent with the words "One Love," is standing next to Amalfi's Restaurant and Mercato, a black-owned Italian restaurant three generations strong. (Due to new guidelines, the existing dining room could fit just six tables, so they erected a tent for weekend dine-in service.) Owner Kiauna Floyd went above and beyond to make guests comfortable outside, bringing in heaters and live music.
And in the Clinton neighborhood, chef-owner Paolo Calamai's soulful Tuscan restaurant, Burrasca, plans to inaugurate its dine-in patio service on July 1. For now, diners can enjoy takeout Wednesday through Saturday.
Still not all restaurants feel ready to open their doors.
Ava Gene's, whose slogan is "locally sourced, aggressively seasonal," will continue its limited takeout menu and wood-fired pies. Last month, they pivoted, launching "Division Street Grocers," for those ready to order prepared meals, like escarole salad, baked pasta, and panna cotta as well as a selection of wine and produce.
The restaurants of chef Kathy Whims - Nostrana pizzeria and Enoteca Nostrana - will likely open for dine-in service during Phase II. For now, both are open for takeout. Nostrana has been giving away free pizza to protestors. Purchases of the "Protest Pizza" go to the NAACP Legal Defense and Educational fund.
____________________________________
Historic Eateries in Santa Barbara Closing

Sadly, so many restaurants have not survived this past three months and have closed their doors; many of them long-time favorites of locals in their cities. My own hometown is no exception with many favorite resrtauerants closing their doors forever, much to the disappointment of patrons.
Local restaurants Dutch Garden and Fish Enterprise Co. are reportedly closing permanently following the shutdown from the COVID-19 pandemic.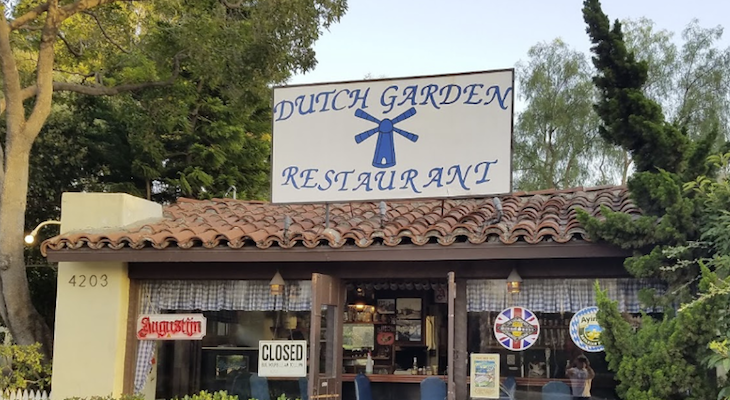 Photo: Dutch Garden
Santa Barbara's very own "Restaurant Guy" SB Independent writer John Dickson, reported the news about Dutch Garden in June stating the local hotspot opened in 1945. 
Located at 4203 State Street, near the intersection of Highway 154 and State, the small building served up schnitzel, German beer, and other European flavors.
Fill up on all the schnitzel and German beer you can since the restaurant will serve its final meals this coming Saturday, June 27.

Fish Enterprise Co. located at 225 State Street, has been closed since March. John Palminteri KEYT3 stated multiple employees have confirmed the restaurant will not be reopening.
The 43-year-old restaurant has yet to make a formal announcement but their phone lines are currently disconnected. 
(Photo: Chuck's Waterfront Grill)
The Endless Summer Bar & Cafe and Chuck's Waterfront Grill at the Santa Barbara Harbor announced their permanent closures on April 30. 
"Cheers, to the end of an era. We are sad to announce that we have closed our doors for good. We are so grateful for all of our employees, performers, customers, who have enabled us to remain open for as long as we did," Endless Summer posted on Facebook. A new owner is planning to revamp he space into two seperate venues. Chuck's of Hawaii on Upper State Street are open and there is no indication they are closing.
So many changes as a result of rhis Pandemic 2020 and many are so sad to see iconic venues and old friends disappear from view. Wishing these restaurant people happiness and success in what ever they do next.
___________________________________________________________________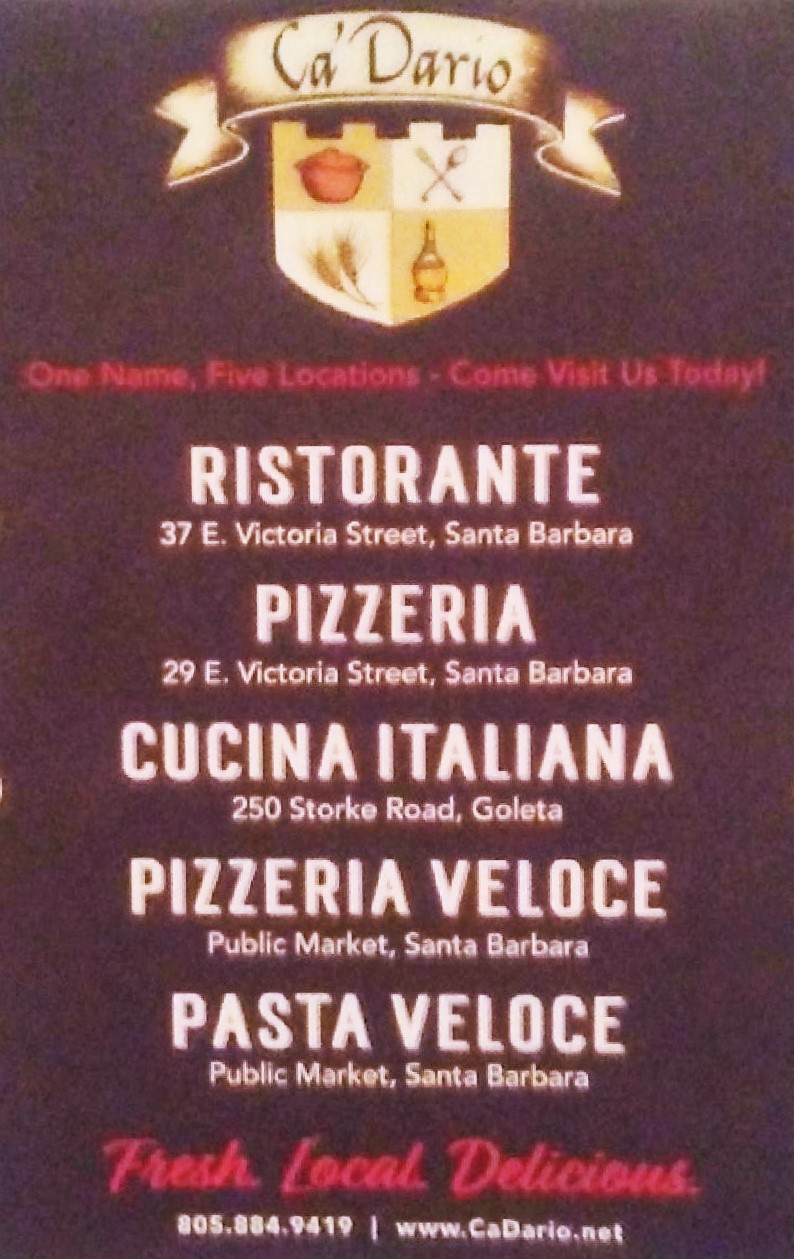 Ca'Dario Ristorante
37 E. Victoria Street
Santa Barbara, California 93101
805-884-9419
---