Restaurant Focus February 2014
IL PASTAIO
FAMILY DINNERS & DRAGO FAMILY LOVE
By Bonnie Carroll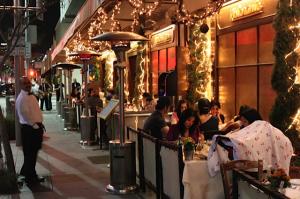 Giacomino Drago learned to cook in the kitchen of his mother in Sicily as a small boy, and came to America to join his elder brother Celestino Drago who had opened his first restaurant in Beverly Hills and was experiencing success. It was not long before Giacomino opened his own restaurant Il Pastaio. That was twenty years ago, and this venue continues to be tremendously popular with locals and tourists alike.
The Drago dynasty of talented chef brothers and their restaurants are known for their authentic Italian specialties, and their charming hospitality. I am lucky to have known them since the very beginning, and was there to experience Celestino Drago's amazing Italian food, hard work and dedication to true hospitality from the start. I feel honored to know this delightful family of Italian Americans who have won the hearts of their patrons from the very beginning of their culinary history.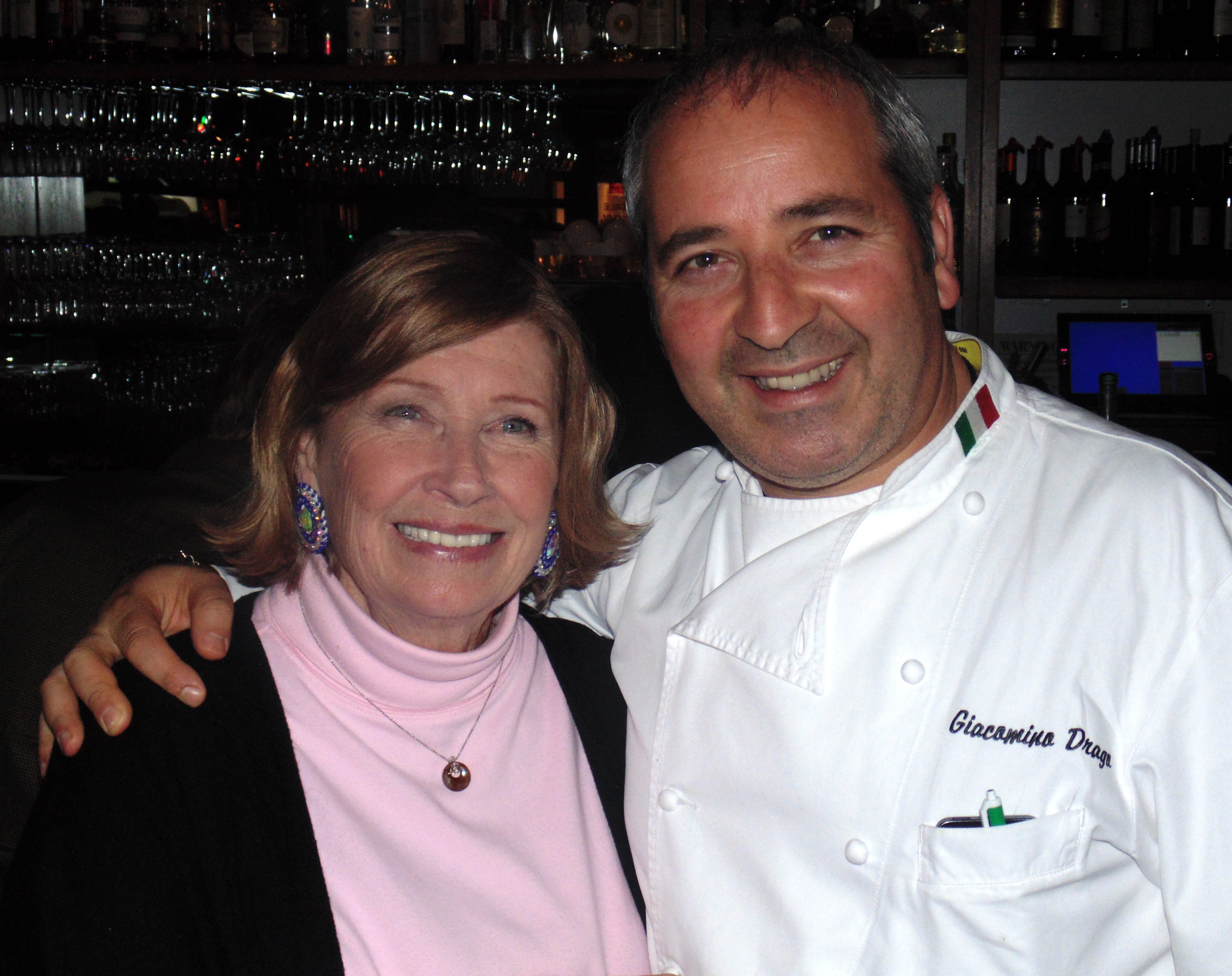 Today Giacomino, Celestino and all the members of the Drago dynasty are a part of a roster ofrestaurants that are located in varied locations, but they all prepare and present extraordinary lunches and dinners to delight their guests. I spent my birthday at Celestino in Pasadena last year and it was well worth the drive. Tanino Drago was my host that night and it will be remembered always as a warm and wonderful experience. This year it was my great pleasure to spend my birthday with Giacomino and Carolina at Il Pastaio.
Il Pastaio has been on Canon Drive for twenty years and has become a favorite of families dining together, couples having a private evening out, and tourists who have heard or read on line of the authentic and delicious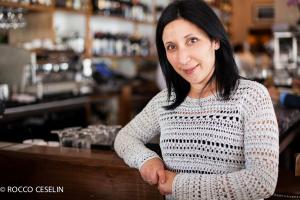 plates coming out of their kitchen. Giacomino Drago, and sister Carolina Drago run a fast moving, exciting venue, where the bar is full of waiting diners, and the servers perform with swiftness and skill. From lunch until late evening Il Pastaio is jammed. I lived in Beverly Hills for fifteen years and never saw this dining room anything but full. The outdoor patio offers a comfortable spot for families with small children to enjoy a pleasant meal together, as well as enjoy while people watching.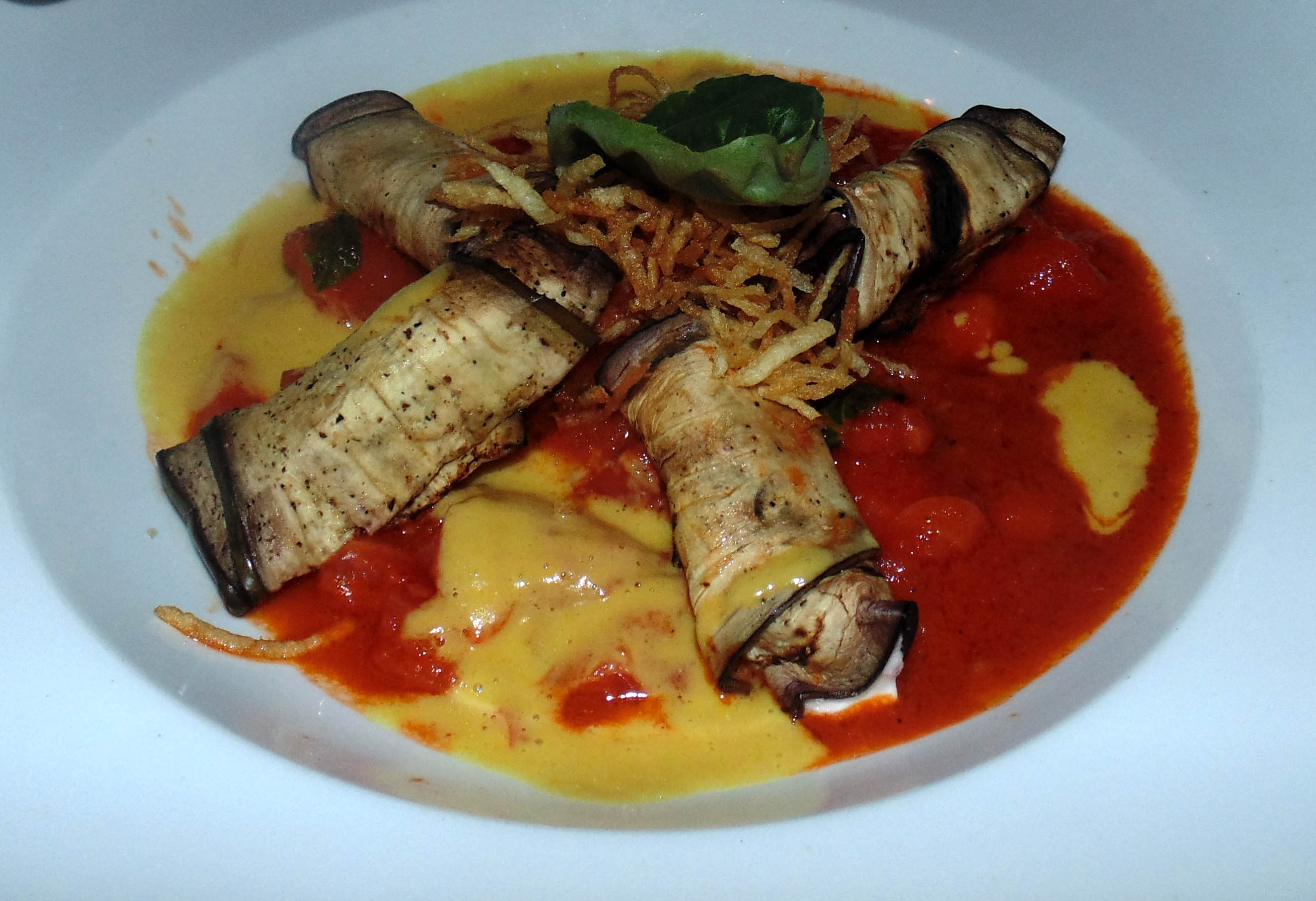 The appetizers including eggplant rolls with goat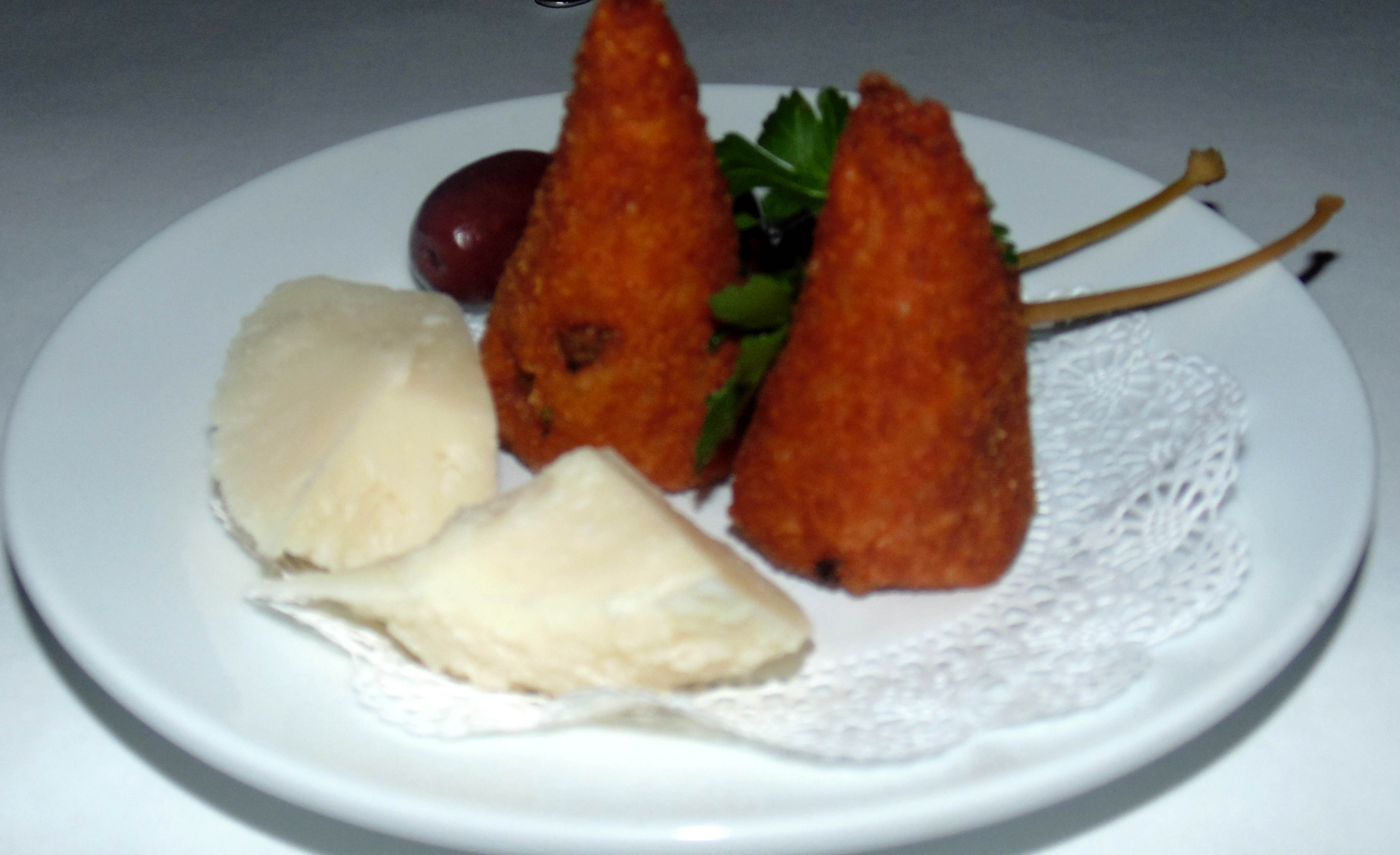 cheese and sun dried tomatoes with bell pepper sauce are beyond outstanding, as are the arancini,  breaded rice cones with mozzarella cheese, peas and pomodoro sauce. Their Mezzelune ravioli stuffed with shrimp and scallops covered with lobster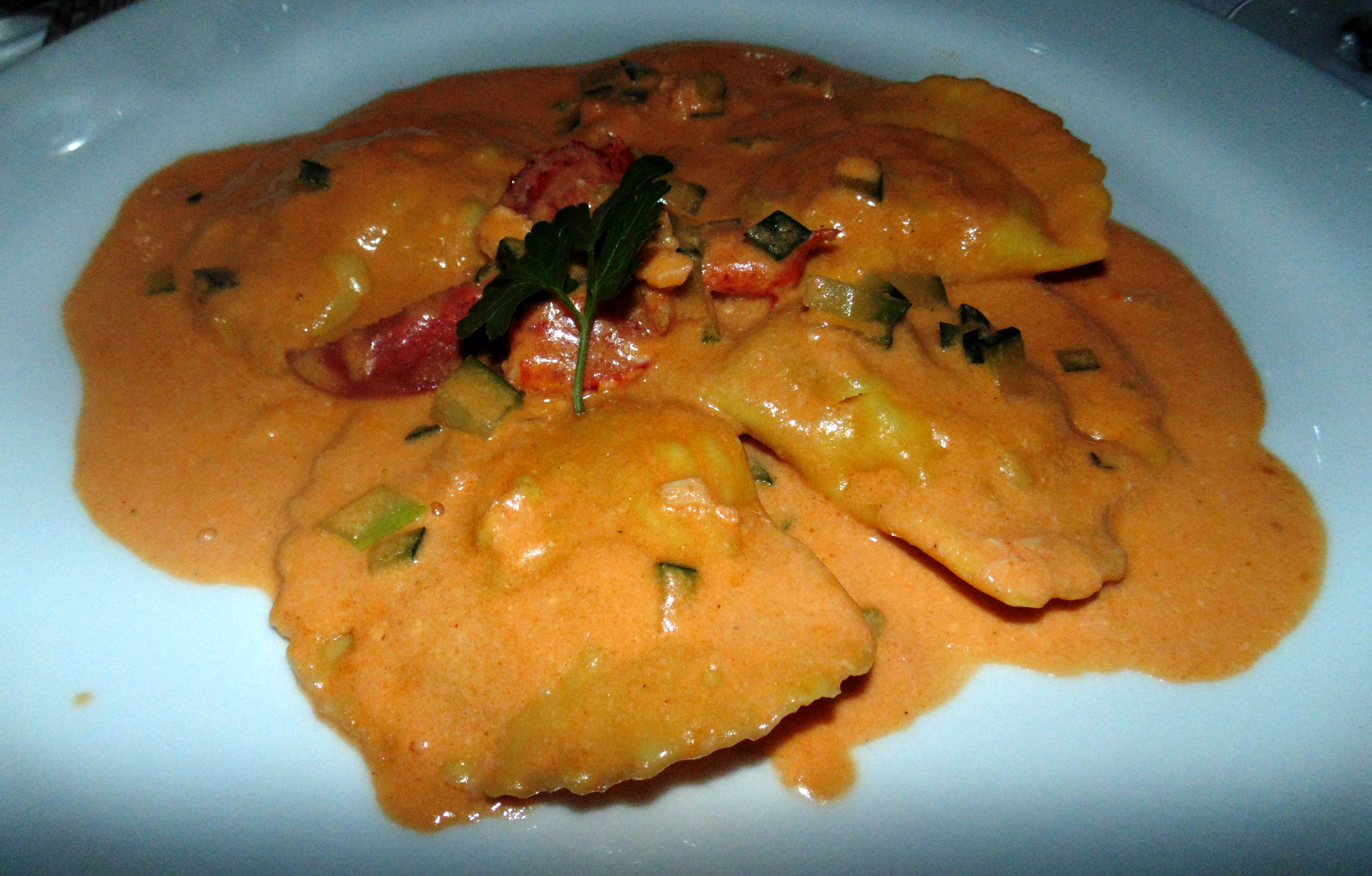 sauce and diced zucchini is my favorite dish on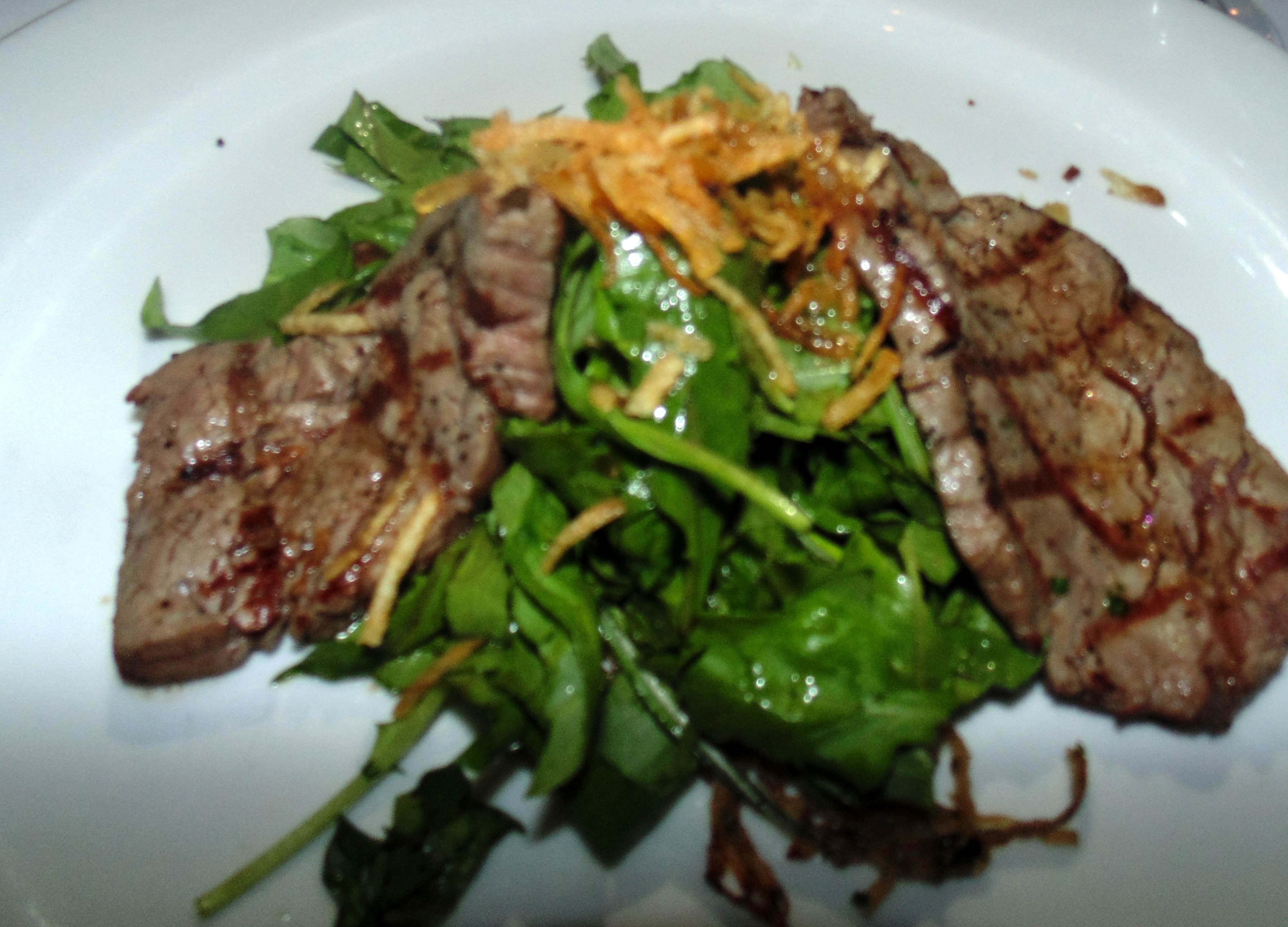 earth, and I've told Celestino that if I'm going to the electric chair and get a last request it will be Mezzelune ravioli. The entrees are many and all fabulous, and I especially enjoy the Tagliata di Bue steak with arugula and Worcestershire vinaigrette. The Specialty pasta dishes are what this family is known for, and the black and white pasta is always a pleasure with any entree.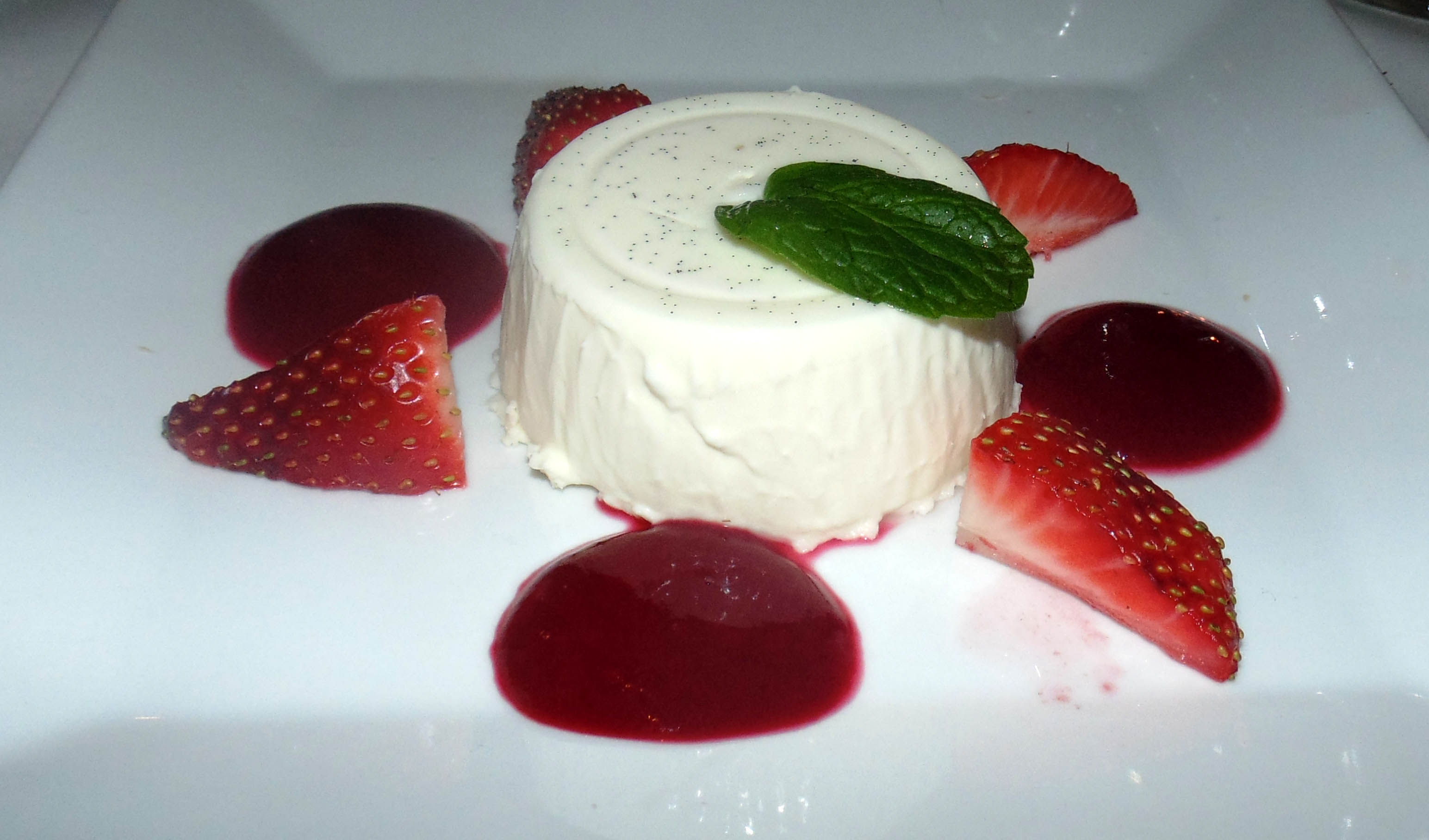 Wines at Il Pastaio are clearly purchased with their wonderful Italian recipes in mind, and come from all areas of Italy, as well as Europe and some great California wines, and they serve some wicked cocktails as well. Coffee and cappuccino are a perfect finish with dessert, and it will take you right back to your last visit to Italy. Desserts are familiar, but I do love their panna cotto. 
                                                  Viva Italia . . . Viva Drago!
     Il Pastaio Ristorante - 400 N. Canon Drive - Beverly Hills, CA 90210
Phone 310-205-5444
__________________________________________________________________
Culinary Coup - Chef News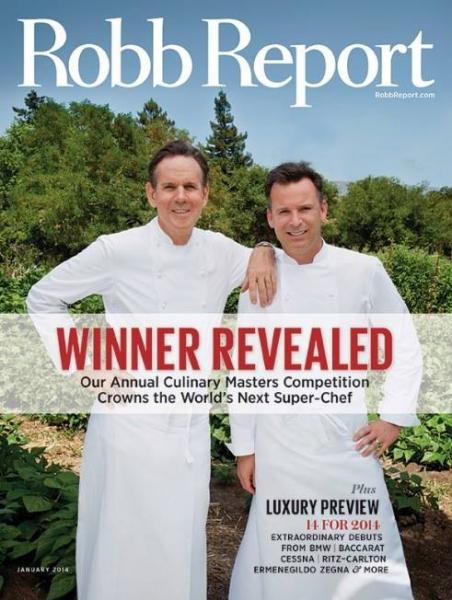 NEW CULINARY MASTER
Nominated by Chef Thomas Keller, Addison's Executive Chef and Director William Bradley is Robb Reports Culinary Master for 2013. Chef Bradley outshined  four other future stars of the dining world with a seven course menu of intense flavors and simple, yet masterfully combined ingredients, including Kumamoto Oysters, Alaskan King Crab and Ris de Veau Panes.

Chef Keller said he was honored to nominate Chef Bradley, and Bradley said he was delighted to be nominated by Chef Thomas Keller, and associated with such a renowned culinarian was also such an honor of meaningful distinction.
Chef Bradley win was based on technique, originality, and overall deliciousness of the meal he presented to 60 Robb Report readers and editors.
_________________________________________________________________
Restaurant News . . .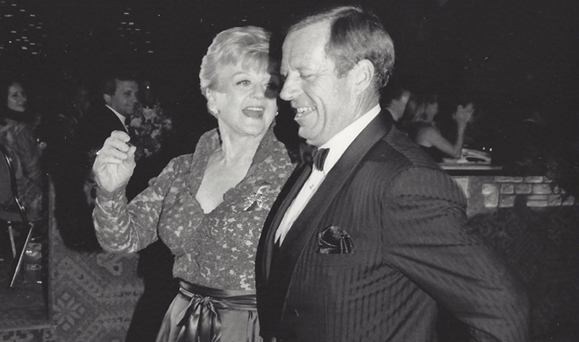 \\\
Jimmy Murphy dancing with Angela Landsbury at Jimmy's 
Beverly Hills Restaurateur Jimmy Murphy Dies
Posted Sunday, Feb. 2 – 12:44 AM - Beverly Hills Courier
Legendary restaurateur Jimmy Murphy died Friday in his Beverly Hills home from pancreatic cancer following a  three year battle with the disease.
Murphy is famous for Jimmy's Restaurant located between Century City and Beverly Hills. There he combined fine cuisine with legendary service. His popularity as a proprietor established the restaurant as on one of the premier locations in Los Angeles for twenty years.
A native of Ireland, Murphy was renowned for his annual St. Patrick's Day celebration attended by celebrities from around the world. In 1983 Murphy was recognized with the Good Scout of the Year award for his years of outstanding leadership in the hospitality industry and philanthropic work on behalf of his native Ireland.
Murphy began his career in Beverly Hills at the Bella Fontana in the Beverly Wilshire Hotel. From there, he served as maître d' at the Bistro for 14 years. Jimmy's Restaurant opened January 15, 1978.
Son Sean continues the family tradition with fine cuisine.
___________________________________________________________________
Tasteful Events
FILM FEAST MAKES ITS 4TH APPEARANCE WITH
MORE OFFERINGS THAN EVER BEFORE
Feast your way through 28 Restaurants, 16 Hotels and 7 Wine Tasting Rooms 
Film Feast, a tasty complement to the Santa Barbara International Film Festival (SBIFF) and part of California's Restaurant Month, will again be luring diners to one of the 35 restaurants and tasting rooms offering innovative menus.  Along with SBIFF's movie premieres, celebrity tributes and industry panels, attendees can sip and savor their way through Santa Barbara for 11 decadent days (January 30th – February 9th).
The "Screen Cuisine" films at SBIFF are wonderful for foodies. In its third year, this popular series celebrates culinary cinema. Eight films will be shown including two World Premieres and three U.S. Premieres. Ranging from the story of a hot dog street vendor trying to make it in Washington D.C with no previous food service experience (Dog Days) to a son reconnecting with his father after 10 years to try and save the family restaurant (Cesar's Grill) to the small town of Dublin, Texas continuing to produce Dr. Pepper with pure cane sugar even as the soda industry switched to High Fructose Corn Syrup (Bottled Up: The Battle Over Dublin Dr. Pepper). 
Film Feast's prix fixe menu's, tasting flights and lodging packages have been developed using the theme "Made in Santa Barbara." Specials and packages are based on movies filmed in Santa Barbara, celebrities from or living in Santa Barbara and local ingredients. Don't miss these imaginative stand-outs and for the complete list visit www.SBFilmFeast.com:
In honor of Oprah Winfrey receiving The Montecito Award, Bistro 1111 is offering The Color Purple menu: buttermilk fried chicken and gravy with collard greens, black eyed peas, and smashed yams.
Looking for a perfect way to spice up your date night? Try the "William Baldwin Backdraft Film Feast Fire Menu" at Nardonne's, including a Caprese Salad doused in Red Pepper Infused Olive Oil, a spicy 14" Sicilian Pizza and Dark Chocolate Picante Tiramisu for two.
Join Irish folk group The Foggy Dew performing at La Arcada Bistro, where they'll be serving up dishes inspired by actor Jeff Bridges' Irish rogue of a character, Rooster Cogburn, from the hit film True Grit.
Enjoy Blush's The Big Lebowski tribute featuring "Donny's Heart Attack Sliders": three fresh Angus Beef sliders, with housemade bacon jam, crispy tabasco onions, cheddar cheese, dijon mustard, and mayo.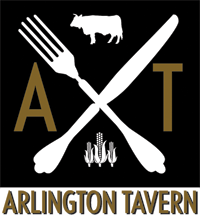 In honor of Sideway's 10th anniversary, Arlington Tavern is paying homage to the film by creating a three course menu inspired by the film. Chef Ron True and the Arlington Team will be serving Mac & Cheese with Kalyra Savignon Blanc, Fried Chicken with Flor De Campo Pinot Noir and Persimmon Pudding Cake with Storm Savignon Blanc to hungry film goers during the festival.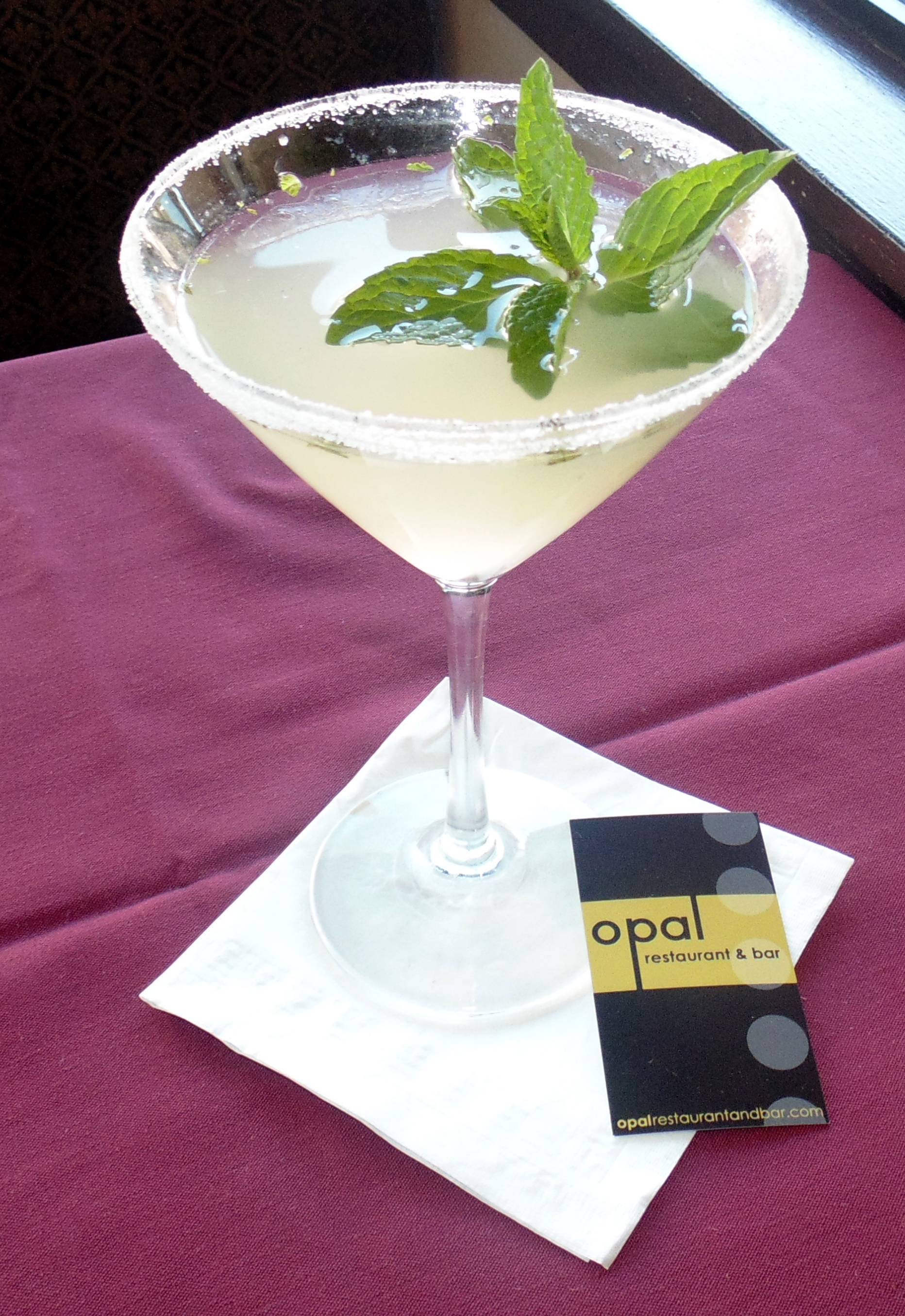 Oprah's Legend
Opal Restaurant & Bar presents a special menu and cocktail selection in tribute to this year's SBIFF honorees, such as "The Butler's Braise," "A Spoon Full of Sugar," and "Oprah's Legend."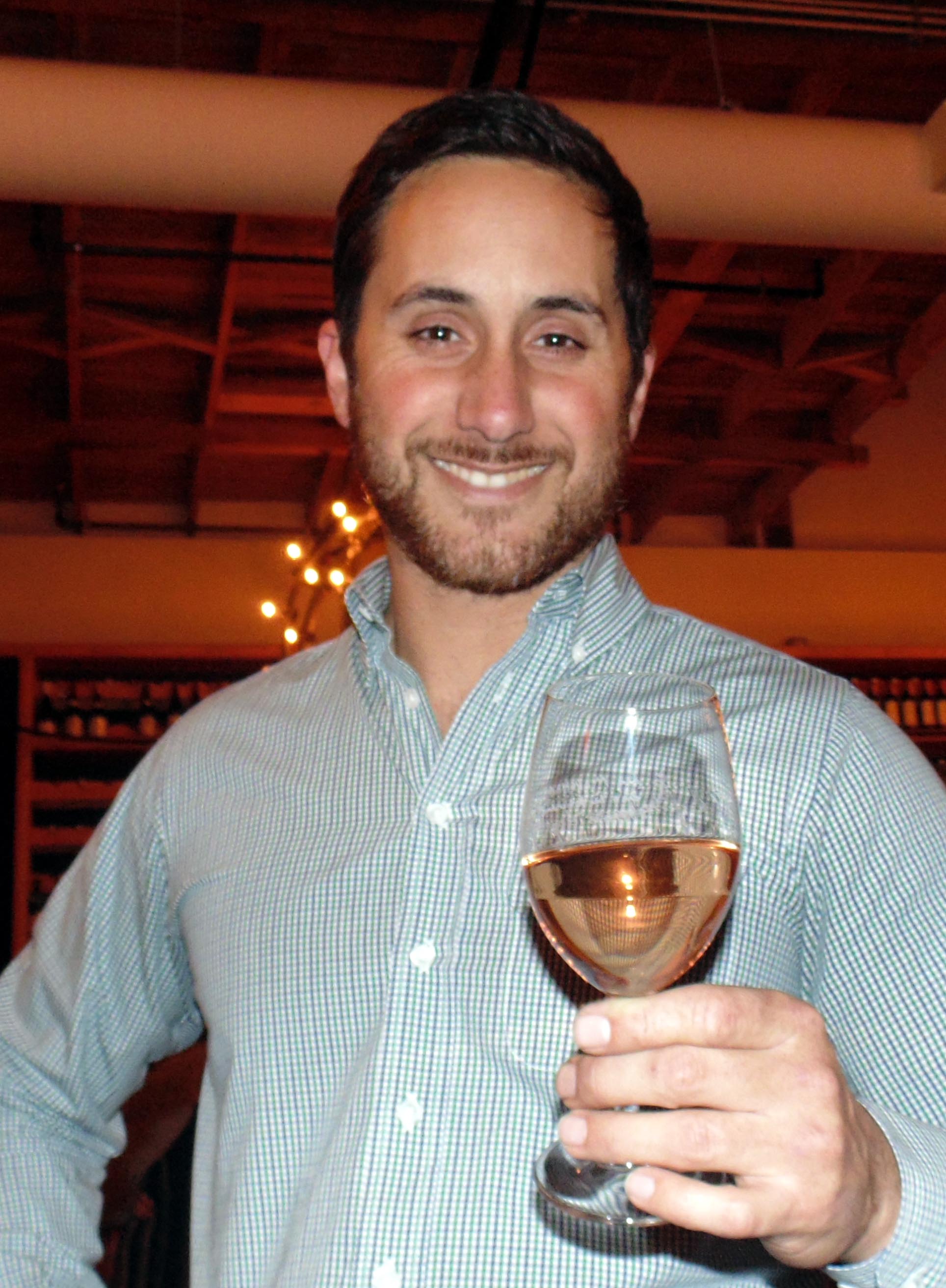 "SOMM II: The Sequel" - It's your turn to be the sommelier! Join SOMM movie talent Brian McClintic as he and the Les Marchands team guide guests through a blind tasting in accordance with the movie. Do try the pork rilletts with crostini and hot mustard paired with Vallin rose; delicious!
The Santa Barbara Hotel Group's "Made in Santa Barbara Package" is available at all five properties and includes a Santa Barbara inspired welcome gift bag with locally made or grown products.
"Tanned to Perfection" at The Eagle Inn includes a complimentary 16 ounce package of whole bean coffee from the Santa Barbara Roasting Company, a perfect pick-me-up for those late-night movies.
Stay two nights at Hollywood's favorite hideaway, Four Seasons Resort The Biltmore Santa Barbara, and get the third night free. Spend the extra day enjoying SBIFF or relaxing with a complimentary in-room movie and gourmet popcorn.
BACK STORY
Santa Barbara's century-long career as a movie backdrop and getaway for top Hollywood talent started during the silent era — Santa Barbara was California's original filmmaking hub. Whether scouting sites dating back to Cecil B. DeMille's The Ten Commandments (1923), sipping pinot noir on the Sideways (2004) wine trail or watching cutting-edge cinema in historic theatres during the Film Festival, visitors will discover that Santa Barbara looks as good in real life as she does on the big screen. Visit Santa Barbara offers a comprehensive film tourism microsite as well as a Sideways movie tour map. Film Feast is presented by Visit Santa Barbara and Santa Barbara Downtown Organization. SBFilmFeast.com.
_________________________________________________________________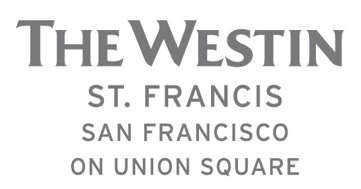 CELEBRATE VALENTINE'S DAY AT THE WESTIN ST. FRANCIS
FEATURING DECADENT MEALS & REJUVENATING SPA TREATMENTS
San Francisco's stunning scenic landscapes along with the magic and ambiance of the city have long attracted lovers and ignited romance. For Valentine's Day, there's no better place to experience San Francisco than at the historic Westin St. Francis. Located on Union Square in front of the historic cable car line with direct access to the city's best shopping and nightlife, The Westin St. Francis is the perfect destination for couples who want to relax in style and be in the "heart" of it all.   

In celebration of Valentine's Day, The Westin St. Francis is featuring delectable menus in The Oak Room Restaurant and Michael Mina's Bourbon Steak along with serene spa experiences at St. Francis Renewal Spa & Westin WORKOUT.
 
- FOOD & BEVERAGE –
 
The Oak Room Restaurant- Experience the romance of San Francisco by partaking in the culinary delights of The Oak Room Restaurant's special Valentine's Day menu. Choose from items such as chilled oysters, lobster-crusted beef fillet and roasted Pacific salmon. For dessert, try the Valentine's "Trio Composition," a scrumptious grand finale of fresh raspberry mouse and jelly, passion crème brulee center and orange cake, along with a mint-infused chocolate shot and a passion fruit mousseline. Items priced individually. The regular dinner menu is also available.
 
Bourbon Steak- Delight in true amore with an unforgettable six-course meal at James Beard Award-winning Chef Michael Mina's Bourbon Steak beginning with "Amuse," a Dungeness Crab cavatelli, "Teaser," a diver scallop crudo, "Anticipation," roasted Hollander Farms squab, "Cresendo," Chateaubriand 'Wellington' for two, "Mischievious," lavender rose pavlova, and  "Sinful," dark chocolate Napoleon. $135 per person; $65 additional for wine pairing.
 
- SPA TREATMENTS –
 
Relax and unwind at the St. Francis Renewal Spa & Westin WORKOUT and enjoy a complimentary split of Freixenet Cordon Negro Brut, chocolate truffles and a long stem rose with the purchase of any 50-minute spa service. Indulge in a total experience for the senses with decadent offerings designed to transcend and transform, from shiatsu massages and aromatherapy to the Pacific Pleasure Sea Salt Glow and organic facial. Offer valid February 14 - 16. For spa reservations, call (415) 774-0357.

About The Westin St. Francis
Opened more than a century ago on March 21, 1904, The Westin St. Francis still today maintains its preeminence as San Francisco's center of social, theatrical and business life. Renowned for luxury accommodations and excellent service, The Westin St. Francis continues to preserve its rich history and elegance while enhancing the guest experience with fresh, innovative concepts. The only hotel located on San Francisco's famous Union Square, The Westin St. Francis is just steps from world class shopping, dining, theatres and art galleries. For reservations and more information, call (415) 397-7000, toll free (800) 917-7458 or visit
www.westinstfrancis.com
.
 
__________________________________________________________________
Recipe Section

HEALTHY HEIRLOOM TOMATO SALAD
Serves 4 
Ingredients for the Tomatoes:
Selection of 3 different Heirloom Tomatoes. 1 Tomato of Each Variety
CorseSea Salt, to taste
Cracked Black Pepper to taste
Sherry Vinegar, to taste
Burrata Mozzarella Cheese, 2 cups
Ingredients for the Dressing:
 "Green Goddess Dressing"
Prepared All Natural Caesar Salad Dressing
Avocado, 1 Each
Basil, 1 Bunch
Tarragon 1 Bunch
Lemon Juice 2 teaspoons
Ingredients for the Croutons:
"Torn Croutons" Day Old Focaccia or Olive Bread, Extra Virgin Olive Oil,
2 Tablespoons, CorseSea Salt, to taste
Method for Dressing:
At the Inn they make a Caesar Salad Dressing from organic free range eggs or eggs and use that as our base for the dressing. Making Caesar dressing for four can be tricky for home cooks so perhaps you should substitute your choice of an all natural prepared dressing. Pour dressing into food processor or blender and add peeled and seeded avocado, fresh herbs and blend until smooth. Adjust the seasoning with salt and lemon juice and keep cold.
Method for Croutons:
Using your fingers simply pinch and pull small pieces of bread from the loaf and toss them in a mixing bowl with olive oil. Lay them out flat on a sheet pan and bake in 300-degree oven until they are dry and crunchy.
Method for the Tomatoes:
Just prior to serving use a sharp knife to cut each variety of tomato into a different shape, there are no rules here just use your creativity and have fun. In a stainless mixing owl toss the tomatoes with a small splash of Sherry vinegar and season with salt and pepper. 
To Serve:
Spread a generous amount of the dressing on the plates. Place the tomatoes as you like on top of that and spoon the buratto alternating between the tomato slices. Place the croutons where you like. Garnish with a sprinkle of coarse sea salt and a drizzle of extra virgin olive oil and enjoy.
Bon Appétit!.
---