CINDY PAWLCYN, DEAN KNIGHT AND
KEN TOMINAGA, PARTNERS IN FO FISH
Napa Valley's only fish house located in St. Helena, announces new additions to the restaurant's outdoor dining area and bar.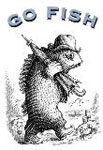 Starting May 15, the outdoor experience will include weekly acoustic contemporary and blues music every Thursday night, a flat panel television set for the bar and a misting system to keep patrons cool. For the Fourth of July holiday, Go Fish will fire up the grill on the pet-friendly patio with an all inclusive menu and blowout celebration for what promises to be an annual event in St. Helena.
From its start, Pawlcyn, the pioneering Napa Valley restaurateur who also owns the venerable Mustards Grill and Cindy's Backstreet Kitchen, envisioned Go Fish as a classic West Coast fish house with a few twists, including a San Francisco-inspired raw bar, classic sushi bar and a comfortable yet elegant outdoor watering hole that lets locals and visitors alike drink and dine alfresco in true Wine Country style.
Famed Napa Valley architect Howard Backen of Backen Gillam Architects, helped Pawlcyn and partners realize this vision by enlarging the original patio, which now features seating for 100 and one of Napa Valley's largest outdoor restaurant bars.
"We desperately needed a spot like this in Napa," says Pawlcyn. "There weren't any places to hang out and we've created the bar and patio to be a place where people can relax, enjoy a casual bite and a glass of wine, sake, or one of the restaurant's inventive cocktails. It's a fun place to be."
Shaded by two large canvas awnings and the leafy branches of four mature mulberry trees, the patio's teak and marble-topped tables accommodate groups of all sizes, from cozy twosomes to parties of 10 or more. The patio's focal points include a large stone fireplace and the six-seat Carrera marble bar, which features a stainless steel back-bar, subtle lighting and oversized mirrors.
The restaurant's crisp light and dark blue color scheme is echoed throughout the patio's décor, from the long dark blue pillow-backed banquette to the light blue awning stripe and matching placemats. The Go Fish team's enthusiasm for seasonal, local, fresh-from-the-garden ingredients extends to the outdoor dining area as well, where pots and planters are filled with an eye-catching array of edible herbs, flowers, vegetables and fruit that guests are encouraged to explore.
"There aren't a lot of bars with cherry tomatoes, eggplant, basil and zucchini plants that greet you right as you walk in," says Pawlcyn. "People can pick the herbs or observe how a cherry tomato grows on the way to their seat."
Go Fish's full menu is available at the bar and on the patio, including an array of artfully prepared sushi dishes and small plates like Salt-Crusted Gulf Prawns and Monterey Bay Calamari, as well as full, multi-course fish dinners featuring entrees like the restaurant's signature "Fish Your Way," which gives diners the option of the day's fresh catch served wood-grilled or sautéed with a sauce of choice. Dining is available on the Go Fish patio seven days a week 11:30 a.m. – 9:30 p.m. Call 707-963-0700 for reservations, or go to
www.gofishrestaurant.net.
About Go Fish
Like the children's card game it's playfully named after, Go Fish, has become a classic since its inception in 2006. From its start, Cindy Pawlcyn, the pioneering Napa Valley restaurateur who also founded the legendary Mustards Grill and Cindy's Backstreet Kitchen, envisioned Napa Valley's first fish restaurant as a paean to all things seafood, including a San Francisco-inspired raw bar, authentic sushi and sake bar, and classic West Coast-style fish house. Created with partners Sean Knight and Ken Tominaga, and designed by famed Napa Valley architect Howard Backen, the 220-seat restaurant delivers it all with an expansive menu that utilizes only the freshest sustainable fish and seafood that's flown in daily, as well as farm-fresh produce that's sourced regionally and augmented with the bounty from the restaurant's on-site 1 1/2-acre organic garden. The restaurant's extensive wine list includes a selection of whites lauded as the best in the bay area by the San Francisco Chronicle. Go Fish is located at 641 Main Street in St. Helena and offers indoor and outdoor dining year-round in true Wine Country style seven days a week from 11:30 a.m. to 9:30 p.m. For additional information visit www.gofishrestaurant.net or call 707-963-0700.
Cindy's Pawlcyn's West Coast Fish House, Go Fish, Offers New Outdoor Amenities and Entertainment
---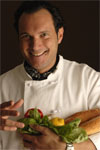 ECO LUXURY INN BY THE SEA
NAMES EXECUTIVE CHEF FOR
NEW SEA GLASS
Cape Elizabeth - The eco friendly Inn by the Sea proudly announces the appointment of executive chef Mitchell Kaldrovich, who offers a fresh take on all things Maine in their new restaurant Sea Glass, opening June 6, 2008. With a culinary focus on creating the freshest fare from local and seasonal ingredients, Kaldrovich adds an international touch to Maine flavors at the Inn's ocean view restaurant. 

---
SUMMER GRILLING COOKING CLASS
AT BORDER GRILL SANTA MONICA
Saturday, June 7, 2008
11 a.m. to 1 p.m.
Whether it's charcoal, electric, or hibachi, it's that time of year to roll out the family BBQ for the most coveted of summer rituals.  But before you do, join celebrity chefs Mary Sue Milliken and Susan Feniger for a summer grilling extravaganza, featuring sizzling recipes sure to ignite all of your summer fiestas.  And it's the perfect Father's Day gift for your favorite grill master! 
For only $75, this demonstration-style cooking class includes a delicious, multi-course lunch at Mary Sue and Susan's flagship restaurant Border Grill Santa Monica, as well as signature cocktails and a recipe booklet. 
Menu highlights include cool and spicy Cucumber Jalapeño Margaritas and Grilled Fish Tacos with avocado, grapefruit, and toasted ancho salsa.  Not to mention cumin marinated Grilled Skirt Steak and cold, creamy Tres Leches with raspberry coulis and grilled peaches.
Classes fill up fast, so call 310.451.1655 to make your reservations today!
Summer Grilling Cooking Class Menu
Cucumber Jalapeño Margarita  
tequila blanco muddled with cucumber, jalapeño, and fresh lime
Michelada
bohemia with a touch of lime, tabasco, worcestershire, and black pepper
Grilled Fish Taco
with avocado, grapefruit, and toasted ancho salsa
Nopales Salad
grilled cactus with tomato, cucumber, avocado, serrano chile, and cotija cheese
Grilled Skirt Steak
marinated in jalapeño, cilantro, cumin, and lime; with black beans and handmade flour tortilla
Corn on the Cob
with cayenne and lime
Tres Leches
with raspberry coulis and grilled peaches
Border Grill
1445 4th St.
Santa Monica, CA  90401
310.451.1655                                                                        www.bordergrill.com
About Border Grill Santa Monica
Enjoy upscale, modern Mexican food in a vibrant setting at Border Grill, the hip, urban cantina from Chefs Mary Sue Milliken and Susan Feniger, Food Network's "Too Hot Tamales".  Border Grill uses organic long-grain rice, beans, and coffee. 
We use seasonal, locally grown ingredients whenever possible and do not use any products containing artificial trans fat.  We serve only sustainable seafood and are a member of the Monterey Bay Aquarium Seafood Watch Program.
---
GRILLING ... THE GREAT AMERICAN PASTIME
by Bonnie Carroll
As soon temperatures begin to rise, out comes the BBQ, and all the great tools we use to make cooking outdoors fantastic. Recently, I stumbled across a wonderful item to keep the grill clean that is fast and easy. The Grill Daddy helps keep good health into the mix when cleaning after dinner. There are also some great new marinade products out just in time for the 4th of July. For helpful recipe ideas visit the Book Bites section of LBN this month. We have included some wonderful publications devoted to family BBQ's. Below please find Mr. Balzer's take on the American ritual and how it has changed in the past decade. Above is an invite from the two hot tamales to stop by and learn their secrets for success at the grill.
---
BBQ GRILLING HAS HIT
AN ALL TIME HIGH...                  
38% of households use a grill at least once in average two week period. This has increased over 6 percentage points in the past decade.

35% of individuals consume foods prepared on a grill at least once in a two week period.

Fourth of July weekend is the top Holiday weekend* for grilling with almost 30% of individuals consuming a grilled item.  Memorial Day weekend comes in second for grilling (25% of individuals consume a grilled item) followed by Labor Day weekend (23% of individuals consume a grilled item).
Grilling is no longer only a summer behavior…
Grilling has grown over time, and the % of households using a grill has increased over the past ten years during all four season. While summer still accounts for the highest consumption levels of grilled food, grilling has increased the most during colder seasons. 
Measure: Household Penetration (% of Households which consume at least one grilled item in a two week period)

 1998

 2007

10
Years of Change

Total Seasons

31.7

38.2

6.5

Spring (M-A-M)

31.4

37.2

5.8

Summer (J-J-A)

46.3

49.9

3.0

Fall (S-O-N)

30.3

39.9

9.6

Winter (D-J-F)

18.7

26.5

7.8

Holiday (THKSG WK-NEW YR WK)

17.7

26.0

8.3
So what exactly is being grilled?
Top Ten Foods Grilled
1. Burgers (any, with or without bun)
2. Steak
3. Chicken
4. Hot Dogs
5. Port Chops
6. Potatoes
7. Vegetables
8. Other Pork Cuts
9. Sausage
10. Seafood
Harry's Insights:

The increase in year round grilling coincides with the increased ownership of gas grills, according to Balzer.  "The majority of households have an outdoor grill (76 percent) and the grill of choice is one that uses gas —75 percent of grill owners have a gas grill."

Balzer also attributes the steady rise in grilling with the increasing number of men cooking at home. "This is the one cooking appliance men are more likely to use than any other appliance in the home." he says. 

According to NPD's latest data, 41% of men say they always do the grilling, while only 17% of women say they always do the grilling.
---
DONALD TRUMP'S NAMESAKE RESTAURANT, DJT,
OPENS AT TRUMP INTERNATIONAL HOTEL & TOWER
LAS VEGAS
Trump's Personal Chef, Joseph Isidori, Creates Innovative, Modern American Cuisine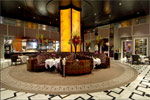 Trump International Hotel & Tower Las Vegas, the city's newest landmark, today announced the opening of its signature fine-dining restaurant, DJT, bearing the initials of Donald J. Trump, who recently launched Trump Hotel Collection, with Las Vegas the newest location for the luxury brand. Located just inside the hotel's spectacular grand lobby, DJT's superbly crafted menu of Modern American cuisine and chic, intimate setting ensure a sensual, sophisticated and unforgettable dining experience.

DJT showcases the culinary talents of Executive Chef Joseph Isidori, former corporate executive chef for Trump Golf Management and executive chef at the Trump-owned Mar-a-Lago Club in Palm Beach, Fla. Isidori has also served as Mr. Trump's personal chef, as well as chef for the Trump family.

"I have known Chef Joe for many years, and he has impressed my family and me with his talent, creativity and innovation year after year," said Trump. "Naturally, I would only choose the best of the best for my signature restaurant. Chef Joe is a star."

Isidori brings modern twists on traditional dishes. Signature dishes for dinner include Chilled Sweet Pea Soup with fromage blanc, and fruit and vegetable jewels ($15); Miso-Yaki Tasmanian Sea Trout with steel-head roe, grapefruit and yuzu emulsion ($35); Sous Vide Halibut with morels, crawfish, veal sweetbreads, spring pea and harissa ($49); and Roasted California Squab with Chinese black beans, tangerine and ginger ($22).

The dinner menu also includes some of Trump's personal favorites, like Mr. Trump's Butter Lettuce Salad with classic wedge flavors ($16), Mr. Trump's Butter-Whipped Potato Puree ($11), and Mr. Trump's Ice Cream Sundae ($16).

Indulgent options roll in throughout the dining experience via the Champagne cart, caviar cart, cognac cart with absinthe, and dessert cart with petits fours.

For those eager to sample a variety of dishes at DJT, Isidori has created "The Deal," an exquisite, eight-course tasting menu designed to be paired with select wines ($200 with wine pairings; $125 without). "The Deal" varies nightly to include new menu items and special chef creations.

DJT's signature morning dish is Ivanka Trump's Caviar Breakfast, an egg-white omelet with Osetra caviar, chopped egg yolk, sweet red onion, chive and whipped crème fraîche, with buckwheat blini-toast points and house spiced hash browns ($175). Other breakfast specialties include Eggs "Beni" – Maine lobster, baby spinach, Black Forest ham, English muffin, Béarnaise sauce and house spiced hash browns ($24) – and Banana French Toast with cinnamon, raisin, vanilla bean, maple syrup, whipped cream, Vermont butter and fresh fruit ($15).

Head Sommelier Michael Shearin oversees a comprehensive list, highlighting boutique and small-producer wines, in addition to 27 types of sake, 52 types of beer and 25 uncommon sodas. High Champagne, a decadent DJT innovation, offers a choice of five Champagnes by the glass, accompanied by a light menu.
Design of DJT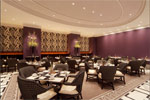 DJT's long, sleek lines are characteristic of the 1930s, with a rich palette ranging from deep aubergine, lavender and violet to ivory, soft gray and black. At the center of the restaurant glows a gold resin column, its base wrapped with six circular banquettes. Along the walls, soft gray suede upholstery crowns mirrored columns, while the floor features an inlaid geometric pattern of hand-selected marble. The dining chairs are a vintage design with black-and-ivory peacock feather-print fabric at the back with a seat of ivory leather.

Private banquettes around the perimeter of the main dining room have a cozy, cocoon feel with deep plum fabric walls and plush velvet curtains that can close for a truly intimate dining experience. A custom crystal chandelier hangs over each table, suspended from a mirrored ceiling panel.

The private dining room, with its starburst marquetry table and violet suede walls, sequesters up to 10 diners behind grand velvet curtains.

In the restaurant's more casual, open room, the banquettes are striped velvet with lizard-embossed seats. The walls are upholstered in the lively peacock feather print, surmounting warmly lit rosewood wainscoting.

DJT was designed by Dean Singer and Jodi Barnett of Santa Monica, Calif.-based Design 360 Unlimited; they also designed the hotel lobby.

DJT is open for Breakfast 6:30-11 a.m. and dinner 6-11 p.m. daily; the lounge is open 11 a.m.-midnight daily. Brunch is served 6:30 a.m.-2:30 p.m. on Sundays only. High Champagne is held 3-7 p.m. Thursday through Sunday. For reservations, please call (702) 476-7358.
---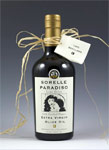 SORELLE PARADISO
Organic Olives
& Extra Virgin Olive Oil

PO BOX 586 
Mill Valley, CA 94942
415.203.6313 tel
415.435.6312 fax
---