CULINARY COUP   .   .   .
CALIFORNIA STRAWBERRY FESTIVAL 2019 "BERRY BLAST OFF"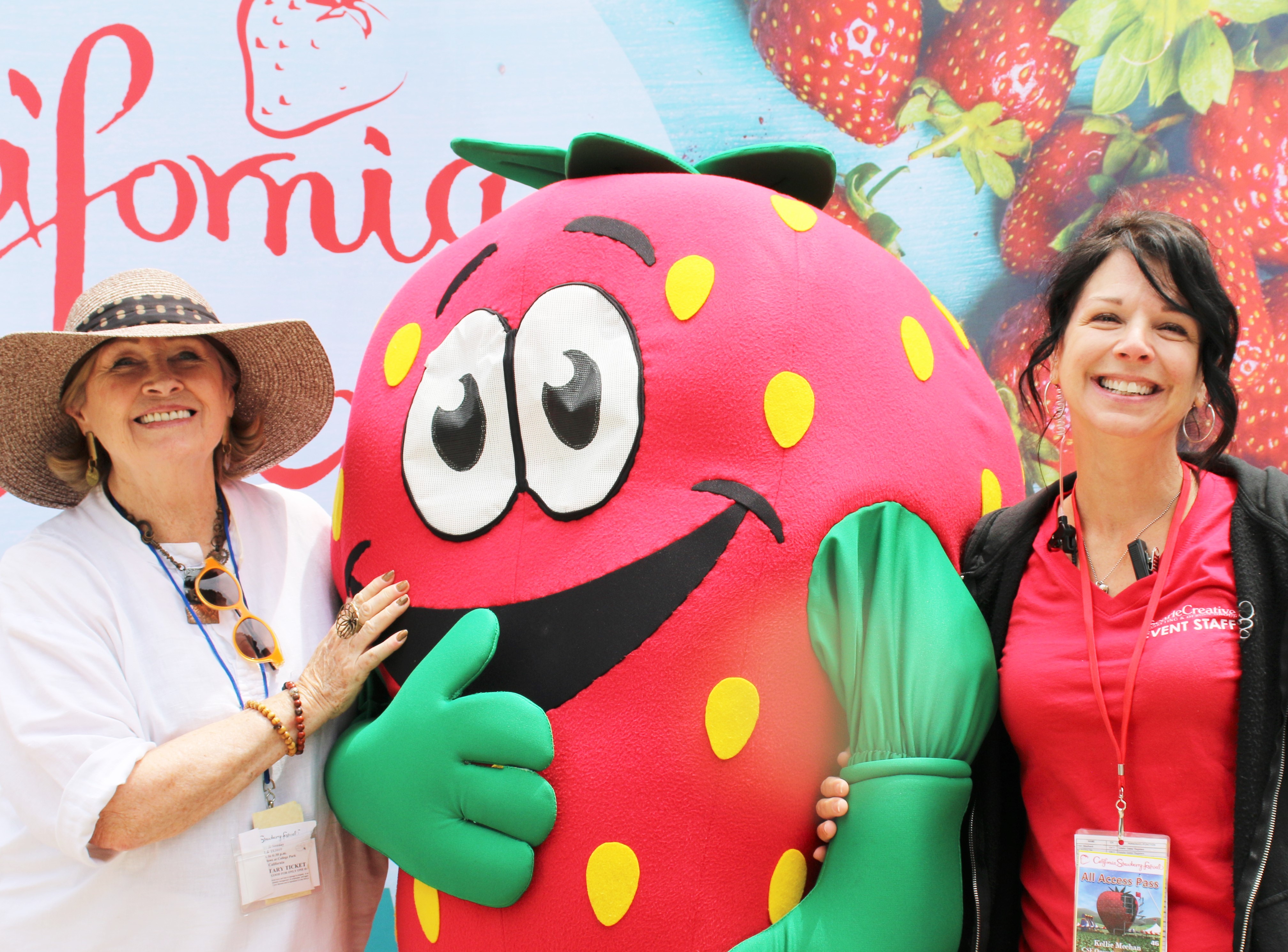 Judge Bonnie Carroll, CSF Strawberry & Director of Marketing Kellie Meehan
Two finalists were selected during the semi-finals round of the 36th Annual California Strawberry Festival's to compete in the May 18th "Berry Blast Off" Recipe Contest finals." Elizabeth Koseyan of North Hills and Emily Falke of Santa Barbara competed on the cooking stage for top honors during the festival on May 18th at Strawberry Meadows of College Park in Oxnard.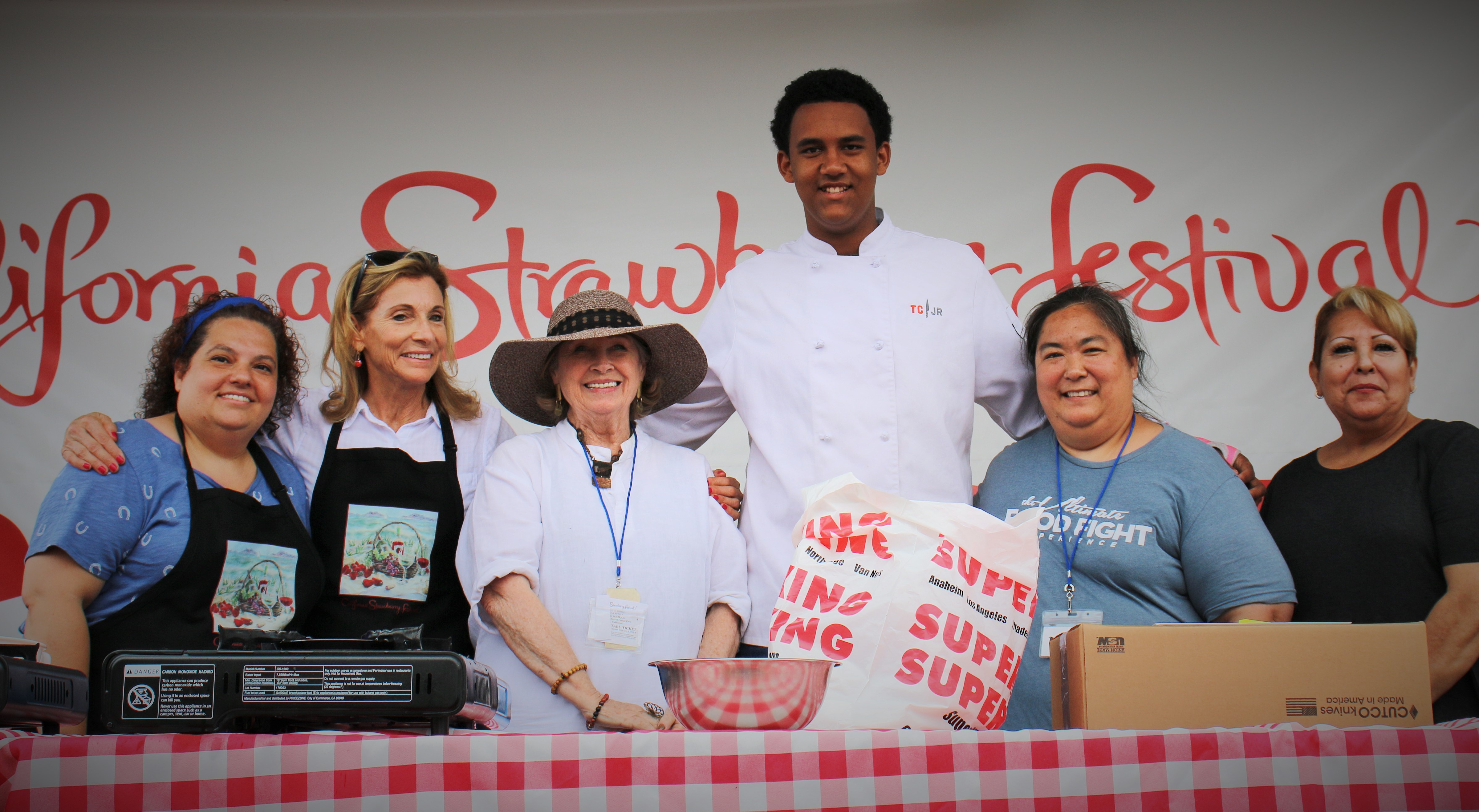 Chefs Elizabeth Koseyan, Emily Falke & Judges Bonnie Carroll, Carson Peterson, Chelsea Madren
Sponsored by the Ventura County Star, the semi-finals for Berry Blast Off were held on May 7 at the Chef's Kitchen in the Courtyard by Marriott, Oxnard. The four semi-finalists, selected from a pool of 72 recipe submissions, had one hour to prepare their recipes and then present them to the five judges for tasting (Judges were Anne Kallas, editor of Ventura News Service, Wendy Leung, Ventura County Star reporter, Chuy Renteria and Mike Lodi, chefs Courtyard by Marriott in Oxnard, and Mark Spellman, Lazer Broadcasting and California Strawberry Festival board member).
Semi-finalists included Elizabeth Koseyan - Strawberry Marinated Yucatan Pork Tostadas with Fresh Strawberry Corn Salsa & Avocado Crema (North Hills), Emily Falke - Sweet Spicy Savory Strawberry Salsa Drenched Fried Avocado Soft Tacos (Santa Barbara) who went up against Kate Rodriguez - Strawberry Sicilian Quesadilla (Port Hueneme) and Kayla Capper - Strawberry Shortcake Pancakes (Ojai).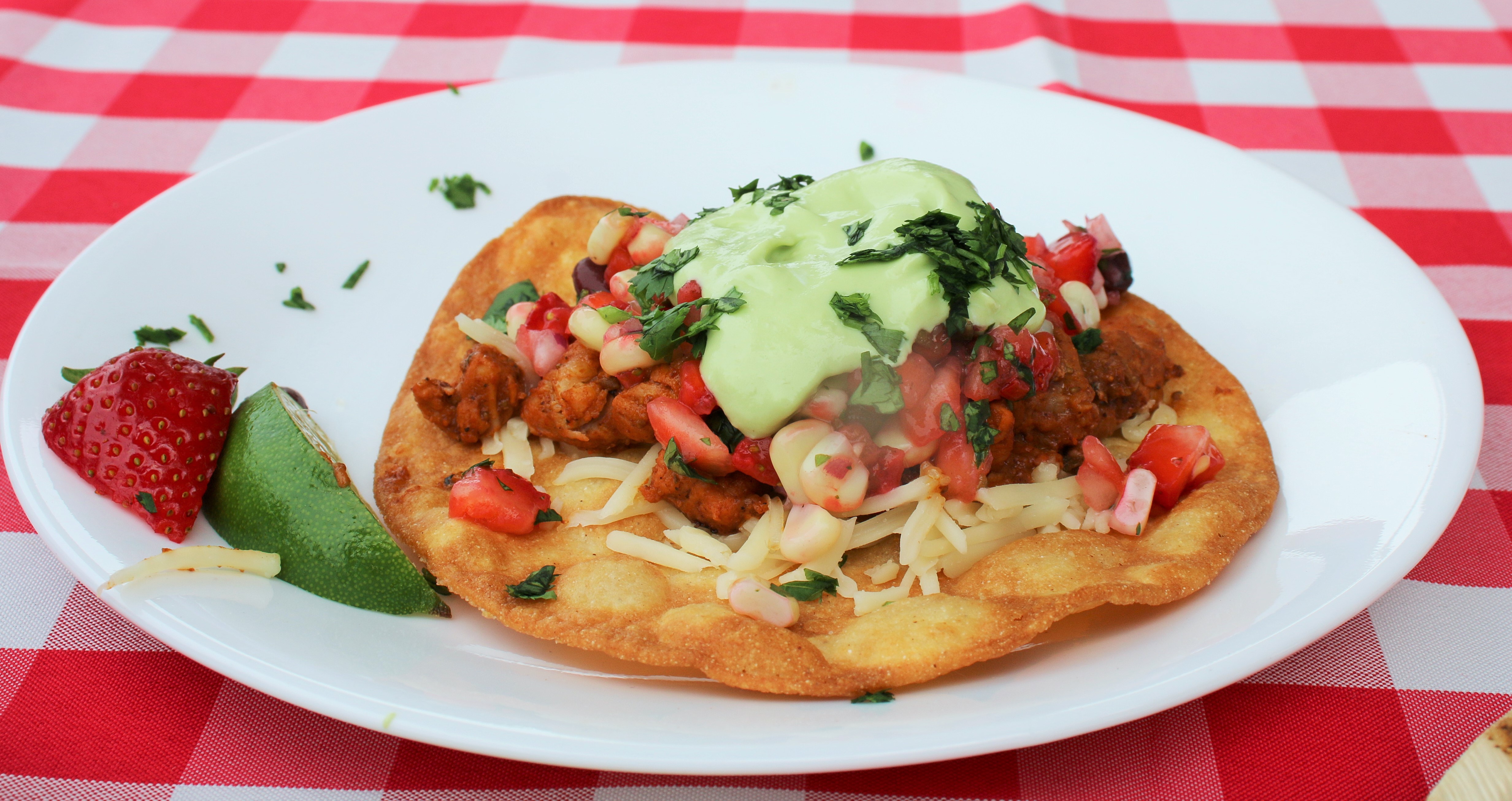 2nd Place by Elizabeth Koseyan  - 1st Place by Emily Falke
Koseyan and Falke prepared their dishes again during the final round, beginning at 1:30 p.m. on the Festival Stage. 2018 winner and defending champion Jake Hagen was emcee for this year's Berry Blast Off. The grand prize winner Emily Falke received a 4-day, 3-night getaway vacation at a Welk Resort property and a Cutco studio knife set valued at nearly $500. The runner-up Elizabeth Koseyan received a 1-night stay at the Courtyard by Marriott Oxnard, a $100 gift certificate to Maddalena Restaurant at San Antonio Winery.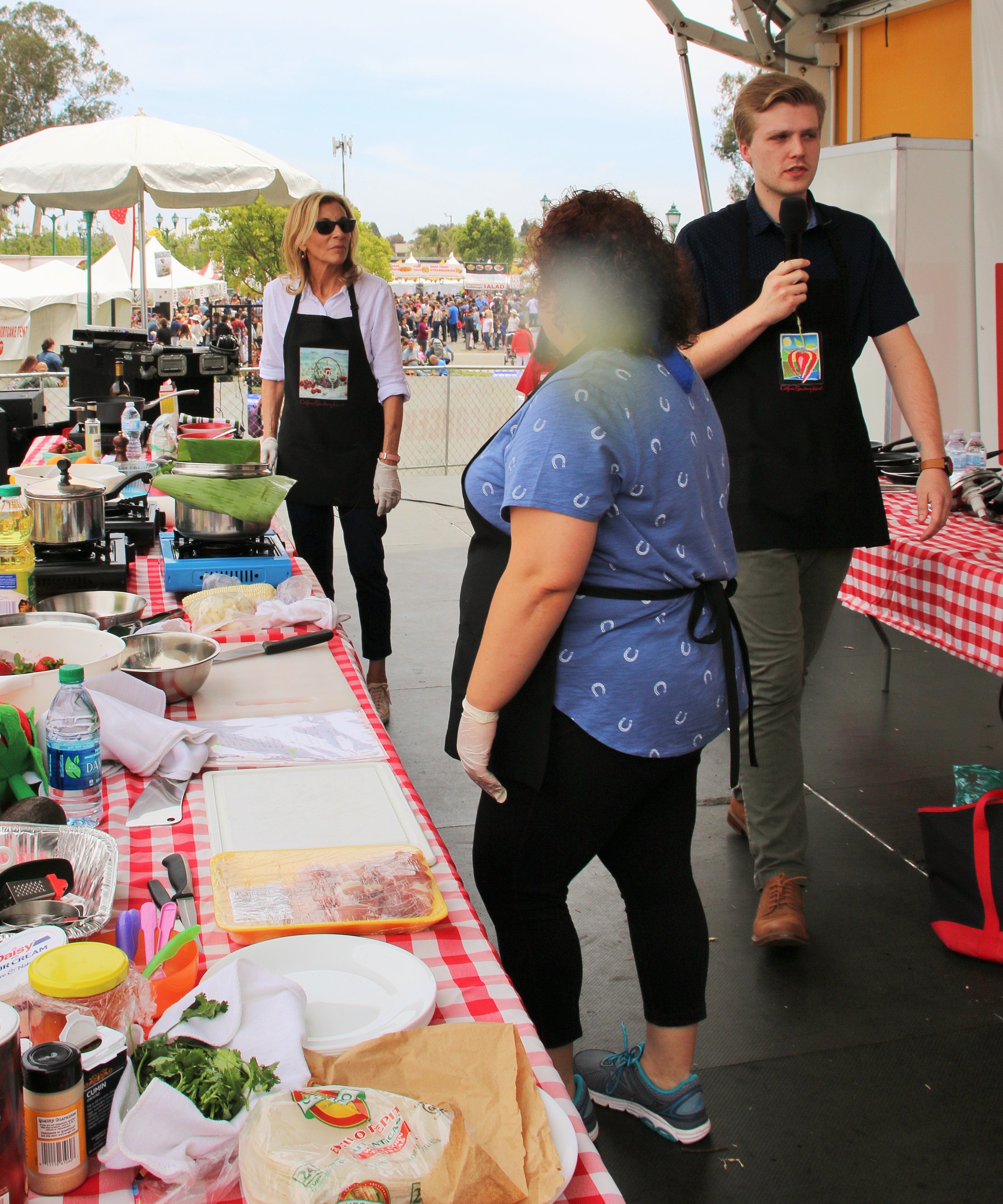 Jake Hagen Defending Champion was the Emcee during the Berry Blast Off 2019
The judging panel for the Blast Off finals looked for best taste/flavor, texture, ease of preparation, creative use of strawberries and presentation and they included Bonnie Carroll, Publisher & Editor-in-Chief of Bonnie Carroll's Life Bites News and Beverly Hills Bureau Chief for Food & Beverage International Magazine, Celebrity Chef Carson Peterson Top Chef Junior Season 2, Chef & Orange County Food Diva Chelsea Madren, Ventura County Star food writer Anne Kallas, Chef Julia San Bartolome, and a delightfully surprised woman volunteer selected from the audience to be a peoples choice judge.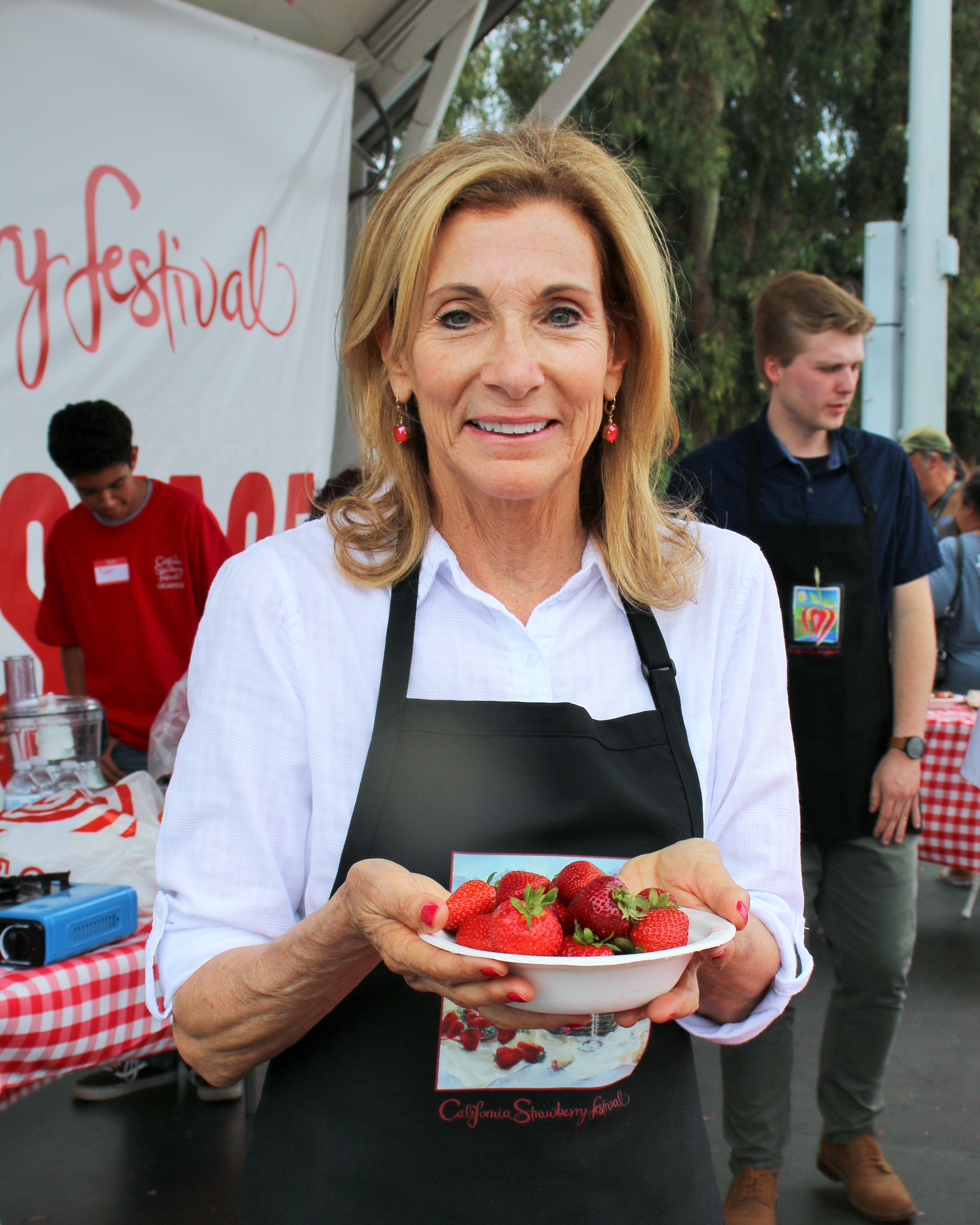 2019 Berry Blast Off Champion Emily Falke
First place California Strawberry Festival Berry Blast Off 2019 winner Emily Falke works at Santa Barbara Maritime Musuem as the Director of Education and has competed in a bevy of cooking competitions in past years. Falke's dish featured soft tacos with deep fried crunchy avocado and a combination of citrus zest that was so deliciously paired with the fresh strawberries. "I'm honored to win and it was very challenging to know how much spice and salt would be the perfect taste combination to win over the judges," said Falke.
Official sponsors for this year's festival include Oxnard Convention and Visitors Bureau, Southern California Acura Dealers, Stella Rosa Wines, Stella Artois and KTLA. For additional information visit http://www.castrawberryfestival.org.

Note: Look for recipes in June Issue of Life Bites News.
___________________________________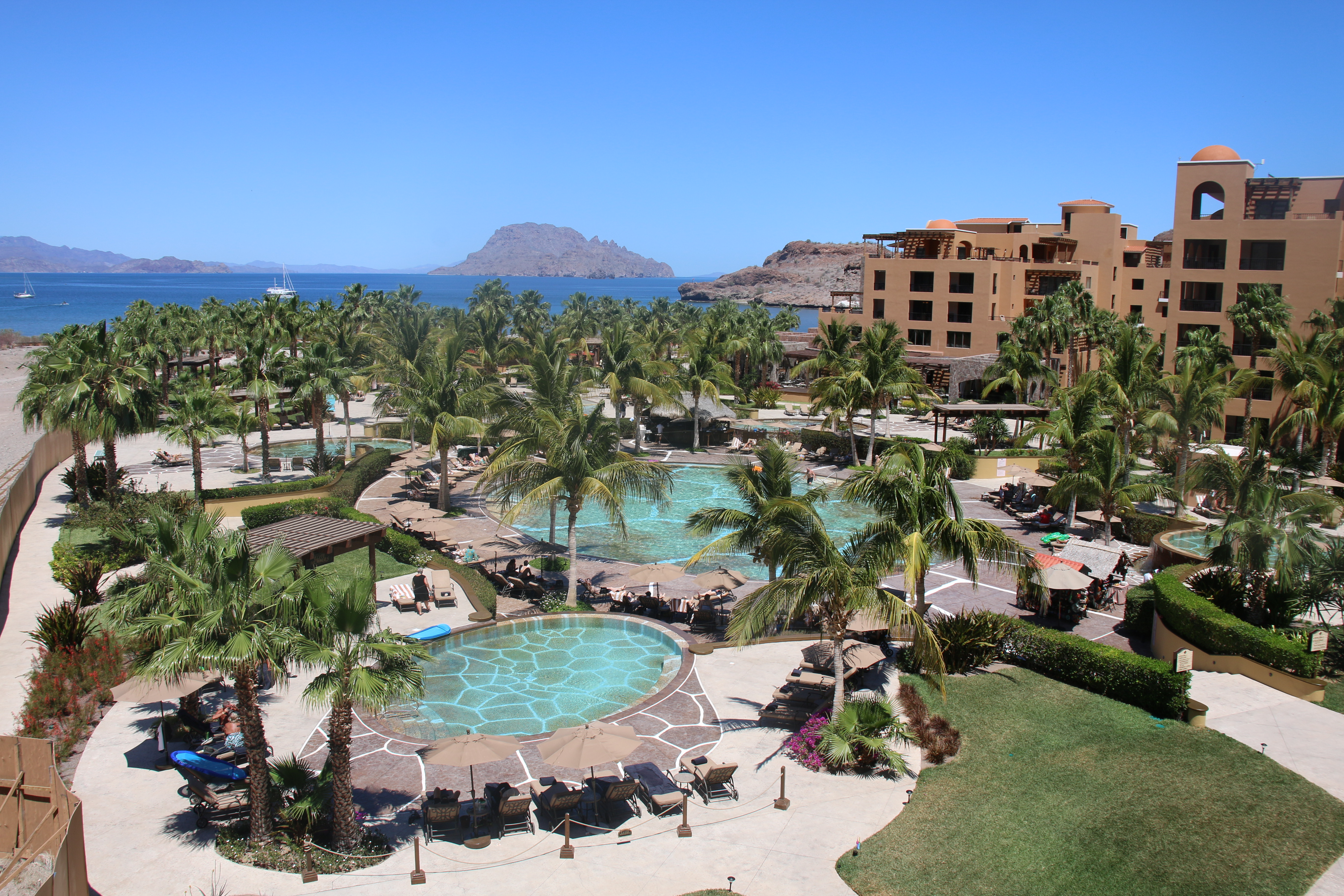 IN SEARCH OF THE PERFECT ENCHILADA                         by Bonnie Carroll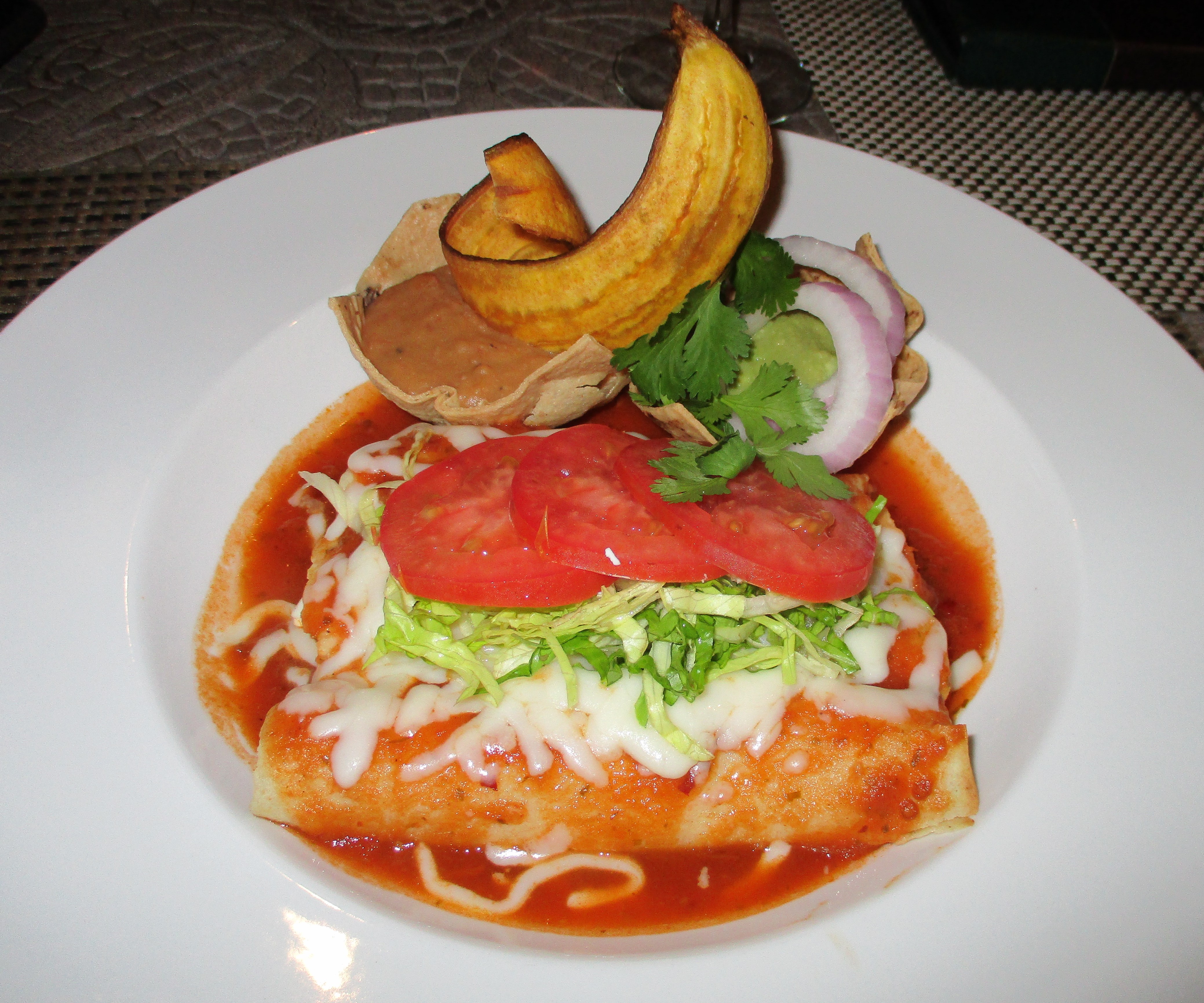 We all have our own unique tastes when it comes to favorite international dishes, and I have always had a preference for Mexican enchiladas. There are a few restaurants that prepare these wonderful Mexican delights with their own family recipe, making them a dish of choice that stands out from others, including my friend Tony Arroyo who's restaurant in Santa Barbara is a favorite haunt of mine.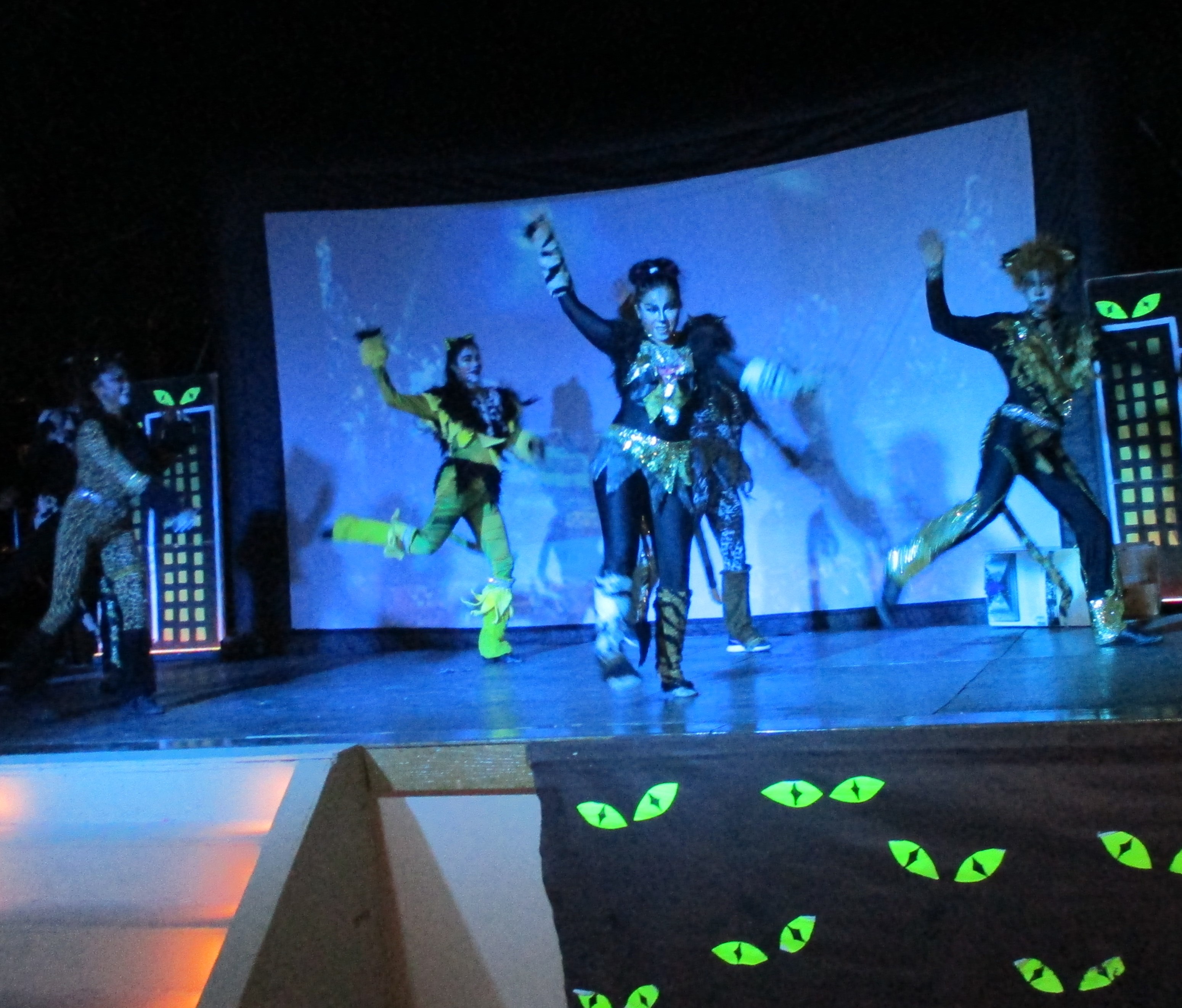 A few weeks ago I arrived in Loreto, Mexico to spend a few days at Villa del Palmar Beach Resort & Spa and after traveling for nearly twelve hours I was starving. I sat down in the Market Restaurant in the hotel just as the live musical "Cats" was being performed on a stage near my table and I struggled to get through the menu selections to find something appealing to me. Finally, I just requested something I was familiar with Enchiladas! I really did not read the description of the dish, just wanted to eat something before I got light headed!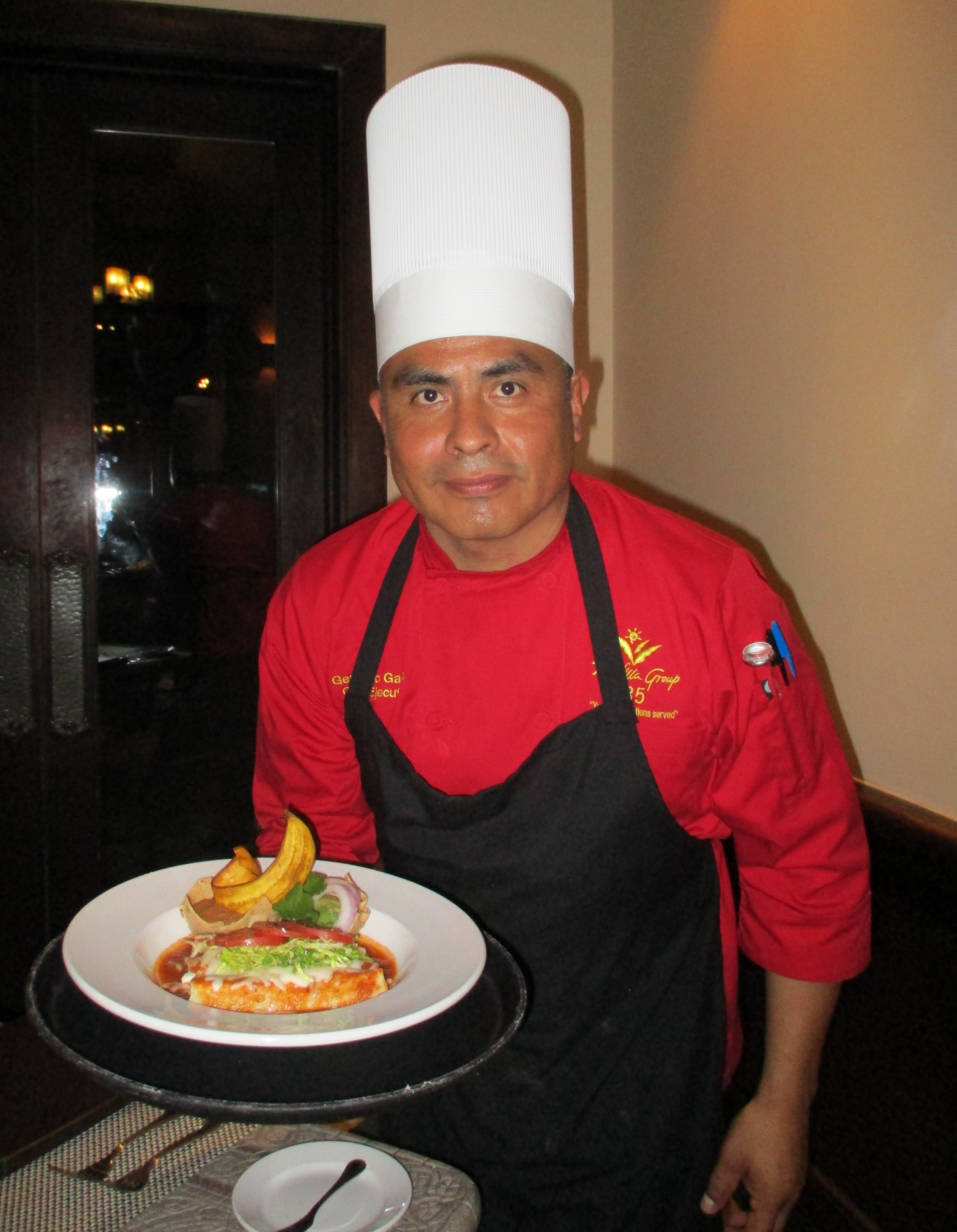 When the dish arrived it was so beautifully presented that I took a photo, and with vigor began to devour my enchilada dinner. The Chef stoped by and asked if it was good and with a mouth full I said "oh, so good!"
This was 'hands down' one of the most delicious variations on my favorite dish I'd ever tasted, and it contained two kinds of rich and delicious cheese, including a Mozarella that blended perfectly with the Ranchera sauce with three types of peppers giving it a sensational flavor that pulled all the ingredients of the entire dish together for a stunning taste sensation.

The enchilada plate had a side of refried Peruvian beans and fried plantain leaves that not only created visual interest, but also added additional flavor and a nice crunch to the dish. I was delighted when the chef was kind enough to share his recipe with me, and I hope you love his enchilada dish as much as I did. Ole' For information visit: www.villadelpalmarloreto.com.
Mexican-style queso fresco enchiladas with grilled mozzarella on top.
01 Serving
4 corn tortillas
1/2 oz canola oil
200 gr Panela Cheese (Mexican Farmer's Cheese)
60 gr mozzarella cheese
6 oz ranchera sauce
20 gr fried plantain leaves
60 gr refried beans
30 gr romaine lettuce
30 gr saladette tomatoes
10 gr purple onion
2 gr coriander
Ingredients for Ranchera Sauce (1 lt)
750 gr Roma tomatoes
60 gr jalapeño pepper
10 gr Guajillo pepper
100 gr white pepper
20 gr garlic
20 gr coriander
4 oz canola oil
2 cups of water
Salt and pepper to taste
How to make it (ranchera sauce):
In a saucepan heat the oil, add the minced onions and garlic, sauté per 5 minutes or until the onion and garlic are see through. Then add the pepper and the diced tomatoes, leave to cook per 20 minutes, stirring frequently. Once everything is cooked, add the coriander, season to taste, grind the sauce and reserve.
Refried Beans Ingredients
1 kg Peruvian beans
Agua.
1 white onion
2 garlic cloves
Bacon lard
Salt and pepper to taste
Huichol sauce
How to make it (refried beans):
Beans are cooked with enough water for an hour. In a different saucepan, put the lard and add the fine diced onion and garlic per 10 minuetes or bringing both to Brown. Add the beans, salt, pepper and sauce grinding them with the robot coupe. Stir slowly and cook for 30 minutes or when the beans get thick.
The plantain leaves should be green and sliced so they can be properly fried and crispy.
How to make it (Enchiladas):
Heat the tortillas in a skillet or grill with a Little bit of oil, once they are warm stuff them with the panela cheese and roll them. Pour the sauce over, add the mozzarella cheese and bring them to grill. Once the cheese is grilled put fine shredded lettuce on the side, sliced tomate and onions. Sided with a basket of fried tortilla filled up with beans and decor with a fried plantain leave and fresh coriander leaves.
Villa del Palmar Market Restaurant Loreto, Mexico
___________________________________
VENICE CHARM AT HOTEL METROPOLE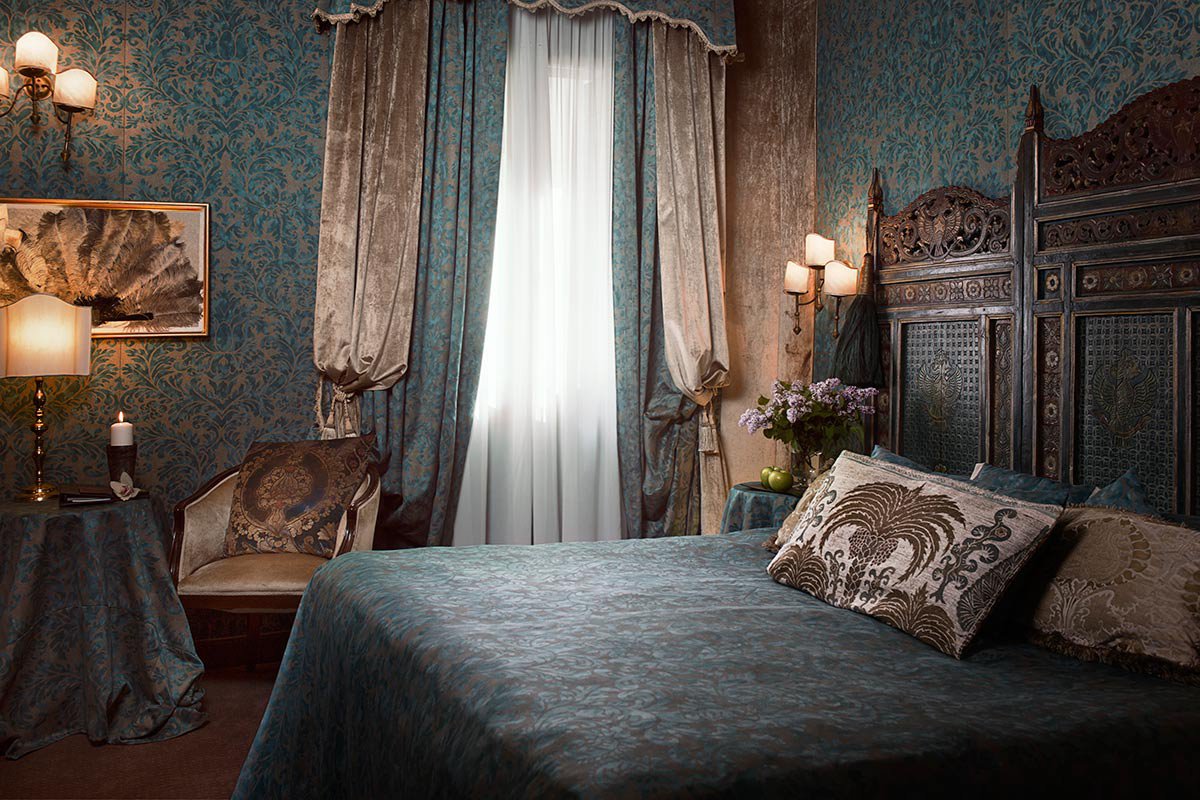 The Hotel Metropole is a luxurious and offbeat hotel to enjoy the true charm of Venice, including the visual joys and authentic tastes of an archipelagic city.
Located just down the lagoon from the Piazza San Marco, toward the Giardini della Biennale, the Metropole is housed in several conjoined historic buildings that the management claims have served as a hotel since around 1880. It is said Freud stayed there in 1885.
There are petit older elevators, elegant room keys that hang behind the front desk, and collections of antiques on display in the hallways, including a collection of ladies' fans in one room, and straight razors in another. The guest rooms historically grand appropriate with intricately carved furniture, highlighted by beautifully embroidered fabrics, Italian amoires hiding a bar and safe to protect your valuables but with brand new bathroom facilities and it is all truely Venetian elegance in one of Italy's most romantic locations, and is surrounded by outstanding dining venues.
_________________________________________________________________
VELAS RESORTS
Recipe: Mexican Chicken with Street Corn for Cinco de Mayo & Beyond
Mexico's Velas Resorts shares a recipe for Mexican Chicken with Street Corn, one of the menu items hotel guests will experience during Cinco de Mayo weekend. The dish will be served at Frida restaurant at Grand Velas Riviera Maya while all the properties will feature special activities and menus for the holiday. Cinco de Mayo celebrates the Mexican army's victory over France on May 5, 1862 at the Battle of Puebla during the Franco-Mexican War. Velas Resorts, with luxury resorts in in Los Cabos, Puerto Vallarta, Riviera Maya and Riviera Nayarit, will offer special themed parties, tasting menus and fiestas with menu items typical of the state of Puebla. For those unable to travel to Mexico to celebrate Cinco de Mayo, Velas Resorts shares its recipe below.
Mexican Chicken w/ Street Corn
Ingredients (10 people)
10 pcs                   boneless chicken (6 oz each)
½ C                       olive oil
2 T                         fresh thyme
10 T                       lemon juice
3.5 T                      garlic, peeled
3.5 T                      fresh cracked pepper
9 oz                       goat cheese, crumbled
9 oz                       cotija cheese, grated
2.5 T                      ​​epazote leaves, julienned
2.5 T                      serrano chili, minced
4 T                         bacon, chopped
3.5 T                      red onion, chopped
4.5 T                      lard
2 C                        charred white corn
                              salt and pepper to taste
Directions:
- Combine olive oil, thyme, lemon juice, garlic, salt and pepper in a blender. Marinate the chicken with the mixture for at least 1 hour. In a pan, brown the chicken on both sides for 2 minutes. Remove from pan and place on baking sheet to finish cooking in the oven for 5 minutes.
- Warm the lard in a pan and sauté the bacon until golden. Add the onion, chili and epazote and cook for two minutes. Add the cheeses and toss with charred corn. Season to taste.
- Plate the chicken on top of the corn.
All-inclusive rates include luxury suite accommodations, a la carte gourmet meals at a variety of specialty restaurants, premium branded beverages, 24-hour in-suite service, fitness center, taxes, gratuity and more. For reservations or more information, call 1-888-407-4869, email reservations@velasresorts.com or visit https://www.velasresorts.com.
____________________________________________________________________________
NEW RESTAURANTS COME TO PHILADELPHIA THIS SPRING
New Dining Options Include Beer Fare, Brunch, Ramen, Thai Classics & Pizza By Joe Beddia
Cry Baby Pasta is "rock 'n' roll wine bar and pasta restaurant" by restaurateur-couple Bridget Foy and Paul Rodriguez and chef-restaurateur couple Carla Goncalves and David Gilberg in Philadelphia's Queen Village neighborhood. The menu features sharing plates, pasta and larger entrees, Italian beer, wine and cocktails.
Credit: Photo by Drew Callaghan
Coming Soon to Philadelphia Area:
Bernie's – Locallybasedmini chain of pubsadds a fourthoutpostin the former Derek'son Main Street in Manayunk.
Bud & Marilyn's Airport – Safran Turney Hospitality's kitschy-fun Midwestern restaurant heads to Philadelphia International Airport with a traveler-friendly outpost.
Cicala – Formerly of Le Virtù, chef Joe Cicala will resurface with an elegant Italian restaurant in the newly renovated Divine Lorraine Hotel.
Cotoletta Fitler Square – Belmont Hills' cutlet-specializing red sauce trattoria heads into the city via Fitler Square.
Dolce – LDV Hospitality, which owns Scarpetta in Rittenhouse Square, will double down with a second Italian restaurant in the upcoming W Hotel in Center City.
Double Zero – Star vegan chef Matthew Kenney is plotting a plant-based pizza joint for 22nd and Catharine streets in fall of 2019.
Elwood – A former Johnny Brenda's chef will celebrate Pennsylvania cuisine at his future Fishtown BYO.
Enoteca Tredici – The Center City and Bryn Mawr wine bars will get another sibling, this time in Downingtown.
Enza – Also on the way from the Zavino Hospitality Group: a family-friendly pizza restaurant in Wyndmoor.
Fabrika – A retro dinner theater set in a former ice cream factory in Fishtown will mix up the scene with Eastern European cuisine and eclectic entertainment.
Fitler Club – Center City's contemporary version of a country club (and boutique hotel) will feature a restaurant helmed by esteemed chefs Kevin Sbraga and Jeff Benjamin.
Gabi – ChefPeter Woolsey (Bistrot La Minette, La Peg) plans an all-day French cafe for a new apartment building on North Broad Street.
Hiroki – Morimoto alum Hiroki Fujiyama appropriately sets his fish-centric sushi restaurant in Fishtown.
Hops Brewerytown – Opening any minute in the former Flying Fish Crafthouse, from the folks behind Bernie's and the revamped U.S. Hotel Bar & Grill in Manayunk, this brewery will have cozy décor and lots of games. 1363 N. 31st Street
Jean-Georges – Named for famed chef Vongerichten, the fine-dining restaurant in the new Four Seasons hotel is coming soon, as is Vongerichten's lounge Sky High in the same building.
K'Far – The unstoppable hospitality group behind Zahav and Federal Donuts will open an all-day cafe at The Harper, a mixed-use development in Center City, to be helmed by James Beard Award winner Camille Cogswell.
Loveluck – Safran Turney Hospitality has another new project in the works at the almost-renovated LOVE Park Welcome Center.
The Lucky Well – Chad Rosenthal's second location of his Ambler barbecue restaurant should open this summer in Spring Garden.
The Lunar Inn – Port Richmond's newest neighborhood hangout, opening soon, combines a restaurant, a bar and a bottle shop called Tiny's for the best of all worlds, right down to the veggie-forward bites like poblano pimento cheese balls. 3124 Richmond Street, lunarinn.com
Ochatto – With two locations in University City, the hand-drawn noodle and bubble tea shop goes for a third in Rittenhouse Square.
Olly and Gigi – The Southwark group expands to two new restaurants in the same space that last housed Whetstone Tavern—a family restaurant and pizza parlor, respectively.
Palma's Cucina – Longtime Fitler Square pizzeria will revamp as an Italian restaurant with a broader menu.
Picanha Grill – The legendary Northeast Philly Brazilian grill is planning a new location in Center City.
Pom Pom – This vegetarian cafe will serve salads, sandwiches and breakfast in Fishtown.
Pussyfoot Johnson – The elusiveHop Sing Laundromat owner Lê has envisioned a banh mi shop named for a famous prohibition advocate.
ReAnimator Coffee additions – The rapidly expanding coffee roaster will take over the space next door to its Kensington facility to open a pizzeria and wine bar.
Separatist Beer Project – An Easton brewer opens up to the Philly market with a bar off of East Passyunk Avenue.
Stina – Bobby Saritsoglou and Christina Kallas-Saritsoglou's South Philly BYOB will have wood-burning-oven pizza and Mediterranean fare, while donating part of its proceeds to local charities.
St.Oners – The Tired Hands brewery crew expands its city footprint with a bar near its recently opened Fishtown beer garden.
Tatel – A glamorousSpanish restaurant takes over the former Boyd Theater on Chestnut Street.
13th Street Kitchens in Callowhill – The group behind Kensington Quarters and Café Lift has set its sights on a new restaurant in a redeveloped Callowhill property.
White Dog Café Glen Mills – White Dog Café opens its fourth local location at the Shoppes at Brinton Lake in Glen Mills next fall.
Wine Dive – The Tio Flores/Cambridge family bets on South Street again, this time with a bottle shop and unpretentious wine bar.
Winkel – Noord owner Joncarl Lachman focuses on daytime eats at his soon-to-open Midtown Village cafe.
VISIT PHILADELPHIA® is our name and our mission. As the region's official tourism marketing agency, we build Greater Philadelphia's image, drive visitation and boost the economy. Greater Philadelphia's official visitor website and blog, visitphilly.com and uwishunu.com,
____________________________________________________________________
Voted Best Authentic Italian Restaurant in Santa Barbara by Italian Tourism LA!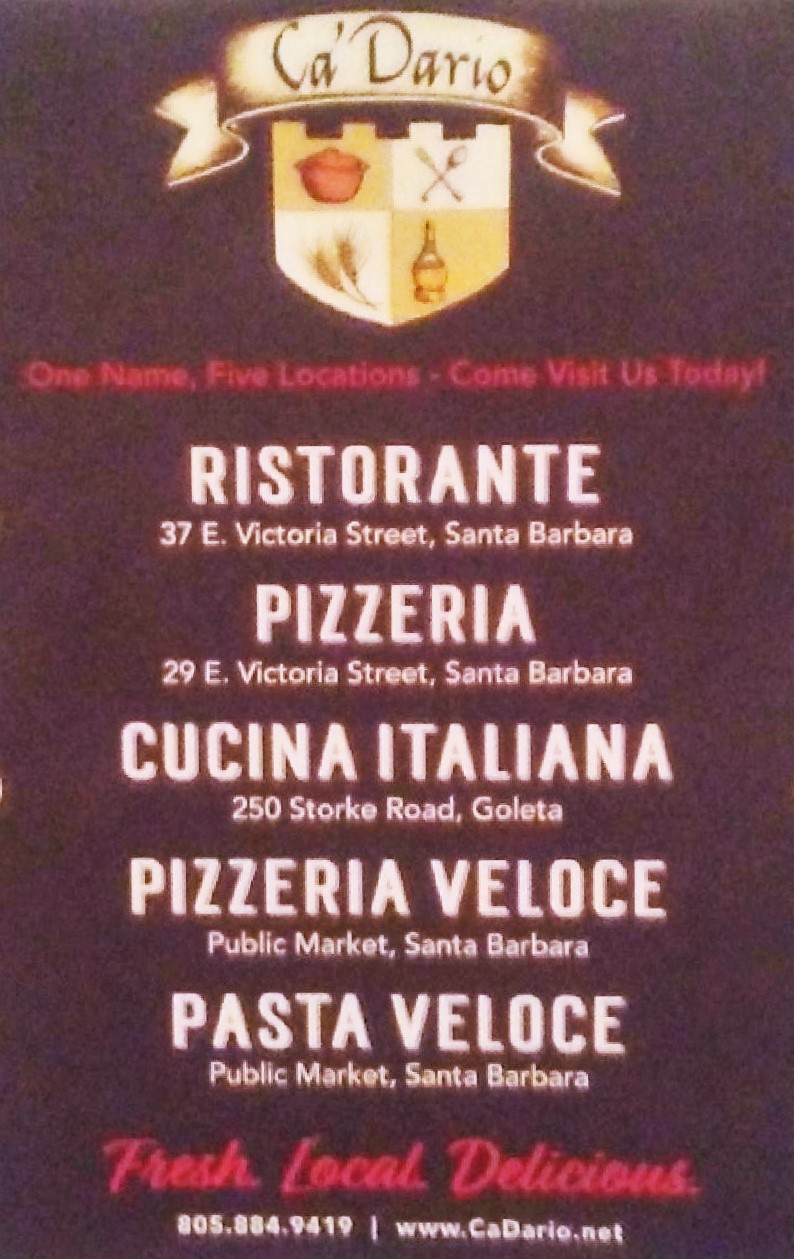 Ca'Dario Ristorante
37 E. Victoria Street
Santa Barbara, California 93101
805-884-9419
---