MICHAEL'S RESTARUANT GETS HIGH MARKS FROM ZAGAT READERS POLE.
Michael's has always been a favorite of mine, going back to 1983 when I was kissed by actor Robert Wagner following a magical dinner on the patio. McCarty is a consumate professional in the industry, and offers fresh delicious food in an atmospher that is California at it's best.
"Still a class act after all these years", this "expensive" Santa Monica "favorite", with its menu of "innovative", "memorable" dishes, shows why owner Michael McCarty is regarded as the pioneer of "quintessential Californian cuisine"; "incredible" contemporary artwork adorns the dining room walls, but many say it is the "magnificent" patio (an "oasis of tranquility") and "gracious" service that make this one of the "most romantic restaurants" around says Zagat commentuers.
1147 Third St.; 310-451-0843
________________________________________________________________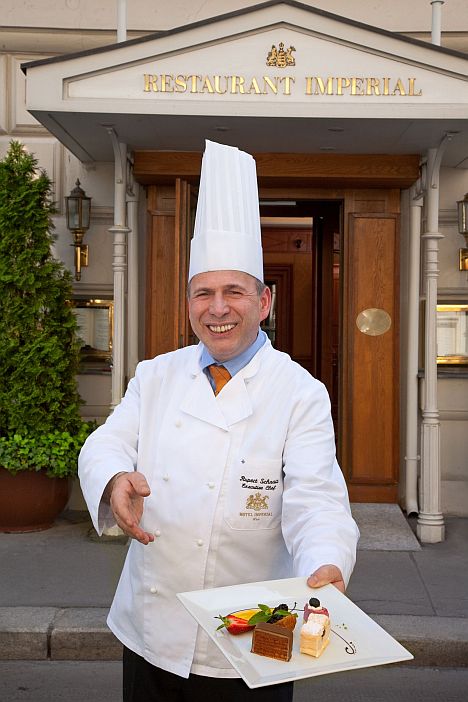 Meet Rupert Schnait - Imperial Chef de Cuisine - Imperial Hotel Vienna

After having served the Hotel Bristol opposite Vienna's State Opera for more than 25 years, Rupert Schnait started to work on the other side of the Ring Boulevard on February 1. "It was a wonderful time at the Hotel Bristol, we have achieved a lot", he says about his years "on the other side", while looking forward to his new assignment at the Hotel Imperial, his "new home". "Being the new culinary mastermind at Vienna's first house is a very special challenge for me", he admits. But the fact that half of his staff have already known him from the sister hotel and his Sous Chef and Patissier went along with him, made it easier for him.
In his new position Schnait heads a team of 30 in the kitchens of the toque-awarded Restaurant Imperial and the Café Imperial. He is also responsible for the culinary matters of banquets, caterings and room service. And the likeable chef has been excelling in this task for many years! "For decades we have been appreciating Mr. Schnait's continuity and professional management", emphasizes General Manager Klaus Christandl, "qualities that he carries out in a highly exceptional way."
Rupert Schnait's culinary concept focuses on Old Vienna, a priority that harmonizes perfectly with the tradition-steeped Hotel Imperial. Using mainly seasonal Austrian organic products, he blends classical Viennese cuisine with international elements when putting together the menu. "Each region has its specialties, be it Styrian pumpkin, Alpine salmon or lake samlet", says Schnait about his preference for regional products. "And as I come from the Waldviertel region, I get the potatoes from there, of course", he says with a smile. Born in 1957 in Grainbrunn, the gourmet had early discovered his love of cooking at his parents' inn and at his grandfather's butcher shop, before he moved to Vienna to become an apprentice cook at the Hotel Bristol.
The Executive Chef with a liking for wild boar goulash and greaves dumplings, gained international experience at the noble Amstelhotel in Amsterdam in the eighties, when he assisted in the coronation ceremony of Queen Beatrix as Sous Chef. In 1984 he worked at the Hotel Glocknerhof in Heiligenblut and later at the City Club near Vienna, before he returned to his roots at the Hotel Bristol, where from 1989 he pampered hotel guests as Executive Chef. He was also responsible for state banquets at the Kanzleramt at Ballhausplatz (the seat of Austria's Federal Chancellor) and at Belvedere Palace.
His utter competence with crowned heads and important politicians qualified Rupert Schnait for joining the exclusive Club des Chefs des Chef. The club, which was founded in 1977 by famous chef Paul Bocuse, only accepts chefs experienced in cooking for heads of states or monarchs. Once a year, the 40 international Chefs des Chefs convene at an optional place in this world over a period of several days. This year, in August 2010, the convention will take place in Hong Kong. "It is a special pleasure for me to cook for those state guests at the Imperial who I have already met earlier on my visits abroad", says Schnait in looking forward to seeing many famous guests again. "My declared goal is to have happy guests and a happy staff, because the one is only possible with the other", explains Schnait.
For menu and hotel information visit this starwood hotel at www.imperialvienna.com.
_________________________________________________________________
Summer Cooler from The Spring Resort & Spa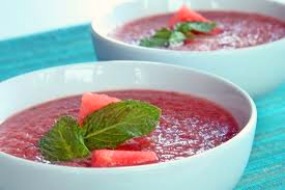 Watermelon Soup 
Ingredients
 1 seedless watermelon
 3 limes
 2 teaspoons fresh ginger
 1 jalapeno pepper
 1 cup sparkling white wine
    or pinot grigio (optional)
 1 tablespoon honey
    white pepper to taste
    mint leaves
 THE SPRING
A Natural Hot Mineral Spring
RESORT & SPA
12699 Reposo Way
Desert Hot Springs, CA 92240
760.251.6700
the-spring.com
info@the-spring.com

Remove the rind and chop the watermelon. Mince the fresh ginger and jalapeno. Zest and juice 2 limes. Combine all ingredients into blender. Add wine and honey and process until mixture is smooth.   Chill until very cold. Sprinkle with white pepper and garnish with a mint and watermelon squares. Serve with wedges of lime.
_______________________________________________________________
Chef Chris Hora From Engine Co. No. 28 Los Angeles To Guest Chef
at Los Angeles Food and Wine Festival
Chef Christopher Hora from Engine Co. No. 28 Los Angeles is world traveled and experienced with most of the globes' cuisine. A native Californian restaurateur, Food Network TV Chef Hunter TV personality and restaurant consultant, Chef Hora brings a local perspective to his international experiences that is always growing and challenging.
Chef Hora will be a guest Chef at Los Angeles Food and Wine. He will be preparing small bites at these two events:
· Giada's Festa Italiana (Thursday, August 9, 2012; L.A. LIVE):Los Angeles Food & Wine– where celebrity meets celebrity chef! Giada De Laurentiis plays host at this very special night alongside a line-up of culinary icons and their unique interpretations of Italian cuisine. Over two hundred wines from around the world will be poured alongside top brews and spirits. This is your chance to rub shoulders with culinary royalty while feasting and toasting to all that makes LA great – from rock stars to rock star chefs to Hollywood elites and unparalleled wines, this is the night not to be missed. Chef Hora will be creating flatbread with gorgonzola dolce, peppered figs, micro arugula.
· Lexus Grand Tasting (Sunday, August 12, 2012; L.A. LIVE):The Lexus Grand Tasting at Los Angeles Food & Wine is the most spectacular opportunity to enjoy over 300 wines from 200 of the world's most prestigious wineries. 30 Celebrity Chefs will showcase their culinary skills and provide delicious and decadent tasting samples of their cuisine. During this remarkable strolling event you will have access to book signings and photo sessions with some of the weekend's biggest chef celebrities. This event takes place on the Event Deck at LA LIVE where the entire space is transformed into a feast for all senses! Don't miss this great opportunity to experience food and wine at its best. Chef Hora will be creating hamachi ceviche with blood orange and cactus apple reduction.
About Los Angeles Food & Wine:
The Second Annual Los Angeles Food & Wine takes place August 9-12, 2012. Presented by Coastal Luxury Management (CLM), the event spans the length of the city and offers guests the chance to sample the cuisines and products from some of the world's most prominent epicurean influencers, while enjoying the sights and sounds of the entertainment industry's brightest film and musical talents. In addition to cooking demonstrations and vertical tastings from the world's top wine producers, unique experiences added each year make this a must-see annual event for culinary enthusiasts and wine aficionados the world over. Ticket prices per person range from $50 for a single event pass to $4,750 for a VIP four-day pass, with access to all events and exclusive after-hours parties with the chefs and winemakers. To purchase tickets to Los Angeles Food & Wine, or for more information on ticket packages and a full line-up of events, visit www.lafw.com or call 866-907-FOOD (3663).
Engine Co. No. 28 Los Angeles a word from Chef Christopher Hora

Engine Co. No. 28 works within the parameters of classic firehouse ideas --dishes that are satisfying and simple at the core. These ideas have evolved into a more light-hearted approach to making everything as good as it can be, embodying a new American fare and incorporating the flavors, colors and essence of California's bounty of products. Anything is good if you begin with great product and sound technique.
Prior to Engine Co. No. 28, Chef Hora was the Executive Chef at Chant Restaurant in Chicago. Chef Hora world traveled and experienced with most of the globes' cuisine. A native Californian, restaurateur, Food Network TV personality and restaurant consultant, Chef Hora brings a local perspective to his international experiences that is always growing and challenging. Chef Hora was featured on Food Network's Chef Hunter in November of 2011.
Before joining Chant, Hora was the Chef/Owner of Rootin Philadelphia, Pennsylvania, Ajvo Restaurant in Prague, Czech Republic, Private Chef Services in Redlands, California. Hora served as Executive Chef VIP for the USA National Pavilion at World Expo 2010 Shanghai, China where he served the only State Department dinner ever to be served outside of Washington D.C. for Secretary of State Hillary Clinton. Hora was Chef de Saucier at Spago and Chinois in Los Angeles California with Wolfgang Puck. Many high level consulting and chef positions have taken Chef Hora on a great number of assignments around the globe.

Hora graduated from California Culinary Academy in San Francisco, CA where he earned his degree in Culinary Arts.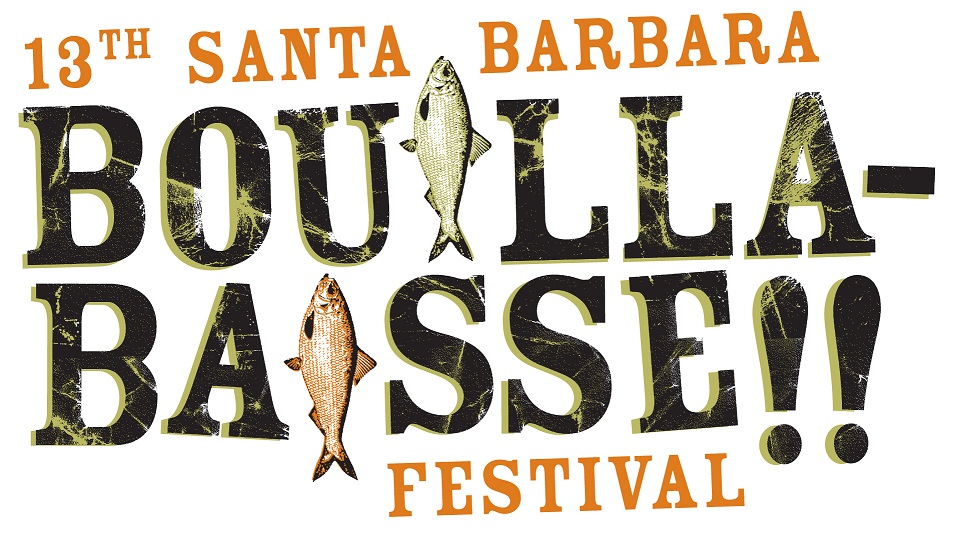 The Brander Vineyard in Los Olivos will host its popular Bouillabaisse Festival to benefit Hospice of Santa Barbara. Last held in 2006, the absence of this beloved event left "foodies" all over California sobbing into their Sauvignon Blanc yearning for the return of this incomparable afternoon of sunshine, wine, music and fabulous bouillabaisse. Bouillabaisse, a delectable seafood soup, is the French equivalent of cioppino. Variations on the recipe take center stage at this friendly competition featuring some of the Central Coast's finest chefs. The event, long associated with Fred Brander and his beautiful winery and vineyard in the Santa Ynez Valley, is once again being revived as a fundraiser for Hospice of Santa Barbara.
Date:               Sunday, August 26, 2012
Time:              1 p.m. – 4 p.m.
Location:        The Brander Vineyard, 2401 North Refugio Road, Los Olivos
Cost:               $90

---