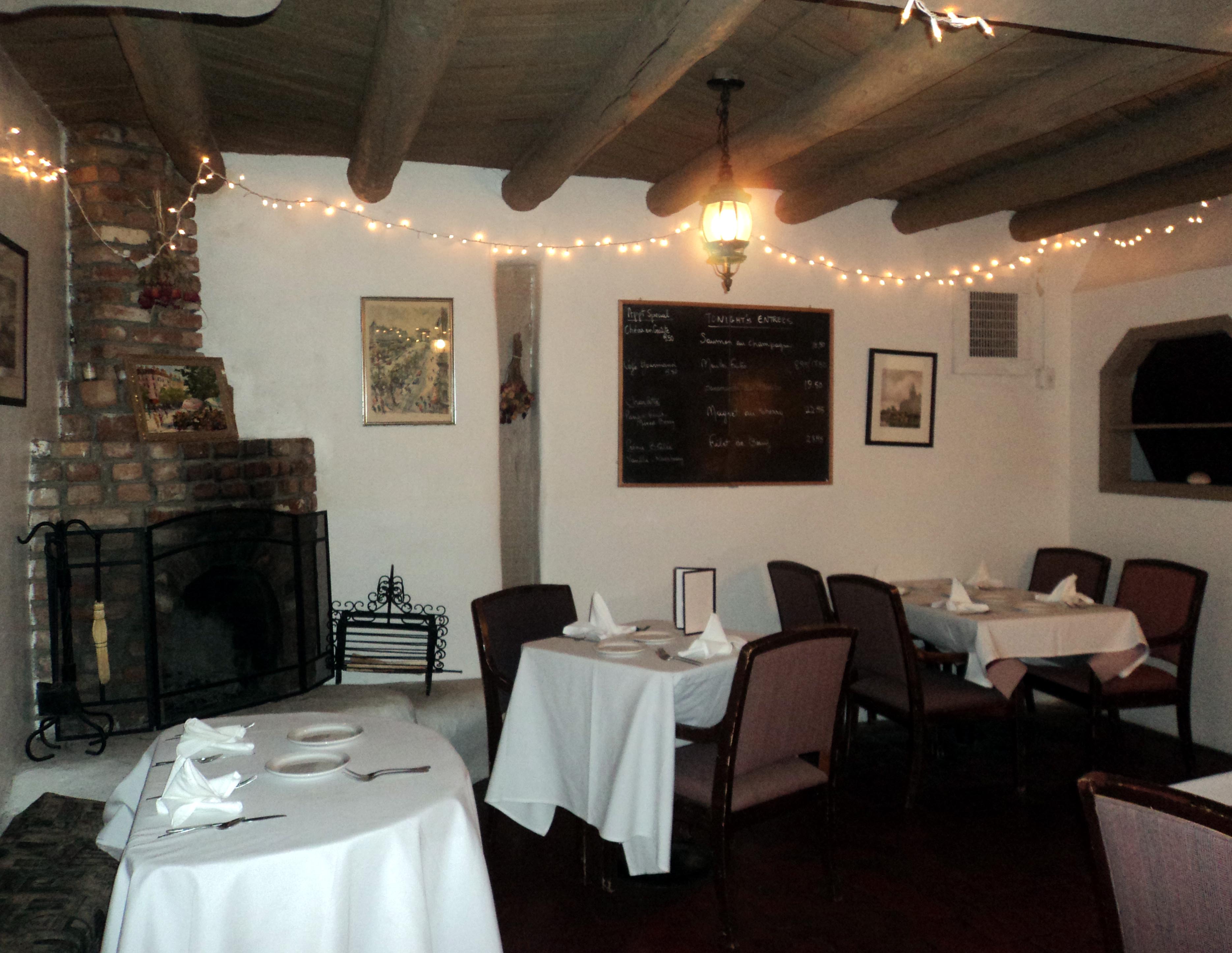 LA CREPE MICHEL
A Touch of France in Old Town Albuquerque
by Bonnie Carroll
Hidden away at the end of a lovely shopping street in Old Town Albuquerque is an unexpected escape to France at La Crepe Michel, where the menu and atmosphere offer an authentic and delicious experience.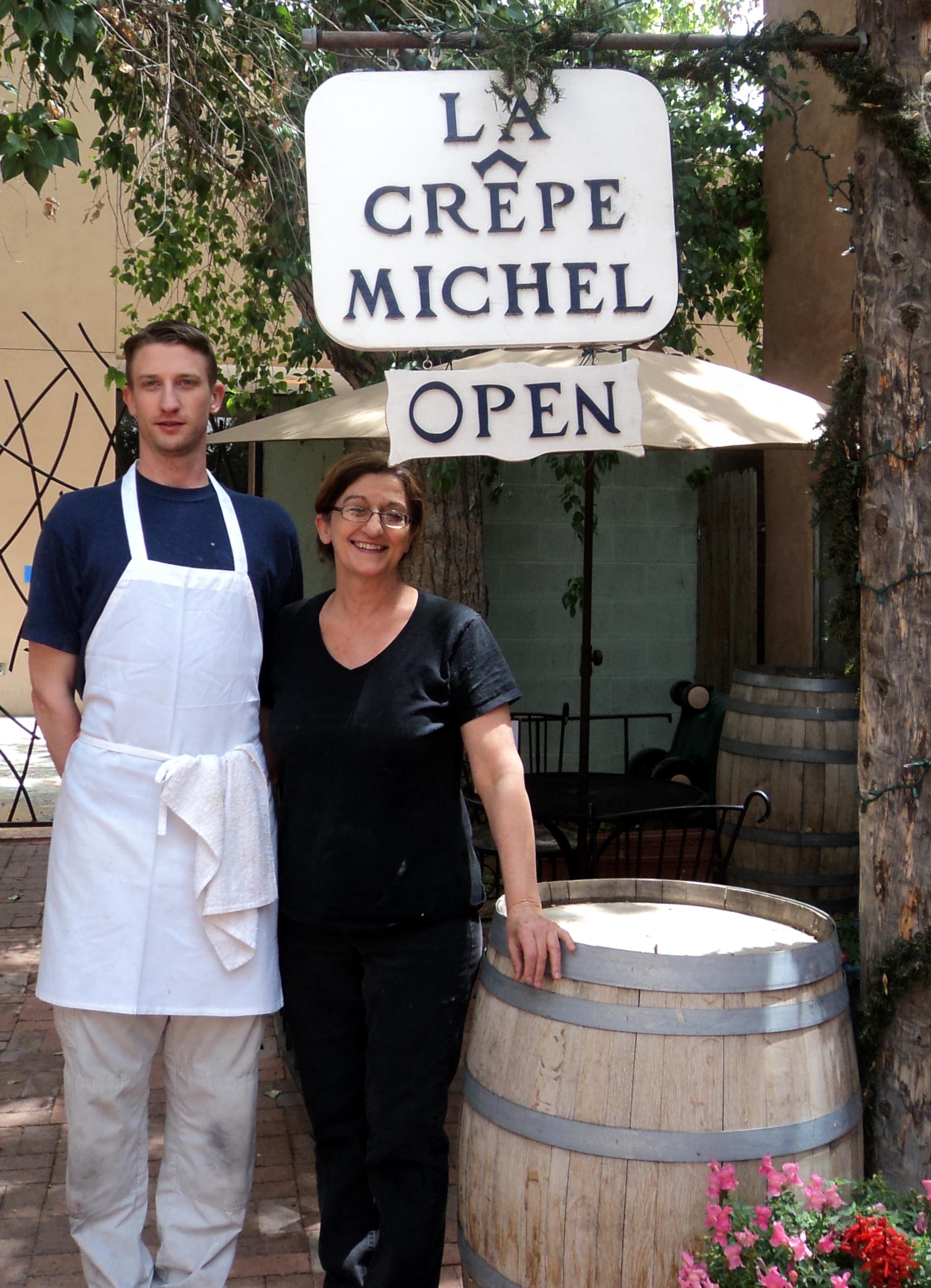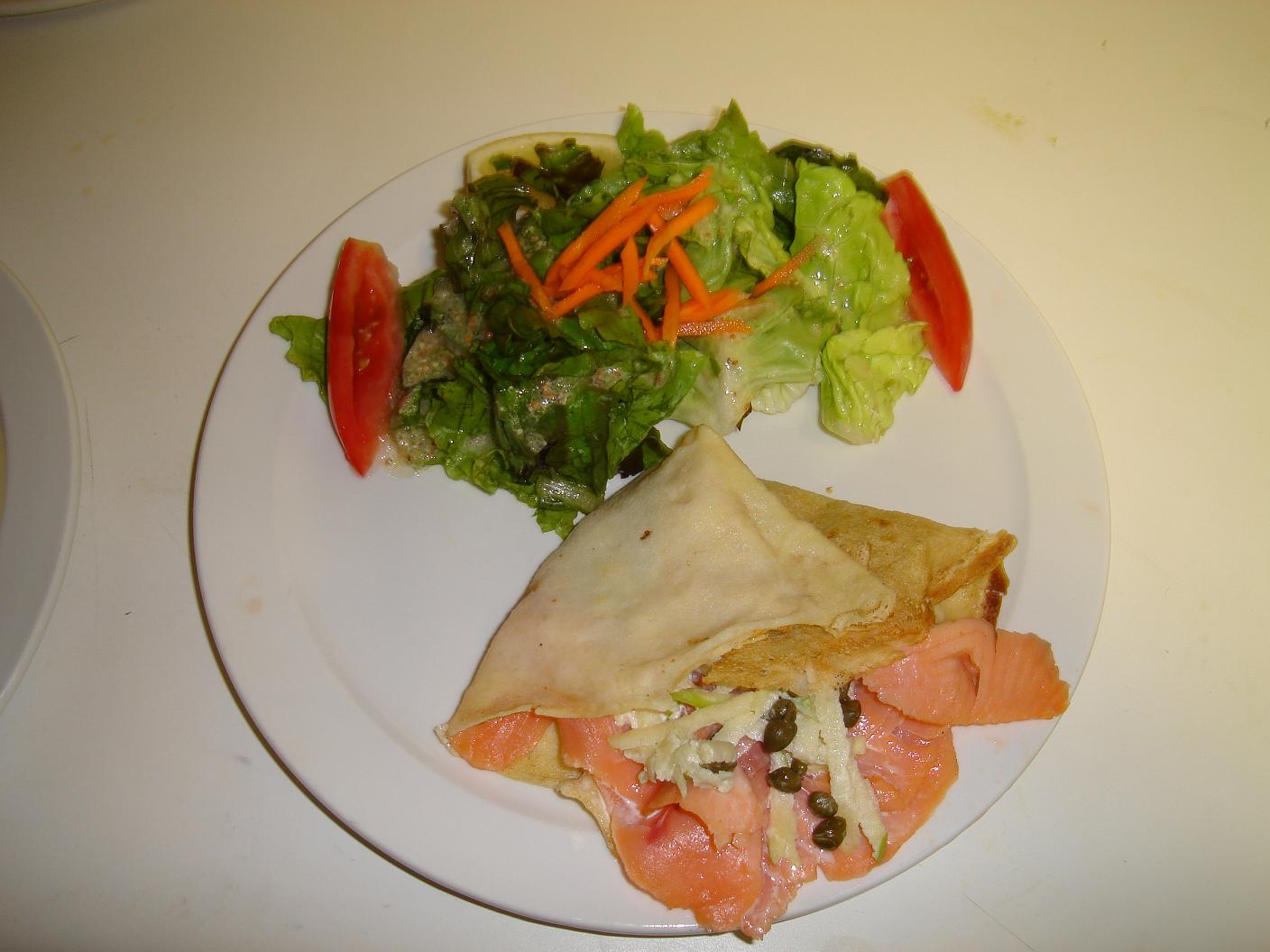 Owner Claudie Zamet-Wilcox and her chef son Marc Wilcox work happily together with their skilled staff to create a delightful respite where patrons enjoy exceptionally fine French crepes, along with signature plates and desserts.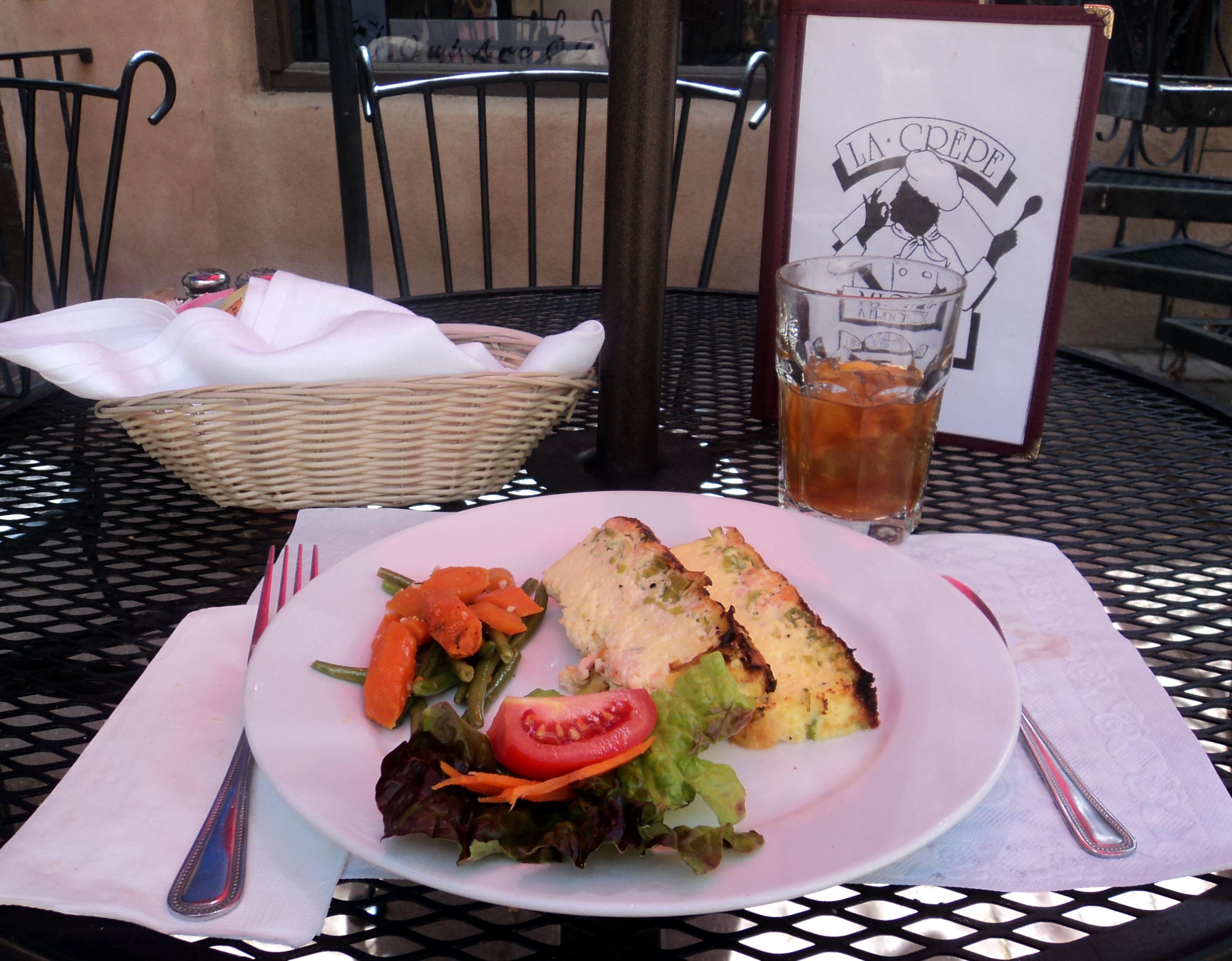 Owner Claudie, born in Lebanon, and educated in Paris, came to New Mexico with her young sons to begin a new life, following the purchase of the French café twenty-three years ago. Since that time her son Marc has become a major asset by honing his skills preparing and presenting French cuisine. His touch with crustless quiche and French signature cakes is perfect. Anyone familiar with these authentic recipes would assume he was trained in France or did a stint at Le Cordon Bleu in New York. It really is a pleasure to sample these heavenly creations.
Claudie is the host with the most, and has the amazing charm I have often experienced in the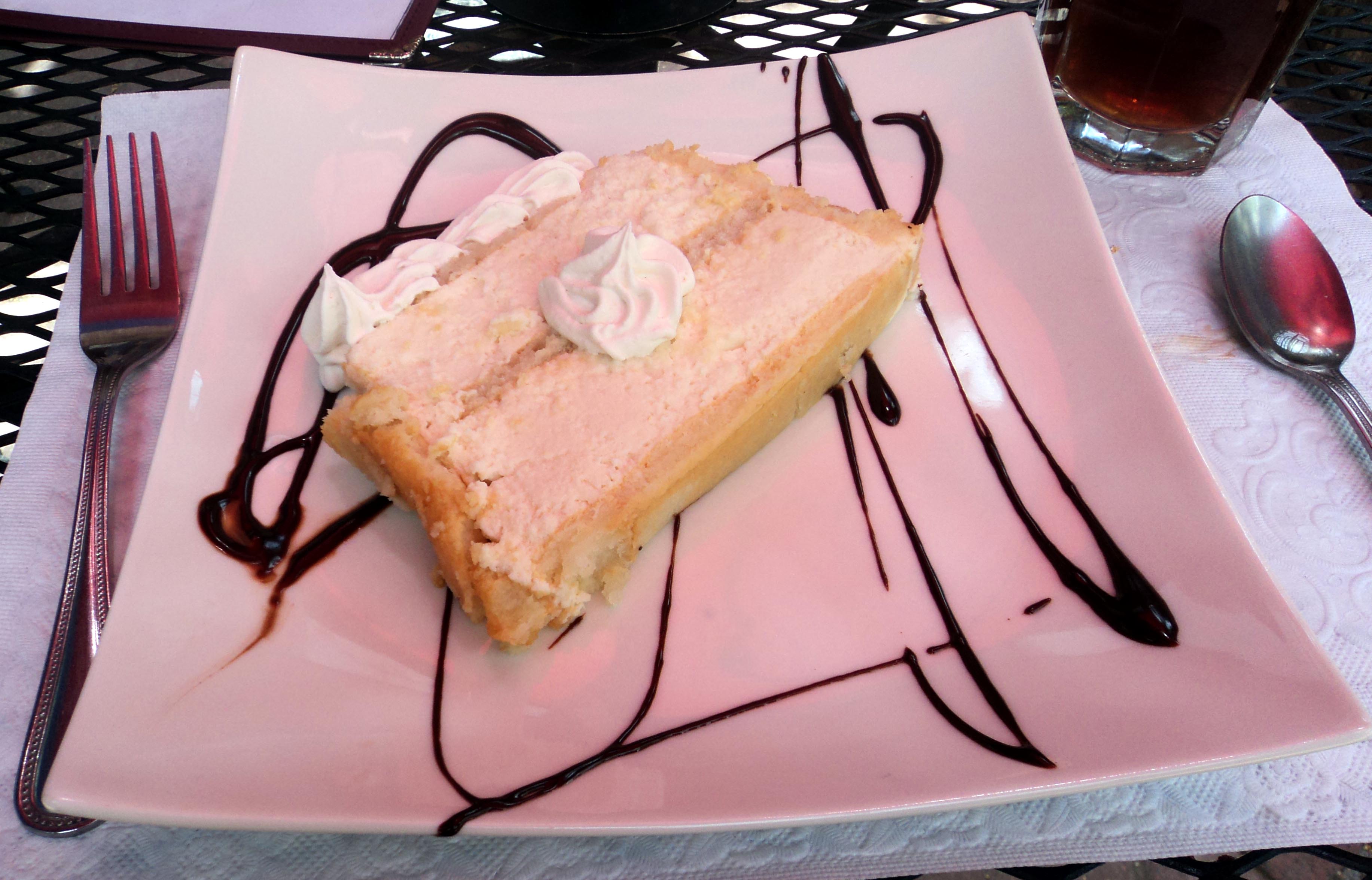 dining rooms and kitchens of Lebanese friends and chefs. The main entrance is a seductive little patio that leads into a small entry dining room and the kitchen area. At first glance you think this is it, but not so. The restaurant rooms ramble back to an elegant dining room with a fireplace that affords guests complete privacy and a very romantic ambiance.
The lunch menu changes daily and may include home-made soup, a crustless quiche with a green salad and fresh vegetables with butter. All meals are served with a basket of divine French bread, freshly made iced tea and lemonade or a glass of wine. Naturally, an amazing variety of crepes can be found on the menu, as well as delicious salad options.
The dinner menu offers soup l'Oignon, pate de champagne maison, les escargots, crepe de saumon, salade Nicoise and maison, crepes: aux fruits de mer, a la ratatouille, aux epinards, boeuf bourguignon, porc Dijonnaise, Saumon et Asperges, poulet Basquaise, epinards et artichauts, aux champignons. Special entrees include steak frites and truite aux amandes. Dessert crepes include a la confiture, aux Fraises, aux trios crèmes, au chocolate, aux pommes, and au miel et noix, a la bananae at miel, au poivre, Helene, David, Antillaise, and Suzette. Additional desserts include mousse au chocolat, crème caramel, crème brulee, Charlotte, tarte fine aux pommes, coupe glacee, sorbet framboise, assortment of desserts.
Aperitifs include Lillet Blanc, Kir-Aligore and Crème de Casis, Kir Royal and a variety of champagne, sauternes, vin doux, sherry and port. Also served are beers from France, Belgium, Quebec, and England. Naturally, they serve a collection of European style coffee and tea. Claudie's place is a favorite hide-a-way for locals, who all seem to love this talented and inspired gourmet family. After doing the New Mexico diet for a week a visit to La Crepe Michel is a delicious change. Bon appetite!
La Crepe Michel
400 S. San Felipe (Oldtown Albuquerque)
(505) 242-1251
___________________________________________________________________
CHEF NEWS FROM LAS VEGAS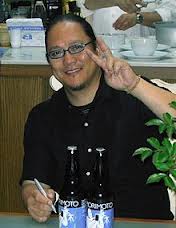 Masaharu Morimoto, renowned Japanese chef and star of Food Network's Iron Chef America, will bring his passion for cooking to the Las Vegas Strip with the opening of Morimoto Las Vegas, a new Japanese restaurant at The Mirage. Slated to open in early 2014, Morimoto Las Vegas will feature the contemporary Japanese cuisine and signature sushi that has earned Chef Morimoto worldwide acclaim. The restaurant will take the location currently occupied by Japonais. For more information, contact Ashley Farkas, MGM Resorts International, farkas@mgmresorts.com.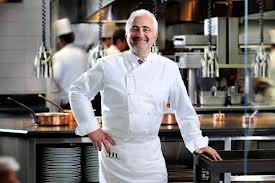 Acclaimed French chef, Guy Savoy and Krug Champagne, the world's first luxury Champagne House, have joined forces to offer an unforgettable epicurean adventure with the debut of the Krug Chef's Table at the two-Michelin-starred Restaurant Guy Savoy, located inside the iconic Caesars Palace. Designed for lovers of fine wine and cuisine, the six-seat chef's table affords guests an intimate view of the kitchen while enjoying a tasting menu curated to pair perfectly with Krug's prestige cuveé champagnes. For more information, contact Taylor Shields, Caesars Entertainment, tshields@caesars.com.  Chef Daniel Boulud to Open DBGB Kitchen & Bar at The Venetian Las Vegas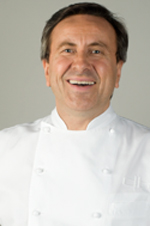 Renowned Chef Daniel Boulud has announced that The Venetian Las Vegas will be the next home for his popular New York City restaurant, DBGB Kitchen & Bar, described as "French Brasserie meets American Tavern." The opening of DBGB Kitchen & Bar, slated for later this year, will mark the highly anticipated return to Las Vegas for Boulud. For more information, contact Keith Salwoski, The Venetian Las Vegas, Keith.salwoski@ventian.com.  ______________________________________________________                                  American Culinary Federation Monterey Bay Chapter Names Roy's at Pebble Beach Chef de Cuisine Pablo Mellin "Chef of the Year" for 2012
 www.PebbleBeach.com.  https://w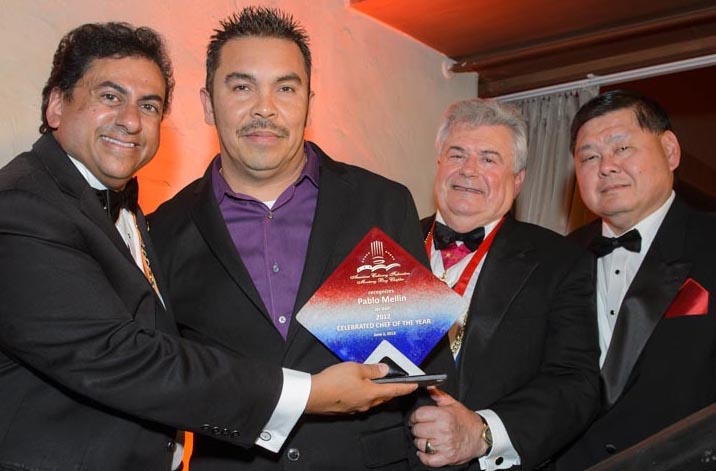 ww.acfchefs.org/.
(L – R) American Culinary Federation Monterey Bay Chapter President Tene Shake; Roy's at Pebble Beach Chef de Cuisine Pablo Mellin; American Academy of Chefs Advisor and Cannery Row Company Co-Owner Bert Cutino; and Michael Ty American Culinary Federation National President _________________________________________________________________
LE CHEF: DAVID FEAU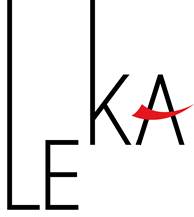 Chef David Féau debuts French Californian Menu at Le Ka in Downtown LA 
           Le Ka, the sleek downtown dining destination names David Féau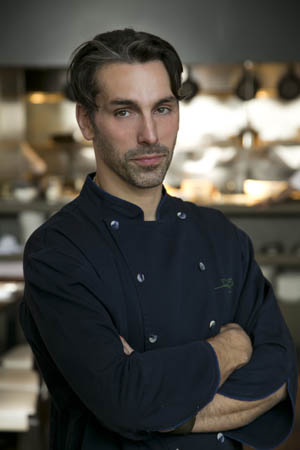 Féau has crafted a French Californian menu showcasing his seasonally-inspired cuisine withregional and global influences.  Feau's culinary signature is sophisticated, yet approachable dishes that highlight the complexity and beauty of ingredients in their truest state. Reinterpreting the original menu created by Chef Remi Lauvand (who is still partnered and consulting with the Kwans), Féau is bringing a distinctly regional twist to Downtown.
David Féau's impressive career began in Paris as executive chef first at Bistrot de L'Etoile and later at Miravale. He was named one of the Six Best Chefs in France Under 30 Years Old by Le Chef magazine.
His American debut was as executive chef at New York's famed Lutéce, earning the coveted four star rating from Mobil and Forbes Magazine. That success brought him to Lutéce Las Vegas, again earning a four star honor from Mobil. In 2006, he became executive chef for Café Pinot only to be promoted a year later to corporate executive chef of Patina Restaurant Group. As executive chef for The Royce, Féau's work was honored with a rare 3 star rating from the Los Angeles Times and #2 Best New Restaurant by Los Angeles Magazine. In 2011, Wine Spectator honored Feau as one of the Top French Chefs in the US. Last year, he was nominated for a James Beard Award and named "Best Chef of the Year" by Los Angeles Magazine.
Followers of Féau's culinary philosophy will be delighted with his latest creations. Standout dishes for Le Ka include :
Cote De Boeuf, Bordelaise Sauce, Garlic Pommes Gratin, Broccolini, Shiitake, Oyster, Cremini Mushrooms, Whole Thai Snapper,Pan Roasted on a Bed of Garlic Cloves & Star Anise, Beausoleil  Oysters, Half Dozen Oysters, Mignonette, Spicy Soy,  Lemon, Handmade Pappardelle, Chorizo, Squid, Mixed Squash, Lobster Broth, Arugula, Kale Salad, Chopped Kale, Goat Cheese, Medjool Dates, Green Beans, Grapefruit, Pumpkin Seeds, Truffle Pizza, Burgundy Truffles, Ricotta, Wild Mushrooms, Baby Kale.  
Féau is joined in the kitchen by Chef de Cuisine, Tony Tea, Senior Sous Chef, Jason Witzl, and Pastry Chef, Kristin Feuer. Specializing in French-based Californian cuisine, Chef Tea has more than a decade of both casual upscale and fine dining experience with the Langham Hotel as well as Zucca, Paper Fish and Café Pinot of the Patina Restaurant Group.  Féau and Tea met in 2006, working together at Café Pinot. They share a passion for using peak season products and accentuating their natural flavors. Chef Witzl comes to Le Ka from some of Los Angeles' most highly rated restaurants including MB Post, Watergrill, The Tar Pit and Campanile as well as a turn at the world-renowned Martin Berasategui in Spain. Witzl excels at taking a single ingredient and presenting it 3-5 different ways in a single dish - creating a celebration of flavor. Kristin Feuer, Le Ka's new Pastry Chef, is known for creating classic desserts updated for modern palates with clean, refined presentations.
"We're honored to welcome such prestigious chefs in our kitchen," says owner Marcus Kwan. "Under Chef Féau's new direction, we're looking forward to continuing Le Ka's legacy as a celebrated dining destination in Downtown Los Angeles. With an updated menu, an expanded culinary team and new management staff, Le Ka is well positioned for Los Angeles's high season."
Contemporary, elegant, and inviting, Le Ka (French/Cantonese for "The Family" or "The Household") is the reimagined Cathay Bank space offering a uniquely cosmopolitan dining experience featuring French Californian cuisine. The restaurant has a two-tiered, enclosed outdoor patio with built-in fireplaces and a selection of event spaces which can host functions from 6 to 500. Le Ka is located at 800 W 6th Street (SW corner of 6th/Flower) in Downtown Los Angeles. Dinner is served daily from 5:00pm – 11:00pm; Lunch Monday – Friday from 11:00am – 3:00pm; Happy Hour Monday – Friday from 3:00pm – 7:00pm; and Late Night Monday – Saturday from 11:00pm – 2:00am and Sunday 11:00pm – 12:00am. For more information, visit www.lekarestaurant.com.
____________________________________________________________________
HARRY & DAVID  -  4TH OF JULY FUN!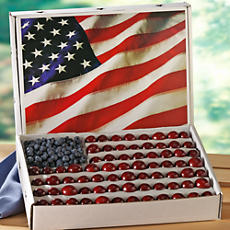 HARRY & DAVID DELIVER PERFECT HOLIDAY GIFTS
All American Gift or Party ideas for the 4th of July
Whether you are throwing a party or attending a 4th celebration away from home, you will want to include some of the delicious and creative food and beverage combinations from Harry & David. They have a berry gift, made of blueberries and cherries that form the American Flag, and a scrumptious salmon with wine basket that is the ideal appetizer for any gathering. For ice cream lovers there is a gift basket filled with the super accoutrements to make ice cream dessert lover go crazy. A fully loaded Margarita basket is filled with all you need to have a fun fiesta, and the red, white and blue cake is a perfect ending to your 4th celebration. Celebrate being American with some of these delightful gift combinations. For delicious home entertaining or to give the most thoughtful hostess gift go to www.harryanddavid.com.
by Bonnie Carroll
__________________________________________________________________
Frenchy's Bistro
A Master Chef at Paris-Charles de Gaulle airport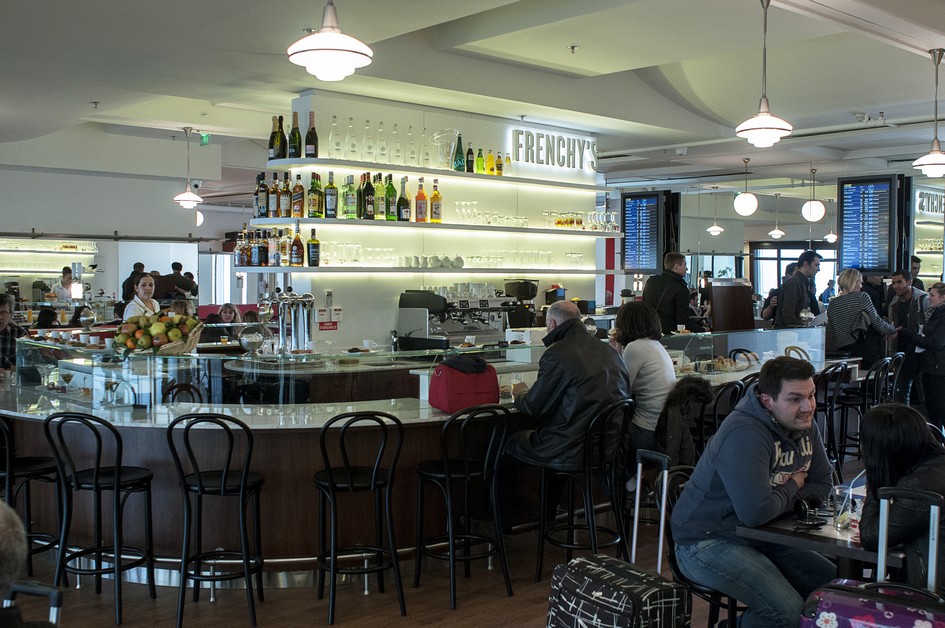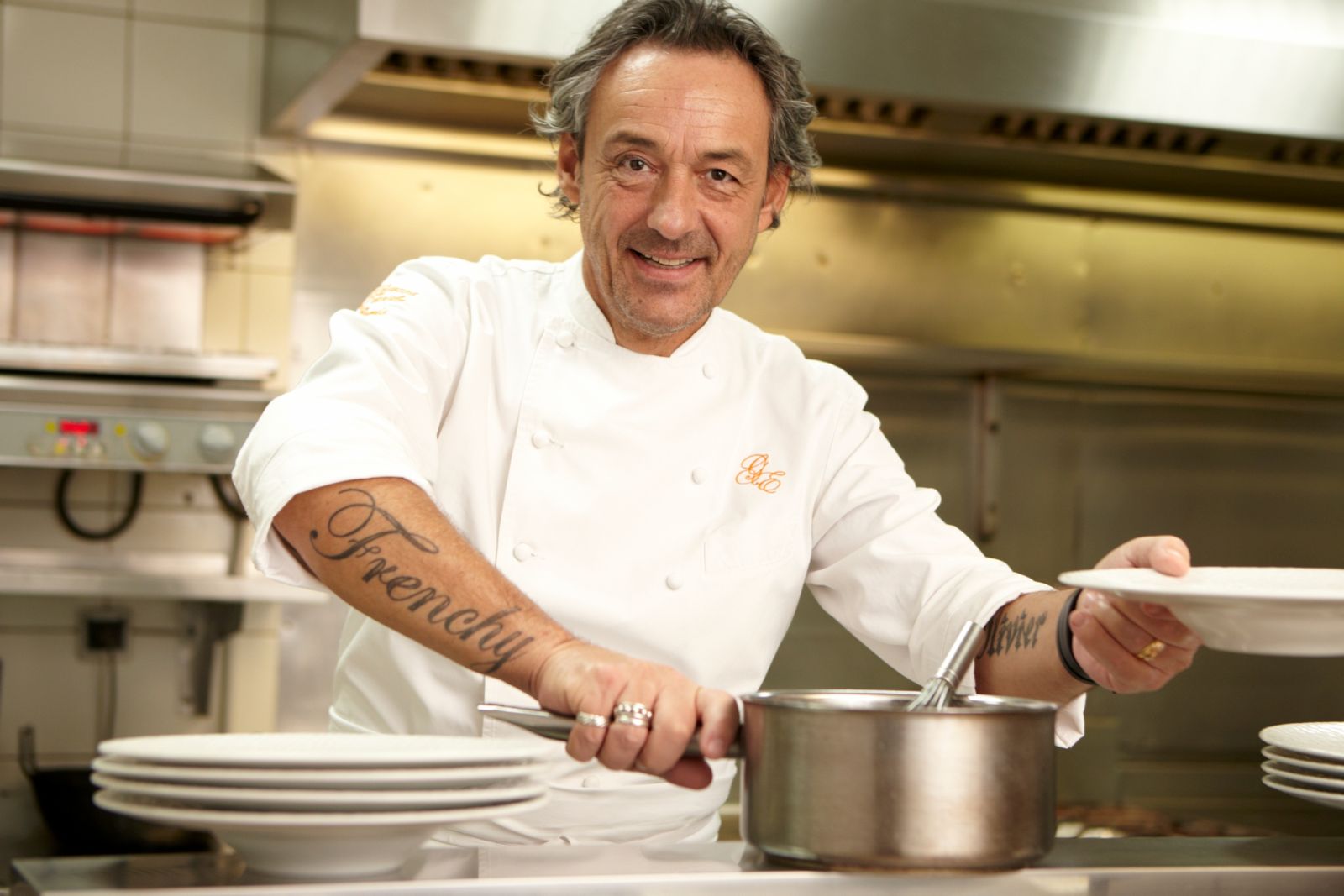 Aéroports de Paris beefs up its "gourmet food" offer at Paris-Charles de Gaulle airport! Gilles Epié was the youngest chef in France to be awarded a Michelin star (at 22 years of age). Former chef at the Citrus etoile opens top-quality brasserie at the airport: Frenchy's Bistro.
Spreading awareness of French gourmet cuisine among passengers from all over the world. Using only the finest fresh products. Such is the credo of Gilles Epié and Frenchy's Bistro, which will opened its doors in June 2013.
Continental Brunch, marinated salmon sliced herring-style or soup to go?
Frenchy's Bistro opens from 6.00 am to 10.00 pm, with room for up to 150 customers and serving all day long. The menu adapts to suit the time of day and offers passengers the chance to get a table and dine on refreshing "bistro" dishes, or to enjoy an offering of finger food and mini-sandwiches at the bar. What's more, a take-away area offers passengers soups, salads, ultra-fresh sandwiches and small dishes cooked on the spot.
"We are proud to be welcoming Gilles Epié to Paris-Charles de Gaulle airport. His style of cuisine, which brings together modernity and a great refreshing lightness, will delight the taste-buds of our passengers. This event fits in perfectly with the major project we have undertaken to modernise and refurbish our bars and restaurants in the airport terminals of Paris. We plan to open or renovate 50 food and beverage outlets between the end of 2010 and 2013", explained Augustin de Romanet, Chairman & Chief Executive Officer of Aéroports de Paris. For Gilles Epié; "Frenchy's is the last restaurant passengers will visit before they return to their home countries. That's why it's important for me that the welcome, the smile, and the quality of the cuisine should be up to standard. Our customers should come away with a wonderful memory of their time in France."
Do these different factors have something in common?
The quality of the products and the hint of originality that make all the difference. French cuisine with a touch of Californian sunshine! Frenchy's Bistro offers different set menus, starting at breakfast-time. Customers can enjoy a Parisian breakfast for €12 (pain au chocolat or croissant, bread rolls, Bonne Maman jams, Echiré butter, a hot beverage, orange juice). The Continental Brunch is available for €16. Passengers are served a plain omelette or scrambled eggs, beef sausage, bread rolls, Bonne Maman jam, Echiré butter, orange juice and a fresh fruit salad. Frenchy's Bistro emphasizes the authenticity of its products and French regional specialities, offering passengers the chance to try Challans poultry, or flank steak with shallots, and much more. But that's not to say that Gilles Epié's cuisine forgets to give a nod to "international" dishes; particularly, the California veggie burger, American beef tartar, or albacore tuna tournedos with coriander, soya, and lime!
From the high-quality take away
To let passengers take a little of Gilles Epié's cuisine away with them, a take-away service is also available. Soups, salads, light dishes created by Gilles, Franco-American hot dishes classics, desserts… the menu is comprehensive and competitively priced!
For instance, the cream of butternut squash and mushroom soup (230 g) is priced at €5.10. A salad composed of cuttlefish ink spaghetti with crayfish in coral sauce (180 g) for €6.95, or lentils with marinated salmon, raifort sauce and beetroot sprouts (280 g) for €8.80. A "hot" hot dog, made with 100% pure beef sausage, gravy, and "fireman's mustard" for €5.90, while the Manhattan bagel, with smoked salmon and cream cheese is available for €6.90. 3.
Gilles Epié, the rock chef of French gastronomy!
When he was just 14 years old, Gilles Epié started working with Alain Senderens. After they travelled around the word together, Gilles returned to Paris and was awarded a Michelin star in 1989, becoming the youngest chef in France to earn that honour at the tender age of 22. He cheffed in restaurants such as the Miravile (which he owned) and the Petite Cour in Paris, as well as the Orangerie in Los Angeles.
He left Paris in 1995 to explore America and its gourmet cuisine. One year later, he was voted best head-chef in the United States. His success was marked by his acquisition of the Orangerie in Los Angeles, which he transformed from a deserted restaurant into an address not to be missed. That very same year, the rating of the Orangerie leaped directly from 3 to 5 stars. Gilles Epié is known for creating daring new recipes, with zero butter or cream: "I use a lot of steam, he explains, a simple style of cuisine requires top quality ingredients ".
The culinary fusion of Franco-Californian dishes favoured by Gilles Epié, or "Frenchy" (a nickname that he acknowledged by having it tattooed on his forearm!), has fired the enthusiasm of many gourmet diners and celebrities from all over the world. Gilles Epié's style of cuisine has been strongly influenced by California: "I was cooking for people who love to eat, but who hate gaining weight." This is the size zero generation, the Californian ideal!" he exclaimed with a chuckle. Gilles also draws his inspiration from Japanese, Korean, and Chinese styles of cuisine.
He welcomed Frank Sinatra into his restaurant for the crooner's 80th birthday, as well as Sophia Loren, and cooked for the King of Sweden, Bruce Springsteen, Slash, Sharon Stone, Gregory Peck, Richard Gere, Elizabeth Taylor, and Princess Diana, to name but a few.
After spending 10 years in his beloved United States, Chef Epié turned his dream into reality by acquiring a restaurant just off the Champs–Elysées, and rose to the culinary challenge of a country where gastronomy is more than an art form. Since 2005, Gilles Epié has been the manager of the Citrus Etoile, which he owns with his wife, Elisabeth. 4. For additional information visit:www.aeroportsdeparis.fr. 
---