WHERE'S THE BEEF?
RUTH'S CHRIS STEAK HOUSE IN SANTA BARBARA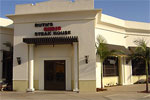 Ruth's Chris Steak House has become an institution for fine USDA steaks that 'sizzle' and are known throughout the United States for their charming southern hospitality. They recently opened a new restaurant, with a semi-private patio that has mountain views, in Santa Barbara, California.
Located in the La Cumbre Shopping Center on upper State Street, the restaurant serves as a great after shopping spot for a bite or a fun destination for dinner with family and friends. Some Ruth's Chris venues are small, as is the case with the Beverly Hills property, but this new restaurant is enormous, warm and welcoming with room for nearly 200 diners.
Founded in 1965, and known for their fine New Orleans-style hospitality, they now boast 105 locations in the U.S. Ruth Fertel, founder of Ruth's Chris said her motto was "If you ever had a better filet than this, welcome back!" She also believes that "Life is too short to eat anywhere else."
Sizzling steaks are what they call "the sound of perfection" at Ruth's Chris, and the smell of these delicious dishes really wets the appetite. The plates here are all delicious, using only the finest beef, lobster, and fowl in preparing a variety of sumptuous entree experiences, accompanied by a bevy of side dishes of home-made fresh vegetables, and tasty salad favorites with rich dressing. The service is quite good, and Chris Goodyear, general manger leads his serving and cooking teams with style and panache.
The bar is done in rich woods and is a nice congenial place to wait for your table or enjoy a glass of wine with a small plate anytime. They also maintain the same high standard in their bar, using only the finest liquors and a selection of very good wines, including many from local California vintners. You will find several fine wines are available by the glass.
The desserts are equally revered, and include a sinful crème brulet, banana crème pie, chocolate sin cake, and a nice sorbet trio for those watching their waistline. This is a wonderful family restaurant, or a place to have a memorable dinner with your significant other. It is relaxed and easy, with time to thoroughly enjoy the good food and ambiance. Just as Ruth Fertel imagined it would be.
Ruth's Chris Restaurant
La Cumbre Shopping Center
Santa Barbara, CA 93101
---
THE RESORT AT PELICAN HILL APPOINTS
JEAN PIERRE DUBRAY EXECUTIVE CHEF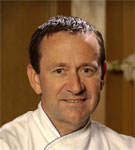 Jean Pierre Dubray, the acclaimed executive chef at The Ritz-Carlton San Francisco, has been named executive chef of The Resort at Pelican Hill, announced Giuseppe Lama, managing director of the ultra-luxurious destination resort, which promises to become a preferred getaway among sophisticated, high-end travelers.
Dubray is among the most accomplished and recognized chefs in California. At The Ritz-Carlton, San Francisco, he led the hotel's culinary team, which operated two highly-regarded restaurants, as well as the property's in-room dining and banquet services. The restaurants included The Dining Room, one of the state's culinary stars and a recipient of countless honors, it earned an AAA Five Diamond rating and became one of only two restaurants in California and 17 in North America with Exxon/Mobil's Five-Star designation.
He will be responsible for The Resort at Pelican Hill's culinary offerings, comprising Andrea, serving Northern Italian cuisine with terrace dining; a poolside grill and bar offering relaxed, casual dining; Pelican Grill, the signature restaurant at Pelican Hill Golf Club which opened in November 2007; the resort's pastry and bakery operations; room service to 128 villas and 204 bungalows; and catering and special event services. He starts March 17.
"We searched the world, from Russia to Dublin, to find the very finest executive chef for The Resort at Pelican Hill and Jean Pierre stood out for his professionalism, accomplishments and passion," said Lama. "Beyond his proven management skills and extraordinary success in delivering the highest level of food service at world-renowned hotels, he is an inspired culinary artist brimming with ebullience about food and cooking."
Dubray grew up in the kitchen of his family's country house in France's Loire Valley, where they produced much of their own food. He enjoyed helping his mother prepare big family meals and by the time he was 15, when he enrolled in culinary school, he had decided it would be his life's work. He came to the United States in 1980 when he had an opportunity to be part of the opening team for La Vie en Rose restaurant in Brea, Calif., – and he has been in the Golden State ever since, except for brief assignments all over the world as a pre-opening team trainer for new Ritz-Carlton hotels. He joined that company in 1984 when he was named the first dining room chef of the then newly opened The Ritz-Carlton, Laguna Niguel.
A masterpiece in the making, The Resort at Pelican Hill is melding the precepts of internationally heralded Italian Renaissance architect Andrea Palladio with the welcoming and relaxed style of coastal California. The resort is rising on a 504-acre site in Newport Coast, located between the chic and picturesque towns of Newport Beach and Laguna Beach, and boasts one of the most serene and beautiful coastal settings in Southern California. Here the Pacific Ocean laps uncrowded beaches and thousands of acres of coastal habitat are permanently protected as open space or designated for recreational uses only. From throughout the resort, there will be vivid views of this natural bounty. The resort's first component, Pelican Hill Golf Club with 36 holes by Tom Fazio, opened in November 2007; all other components – 128 bungalows and 204 villas, 20,000 square feet of plush function space for every type of event, luxurious spa with 22 treatment rooms, spectacular and secluded wedding venues, world-class restaurants and "Coliseum" pool – will open in fall 2008.
The Irvine Company Resort Properties owns and manages the finest resort and leisure destinations in Newport Coast and the City of Irvine. In addition to The Resort at Pelican Hill, the portfolio includes The Island Hotel Newport Beach, the city's landmark property and only AAA Five Diamond hotel; Hyatt Regency Irvine, the city's only Four Diamond hotel; Oak Creek Golf Club in Irvine, featuring a challenging, Tom Fazio-designed public golf course; and several of the finest marinas in Newport Harbor and Northern California.
---
POT DE PHO & ANA MANDARA'S CHEF KHAI DUONG BRING HEALTHY VIETNAMESE PHO TO SAN FRANCISCO
Organic-inspired concept features beef, chicken & vegan pho created with Kobe-style beef broth, free-range chicken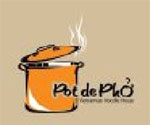 Chef Khai Duong, executive chef of San Francisco's famed Ana Mandara, announced this month the opening of Pot de Pho, an all-natural, organic Vietnamese pho noodle house in the former Spanish Fly location on Geary Boulevard. Duong's new concept will feature traditional beef, chicken and vegan pho soups with house-made rice noodle, as well as an offering of small plates, salads and appetizers. All-natural or organic ingredients will be used in all dishes when ever possible.
"I've wanted to bring fresh, natural pho to the Bay Area for a long time," notes Duong, affectionately called 'Chef Khai' by associates. "Pho has been my favorite family comfort food all of my life. Pot de Pho will allow me to share my life-long love of pho with Bay Area pho lovers."
Duong has traveled extensively in his homeland of Vietnam and Asia and has sampled virtually thousands of pho soups overseas and in the US. On a recent trip to Los Angeles' Little Saigon, he tasted pho for hours and hours, so long that his wife Mimi opted to stay in the car while he completed his research. While researching famous pho noodle houses and noodle making machines, both he and partner Lam Nguyen rode over 8 hours in a taxi just to try one legendary pho noodle house.                         

"I've tried pho soups from around the world." He notes a variety of pho experiences — great noodles, but poor broth, or great broths spoiled by inferior ingredients. "Pot de Pho will bring together the best of these elements."
The pho broths will be created with Wasami Ranch Wagyu Kobe-style beef bone or organic free-range chicken simmered in alkalinized, oxygenated water—the restaurant has installed a commercial Japanese filtration system for cooking— for a minimum of 10 hours. The beef pho includes melt-in-your-mouth, thinly-sliced rare steak and well-done shank, and there is a vegan pho offering with tofu and mushrooms. The chili and hoison sauces will be house-made.
Prices will range from $8 to $10 for the pho soups, large plates from $8 to $12. Appetizers, salads and small plates will range from $5 to $8. There will be an offering of organic teas and coffees, as well as fresh fruit juices and smoothies. Beer and wine will be offered, many organic brands.
Specialty dishes, such as Chicken Hai Nan, actually a Chinese dish but popular in Vietnam, is served with a special ginger sauce. Banh Khoai Mien Trung, the Vietnamese version of 'Happy Pancake,' is a specialty served in Duong's native Nha Trang and Hue, the original capital of Vietnam. Pot de Pho's version is that of central Vietnam, thicker, with a crispy crust. There is an egg-free, vegan version of this dish as well, served with mushroom and hearts of palm.
Other dishes include Cari Vit, curried duck leg with lemon grass, eggplant and long beans, Thit Kho Trung, braised organic pork with quail egg and pickled bean sprouts, Ca Kho To, traditional, carmelized fish cooked in cast iron and fresh Imperial Rolls with organic pork, shrimp, vermicelli noodle, lettuce and mint served with a light peanut sauce.
Pot de Pho was given a re-design by Chef Khai and Ana Mandara interior designer, Ailene Ho. The airy corner location at Geary and Parker seats 50 and sports 3 communal tables, benches, leather chairs and ottomans with a cozy alcove for drinks and small plates next to the bar. The pho is served in bright jade bowls with matching spoons, with other service ware reflecting the soft greens throughout the room.
A Vietnamese artist has adorned one wall with delicate bamboo paintings accented by soft gun-metal green and deep mustard walls. Hanging birdcages, cloth lighting fixtures, urns and baskets. A lighted row of glass cases hold colorful spices and dried herbs in Pot de Pho's green jade bowls.
The show-stopper of the room, though, is a stunning teak 1960s-era pho cart from Vietnam. The cart is adorned with colorful depictions of Vietnamese mythology on mirrored surfaces, with twin dragons framing 'Pot de Pho.'
"With Pot de Pho I feel that I have created something for our guests who have not had a chance to travel to Vietnam and sample the incredible street food," Chef Khai notes. "Like life here, life in Vietnam is becoming very fast-paced. I want Pot de Pho to be a healthy, affordable alternative in our busy lives." 
3300 Geary Blvd at Parker
Sunday, Tuesday, Wednesday and Thursday, 11am – 10 pm
Friday and Saturday, 11 am – 11 pm
Pho is the traditional and national soup of Vietnam.
 Our Vietnamese soup "pho" is made from a rich broth simmered for hours and hours. We simmer our pho with Kobe beef bone or free-range chicken and alkalinized water, garnished with slices of meat, fresh herbs, served with our own house-made rice noodles.
We even have a vegan pho! All by itself, a well-balanced, nourishing, and satisfying meal. "Eat for health, taste for life."
After years of researching around the world, Chef Khai Duong, created Pot de Pho to offer fresh, organic pho to the health-conscious Bay Area community. Duong has served as executive chef at Ana Mandara in San Francisco since 2000, and is considered one of the world's leading Asian chefs, and one of the pioneers of modern Vietnamese cuisine.

He has been featured in Gourmet Magazine, Bon Appetit, InStyle Magazine, USA Today, The San Francisco Chronicle, Chef Magazine and many others.
A graduate of Le Cordon Bleu Academie Culinaire De Paris, Duong's professional experience includes stints at Le Bernardin in New York City, the Boca Raton Resort Hotel (Mobil 5 star/5 diamond) in Florida, the Maui Prince Hotel in Hawaii, and Le Colonial in Beverly Hills.
Duong is the founder of Chefs Without Borders and the Asian Chefs Association and the recipient of 2007 California Culinary Academy Educational Foundation's Chef Star of Fame, presented by Martin Yan.
---
JOHN PETTITT - NEW CHEF AT THE WINE CASK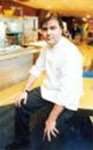 The Wine Cask is proud to announce that Mr. John Pettitt has joined us as executive chef. Chef Pettitt's culinary history is lined with superstar associations: Ron Siegel, Gary Danko, and most recently, Josiah Citrin at Melisse where he helped the restaurant earn 2 Michelin Stars.
Chef Pettitt's style is influenced by California's abundance of produce, fruits, grains, spices, and fresh fish and seafood. Because California is the most diverse state in the union, reliance on French, Asian, and Latin cooking influence his preparations.
Graced with the Wine Cask's huge and important wine inventory, Chef Pettitt is able to create tasting menus paired with appropriate and pleasing wines. Chef Pettitt's approach is fresh, crisp and novel.
 
His emotional intensity and devotion to the culinary arts comes fourth in his exquisite preparations and presentations. His food is interesting, creative, and most of all tastes delicious. Only 32 years old, this devoted and intense chef is already a superstar but will even rise higher, motivated to make the Wine Cask and Santa Barbara a culinary destination, second to none, where guests may enjoy a wonderful meal anytime.

---
BLUE RIDGE BBQ FESTIVAL RECIPE CONTEST
VisitNC.com and Cottage Living present the Blue Ridge BBQ Festival Recipe Contest. Enter to win the grand prize and the chance for your recipe to be prepared live at the festival, June 14, 2008.
Pulled, chopped or sliced, any way you like it—you'll find your favorite 'cue at the Blue Ridge BBQ Festival. Think you have the perfect complement to North Carolina BBQ? Submit your favorite BBQ side dish recipe to enter the Blue Ridge BBQ Recipe Contest sponsored by VisitNC.com and Cottage Living. Cottage Living Contributing Food Editor and owner of Foster's Market in Chapel Hill, Sara Foster, and Cottage Living Food Editor Kim Sunée, will choose the winning recipe and Foster will prepare the winning recipe live at the Blue Ridge BBQ Festival on Saturday, June 14.
To enter for the Grand Prize drawing, submit your recipe at
www.VisitNC.com
. A BBQ side dish includes any food or beverage item you would pair with BBQ. Entries must be submitted by 11:59 p.m. EST on March 31, 2008. The winner of the recipe contest will win the Grand Prize.
The Grand Prize includes:
Two tickets to the 15th Annual Blue Ridge BBQ Festival, June 13-14, 2008

Two nights accommodations (double occupancy) at the AAA four-star rated historic 1906 Pine Crest Inn ($250 Travel Voucher)

Gift basket filled with delightful surprises from local artisans and businesses




(Please visit

www.visitnc.com/sweeps/bbq_08_regs.asp

for official rules.)
The Blue Ridge BBQ Festival is recognized as the Home of the North Carolina State Barbecue Championship by proclamation of the Governor of North Carolina. Hosting up to 100 cooking teams, the Blue Ridge BBQ Festival is considered one of the top five Kansas City Barbecue Society (KCBS)—sanctioned BBQ competitions in the country. Through initiatives over a three-year period, the festival dramatically reduced festival waste going to landfills and instituted a major recycling program.  The festival is one of the greenest cook-offs in the country.
"The Blue Ridge BBQ Festival is one of the premier barbeque events in the nation and one of the most popular festivals in North Carolina," says Lynn Minges, Executive Director of the North Carolina Division of Tourism, Film and Sports Development. "We are proud of our barbecue and love to celebrate our humble beginnings while hosting neighbors and guests."
Nestled in a mountain valley in Tryon, North Carolina with the Blue Ridge Mountains as a backdrop, the Blue Ridge BBQ Festival offers two days of mouth-watering food and a premier music festival showcasing some of the best local, regional and national talent. Artisans also come from as far away as New York to sell their wares at the Foothills Craft Fair. This year marks the 15th anniversary of the event on June 13 -14 in Tryon, North Carolina. For more information, visit,
www.blueridgebbqfestival.com
.
BARBECUE TRADITIONS IN NORTH CAROLINA:
Some might say that barbecue in North Carolina is as passionately discussed (or shouted about) as religion. The state's barbecue traditions cooks down to two distinct styles, Eastern and Western North Carolina barbecue. The Eastern-style barbecue centers around whole hogs being smoked on pits. The sauce is vinegar-based and boasts a reddish color from the addition of red pepper, black pepper and pepper flakes.
Western-style barbecue (found in the Piedmont and Mountain regions) relies on pork butts and shoulders versus the whole hog. The vinegar-based sauce of the Eastern part of the state is enhanced with tomato products, yet it keeps its thin consistency.
In both regions, hush puppies are the preferred bread; additional side dishes can range from baked beans to Brunswick stew to potato salad.
For more on North Carolina barbecue, visit the North Carolina Barbecue Society at
www.ncbbqsociety.com
.
Also check out the Society's North Carolina Barbecue Trail. It recognizes the state's longstanding, most traditional barbecue restaurants at
www.ncbbqsociety.com/trail.html
.
To arrange interviews about the green side of the Blue Ridge Barbecue Festival or to receive in-depth briefings on North Carolina's barbecue tradition, contact Susan Dosier at
sdosier@visitnc.com
or call 704-953-9408.
Natural scenic beauty, adventure and relaxation, a dining experience for every taste, rich history and warm Southern hospitality come together in North Carolina. Call 1-800-VISIT NC or go to
VisitNC.com
to plan your next getaway.
---