CULINARY COUP   .   .   .
ARTHRITIS FOUNDATION'S 35th ANNUAL "TASTE OF THE TOWN SANTA BARBARA" IS SUNDAY, SEPTEMBER 11, 2016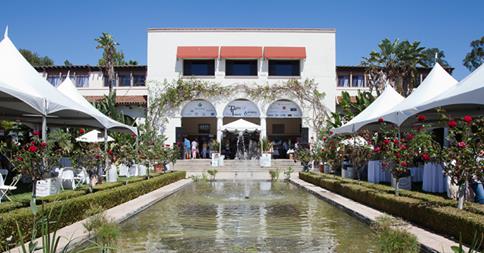 Photo courtesy Arthritis Foundation's Taste of the Town
The 35th annual Taste of the Town Santa Barbara, benefiting the Arthritis Foundation, will be held again in the beautiful setting of Riviera Park Gardens overlooking the city on Sunday, September 11, 2016 from Noon-3:00 p.m. 
Santa Barbara, CA (July 18, 2016) - The public is invited to attend the 35th Annual Taste of the Town Santa Barbara, the area's signature culinary event benefiting the Arthritis Foundation, featuring tastings from 80 of the finest local restaurants and Central Coast wineries, breweries and distillers on Sunday, September 11, 2016, from Noon to 3 p.m. at Riviera Park Gardens, 2030 Alameda Padre Serra, in Santa Barbara.  This savored community event features tastings, entertainment and a silent auction in a gorgeous setting overlooking the city.  Returning to Co-Chair this Santa Barbara tradition are opal Restaurant & Bar co-owners, Tina Takaya and Richard Yates.  
All proceeds from Taste of the Town support the local programs and services of the Arthritis Foundation. The Foundation is the only non-profit organization dedicated to improving the lives of 53 million people (including nearly 300,000 children) with arthritis through health education, advocacy, research, and local juvenile arthritis support.  Taste of the Town tickets purchased in advance are $125 per person; tickets at the door will be $140.  Tickets are limited, so early reservations are encouraged by calling the Arthritis Foundation at 805-5634685 or by visiting https://arthpac.ejoinme.org/tasteofthetownsb 
This year, Taste of the Town announces three Honorary Lead Chefs including Bacara Resort & Spa's Executive Chef Vincent Lesage, who recently opened the beautiful new restaurant Angel Oak at Bacara; in addition to Patrice Martineau, Executive Chef at Montage Beverly Hills and Chef Johan Denizot, Executive Chef at the Belmond El Encanto Santa Barbara. Each chef and his team will design a course as part of a spectacular menu for event sponsors and their guests at the unique Connoisseurs' Circle on Friday evening, September 9, 2016 at Bacara Resort & Spa.  Now in its eighth year, the Connoisseurs' Circle VIP experience creates a wonderful opportunity to enjoy culinary expertise up close, on the Friday night before Taste of the Town's traditional Sunday food and wine event at Riviera Park Gardens.  
Taste of the Town is pleased to acknowledge its confirmed sponsors, including official Automotive Partner, BMW Santa Barbara, wine glass sponsors Montecito Bank & Trust and HUB International Insurance Services, Inc., and our event sponsors First Click, Inc., The Berry Man, Inc., opal Restaurant and Bar, Terry Ryken, Diana MacFarlane, Amye Leong & Bob Price, Jeffery Baldwin & Michal W. Wiesbrock.  Additional Taste of the Town sponsorship opportunities and benefits including invitations to the Connoisseurs' Circle are still available by contacting Michal W. Wiesbrock at 805-563-4685. MORE . . .
2016 TASTE OF THE TOWN HONORARY LEAD CHEF BIOGRAPHIES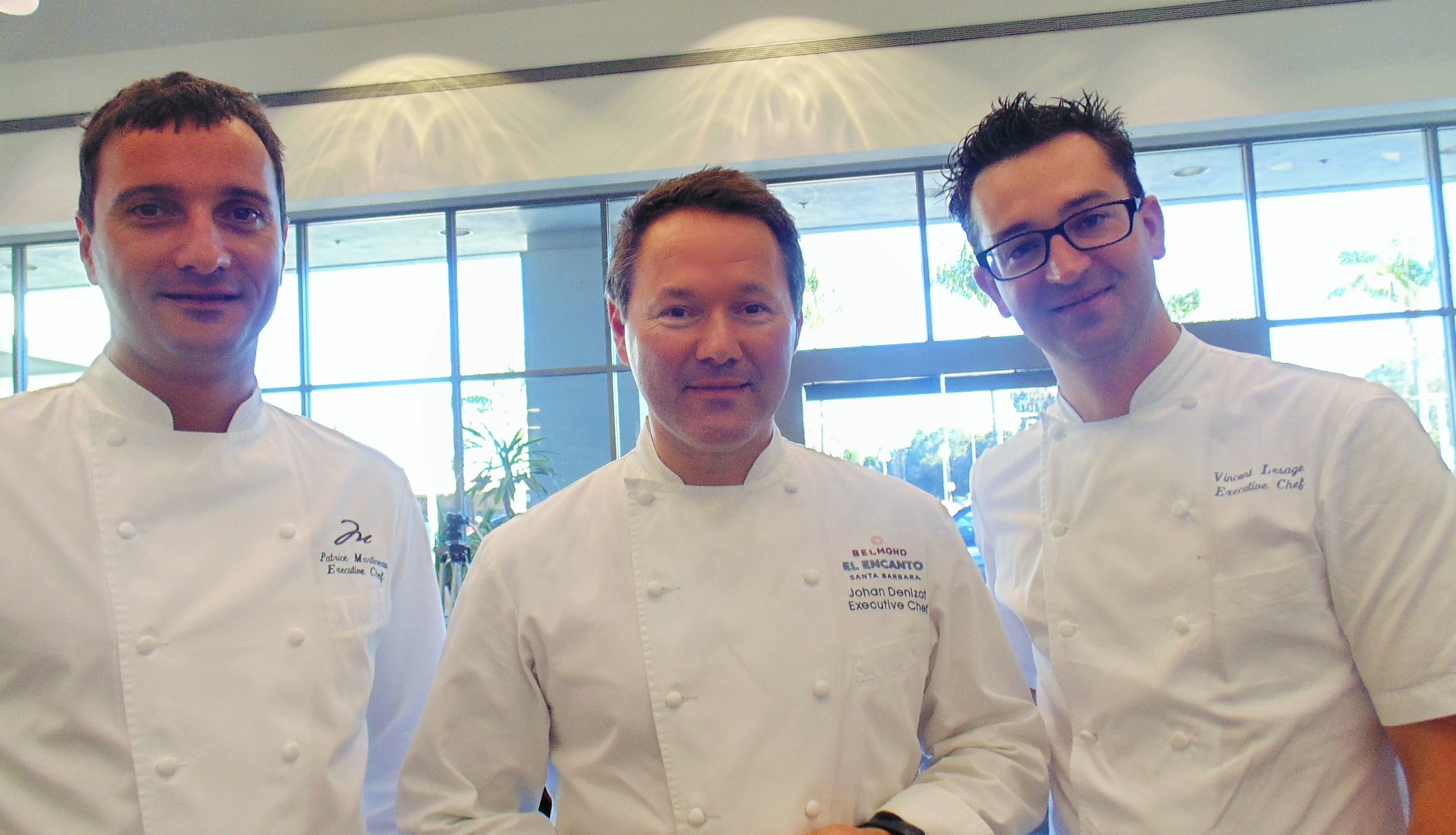 Chef Patrice Martineau - Chef Johan Denizot - Chef Vincent Lesage
CHEF VINCENT LESAGE, Bacara Resort & Spa At the age of 30, Chef Vincent Lesage's impressive career already includes Michelin three-star restaurants in Paris as well as experience at some of the world's most luxurious hotels. Born and raised in Paris at the center of the food universe, Lesage was surrounded by the rich flavors and techniques that define French gastronomy. After graduating from the Institut Paul Bocuse in Écully, France, Lesage trained at some of the world's most celebrated establishments including The Ritz Paris, the Michelin three-star restaurant L'Astrance, and Michelin three-star restaurant Bras. Most recently, Lesage served as the Executive Chef of Balboa Bay Resort in Newport Beach. Since 2015 as Executive Chef of Bacara's renowned culinary program, Lesage oversees the resort's six dining experiences including a new signature restaurant Angel Oak. 
CHEF PATRICE MARTINEAU, Montage Beverly Hills Award-winning chef Patrice Martineau was recently named Executive Chef at Montage Beverly Hills. Martineau was classically trained in some of France's most acclaimed restaurants. He began his career in his hometown of Champagne, France at two legendary restaurants, Le Chateaubriand and Le Valentino. Chef Martineau later moved to Burgundy as Chef de Partie at the region's world-renowned Michelin two-star Abbaye de Saint Michel and Michelin three-star La Côte Saint-Jacques. Chef Martineau later moved to New York and served as Chef de Cuisine at Daniel Boulud's iconic New York eatery, Daniel. He acted as Boulud's second-in-command at Daniel for six years amidst Manhattan's highly competitive and robust culinary landscape. Martineau was then tapped to assume the role of Executive Chef at London's Savoy Hotel, before joining the pre-opening team as Chef de Cuisine at The Peninsula Tokyo's Peter Restaurant. Most recently, Chef Martineau served as Executive Chef at the Belmond El Encanto Hotel and the Viceroy Palm Springs.
CHEF JOHAN DENIZOT, Belmond El Encanto   Johan Denizot is the Executive Chef of Belmond El Encanto, recently joining the resort from Bacara Resort & Spa. Situated on seven acres of lush gardens with sweeping ocean views, Belmond El Encanto is known for its California coastal cuisine, highlighting the local bounty of the resort's surroundings, and expertly prepared at The Dining Room and Terrace. French born, raised, and trained, Denizot garnered nearly a decade of culinary experience before beginning his successful career in the United States, where he launched the pastry and bakery program at Annabelle's Bar & Bistro in San Francisco. Denizot went on to implement creative menus at Root 246 in Solvang and most recently Miro at Bacara, where he was instrumental in the restaurant earning its Forbes four-star rating. Fluent in French, English, and Spanish, Denizot received his Certificate of Professional Studies in the Culinary Fields at the Restaurant Formation School in Pontarlier, France, and then received his Certificate of Professional Aptitude at CFA Hilaire de Chardonnet in Besançon, France.  
Taste of the Town is pleased to acknowledge its confirmed sponsors, including official Automotive Partner, BMW Santa Barbara, wine glass sponsors Montecito Bank & Trust and HUB International Insurance Services, Inc., and our event sponsors First Click, Inc., The Berry Man, Inc., opal Restaurant and Bar, Terry Ryken, Diana MacFarlane, Amye Leong & Bob Price, Jeffery Baldwin & Michal W. Wiesbrock.  Additional Taste of the Town sponsorship opportunities and benefits are still available by contacting Michal W. Wiesbrock at 805-5634685. 

ABOUT THE ARTHRITIS FOUNDATION The Arthritis Foundation is the Champion of Yes. Leading the fight for the arthritis community, the Foundation helps conquer everyday battles through life-changing information and resources, access to optimal care, advancements in science and community connections. The Arthritis Foundation's goal is to chart a winning course, guiding families in developing personalized plans for living a full life – and making each day another stride toward a cure. The Foundation also publishes Arthritis Today, the award-winning magazine that reaches 4 million readers. www.arthritis.org
_____________________________________________________________
THE CALIFORNIA PIZZA KITCHEN CELEBRATES THEIR 25TH ANNIVERSARY
CPK in Santa Barbara Celebrated with Cakes and Gifts
by Bonnie Carroll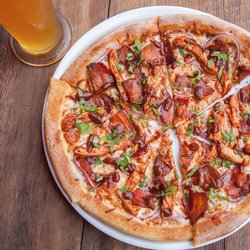 Over the last 25 years, the restaurant has become a mainstay in their many community locations, including Santa Barbara CPK located in Paseo Nuevo Shopping Center. CPK not only supports its employees – many of whom have been working at the restaurant since it's opening – but also working hand-in-hand with local organizations, including Santa Barbara Cancer Center, Kids Helping Kids, and the Alzheimer's Association.
In honor of their milestone customers enjoyed deals and raffle prizes and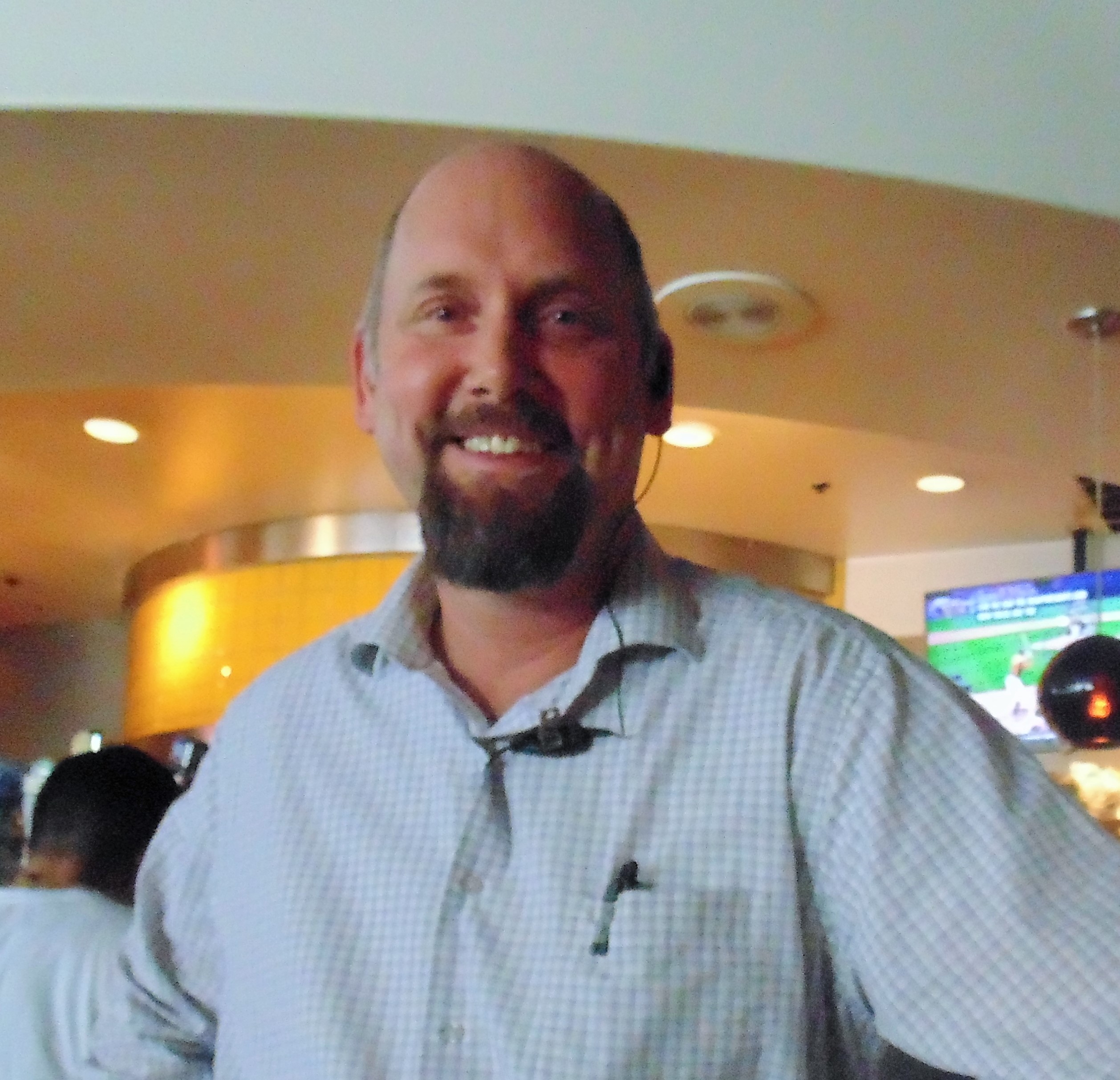 deals all during the week of July 11-17. All week guests won in-restaurant prizes, including a CPK kids party, office catering, and dinner for two. On Thursday & Friday 3-6pm free butter cake or red velvet cake was given to guests who were dining in the restaurant. From Monday through Friday double rewards were given for Pizza Dough Rewards members. Keven Secky, Managing Partner and Eric Heider, Manager were busy greeting guests and sharing prizes and desserts.             Kevin Sechy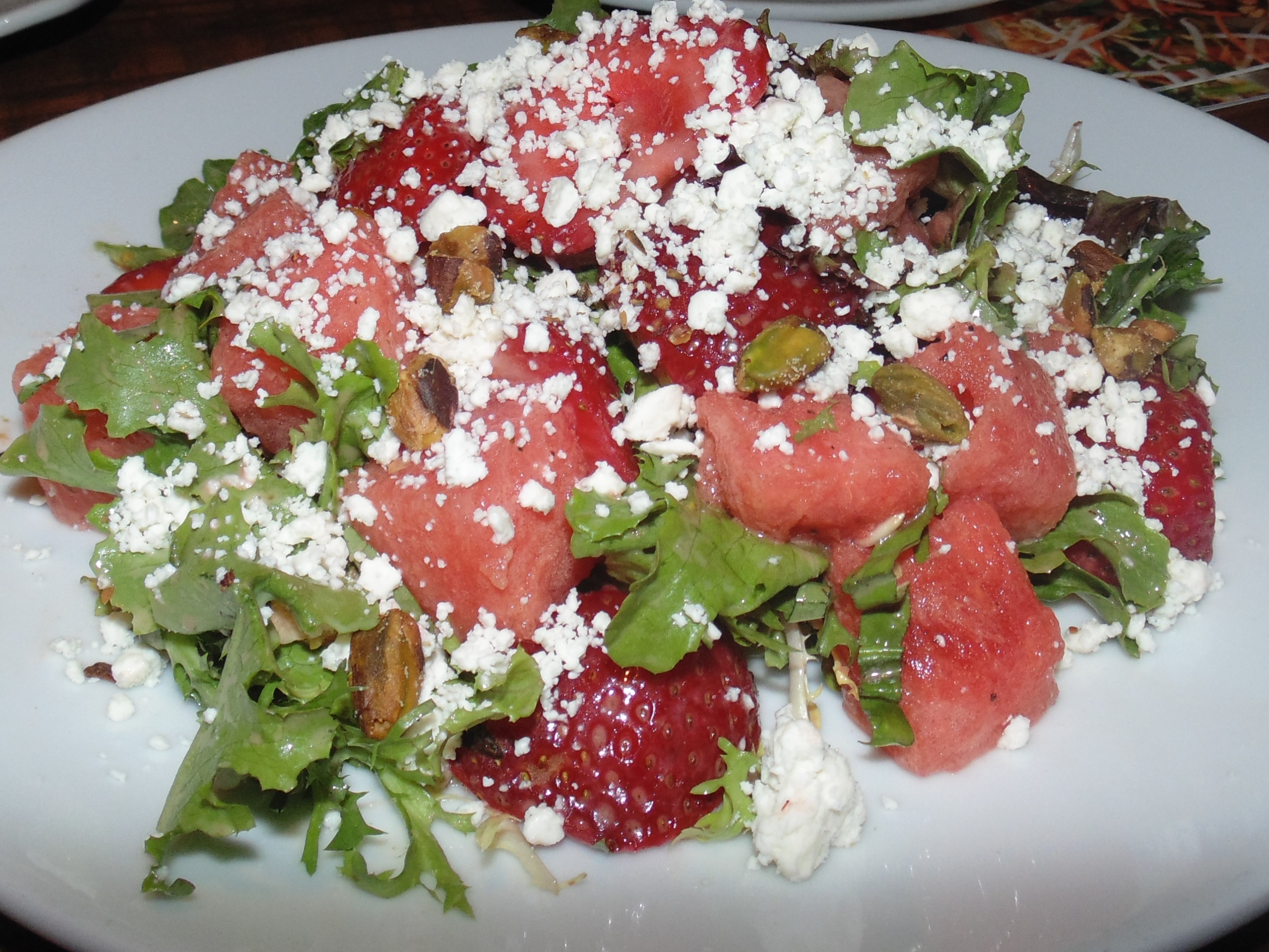 Field Salad                                                  Bianco Flatbread
The Next Chapter Initiative, a unique dining experience featuring reimagined menus focusing on high quality, fresh seasonal ingredients, inventive main plates, hand-crafted cocktails and premium wines was waiting for CPK guests. This is no longer your grandma's favorite pizza place! The company has been working to offer loyal and new patrons the most creative, complete menus comprised of the finest ingredients, and they are doing it. But, not to worry, your favorite CPK pizzas are still featured favorites on the menu, and a bevy of imaginative pastas are available as well. Moving with the current trends their menu contains vegetarian and gluten-free ingredient items for patrons with special tastes.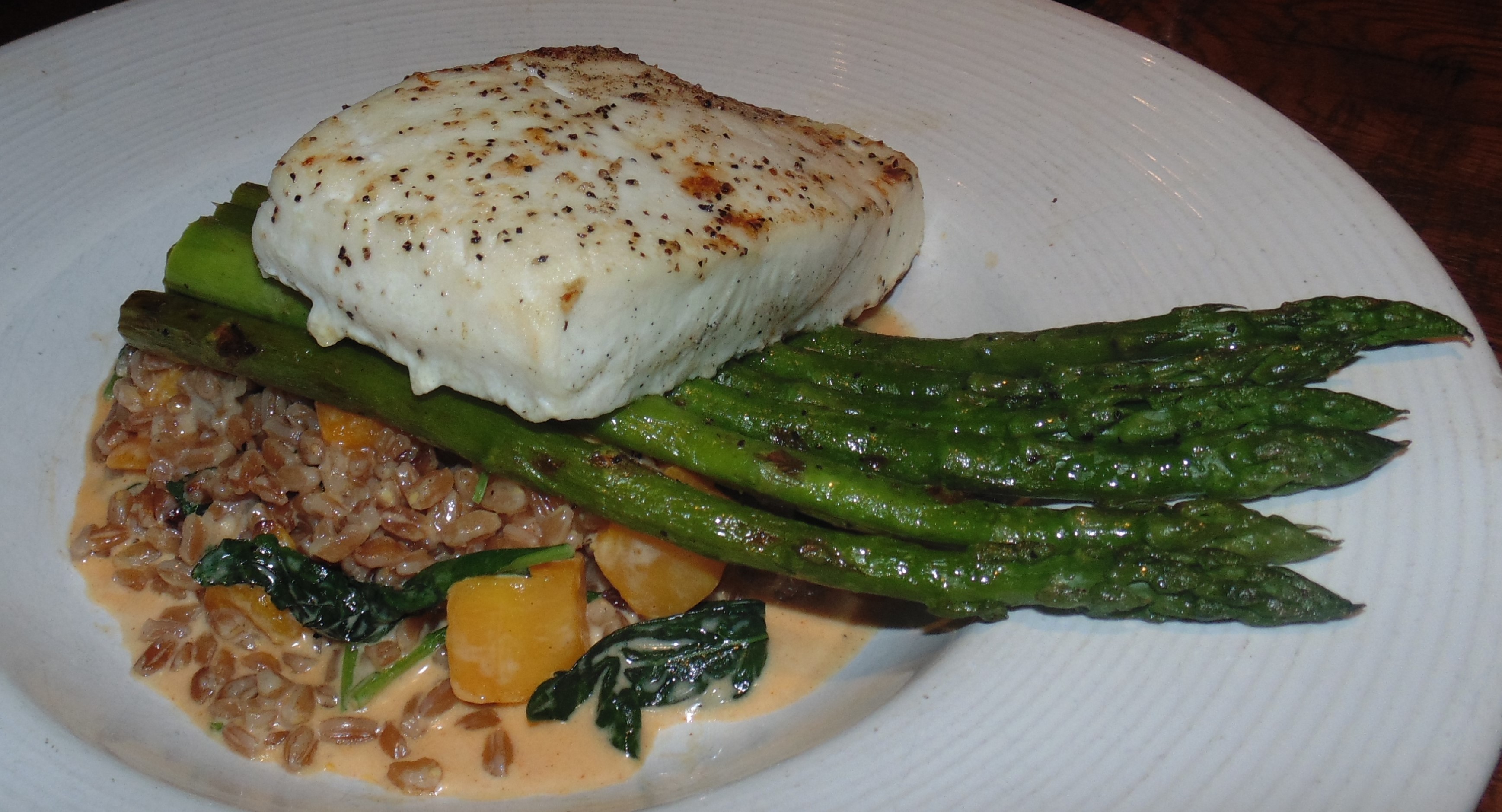 Cedar Plank Salmon                             Hearth-Roasted Halibut
Some outstnding examples of these Next Chapter delights include a delicious seasonally inspired California Fields Salad of water mellon, pistachios and greens covered with a Champagne vinaigrette dressing, paired with Bianco flatbread covered with whipped truffle cream, gorgonzola, mozzarella and fresh sage. This is an amazing start before savoring a perfectly prepared fish entree of hearth-roasted halibut or cedar plank salmon that include selected fresh vegetables. If you are a soup lover, but can't make a decision you may select the Two in a Bowl, which includes your choice of two soups on their menu of five. The Farmers Market and Baked Potato soup combination was quite a taste sensation. A dessert of CPK's unique take on strawberry short cake with fresh strawberries, whipped cream, and a home made short cake biscuit sprinkled with candied lemon zest is a perfect ending to your Next Chapter dinner, and for a slight charge you can have it with Haagen-Dazs ice cream.
Strawberry Short Cake
A bevy of beverages are to be enjoyed at CPK including soft drinks, bottled waters, tea and coffee as well as hand-crafted spirited cocktails or unique wines. The Sangria wine flight is delightfully refreshing and includes seasonal harvest sangria, red-berry sangria, and orchard sangia; a very healthy and creative samply of fine spirits. Two wines I would recommend to pair with CPK entrees include 2013 La Crema Pinot Noir; Monterey and 2014 Sonoma-Cutrer Chardonnay; Russian River Ranches.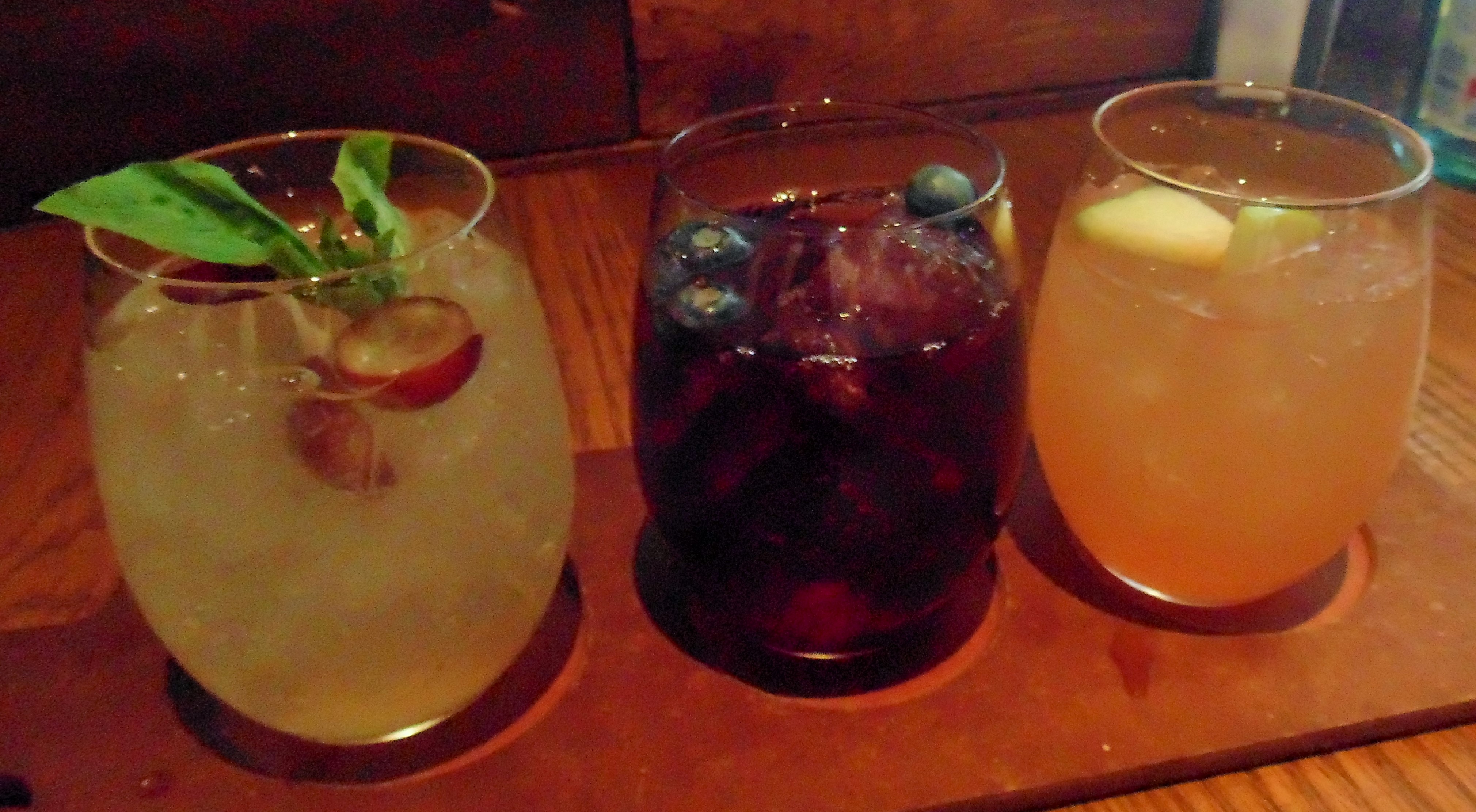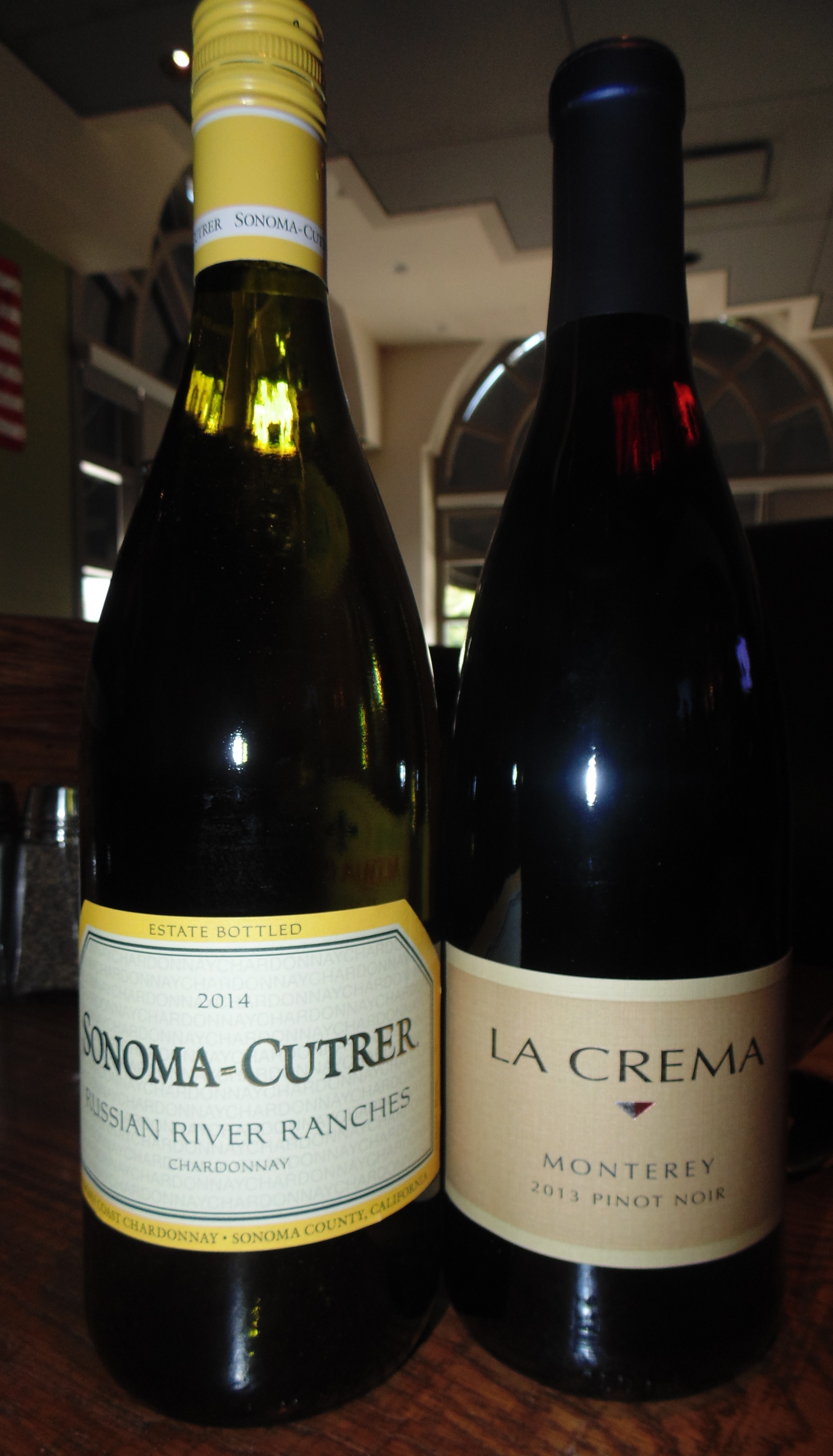 Sangria Flight                                    White & Red Wines
I have always loved the California Pizza Kitchen venues because they work so well for families, couples, or events of any kind. As an after movie dinner escape or business lunch location CPK offers something for everyone, and the staff are always efficient and attentive. For detailed location and menu informtion visit: www.cpk.com.
____________________________________________________________________
COVETED RECIPE BY ROGER VERGE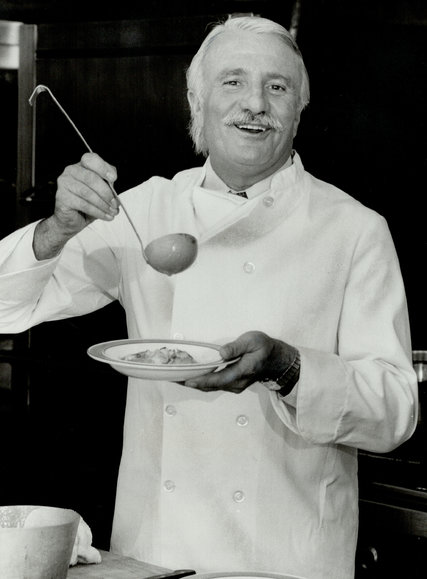 CHEF ROGER VERGE OYSTERS WITH ORANGE BUTTER:
''Cuisines of the South of France.'' Les Huitres Chaudes Au Beurre d'Orange (Oysters with orange butter) 24 unshucked oysters, 2 oranges, 6 tablespoons butter, 1 teaspoon lemon juice, Freshly ground pepper to taste.
1. Preheat the broiler to high.
2. Shuck the oysters but save half of the shells and their liquor.
3. Arrange the oyster shells on a flat dish and put them under the broiler until dry. Remove and set aside.
4. Put the oyster liquor in a saucepan and add the oysters. Bring just to the boil and strain, reserving the oysters and liquid. Put one oyster in each shell.
5. Grate one orange and reserve the gratings. Peel that orange and the remaining one. Cut between the membranes of each orange to remove each section neatly, saving any juice that drips from the oranges as they are sectioned.
6. Arrange one orange section on top of or next to each oyster.
7. Pour the reserved oyster liquid into a saucepan and cook down to two tablespoons. Add half of the grated orange rind. Discard the rest. Add the orange drippings.
8. Heat the liquid and swirl in the butter. Add the lemon juice.
9. Sprinkle the oysters with pepper. Heat as briefly as possible under the broiler. Spoon an equal amount of the sauce over each portion and serve.
Bon Appetit!
__________________________________________________________________
THOMAS KELLER TO RECEIVE THE TORCH AWARD AT THE 2016 WESTERN FOODSERVICE & HOSPITALITY EXPO FROM MASTER CHEF FERDINAND METZ
 -

Thomas Keller,

renowned chef and proprietor of The Thomas Keller Restaurant Group, which includes The French Laundry and Per Se, both of which hold three-star Michelin ratings, will receive the TORCH Award during the upcoming Western Foodservice & Hospitality Expo on August 28th - 30th at the Los Angeles Convention Center. The award, which recognizes an individual or group of Chefs or Restaurateurs whose achievements have enhanced and brought innovation to the restaurant and foodservice profession, will be presented by Certified Master Chef Ferdinand Metz, Chairman of the Ferdinand Metz Foodservice Forum and former President of the Culinary Institute of America for more than 20 years. 
"Thomas Keller was chosen to receive the Torch Award for the purity of his knowledge, the clarity of his vision and the brilliance of his career--all qualities we look for when selecting an outstanding chef for this award," said
Master Chef Metz.  "
We are thrilled to present Thomas with this illustrious award to recognize his commitment to elevating cooking in America.
"
Keller's dedication to the French cuisine has led him to be the first American male chef to be designated a Chevalier of the French Legion of Honor, the highest decoration in France. Keller was also named "Chef of the Year" by The Culinary Institute of America in 2007 and has been named "Outstanding Chef" and "Outstanding Restaurateur" by the James Beard Foundation. His restaurants, The French Laundry and Per Se have earned numerous awards and recognitions including the 5-Star Award from Forbes Travel Guide, Wine Spectator's Grand Award and The Daily Meal's Best Restaurants in America.
Keller started his culinary career at a young age, working at a restaurant in Palm Beach. In 1983, Keller moved to France where he was able to work in multiple Michelin-starred restaurants including Guy Savoy and Taillevent. In 1986, he opened his first restaurant in New York City called Rakel. Keller then moved to the west coast, becoming the Executive Chef at the Checkers Hotel in Los Angeles. In 1994, he took ownership of The French Laundry restaurant in Yountville, California and opened Per Se in 2004 in Manhattan. He has also opened Bouchon, Bar Bouchon, Bouchon Bakery, and Ad Hoc + Addendum, and has sold more than one million copies of his books "Ad Hoc at Home", "Bouchon Bakery", "The French Laundry", "Bouchon", and "Under Pressure".
"On behalf of the Western Foodservice & Hospitality Expo and Ferdinand Metz Foodservice Forum, we are excited and honored to present the Torch Award to Thomas Keller,"  said Ron Mathews, Vice President for the Urban Expositions Family of Foodservice Events. "Chef Keller's commitment to delivering the best food and experience to his customers continues to drive the industry forward and we are thrilled to be able to recognize his career and achievements."
The Western Foodservice & Hospitality Expo
gathers thousands of restaurant and foodservice professionals
to gain experience and knowledge on how to become more informed, more educated, more competitive, and more profitable in the industry. The trade show and conference, started in 1936 is produced by Urban Expositions (
www.urban-expo.com
) and sponsored by the California Restaurant Association (
www.calrest.org
). The 2016 event will take place August 28-30 at the Los Angeles Convention Center. For more information, visit
www.westernfoodexpo.com
____________________________________________________________________
SOFITEL NEW YORK INTRODUCES LOW-CALORIE SUMMER CHOICES
INSPIRED BY THE GARDEN OF VERSAILLES

Gaby Brasserie Française adds dishes that draw upon
the herbs and produce of the famed garden
Executive Chef Sylvain Harribey today unveiled four new additions to Gaby Brasserie Française's De-Light by Sofitel menu, inspired by the Potager du Roi – the famed kitchen garden of Louis XIV at the Palace of Versailles. A gastronomic adventure in healthy eating, De-Light by Sofitel blends French and local culinary traditions while emphasizing the use of fresh, whole ingredients for gourmet cuisine without compromising flavor or healthy lifestyle goals.
The restaurant's new summer soup is a cooling Tomato and Watermelon Gazpacho with Avocado Sorbet (128 cal.). Named for the legendary lawyer-turned-royal gardener and his 40-herb salad, Jean-Baptiste de la Quintinye's Grand Carre comprises Poireaux vinaigrette, garden lettuce, upland cress, chervil, parsley, rocket, basil, lamb lettuce and wood sorrel (102 cal.). New entrées are Lapin aux Pruneax, a roulade of rabbit with Armagnac, stuffed with prunes and served with braised peas, lettuce, mint and baby onions (267 cal.), and Wild-Caught Nantucket Scallops, with an asparagus, mushroom and beet ragout (288 cal.).
The four dishes will be served on "Origine Celadon" dinnerware from Bernardaud, which combines the delicate refinement of Limoges porcelain with an earthy, hand-thrown look. A scintillating display of Bernardaud patterns reproduced from 18th-century French masterpieces – "A La Reine," "Botanique," "Elysée," "Marie-Antoinette" and "Rosarie" – has been mounted in the hotel's Champagne Room.
Reservations may be made by calling 212-782-3040. For more information, visit gabynyrestaurant.com.
 About Sofitel New York
Sofitel New York, part of AccorHotels group, is a stylish Midtown hotel with a decidedly French accent in its contemporary décor, sophisticated artwork, brasserie cuisine and cosmopolitan service. It features 398 guest rooms, including 52 suites; function space that serves small to mid-sized events; and an outstanding brasserie, Gaby Restaurant, whose French executive chef has won the Food Network show Chopped among other accolades. Sofitel New York is ideally located at 45 West 44th Street, affording easy access to Fifth Avenue and the Times Square theater district. For reservations, call 800-SOFITEL (763-4835) or visit http://www.sofitel-new-york.com/.
About Bernardaud
The Bernardaud Group is headed by Chairman and CEO Michel Bernardaud who presides over the Bernardaud Group and represents the fifth generation of family leadership. Bernardaud is the premier manufacturer and exporter of porcelain tableware in France. Bernardaud has two production facilities in France (Limoges and Oradour-sur-Glane), eight owned-and-operated retail boutiques in France (e.g. Bordeaux, Lille, Limoges, Lyons, Paris and Strasbourg) and two retail boutiques in the United Sates (e.g. Chicago and New York). The company has a workforce of 380 and its total annual output is 4 million pieces with 70% designated for export markets. Bernardaud is a member of the Comité Colbert, an association established under the French law of 1901 governing non-profit associations. Founded in 1954 at the initiative of Jean-Jacques Guerlain, the Comité Colbert has a membership of 75 member luxury houses whose mission is to promote their shared values – tradition, craftsmanship, creativity, history and innovation - within France and abroad.
______________________________________________________________________________


http://www.galisteoinn.com
________________________________________________________________
---