CULINARY COUP   .   .   .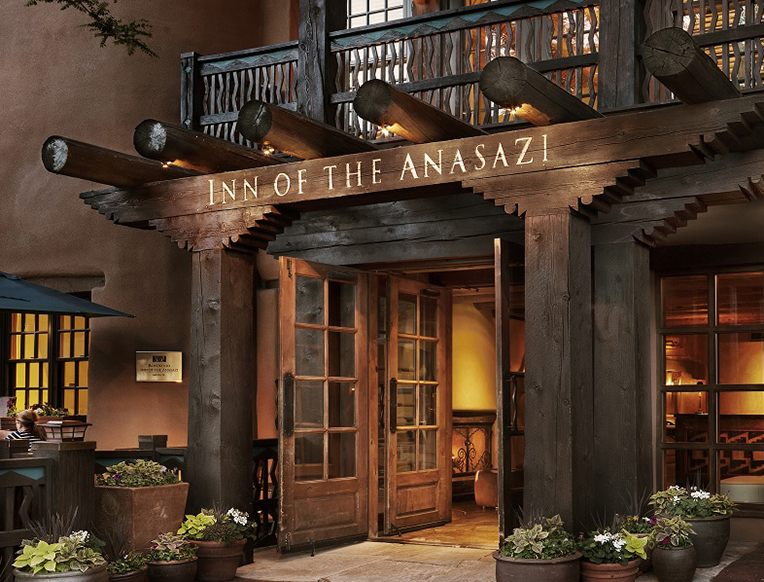 THE INN OF THE ANASAZI A SANTE FE WINTER WONDERLAND           by Bonnie Carroll
Visiting Sante Fe in winter is an experience everyone should seriously consider at least once. The smell of wood burning fireplaces, and the aroma of delicious comfort foods being prepared in the Plaza eateries, along with the welcoming warmth of local hotels and shops is beyond enchanting. The delights to be enjoyed in Santa Fe in winter, especially at the Rosewood Inn of the Anasazi are always at the top of my New Mexico travel list.
This impressive property opened on Sept. 23, 1990, with a blessing ceremony by a Pueblos medicine man, a Franciscan priest and local area artists, along with the placement of a time capsule in the building foundation that was filled with documents, artwork and symbolic objects representing the bridging of cultures in Santa Fe. The name Anasazi is Navajo for "Ancient Ones," the original and complex society that grew successfully in dramatically placed cliff dwelling living sites in Sante Fe nearly 700 years ago. They were a people who are said to have succeeded survived in the challenging environment by living in harmony with one another and nature.
The beautiful Guestrooms and suites are all filled with artistic examples of Southwestern culture and luxurious amenities, including hand-crafted furnishing and authentic artwork. A glass of wine sipped by a cozy fire before bed in one of these beautifully appointed rooms is a perfect ending to a day shopping, perusing the art galleries or following a day of skying at one of the nearby ski areas. The hotel will gladly arrange for a private massage in your room if desired. Smoking is not permitted at this property, however, it is a dog-friendly property. Valet parking is offered, as well as a concierge service to assist with tours and special activity requests.
For guest wishing to investigate the history, myths and legends of the area The Library offers a helpful selection of resource information to assist them, and the room can be reserved for private business or dinner meetings. Their award-winning Wine Cellar is an intimate hide-a-way for private gatherings up to twelve guests, and The Patio is ideal for al fresco dining on the Plaza, weather permitting.
Executive Chef Edgar Beas
The Anasazi Restaurant is one of New Mexico's most highly acclaimed culinary destinations, with Executive Chef Edgar Beas at the helm, a yound man with serious Southwest sensibilities when it comes to cuisine. The elegant and rustic Southwestern dining room is a warm and wonderful respite, where the menu changes frequently and is infused with fresh, seasonal and regional ingredients. The menu celebrates American cuisine, in particular New Mexico cuisine.
Rosewood Inn of the Anasazi® celebrates the enduring creative spirit and traditions of the region's early Native Americans, and is Located in the heart of Santa Fe, making it ideal for total enjoyment of the unique and artistic New Mexico community. The charming inn is located sixty miles from Albuquerque International Airport and eight miles from Santa Fe Airport, where private planes and charters arrive and depart.
Driving From Albuquerque International Airport: Take Sunport Blvd. to I-25 North; follow I-25 North to Santa Fe (approx. 57 miles). Exit Old Pecos Trail North (exit 284). At the top of the off ramp, turn left. At the third stoplight, turn right to stay on Old Pecos Trail. At Paseo de Peralta, turn right. Turn left at the stop sign at Marcy St. At Washington Ave., turn left. Rosewood Inn of the Anasazi is the third building on the left. Visit: http://www.rosewoodhotels.com/en/inn-of-the-anasazi-santa-fe for additional information.
ROSEWOOD INN OF THE ANASAZI
113 Washington Ave, Santa Fe, New Mexico 87501
(505) 988-3030
___________________________________________________________________

Grand Velas Riviera Nayarit Debuts Sen Lin Restaurant
With $800K Design & Asian Gourmet Experience
Grand Velas Riviera Nayarit has opened a new Asian-inspired restaurant to complement its renowned dining program. The addition of Sen Lin Restaurant on November 21st brings the total dining options at one of Mexico's Foodie Resorts to five plus 24/7 insuite dining. Three, serving French, Italian and Mexican gourmet cuisine, hold a AAA Four Diamond award for distinguished cuisine and presentation.
Under the culinary direction of Chef Wayu "Light" Wattanakamin, Corporate Chef of Sen Lin Restaurants at Grand Velas, the new menu balances modern and ancient cuisine that plays on new textures and original presentations with the traditional ingredients. In addition to both vegetarian and kids' menus, highlights include Som Tam (spicy green Thai papaya with fried crab), Ped Pakking (glazed Peking-style duck served in crepes with crudités and house plum sauce), and Poo Nim Tod Pung Kahri (soft shell crab with curry sauce and turmeric mashed potatoes). Banana tempura crusted in coconut and sesame and a Yuzu mousse with chocolate, black sesame sponge cake and lemon tea ice cream are among the featured desserts.
With over 15 years of culinary-industry experience, Wattanakamin, a native Thai, has helmed kitchens in Kuwait, Dubai, Doha, many more throughout Europe and Malaysia, and most recently Mexico at the Grand Velas Riviera Maya where he was head chef at its Sen Lin. His experience and talent create a combination of inspiration that stem from recipes passed down from his mom, keeping traditional food and flavors of the Thai Kitchen in every dish.
Designed by Ernesto Vela Architects, the new restaurant features natural and warm materials, cozy textures, sober colors and subdued lighting. The arrangement of the furniture transmits order and tranquility that encourages pleasant chatting for couples or a small group of friends. The brick walls and the latticework that surrounds the space, together with the indirect lighting contribute to create an intimate and comfortable atmosphere. The cost was $800,000 USD to build.
Gourmet meals and premium branded beverages are included in the rates. Rates at Grand Velas Riviera Nayarit's start at $336 per person per night in double occupancy. Rate also includes luxury suite accommodations, 24-hour in-suite service, nightly entertainment, taxes, gratuity, and more. For reservations or additional information, please call 1-888-407-4869 or visit https://vallarta.grandvelas.com/.
_________________________________________________________________
Voted Best Authentic Italian Restaurant in Santa Barbara by Italian Tourism LA!

NOW OPEN Ca' Dario Cucina Italiano
250 Storke Street
Goleta, California 93117
Ca' Dario Ristorante

37 E. Victoria Street
Santa Barbara, California 93101
805-884-9419
---