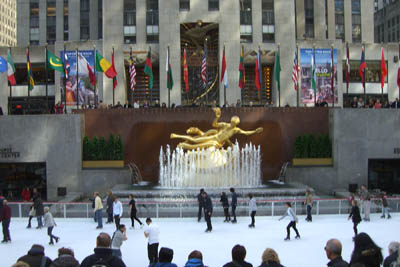 ROCK CENTER CAFE
Plates by Chef Anthony Prontelli Pack the Room
by Bonnie Carroll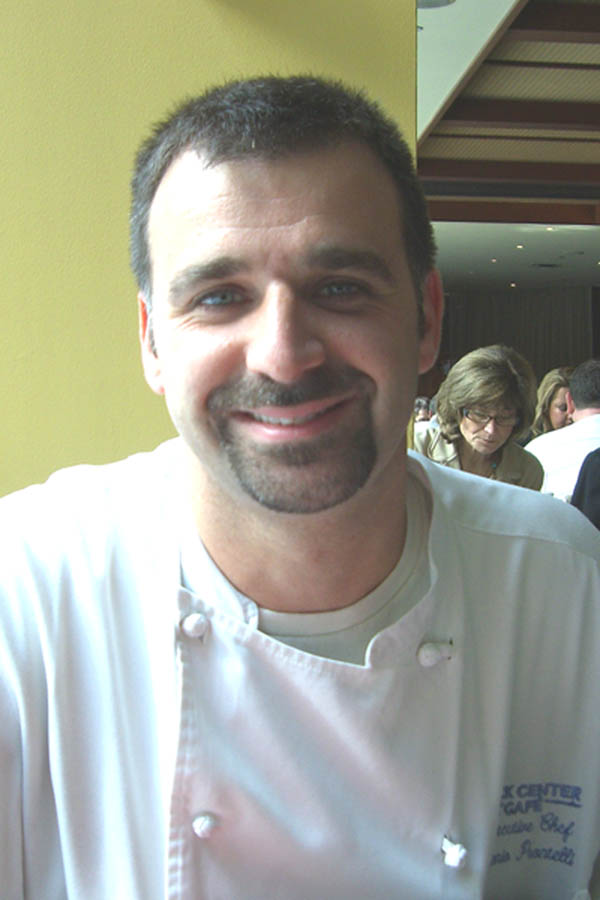 There is no place on earth to get into the spirit of the Holidays like Rock Center Café in Rockefeller Center. The chic café overlooks the skating rink and is a casual restaurant where patrons enjoy American Italian favorites prepared by talented Executive Chef Anthony Prontelli.
Chef Prontelli was born in the Bronx to Italian immigrants from Tuscany, and graduated from the Culinary Institute of  America in 1992. He began is career creating signature pasta dishes at Mama Leones, and also worked at the American Festival Café before joining the Patina Group. According to general manager Christopher Sjoholm "Chef prontelli has been the backbone of the café since its inception."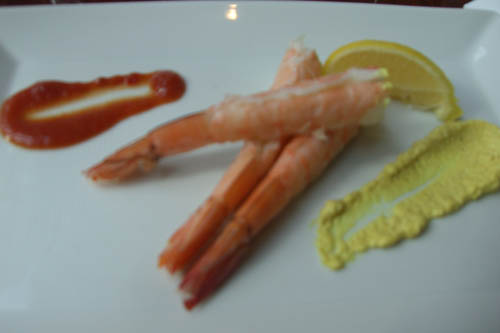 The memorable views and amazing collection of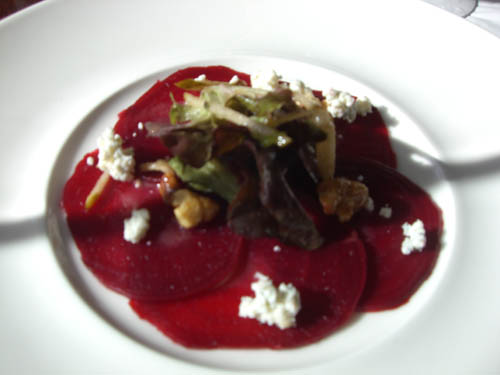 original Warhol prints in the popular bar create one of the most enticing dining venues in New York. Open 365 days a year, this is a place you dream about returning to. It is the synergy of grown up business and childlike fantasy that permeates all your senses.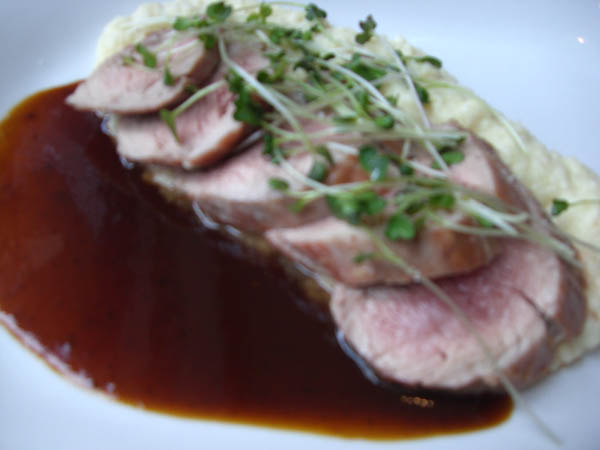 Luncheon favorites include jumbo shrimp $16.00; a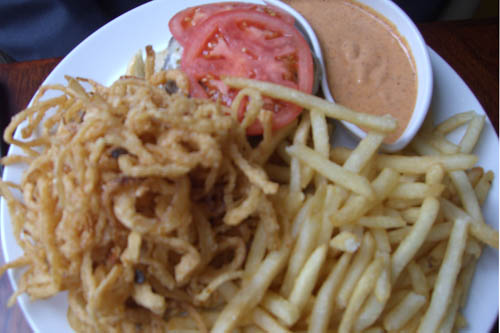 unique presentation of cocktail shrimp served with a palate of cocktail sauce and curry mayo, seared Berkshire pork tenderloin $24.00; served with celery root and parsnip puree, fig jus, roasted beet salad $14.00, red oak lettuce, bosc peasrs, maytag blue cheese, spiced walnuts, vanilla honey vinaigrette, 10 oz. beefsteak pepperjack cheese burger $19.00 with frizzled onions, tomato, smoked bacon, tomato aioli, and crispy fries.
The grand finale of a fantasy afternoon at the Rock Cafe is the New York cheese cake with strawberry sauce. It's amusing that cities around the country serve something called New York cheese cake, but believe me until you taste this you don't know what cheese cake is!
Rock Center Cafe will be serving a spectacular New Year's Day Brunch to bring in 2010. The Prix Fixe menu is $38.00 per person and includes a sparkling line up of Chef Prontelli's best, including lobster bisque, smoked salmon Napoleon, prosciutto eggs Benedict, slow roasted salmon, steak and eggs and a sinful finale of key lime pie with blackberry sauce, apple crostada with bourbon caramel sauce, or melted Valrona chocolate tart with white chocolate cream. Reservations are recommended. Bon appetit and Happy New Year!
Rock Center Cafe
20 West 50th Street
New York, NY 10020
212-332-7620
Mon-Thu 7:30 a.m. - 10:00 p.m
Fri 7:30 a.m. - 3:00 p.m.
Sat 11:00 a.m. - 10:00 p.m.
Sun 10:00 a.m. - 9:00 p.m.
---
There was a wedding in Positano on October 12! 
          Congratulations to Rino & Lauren Piscitelli
Rino and Lauren were married in the Madre Assunta Church in Positano by Don Giulio. After the Church celebration, everyone celebrated with pranza at La Taverna del Leone, where Chefs Philomena and Fortunata prepared an endless 9 course lunch.  A Prosecco toast started off the festivity, followed by Mozzarella & cherry tomatoes on a skewer, delicate polenta squares baked with sugo, delicately fried alici & biancetti with lightly tossed with sea salt and served in paper cones-and that was just the aperitivo!  First course included zucchini & melanzana stuffed with an olive, cheese, and bread, small size focaccio, zucchini flower bites, and more.   Second course included hand-made ravioli Caprese,- stuffed with organic Ricotta and basil.  Third course Risotto pescatore.  Forth course, fresh caught Pezzonga, a delicate local white fish served with Julian-style vegetables.  Fifth course, filetto grilled and served in a slow cooked Aglianico wine with a piping of potatoes.  Sixth course semi-freddo and miniature cannoli.  Then, seventh, Zia Domenica's home made cookies and Capri dolci secci.  And the cake!  A pearl white wedding cake, layered with red fruits, sweet cream, and decorated with tiny pearls of almond paste and white roses.  The evening ended with an assortment of café, grappa, Sambuca, limoncello and heart shape Majani chocolates.
Buon Appetito!
 Lauren Birmingham-Piscitelli
---
New Addition to the French Pastry School Faculty
Joshua Johnson the Newest Chef Instructor in L'Art de la Pâtisserie 
Longtime associate of The French Pastry School's founders, Jacquy Pfeiffer and Sébastien Canonne, M.O.F., is Joshua Johnson, the newest addition to the faculty of The French Pastry School at City Colleges of Chicago. Chef Johnson, whose experiences have taken him from Chicago to New York to France, will be teaching in the school's full-time 24-week L'Art de la Pâtisserie - The Professional Pastry and Baking program beginning in January, 2010 as well as in the Continuing Education program.   
The 24-week full-time certificate program, L'Art de la Pâtisserie, offers intense instruction on all aspects of pastry, baking and confectionery arts in a comfortable, hands-on setting. Topics taught include breads and breakfast pastries, cakes, tarts, mini pastries, chocolate and sugar candies, wedding cakes and French entremets, as well as chocolate and sugar sculpture techniques. Chef Johnson will be teaching the chocolate theory, technique, and confectionery part of the program. 
Chef Johnson's experience as a professional pastry chef and chocolatier has taken him to some of the best establishments in the country, and has exposed him to the most rigorous pastry competition in the world. Johnson apprenticed with Ambrosia Euro-American Pâtisserie and worked for Chef Sébastien Canonne at the Ritz-Carlton Chicago Hotel for several years. Also working on Canonne's team at the time was Pastry World Champion, En-Ming Hsu, who is now also a Chef Instructor in L'Art de la Pâtisserie program.  
Johnson's pastry adventure took him to François Payard's famous pâtisserie in New York City, and later to France. In 2003, he was asked to assist Chef Canonne in the most challenging and prestigious competition in the world for an artisan, the Meilleur Ouvrier de France (Best Craftsman in France). Johnson assisted Canonne in his preparation for the arduous competition which took place in 2004 (when Canonne was awarded the revered title).  
Upon returning to the United States, Johnson co-founded and co-owned Cocoa Bean Fine Desserts in Geneva, Illinois for several years. He will begin teaching at The French Pastry School in January, 2010. "I'm excited to see my students learn and improve their techniques," said Johnson, "and I'm equally excited to realize all that I can learn from them." 
Co-founder and Academic Dean of Faculty and Programs, Sébastien Canonne, M.O.F. is pleased to once again work with Johnson and include him among The French Pastry School faculty. "Josh shows an incredible dedication to the craft of pastry and exhibits qualities that his students will benefit greatly from," said Sébastien Canonne, M.O.F. "His patience, curiosity, passion, knowledge and experience all enable him to not just guide, but also inspire his students."
The French Pastry School is a premier international institution of pastry arts education. Superb instruction, superior equipment, and top quality ingredients enable the co-founders and Academic Deans, Chefs Jacquy Pfeiffer, and Sébastien Canonne, M.O.F., to uphold an exceptional educational facility for pastry and baking. The French Pastry School's team of award-winning instructors has grown to a faculty of eleven renowned instructors, including  Master Baker Jonathan Dendauw, Pastry World Champion Dimitri Fayard, Bob Hartwig, Pastry World Champion En-Ming Hsu, Chef de Cuisine John Kraus, Laura Ragano, Master Cake Artists Nicholas Lodge & Mark Seaman, and Joshua Johnson. 
The French Pastry School offers the rare opportunity for students to learn the art of pastry in an intimate setting, being personally mentored by masters in their field. Students' skills are finely honed through hands-on practice and repeated exposure to the best pastry techniques, tools, and ingredients. Our programs are ideal for anyone from the career changer to the professional to the novice. For more information on The French Pastry School, please visit www.frenchpastryschool.com.
---
 THE RITZ PARIS AT THE TOP FOR 100 YEARS
The legendary parisian palace continues to improve the exceptional quality of its service by focusing on every detail.

To celebrate its second Michelin-star, the Espadon restaurant has been freshened up under the direction of renowned french interior designer Pierre Yves Rochon. In a peaceful setting lighten by the antiques Murano chandeliers, the dining experience will be even more unforgettable.

The lobby area, the shopping gallery and all the guest rooms have also been refreshed with new paintings and touched up with new carpets.

Our king and queen size beds are draped with the softest linens by Quagliotti, the prestigious Italian brand supplier of Royalty.As an ultimate refinement, guest' initials can be embroidered on the pillow cases (upon request).

We also added to our fleet Jaguar XJ and Range Rover courtesy cars for romantic escapes in the magical City of Lights.

Voted as the only French hotel with the "World's Best Service" in 2009 by Condé Nast Traveller UK, the Ritz Paris team makes constant efforts to keep its standards higher. We are committed to exceeding our guest's expectations and fulfil their wishes.

Cesar Ritz said "The best is not too good" and we are working on that ethos every day. www.lhw.com    Email: resa@ritzparis.com  +33(0)1 43 16 30 70
---
Celebrity Chef Jeffrey Saad to Open at Guy Fieri Road Show at the Gibson Theatre in Los Angeles on December 17th
The Spice Smuggler and runner up from Season Five's "The Next Food Network Star," Jeffrey Saad, will be doing the opening cooking demonstration for the first ever food entertainment concert, the Guy Fieri Road Show, on Thursday, December 17th at the Universal City Walk's Gibson Theatre.
Jeffrey Saad and Guy Fieri first met when Guy was a judge on one of the episodes of Season Five's "The Next Food Network Star" in which Jeffrey was competing. Jeffrey was inspired by Guy, and the two kept in touch after the show ended. Shortly after their first meeting, Guy invited Jeffrey to take the stage with him at one of his food show events in Anaheim, California.
"We had a blast," says Jeffrey. So, when Guy presented him with the opportunity to do the opening cooking demonstration for the Los Angeles stop of the Guy Fieri Road Show, there was no hesitation on Jeffrey's part. It was a no-brainer.
Billed as "food meets rock," the concept is the first of its kind to make the concert hall scene. The event will include cooking demonstrations and music selected personally by Guy Fieri. "Guy is reinventing food entertainment," says Jeffrey. "It's exciting just to be asked to be a part of it."
Fieri shot to fame after winning Season two of "The Next Food Network Star." He's the host of two Food Network shows, "Guy's Big Bite," a conventional cooking show, and "Diners, Drive-Ins and Dives," on which he tours the country looking for great food finds. That show has also spun off two books, including one that recently hit bookshelves. With the Guy Fieri Road Show, Guy will be able to connect with thousands of fans live in a concert format across the country.
The Los Angeles food concert will begin with Jeffrey at the helm doing a cooking demonstration. Jeffrey will be making his delicious Shrimp Sliders with "kim chee" style slaw. According to Jeffrey, "This is a dish that anyone can make and get a taste of the world via the use of spices."
In addition to being known as the runner up on the most recent season of "The Next Food Network Star," Jeffrey is also the National Spokesperson for the American Egg Board, a recipe consultant, and motivational speaker. He currently hosts a series of webisodes called the "Spice Smuggler" on foodnetwork.com. Building on that "cooking without borders" style, each month Jeffrey takes spices off the rack and brings them to life in his kitchen and on his blog, which can be found at www.jeffreysaad.com.
---
---