CULINARY COUP   .    .    .
1937 AMERICAN FOOD & BEVERAGES SHINE AT SANTA BARBARA LAWN BOWLS CLUB 80TH ANNIVERSARY

by Bonnie Carroll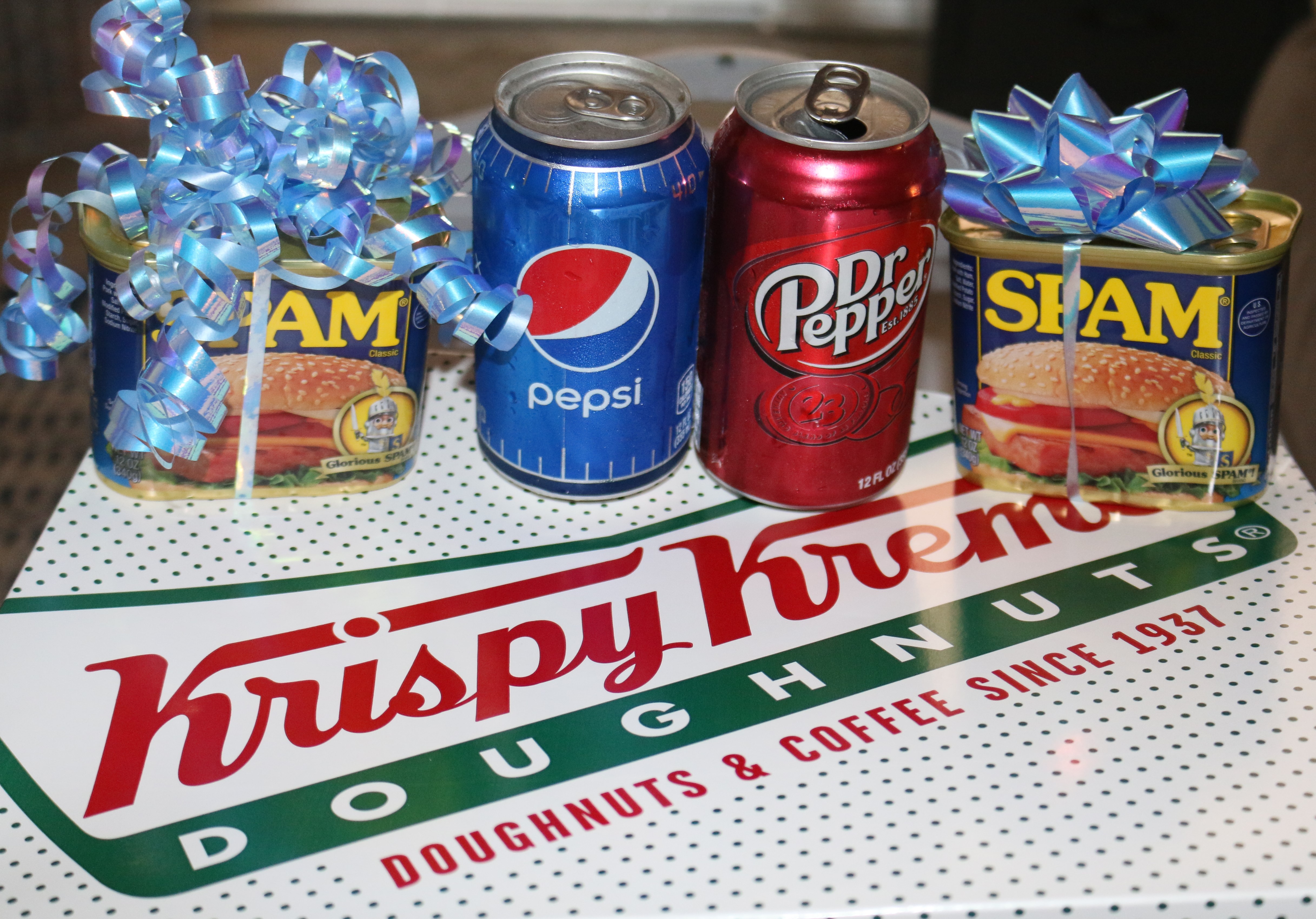 Products Introduced in the US in 1937 Were a Hit

The Santa Barbara Lawn Bowls Club celebrated it's 80th anniversary this weekend at Spencer Adams Park, the site of the first Santa Barbara High School. Both Santa Barbara County Supervisor Das Williams and City of Santa Barbara Mayor Helene Schneider presented proclamations commending the club that was formed in 1937, and shared what a great contribution its members have made to recreation in the downtown area of the Santa Barbara Community. Bud Viard, board member and past president gave a fast and fantastic history of the club, and President Sharron Adams accepted the awards on behalf of the SBLBC board and members.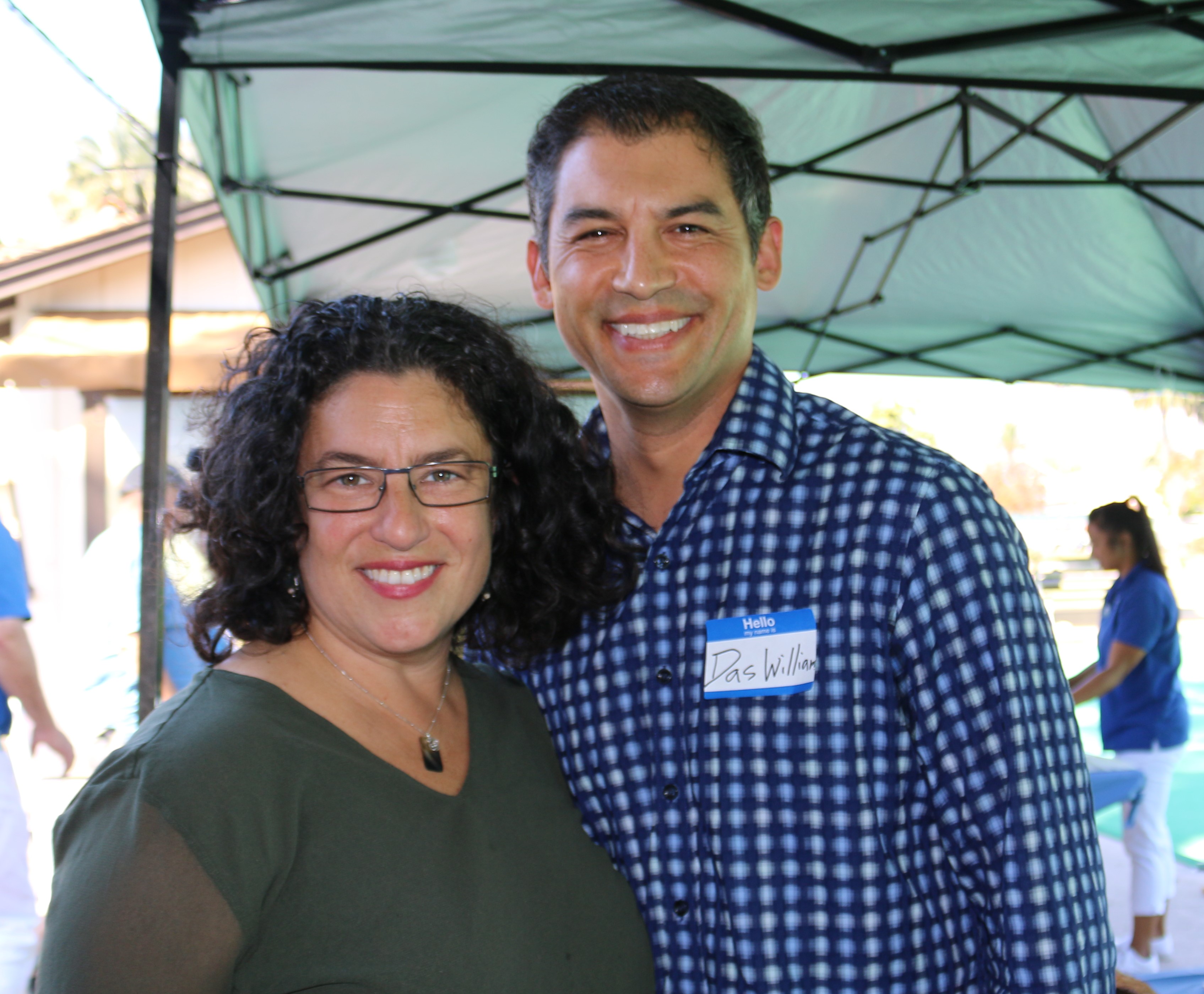 Award Presenters Mayor Helene Schneider & Supervisor Das Williams
Jill Zachary, Director of Parks and Recreation, also spoke of the hard work the SBLBC members have done to contribute recreation in downtown Santa Barbara through the sport of lawn bowls, and shared how happy she and her staff were to be work with the SBLBC board and it's members over the years. Jill recently visited the SBLBC to take a private lesson and shared how much she enjoyed the sport and her expert tutelage from Sharron Adams.
The sport of lawn bowls had its beginnings in England in the 13th century and continues to be enjoyed in Santa Barbara and throughout the world. Artist Dita Joseph posed with the wall painting she created on the SBLBC lanai in 1994 which depicts Sir Francis Drake playing the game of bowls whilst the Spanish Armada were approaching their ship in Plymouth Hoe, Sir Walter Raleigh and Drake were in the middle of a bowls game that Sir Francis Drake refused to interrupt because he believed there was enough time to finish the game before setting sail. The mural is an ongoing example of the history of lawn bowls and SBLBC.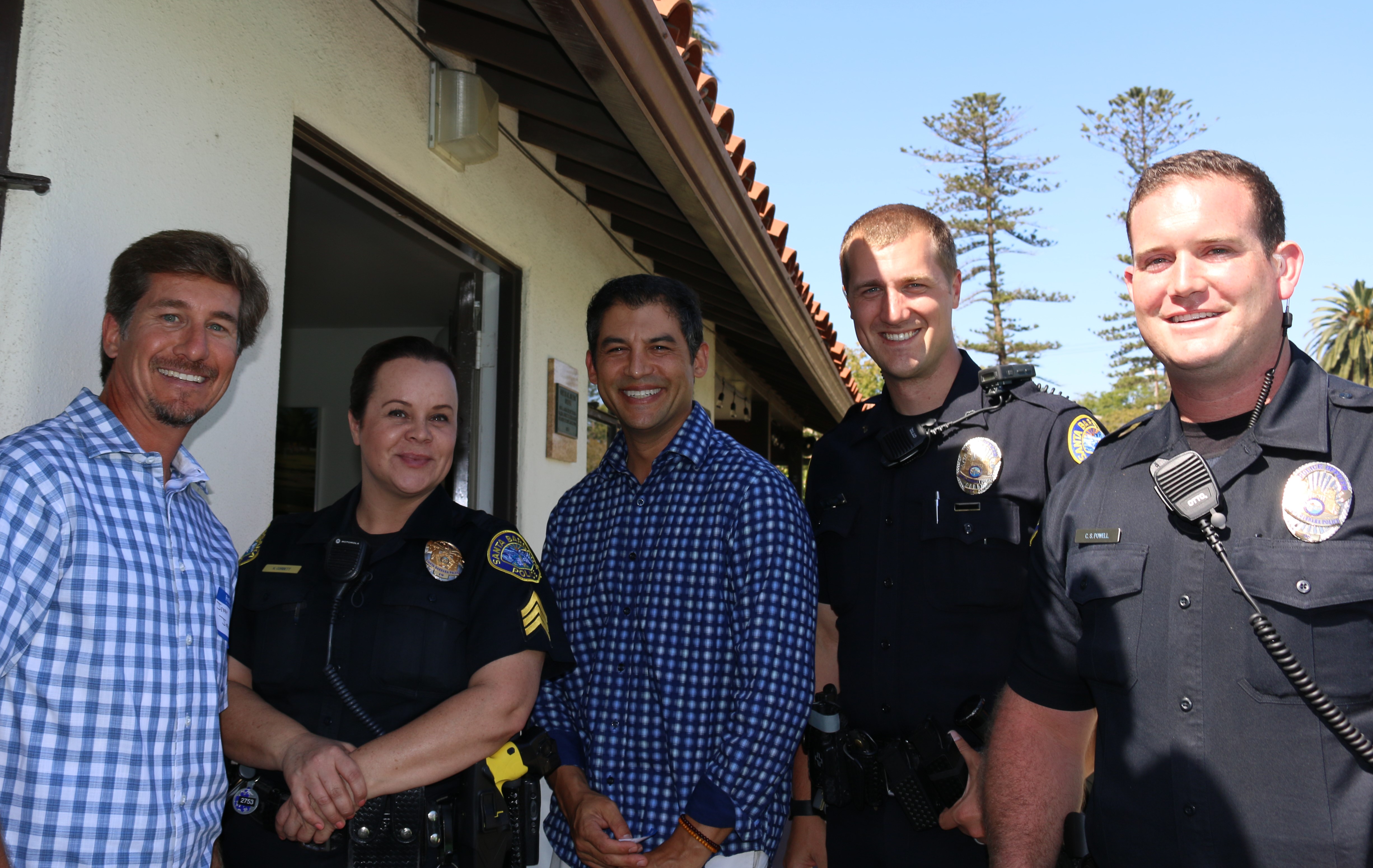 Guests Jerry Jordano, Kasi Corbett, Das Williams, Kyle Rapp & C.J.Powell
Also in attendance was Jerry Jordano, partner Central Coast Home Health & Hospice, an event corporate sponsor for SBLBC, 1st District County Supervisor Das Williams, as well as members of the Santa Barbara Police Department including Sargent Kasi Corbett, Officer Kyle Rapp and Officer C.J. Powell who enjoyed taking a lawn bowl lesson from past president Tony Cunningham. The exhibition bowls game before the awards luncheon included a crowd of energetic SBLBC members who thoroughly enjoyed the morning "up down" game.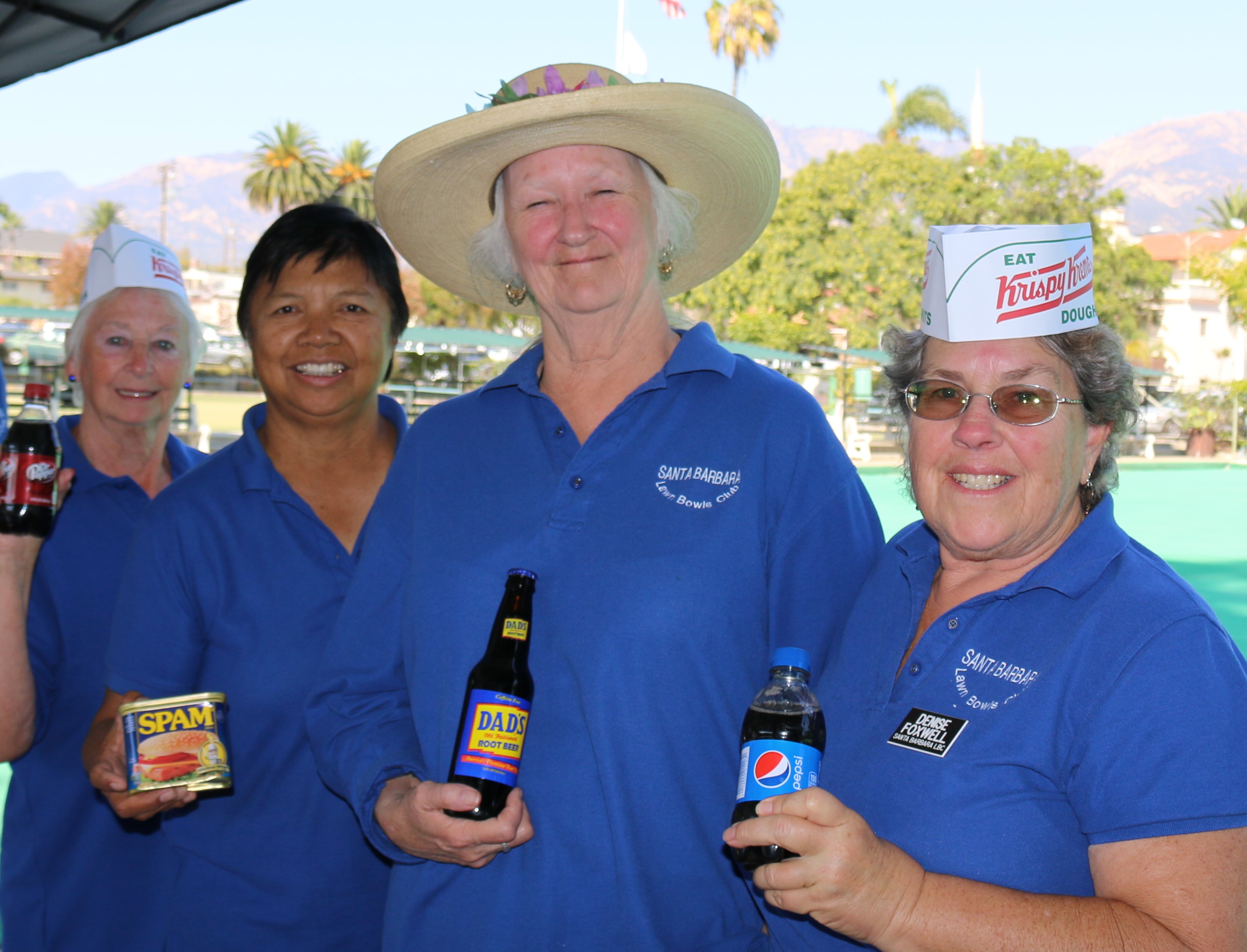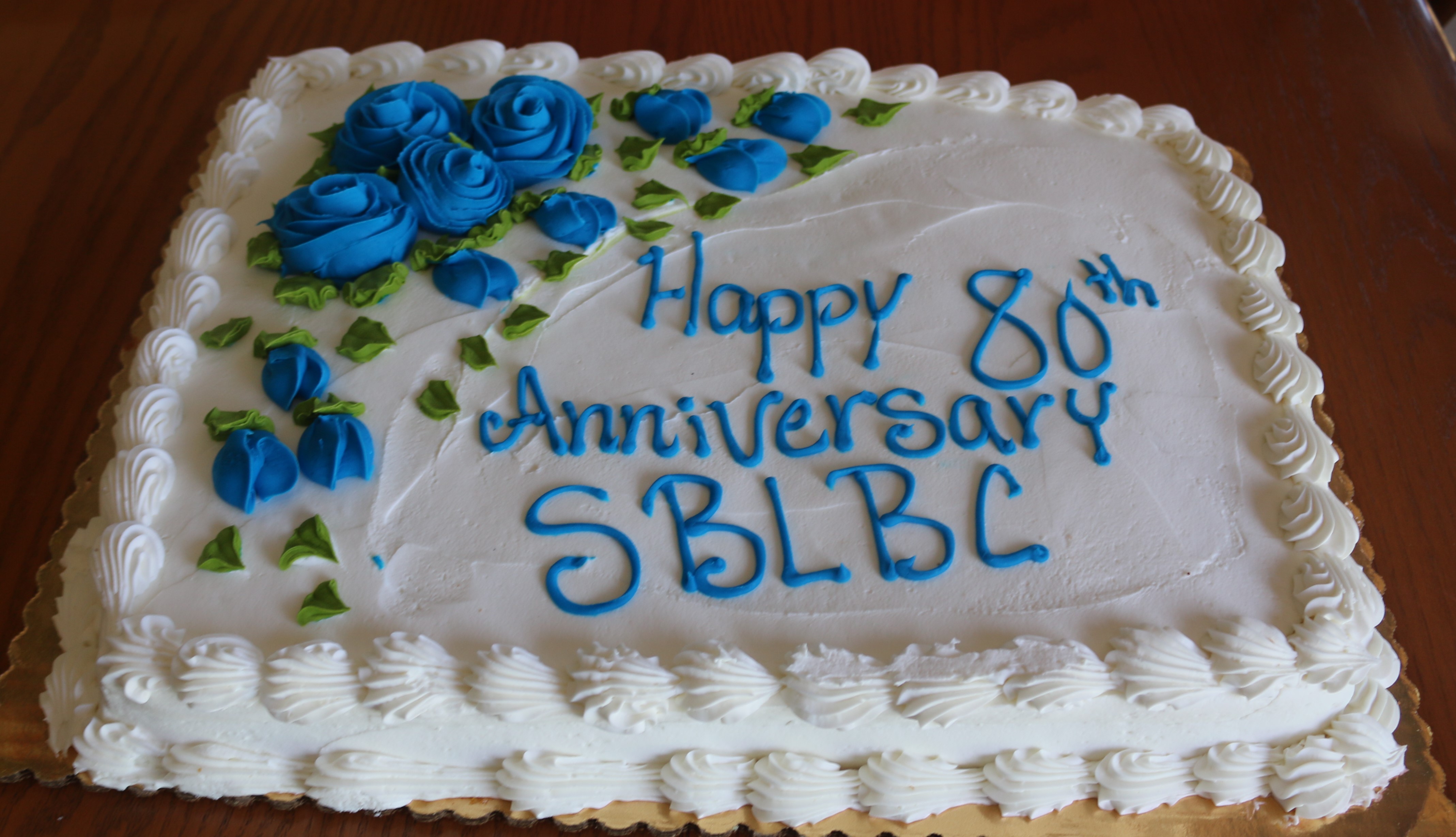 Denise Foxwell & Club Volunteers      80th SBLBC Anniversary Cake
When SBLBC began in 1937 in Santa Barbara countless new food and beverage products were introduced in America including Spam, Krispy Kreme Donuts, Dr. Pepper, Pepsi, Dad's Old Fashioned Root Beer and more. The outstanding luncheon coordinated by Denise Foxwell and her staff of volunteer members featured a variety of sandwiches including Spam egg salad croissant sandwiches, Krispy Kreme donuts with raspberries and whipped cream, soft drinks, wines from Margerum Wines and some French cookies from Renaud's Patisserie. Members and VIP's all took home a can of Spam and small bottles the of soda introduced in 1937. Guests enjoyed the blue and white Anniversary cake to the "Big Band" sounds of 1937 recordings, heard throughout the club Lanai.
Gift certificates for 80 days of lawn bowls at the club were presented to the VIPs in attendance by Ellen Morton and Sharron Adams to celebrate their SBLBC 80 year anniversary, and everyone was welcomed to return for a free lesson in the art of lawn bowls and relax in the club house at 1216 De la Vina which was built in 1956 through a generous donation of cub member Spencer Adams, a retired attorney who came to Santa Barbara from Chicago.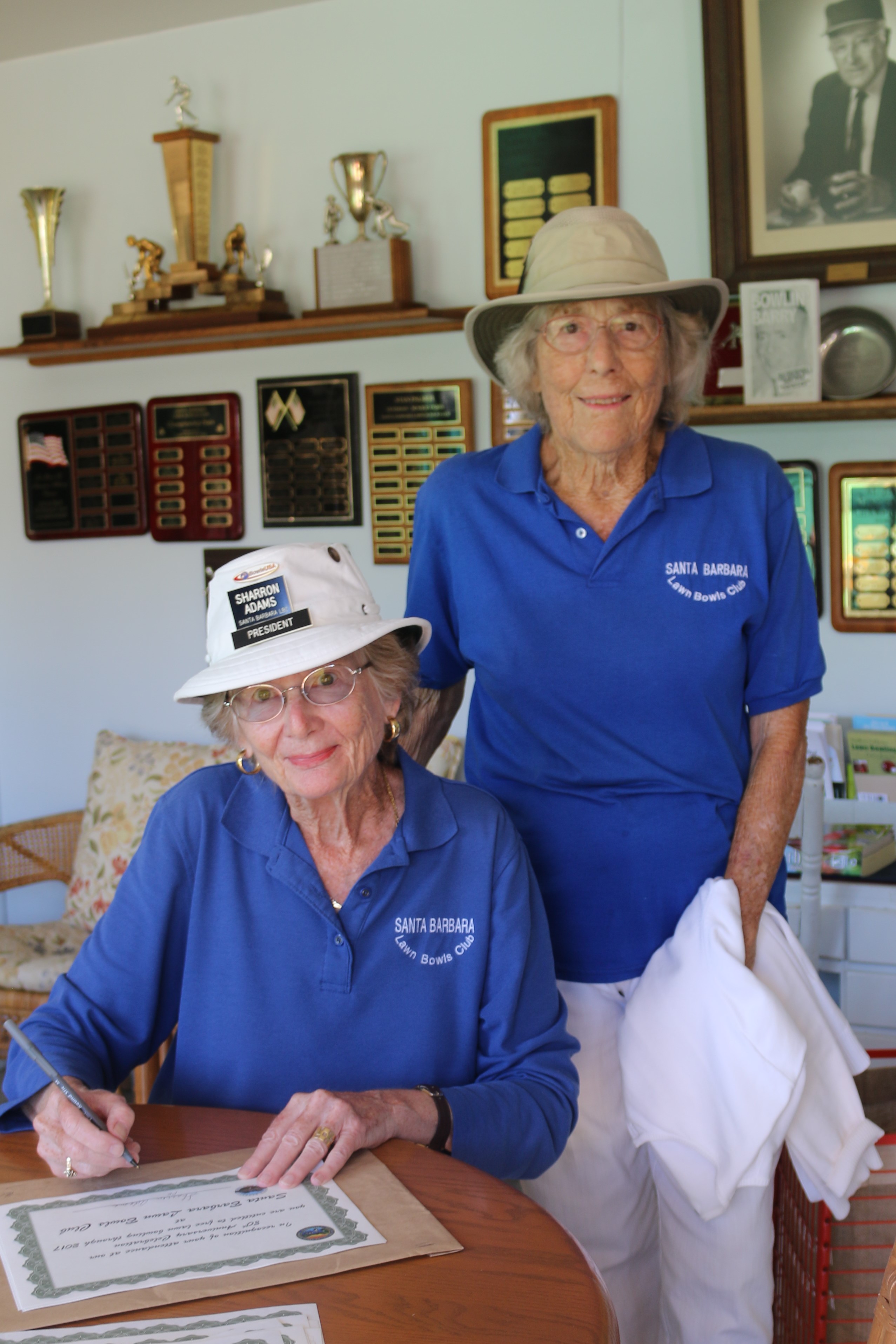 President Sharron Adams & Director Eileen Morton
Congratulations to a wonderful group of 'old line' Santa Barbara people who love being a part of the Santa Barbara Lawn Bowls Club and to members of the local media who came to report on this historic occasion. For additional information on the club and its history visit: www.santabarbaralbc.org.
___________________________________________________________________
DARGAN'S IRISH PUB CELEBRATES 20TH ANNIVERSARY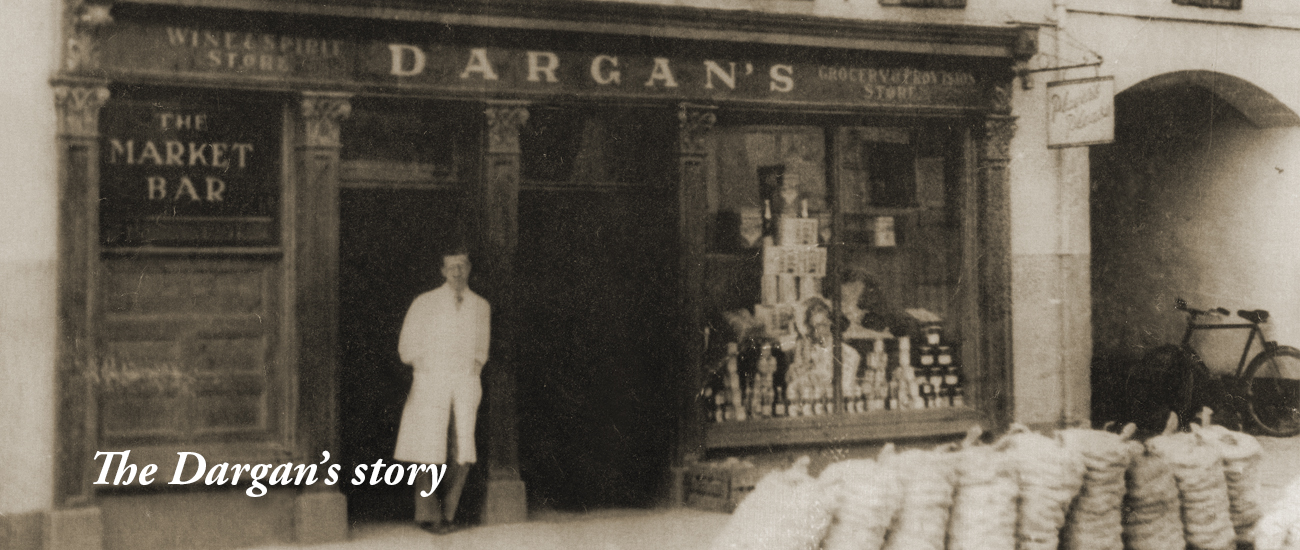 The week of November 4th will include a bevy of exciting activities to ring in the twentieth anniversary of Dargan's the beloved Irish Pub & Restaurant in Santa Barbara, California.
Special menu's & prices will be available - roll back prices on October 30, 31 & November 3. On November 4 - Dargan's Anniversary date Dargan's will feature HOLLYWOOD U2 - the world's greatest tribute show at 10:00 pm $20 Cover. Play Tequila Mockingbird, Halloween Keroke, Live Irish Dancers and Musicians.
Halloween will feature a special keroke night, and live entertainment will be available throughout the anniversary week. For tickets and details visit: www.darganssb.com. 18 East Ortega St. Santa Barbara, CA    805 568-0702
Open from 11:30am~2:00am Daily
---