GALISTEO INN, Boutique Hotel
LA MANCHA BAR & RESTAURANT
Tasteful Southwest Techniques & Wonderful Warmth
by Bonnie Carroll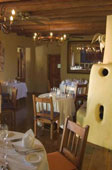 Driving up the entrance of this three-hundred year old picturesque village, located in Santa Fe County, New Mexico, I was humbled by the natural beauty, solidity and simplicity of the historic architecture of the adobe structures on the property. I had the feeling they had always been there, and would always be there. The expanse of open prairie, a robins egg blue sky, and in the evening, the panoramic view of the star constellations was beyond awe inspiring.
The second thing you see upon your arrival at this hacienda, built in 1705, is a group of friendly lama's smiling at you. Apparently, they like living in beautiful Santa Fe as well. The buildings of the 13 room boutique hotel are Pueblo style, and are trimmed in the color blue. I was told by an Indian at the Pueblo in Taos that blue is used to ward off bad spirits, and that's just fine with me because I have always adored everything blue.
The long hallway at the entrance leads to La Mancha Restaurant, and an inviting hotel lounge where guest are encouraged to relax by the fire, sip a rare brandy after dinner, and discuss the news of the day, or plan their travel itinerary. The walls are tastefully decorated with authentic New Mexico art, and valuable antiques can be seen throughout the property. An antique confessional that has been converted into a telephone booth was the source of much humor and interest to our group. There are no phones in the rooms at the hotel, but calls can be made in the confessional or the office, where local calls are free, and internet capabilities are accessible.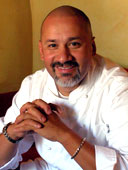 The La Mancha Restaurant features the culinary talents of Chef Enrique Guerrero, and we had the pleasure of sampling his "Nuevo Hacienda Cuisine" during a special dinner upon our arrival. Enrique has worked for some of the most renowned chefs, including: Julian Serrano of Masa's, Michael Chiarello of Tri Vigna, Thomas Keller of The French Laundry, and Robert del Grande of Café Annie in Houston, Texas. He also served as personal chef to the President of Mexico for four years. As the Executive Chef at Scalo, known as "the best Italian restaurant in New Mexico" he was soon recruited by La Casa Sena in Sante Fe, and taught culinary arts at Sante Fe Community College. He is famous for his "Chili Class."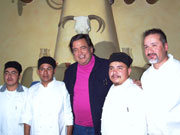 "You have to cook from your heart," says Guerrero. He bases all his work on the fact that he loves being a chef. His use of rustic touches in uniquely blending Mexican, Spanish and French flavors has made it possible for him to easily incorporate fresh ingredients as olives, chiles, huitlacoche, black truffles, figs, apricots and foie gras to create some unforgettable flavors. The menu is full of options, and a variety of 150 wines are available. Obviously, his authentic dishes do please guests and visitors alike. Guerrero recently prepared a VIP dinner for Bill Richardson, Governor of New Mexico, and a group of visitors, and was photographed thanking the chef and his staff.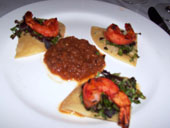 A few of my La Mancha Restaurant Menu favorites include: Seasonal Mushroom Mixiote - Slow Roasted Seasonal Mushrooms, Guajillo Chiles, Truffle Essence and Fresh Corn Tortillas; Pistachio Crusted Dungeness Crab Cakes with Pineapple-Caper Tartar; Galisteo Salad -Farmers Market Baby Greens, with Black Currants, Spicy Pecans, Spanish Queso Azul and Creamy Port Dressing; Baby Spinach Salad with Fresh Jicama, Piquillo Peppers, Toasted Pine Nuts, NM Goat Cheese and Grapefruit-Sherry Vinaigrette; Roasted Texas Quail with Sweet Potato, Sautéed Spinach, Chile Colorado and Cinnamon Crema; Colorado Rack of Lamb with Sweet Potato Polenta, Sweet Peas and Apricot-Black Truffle Honey; Pan Roasted Alaskan Halibut with Sweet Pea Pure, Roasted Piquillo Peppers and Saffron Laced Bouillabaisse Broth; Crispy Organic Chicken Breast-Mexican "Risotto", with Red Plum-Pinon Mole and Toasted Sesame Seeds. Dinner is served Tuesday through Saturday 6:00-9:00 p.m., and Sunday Brunch from 11:30 a.m. to 2:00 pm.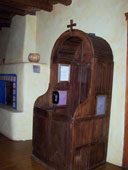 The guest kitchen is located near the lounge, and breakfast is served each morning. Fresh fruit, yogurt, cereal, fresh baked breads, juice, and waffles, along with wonderful fresh coffee are served buffet style for all to enjoy. The center courtyard that is dotted with private suites has a peaceful, but strong spirit presence, and on warm days this is clearly the perfect location to enjoy the natural beauty of the area over breakfast, or hold a private business conference. The wine bar, located next to the Inn offers a new Tapas menu and some fine wines for guest enjoyment.
My room, as well as all of the suites in the Galisteo Inn, was very large and newly renovated in beautiful rustic colors, with a huge bed resting on an antique wooden frame. There was a large animal skin rug on the floor, and a horsehide lampshade on the reading lamp. Overall the accommodations at Galisteo Inn are quite roomy and have an extremely warm ambiance. The thing that was so wonderfully strange to me was the absolute quiet of this place at night. Living in a noisy cosmopolitan city, I have become unconscious to the reality that there are actually places on this planet that are blissfully quiet, and this is definitely one of them.
I hope to return to this serene and hospitable boutique hotel soon, and once again enjoy the unique flavors of Chef Guerrero, as well as the experience of 'sleeping like a baby' in one of the most beautiful destination in America—New Mexico! For guest information visit: www.galisteoinn.com or call 866-404-8200.
Recipe:
---
CELEBRITIES AND TOP CHEFS FROM ACROSS THE NATION
JOIN TOGETHER TO SUPPORT THE LAUNCH OFJUNIOR
LEAGUES' KIDS IN THE KITCHEN WEBSITE
Fran Drescher, Emmy Rossum, George Stella and Daniel Boulud
Contribute Healthy, Kid-Friendly Recipes and Tips As Part of
Childhood Obesity and Nutrition Initiative
The Junior Leagues announced today the launch of their Junior Leagues' Kids in the Kitchen website to go live on March 22, 2006. The site, www.kidsinthekitchen.ajli.org, features recipes, nutrition and fitness tips contributed by some of today's hottest stars, chefs and athletes and serves as a fun resource for parents and children seeking to make healthy lifestyle choices. Fran Drescher, best known for her title role in TV's hit series The Nanny and now starring in Living with Fran, has included her recipe for Healthy Tomato Soup, and The Phantom of the Opera's Emmy Rossum has crafted a bright, savory salad.
Food Network veteran chef George Stella has contributed recipes and tips from his motivational cookbook, Eating Stella Style, which helped his family of four transform their lives with a dramatic weight loss of a combined 560 pounds. Teen cookbook authors of Teens Cook: How to Cook What You Want to Eat, Jill and Megan Carle, whipped up three of their favorite recipes – perfect for even the pickiest eaters. Fullback Heath Evans, of three-time Super Bowl champions the New England Patriots, shares his personal fitness and nutrition tips as well as solid recipes for foods that keep him energized. Other contributing chefs include New York City chef Daniel Boulud, Food Network veteran and editor-in-chief of The Rosengarten Report, David Rosengarten, and cookbook author and Food Network newcomer Ellie Krieger.
"Encouraging kids to get creative in the kitchen is a fun way to teach them the nutritional value of the foods they are eating and can cultivate healthy eating habits," Kate Coler, Deputy Under Secretary for United States Department of Agriculture's Food, Nutrition and Consumer Services and sustaining member of the Junior League of Washington, said. "Giving kids the power to help create their own nutritionally balanced foods is a step towards reversing the trend of childhood obesity, and that's exactly what the Junior Leagues are doing, one kitchen at a time." Recipes in the collection are grouped into five categories: breakfast, lunchbox, dinner, snacks and party treats.
The colorful, interactive Kids in the Kitchen website features tips and recipes of the month, as well as quizzes and polls to test kids on their nutrition knowledge. To encourage their peers to join in on the fun, recipes and tips can be emailed to friends or printed out and pasted on index cards. Children can also access the USDA's MyPyramid Blast-Off game, an entertaining way for kids to learn modern guidelines for daily food consumption and physical activity, tailored to their nutrition and fitness needs. More than 225 Junior Leagues across four countries are participating in this childhood obesity and nutrition initiative,
Junior Leagues' Kids in the Kitchen, with the goal of raising awareness and attempting to reverse the growth of childhood obesity and its associated health issues. This initiative is a response to the alarming statistic that nearly one-third of children and adolescents in the United States are overweight or at risk of becoming overweight, and the even more alarming statistic that childhood obesity has been shown to be the leading cause of pediatric hypertension, is associated with Type II diabetes and increases the risk of coronary heart disease. The Kids in the Kitchen website is part of a comprehensive initiative in which each of the more than 225 Junior Leagues will be organizing educational nutrition and cooking activities to reach the children of greatest need in their communities.
ABOUT THE ASSOCIATION OF JUNIOR LEAGUES INTERNATIONAL
Founded in 1901 by New Yorker, Mary Harriman, the Junior Leagues are organizations of women committed to voluntarism, developing the potential of women and improving communities through the effective action and leadership of trained volunteers. The Association of Junior Leagues International is made up of 292 Junior Leagues in the United States, Canada, Mexico and the United Kingdom. Together, they form one of the largest international volunteer organizations for women interested in making a positive impact in their communities. For more information, visit the website www.ajli.org.