TRUFFLE SEASON HAS ARRIVED
The Hassler Roma Introduces Menu Entirely of Tartufi Bianci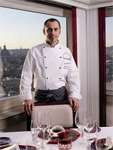 A brand-new Tartufo Bianco menu is now available at Imago, the Hassler Roma's recently renovated rooftop restaurant. 
 
Using the rarest and most expensive white truffles from Italy's Alba region, Imago's Chef Francesco Apreda has created a menu devoted entirely to white truffles - appetizers, first courses, main courses and deserts:  White truffle risotto with pumpkin, goat cheese and bitter almonds...bamboo-cooked scallops with cauliflower and white truffles...homemade pappardelle pasta "Gricia style" with white truffles and mushrooms...a caramelized walnut ice cream with mango, chocolate and, you guessed it, white truffles...
 
The menu will only last as long as the truffles do, which, as predicted by the season's rains so far, will be until December of this year. 
 
About Hotel Hassler Roma:
Set atop the Spanish Steps and featuring a panoramic view of the entire city, the Hassler Roma has been Rome's five-star lodging of choice for the world's elite for more than a century.  Each of the 82 rooms and 13 suites are individually designed and adorned in authentic Italian accents.  Highlights include the panoramic rooftop restaurant, Imago, which recently underwent a multi-million dollar renovation, and the neighboring, Hassler-owned International Wine Academy of Roma which offers wine classes with world-renowned sommeliers.
 
For more information on Hotel Hassler Roma, visit: www.hotelhassler.com.    
---
UNCLE CHARLEY'S SAUSAGE COMPANY CELEBRATES
20 YEARS OF MAKING PREMIUM SAUSAGE
This year Uncle Charley's Sausage Company is celebrating its Twentieth anniversary producing premium sausage and delivering it fresh to fine grocery and supermarket retailers throughout Western Pennsylvania and surrounding states. 
From its beginnings, Uncle Charley's has concentrated product quality efforts on custom blended recipes for outstanding taste as well as extraordinary service and speedy delivery to ensure the ultimate in freshness.  Founder Charles "Uncle Charley" Armitage grew up working in his parent's small grocery store and over the years gained valuable experience in all aspects of the meat business.  Today, he and his family work together to develop their own proprietary recipes and unique flavors. 
To commemorate his company's 20th anniversary, Charley Armitage has produced "Cooking with Uncle Charley:  Recipes for Sausage Lovers."  He teamed up with Chris Fennimore of QED Cooks to solicit recipes over the Internet, and the response was overwhelming.  Hundreds of sausage recipes, many described as "scrumptious" by Fennimore, were submitted, and over one hundred were vetted and selected for the book.
Growing numbers of consumers are asking for Uncle Charley's Sausage.  It was summed up best when one devoted fan was asked why he loved the sausage.  "It just tastes better," he replied.
To learn more about Uncle Charley's Sausage Company,
visit www.unclecharleyssausage.com.
---


World Pastry Champion 2008 to Join The French Pastry School
Dimitri Fayard Newest Chef Instructor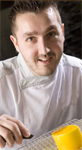 Chicago, Illinois (October 28, 2008) - 2008 World Pastry Champion, Dimitri Fayard has joined the faculty as Chef Instructor at The French Pastry School in Chicago.  Fayard and his team won the World Pastry Championship in August of this year. He was named one of the Top Ten Pastry Chefs in America in 2007.  Chef Fayard specializes in flavor profiles and will teach the French cakes and tarts portion of the 24-week "L'Art de la Pâtisserie" program beginning in January, 2009. 
Fayard came to Chicago from Las Vegas where he had been an Assistant Pastry Chef at the Bellagio Hotel. In 2002 he was part of the opening team at the Hotel Sofitel Water Tower as the Executive Pastry Chef. One year later, he and his wife, Keli Fayard opened their business, Vanille Pâtisserie in Chicago.
Additional awards include three gold medals at the Atlanta Pastry Classic Competition in 2001. He took the silver medal at the National Pastry Championship in 2003. Fayard and his team took the gold medal at the 2008 World Pastry Championship in Nashville, Tennessee.
"Dimitri shows great devotion to the art of pastry," said Jacquy Pfeiffer, co-owner and co-founder of The French Pastry School. "He'll be an inspiration to his students as someone who continually challenges himself."
Originally from Auch, France, Fayard first came to the United States at age 19 to work for François Payard's Pâtisserie and Bistro in New York City. In 2000, he became the Assistant Pastry Chef at the Bellagio Hotel in Las Vegas, doing pastry production for four restaurants, a 24-hour café, two pastry shops, room service, desserts, and all wedding cakes.
The French Pastry School, founded by Chefs Jacquy Pfeiffer and Sebastien Canonne, M.O.F. , offers the best possible pastry instruction taught by master pastry chefs who have attained the highest achievements in their craft. Our programs are ideal for anyone interested in pastry from the career changer to the professional to the novice. 
---
THOMAS KELLER, ALTON BROWN
WILL BE TOP HONOREES AT
'COOKING FOR SOLUTIONS 2009'
Great chefs, culinary gala, tours put spotlight on sustainable cuisine
Renowned chefs from across North America, including The French Laundry's Thomas Keller and Food Network all-star Alton Brown will share their passion for fine dining and environmentally sustainable living when they're honored at the Monterey Bay Aquarium's Cooking for Solutions 2009 on May 15-16, 2009.
At the two-day celebration, celebrity chefs – selected and recognized by the Monterey Bay Aquarium for their leadership in promoting food practices that protect the health of the ocean and the soil – will create gourmet dishes, host food and wine adventures, and offer cooking demonstrations that feature sustainable seafood and organic ingredients.
All proceeds support the nonprofit aquarium's Seafood Watch program, which has worked for the past decade to transform the seafood market in ways that preserve healthy ecosystems and sustain ocean wildlife.
Title sponsors of Cooking for Solutions 2009 are Bon Appétit Management Company, an award-winning food service company recognized internationally as a leader in promoting sustainable cuisine; and Coastal Living, a national magazine that celebrates life along the coast and serves as the source of inspiration and information for people who live or dream of living a coastal lifestyle.
Cooking for Solutions 2009 is part of the aquarium's 25th anniversary celebration. Monterey Bay Aquarium opened on October 20, 1984 with a mission to inspire conservation of the oceans.
Thomas Keller, chef/owner of The French Laundry in Yountville, California and one of the most respected and honored chefs in the United States, will receive the Conservation Leadership Award – Chef of the Year at the eighth annual Cooking for Solutions celebration.
A leading advocate of sustainable seafood and building menus around local, organic ingredients, he'll be honored along with Educator of the Year Alton Brown – chef, author and host of Food Network's Good Eats program, and a lead commentator and judge on Iron Chef America. Thirteen other noted chefs from across the United States and Canada will also receive honors.
Eight culinary greats will be recognized as Celebrity Chef Ambassadors: Nate Appleman (A16 and SPQR, San Francisco), Floyd Cardoz (Tabla, New York City), Regina Charboneau (Twin Oaks, Natchez, Mississippi), Xavier DeShayes (Ronald Reagan Building, Washington, DC), Joyce Goldstein (chef, food writer, consultant, San Francisco), Alexandra Guarnaschelli (Butter, New York), Paul Rogalski (Rouge, Calgary, Alberta) and Frank Stitt (Bottega, Birmingham, Alabama).
They'll be joined by four renowned chefs who return as Special Guest Celebrity Chefs: John Ash (cookbook author and teacher, Santa Rosa), Sam Choy (Sam Choy's Diamond Head Restaurant, Honolulu), Jim Dodge (Bon Appétit Management Company, Palo Alto) and Michel Nischan (The Dressing Room and Wholesome Wave Foundation, Fairfield, Connecticut). All have been recognized in past years as Celebrity Chef Ambassadors.
Also attending as a Special Guest Celebrity Chef will be Tracy Griffith (Rika Restaurant, Los Angeles) – one of America's first female sushi chefs and the author of Sushi American Style, who acquired her love of sushi through her half-sister, actress Melanie Griffith.
The Friday gala on May 15 – the signature celebration at Cooking for Solutions and a sell-out event every year – offers gourmet dishes from appetizers to desserts, created by the celebrity chefs, their local host chefs and 50 exceptional regional restaurants. In addition, 55 premium vintners from California and the western U.S. will pour organic and sustainable wines.
The gala will be preceded by a wine and hors d'oeuvres reception with Alton Brown. Thomas Keller will sign his cookbooks during the gala, and will host a deluxe food and wine adventure on Saturday, May 16 along with winemaker Jim Fetzer and Monterey Bay Aquarium Executive Director Julie Packard.
Saturday's lineup of Food and Wine Adventures includes culinary outings with other Cooking for Solutions chefs. Several chefs will also present morning cooking demonstrations at the aquarium, featuring sustainable seafood and other ingredients.
Saturday evening brings the fourth Sustainable Seafood Challenge, an "Iron Chef"-like event in which four Cooking for Solutions chefs prepare tasty seafood dishes from the same sustainable ingredients in a tournament-style kitchen set-up. Sam Choy and Alton Brown will provide lively commentary, and will serve on the judging panel that recognizes the chefs in four fun categories.
The aquarium's Seafood Watch program, which inspired creation of Cooking for Solutions, gives consumers, retailers and restaurateurs the tools and information they need to make seafood choices that help assure a future with abundant ocean wildlife.
Seafood Watch creates regional and national pocket guides to sustainable seafood that consumers can use to guide their seafood buying decisions at the restaurant or market – including a new consumer guide to sustainable sushi that debuted on October 22.
Since 1999, Seafood Watch has distributed nearly 25 million pocket guides, all featuring seafood items popular in different regions of the United States. It also partners with zoos, aquarium, conservation organizations, retailers, restaurateurs and seafood purveyors to shift the seafood market in directions that reward fishing practices that protect ocean ecosystems and the marine animals that depend on them.
Seafood Watch pocket guides are also available online and for mobile devices, at www.seafoodwatch.org.
Tickets for Cooking for Solutions 2009 go on sale January 19, 2009; aquarium members can begin purchasing tickets on January 5. Tickets are available by calling the Monterey Bay Aquarium toll-free at 866-963-9645.
Information about Cooking for Solutions 2009 can be found online at www.cookingforsolutions.org. Event brochures are available by sending an email to events@mbayaq.org.  The mission of the Monterey Bay Aquarium is to inspire conservation of the oceans.
---