SEAN M. HARDY
Executive Chef
The Peninsula Beverly Hills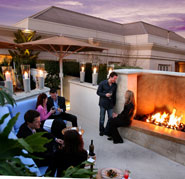 Executive Chef of The Peninsula Beverly Hills, Sean M. Hardy is responsible for the cuisine, kitchens and staff of both The Belvedere and Roof Garden restaurants of the award-winning hotel.
No stranger to The Peninsula, Hardy served as the hotel's Executive Sous Chef from 2002 to 2005. He has been a critical part of the team that has helped The Belvedere garner Four Star and Five Diamond designations, from Mobil and AAA respectively. It is Hardy's second round at The Belvedere; he served there from 1994 to 1997 in varying culinary capacities, most recently as Executive Sous Chef.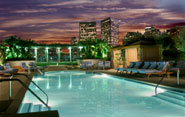 Hardy, who considers himself a purist in terms of ingredients, is continuing the Peninsula's excellent culinary tradition. "It's about refinement of flavors and presentation of textures," he explains. His signature dishes include California Duck Liver "Hot and Cold" with Apples "Three Ways;" "Beef Two Ways," which includes Pan Roasted Kobe Style Rib Eye and Braised Beef Short Ribs; Five Spiced Peking Duck with Calabaza Squash, Golden Raisins and Cinnamon Sauce; "Maine Lobster Pot Pie," and Seared Tasmanian Salmon.

Hardy brings extensive managerial experience to The Peninsula Beverly Hills. During his five year hiatus from the hotel, he held a series of prestigious culinary positions: Executive Sous Chef of the Four Seasons Hotel in Palm Beach, Florida; Lead Chef Instructor of the New England Culinary Institute; and Executive Chef of The Lodge at Koele in Lanai City, Hawaii, rated Top Resort in the Pacific by Condé Nast Traveler. He is an honors graduate of the Culinary Institute of America.
---
ENGLISH IS ITALIAN
Todd English and Executive Chef, Lauren Birmingham , Robert Gonsalves of Olives in Vegas, are back from the Amalfi Coast, where they met with Luigi Pisacane, owner of fifty year old Tre Sorelle, Executive Chef, Tanina at the international hot spot restaurant Next2 in Positano. They chefs mapped out menus for the new Italian cooking class venture set for Italy.

The cooking class venture, titled Todd English Cooking Vacations Italy, was spearheaded by English (whose family is from Abruzzo, Italy) and Lauren Birmingham (whose family is from Campania, Italy) of Cooking Vacations. English and Birmingham have teamed up to offer limited edition cooking classes with the world's most decorated, respected, and charismatic chef in Italy's most treasured destinations.

The one-of-a-kind cooking programs are slated for Positano, Sicily, Cuneo, Umbria, Ischia and Puglia in the next coming months. Each program will feature celebrity Chef English leading cooking classes in luxurious settings with excursions to cheese, olive oil, wine producers, and Slow Food artisans. Only 20 spots, up close & in the kitchen with English, are available for each trip. Proceeds benefit the Dana Faber Cancer Research.

For more information, call Cooking Vacations Italy 1.800.916.1152.
---
PIES ON PARADE, AN INN TO INN PIE TOUR
Historic Inns of Rockland Celebrate National Pie Day with Two Weeks of Tastings and Demonstrations, January 14 and 21, 2007
January 23, 2007 marks National Pie Day, according to the American Pie Council. Because nothing tops a cold winter day like a warm piece of pie, the Historic Inns of Rockland will celebrate pie throughout the weekends before the big day, on January 14 and 21, 2007. Each Sunday pie celebration will take place from 1:00-4:00pm as Historic Inns of Rockland's member inns feature homemade pies at the 3rd Annual Pies on Parade Inn to Inn Tour. Along with a wonderful collection of recipes to take home as a keepsake and plenty of pie tastings, the inns will offer demonstrations about pie baking techniques and pie decorating. Additionally, weekend guests can look forward to breakfasts featuring egg pies and maybe even a dessert at breakfast, including pie a la mode! Each guest will receive their own individual pie upon arrival and best of all, those attending the tour can feel good about eating pie because proceeds will benefit the Area Interfaith Outreach Food Pantry of Rockland.
More than $5,000 has been donated to feed the needy through this event in the past, offering enough assistance to provide food for 200 families for a year. Those visiting Historic Inns of Rockland during the January 14 and 21 Pies on Parade Inn to Inn Tour, will be treated to such traditional pies as cherry, apple, and berry pies. For those who care for something a little less traditional, fabulous pie such as Raspberry Cheese Pie, Kiwi Berry Tart, or Sun Dried Tomato and Goat Cheese Breakfast Pie will be offered, along with their recipes, so tour goers can make them at home. It's possible that a Maine Lobster Pie might even be on the menu!

Tickets for the Pies on Parade Inn to Inn Tour are $20 for adults and $10 for children ten and under. Tickets sell out quickly, are available from participating inns, and include a keepsake pie cookbook, and plenty of pie to sample.

As a bonus, participating inns will offer the following demonstrations:
Berry Manor Inn
Fun ingredients for breakfast piesFool-proof lattice crusts from the "dueling innkeepers' Moms" who carry on a friendly fight throughout the year regarding the best pie crust recipe.
Captain Lindsey House
Decorating with pie crusts & pie crust embellishments
LimeRocK Inn
Savory pies & Rock City Roasters Limerock Blend CoffeeLakeshore Inn:Sweet potato pie as chiffon or dense custard: same pie, different resultsParticipating inns may also offer additional special workshops or demonstrations.
Weekend packages including one night accommodations, breakfast each morning, complimentary personal pie for each guest upon arrival, a cookbook featuring a wonderful collection of original pie recipes, along with two tickets to the Pies on Parade Inn to Inn Tour are $160-225 per couple. Two night packages are also available. For pie lovers and those seeking a romantic luxury getaway, there is no better choice for lodging than the Historic Inns of Rockland, a collection of gracious inns, offering everything from business traveler-friendly to elegant accommodations. Each distinctly different in their features, the Historic Inns of Rockland will provide the ideal base from which to enjoy Midcoast Maine's bounty. For more information about Historic Inns of Rockland, please visit them on the web at www.HistoricInnsofRockland.com, consult each participating inn's website for more specific pricing and details of this package or call 877-ROC-INNS (877-762-4667) for more information or reservations.
---
RECIPE OF THE MONTH FROM COOKING VACATIONS

Recipe Of The Month, By Todd English
Bucatini with Heirloom Tomato Cruda
(Serves 4 as an entrée)Ingredients:
1 box dried Bucatini
3 – 4 Heirloom Tomatoes, large dice
¼ cup freshly grated Parmesan Reggiano
¼ cup Extra Virgin Olive Oil
10 leaves fresh basil, torn
Salt and pepper to taste
Instructions:
In a large bowl mix all ingredients except the Bucatini and reserve. Fill a large pot with cold water and add ¼ cup salt.
Bring water to a rolling boil.
Add pasta and cook according to the directions for al dente. Test the pasta periodically to assess doneness. Once pasta is done, strain all water.
Toss bucatini with the tomato mixture.
Season to taste.
Tomato mixture should be cold while pasta is warm.
Serve immediately.