CULINARY COUP . . .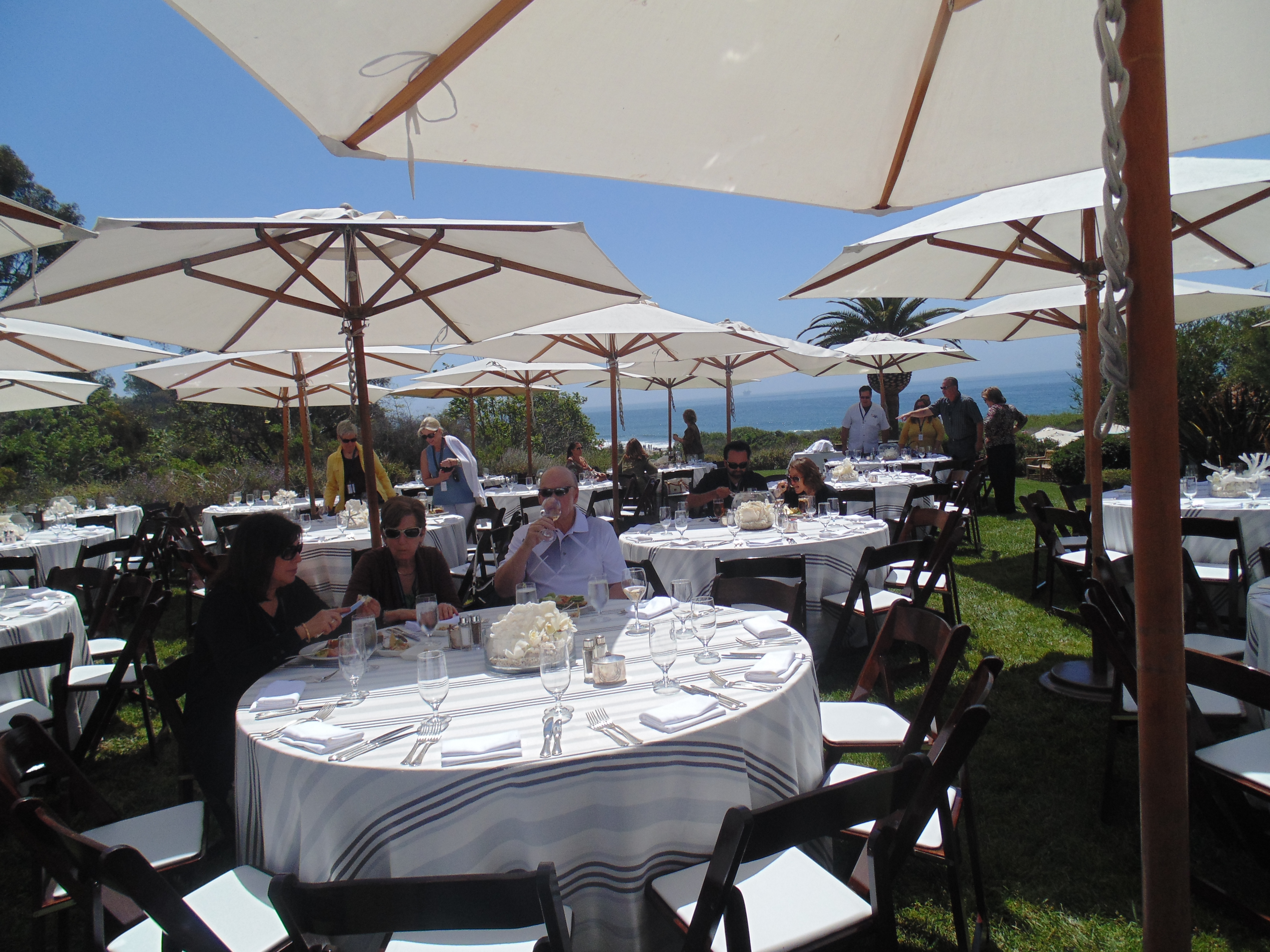 2nd Annual Santa Barbara Food & Wine Weekend
A Culinary Dream at Bacara Resort & Spa
To spend an entire day in a picture perfect destination like Bacara Resort & Spa enjoying panoramic views while meeting with renowned chefs, vintners, authors, marketing stars and foodies from around the country at the 2nd Annual Santa Barbara Food & Wine Weekend was beyond delightful.
There were over eighteen seminars and tastings on Saturday April 17 at the Bacara, many scheduled at the same hours and guests could select one from each time frame. The seminars I selected to attended were all so interesting and well presented, and the chef food demonstrations offered a taste of some unforgettable samples and sips. From a cookbook promotion guru like Lisa Ekus to renowned authors like Anne Willan it was both highly educational and totally inspiring for guests who love to cook, love fine food and wine, love the history of cookbooks, or need to know what to do with all those cookbooks they've collected over the years that are collecting dust.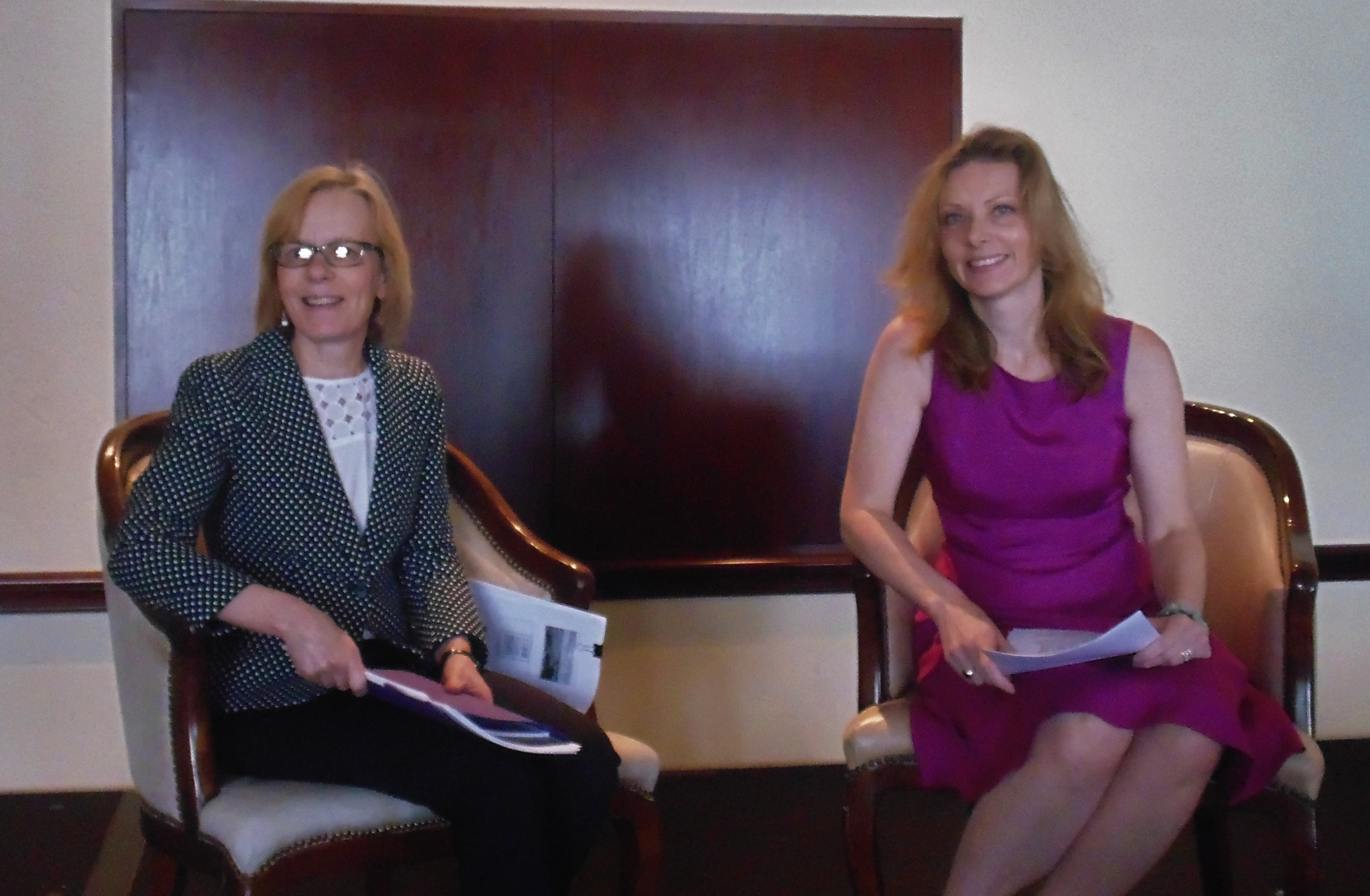 The Julia Child Foundation Curators lead a Seminar on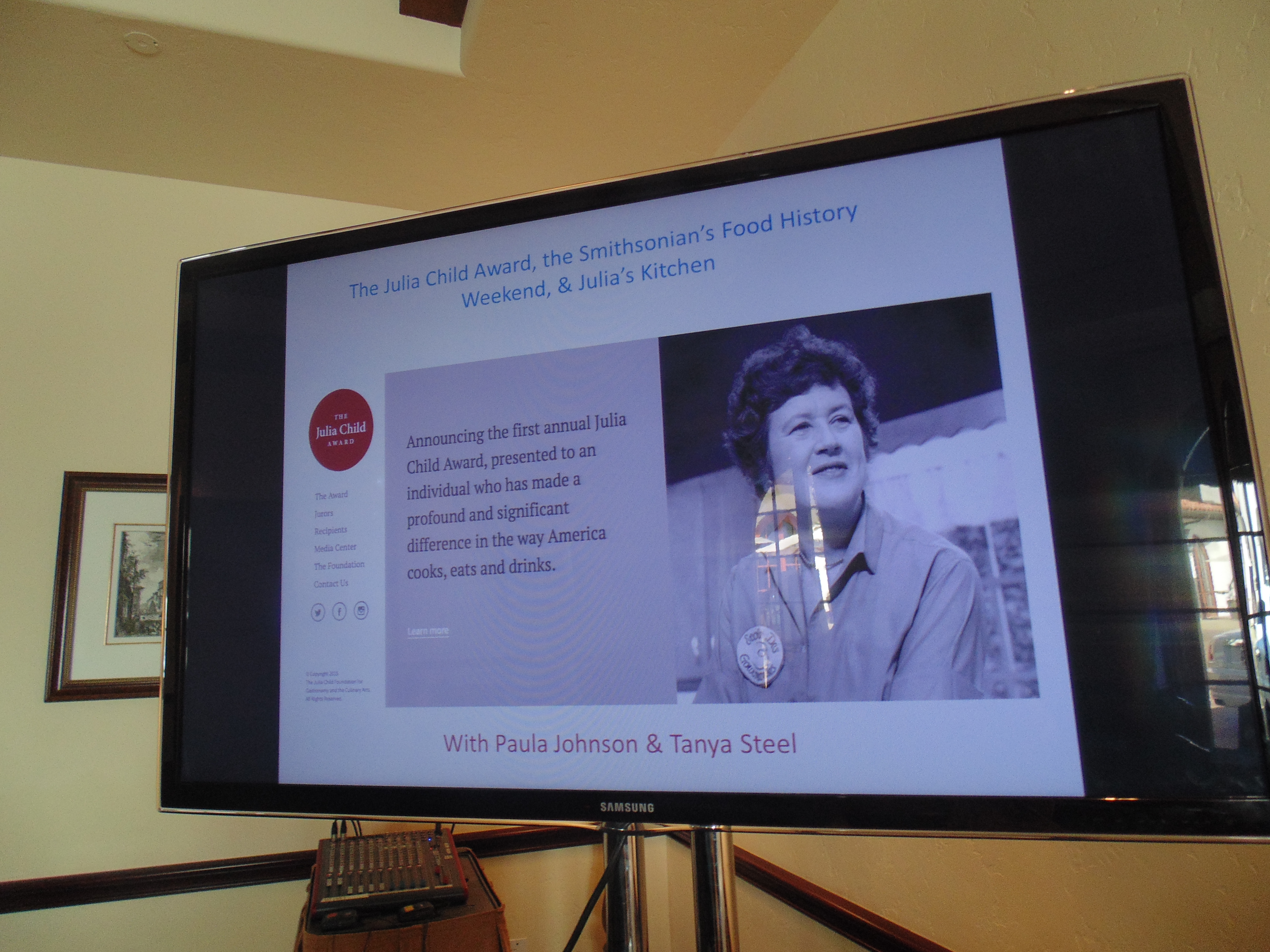 Julia's Kitchen at the Smithsonian in Washington that was outstanding. The Scoop on Julia's Kitchen at the Smithsonian seminar was packed with guests to hear the story on Julia's Kitchen and details for the upcoming Food History Weekend in October, plus announcements on the upcoming Julia Child Award Gala. It was great fun to hear curators Paula Johnson & Tanya Steel share the their personal memories on how Julia's Kitchen finally made it into the Smithsonian.
Foley Wines sponsored a blind tasting that was a sipping party for a huge group of guests at the Bacara weekend event, and a good time was had by all in their charming Foley Wine Tasting Room located on the Bacara hotel property. This venue is a perfect atmosphere to relax and taste some of the 200 wines being poured daily.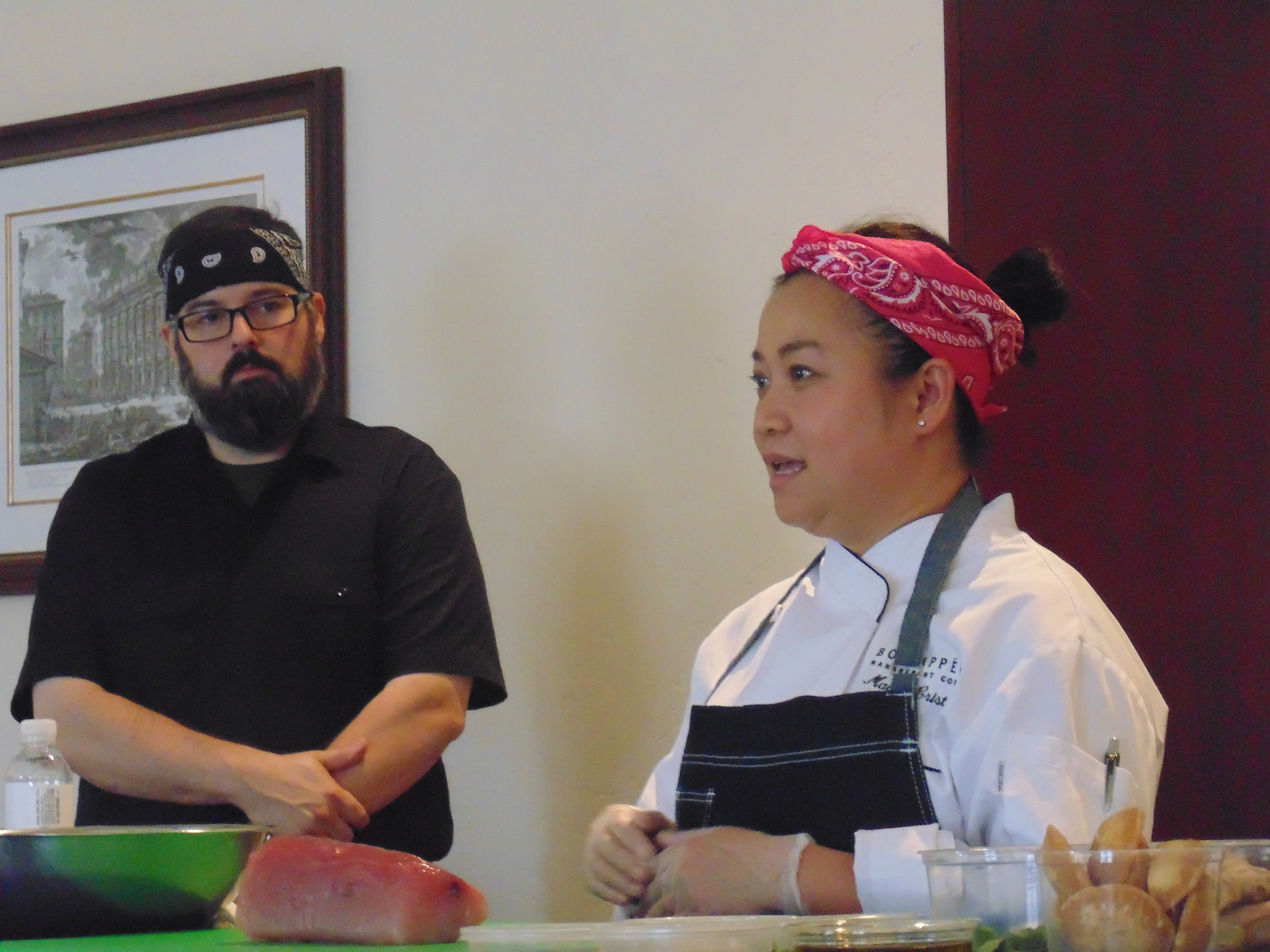 Doug Margerum, a favorite vintner in Santa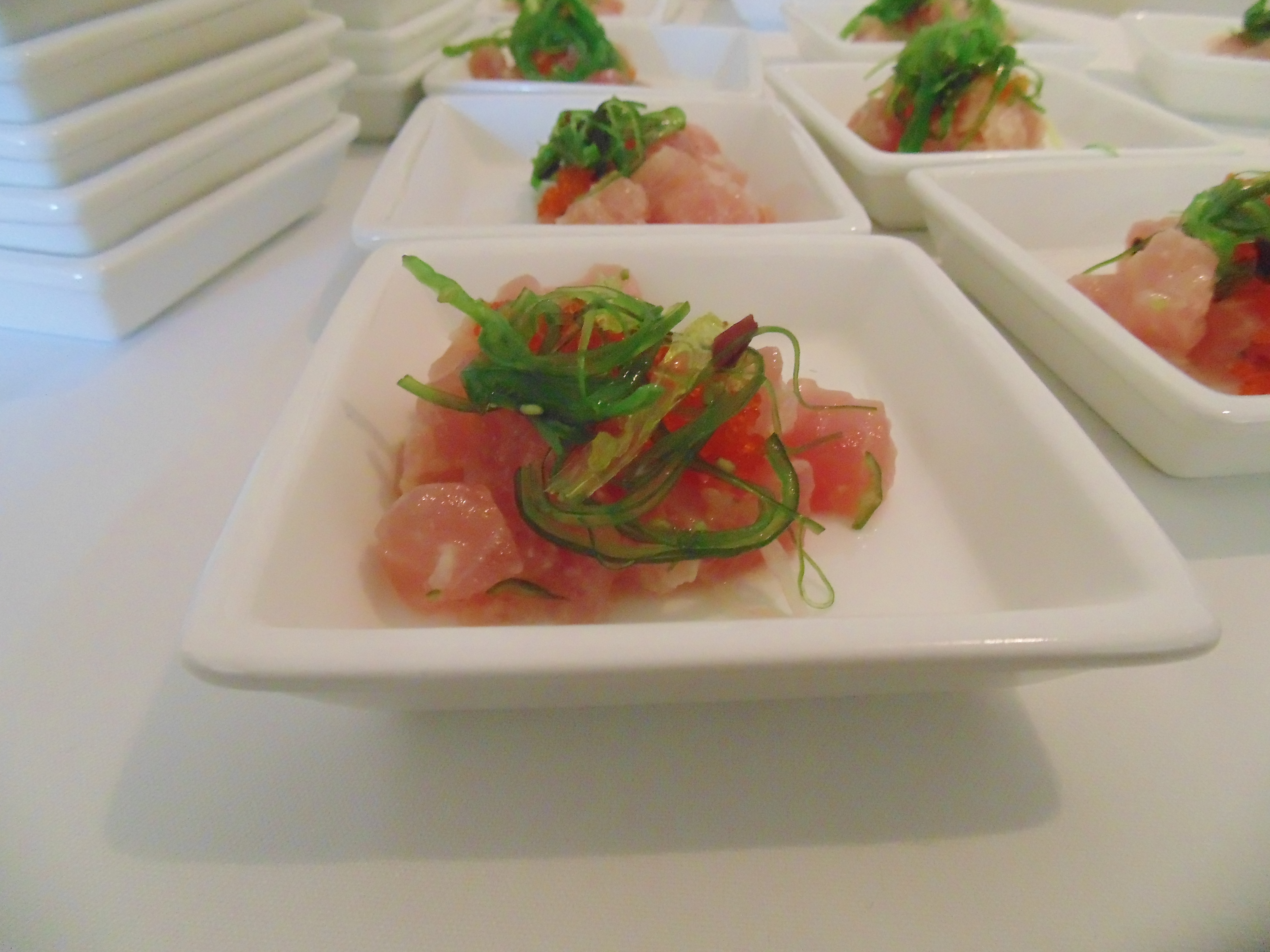 Barbara, poured several of his wines at a demonstration done by talented Executive Chef Mayet Crystoba-Bognarl of Bon Appetite Management Comany, Getty Museums, who prepared Manila inspired appetizers that were sensational. Her husband Chef Bobby Bognar, The Point Restaurant owner and History Channel Food Tech host was an able assistant and Mayet's Tuna Kinilaw and Slow-Braised Octopus Adobo presentation got raves from the audience.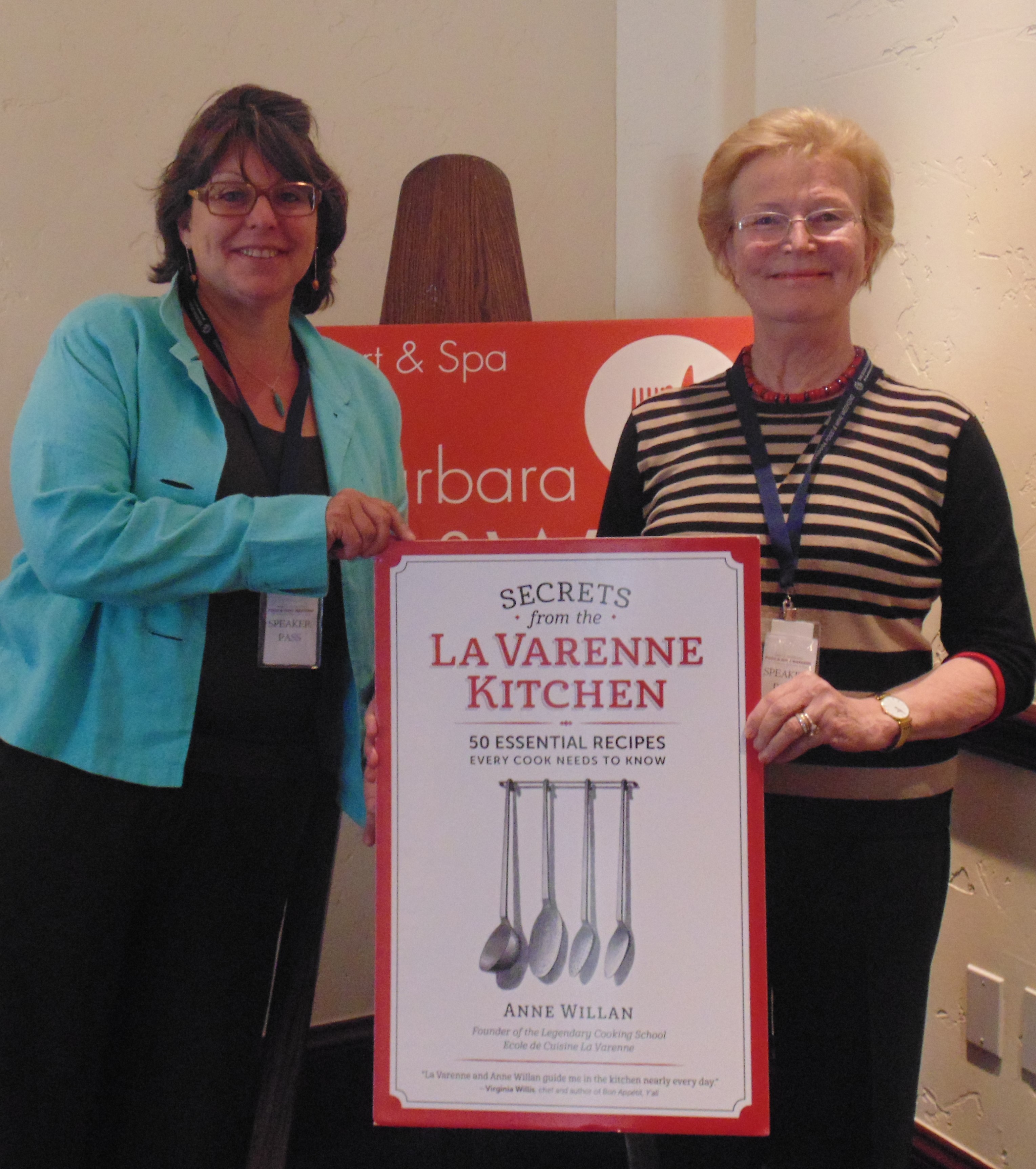 Author Anne Willan gave a brilliant seminar & tasting on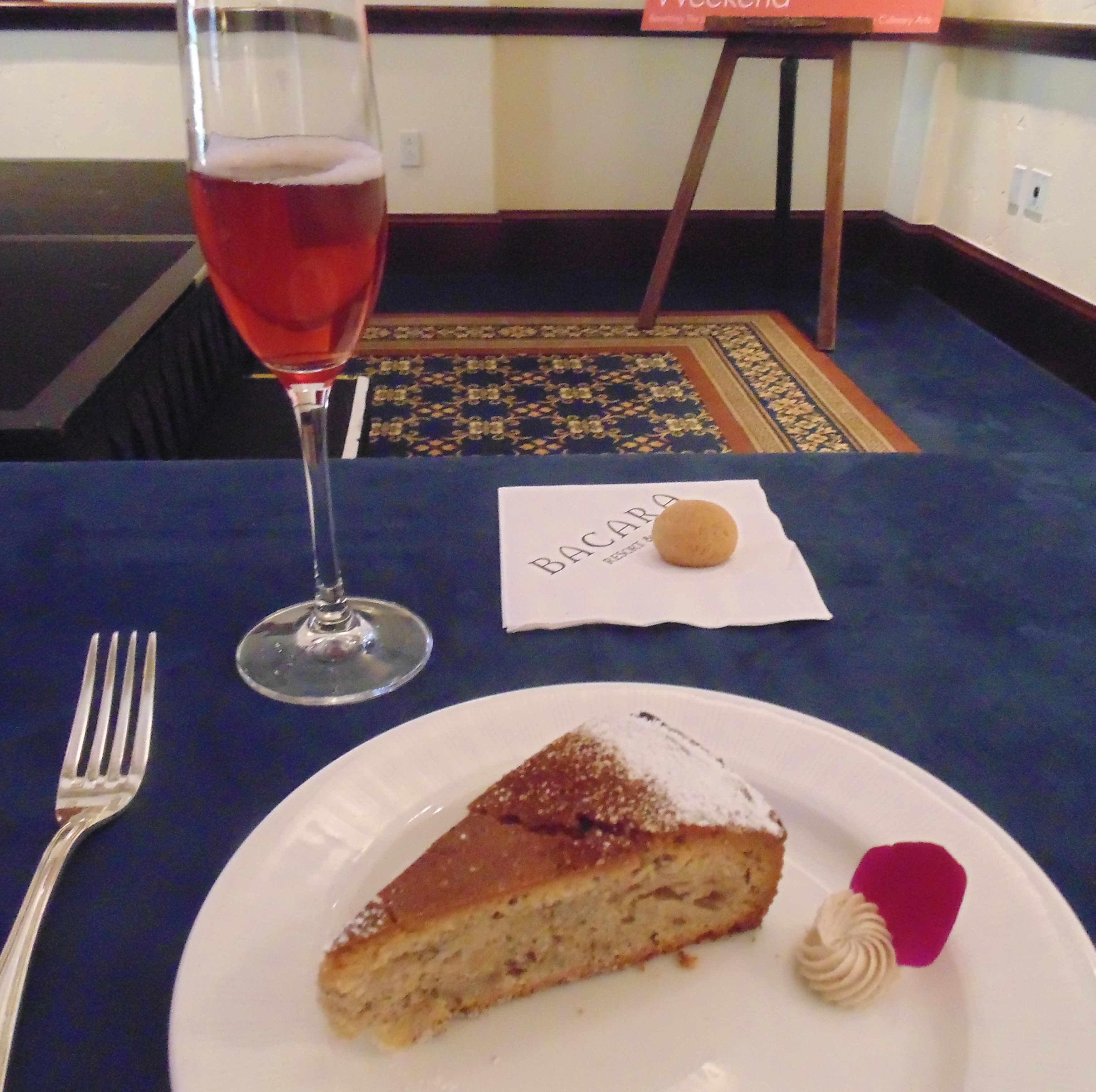 Origins of the Modern Cookbook, and Lisa Ekus, Lisa Ekus Group Culinary Talent Representative, assisted Anne Willan with "Secrets from the La Vareene Kitchen" display. The seminar on the history of cookbooks included tastes of medicinal Ypocras wine, cheese balls and historic seedy cake. I was thrilled to meet Anne, and have been a huge fan of her cookbooks for years. Anne Willan, who has written The Cookbook Library, One Souffle At A Time, and her new book La Varenne Kitchen, being released this month was accompanied by her husband Mark Cherniavsky, who co-authored The Cookbook Library with her. Lisa Elkus gave her own seminar on collecting cookbooks, and was interviewed by Todd Schulkin of the Julia Child Foundation.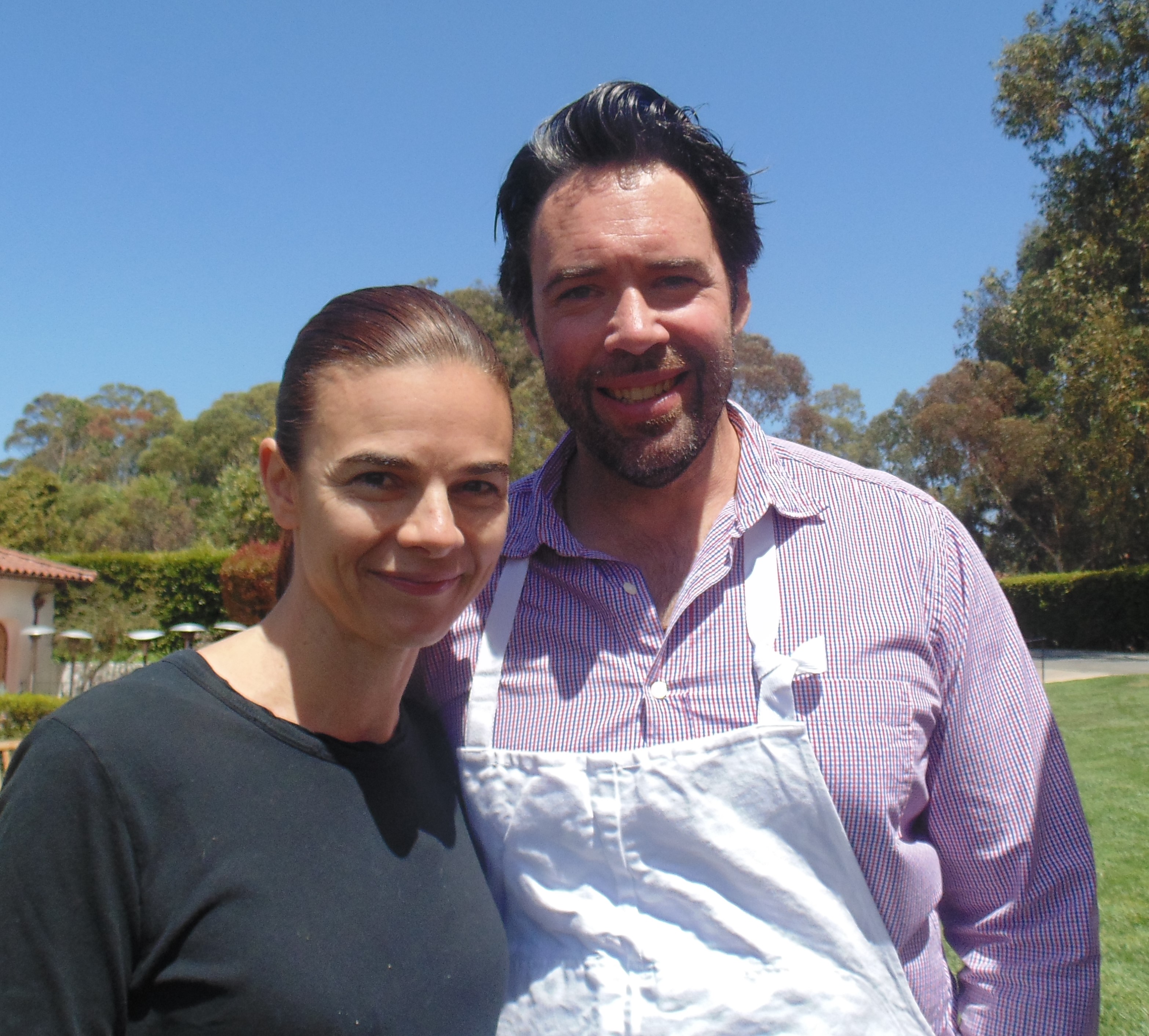 The Celebrity Chef Seafood Lunch featuring dishes by Chefs Suzanne Goin, Lucques Restaurant & David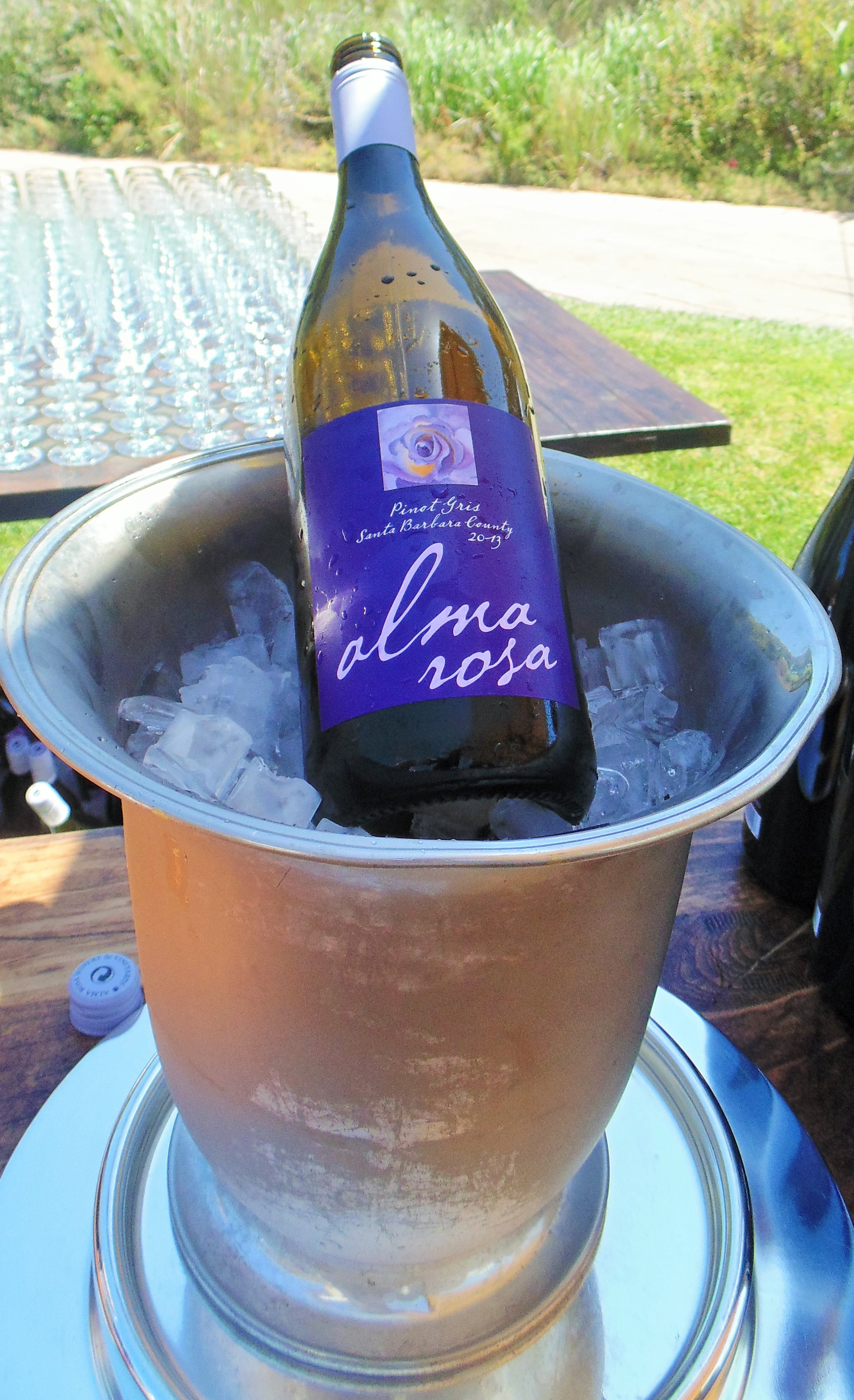 Lentz, Hungry Cat Restaurant was amazing, and Thekla Sanford poured a variety of wonderful Alma Rosa Wines for guests to pair with their luncheon selections. The menu included a salad with walnuts and perfectly cook asparagus, a creamed polenta with snap peas, a ceviche appetizer and entree selections of salmon with crisp lettuce and green goddess dressing or breaded chicken steak. Dessert was provided by McConnell's local ice cream, and was tempting on a cookie with raspberry sauce.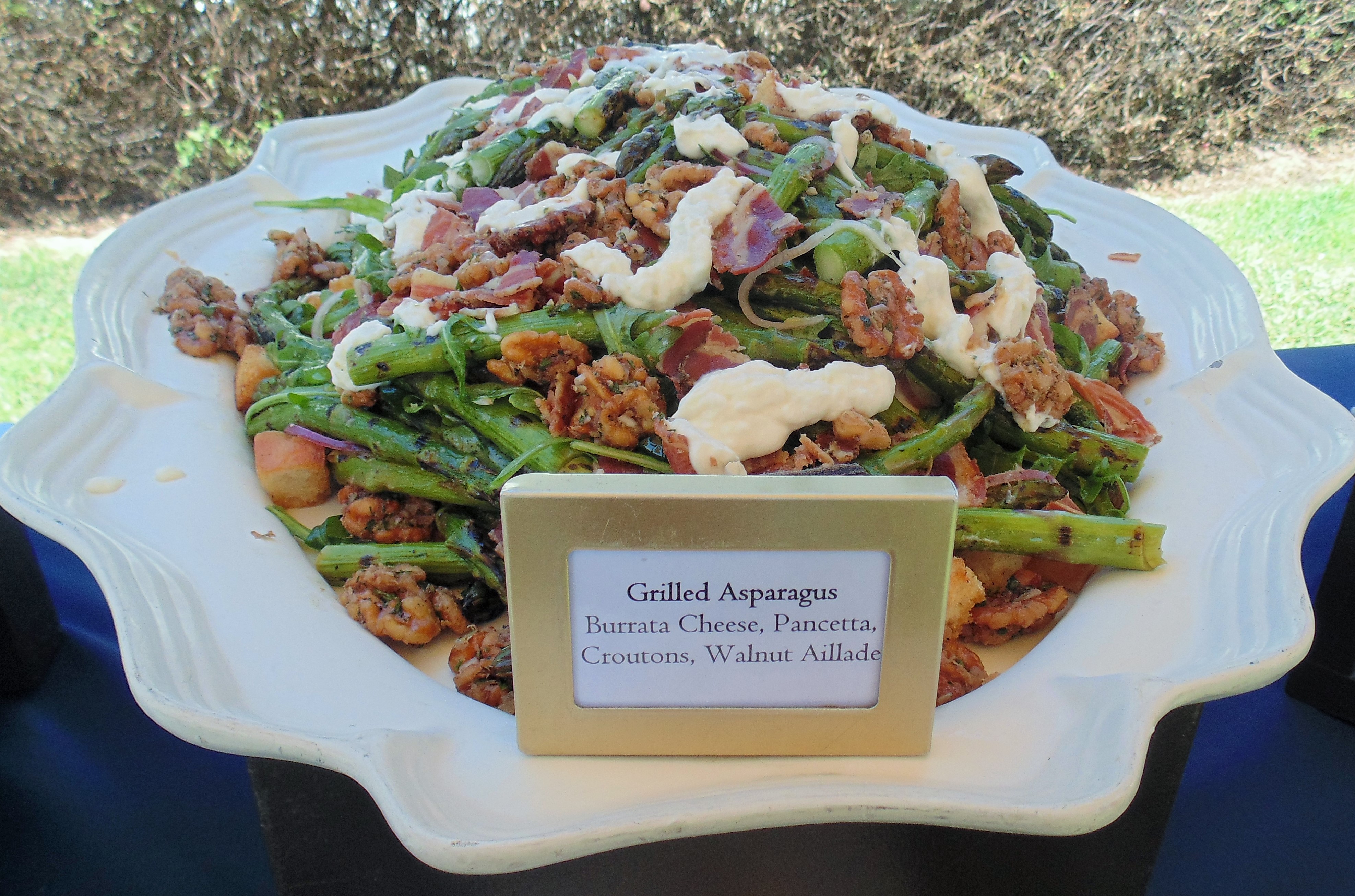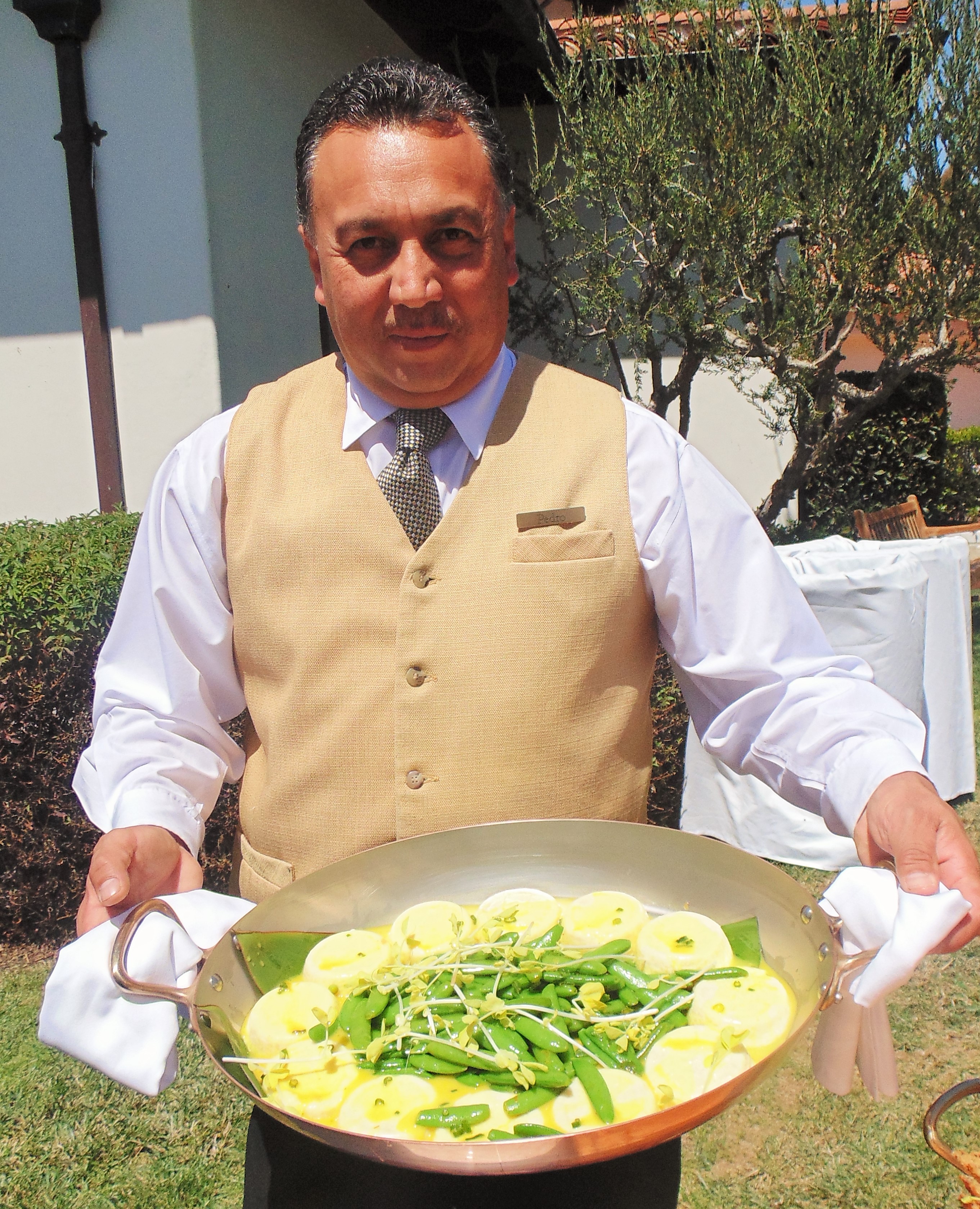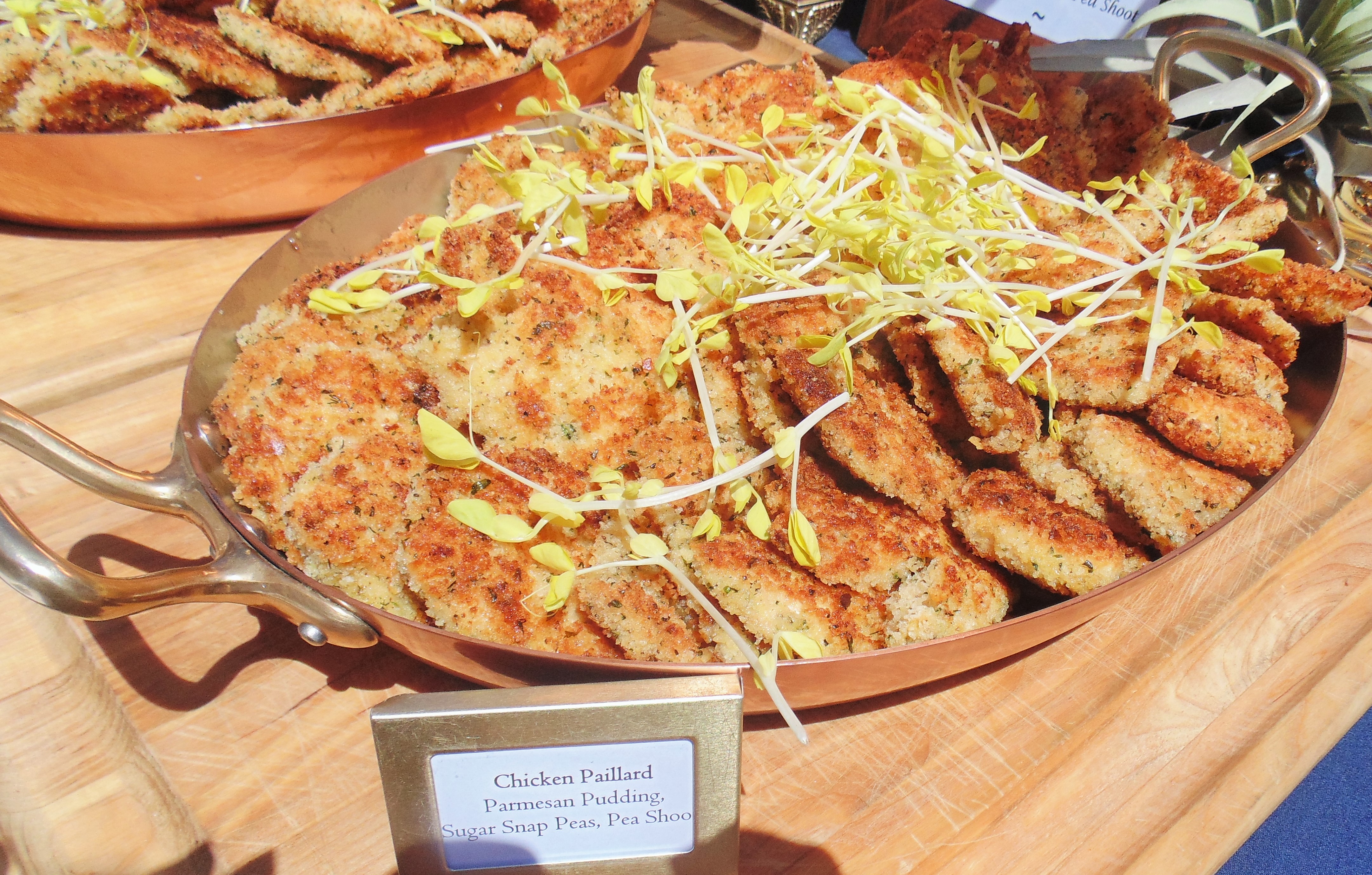 Dessert lovers enjoyed an informative seminar and divine tasting with renowned chef Jim Dodge, director of specialty culinary programs for Bon Appetite Management Company who has won numerous James Beard awards and cookbook kudos for books he has authored on baking. Jessica Foster, the Santa Barbara chocolate lady left everyone sighing over her chocolate truffles sampled with a variety of local wines.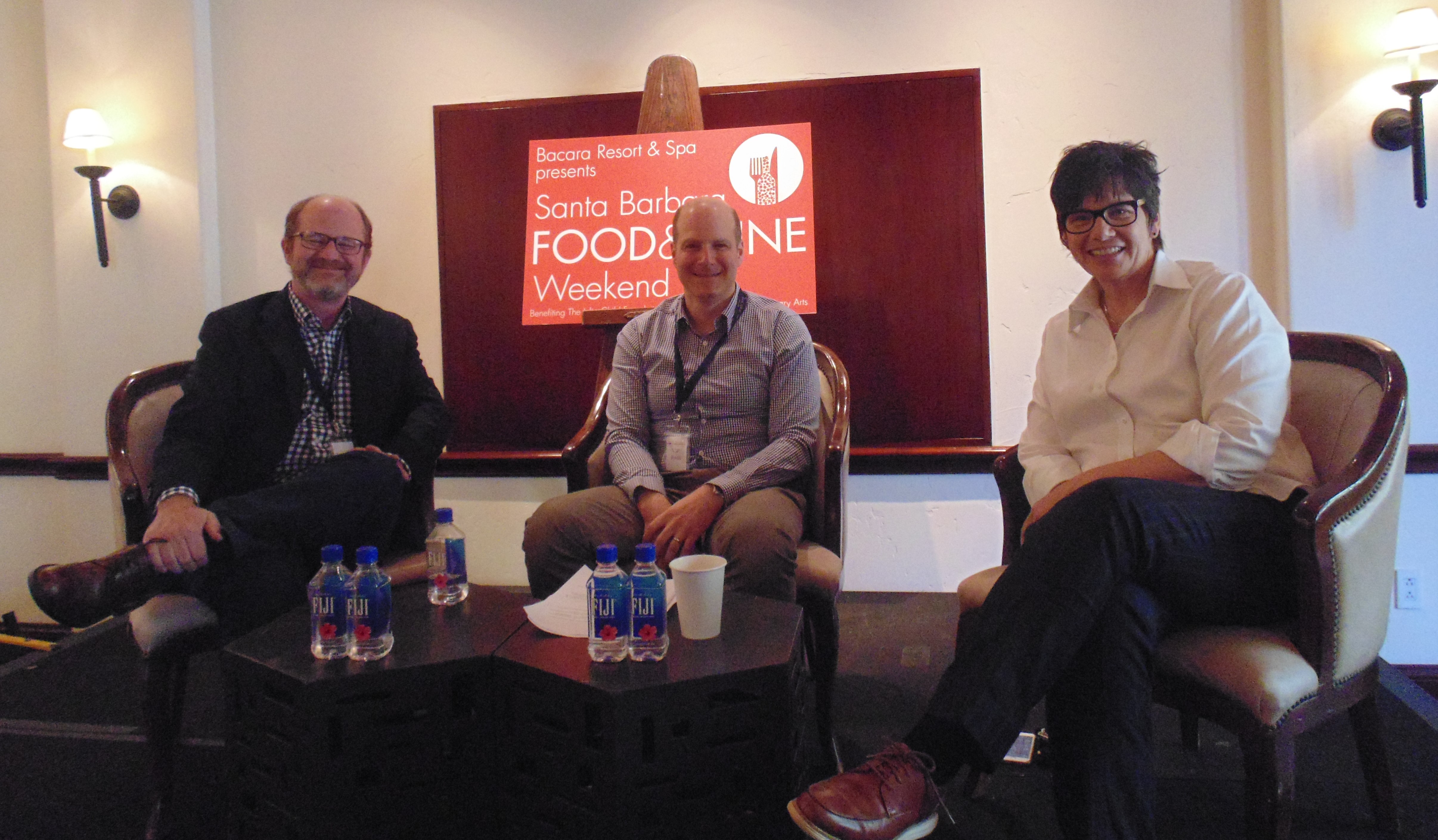 A fantastic East vs. West Panel Discussion included Russ Parsons, Los Angeles Times Food Editor and Atlanta Bureau Chief for the New York Times Kim Severson, which was narrated by Todd Schulkin of the Julia Child Foundation. The banter was both interesting and amusing. A good time was had by all listening to different views and approaches to food trends from opposite points in America, and the food experts gave the audience some hearty laughs, as well as some serious food for thought!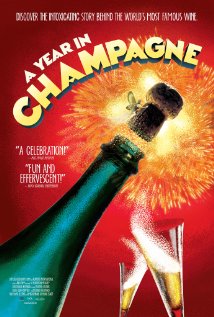 The evening screening of "A Year in Champagne" a delightful film on the joys and sorrows of making champagne, which premiered at the Santa Barbara International Film Festival (SBIFF) last year, was written & directed by David Kennard and featured wine expert Martine Saunier. It is a truly magical look at the making of French champagne and gives a new awareness to the value of making a toast! This film will be available on DVD next month. The reel deal finale included chocolates with champagne and was the sweetest ending to an unforgettable day.
Bonnie Carroll, www.lifebitesnews.com
_______________________________________________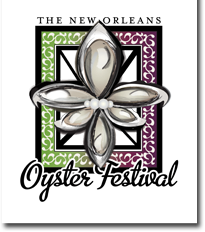 The New Orleans Oyster Festival Planned for May 30 & 31
Oyster Shucking on Saturday & Oyster Eating on Sunday
WHAT:                    Sixth Annual NEW ORLEANS OYSTER FESTIVAL
The Sixth Annual New Orleans Oyster Festival will once again celebrate that local delicacy – the oyster – that is an integral part of the unique culinary culture of Louisiana.
More than 20 restaurants will be showing off the versatility of our region's favorite bivalve at the New Orleans Oyster Festival. Launched in 2010 by representatives of the Louisiana oyster industry, the festival celebrates local oysters along with the men and women who harvest, process and cook them. Proceeds from the Festival support the Louisiana Oyster Industry, fisherman and their families. The festival raises money each year to support coastal restoration.
The Festival will once again feature oyster competitions including the Acme Oyster Eating Contest, the P&J Oyster Shucking Competition and the New Orleans Fish House Largest Oyster Contest.
WHEN:                    Saturday, May 30 & Sunday, May 31
                                10 am – 7 pm
Saturday at 12 pm – The P&J Oyster Shucking Competition
Saturday afternoon – The New Orleans Fish House Largest Oyster Contest
Sunday at 11:45 am – The Acme Oyster Eating Contest
NOTE: Media credentials needed for access to the music stage and competitions, credentials can be gained by calling/texting Jeffrey Ory at (504) 458-5866.
WHERE:                  Woldenberg Riverfront Park at the Mississippi River
MUSIC:                   This year's musical lineup includes:
             Saturday:             
10:30am to 11:45am     Treme Brass Band
1:00pm – 2:00pm              Colin Lake
2:15pm to 3:15pm           Bucktown All-Stars
3:45pm to 4:45pm           Corey Henry's Treme Funktet
5:15pm to 6:30pm           Royal Southern Brotherhood
Sunday:                 
10:30am-11:30am           One A Chord Gospel
1:15pm-2:30pm                 The Mulligan Brothers
3:00pm-4:30pm                 Rockin' Dopsie
5:00pm -6:30pm                Marcia Ball
 In addition, the Chef demonstration line-up will be announced soon.INFORMATION:                   For more information, visit www.neworleansoysterfestival.org, call the festival hotline at (504) 835-6410 or visit us on Facebook (The-New-Orleans-Oyster-Festival) and Twitter (@nola_oyster).
_____________________________________________________
LAST MINUTE MOTHER'S DAY GIFTS
Great last-minute Mother's Day gifts for Moms of every description at GourmetGiftBaskets.com, a 13-year-old, $20 million, family-owned business that's one of the fastest-growing online gifting companies in the U.S.
1. First up, we have   brand new  Mother's Day Cake  created to appeal to any Mom anywhere. This beautiful, 6-inch chocolate cake is covered with a generous coating of delectable pink icing, with a stunning, yet subtle, hand-decorated flower design in the middle and celebratory confetti sprinkles caressing the side. It's only $34.99 made fresh at a local New Hampshire bakery, shipped to recipients with great care.
2. Next we have a fun gift for the sporty Mom: the  Mother's Day Golf Gift Basket for $54.99. This creative basket is really a cooler in the shape of a golf bag that can be transported easily to the course or other sporting events. It's replete with sweet and savory snacks, including:  chocolate wafer petites, sugar cookies, snack mix, roasted peanuts, Fuji apple crunch dried fruit, jelly beans, roasted edamame, and a blueberry, pomegranate & almond orchard bar. Golf never tasted so good.
3. Another brand new offering for this Mother's Day is the LadyBug Insulated Lunch Tote for just $69.99. Of course, it's loaded with goodies, too, including: peanut M&Ms, honey mustard and onion pretzel bites, pepperoni pizza combos, Cheez-its, crackers, Rice Krispie treats, Oreos, snack mix, Mike & Ikes, a protein bar, spearmint gum, a Healthy Choice micro soup, and even a Bursting Berry Blow Pop. How fun is this gift? Really fun. 
4. For the Mom who loves wine, we have the exquisite  Mother's Day Wine basket for $89.99.  Mom will find two bottles of coveted wines (Cabernet Sauvignon Reserva by Alto Tierrucav and Chardonnay by Backhouse) along with an array of delectable accompaniments: a sensational summer sausage, deli-style crackers, smooth Wisconsin cheese, mocha chocolate California wine wafers and more. 
5. For the very health-conscious Mom, there's the  Bountiful Harvest Fruit Gift Basket for $99.99.  Nestled in a beautiful willow branch basket is an arrangement of freshly harvest orchard fruits, including crisp apples, juicy oranges, and sweet pears, plus irresistible snacks, like classic farmhouse cheddar, handcrafted popcorn, and a hearty trail mix.
GourmetGiftBaskets.com has a variety of other Mother's Day items -- everything from cheesecakes to chocolate-dipped fruit.
____________________________________________________________________
Award-Winning Chef John Rivera Sedlar Announces New Restaurant in Santa Fe


Inspired by his grandmother, ELOISA Combines Local New Mexican Flavors with a Modern Twist Creating a Fresh Take on Northern New Mexico Cuisine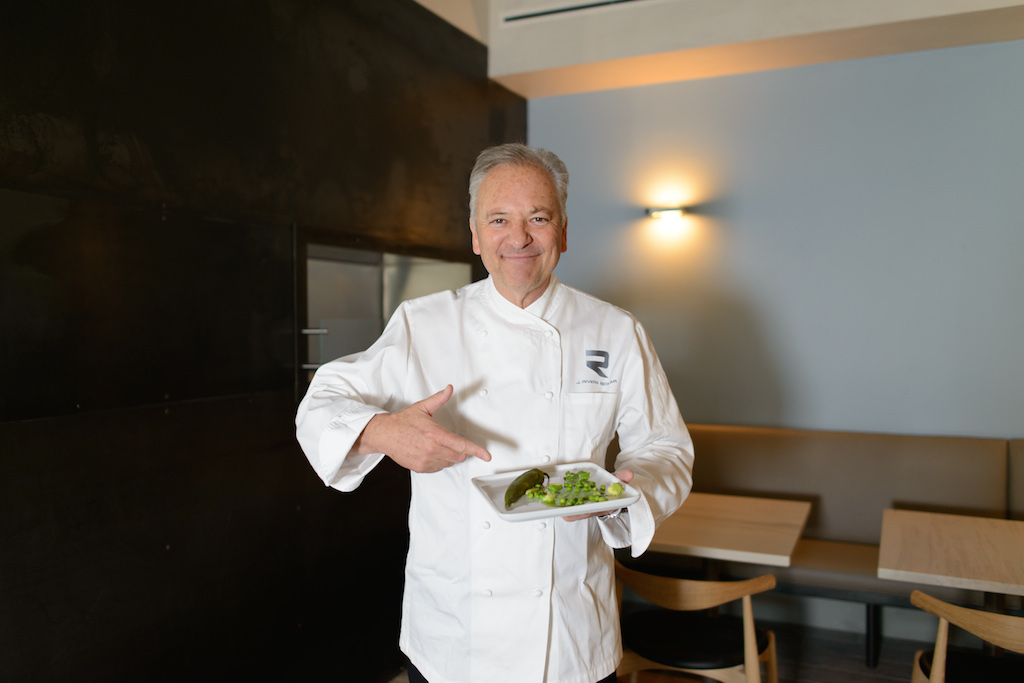 Santa Fe, New Mexico:  Acclaimed executive chef John Rivera Sedlar is delighted to announce his return to his native New Mexico to open his newest restaurant, ELOISA, located on Palace Avenue, one block from the historic Plaza, connected to the Drury Plaza Hotel. Now serving dinner and featuring a stunning bar with specialty cocktails, ELOISA presents an exquisite Latin and Southwest-inspired menu focusing on the delicacies of the Northern New Mexico region. 
ELOISA, named after Sedlar's maternal grandmother (in whose kitchen he spent time as a boy growing up in Abiquiu, New Mexico), "pays homage to my own grandmother, as well as all the abuelas, senoras, tias and the hermanas in the kitchen." This is the motivation behind ELOISA's intentionally feminine design aesthetic, reflected in the shape of the food on the plates, the round, earthy table settings, the choice of a female mixologist and the timeless metropolitan-inspired interiors by local designer Laura Carpenter. Additionally, a tasting menu created in honor of Georgia O'Keeffe will be served, a nod to Sedlar's great aunt who cooked for the artist for 14 years.
"I am excited about coming back home to my New Mexican roots," said Sedlar. "The flavors of Northern New Mexico have had a wonderful impact on my culinary career and I look forward to bringing a fresh perspective to New Mexican cuisine."
Carpenter has created a soft, neutral interior that preserves the building's original 1950s masonry while introducing modern details and uniquely architectural flatware by Italian designer Gio Ponti. Sedlar describes the restaurant as "a beautiful palate where guests look great and the food pops."
ELOISA's menu combines small plates served tapas style, (8-$13) and larger plates (18-$31)— all of which can be shared. Many of chef Sedlar's grandmother's recipes will be recreated, notably her Northern New Mexican lamb dishes, empanadillas and biscochitos as well as a number of dishes focused on the apricot, the tree of Abiquiu. Upon entry, guests will be greeted by a traditional tortilla maker engaged in grinding masa into flour, rolling dough and pressing fresh edible flowers like petunias, rose petals and nasturtiums into the tortilla to create tortillas decoradas. The prominently featured, state of the art kitchen, finished with granite, marble and white subway tiles will invite guests to watch Sedlar and his team create exotic dishes that juxtapose precise French cooking techniques with fresh interpretations of Meso-American classics like carne adovada.  
ELOISA's dining room seats 120 guests inside (including the bar) with an additional 65 seats on the patio, which will open mid-May. Expect an exciting wine list prepared by General Manager Walter Gallegos, formerly of The Compound, and refreshing, delicious cocktails designed by mixologist Dede Roybal. Lunch will be served 30 days after the opening, and breakfast will eventually be served as well. Bar Alta, on the Drury Plaza Santa Fe's rooftop, is also Sedlar's domain and will have a casual dining menu and a full bar with specialty cocktails.
"I am proud," says Chef John Rivera Sedlar, "to be returning home to establish a restaurant that not only pays homage to my family's heritage but also recognizes the thriving world-class destination that Santa Fe itself has become."
____________________________________________________________________
The Big Gateaux Show returns for 4th annual confection competition and celebration
The New Orleans Wine & Food Experience is thrilled to announce The Big Gateaux Show, a scintillating display of bon-bons, petit fours and Chocolate, will take place on Friday, May 22nd from 9:00 – 11:30 pm in the Grand Ballroom of the Royal Sonesta Hotel. The fourth annual competition and tasting will feature pastry chefs Christopher Cwierz—The Cosmopolitan, Las Vegas; Orlando Santos—MGM Grand, Detroit; Charles Barrett—Four Seasons Hotel, Atlanta; and Deden Putra—The Peninsula, New York. Each pastry chef will create nearly 1000 petit fours and bon-bons, and a grand showpiece inspired by "The Four Elements: Earth, Wind, Fire & Water" as portrayed by a tassel-twirling Burlesque entertainer, all paired with a variety of liquid assets. Guests will enjoy the "show" in an atmosphere reminiscent of the risqué burlesque clubs.
Hosted by celebrated, local pastry chef Tariq Hanna of Sucré, and the Royal Sonesta Hotel, this ticketed event will feature emcee Derrick Freeman and burlesque beauties Trixie Minx, Bella Blue, Vita DeVoid, and Nikki LeVillain. Each chef, assisted by the region's best baking and pastry students, will display their skills and craftsmanship by designing a signature showpiece, as well as hundreds of chocolate, fruit and caramel petit fours, a "chef's choice" petit four and bon-bons, all of which will be displayed and tasted at an after-party following the Friday Grand Tasting. Judges Keegan Gerhard of Food Network and DBar; William Flotz of L'Auberge du Lac, and Megan Forman of Gracious Bakery, will be joined by Steven D'Onofrio, President, Swiss Chalet Fine Foods, as well as attendees, to choose their favorite delight. The winning design and pastry chef will be awarded with a $5000 prize sponsored by Swiss Chalet Fine Foods. "NOWFE continues to push the envelope to keep the events exciting and entertaining," states Susan Hislop, 2015 New Orleans Wine & Food Experience Board President. "It's that innovation—going beyond the accepted boundaries—that got NOWFE nominated for USA TODAY's 10Best Readers' Choice Travel Award for Favorite Food Festival. We couldn't have scripted it any better."
The New Orleans Wine and Food Experience 2015 sponsors include: Louisiana Office of Tourism, Groupon, Stella Artois, Audi, Martin's Famous Pastry Shoppe, Nola.com, Rouses, Evamor, Roaming Hunger, French Truck Coffee, Barefoot Wine, Hangartner Rydberg & Terrell, LLC, Limousine Livery, Riedel, Centerplate, Swiss Chalet, Tito's Vodka, Foundation Room, Clarksburg Wine Company. The New Orleans Wine and Food Experience 2015 Gateaux sponsors include: Royal Sonesta Hotel, Sucre, and Swiss Chalet.
For more than 22 years the New Orleans Wine & Food Experience has showcased the culinary excellence in our community alongside national and international wines at wine dinners in many of the city's finest restaurants; at VINOLA, a premium tasting event; at the iconic Royal Street Stroll Presented by Rouses; at dozens of culinary seminars and demonstrations; at the Big Gateaux Show; and ultimately at the Grand Tastings. NOWFE has raised more than $1 million for local non-profit organizations. In 2015, the Southern Food and Beverage Museum will be the beneficiary of 40% of the event proceeds. The remaining 60% will be shared by the University of New Orleans, School of Hotel, Restaurant & Tourism Program, Louisiana Restaurant Association Education Foundation's ProStart Program, Delgado Culinary Arts School, New Orleans Center for the Creative Arts' Culinary Program, the John Folse Culinary Institute and the Edible Schoolyard New Orleans.
___________________________________________________________________
CHEF NEWS ABROAD .....

Staying with historic tradition the Villa d'Este Easter lunch 2015 was yet another outstanding Italian success for attending guests.
The pastry chefs spent over a month preparing exquisite easter eggs, chocolate sculptures and more for the lucullian lunch prepared by Executive Chef Michele Zambanini and his staff. The weather on Lago di Como is beautiful according to my sources.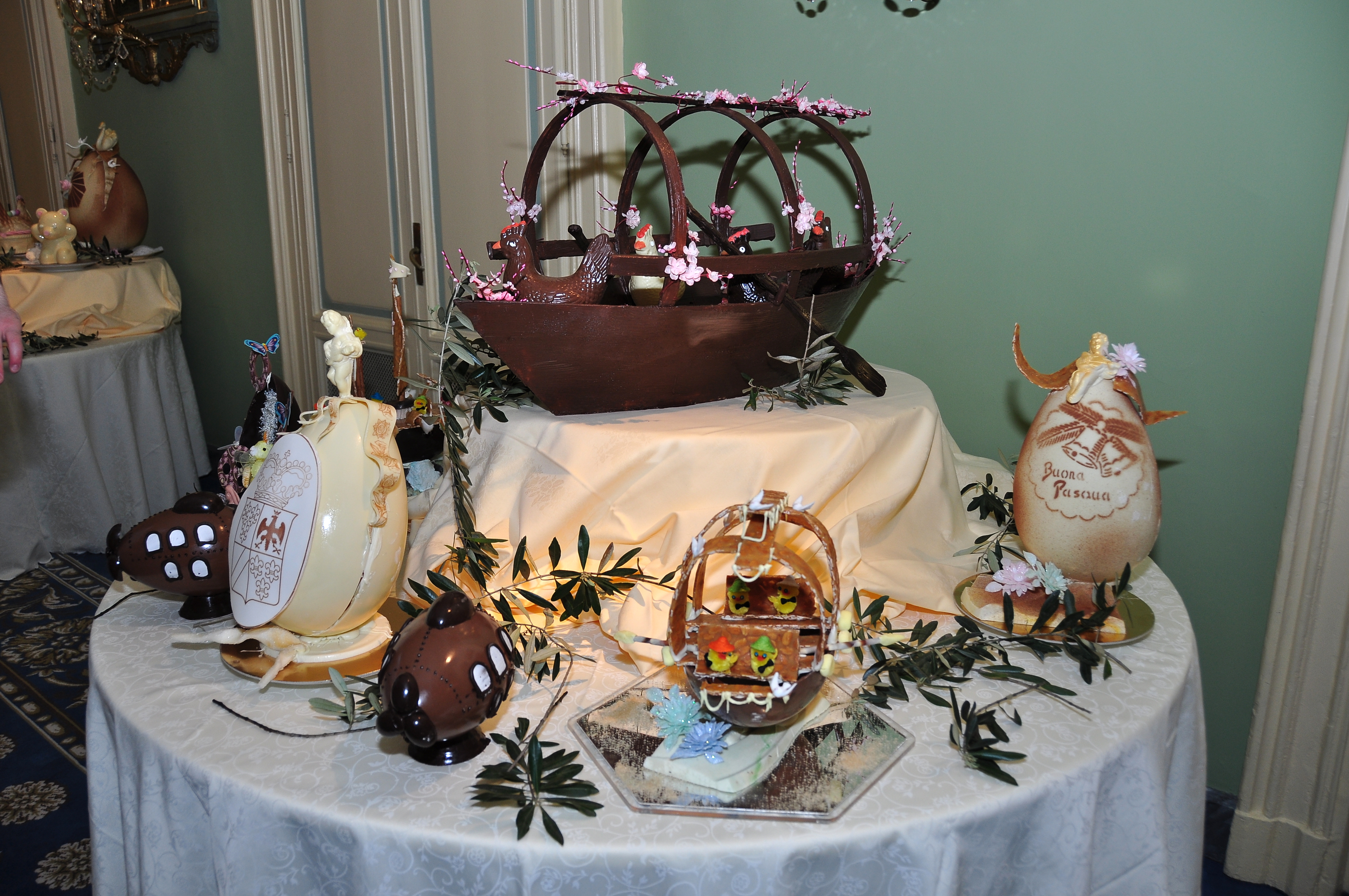 The  Villa d'Este staff  is  looking forward to welcoming their repeat guests and the new arrivals this year for an unforgettable stay on the "most romantic lake in the world" . They also have an exquisite sister hotel Villa La Massa in Florence www.villalamassa.it. For reservations and information see contacts below.

2013 Villa d'Este awarded Best Luxury Hotel Worldwide by Luxury Travel Advisor
Via Regina, 40 - 22012 Cernobbio - Lago di Como -Italy
TEL. +39 031 348 1 - FAX +39 031 348 844 - Website http://www.villadeste.it -
e-mail: info@villadeste.it
Villa d'Este S.p.A. Capitale Sociale € 3.095.820 r.e.a. di Como n° 4720 cod.
fisc. e part. Iva 00192900132
_____________________________________________________________________
KRAFT & HEINZ FORM CONGLOMERATE
HJ Heinz, owned by Warren Buffett's Berkshire Hathaway BRK.A -0.04% , is to merge with Kraft Foods Group KRFT 35.20% , creating a new giant in the food industry and paving the way for Heinz to return to the stock market, the two companies said Wednesday.
Heinz is to buy 51% of Kraft in a deal brokered by Berkshire and the Brazilian-based private equity company 3G. Kraft shareholders will get a $10 billion special dividend ($16.50 a share) under the deal, the rumor of which helped propel Kraft's shares 16% in after-hours trading Tuesday. The dividend alone equates to 27% of Kraft's market value as of the close of Tuesday's trading.
"This is my kind of transaction, uniting two world-class organizations and delivering shareholder value," Buffett said in the statement. "I'm excited by the opportunities for what this new combined organization will achieve."
The new company will be called The Kraft Heinz Company and will be the third-largest food and beverage company in North America with around $28 billion in annual revenue. It will have eight brands that each generate more than $1 billion a year in sales, including Philadelphia cream cheese and Heinz's signature tomato ketchup. Subject to regulatory approval, the deal is expected to close in the second half of this year.

The companies are targeting $1.5 billion a year in annual cost savings by the end of 2017, which is also their target for making the deal "earnings-accretive." 3G and Berkshire will fund the special dividend entirely out of their own cash, in order to avoid any rise in Kraft's debt level. They said they're committed to keeping the company's investment-grade credit rating.
3G teamed up with Buffett to acquire Ketchup maker H.J. Heinz for $23.2 billion two years ago. Buffett had said in May he expected to work with 3G on more transactions.
Berkshire and 3G said that 3G's managing partner Alex Behring will become chairman of the new company while Bernardo Hees, currently Heinz's chief executive, will become CEO. John Cahill, who has struggled to turn round Kraft's fortunes as CEO, will become vice-chairman and will head a newly-formed operations and strategy committee.
Packaged-food makers such as Kraft are battling sluggish demand as consumers shift to products perceived to be healthier.
Kraft has overhauled its senior management over the past few months and has said it will develop products to meet changing consumer preferences.
Speaking on CNBC Wednesday morning, Buffett said he's upbeat about the future for Kraft's brands, which include Philadelphia cream cheese and Oscar Mayer meats.
Buffett said he's "willing to bet a lot of money" on the current management team, adding that the products Kraft makes appeal to many consumers. "This is not a static operation," he said, noting that a handful of new products will be coming out in the coming year.
____________________________________________________________________

The theme chosen for the 2015 Milan Universal Exposition is Feeding the Planet, Energy for Life. This embraces technology, innovation, culture, traditions and creativity and how they relate to food and diet. Expo 2015 will further develop themes introduced in earlier Expos (e.g., water at Expo 2008 in Zaragoza) in the light of new global scenarios and emerging issues, with a principal focus on the right to healthy, secure and sufficient food for all the world's inhabitants.
The concerns of many futurologists about the quality of food in the years to come are compounded by forecasts of increasing uncertainties regarding the quantities of food that will be available globally. These concerns, expressed early on in studies by MIT for the Club of Rome, were largely ignored at a time when it appeared that increases in resource availability would outstrip increases in consumption. However, the rapid depletion of agricultural surpluses has clearly manifested the urgency of the problem of how to Feed the Planet and prevent hunge
Visit: www.milanworldsfair.com
___________________________________________________________________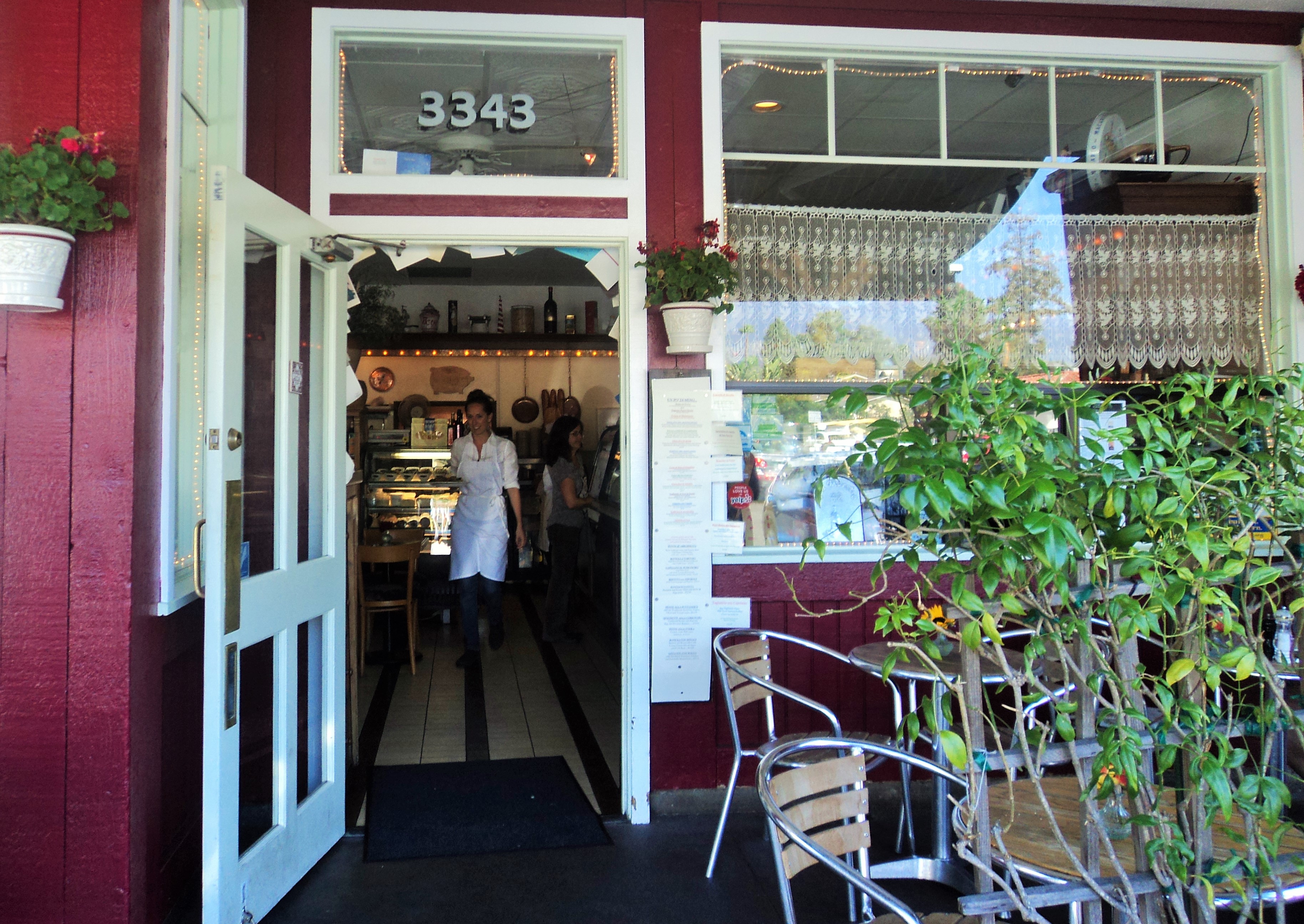 VIA MAESTRA 42 - ITALIAN TRATTORIA IN SANTA BARBARA
Share a delightful springtime family dinner in Santa Barbara's sweetest and most authentic Italian venue. Via Maestra 42 was named for the owner's home address in Piedmonte, Italy, and the dishes are from original family favorites. Enjoy breakfast, a lunch inside or on the front patio, and dinner in the cozy diningroom. Wines are perfectly paired with signature dishes, and the gelato or sweet endings are amazing. Buon Appetito!
Via Maestra 42  3343 State St
Santa Barbara, CA 93105
(805) 569-6522
__________________________________________________________________
CHEF RECIPE TO CELEBRATE MAY BBQ MONTH:
Chipotle BBQ Pork Ribs
Executive Chef Caleb Lara of Harbor View Hotel, Martha's Vineyard
 ·        Pork Ribs
               Ingredients:
10  lbs pork ribs
Method:
1.      Rub the racks with prepared seasoning rub (recipe below) and refrigerate for 6-8 hours, or overnight
2.      Preheat oven to 300 degrees F and roast the pork rib racks slowly for three hours until done
3.      Glaze with Chipotle BBQ sauce (recipe below) during the last hour
·        Chipotle BBQ Sauce
 Ingredients:
4 garlic cloves, minced
¼ cup butter
4 cups Ketchup
1 1/3 cups brown sugar
1 cup Worcestershire sauce
1 cup lemon juice 
6 chipotles in Adobo
1 teaspoon cayenne pepper
1 tablespoon fresh oregano
Kosher salt to taste
Method:
1.      In a sauce pan, sauté garlic in butter until soft
2.      Add all other ingredients and simmer until thickened
3.      Puree and season with salt and pepper
·        BBQ Pork Rub
Ingredients:
½ tablespoon ground ginger
½ tablespoon ground onion
1 tablespoon ground coriander
1 tablespoon ground cumin
1 tablespoon ground black pepper
1 tablespoon chili powder
1 tablespoon garlic powder
1 tablespoon smoked paprika
¼ cup brown sugar
¼ cup kosher salt
Method:
1.   Whisk together all the ingredients and store in an airtight container
---