JOHNNY ROCKETS OPENS NEWEST
INTERNATIONAL LOCATION IN KUWAIT
Newest Restaurant in Al-Rai Marks 10th Middle Eastern Location
for All-American Chain
Avenues – Al-Rai's newest shopping mall and tourist attraction – welcomes an all-American classic to the neighborhood with the opening of the newest Johnny Rockets.
The Avenues features a wide assortment of international shops, restaurants and services, and has quickly become a popular location for the local community as well as tourists. Guests can enjoy a hand-dipped shake and an order of fresh American fries along with a juicy hamburger.
The new Kuwait City location marks the fifth Johnny Rockets restaurant in Kuwait and the seventh restaurant for franchise operator Haidar Al-Naqeeb, who also owns franchises in Bahrain and Qatar. It is the 10th Johnny Rockets location to open in the Middle East since the popular American eatery opened its first Middle Eastern restaurant in 1995. Additional restaurants are in development in The Kingdom of Saudi Arabia Qatar.
"The family-friendly activities available at The Avenues mall complement the feel-good atmosphere, classic food and overall experience that Johnny Rockets is known for all around the world," said Lee Sanders, CEO, The Johnny Rockets Group, Inc. (Put back quote, also need to send to Steve for review by franchisee) Johnny Rockets is located at The Avenues mall at 5th Ring Motorway and Mohammed Bin Al Qassim Street in Safat.

For more information about Johnny Rockets, please visit www.johnnyrockets.com.

---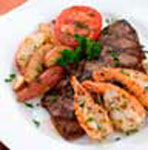 Rubs
Dr. Tea has blended spices and tea to create the perfect rub for your meats or poultry. It is also great to sprinkle onto vegetables, and salads. The tea brings out the flavors of the food and you will find this to become one of your favorite spices as our members of the Ultimate Tea Diet have. To see more, click here.

Dr. Tea has the coolest and healthiest tea drinks, and the hottest entree and dinner ideas. Visit:wwwteagarden.com

---
The Other White Meat Helps Save the Family Dinner One Meal at a Time
"Too Hot Tamales" and National Pork Board Celebrate 12th Annual National Eat Dinner Together Week

Between soccer practice, carpools and parent-teacher conferences, busy back-to-school schedules often leave little time for families to make, let alone share, a meal together. As another school year begins, the National Pork Board invites parents to grab the kids and gather around the dinner table in honor of the 12th annual National Eat Dinner Together Week (Sept. 16-22, 2007). During this special week and throughout the year, the National Pork Board is helping America's families ditch the drive-through and fix family-friendly dinners without stressing-out, breaking a sweat or spending hours in the kitchen.
According to a recent "Together For Dinner" survey conducted by the National Pork Board, 88 percent of families believe it is very or extremely important to eat together, (up 10 percent since 2005), while the top three barriers to making it happen remain the same including conflicting schedules, work schedule and kids' activities. That's why during this hectic season, more than half of Americans (58 percent) said they spend 30 minutes or less preparing dinner.
"Too Hot Tamales" Spice Up the Dinner Menu

Help has arrived! This year, the National Pork Board enlisted the "Too Hot Tamales," Mary Sue Milliken (a busy mom herself) and Susan Feniger, celebrity chefs and owners of Border Grill Santa Monica, Border Grill Las Vegas and Ciudad in Los Angeles. They are providing their expertise on solving the dinnertime dilemma with weeknight pork recipes that are simple, require few ingredients and are sure to satisfy even the pickiest of palates.
"Spending time in the kitchen has always been a passion for me, but as a parent, gathering the family for a meal and some quality time can still be a challenge," says Milliken. "The dinner table is a place for us to connect with each other, so even though we're all pressed for time, finding ways to make that happen is important. That's why we want to help give families everywhere ideas that make it possible to be together for dinner."
Suffering from a lack of creativity, inspiration, time...or all of the above? Milliken and Feniger created two recipes that are deliciously simple to help get families cooking. Their Plum Pepper Pork recipe makes enough for two meals and the leftovers can be used in a flavorful Curried Pork and Apple Salad (recipes attached). Cooking once, eating twice never sounded or tasted better.
"Eating meals that taste great and are healthy doesn't mean you have to sacrifice hours in the kitchen. Some of my favorite dishes are the easiest ones to make," says Feniger.

Delicious But Demanding Recipe Makeover Contest
In addition, Milliken and Feniger are sharing their tasty meals-in-minutes cooking in a special way with one lucky pork lover. Beginning Sept. 16 (through Oct. 13), home cooks can visit TogetherForDinner.com to enter or mail in their family's favorite, yet demanding pork recipe, along with a short description of why they should be chosen for a "recipe makeover."
One grand prize winner will have their demanding dish simplified by the "Too Hot Tamales," and also will receive a $1,500 gift certificate for Dream Dinners (meal assembly franchise), $1,000 gift certificate for family cooking classes, along with pork certificates, personalized aprons and chef hats for the entire family. The grand prize winner's original recipe and makeover recipe will be featured on TogetherForDinner.com.
Two runners-up also will be selected to receive great pork prizes. Judging of recipes will include creativity, difficulty of preparation and originality.
Click 'n Get Cooking with TogetherForDinner.com
Don't be blah! TogetherForDinner.com is a great go-to web resource packed with NEW offerings for busy home cooks that can help turn dinnertime from blah to "ahh" with a click of the mouse! This year, a downloadable "Click 'n' Cook" web recipe tool can be added to your desktop for help finding a pork recipe using ingredients already sitting in your kitchen or on your grocery list.
The site also offers recipes that can be prepared in 30 minutes or less, a "Cook Once, Eat Twice" meal planning tool, meal management tips (courtesy of home cooks and busy parents across the country), fun mealtime activity ideas including a Meal Magic recipe game, conversation starters and printable placemats, and the chance to create a personalized, online family cookbook that's shareable with family and friends.

---
Labor Day is America's Second Favorite Outdoor Grilling Holiday, According to
Weber FastFacts™
American grill owners continue to fire up their outdoor barbecues on holidays, according to Weber FastFacts™. While the Fourth of July tops the list as their favorite grilling holiday (81
percent), this year respondents chose Labor Day as their second favorite (68 percent, tied with "birthdays").
Overall, the number of American grill owners who say they're grilling more than one year ago continues to increase. While 54 percent say they're grilling as frequently as one year ago, 29 percent say they are grilling more often. Only 15 percent are grilling less often than a year ago. Younger grill owners under age 35 are significantly more likely to be grilling more now than a year earlier (41 percent) than those between age 35 and 54 (29 percent) or age 55 or older (20 percent).
From The Weber Newsroom™, Weber FastFacts survey respondents are over age 21 and own a gas, charcoal, or electric barbecue grill or smoker. Respondents were balanced demographically to represent households across the U.S.

---
12th ANNUAL CHEF CELEBRATION DINNER SERIES PAIRS
SAN DIEGO'S BEST WITH ASPIRING YOUNG CHEFS
—Five-course banquets benefit nonprofit culinary scholarship program—
Chef Celebration, a nonprofit organization striving to lay a foundation of excellence for San Diego's dining community, today announced the schedule of events for its annual dinner series, held at restaurants across the county during the month of October 2007.
Chef Celebration is a collaborative effort by more than 50 award-winning local chefs who donate their talent, time and energy to raise money for a culinary scholarship program. Through a new partnership with the Culinary Institute of America (CIA) Greystone in Napa, California, Chef Celebration will offer aspiring chefs the opportunity to learn from the best in their profession. Applications are currently being accepted from prospective scholarship recipients for a variety of educational grants.
The 12th Annual Chef Celebration Dinner Series takes place every Tuesday in October and will focus on fusing each renowned chef's unique talents into a delectable five-course dinner. Teams of chefs will join forces at some of our city's finest dining establishments including Pamplemousse, Savory, Thee Bungalow, Azul La Jolla and Terra. Each chef will contribute one of their most notable recipes and throughout the dinner make special appearances to mingle with the guests.
"Last year, more than $26,000 was donated to aspiring local cooks who will perfect their skills in the kitchen with the support of Chef Celebration," said Jeff Rossman from Terra Restaurant. "We are grateful to all the participating chefs and restaurants who have been involved in this and past events. It is amazing to see the teamwork involved behind the scenes to make these five-course fundraising dinners an experience that diners will never forget."
Chef Celebration dinners require a $75 donation per person, with $40 going towards the nonprofit scholarship fund. For menu information and reservations, please contact host restaurants directly by phone or email.
2007 host restaurants and participating chefs:
Tuesday, October 2nd – Pamplemousse (858) 792.9090 www.pgrille.com
514 Via de la Valle, Del Mar, CA 92075
Hanis Cavin -- Kensington Grill
Amy DiBiase -- Baleen/Paradise Point
Bernard Guillas -- Marine Room
Paul McCabe -- J Taylor/L'Auberge
Jeffrey Strauss and Tommy DiMella-- Pamplemousse
Tuesday, October 9th – Savory (760) 634.5556 www.savorycasualfare.com
267 El Camino Real, Encinitas, CA 92024
David Birtness -- ECR Grille
Paul Murphy -- Humphrey's By the Bay
Patrick Ponsati -- Bernard'O Restaurant
Franck Riffaud -- Four Seasons Aviara
Pascal Vignau -- Savory
Tuesday, October 16th – Thee Bungalow (619) 224.2884 www.theebungalow.com
4996 West Pt. Loma Blvd., San Diego, CA 92107
Todd Nash –Dakota Grill
Paul Niles – Thee Bungalow
Jonathan Hale – Blue Point
Deborah Scott -- Kemo Sabe, Indigo Grill, Island Prime
Jeff Thurston – The Prado
Tuesday, October 23rd – Azul La Jolla (858) 454-9616 http://www.brigantine.com/azul/
1250 Prospect Street, La Jolla, CA 92037
Orion Balliet- Azul La Jolla
Ish Espinoza- Miguel's
Steve Floyd –Zócalo Grill
Michael Mitchem- Brigantine Restaurants
Rich Schmitt -- Pacific Coast Grill
Tuesday, October 30th – Terra (619) 985.8202 www.terrasd.com
3900 Vermont St., Ste. K, San Diego, CA 92103
Brian Malarkey – The Oceanaire Seafood Room
Benjamin Moore – Parallel 33
Gavin Kaysen – El Bizcocho
Jeff Rossman –Terra Restaurant
Nicola Calamari – Vigilucci's Restaurant
About Chef Celebration:
Chef Celebration is a nonprofit organization that strives to enhance the knowledge and potential of promising young chefs and lay a foundation of excellence for San Diego's culinary future. Over the past ten years, Chef Celebration has distributed in excess of $60,000 in scholarships and such notable chefs as Riko Bartolome of Asia Vous, Hanis Cavin of Kensington Grill, Denise Roa of Art Institute, and Josh McGinnis of L.A. Specialty & Produce have been past recipients.
For more information, please visit www.chefcelebration.org.
---
Chemist -Turned-ChefWorks
Culinary Magic at New Classic Steakhouse
Emeril-inspired Chef Opens Rosen Shingle Creek's A Land Remembered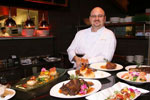 In an age endless reality TV shows and extreme makeovers, Chef James Slattery's story may not seem all that unusual. But 10 years ago, a career change like his was unheard of.
Slattery was recently named Head Chef at A Land Remembered, a classic American steakhouse which just opened at the new AAA Four Diamond Rosen Shingle Creek. For any other chef, it might seem like a logical, albeit, exciting career progression, but for Slattery, it's truly a dream come true.
In 1998, the hardworking 30-something was slaving away in the corporate world, making good use of his Master's degree in chemistry as a analytical chemist. Despite his mundane day job, he was a weekend warrior of the kitchen, having cooked recreationally since he was eight, and owning an impressive collection of more than 200 cookbooks.
Slattery's priorities changed, however, when he met famed Chef Emeril Lagasse at an Orlando book signing in 1998. He asked the New Orleans-based chef and TV personality what it takes to become a chef, and Emeril replied a single word. Not "BAM!" Simply "passion."
Slattery was so inspired, he left his career a chemist and applied for a job at Emeril's Restaurant at Universal City Walk. He was hired as a butcher, earning just $7 an hour, and slowly worked his way up through the ranks of the kitchen, absorbing as much as he could from Emeril and Chef Bernard. Despite his lack of formal training, after four years, Slattery was promoted to Sous Chef at Emeril's second Orlando restaurant, Tchoup Chop. Less than three years later, he was promoted to Executive Sous Chef.
"While I discovered that a career in science was not for me, my chemistry background gives me great instincts in the kitchen," said the chef. "Understanding how certain foods react to heat and cold, and how spices or other ingredients can enhance another food's flavor-those are all just the building blocks for creating an incredible meal."
Drawing on the understanding of "food chemistry," Slattery has been dubbed Orlando's own version of Alton Brown, ironically, yet another television chef made famous for his simple yet scientifically based recipes on the Food Network show "Good Eats."
After several grateful years under Emeril's tutelage, the enterprising chef, now just shy of 40, came to A Land Remembered at Rosen Shingle Creek to break out on his own and put his unique stamp on the new classic American steakhouse.
"As a chef, my passion is not, of course, for the food itself, but in for cooking for the enjoyment of my guests," said Slattery. "In that way, my ideals line up exactly with the Rosen passion for guest service. Everything, from the hotel's conservation efforts to its thoughtful and unique homage to Old Florida, made me realize that I wanted to be a part of building this legendary steakhouse."
For the executive team at Shingle Creek, Slattery's unusual career path was not an obstacle but an inspiration.
"We are thrilled to have one of Orlando's, if not Florida's, hottest culinary talents leading the charge at A Land Remembered," said Harris Rosen, President and COO of Rosen Hotels & Resorts. "This steakhouse has been a dream of mine for many years, and I fully trust that Chef James will carry out my grand vision through his expertly crafted menu."
A Land Remembered is open for lunch from 11 a.m. to 2:30 p.m. and for dinner from 5:30 - 10 p.m. The lounge is open from 11 - 1 a.m. The restaurant seats 120, while a private dining room seats 30, as does the lounge. For reservations, call 407-996-FOOD (3663).
In addition to A Land Remember, the hotel boasts a second upscale dining option in Cala BellaTM ("Creek Beautiful"). Cala BellaTM provides a decidedly different, yet equally impressive menu. This elegant Italian bistro boasts a magnificent private dining room (seats up to 30), a brilliantly stocked wine cellar, and presentation-cooking bar where individuals can comfortably dine alone or enjoy the chefs' companionship as well as their culinary delights.
Guests in search of a more casual dining experience need only head over to Café Osceola & Osceola Bar. With its Spanish revival décor and stunning views through floor to ceiling windows, this buffet restaurant, open for breakfast, lunch and dinner, is an excellent choice. In keeping with the Rosen tradition, the 18 Monroe Street Market offers guests a 24-hour restaurant with quick snacks and quick-to-order meals available for dine-in or take out. Smoooth JavaTM, located in the main lobby, is the destination of choice for anyone in search of superb coffee, smoothies or pastries. And if all these options still aren't enough, Rosen Shingle Creek also provides 24-hour in-room dining service.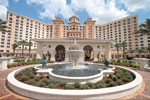 Occupying a 230-acre site along Shingle Creek, the headwaters of the Florida Everglades, the 1,500-room Rosen Shingle Creek offers 445,000 sq. ft. of meeting/event space, a full-service nine-room Spa at Shingle Creek, twelve dining/lounging options, championship golf and an array of nature-focused a

ctivities.
For more information about Rosen Shingle Creek, please visit www.rosenshinglecreek.com or call (866) 996-9939.
---
Early Commitments Strong for
Gourmet Housewares Show Return to
Las Vegas in May 2008
Premier marketplace for upscale housewares announces 32nd annual show
George Little Management is pleased to announce that the 32nd annual Gourmet Housewares Show®, the premier marketplace for upscale housewares will be held May 6-8, 2008 at the Sands Expo Convention Center in Las Vegas, NV. The 2008 Gourmet Housewares Show will showcase some 400 exhibitors, representing over 1000 lines, to a broad audience of industry attendees. The show is well known for targeting the needs of independent specialty cookware and housewares retailers.
Early exhibitor commitments are strong for the return to Las Vegas including Bonjour/ Meyer, Capresso, Cuisinart/Waring, Furitechnics, Gibson Overseas, Harold Imports, Lamson & Goodnow, Lifetime Brands, Messermeister, Metrokane, Progressive International, Staub, Swissmar, Tramontina, Trudeau, William Bounds, WMF and Zak Designs. The Show will also feature many exhibitors returning to the marketplace after a hiatus including John Boos, iSi North America, Kyocera, Pacific Merchants, Polder, Revol and Scanpan, among others.
With its focus on high-end and design-driven housewares, The Gourmet Housewares Show offers buyers the finest selection of cookware, cutlery, bakeware, tabletop, gadgets, small electrics, kitchen textiles, specialty foods, and more. The show draws hundreds of leading independent specialty retail stores and industry buying groups such as A Southern Season, Chef's Catalog, Cook's Emporium, Gourmet Catalog, HTI Buying Group, Kitchen Kaboodle, Now You're Cooking, Sign of the Bear, as well as forward-thinking large retailers including Bed, Bath & Beyond, Neiman-Marcus, Macy's Home, Bloomingdale's, J.C. Penney, the Home Shopping Network, Whole Foods, Crate & Barrel, Costco, Linens 'N Things, and Gracious Home.
Jerry Martins, owner of Now You're Cooking of Ithaca, NY, a long-time show attendee says, "For independent retailers, The Gourmet Housewares Show is simply the most important show of the year. It is the best place to find new product, and it is the one show where vendors really talk to you. We're delighted the Show will be returning to Las Vegas and we'll be there!"
The Culinary Center, the Gourmet show's nexus of celebrity chef appearances, cooking demonstrations, and book signings, will again be a major draw for the 2008 show. A full list of programming, celebrity appearances, and panels will be announced in January 2008. Individual announcements on appearances will commence in the coming weeks.
The 2008 Show will also feature the return of the Gourmet Show's popular Gourmet Golds Awards. Judged by a panel of trade and consumer press, the Gourmet Golds highlight the show's best new products in five categories: Cookware/Bakeware; Kitchen Electrics; Gadgets, Cutlery and Accessories; Gourmet Gifts and Specialty Food; and Tabletop and Textiles. A Best in Show Award is also given. Following the record number of entries for the 2007 Gourmet Golds (128 companies entered the competition), 2008 is sure to be a tight race.
"The move back to Las Vegas is really exciting for us. We are thrilled to welcome back returning exhibitors and to announce participation by companies that have been absent from the marketplace for several cycles," says Susan Corwin, GLM Vice President and Gourmet Housewares Show Manager. "Our new positioning in the centrally-located Sands Expo Center allows exhibitors to continue to benefit from relevant cross- traffic from the National Hardware Show at the Las Vegas Convention Center, and also reinforces the Gourmet Show's specialty branding and unique focus on upscale gourmet products. "
Michael Girgenti, Vice President of Sales for MetroKane Inc., reinforces the idea of holding the Show at the Sands Expo: "It couldn't have been a smarter move....the separation provides an independent identity and makes the Gourmet Housewares Show a more desirable place to exhibit."
The 2008 Gourmet Housewares Show is scheduled for May 6-8, at the Sands Expo Convention Center in Las Vegas, NV. The 2008 Show will be co-located with GLM's Global Home Textiles™ and Global Home Décor™ shows. Concurrently, the National Hardware Show®, Homewares Show™, and Lawn and Garden World™ will be held at the Las Vegas Convention Center.
For further information, please visit www.thegourmetshow.com.

---
Roth Käse USA Cheeses Win Multiple Awards
at 2007 American Cheese Society Competition
Roth Käse's expertise in making exceptional specialty cheeses was again recognized as the company won numerous top awards at the 24th annual American Cheese Society (ACS) Competition, held August 1st – 4th, in Burlington, Vermont. This year the ACS Competition became the nation's largest cheese competition, with over 1200 competing entries from the US and Canada, as well as Central and South America
Roth's Private Reserve took 1st Place in the highly contested "American Originals" category, but most significantly was named Second Runner-Up to the Best of Show. Roth's Private Reserve has collected several other awards in 2007 as well. At the US Championship Cheese Contest held earlier this year, the distinctive raw-milk, alpine-style cheese achieved 1st Place in the Smear-Ripened Cheese category, and 1st Runner-Up Overall. In addition to the awards bestowed on Roth's Private Reserve, Roth Käse took home the following awards at this year's ACS Competition
| | | |
| --- | --- | --- |
| Award | Roth Käse Winner | Category |
| 1st Place | Roth's Private Reserve | American Originals |
| 1st Place | GranQueso | Hispanic and Portuguese-style |
| 2nd Place | Valfino | American Originals |
| 3rd Place | St. Otho's | Low-Fat |
| 3rd Place | Grand Cru Gruyère Surchoix | Washed Rind |
Roth Käse CEO Fermo Jaeckle notes that this is the fourth consecutive year that Roth Käse's popular GranQueso has won 1st Place in its category at the ACS Awards. "GranQueso was a winner from the start," Jaeckle said. "It won a 1st Place award at the 2004 ACS in its first year of production. Now, GranQueso is one of our most decorated cheeses, with eight top honors to its credit." Jaeckle goes on to say that "An ACS award is a true mark of distinction. We are delighted that Roth Käse cheeses stood out among this year's fierce competition."
To date, Roth Käse has earned more than 100 critically acclaimed awards in local, regional, national, and international cheese competitions.

---
The Changing American Palate - Asian Food is Hot
Consumers View Asian Food as a Healthy "Fast Food" Option
Enjoyment Comes from Flavor-Packed Convenience, Chance to Find Adventure & Cultural Experiences, Opportunity to Easily Integrate New Kinds of Veggies
Thai Kitchen's and Simply Asia's Just-Introduced Sauces and Quick-to-Prepare Noodle Dishes Provide an Easy Way to Integrate Asian Foods into Busy Lives and In-Home Entertaining
Today's consumers are enjoying Asian food more than ever. They see this up-and-coming international cuisine as a healthy new "fast food" option - it's quick and easy to prepare, has unique flavors, provides an opportunity to experience new cultures and is an easy and fun way to integrate more vegetables -- even new and different types of vegetables -- into their diet.
Nearly half of American consumers say they plan to cook more meals at home from scratch that incorporate both heat-and-serve and prepared ingredients (Mintel 2005). In line with this trend, Simply Asia and Thai Kitchen are introducing a variety of authentic and flavorful Asian sauces and noodle dishes. They allow consumers to cook meals quickly and easily at home while still using authentic ingredients to create flavorful Asian dishes that their family and friends will love. The new products from Thai Kitchen include a line of four Simmer Sauces and six Take-Out Noodle Meals. The new products from Simply Asia include a line of five Stir Fry Sauces and three all-in-one Stir Fry Meals.
"Thai Kitchen and Simply Asia are proud to offer products that make life easier for today's busy cooks who appreciate authentic ingredients and are eager to use them in their own kitchens but don't have the time to start from scratch," said Beth Conner, Brand Manager of Simply Asia Foods. "We are really partners with our consumers in creating family meal times that are both adventurous and delicious," said Conner.
It's no surprise that the consumption of Asian food continues to grow. Consumers are becoming more familiar with traditional Asian flavors and have increased access to Asian restaurants and packaged foods. They also perceive Asian food to be more nutritious and healthy than other cuisines such as American, Tex/Mex, and Italian. So, consistent with consumers' increasing interest in nutritious and healthy eating, they're eating more Asian cuisine.
While consumers' perception of Asian cuisine as healthy is generally true, misperceptions still exist. Compared to other cuisines, Asian food is perceived to be less filling/satisfying and not as easy to prepare. This indicates that many consumers have not made a 10 minute stir fry or tasted a rich curry sauce over a bed of rice. And within specific Asian cuisines (e.g. Chinese, Japanese, and Thai) misperceptions exist. Is Chinese more filling/satisfying than Thai? Or is this a misperception? Consumers need to be educated about the different cuisines.
Consumers enjoy the unique flavors of Asian cuisine and recognize that it is a good way to get more vegetables in their diet. Asian dishes use a higher ratio of vegetables to protein than most other cuisines, making it a healthy choice. Asian cooking techniques (stir fry) also add to the healthfulness of the food (less cooking time means nutrients in vegetables are preserved.) Many recipes call for the protein to be cut up into bite-sized pieces before cooking, which helps keep the cooking time short and results in crisp, nutritious vegetables.
While the majority of consumers think that Asian food is a healthier alternative to other types of cuisines (60%), there is concern about the amount of sodium and MSG in Asian products. Brands such as Thai Kitchen and Simply Asia use no MSG and develop products with delicious flavors by using blends of authentic Asian spices.
"It's a common belief that Asian foods contain MSG, but we want consumers to know that Thai Kitchen and Simply Asia have never used it in our products," said Conner. "We've also recently introduced a lower sodium version of fish sauce, which is a very traditional Asian ingredient" said Conner.
While over half of Americans didn't grow up eating Asian food, there is increasing interest in Asian cuisine. This is demonstrated through the growing popularity of Asian cooking classes. Among those who took a cooking class in the last year, Indian and Thai cooking classes were the most popular. However, among consumers who do prepare Asian meals, Chinese cuisine is prepared more than Thai or Japanese indicating consumers' relative unfamiliarity with these other cuisines.
In order to continue to satisfy consumer's adventurous and health-conscious appetites, yet still fit in with their time-constrained lifestyles, Thai Kitchen and Simply Asia are bringing a variety of delicious Asian tastes closer to home with products for "speed-scratch" cooking. These products are flavorful short cuts that allow home cooks to quickly and easily get the
satisfaction of creating a home-cooked meal by using a combination of pre-prepared and fresh ingredients. They can round off their meals either with a flavorful sauce or create a complete meal by adding a vegetable or protein to rice or noodle mixes. The newest speed-scratch items are authentic and flavorful sauces. Perfect for today's busy consumer who has a more sophisticated palate, these convenient and delicious simmer and stir-fry sauces make it easy for individuals to experience a true taste of Asia from the comfort of their own home - quickly and easily.
"The variety and depth of the Thai Kitchen and Simply Asia lines give consumers an opportunity to really explore Pan-Asian flavors in an easy way that's accessible to every home cook," said Katie Chin, author and TV chef. "Asian food also allows consumers to incorporate a lot of vegetables into their meals and it's a great opportunity to try exotic veggies they may not have otherwise tried," said Chin.
BACKGROUND ON NEW PRODUCTS
Consistent with the growing interest in Asian foods, Thai Kitchen and Simply Asia are launching a number of products that give consumers a quick and easy way to enjoy their favorite Asian flavors.
Thai Kitchen 10-Minute Simmer Sauces allow consumers to create restaurant-quality meals in minutes. The tantalizing Simmer Sauce line includes: Red Curry, Yellow Curry, Green Curry and Panang Curry. The suggested retail price is $3.39.


Simply Asia Stir-Fry Sauces are sure to satisfy the most sophisticated palate. The line includes popular Asian varieties such as Teriyaki, General Tsao, Mandarin Orange, Kung Pao and Szechuan. The suggested retail price is $2.99.


Thai Kitchen Take-out Meals: Microwaveable "take-out" boxes that include 100% pure rice noodles, Thai Kitchen signature sauce, vegetable packet, delicious roasted peanut topping and a fork in a completely self-contained meal. Consumers can cook and eat directly out of the box eliminating the mess. Just add water, microwave and have a delicious rice noodle meal in minutes. Flavor varieties include Garlic & Roasted Pepper, Tangy Sweet & Sour, Thai Peanut, Original Pad Thai, Ginger & Sweet Chili and Thai Basil & Chili. The suggested retail price is $3.29.


Simply Asia: Stir-Fry Meal: All-in-one stir-fry meal kits are perfect for the entire family and include ready to stir-fry tender wheat noodles, authentic water-packed Asian vegetables and signature stir-fry sauce. Simply add a favorite meat and green vegetable, and an authentic meal for four will be ready in 15 minutes. Flavor varieties include: Mandarin Orange, Spicy Kung Pao and Honey Teriyaki. The suggested retail price is $4.99.
Products from Thai Kitchen and Simply Asia are available at gourmet food shops, natural food stores and grocery stores nationwide. For a list of retailers or to purchase products online, visit www.ThaiKitchen.com.