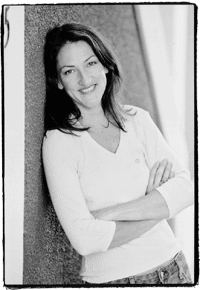 IN SEARCH OF THE SWEET TASTE OF SUCCESS. . .
JESSICA FOSTER TRUFFLES
by Bonnie Carroll
Sitting in Jessica Foster's kitchen watching her answering busy phones and planning her holiday deliveries is really awe inspiring. This girl is obviously on the go, and loving every minute creating some of the finest truffles in America to sell to her satisfied customer and new devotees. "My creations are not traditional, they are the final result of my special journey following my passion for creating a unique truffle experience" says Foster.
The journey for this gal has been winding, and took her from Santa Maria to Santa Barbara and then to Spain to study, and an experience there rooming with a group of "foodies" that awakened her passion for the joy of cooking; especially Indian cuisine. After returning to Santa Barbara to graduate from UCSB she began working in local restaurants, including The Fish House and Meritage. Finally she landed a great job as a pastry chef and line chef at Bouchon in Santa Barbara, where she says she really learned so much about dessert and food preparations.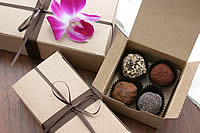 "Restaurant kitchen work is exhausting and it can burn you out quickly, and the money is not exactly great. I also worked as a waitress, and although the tips were great I really missed working in the kitchen creating great plates." That is when chef Foster decided to take a break to develop her own niche and have full artistic fulfillment. Her first attempt was cheese making that she learned at Cal Poly, but she quickly realized how easy it is to poison people if the process is not perfect. "I felt it was too dangerous for me" said Foster.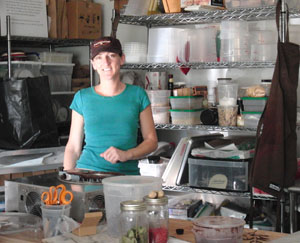 In 2001 she was reading an issue of Martha Stewart and saw some great truffle recipes. "It was a sort of Jessica and Martha" moment and I began working on truffles. The knowledge I had gotten at Bouchon making brulet and crème desserts helped me instinctively know how to integrate the flavors successfully. Her family and friends were great about testing her wares, and soon her dad offered her a small loan to get started. "My dad, mom and sister have always inspired me to keep going" she said.
"I made changes based on friends and family response, and to my amazement one day someone placed an order. That was the beginning of Jennifer Foster Confections and the rest is history." A dear friend studying design helped me create my logo, webpage and package designs and people began ordering online. My kitchen came to me eight years ago through my dear friend Christine, a local caterer.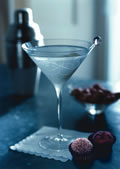 Foster said she has walked her path slowly, growing her organic business, and it is slowing and successfully growing through word of mouth and friends that have become regular customers. "My fondest wish is to realize my dream of owning my own shop where my truffles would be enjoyed with hot chocolate, champagne or wine flights," she says.
Jessica Foster Chocolate Truffles are presented to all guests at San Ysidro Ranch as a turn down amenity each night, and her exclusive truffle tasting parties are being written up in local social publications…not a bad beginning for a small town business woman who loves chocolate! For truffle orders and information visit www.jessicafosterconfections.com.
---
HOT NEW SPOT IN HOLLYWOOD - EVELEIGH
Eveleigh Restaurant Opens on The Sunset Strip
Eveleigh (pronounced "everly") is the newest restaurant to grace The Sunset Strip. Eveleigh is the latest creation from Australian restaurateur Nick Mathers, also behind the New York hotspot Kingswood. The menu consists of midpriced, seasonal European cuisine served in a rustic, candlelit setting. Eveleigh has been described as a tranquil oasis amidst the hustle and bustle of The Strip. 8752 Sunset Blvd., West Hollywood; 424-239-1630
---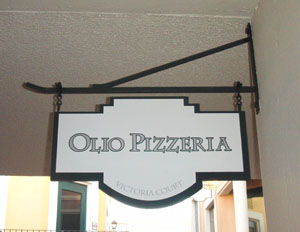 OLIO & LIMONE OPENS CHIC ITALIAN PIZZERIA IN SANTA BARBARA
By Bonnie Carroll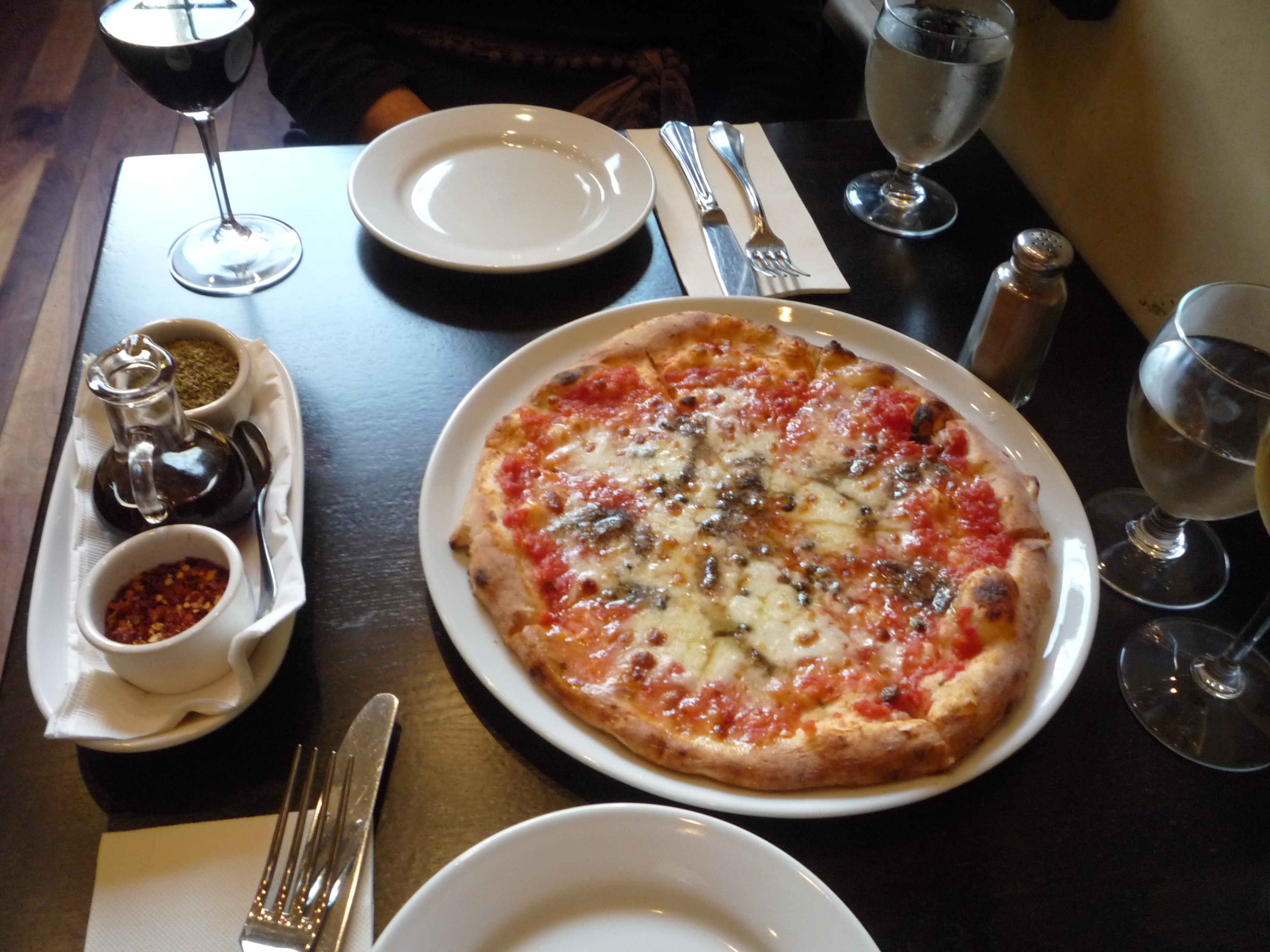 Olio Pizzeria is the new hot spot for pre an post entertainment events or just a fun night our with friends or family. The place is always packed, and delicious pizza is continuously being pulled from the Italian stone ovens. The menu has all the goods for a full or small meal, as well as some of the best pizza's made with the finest Italian products.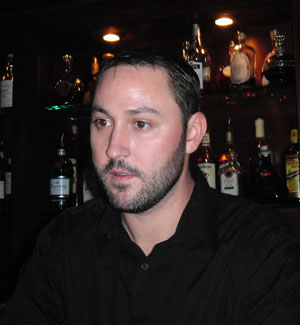 The full service bar, which offers food service, is reminescent of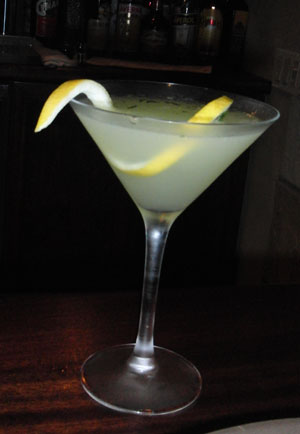 "Cheers" with fabulous Italian food. It's a place where people meet and greet neighbors who come in the door. The bar person is very helpful and a skilled mixologist. A featured cocktail at Olio Pizzeria is "Amalfi Bliss" and I'm told that it tastes as good as it looks. The wine list is filled with options for any budget, and offers many outstanding, including fine Italian wines. A selection of wonderful small plates have been designed to enjoy before dinner or with a glass of wine at the bar.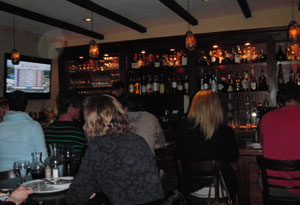 The venue is the old video store behind Olio &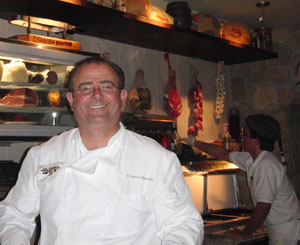 Limone restaurant, and the owners have created a warm restaurant, filled with wood, great Italian favorites and friendly conversation. This upscale pizzeria has become an instant favorite destinations for locals.
 OLIO PIZZERIA
                                                   Santa Barbara, CA
---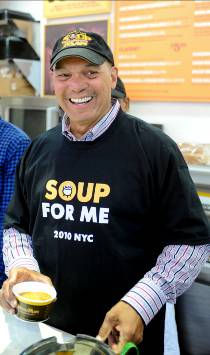 "SEINFELD" SOUPMAN OPENS ON 38TH STREET IN MANHATTAN
Despite the infamous "No Soup for You" mantra, there was plenty of soup for patrons donning the names Kramer, Elaine, Spike, George, and Jerry, who all came out to play today, nearly 15 years after the famous portrayal on "Seinfeld"  for the Original SoupMan's newest location opening on 38th street in Manhattan. Below, please find photos from the event where NY Yankees Hall-of-Famer Reggie Jackson, who is also the Special Advisor to Strategic Relationships for The Original SoupMan, chopped the vegetables, cut the ribbon, served soup, signed autographs and had a fun-filled afternoon with his near and dear NYC fans.
 The opening day menu consisted of: Jerry's Favorite Crab Bisque, The World's Best Mulligatawny, Garden Vegetable, Jambalaya, Manhattan Clam Chowder, Chicken Vegetable,  Garden Vegetable, Lentil, and Shrimp Corn Chowder
---
AND LAS VEGAS LUXIST AWARDS GO TO ... RESTAURANT GUY SAVOY AT CEASARS PALACE, STRIP HOUSE AT PLANET HOLLYWOOD
Luxist, the AOL Web site covering the world of luxury and fine living, is showering awards on Harrah's Entertainment restaurants: Restaurant Guy Savoy at Caesars Palace has been named one of the top five restaurant in the U.S. category, "Best Domestic Restaurant" while the Strip House brand, which has a location at Planet Hollywood was named "Best Steakhouse."
The annual Luxist Awards, the pinnacle of fine living, seeks to discover the best of the best in different categories each month from wine and entertainment to restaurants, spas and much more.  Luxist Award nominees are nominated and voted for by Luxist readers and editors.  There are nominees and winners in different categories each month ranging from jewelry, décor and fashion to wine, spas, travel and fine dining. Nominees are searchable on the website by category and location, providing Luxist's audience with a valuable way to search for local luxury businesses. 
Caesars Palace welcomed Michelin three-star French chef Guy Savoy in May 2006 to its Augustus Tower, making Restaurant Guy Savoy the famed chef's sole U.S. restaurant.  His coveted three Michelin stars are widely recognized as the pinnacle in culinary achievement.  In 1997, he was honored with a "Guy Savoy" entry in the prestigious Larousse encyclopedia.  In 2000 he received the Legion d' Honneur – his country's highest honor – from the French Minister of Agriculture, and, in 2009,  was named "Officier" of the Legion d'Honneur.  In 2002 he was awarded his third Michelin star and voted "Chef of the Year" by his French peers.  Since opening in May 2006, the Caesars Palace restaurant has received widespread critical acclaim including Esquire's "Best New Restaurants," and Gayot's "Top 40 Restaurants in the U .S."  It earned 3 -1/2 stars from the Los Angeles Times while Newsweek International called it "the best restaurant in Las Vegas, and one of the finest anywhere."  In 2008, after only two years of operation, Restaurant Guy Savoy won the AAA Five Diamond Award and the Wine Spectator Grand Award.  In addition to the accolade for the Las Vegas location, the original location in Paris won for "Best International Restaurant."
As for Strip House, located on the Mezz level of Planet Hollywood, the restaurant delivers on dishes and décor, creating a steakhouse unlike any other in Las Vegas.  The menu by Executive Chef John Schenk is designed to excite all the senses with prime cuts of beef charred to perfection, signature side dishes such as truffle creamed spinach and goose fat potatoes and the famed 24-Layer Chocolate Cake.  The wine list is as comprehensive as interesting, with reds to surprise palates and includes a section of organic and green vintages.  Part of the experience is the sumptuous, all red decor, moody lighting and vintage black and white photographs.  Awarded Two Stars from New York Times in March, Strip House is the only steakhouse awarded Four Stars in Forbes magazine's All-Star Eateries 2009, the home of the "best steak" by Citysearch, a "celebrity hot spot" by Peopl e.com and one of the top new restaurants in Las Vegas by Zagat's Best of Las Vegas 2008.
ABOUT CAESARS PALACE
Caesars Palace is the world's best known resort-casino, celebrating the grandeur that was Rome, in an 85-acre destination location that sets the standard for entertainment, dining and luxury.  Reigning at the heart of the Las Vegas Strip, Caesars Palace ranks among the world's top luxury resorts known for its originality and beauty.  The resort  features 3,300 hotel guest rooms and suites, 23 diverse restaurants and cafes, five-acre Garden of the Gods pools and gardens, 50,000 square foot Qua Baths & Spa and 300,000 square feet of premium meeting and convention space.  The 4,300-seat Colosseum sits just steps from celebrity chef restaurants and the acclaimed Forum Shops at Caesars.  The resort spotlights world class entertainers such as Cher, and Jerry Seinfeld, and returning March 15, 2011, Celine Dion.  Find Caesars Palace on Facebook at http://www.facebook.com/caesarspalace and follow
http://www.twitter.com/caesarspalace
(@caesarspalace).
ABOUT PLANET HOLLYWOOD
Planet Hollywood Resort & Casino is a joint venture partnership involving Robert Earl, Founder and CEO of Planet Hollywood International Inc, Bay Harbour Management LLC and Starwood Hotels & Resorts Worldwide Inc and is a member of the Starwood Preferred Guest program.  The hottest property on the Las Vegas Strip with 2,500 beautifully designed guest rooms and suites featuring the best views in town, Planet Hollywood encompasses more than 100,000 square feet of gaming, fine dining restaurants including KOI and Strip House, an award-winning buffet, casual dining options, lounges, Planet Hollywood Spa by Mandara and is the home of PEEPSHOW, a sexy burlesque show with a modern sensibility.  The property is encircled by Miracle Mile Shops with more than 170 specialty stores and restaurants.  For more information log onto
http://www.planethollywood.com/
.
---
SWEET SALLY'S FOR THE HOLIDAYS
This New York sweet treat company has it all. They have scones that would make the Scottish blush, and they have Rugelach that competes with Bernie Safire's mom Molly in Malibu (She once taught Rosie O'Donnell how to make rugelach on TV). I love the simply delicious and affordable qualities of these home-made treasures. Visit: www.sweetsallys.com for gift items and prices.
---