Culinary Coup   .   .   .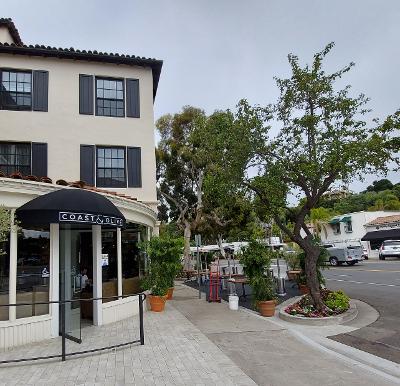 COAST & OLIVE AL FRESCO BRUNCH A MAGICAL EXPERIENCE
Montecito Inn Raising the Bar on Elegant Off-Street Dining
By Bonnie Carroll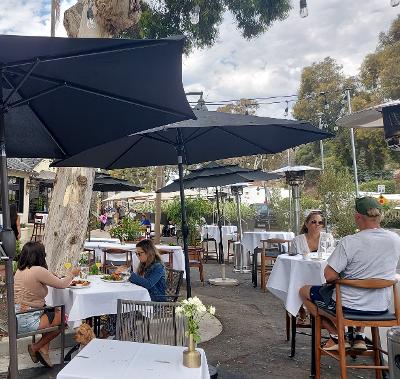 The Montecito Inn Hotel is raising the bar on elegant service and perfect menu selections in their new constructed Coast & Olive Al Fresco venue located under the trees on the street next to the historic Montecito hotel on Coast Village Road in the prestigious star-studded Santa Barbara County enclave.
A hotel created by Charlie Chaplin as a fun leisure escape for his friends in the 20s the hotel garnered world attention two years ago during the tragic fire and mudslide that took over twenty lives. The hard-working owners quickly pulled everything back together, including dredging mud from their street level parking lot, and created new food and beverage programs to attract visitors. The latest version is called Coast & Olive located on Coast Villiage Road. The restaurant has been a favorite of locals and tourists for two decades. However, with the COVID 19 compliance orders the Coast & Olive is now a fabulous Al Fresco venue sitting under the trees next to the hotel on Coast Village Road.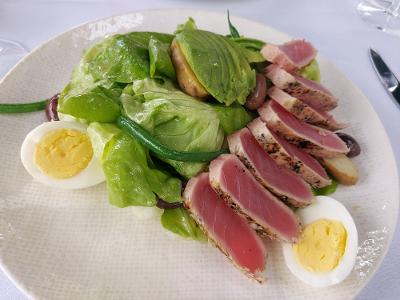 The ambiance is delightful, and it has already become a 'be back' destination by foodies in the know. My brunch visit began with a peek at the menu, which had so many items I would like to try that I was a struggling to make a decision, but I selected the California Niçoise Salad prepared with butter lettuce, grilled rare ahi tuna, avocado, black olives, fingerling potatoes, haricot vert, house vinaigrette, and a hard boiled farm egg that was without doubt the best I've ever tasted. The vegetables and ahi were perfectly cooked, and the lettuce was crispy gorgeous. The tuna, avocado and black olive flavors combined with the house vinaigrette dressing melted in my mouth and I was delighted with my menu selection. I am already planning making plans for another visit and will be going back to try the warm spinach salad with grilled salmon and perhaps the ½ dozen Beau Soleil oysters with a glass of prosecco.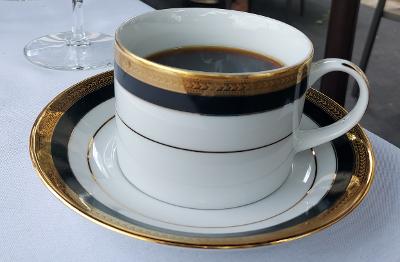 We had just ordered when it started raining, a kind of light Caribbean rain, and the alert staff rushed to move an umbrella to cover us. The servers and staff were all very attentive and aim to please. I love coffee, and not only was the coffee delicious it was served in an exquisite cup and saucer - all the tableware was beautiful which always makes the presentation a win-win if the chef's preparation is done nicely.  Bellini's and Mimosa's were being served with brunch items, as well as a variety of fine waters, juices, teas, and sodas.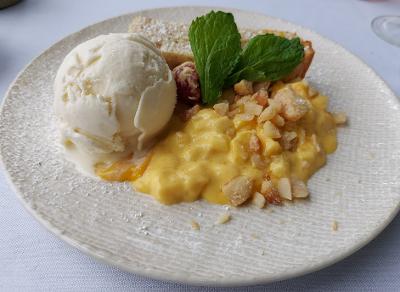 I am usually on a keto diet but made an exception for what seemed like a small simple dessert. However, the almond cake with McConnell's ice cream turned out to be one divinely prepared almond cake, with a fresh fruit custard, a fresh raspberry, and a large scoop of vanilla wonderful ice cream. I heartily recommend this sweet ending because it's worth the any extra time on a stationary bike!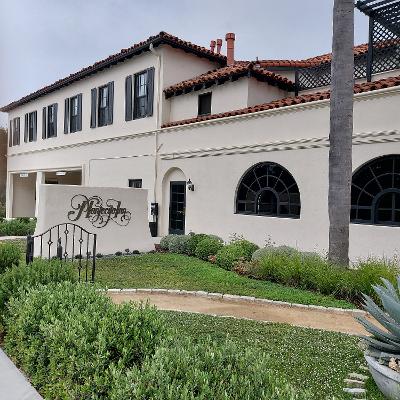 Sitting under the trees by the Montecito Inn everything almost seemed normal. I forgot briefly what is happening in our country and our world. I was just caught in time enjoying a blissful brunch in a place I love. I really needed this nearly normal experience, and I am grateful to the hotel and chef for creating this magical memory. Congratulations to Montecito Inn for creating this elegant Al Fresco experience for their guests and residents to enjoy. Coast & Olive are taking reservations and I would recommend making one. Several people who arrived were unable to get a table. I spoke briefly with Danny Copus, partner at Montecito Inn and he said "we just decided to try it. People seem to like it and they like the brunch items as well. We'll just try it and see how it goes," he said. He also mentioned that the Sushi Bar in the hotel has some outstanding bites community foodies should try.
Montecito Inn – Coast & Olive
Coast Village Road at Olive Mill Road
Montecito, California
_________________________________________________________________
GELATO 2021 EUROPEAN FINALS
 America to Europe . . . Gelato Rules!!
Along with groups of judges I was priviledged to sellect winners for Gelato Festivals America held in Santa Barbara and West Hollywood California prior to the International competitions in Europe. Loved working with Danielo and the amazing coordinators of these sweet events and meeting Gelato Chanpions from around the world. Below are more winners from Europe & Mediterranean I recieved recently. Below are photos taken at the Califoria Venues.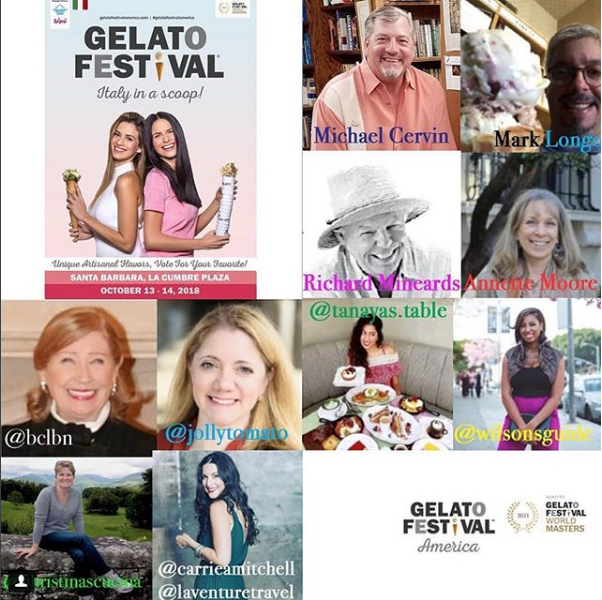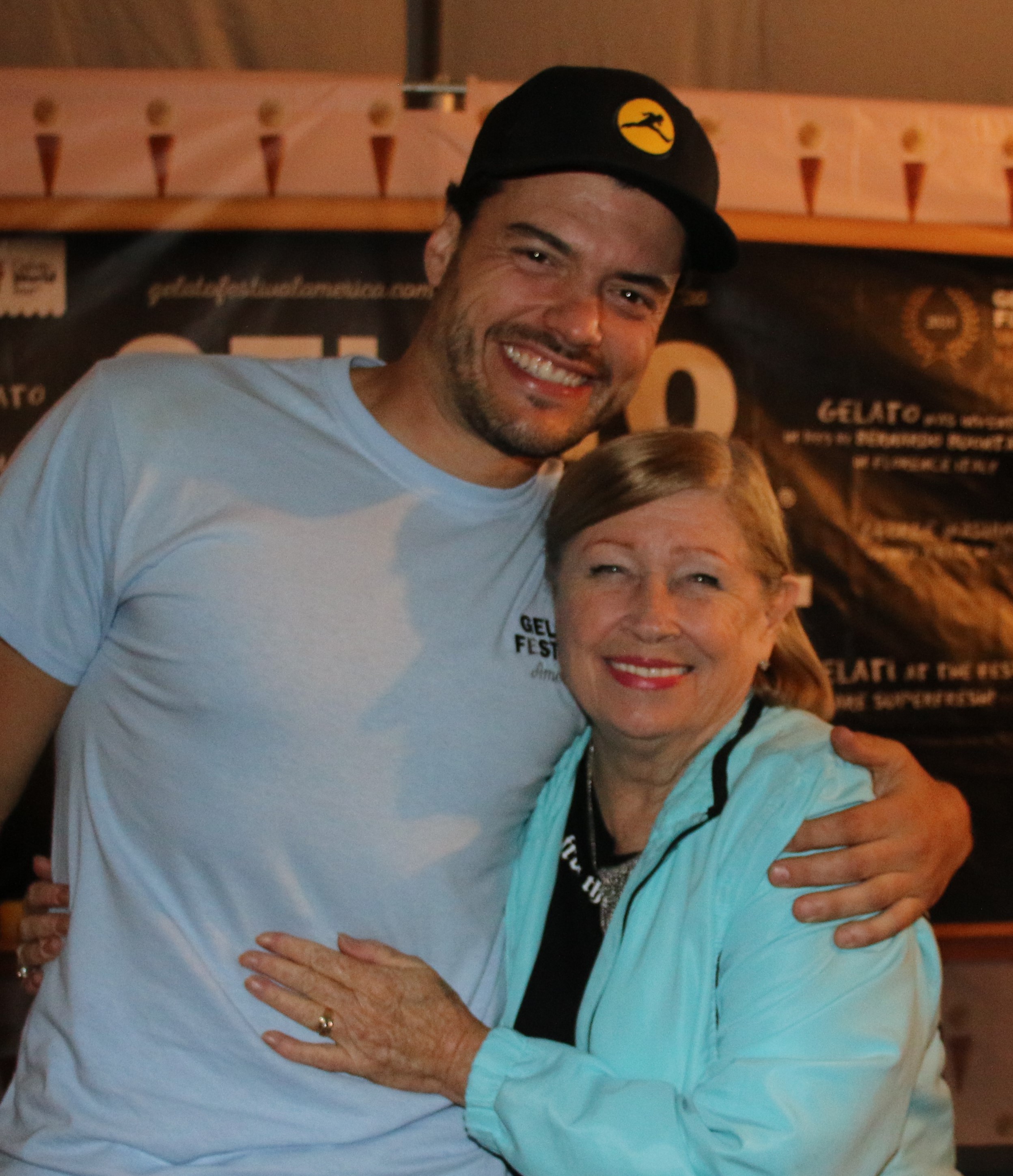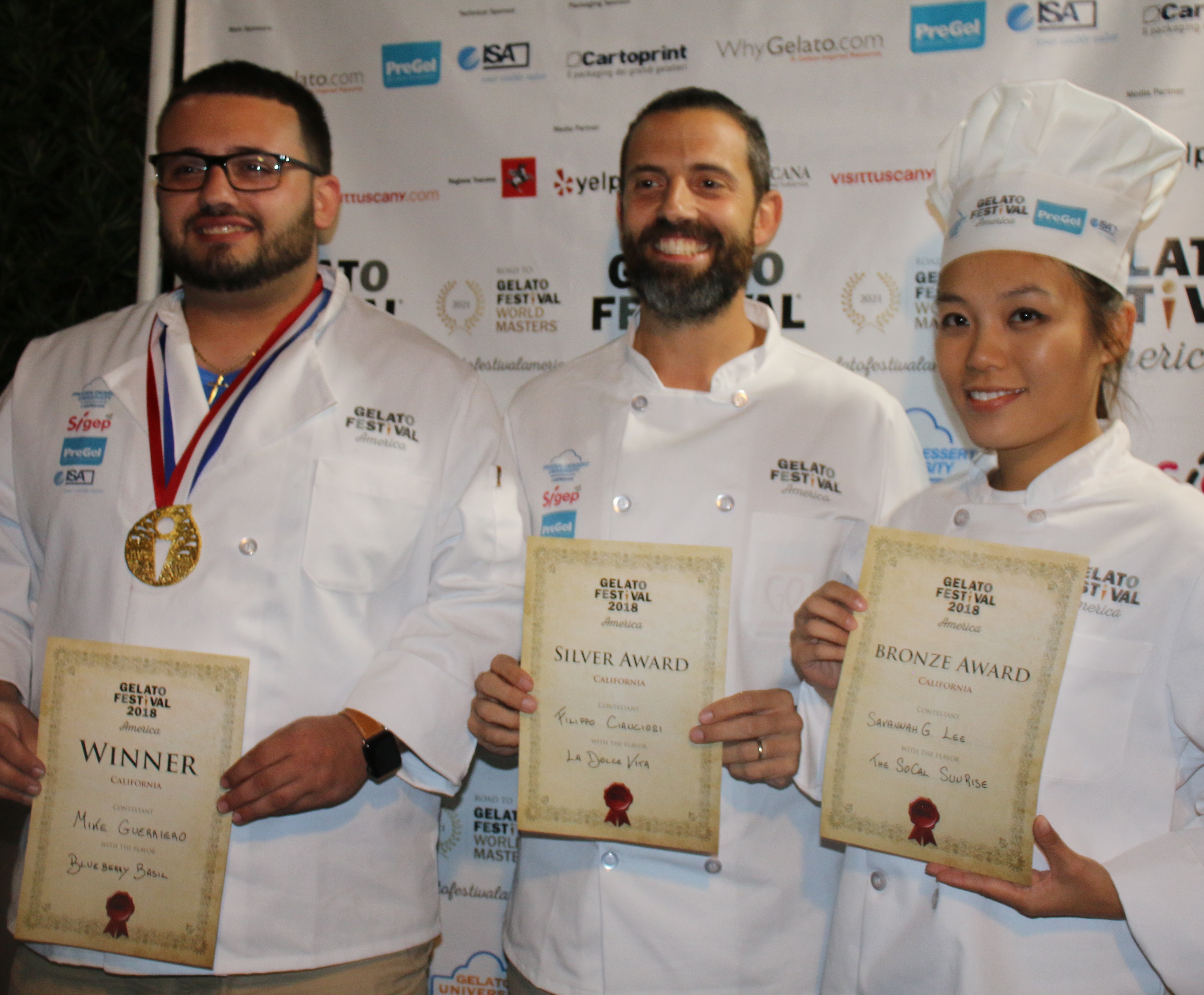 The Gelato Show Goes On!!

The Gelato Festival World Masters selections continue with the Finals dedicated to the Rest of Europe & Mediterranean Area, with 28 gelato artisans in competition to represent their Country at the World Finals!
Tune in on July 13th at 3:00 pm CET to meet the first 16 participants from 8 countries.
Are you ready to discover what flavors Germany, Belgium, Croatia, Greece, Israel, Morocco, Norway and the Netherlands have in store?
Here are the 16 Finalists:
1 - Santo Palamara from Germany with the flavor "L'Etneo" 
2 - Tiziano Damiano from Germany with the flavor "Callbujotto"
3 - Massimo Caraccioli  from Germany with the flavor "Rabarbaro al naturale con menta ed estratto di fragola" 
4 - Sylvester Schatteman & Roberto Guastamacchia from Belgium with the flavor "Balsamic Strawberry and Terragon"
5 - Mathieu Eyckmans from Belgium with the flavor "Gorgonzola Fig Gelato"
6 - Rob Proost from Belgium with the flavor "Frambozen Lychee en Rozen Water"
7 - Wim Van Houcke from Belgium with the flavor "Espresso, Salted Caramel and Almond"
8 - Fabio Marasti from Belgium with the flavor "Cheesecake Surprise"
9 - Zoia Deninska from Bulgaria with the flavor "Black Forest"
10 - Marija Skoric from Croatia with the flavor "Sweet Tonka"
11 - Thanasis Tsagkliotis from Greece with the flavor "La Maison"
12 - Adrey Peroff from Israel with the flavor "Whisky Salted Caramel"
13 - Soufian El Fakiri from Morocco with the flavor "Mira Palace"
14 - Frode Stavran from Norway with the flavor "Blue Cheese"
---