Italian Holiday Joy's from Lauren



The Epiphany & La Befana
For Italian children, the feast of the Epiphany and La Befana, on January 6th, is far more celebrated than even Christmas. January 6th not only marks the end of the Italian Christmas season, but also celebrates the day that the three Wise Men arrived at the manger in Bethlehem.

As legend recalls, the three Wise Men, who were searching for the Christ child arrived at the house of an old woman, La Befana. In desperate need of directions, they knocked on the door and the old woman emerged from her house to see who had knocked. There at her doorstep were the colorfully, and elaborately dressed Wise Men. The three men asked for directions, but the woman did not know who they were and could not offer any help as to what direction to point them. The three men thanked her anyway, and asked if she would accompany them on their journey to find the baby Christ. La Befana declined their offer, saying she had too much housework to do. When they left she couldn't help but feel as though she had passed up on something very special. Realizing she had made a mistake, she dressed herself for the journey and set out to find the men and the Baby Jesus. She searched high and low but could not find them, so she stopped every child she met and gave them a small treat in the hopes that one of them was the Christ child. Since then, each year on the eve of the Epiphany, La Befana sets out on her journey in search of the Christ child. She makes a stop at each child's house and leaves treats in the shoes of those who have been good all year and coal in the shoes of those who have misbehaved. So make sure you leave your stockings hung or your shoes out on the eve of the Epiphany and maybe La Befana will bring you treats!
Italy's Holiday Season
In Italy, December and January bring a busy time filled with Saints' days, food & wine celebrations and sagras of many kinds. Here are a the most important dates.
December 6: La Festa di San Nicola - The festival in honor of St. Nicholas, the patron saint of shepherds, is celebrated in towns such as Pollutri with the lighting of fires under enormous cauldrons, in which fave (broad beans) are cooked, then eaten ceremoniously.
December 8: L'Immacolata Concezione - celebration of the Immaculate Conception
December 13: La Festa di Santa Lucia - St. Lucy's Day
December 24: La Vigilia di Natale - Christmas Eve
December 25: Natale - Christmas
December 26: La Festa di Santo Stefano - St. Stephen's Day marks the announcement of the birth of Jesus and the arrival of the Three Wise Men
December 31: La Festa di San Silvestro - New Year's Eve
January 1: Il Capodanno - New Year's Day
January 6: La Festa dell'Epifania - The Epiphany
Torrone

The white hand-made sweet treat usually seen at Christmas time combines vanilla, honey, sugar, toasted almonds, and egg whites. Sounds simple, but making Torrone is an art. Like many Italian foods, each region has a typical recipe, which incorporates their fruits of the land. Torrone was first made in ancient Rome, and eaten by the Romans at special affairs and weddings. Sicilian Torrone includes candied fruit and sesame seeds, while Aburzzo Torrone is soft and has chocolate in it. Calabrian Torrone uses hazelnuts, and figs. In Benevento, Liquore Strega is always added for a little kick.
"Everything you see I owe to spaghetti." ~Sophia Loren
Lauren Scuncio Birmingham
Cooking Vacations
304 Newbury Street Suite 318
Boston, MA 02116
Tele: 617.247.4112 Toll Free: 1.800.916.1152
Italy Office:
Via G. Marconi, 45
84017 Positano, Italy
Tele: 39.339.604.2933
---
PIES ON PARADE, AN INN TO INN PIE TOUR
Historic Inns of Rockland Celebrate National Pie Day with Two Weeks of Tastings and Demonstrations, January 14 and 21, 2007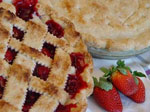 January 23, 2007 marks National Pie Day, according to the American Pie Council. Because nothing tops a cold winter day like a warm piece of pie, the Historic Inns of Rockland will celebrate pie throughout the weekends before the big day, on January 14 and 21, 2007. Each Sunday's pie celebration will take place from 1:00-4:00pm as Historic Inns of Rockland's member inns feature homemade pies at the 3rd Annual Pies on Parade Inn to Inn Tour.
Along with a wonderful collection of recipes to take home as a keepsake and plenty of pie tastings, the inns will offer demonstrations about pie baking techniques and pie decorating. Additionally, weekend guests can look forward to breakfasts featuring egg pies and maybe even a dessert at breakfast, including pie a la mode! Each guest will receive their own individual pie upon arrival and best of all, those attending the tour can feel good about eating pie because proceeds will benefit the Area Interfaith Outreach Food Pantry of Rockland. More than $5,000 has been donated to feed the needy through this event in the past, offering enough help to provide food for 100 needy Midcoast families for a year, when matched with national grants.
Upon learning of the donation, Jason Hall of the Good Shepherd Food Bank wrote to the Historic Inns of Rockland saying "This event could potentially create enough food to supply just under a hundred families in that community with essential food for a year. I don't think the town realizes the impact this event had on assisting those in need. Thank you, thank you, thank you for considering others, for the large task of planning and coordinating this event, and for being involved in caring for your neighbors."
Those visiting Historic Inns of Rockland during the January 14 and 21 Pies on Parade Inn to Inn Tour, will be treated to such traditional pies as cherry, apple, and berry pies. For those who care for something a little less traditional, fabulous pie such as Raspberry Cheese Pie, Kiwi Berry Tart, or Sun Dried Tomato and Goat Cheese Breakfast Pie will be offered, along with their recipes, so tour goers can make them at home. It's possible that a Maine Lobster Pie might even be on the menu!
Tickets for the Pies on Parade Inn to Inn Tour are $20 for adults and $10 for children ten and under. Tickets sell out quickly, are available from participating inns, and include a keepsake pie cookbook, and plenty of pie to sample.
As a bonus, participating inns will offer the following demonstrations:
Berry Manor Inn: Fun ingredients for breakfast pies.
Fool-proof lattice crusts from the "dueling innkeepers' Moms" who carry on a friendly fight throughout the year regarding the best pie crust recipe.
Captain Lindsey House: Decorating with pie crusts & pie crust embellishments
LimeRock Inn Savory pies & Rock City Roasters Limerock Blend Coffee
Lakeshore Inn: Sweet potato pie as chiffon or dense custard: same pie, different results
Old Granite Inn: "Not Your Grandmother's Chess Pie" and meat pie.
Participating inns may also offer additional special workshops or demonstrations. Weekend packages including one night accommodations, breakfast each morning, complimentary personal pie for each guest upon arrival, a cookbook featuring a wonderful collection of original pie recipes, along with two tickets to the Pies on Parade Inn to Inn Tour are $160-225 per couple. Two night packages are also available.
For pie lovers and those seeking a romantic luxury getaway, there is no better choice for lodging than the Historic Inns of Rockland, a collection of gracious inns, offering everything from business traveler-friendly to elegant accommodations. Each distinctly different in their features, the Historic Inns of Rockland will provide the ideal base from which to enjoy Midcoast Maine's bounty. For more information about Historic Inns of Rockland, please visit them on the web at www.HistoricInnsofRockland.com, consult each participating inn's website for more specific pricing and details of this package or call 877-ROC-INNS (877-762-4667) for more information or reservations.
---
SAPPHIRE LAGUNA ANNOUNCES
ITS OPENING CULINARY TEAM
Much-Anticipated Laguna Beach Restaurant to Open in Early January
Sapphire Laguna, a new restaurant slated to open early January on the site of Laguna Beach's landmark Pottery Shack, has named an accomplished trio of chefs to oversee its culinary operations.
According to the restaurant's owner and internationally recognized chef Azmin Ghahreman, Tin Vuong takes charge as Sapphire Laguna's corporate chef, overseeing all culinary needs for both the restaurant and adjacent gourmet shop, Sapphire Pantry; Eric Cummings comes on board as executive chef for the restaurant; and Andrew Capek is the sous chef.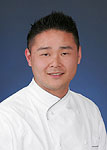 All three chefs will work closely with Ghahreman, to create Sapphire Laguna's market-driven, globally-inspired menu – sourcing ingredients from local fishermen, artisan purveyors, small farms and nearby farmers markets. "Vuong, Cummings and Capek were specifically recruited to help establish Sapphire Laguna as a culinary destination in the region, and I am thrilled to have them on my team," said Ghahreman.
Vuong comes to Sapphire Laguna from the St. Regis Monarch Beach Resort in Dana Point – a property he helped open in 2001. During his five-year tenure with the resort, Vuong worked in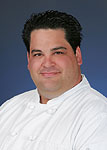 various capacities, ultimately working his way up to executive sous chef in charge of eight chefs and four restaurants. He attended University of California Los Angeles, and later graduated at the top of his class from the California School of Culinary Arts.
Cummings was previously chef garde manger and chef de cuisine of Motif, the casual dining venue at the St. Regis Monarch Beach Resort. He also lent his culinary expertise to Ramos House Café in San Juan Capistrano and the Ritz-Carlton in Laguna Niguel.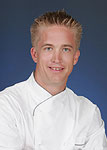 Capek was most recently a sous chef with T. Cook's at the Royal Palms Resort and Spa in Scottsdale, where he was named "employee of the year," and was also with the Four Seasons Hotel in Chicago.
Sapphire Laguna will be an integral part of The Old Pottery Place, a new 16,000-square-foot complex with colorful galleries and boutiques, along with a reinstalled statue of Eiler Larsen – one of Laguna's historically-famous greeters.
Sapphire Laguna's rustic design was gleaned from it venerable predecessor, the original Pottery Shack, an example of "early California fruit stand architecture." Warm, organic materials; sweeping ocean vistas; beautiful fine art by local artists; reach-in wine cellars and an expansive redwood bar create an artsy, convivial atmosphere.
Sapphire Laguna, located at 1200 South Coast Highway, will be open for lunch Monday through Friday from 11 a.m. to 2:30 p.m.; for intermezzo from 2:30 to 5 p.m. and for dinner nightly from 5 to 10:30 p.m. weekdays, and until 11 p.m. on weekends. Brunch will be served from 10:30 a.m. to 2:30 p.m. on Saturday and Sunday. Sapphire Pantry, the adjacent gourmet shop, featuring fine wines, artisan cheeses, local produce and freshly prepared food for take-out, will be open daily from 7 a.m. to 8 p.m. Ample free parking is available on site at the back of the complex and accessible from Brooks Street or Glenneyre.
For more information, call (949) 715-9888, or visit the website www.sapphirelaguna.com.
---
SAN DIEGO BAY WINE & FOOD FESTIVAL AND
THE AMERICAN INSTITUTE OF WINE & FOOD AWARD
SEVEN CULINARY ARTS SCHOLARSHIPS
Southern California's Largest Wine & Food Festival Teams Up With Community Partners to Raise Funds for AIWF Scholarships
Producers of the San Diego Bay Wine & Food Festival, along with generous donations from Union Bank of California and John M. and Sally B. Thornton, recently awarded seven culinary arts scholarships to deserving students at the Festival's November 11 Grand Tasting event.
"One of the highlights of the annual Festival is the awarding of these scholarships from funds raised during the event's live and silent auctions," said Michelle Metter, the Festival's co-producer. "We feel very strongly that our event should help to cultivate new culinary artisans and enologists in our community and are thrilled to be able to increase the number of scholarships we are able to help fund each year."
Applicants competed for the scholarships awarded this year by the San Diego Chapter of The American Institute of Wine & Food (AIWF). Scholarships were awarded in amounts ranging from $1,000 - $5,000 to the following students:
Jeremy Mandrell, winner of a $5,000 Culinary Arts Scholarship for study at The Art Institute of California – San Diego; Andrea Cilurzo, winner of the Piret and George Munger Scholarship in the Culinary Arts in the amount of $5,000 for study at The Art Institute California – San Diego; Sandra Kim, winner of the John M. and Sally B. Thornton Scholarship in the Culinary Arts in the amount of $2,500 for study at The Culinary Institute of America in Hyde Park, New York; Molly Nelson, winner of the Union Bank of California Scholarship in the Culinary Arts in the amount of $2,500 for study at The Art Institute California – San Diego; Jon Creger, winner of a $1,000 Culinary Arts Scholarship for study at The Art Institute of California – San Diego; Allison Grossman, winner of a $1,000 Culinary Arts Scholarship for study at New York University; and Jennifer Jones winner of a $1,000.00 Culinary Arts Scholarship for study at The Art Institute of California – San Diego.
"We are most grateful to the San Diego Bay Wine & Food Festival for promoting the San Diego Chapter of AIWF and designating our organization and scholarship program as the recipient of their annual auction," said Chapter Chairwoman Lisa Lipton. "We also wish to thank Union Bank of California and Sally B. and John M. Thornton for additional bequests awarded to the 2006 scholarship winners."
This year's Festival raised over $30,000 for AIWF scholarships to be awarded at the 2007 San Diego Bay Wine & Food Festival on November 10. Details regarding applications for next year's awards will be made available through the AIWF website at www.aiwf.org.
ABOUT AIWF
AIWF was founded as a 501(c)(3) educational organization. It is a national organization established in 1981 by Robert Mondavi, the late Julia Child and others to provide a forum for the study and enjoyment of gastronomy. In addition to awarding scholarships and organizing unique monthly food and wine related events, San Diego AIWF offers Days of Taste®, an outreach program teaching elementary school children the importance of fresh food and how ingredients weave their way through daily life, from farm to table. Visit www.aiwf.org for further information.
ABOUT SAN DIEGO BAY WINE & FOOD FESTIVAL
The San Diego Bay Wine & Food Festival is an international showcase of the world's premier wine and spirits producers, chefs and culinary personalities, and gourmet foods. Held November 7-11 in 2007, the event benefits the American Institute of Wine & Food culinary arts scholarship program. Over 700 wines, 50 of San Diego's top fine dining restaurants and 30 gourmet food companies and exhibitors will participate in the 2007 Festival. Now in its fourth year, the San Diego Bay Wine & Food Festival has quickly grown into a world-class wine and culinary extravaganza. The five-day festival features wine tasting seminars, cooking classes by award- winning chefs, and an elegant Reserve Tasting at one of San Diego's finest hotels. The festival culminates on Saturday at the star-studded Grand Tasting Event and Fine Wine/Lifestyle Auction complete with dueling chef demonstration stages, celebrity cookbook signing tents, "Living Large" entertainment tent, and more. For more information visit www.worldofwineevents.com.