MONTRIO BISTRO
Best in Monterey
by Bonnie Carroll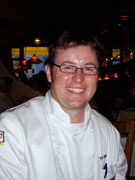 The minute I jumped out of the cab in front of Montrio Bistro I knew by the line of people waiting outside and at the bar that the honors this trendy heart of Monterey restaurant was getting must be well deserved.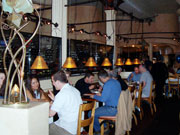 I was taken by the hostess through the bustling restaurant, that was once the home of Monterey's first fire station in 1910, throught the bar and restaurant, where people were savoring their meals and involved in lively conversation. My table was against the back wall, where I could have a great view of everything. The name of this restaurant comes from the three owners, one from Italy, one from France and America, who all contribute to the trio status.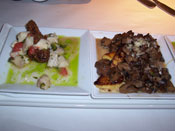 Executive Chef Tony Baker is dedicated to sustainable seafood, organic produce and using only the freshest ingredients in his flavorful dishes. The local restaurant has consistently been voted best restaurant in the area for years. Baker was born and raised in Bristol, England. After graduation from culinary schools in 1989, he began working at several Michelin-acclaimed restaurants in England. He moved to the USA in 1994, after winning the Frank Hawley Medal for Outstanding Achievement in Culinary Arts, and was immediately hired by Rio Grill in Carmel as the Executive Sous Chef. In 1998, Baker was named Executive Chef at Montrio Bistro, where he strives to stay on the cutting edge and daily reaffirms his commitment to using only top quality ingredients, prime meats, organic produce and sustainable seafood.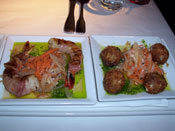 Montrio Bistro is a place were people talk to each other from table to table. I met a lovely couple who were on vacationing in the area, who shared all kinds of stories on their favorite food venues in Italy. On my right I met a woman with her daughter who were great friends of the chef, and raved about the consistent fine food being served there, and the wonderful wine list available. This woman also told me that Tony Baker is the personable chef on TV who promotes "the glove" a fabric like glove that works like a pot holder to protect hands from burns when cooking.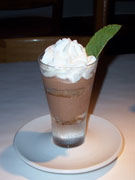 My dinner items included English style braised short ribs with mashed potatoes and peas that were outstanding. The appetizers came to me as small plates, and were all originally delightful. The thing that I enjoyed most was a very imaginative presentation of Tiramisu that was served in a small liqueur style glass, and looked like a miniature milk shake, but all the right ingredient flavors were there. It was so splendid!
Bottom line is that this venue has very reasonable prices; entrees $8.95-$32.25; appetizers $7.50-$14.00, desserts $5.75-$8.00 and great service in an inviting atmosphere. So, for a fun and delicious experience in the Monterey Bay restaurant scene Montrio Bistro is a must!
Montrio Bistro
414 Calle Principal
Monterey, CA 93940
831-648-8880
---
CUT OPENS IN HISTORIC BEVERLY HILLS HOTEL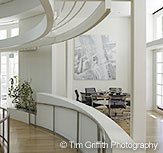 It's modern and sophisticated all in one.
The once extremely formal diningroom of the Regent Beverly Wilshire Hotel, built in 1920s, has been transformed into a bright and breezy steak house that features the culinary genius of renowned Wolfgang Puck. Cut Features $120 steaks from Japan, and a Chocolate Souffle that everyone is raving about. Open Monday-Thursday 5:00 - 10:00 p.m., Friday and Saturday 5:30 - 11:00.
---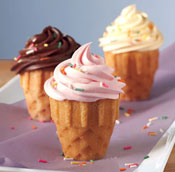 Two all-time favorites – cupcakes and ice cream cones – are the inspiration for our Ice Cream Cone Cupcake Pan. Thanks to its nonstick finish, the cone-shaped cakes slip out easily, ready to be finished with a generous "scoop" of frosting.
We recommend our Mechanical Pastry Bag for creating bakery-style frosting and the compact DeLonghi Convection Oven for baking multiple batches without heating up the kitchen.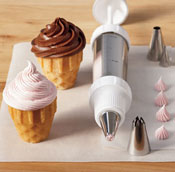 ---
Santa Barbara Polo & Racquet Club
Holds Polo Tailgating Contest On Sunday, June 25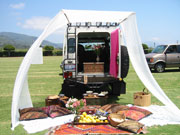 2006 Tailgating Contest
Santa Barbara Polo & Racquet Club
3300 Via Real, Carpinteria (805)684-6683
Sunday, June 25, 2006
Opens at 11:45 a.m., Judging at approximately 2:30 p.m.
Admission $10; children under 12 free
On Field #3 – you will be directed to the field when you enter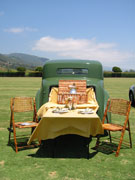 With the success of the Tailgating Contests held last year, 96 year-old Santa Barbara Polo & Racquet Club will hold a "Tailgating Contest" and will award three prizes: "Most Polo," "Most Elegant," and "Most Outrageous" to those deserving of the titles. Participants are encouraged to be as creative as possible – and the day after Summer Solstice Parade, there's bound to be lots of creative vibes in the air. So breathe deep and come up with an award-winning picnic!
Most people associate "tailgating" parties with football, or perhaps another stadium type of event. The Polo tailgating party is slightly different in that you have a chance to create your own environment, decorations, and menu – from hot dogs and hamburgers to cordon bleu. It's truly a celebration of the sport of kings.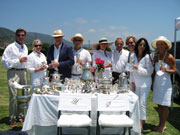 Participants are invited to enter by calling SBPRC Clubhouse Manager, Ariana Rothstein-Fisch at (805) 684-6683 or by e-mailing ariana@sbpolo.com. The regular general admission of $10 applies, but there is no additional fee to enter the contest. You must call and reserve a parking space for the contest no later than Friday, June 23 @ 5 p.m.
Participants will be allowed to enter the grounds and begin set up at 11:45 a.m. on Sunday, June 25. Each participant will be allotted a 10´ wide x 25´ long space adjacent to Field #3 in which their vehicle and tailgating display must fit.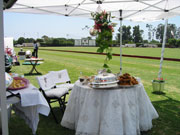 Judging will occur between the first and second match (approximately 2:30 p.m.). Winners will be announced after the second match is completed. Prizes will be awarded for the three tailgating displays that are Most Elegant, Most Outrageous and Most Polo. Last year, the judges also awarded honorable mentions to two other entrants because they just could not be overlooked.
All participants must provide every element of their display. The Club will NOT furnish any equipment (i.e., tables, chairs, canopies, umbrellas, china, flatware, glassware, etc.). Any tailgating displays that may disturb the polo ponies or disrupt play will be required to be disassembled before the polo matches begin.
All vehicles and tailgating equipment must exit Field #3 by 6 p.m. on Sunday, June 25, 2006.
Remember to call Ariana now at 805 684 6683 or e-mail her: ariana@sbpolo.com to register for the ever-so-popular "Tailgating Contest." Bon Appetit!!