CULINARY COUP   .   .   .
ARTHRITIS FOUNDATION TASTE OF THE TOWN TO KICK OFF

38th Annual Events September 6 and September 8, 2019
by Bonnie Carroll
A bevy of board members were among the VIP guest at the Arthritis Foundation Taste of the Town kick-off event hosted by Automotive Partner Porsche of Santa Barbara to celebrate the upcoming Gala Dinner & Action and 38th Taste of the Town. Returning honorary Co-Chairs Tina Takaya and Richard Yates of Opal Restaurant & Bar, were joined by John O'Neill of Banc of California to address the large crowd. Opal's delicious appetizers were paired with a bevy of Honorary Vintner Foley Family Wines throughout the evening.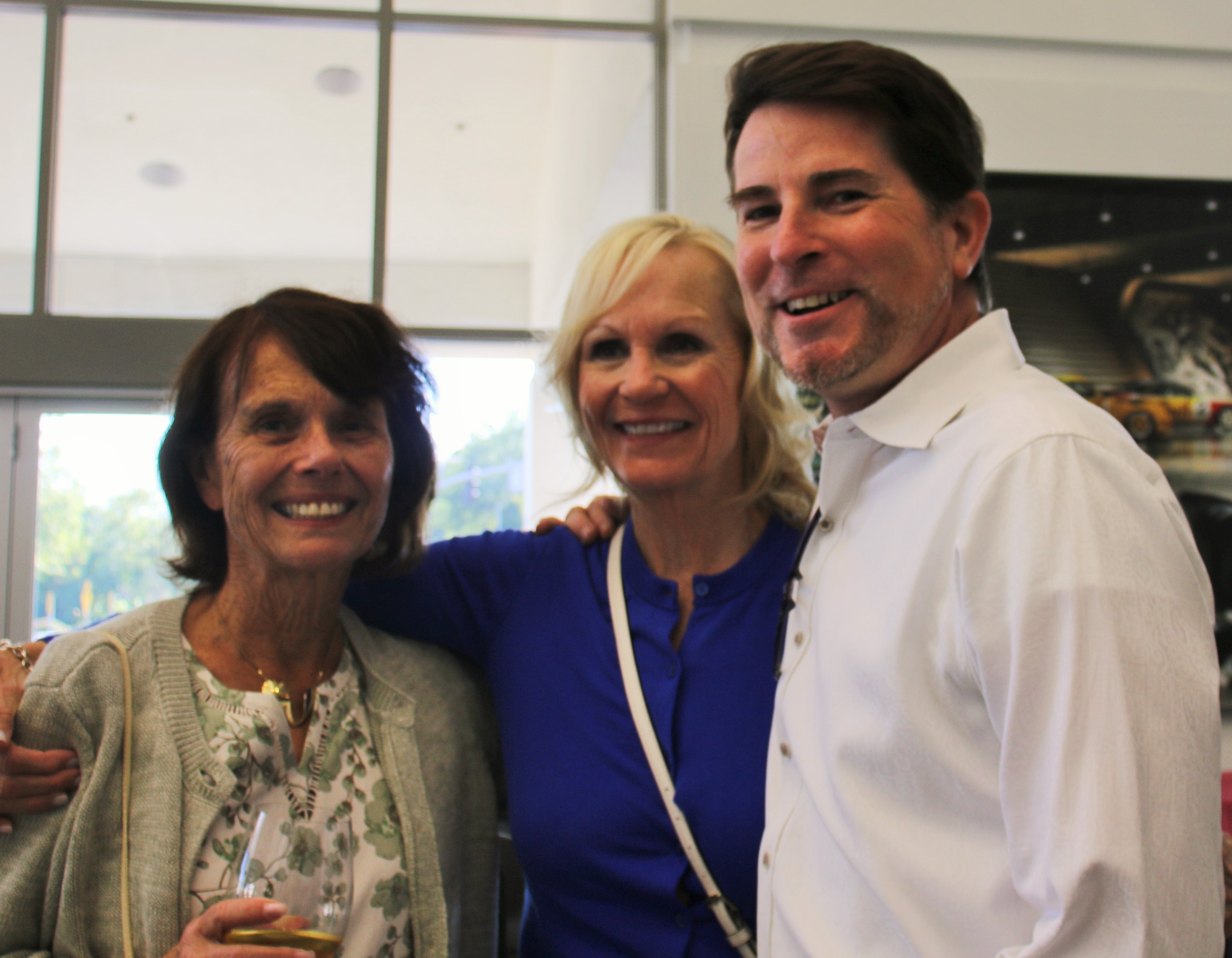 Executive Director Michal Weisbrock with Board Members at 2019 Kick-Off
Michal Wiesbrock, Executive Director of Arthritis Central Coast announced the dates of September 6-or the 38th Annual Connoisseurs' Circle Gala Dinner & Auction at the Hilton Santa Barbara Resort, followed by the September 8 Annual Taste of the Town at Riviera Park.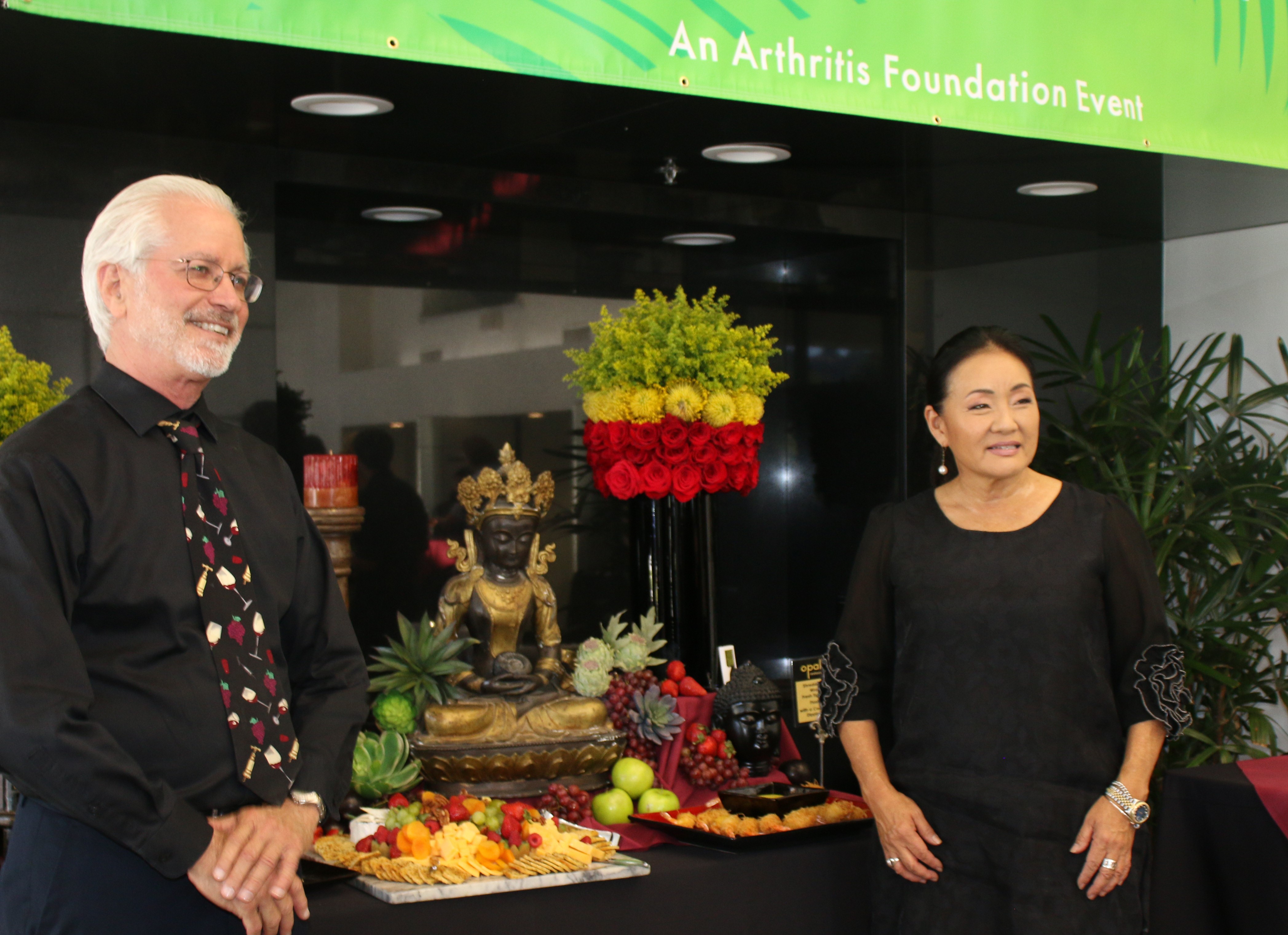 Honorary Co-Chairs Tina Tayaka & Richard Yates, Opal Restaurant & Bar
The two extraordinary gastronomique events for Taste of the Town include a Connoisseur's Circle Gala Dinner & Auction Friday, September 6 at Hilton Santa Barbara Beachfront Resort. If you want to get started a little earlier, you can get the VIP ticket which includes The Connoisseurs' Circle Gala dinner and live auction on Friday, Sept. 6 at Hilton SB Beachfront Resort from 6-11 p.m.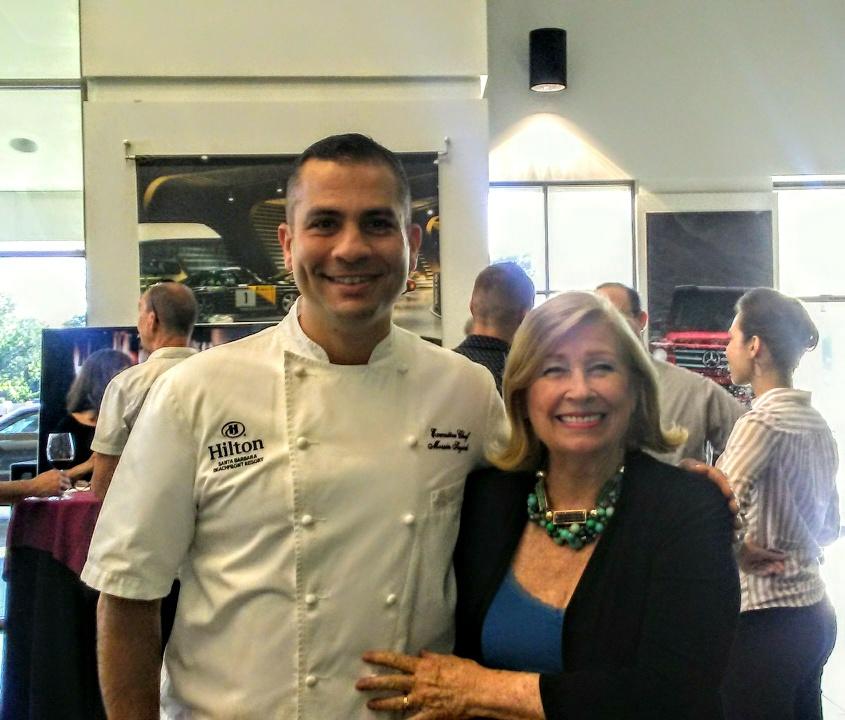 Honoree Executive Chef Mossin Sugich, Hilton SB Resort
Enjoy a 4-course gourmet meal created by our Culinary Honoree Exec. Chef Mossin Sugich, Hilton SB Beachfront Resort, paired with exquisite wines from our Vintner of the Year Courtney Foley, The Foley Food and Wine Society. Dance under the stars to the sounds of DJ Darla Bea. The culinary delight dinner will be served in the Rotunda and will be paired with wines from Foley Family Winery.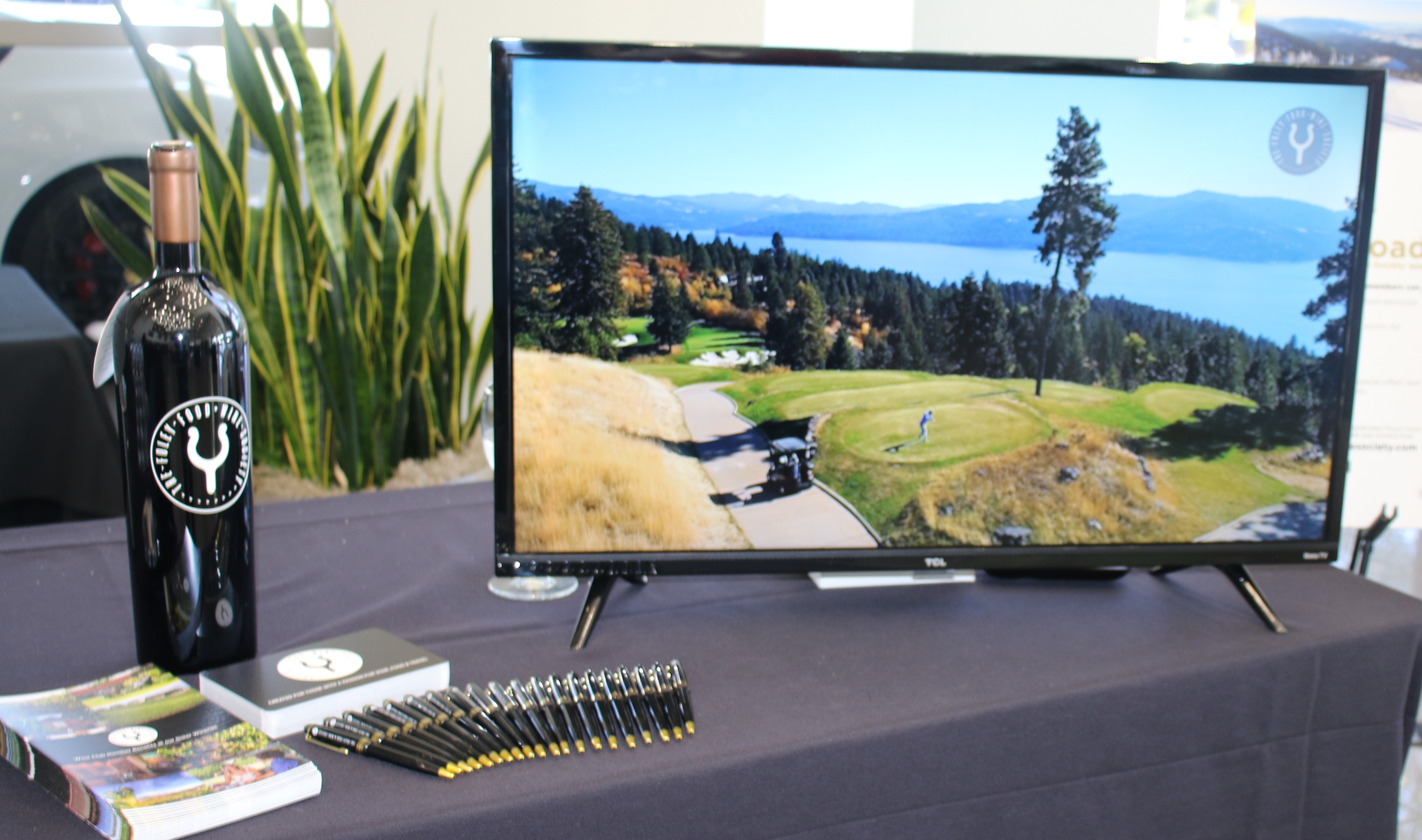 Honorary Vintner Foley Family Wines
On Sunday, September 8 the Riviera Park overlooking the city from noon to 3:00 pm will be the site of the Taste of the town featuring over seventy of the finest restaurants, caterers, wineries, breweries and spirits providers, with a silent auction, photo booth and live jazz from the Dave Tovar Trio. For more information and to purchase tickets for the event or for the VIP event: bit.ly/2Z9hRYT
Arthritis Foundation Central Coast Local leadership Board members for 2018 include Pam Tanase, Amy Leong MBA, Karen Anderson, R.N., Miriam Parsa, MD, Laura Kath, Deborah Deneaulf, L. Mae Chandler, Thomas Ferro, MD, William Gallivan, Jr. MD, Susan Lemon, DO, Kristi Jena, C.J.Ward, Lynn Yekiazarian, Douglas Tucker.
All proceeds from these events support Arthritis Foundation services and programs. For detailed information and tickets please visit: www.arthritis.org/tasteofthetownsb.
____________________________________________
OPA! SANTA BARBARA GREEK FESTIVAL CELEBRATES 46 YEARS
by Bonnie Carroll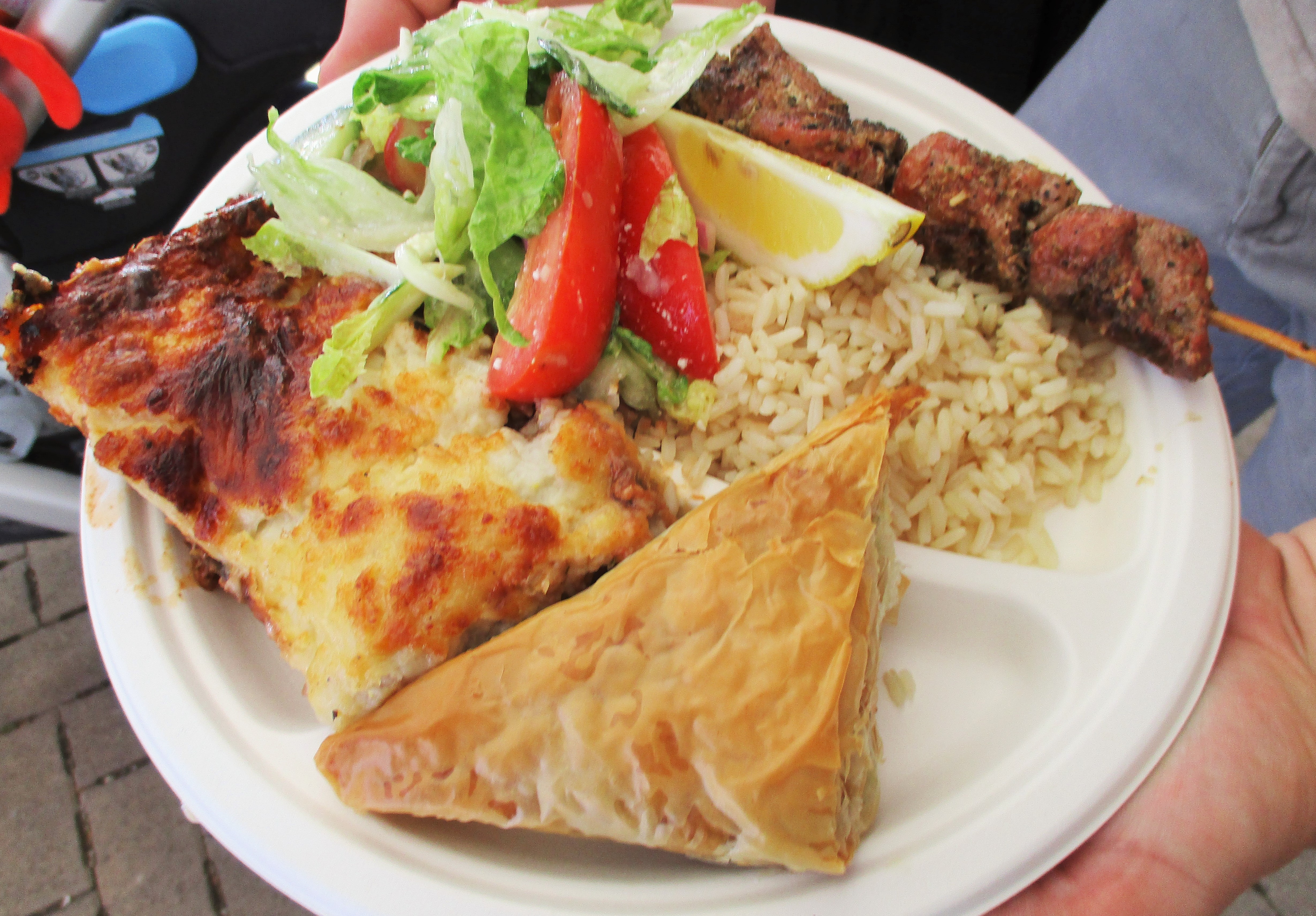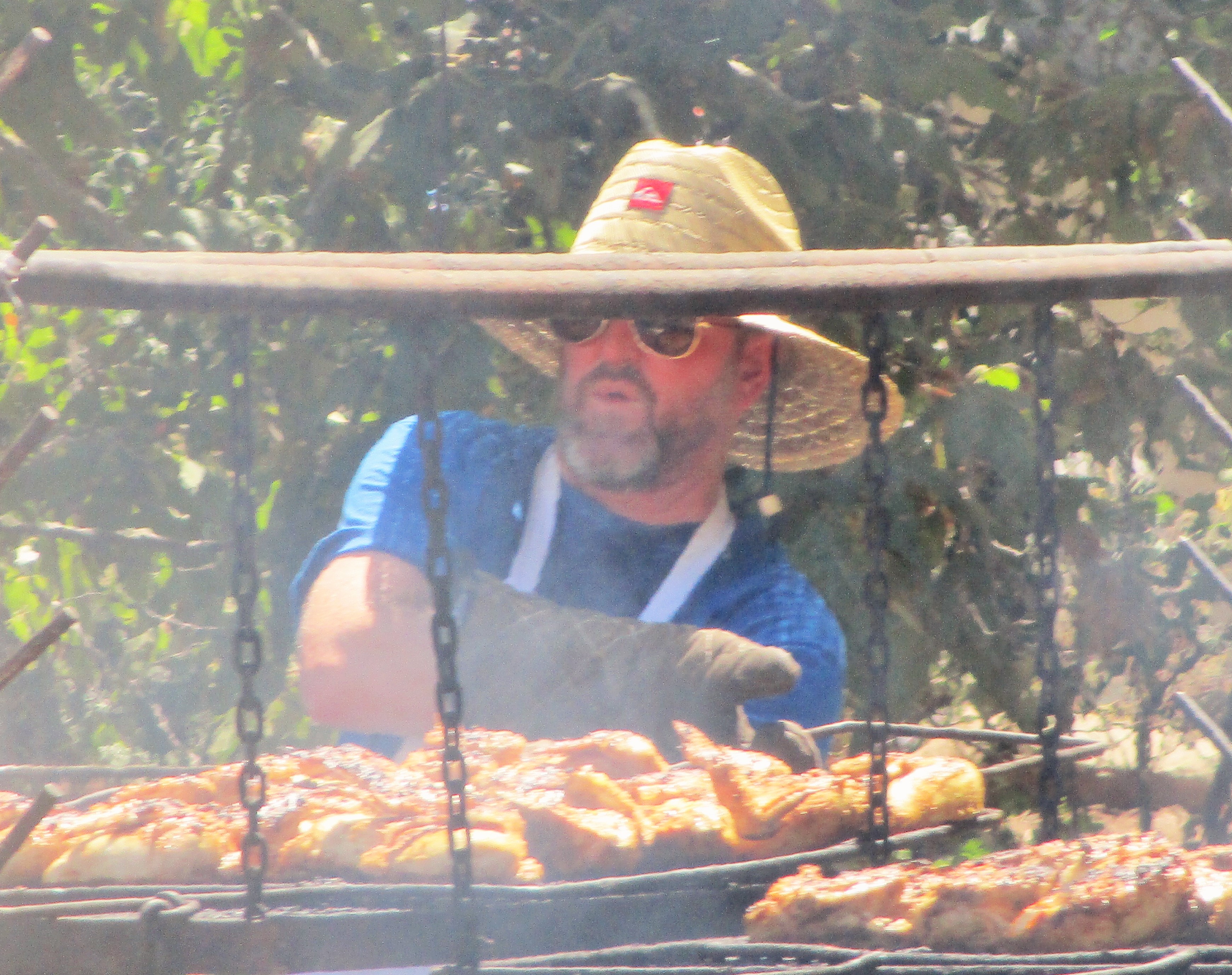 Now in its 46th year, the Greek festival is the longest continually runing ethnic Festival in Santa Barbara County, and is hosted by Saint Barbara Greek Orthodox Church. This event is a great favorite of area locals and visitors who love Greek food and culture and enjoy celebrating with the members of Santa Barbara, as well as volunteering to help with the food service. As we arrived Vela, a church volunteer was greeting people in the Santa Barbara Greek bookstore booth and Minos & Lucas Athanassiadis were serving cold refreshments to thirsty visitors in the Taverna.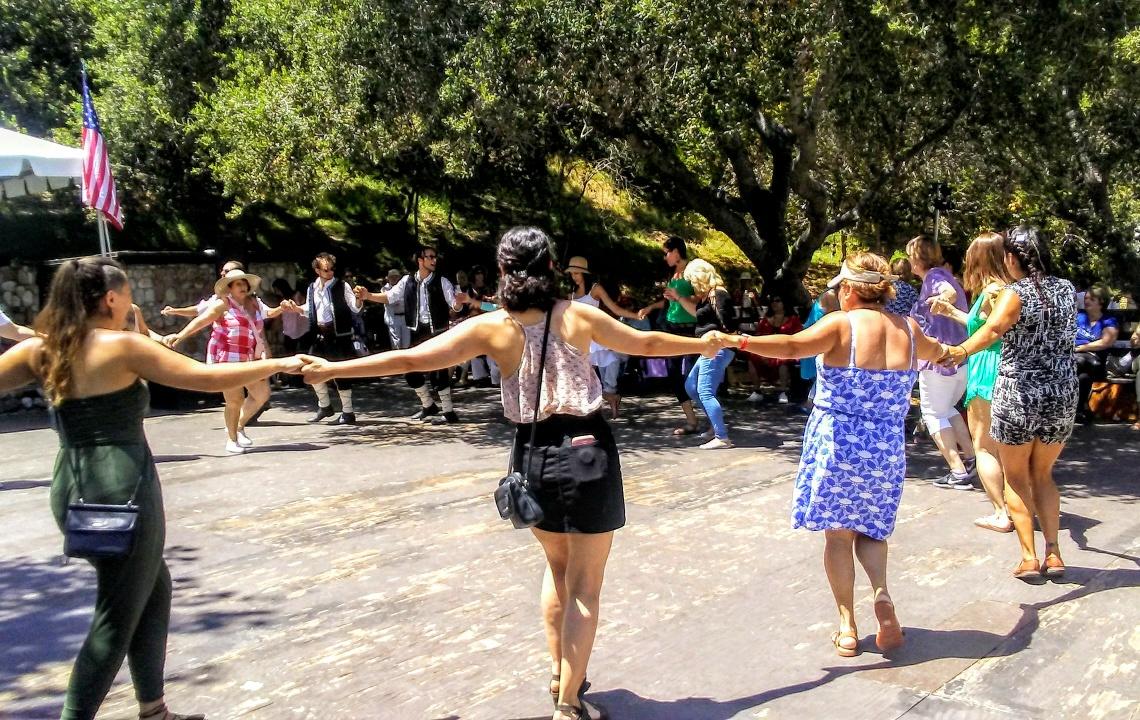 Everyone learns to Dance like a Greek
Bouzouki music filled the main stage where Greek dancers in authentic costumes welcomed guests to join them in a traditional Greek dance, as spectators sat along the edge of the dance floor, savoring Greek food and beverages, to watch the dancing. For such a warm day there was some lively dancing in progress.The menu included Souvlaki, Quarter Chicken, Mousaka, Spanakopita, Tiropita, Loukaniko, Greek Salad, Dolmates, Manestra, Tzatziki sauce, Kalamata Olives, Feta Cheese, Rolls and Baklava. A special Greek Pastry Booth was overflowing with all the unique sweets Greeks love.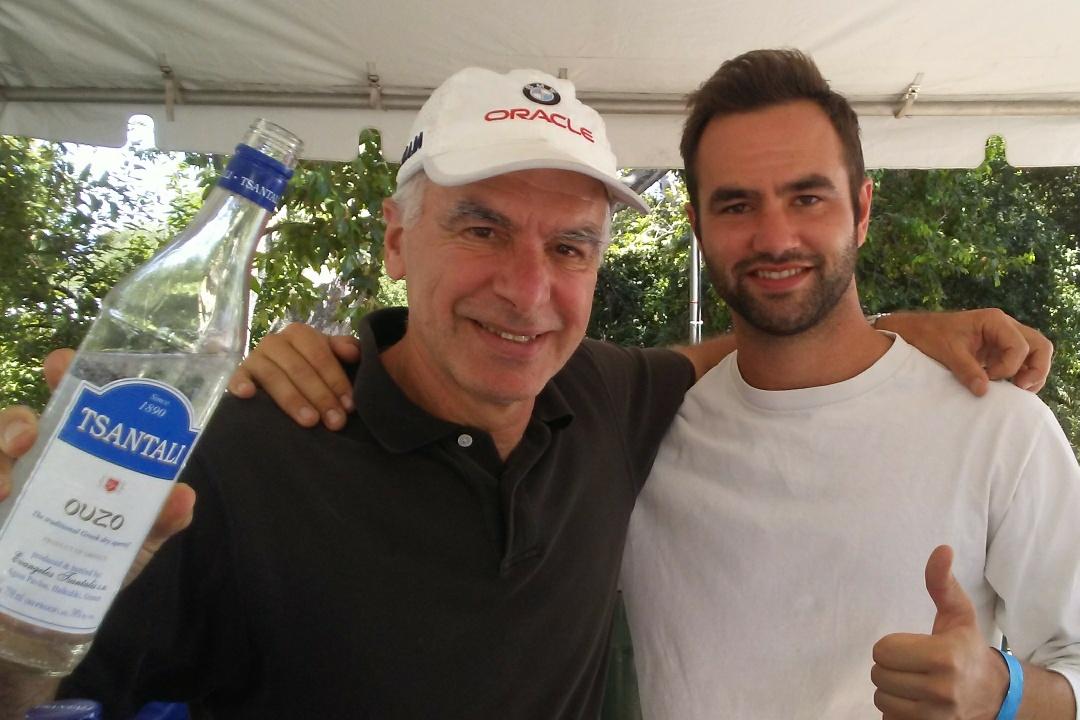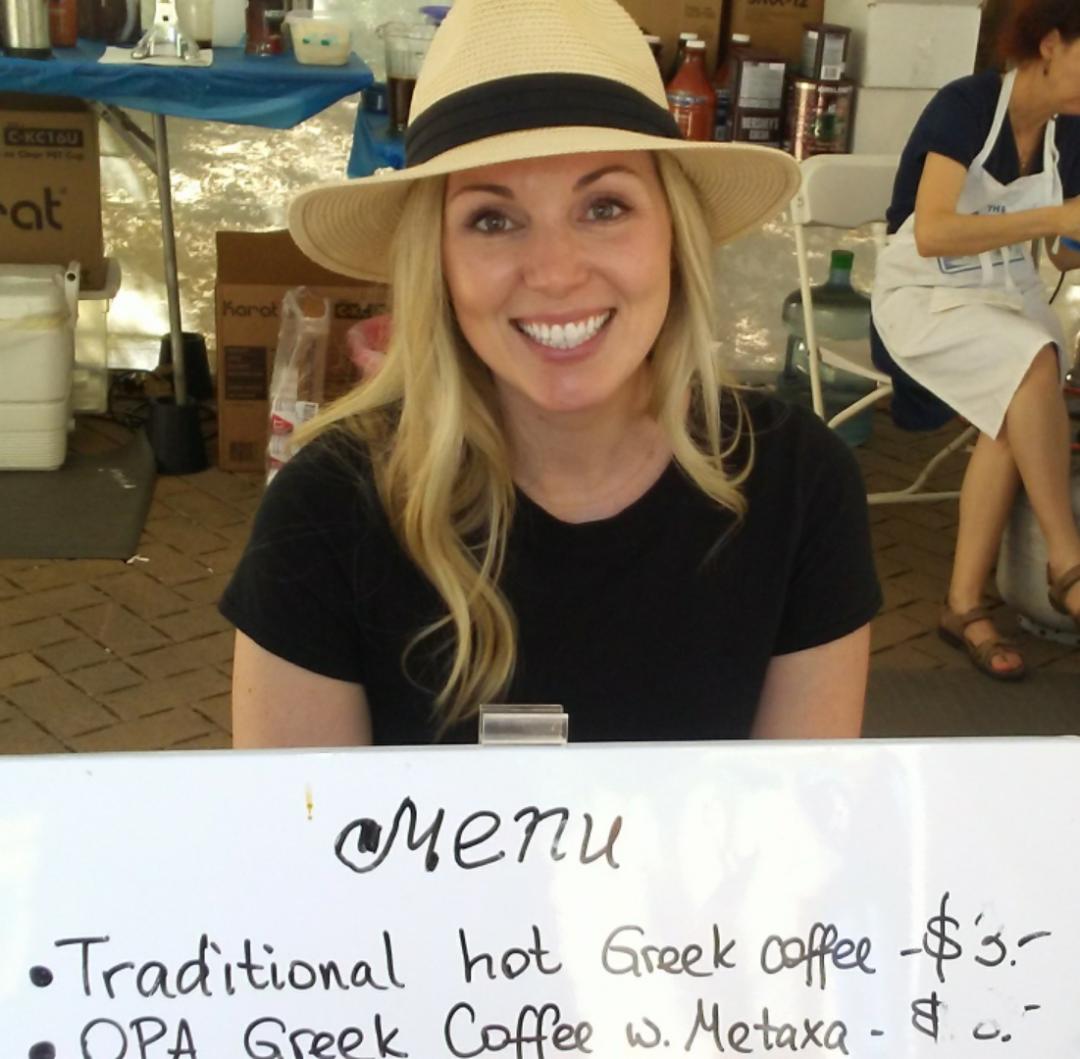 Greek Wine & Greek Coffee were Favorites
Gift booths, the Taverna, Dessert and Greek coffee booths were serving outstanding Greek food and beverages prepared and served by volunteers with long waiting lines but no one seemed to mind and the ambiance was quite pleasant. Whole families were enjoying the Greek specialties together on the patio. From 96 year old grandmothers to tiny tots in the arms of their parents it was a fun afternoon under the Oak Park trees.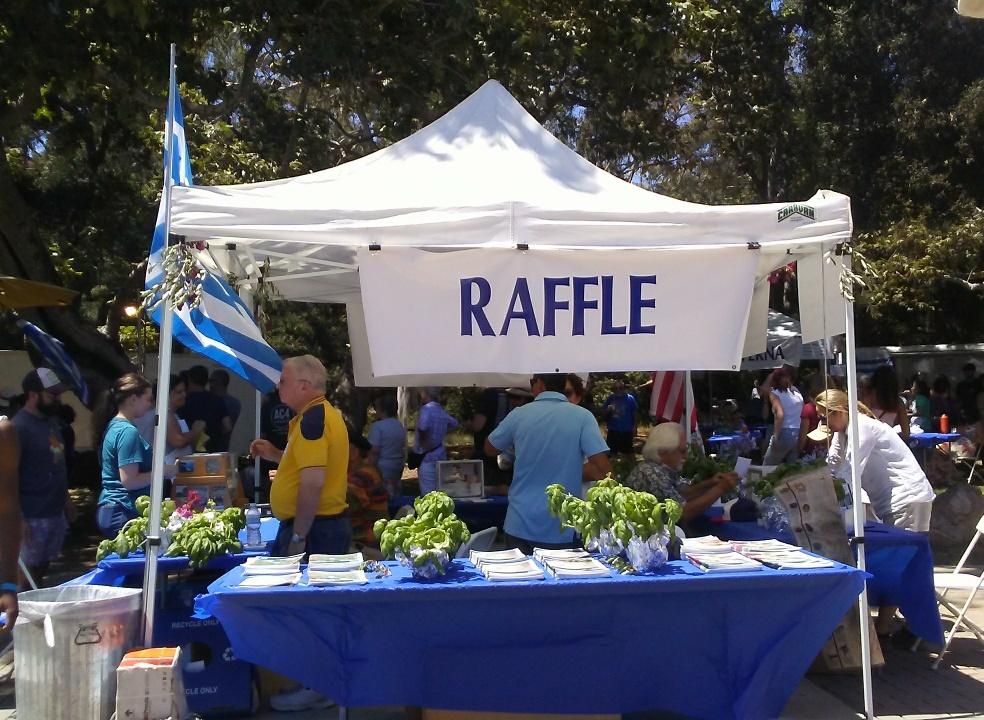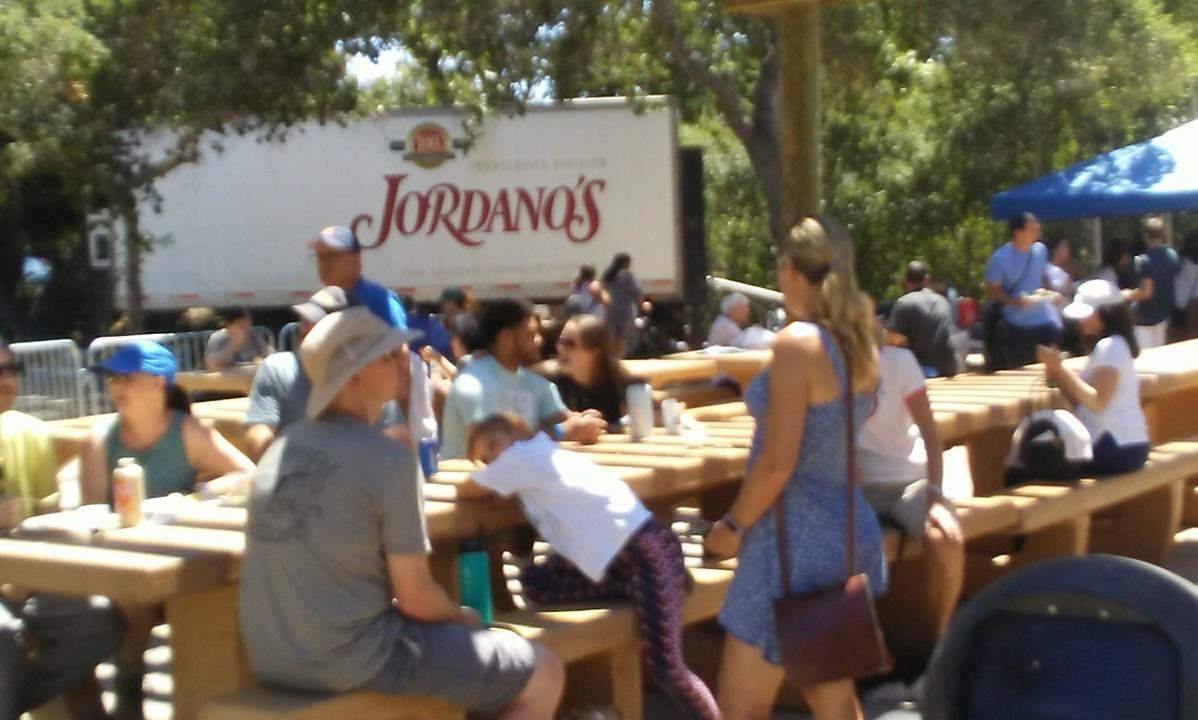 Booth sponsors for the 2019 event were Welch-Ryce-Haider Funeral Chapels, Jordano Foods & Pacific Beverage, Metson Marine Services, Inc. George & Sophie Fonti, Mesa Burger, Best Western Plus South Coast Inn, Stephens Greek Market & Grill, Federal Drug Company, Hroundas Family, Chubbies Hamburgers, Ahepa Mission Tanzania Wat3er Project, Andriana & Ernest Kolendrianos, William Poulis & Bell Pertsulakes who all did a great job supporting the 46th Greek Festival. Additional sponsors included MarBorg, The Tent Merchant, Inc, Yianni's Greek & American Deli, and Village Properties.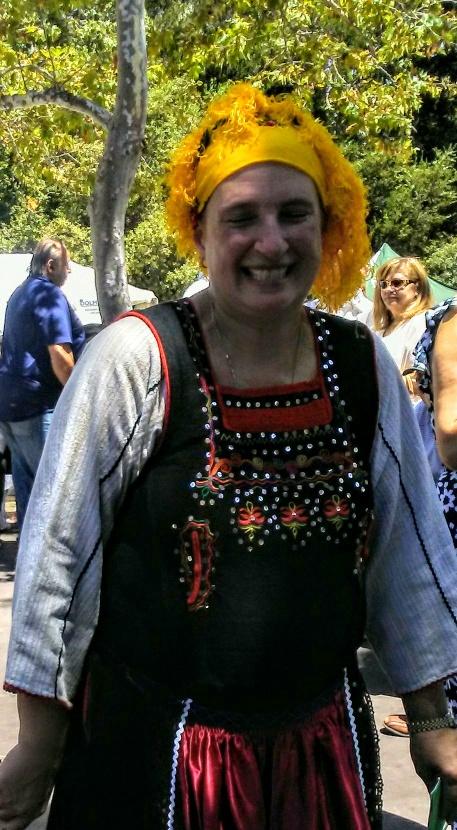 Saint Barbara Greek Orthodox Church is located at 1205 San Antonio Creek Road, Santa Barbara 92111. For information please visit www.Santabarbaraeventcenter.com
___________________________________________________________________
Voted Best Authentic Italian Restaurant in Santa Barbara by Italian Tourism LA!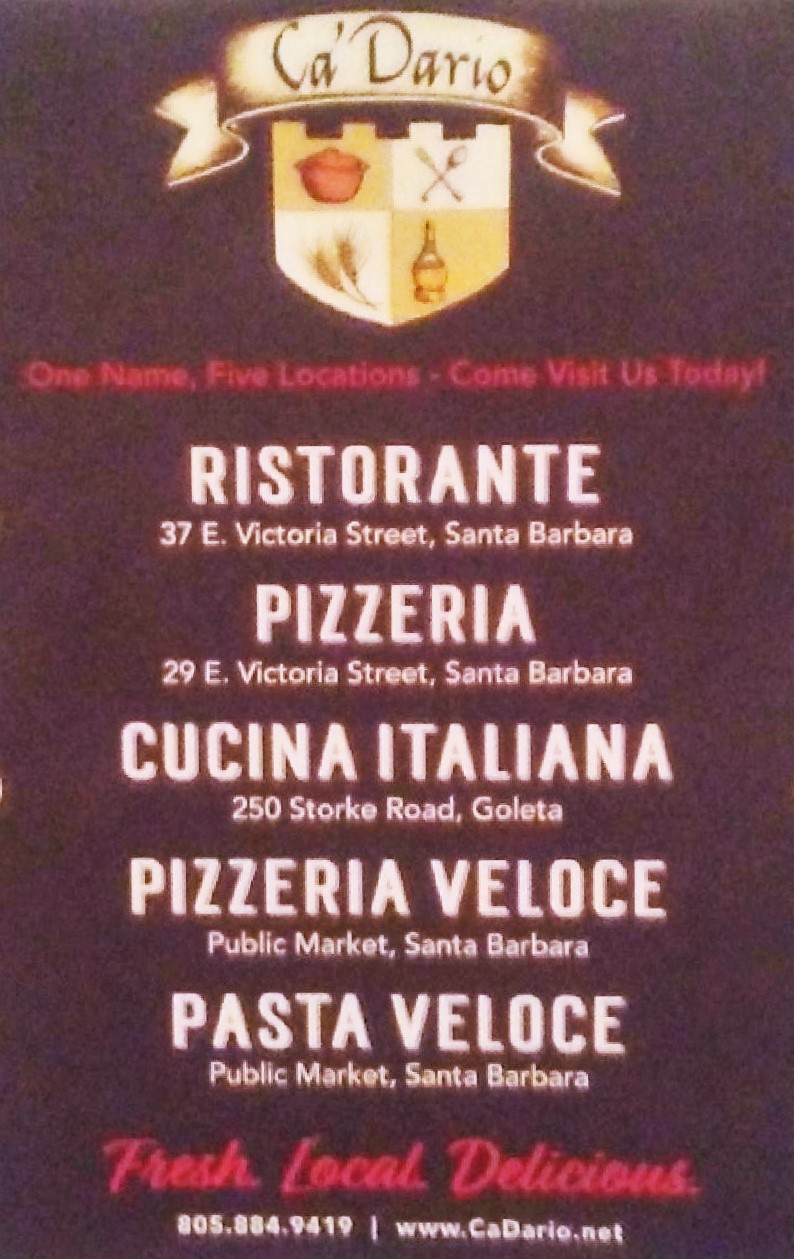 Ca'Dario Ristorante
37 E. Victoria Street
Santa Barbara, California 93101
805-884-9419
---