Craft Beer and the Holidays – A Perfect Pairing
Craft Beer and Food for the Holidays program ties together American craft beer flavors with traditional holiday foods
Craft Beer and Food for the Holidays, a free program from the Brewers Association, highlights the ways in which craft beer styles complement many traditional American holiday foods. The program delves into pairings such as ale with traditional American foods, a pairing frequently mentioned in reference to the Pilgrims and the first Thanksgiving. The website, www.beerandturkey.org, is for beverage and food lovers interested in complementary flavors at the holiday dinner table.
The web site was created in 2006 to encourage those hosting holiday celebrations to include craft beer in their holiday dinner menus. At www.beerandturkey.org is information for beer and food enthusiasts who want to learn "what to drink" and "how to serve" craft beer at their holiday meals. The web area also allows craft breweries around the nation to post their holiday release beers and beer and food pairings associated with the breweries.
The caramelized and toasted grain flavors in many beers complement the flavors of roast turkey while herbal hop additions pair nicely with popular holiday seasonings such as sage. Furthermore, the carbonation, fruitiness and balanced bitterness of many craft beers allow them to stand up to creamy, butter-rich preparations like mashed potatoes, creamed corn and similar fare.
Julia Herz, a spokesperson for the Brewers Association stated, "Our country's history is rich with stories of beer and food and craft beer picks up where wine leaves off. Many styles of beer both complement and contrast the food they are paired with, whereas wine mostly contrasts. The holiday dinner table is a very appropriate place for beer made from America's small, independent and traditional brewers."
Here are some suggestions listed on www.beerandturkey.org for beer styles to pair with various main courses:
Traditional Roast Turkey: The roasted and caramelized skin matches well with amber ale, a strong golden ale or an amber lager in the Vienna style.
Ham: Like the fruit and cloves often used to prepare ham, the fruity, clove notes in weizen or the stronger weizenbock complement ham at the dinner table.
Duck: The darker meat of duck offers a richer flavor than turkey and can stand up to a richer beer as well. Here a Belgian-inspired dubbel or a hearty Oktoberfest lager would go well.
Goose: Here a richer beer than you would choose for turkey is in order. A Belgian-style triple or biere de garde would work well as would a bock or Scotch ale.
Salmon: A dunkel lager or Scottish ale can offer a clean toasted malt note to offset the firm flavors of salmon without a lot of bitterness that would overwhelm the fish. Other options would include a mild ale or steam beer.
Leg of Lamb: Pale ales provide a pleasant foil to lamb with a spicy or herbal character to complement the character of the meat along with some toasted malt notes. Or for more harmony with the roasted flavors of the meat, try a hoppy brown ale or porter.
Beef Tenderloin: This rich hearty cut of meat deserves a robust beer as a counterpoint but also calls for some contrast to clear the palate between bites. The ideal companion would be an IPA or Imperial IPA. Other options might include a tripel or old ale.

---
KEEP YOUR NEW YEAR RESOLUTION TO LOSE WEIGHT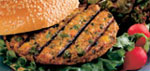 Dr. Praeger's Sensible Foods offers several sensible, all-natural, low-calorie products that can contribute to a healthy lifestyle in 2008. Whether it is one of their California Veggie Burgers and a salad for lunch, or a few of their Bagel Bites heated quickly for a tasty snack on the go, Dr. Praeger's Sensible Foods products are quick and easy to prepare and contain low sodium and no cholesterol. Many of their Bites (Spinach, Broccoli, Potato and Sweet Potato) and Pancakes (Spinach, Broccoli, Potato and Sweet Potato) are great finger foods at cocktail parties as well. The combination of convenience and tasty foods will help consumers keep their lifestyle resolutions. Products are available at fine health food stores. Visit www.drpraegers.com.
---
AGO to Open first Las Vegas Restaurant
at Hard Rock Hotel & Casino

AGO, the elegant Italian trattoria named after its celebrated executive chef partner, Agostino Sciandri, will launch a new Las Vegas location at the Hard Rock Hotel & Casino this winter, coinciding with the tenth anniversary of the landmark Los Angeles eatery.

AGO is best known for its authentic Tuscan-style Italian fare that emphasizes light and simple cooking with signatures dishes such as Burrata con Fagiolini, Tagliatelle al Ragu Antico, and Branzino ai Ferri con Pane Profumato. The menu will be consistent with the restaurant's four other locations across the U.S., including Los Angeles, Miami and soon-to-be New York.

Agostino Sciandri of Aulla, Italy (Tuscany) came into prominence as co-owner and executive chef of Toscana in Brentwood, Calif. prior to opening AGO's first location in West Hollywood in 1998 along with Hollywood heavyweight partners Robert De Niro, Bob and Harvey Weinstein, and Tony and Ridley Scott. AGO has been recognized for popularizing the Northern Italian style of cooking in Los Angeles along with attracting a loyal celebrity clientele.

AGO Las Vegas, designed by Ralph Gentile, will include a sleek and welcoming lounge where diners can sample AGO's one-of-a kind cocktails or small plates from the bar menu. Guests then enter the intimate dining area which will include a special "Cava" room designed in the spirit of an underground wine cave.

Las Vegas chef, Sergio Santoro who trained at AGO in Los Angeles, will serve as Executive Chef and directing the restaurant's extensive wine selection will be Emilio Marchionne, Sommelier.

An official grand opening hosted by Robert De Niro and Agostino Sciandri is scheduled for late-February. Please visit www.hardrockhotel.com for more information.
---
Taste the Future of Flavor
McCormick® Forecasts Top 10 Flavor Pairings for 2008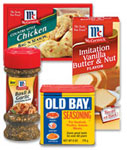 The fragrant, visually stunning duo of poppy seed and rose captures America's quest for the ultimate sensory experience. This combination is just one of McCormick's top 10 flavor pairings featured in the just-released McCormick® Flavor Forecast™ 2008.
As the largest spice company in the world, McCormick keeps a finger on the pulse of flavor through an extensive network of researchers, trend experts, chefs, food technologists and sensory analysts. Together with leading restaurant chefs, cookbook authors and TV food personalities, they have identified the top tastes shaping how Americans will eat in the coming year.
"Our team of chefs is constantly exploring new ways to experience flavor – it is the heart of what we do," said Kevan Vetter, Executive Chef at McCormick. "When we see a new spirit of adventure with ingredients like lemon grass and lychee or red curry and masa, we know it's an exciting time for food and flavor."
So what's influencing the flavors of 2008?
America's escalating interest in health and wellness, the boundless passion for discovering authentic ingredients and cooking techniques from around the globe and the increased desire for local and artisan food are all driving forces in evolving our collective palate. McCormick explored these and other trends to develop the top 10 flavor pairings for 2008.
McCormick's Top 10 flavor pairings:
Oregano and Heirloom Beans: The intersection of functional food and fantastic flavor, this coupling is an antioxidant powerhouse.
Vanilla Bean and Cardamom: A flavor match made in heaven taps into America's growing passion for indulgent, yet approachable luxury.
Chile and Cocoa: Old world authenticity in a modern context – the result is complex heat, depth, dimension and richness.
Coriander and Coconut Water: The essence of the tropics coaxes nuances of a chameleon-like spice bringing forth light, clean flavors.
Lemon Grass and Lychee: Exotic fruits from far away and the ever-growing popularity of Asian cuisines pave the way for this refreshing match.
Red Curry and Masa: This duo brings together Latin and Asian influences to create a unique flavor experience.
Orange Peel and Natural Wood: A new taste sensation is born when the smokiness of wood is matched with tangy orange peel.
Allspice and Exotic Meats: This adventurous combination represents America's pursuit of experimentation.
Poppy Seed and Rose: An elegant and sensuous pair that captures the pursuit of cuisines from North Africa and the Middle East.
Rubbed Sage and Rye Whiskey: A powerful, all-American team – sage is a wonderful complement to the dry, gutsy nature of rye whiskey, a historic brew poised for a great renaissance.
For new recipes that bring these pairings to life, visit www.mccormick.com.
---