CULINARY COUP   .   .   .
37th Santa Ynez Valley Historical Museum Gala Weekend A Homage to the Vaquero
By Bonnie Carroll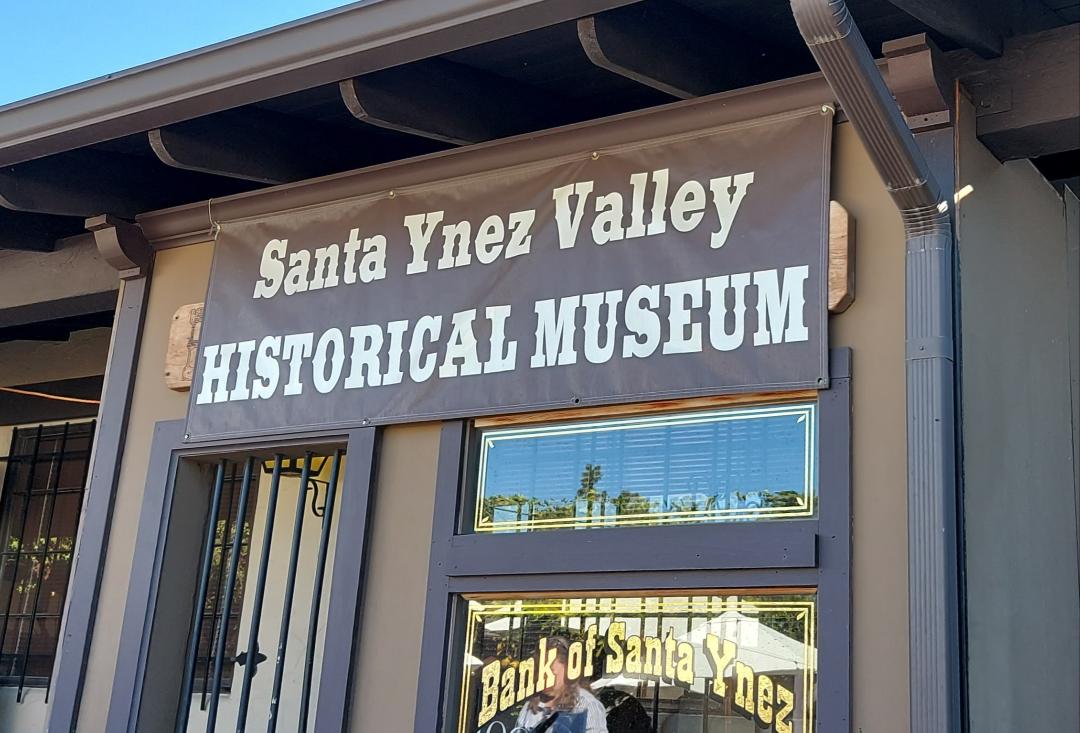 Santa Ynez Vally Historical Museum 37th Vaquero Show & Sale
The 37th Annual Vaquero Gala, Show and Sale to benefit the Santa
Ynez Valley Historical Museum was a weekend to remember. The 2021 Vaquero of the Year award was presented to John McCarty, legendary cattleman, at the annual Gala held in the Museum and is a long-awaited event for area locals and museum supporters. Testa Catering and Gainey Vineyards provided a delicious dinner and wine pairing, and auction items included a trip to Hawaii, and the fly-fishing adventure, along with a bevy of other tempting items. The three-day event is the major fundraiser for the museum and was touted as being a major success by museum officials.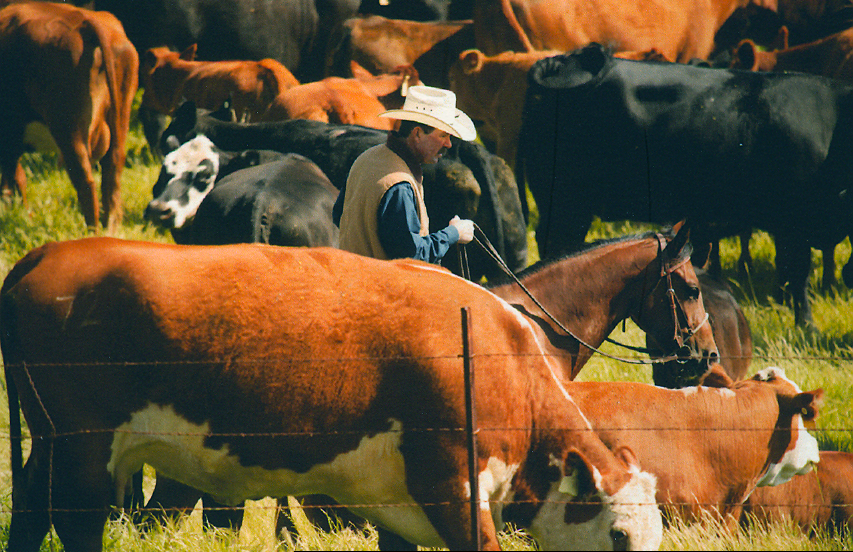 John McCarty 2021 Vaquero of the Year

Throughout the weekend visitors and supporters took tours, savored food & beverages, watched Traditional Vaquero Horsemanship Demonstrations by Heather Kornemann, and enjoyed local Vaquero fiestas performed by Baile de California. Attendees also enjoyed shopping for specialty gifts at the Vaquero sale and perusing the museum exhibits honoring the unique culture and equine skills of the California "Vaquero" life, many items featured the rich history of the beautiful Santa Ynez Valley.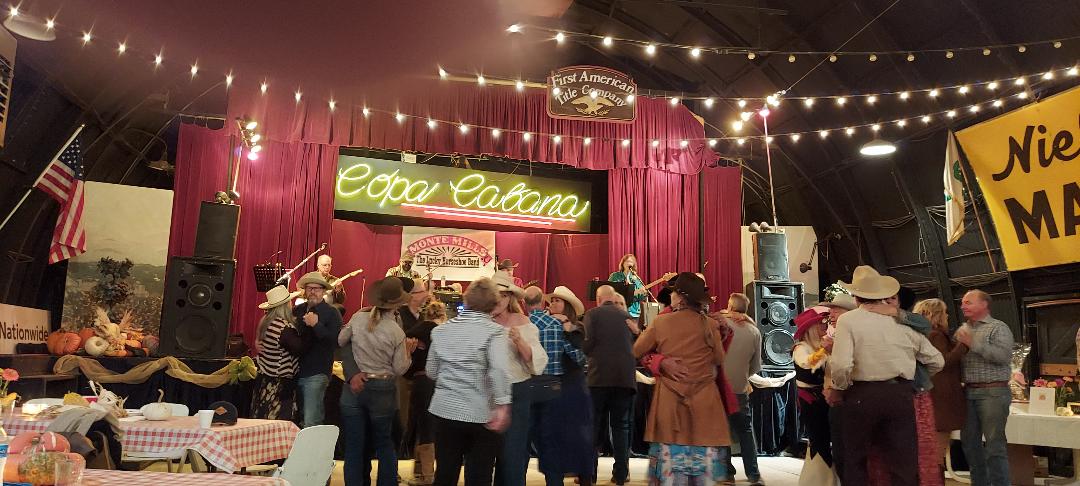 Barn Dancing to Monte Mills & Lucky Horseshoe Band
On Saturday night the Pork Roast and Barn Dance at The Pork Palace,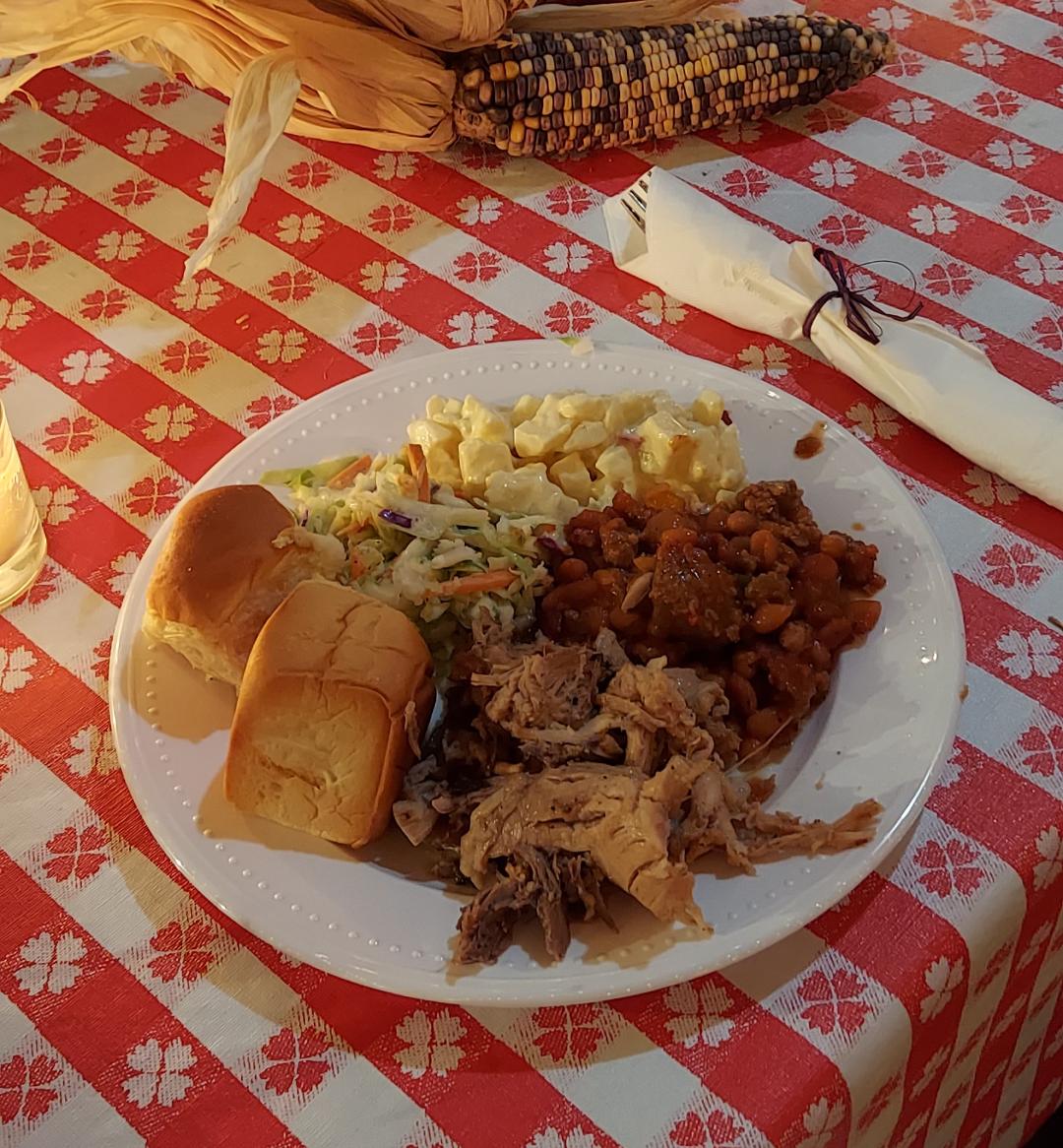 3 miles south of Buellton at 1503 Highway 101 (home of Heritage Pork), featured live country-swing music by Monte Mills & the Lucky Horseshoe Band and was the place to be. The downhome cowboy decorations and outstanding roast pork dinner with all the trimmings were personally overseen by Randy Jones, owner of The Pork Palace and serves as current President of the board of the Santa Ynez Valley Historical Museum. Randy is a member of a proud farming family in Santa Ynez Valley since 1975.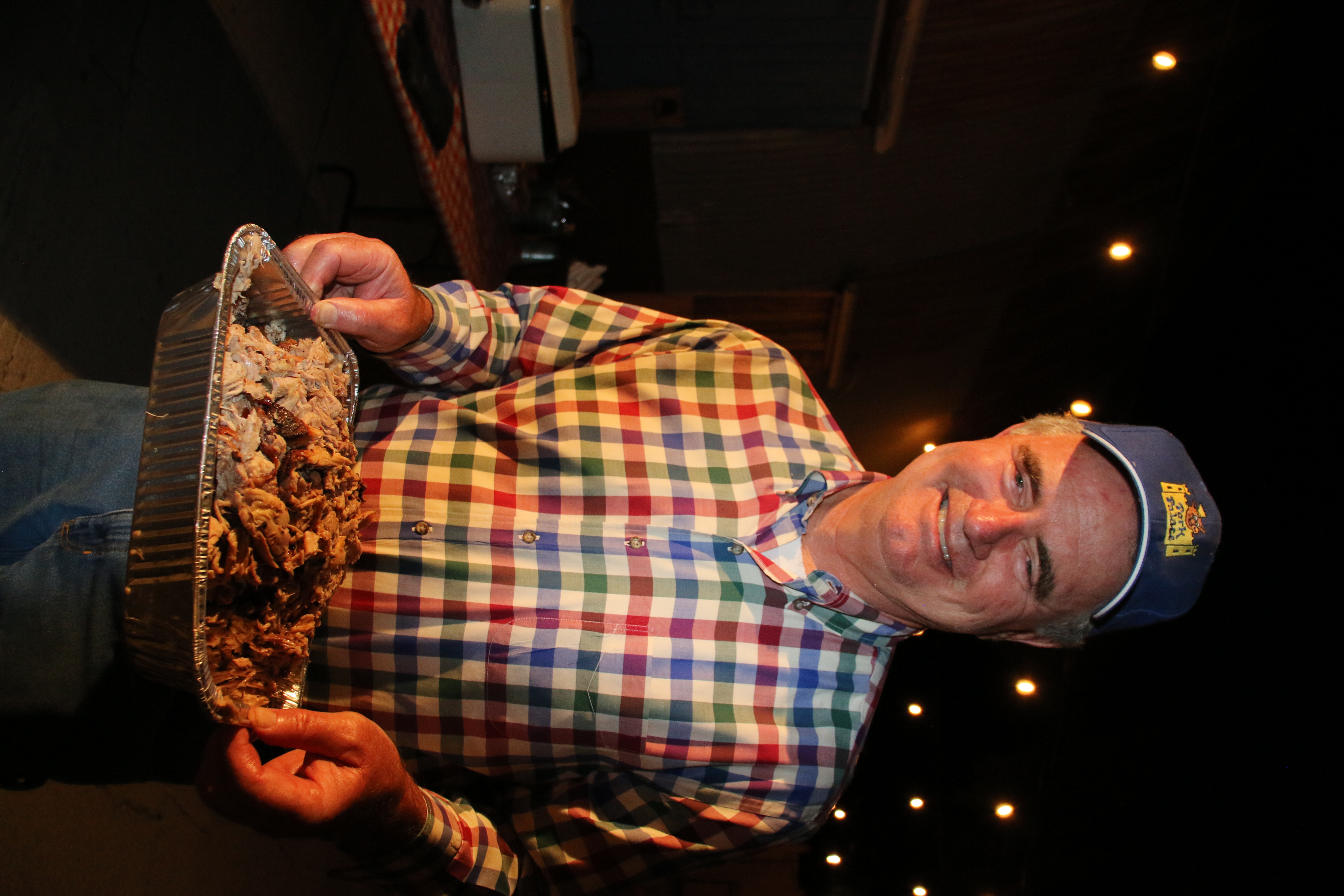 Randy Jones Pork Palace Host is President of SYV Historical Museum

The country-swing music provided by Monte Mills & the Lucky Horseshoe Band had everyone in the Pork Palace Barn moving their boots to the fabulous country sounds. It was such fun to see everyone in their best western attire having so much fun dining and dancing for charity. Guests also were busy bidding on wines, pork products, creative bakery delights and the 50/50 which was won by a young woman who donated it all back to the charity.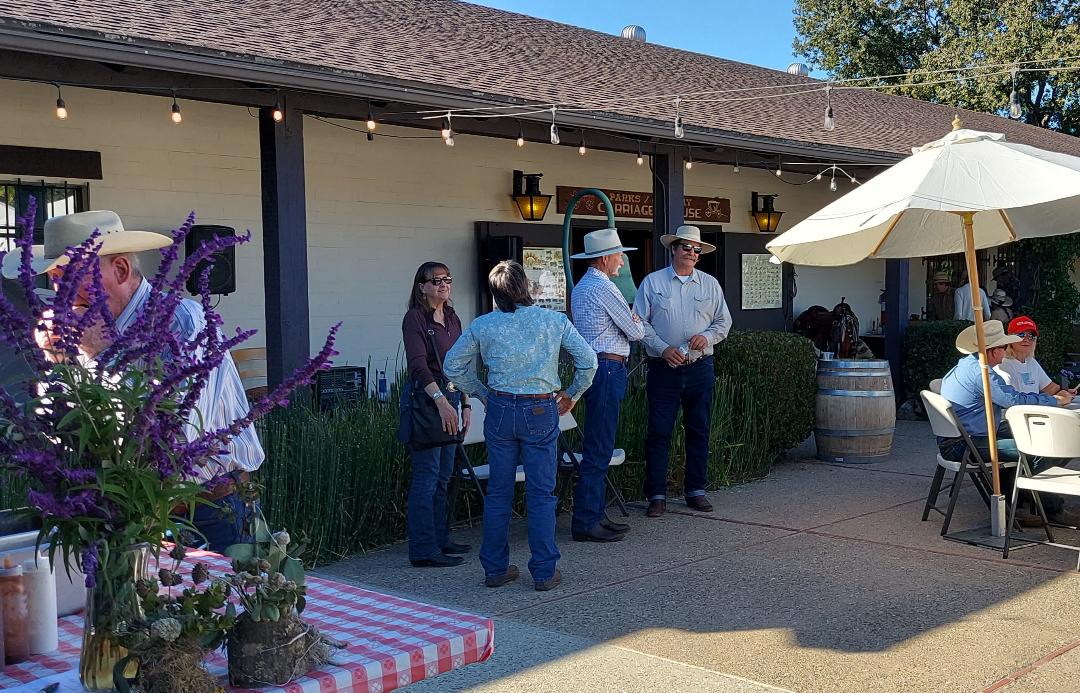 Guests at Santa Ynez Vally Historical Museum 37th Vaquero Show & Sale
Be sure to put this delightful and historic Vaquero weekend on your calendar for next year because it is nothing short of totally cowboy charming and delicious! Visit:  www.santaynezmuseum.org.
___________________________________________________________________
PIERRE CLAEYSSENS 24TH MILITARY BALL HONORING ALL VETERANS & VETERANS DAY IN SANTA BARBARA

By Bonnie Carroll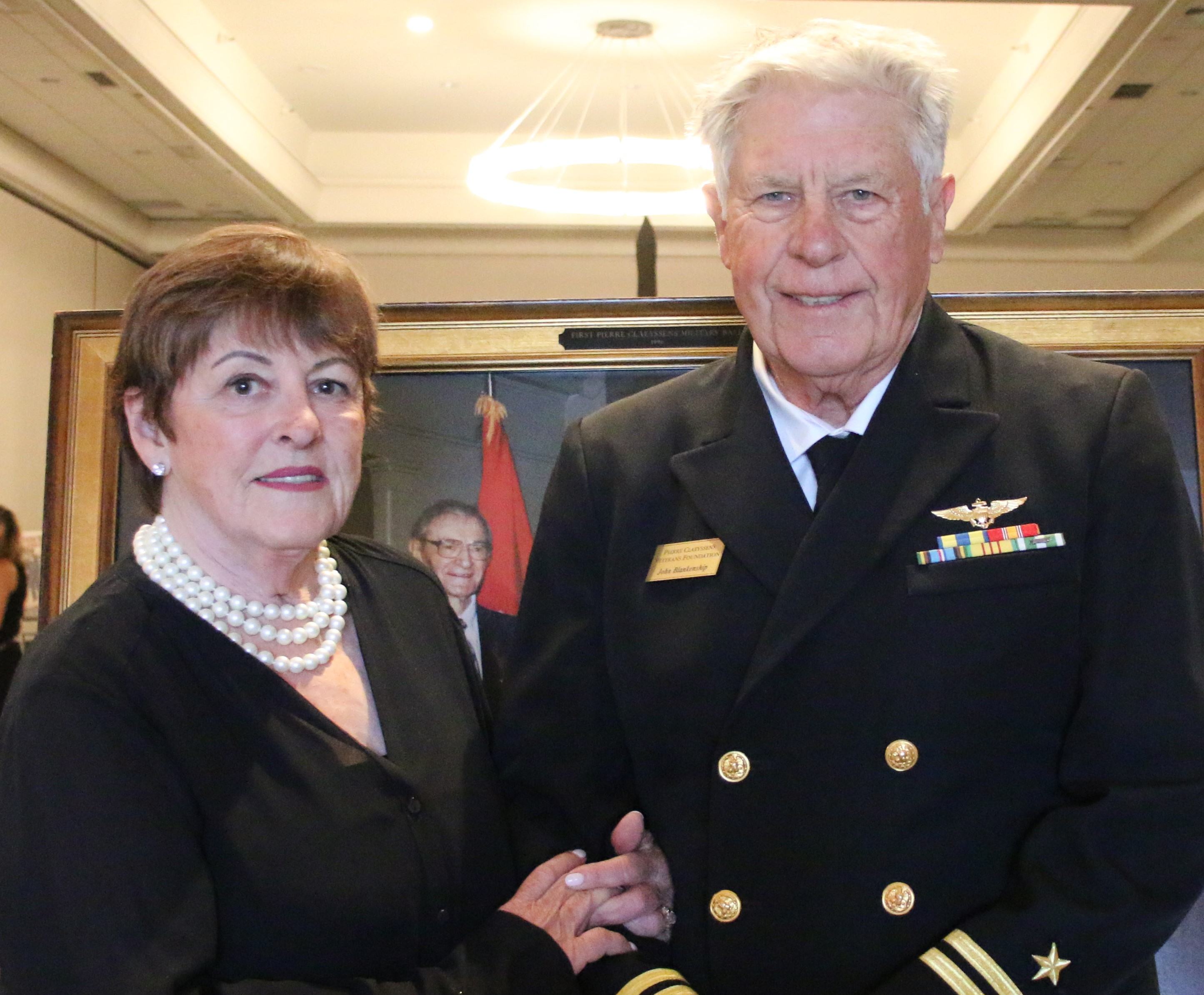 Mrs. Hazel & Lt. John Blankenship PCVF
Guest arriving at The Hilton Santa Barbara Beachfront Resort were greeted by a welcome of everything Veterans hold dear, from historic military vehicles parked at the entrance to bag piper's playing as cordial volunteers were doing guest check-in. Lt. John Blankenship, USN (former), and Mrs. Hazel Blankenship were cordially greeting guests during the lively cocktail reception.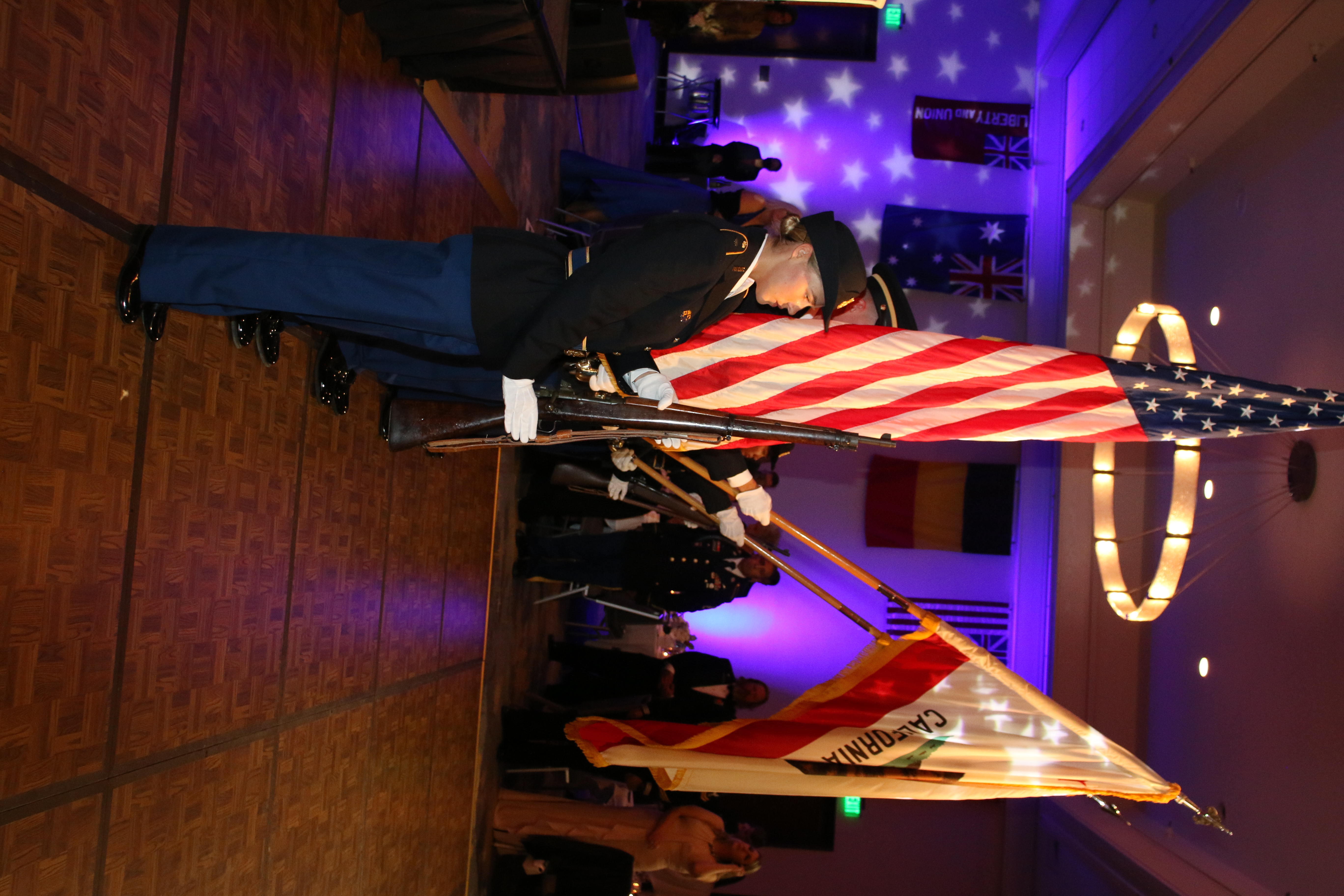 Posting of the Colors
Posting of the colors by UC Santa Barbara's ROTC Surfrider Battalion, Pledge of Allegiance by Lt.Col. Patricia Rumpza, National Anthem lead by David Gonzales, invocation by LTC Jack Armstrong, U.S. Army (ret), The Missing Man Ceremony, Francis Gary Powers, Jr. presentation, Armed Services Musical Tribute along with an outstanding dinner was followed by dancing to music by The Replicas, who have been the preferred entertainment for organizations such as NASA, Google, LinkedIn, GM, Ford, AppFolio, UBS Bank, and Milken Institute, to name a few were fantastic and had everyone out on the dance floor.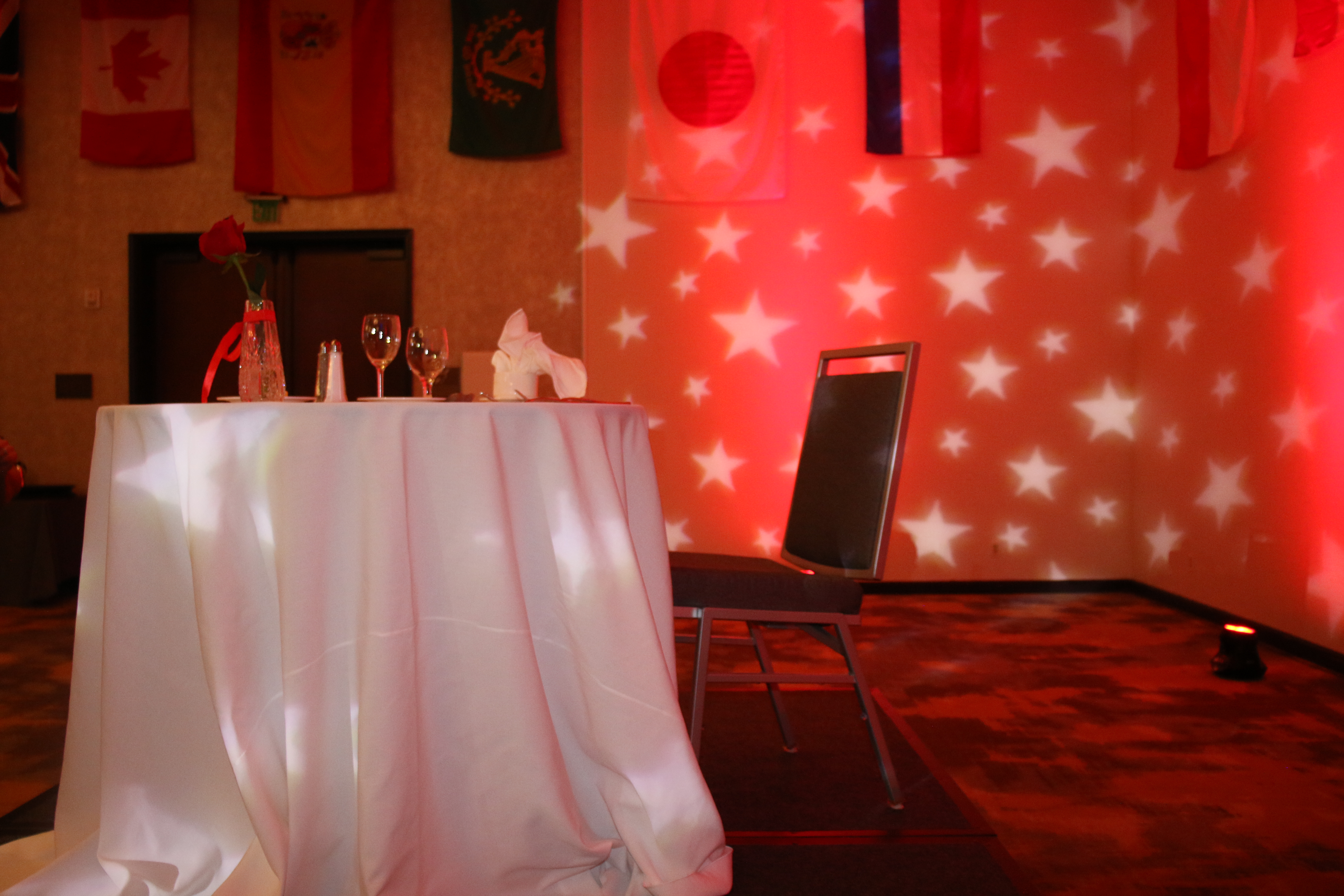 Missing Man Ceremony
The Missing Man Ceremony, a poignant honor to America's POW/MIAs, was given by Nick Lizarraga of UCSB ROTC Surfrider Battalion and is always included at the ball as a very touching toast and reminder of those captured and missing in a foreign land.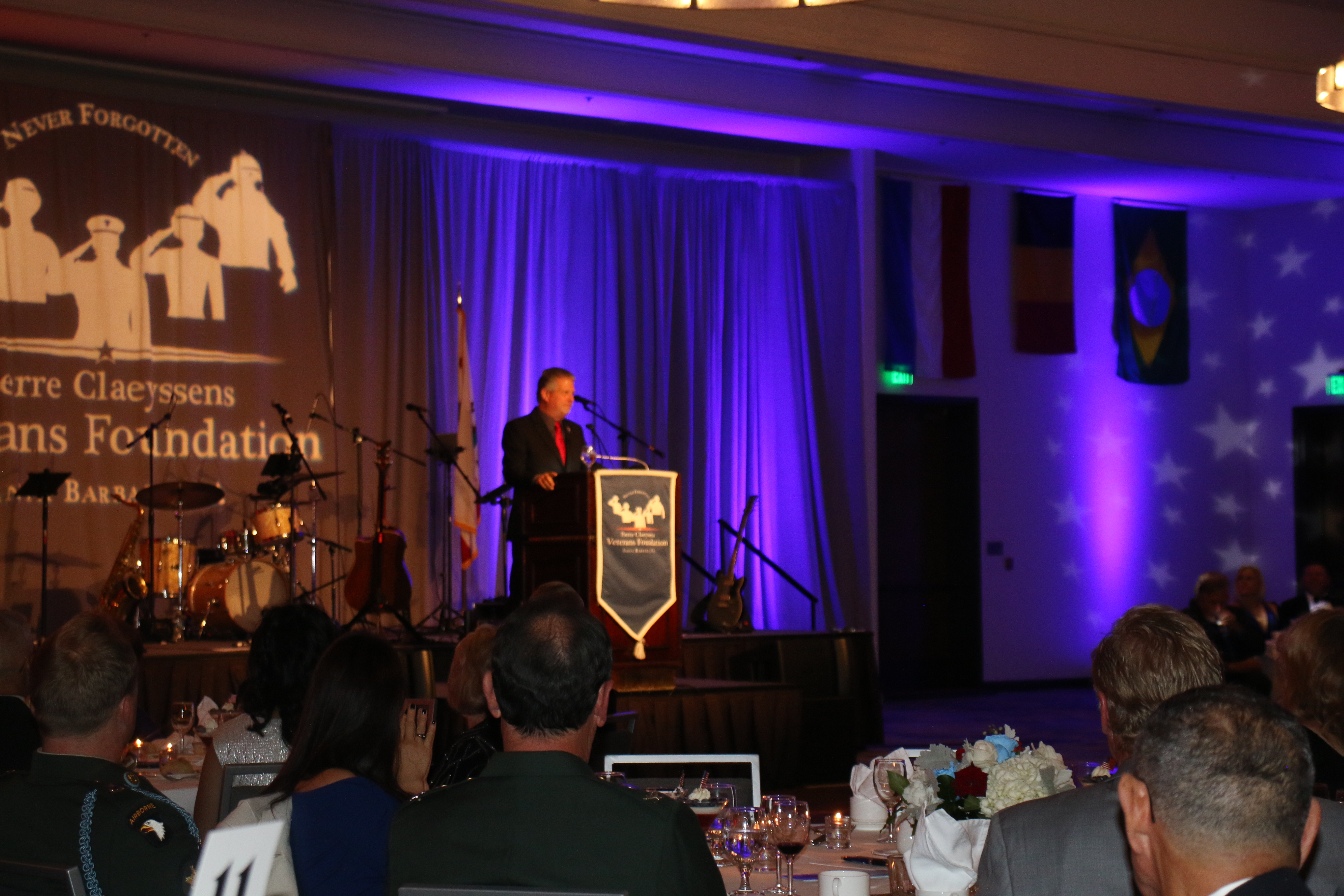 Francis Gary Powers, Jr.
Francis Gary Powers Jr., guest speaker for this year's Ball, is known for his bestselling non-fiction books, Letters from a Soviet Prison (2017) and Spy Pilot (2019) which both have helped to dispel the misinformation surrounding the U-2 Incident, and his consulting work on Bridge of Spies directed by Steven Spielberg and starring Tom Hanks and founder of the Cold War Museum. Mr. Powers, is the son of Air Force veteran Francis Gary Powers Sr. - an American CIA U-2 spy plane pilot shot down over the Soviet Union on May 1, 1960, imprisoned and the subject of a spy exchange. The event triggered a major international political and diplomatic incident.
Powers' work is aligned with the PCVF mission, which is, based on the words of Pierre Claeyssens: "To be killed in a war is not the worst that can happen. To be lost is not the worst. To be forgotten is the worst."  Powers says, "The whole purpose of the Cold War Museum, and what I've been doing to honor veterans and preserve history, is that I don't want the Cold War veteran to be forgotten or overlooked. We must embrace all of our veterans, from the Revolutionary War to the present. We need to honor them, respect them and thank them for their service. We must make sure that our children understand the important job that they do so that we're free at home."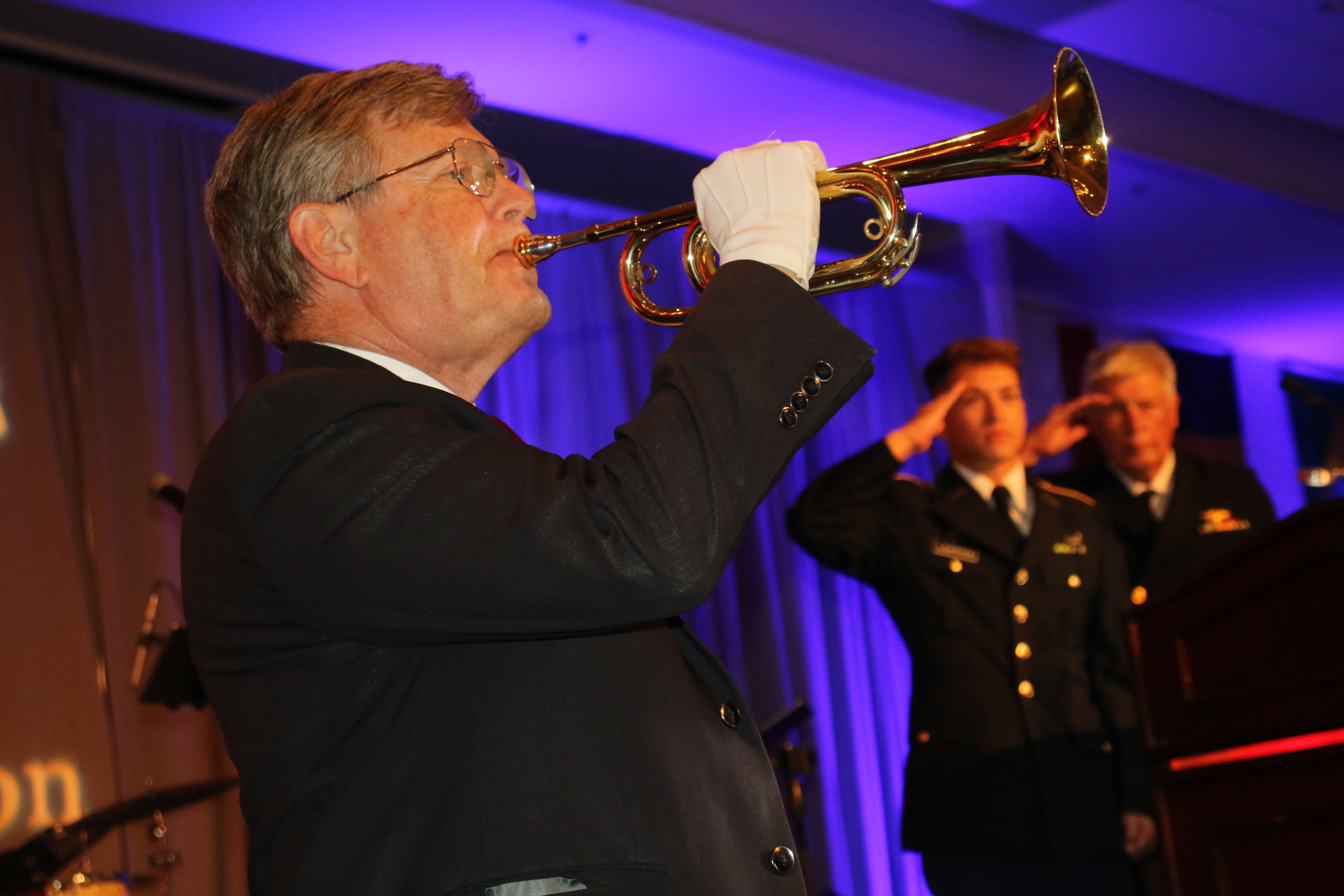 Salute to Veterans
The formal Military Ball, now in its 24th year, provided a long-awaited opportunity for attendees to connect and celebrate. COVID-19 protocols were in place to create the safest possible environment for guests, and all in attendance had to show proof of vaccination or supply a negative Covid-19 medical test result (taken within 72 hours of the Military Ball), along with an official photo ID, before entering. Mask were required indoors but everyone was happy to comply.
The Hilton Santa Barbara Beachfront Resort took extra precautions for the health and safety of staff and guests. Higher value MERV 13 filters specifically designed to eliminate circulation of airborne microbes in the hotel were installed to kill airborne microbes in the duct work before reaching the general air supply, and the system has been re-programed to inject 100% fresh air while eliminating recirculation of inside air.
VETERANS DAY AT SANTA BARBARA CEMETERY HONORING VETS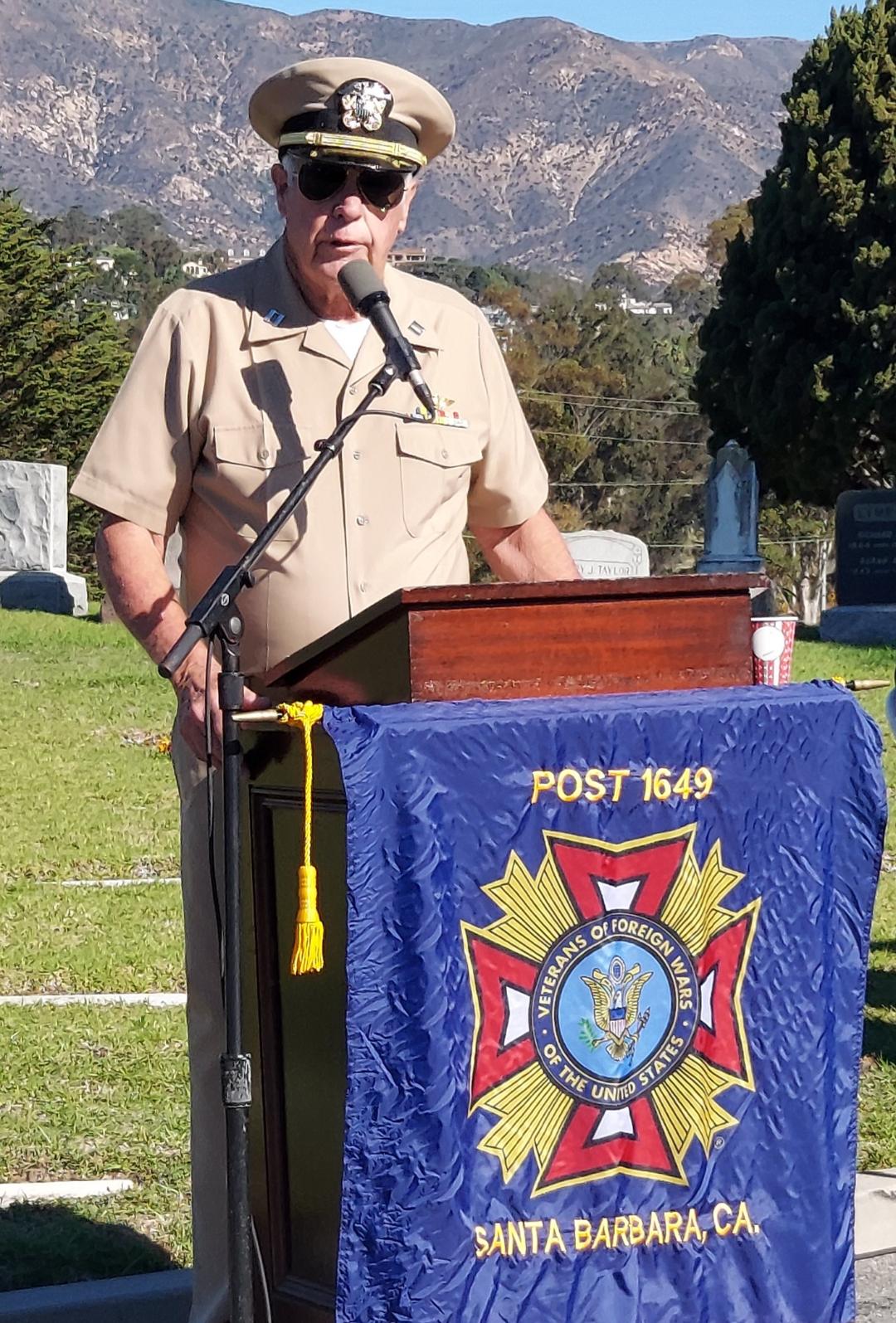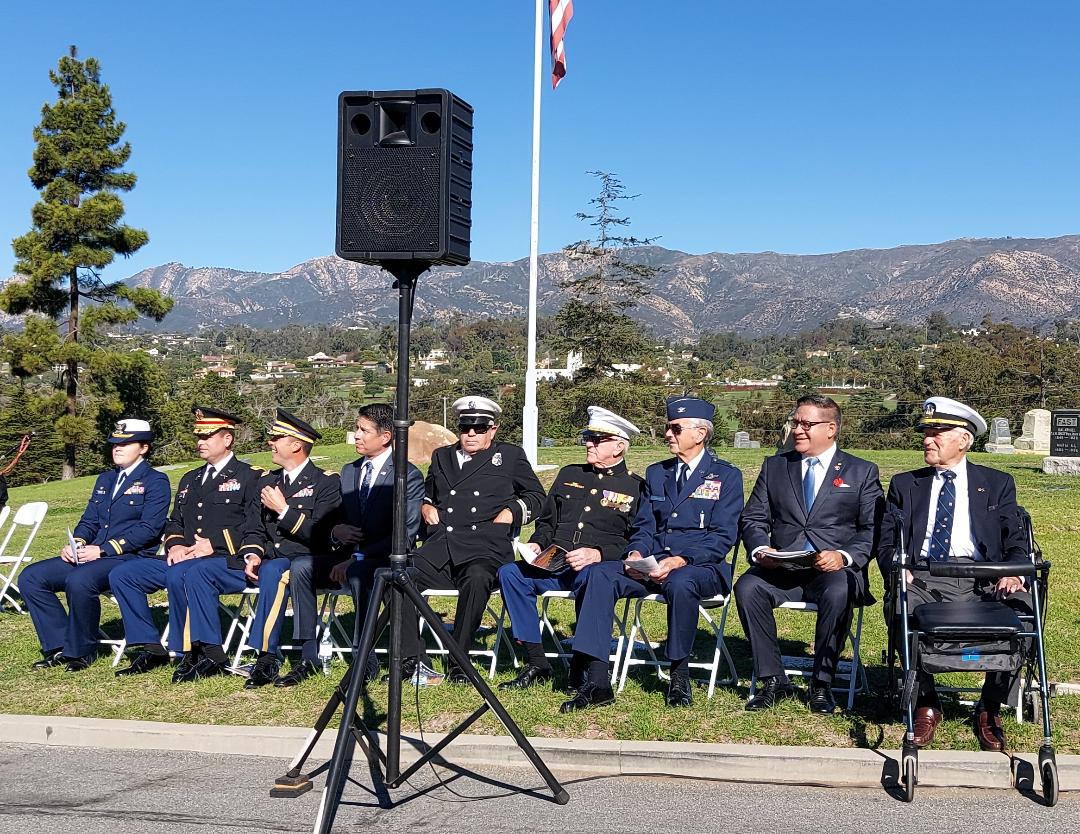 Lt. John Blankenship & Honored Veterans & Guests
A huge crowd gathered to honor veterans at the Santa Barbara Cemetery on Veterans Day and the proram, lead by Lt. John Blankenship, USN (former) included words of praise for our veterans from attending military leaders, honored guests, and local officials and was opened and closed by the UCSB Color Guard.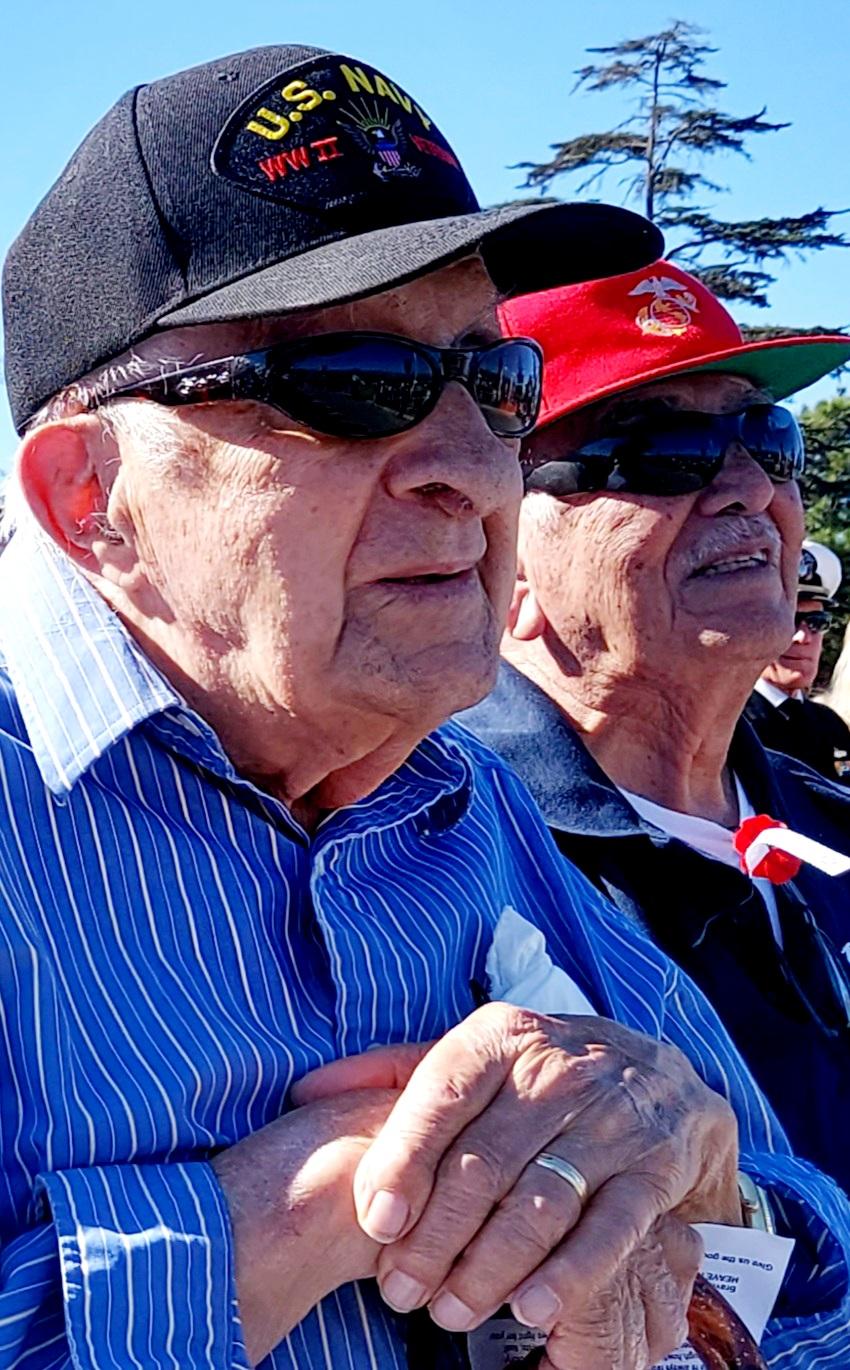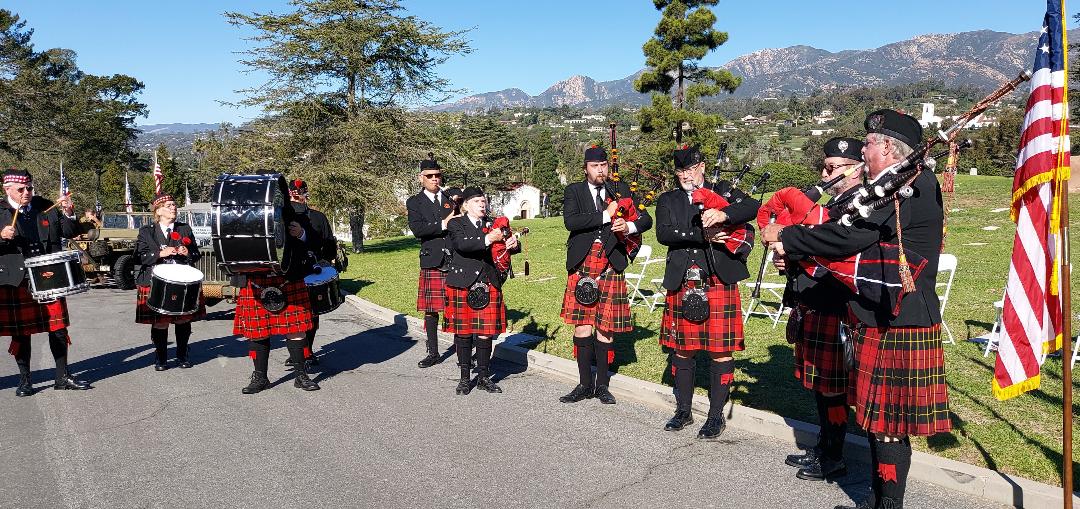 Honored WWII Vets - Royal Bag Pipers
The  Bag Pipers performance of Amazing Grace, along with patriotic songs from the Santa Barbara Choir were so touching, and the participation of two veterans from WWII brought tears to my eyes. David Gonzales, former SBPD, performed at the event and led the crowd in song.

It was a proud day for members of the Santa Barbara community and for Pierre Claeyssens Veterans Foundation, who produces this amazing annual event.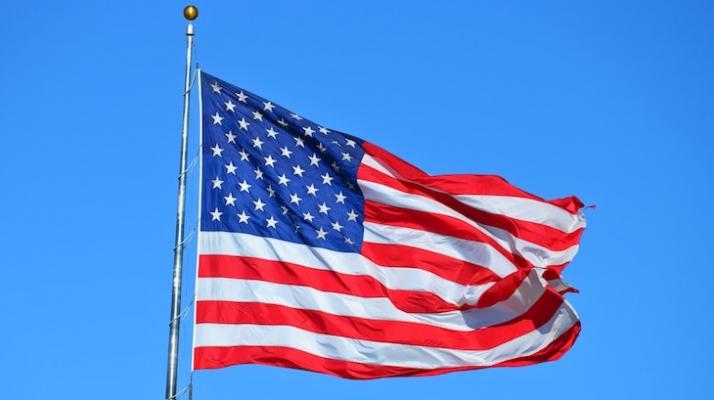 About Pierre Claeyssens Veterans Foundation
Pierre Claeyssens Veterans Foundation is committed to honoring the men and women who have served in U.S. military efforts. PCVF does this by supporting veterans and active duty members, and related partner organizations, in Santa Barbara and Ventura counties as well as preserving military history and legacy. The Foundation works to uphold Pierre Claeyssens's vision that those who have served are "Never Forgotten." PCVF is funded entirely by private donations. For more information, visit www.pcvf.org or call (805) 259-4394. 

*  *  *
SANTA BARBARA WOMAN'S CLUB PRESENTS VETERANS 2021 TEA

ERIN GRAFFY PRESENTS "AFTER THE FALL"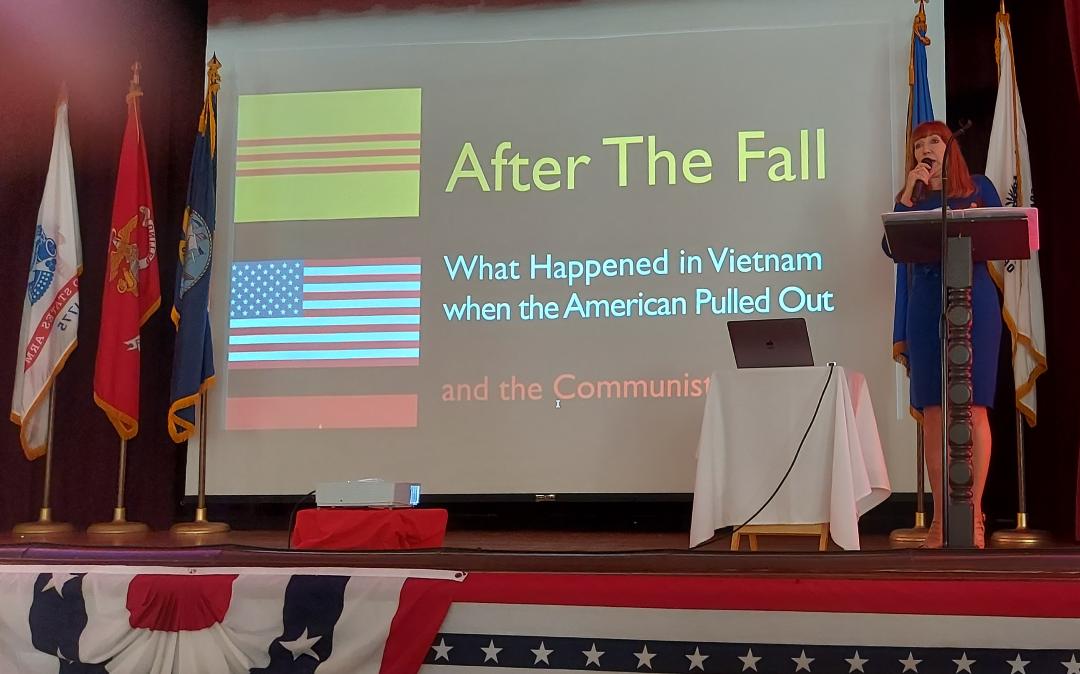 Historian/Journalist/Author Erin Graffy gave a poignant presentation on Vietnam, which represented years of research collected by the talented speaker. The audience included many veterans, local members of the historic Santa Barbara Woman's Club, founded in 1892, and located at 670 Mission Canyon Road in Santa Barbara where invited guests included Mr & Mrs. John Blankenship, Pierre Claeyssen's Veterans Foundation.
__________________________________________________________________

LBN GREEN PEPPER FOR ONE

Created by Bonnie Carroll 10/21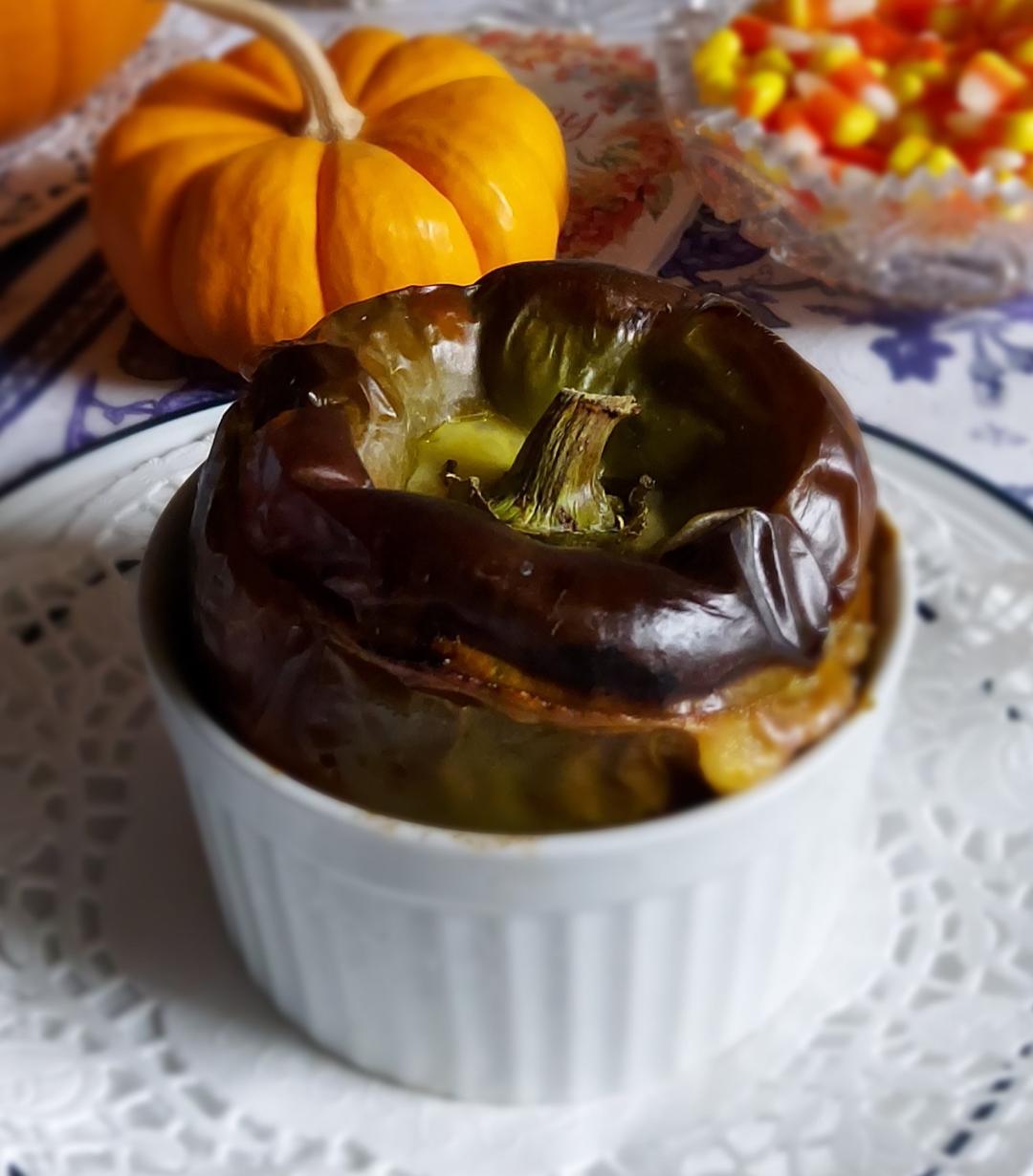 Ingredients:
1 Organic Green pepper
1 can white chicken (drained)
2 tbs. cooked Chickpeas
¼ tsp Chopped Scallion
½ crushed small Garlic Clove
1 tbs extra light Pompeian Oil
3 tbs. Italian Blend Shredded Cheese
Pinch of Cilantro
Top pepper with
3 thin slices Bristol Farm Organic Jack Cheese
Place Pepper Cap on top
Process:
Cut top off Green Pepper and put aside
Clean out inside of Pepper
Mix chicken with chickpeas, scallion, garlic,
Italian Cheese, cilantro, and oil.
Stuff Pepper and top with sliced Jack Cheese, place Pepper
top over sliced jack cheese.
Place on middle shelf of oven on baking sheet and cook
For 35 minutes at 350 degrees.
Let stand for 5 minutes and serve with a green salad
and a glass of Margerum Sauvignon Blanc.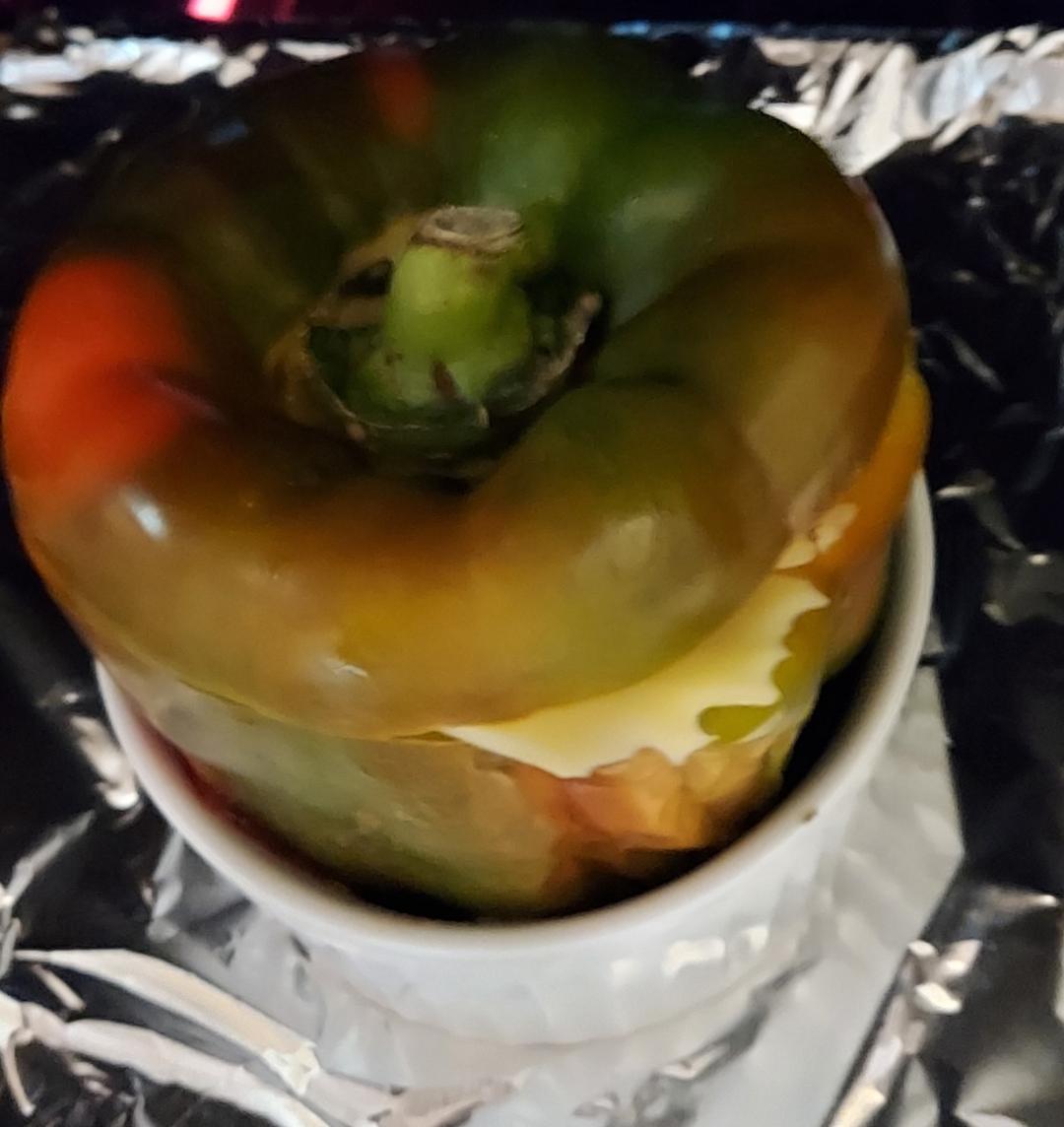 Bon Appetit!
With Love From Your Wanna Be Chef Bonnie
---