CULINARY COUP     .     .     .
CULINARY COUP    .    .    .
CALIFORNIA STRAWBERRY FESTIVAL 2019 "BERRY BLAST OFF"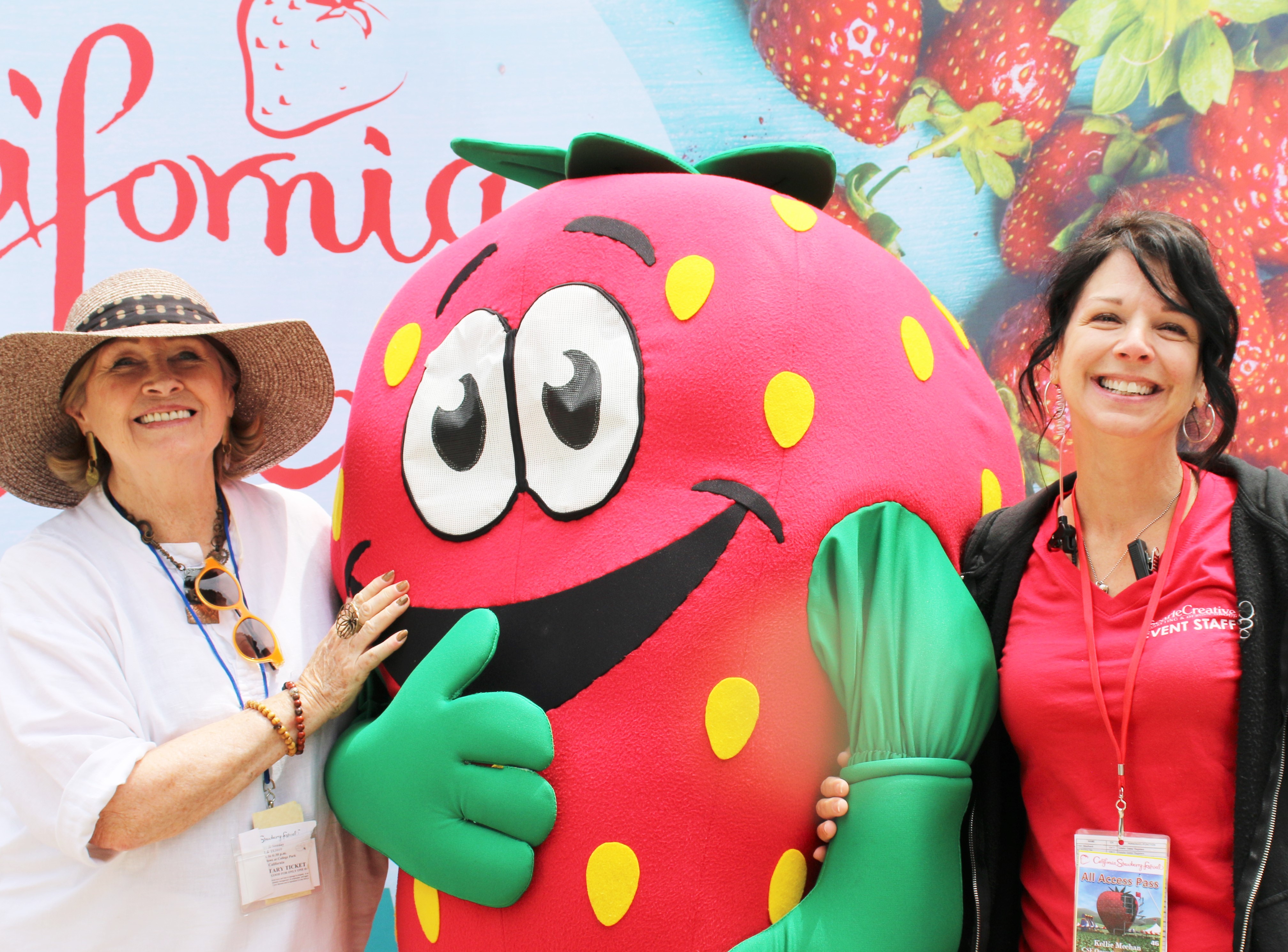 Judge Bonnie Carroll, CSF Strawberry & Director of Marketing Kellie Meehan
Two finalists were selected during the semi-finals round of the 36th Annual California Strawberry Festival's to compete in the May 18th "Berry Blast Off" Recipe Contest finals." Elizabeth Koseyan of North Hills and Emily Falke of Santa Barbara competed on the cooking stage for top honors during the festival on May 18th at Strawberry Meadows of College Park in Oxnard.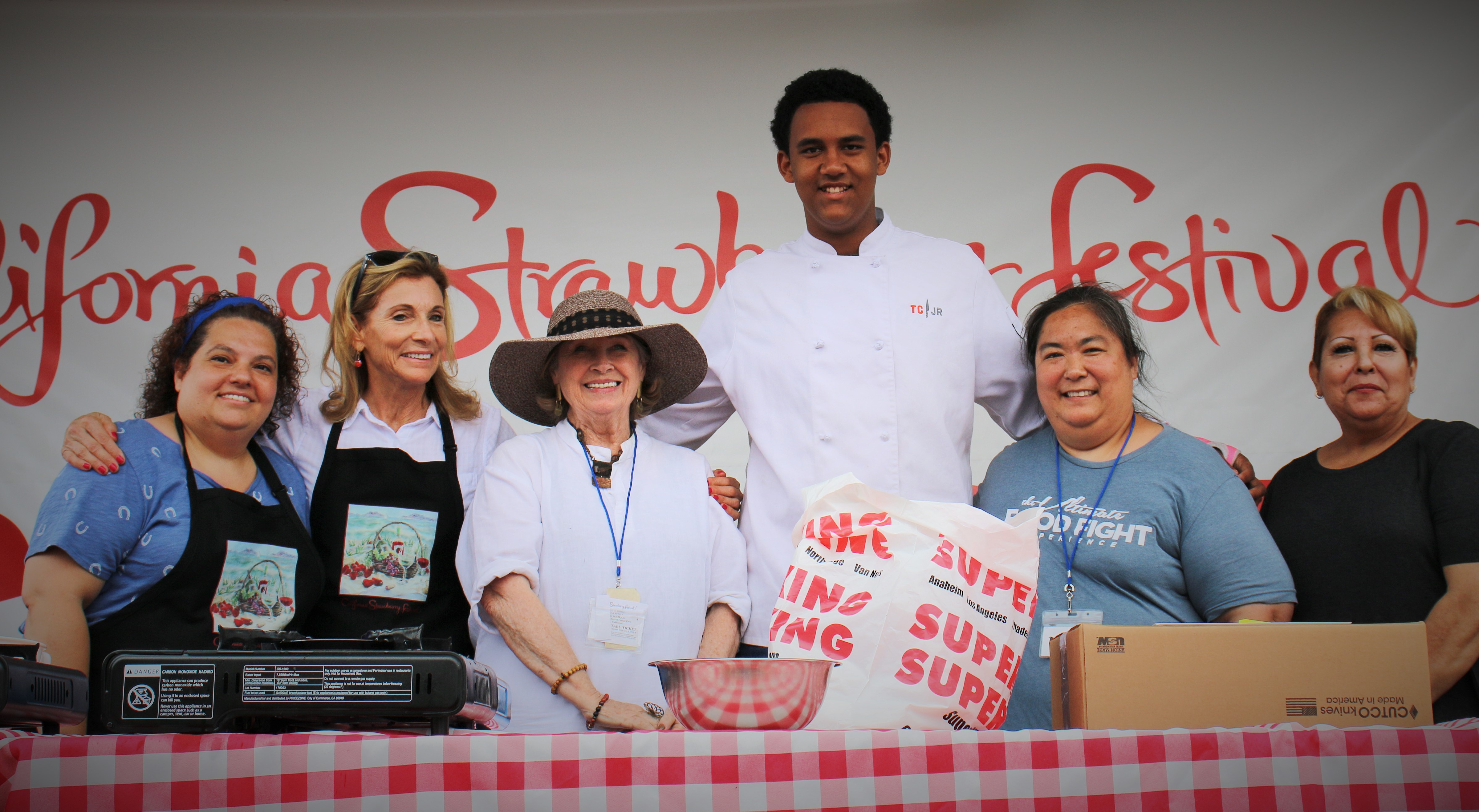 Chefs Elizabeth Koseyan, Emily Falke & Judges Bonnie Carroll, Carson Peterson, Chelsea Madren
Sponsored by the Ventura County Star, the semi-finals for Berry Blast Off were held on May 7 at the Chef's Kitchen in the Courtyard by Marriott, Oxnard. The four semi-finalists, selected from a pool of 72 recipe submissions, had one hour to prepare their recipes and then present them to the five judges for tasting (Judges were Anne Kallas, editor of Ventura News Service, Wendy Leung, Ventura County Star reporter, Chuy Renteria and Mike Lodi, chefs Courtyard by Marriott in Oxnard, and Mark Spellman, Lazer Broadcasting and California Strawberry Festival board member).
Semi-finalists included Elizabeth Koseyan - Strawberry Marinated Yucatan Pork Tostadas with Fresh Strawberry Corn Salsa & Avocado Crema (North Hills), Emily Falke - Sweet Spicy Savory Strawberry Salsa Drenched Fried Avocado Soft Tacos (Santa Barbara) who went up against Kate Rodriguez - Strawberry Sicilian Quesadilla (Port Hueneme) and Kayla Capper - Strawberry Shortcake Pancakes (Ojai).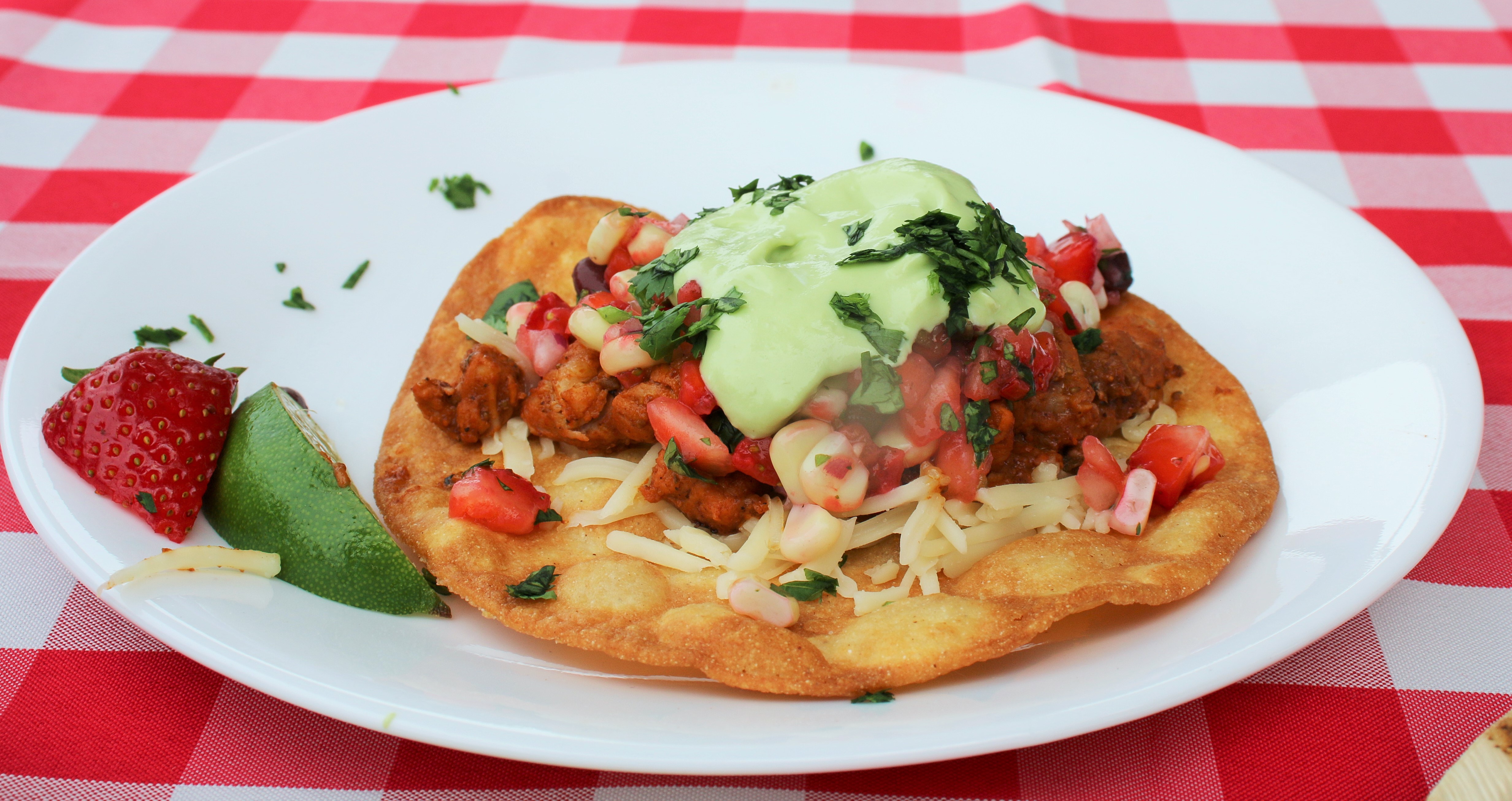 2nd Place by Elizabeth Koseyan  - 1st Place by Emily Falke
Koseyan and Falke prepared their dishes again during the final round, beginning at 1:30 p.m. on the Festival Stage. 2018 winner and defending champion Jake Hagen was emcee for this year's Berry Blast Off. The grand prize winner Emily Falke received a 4-day, 3-night getaway vacation at a Welk Resort property and a Cutco studio knife set valued at nearly $500. The runner-up Elizabeth Koseyan received a 1-night stay at the Courtyard by Marriott Oxnard, a $100 gift certificate to Maddalena Restaurant at San Antonio Winery.
WINNING RECIPE: By Emily Falke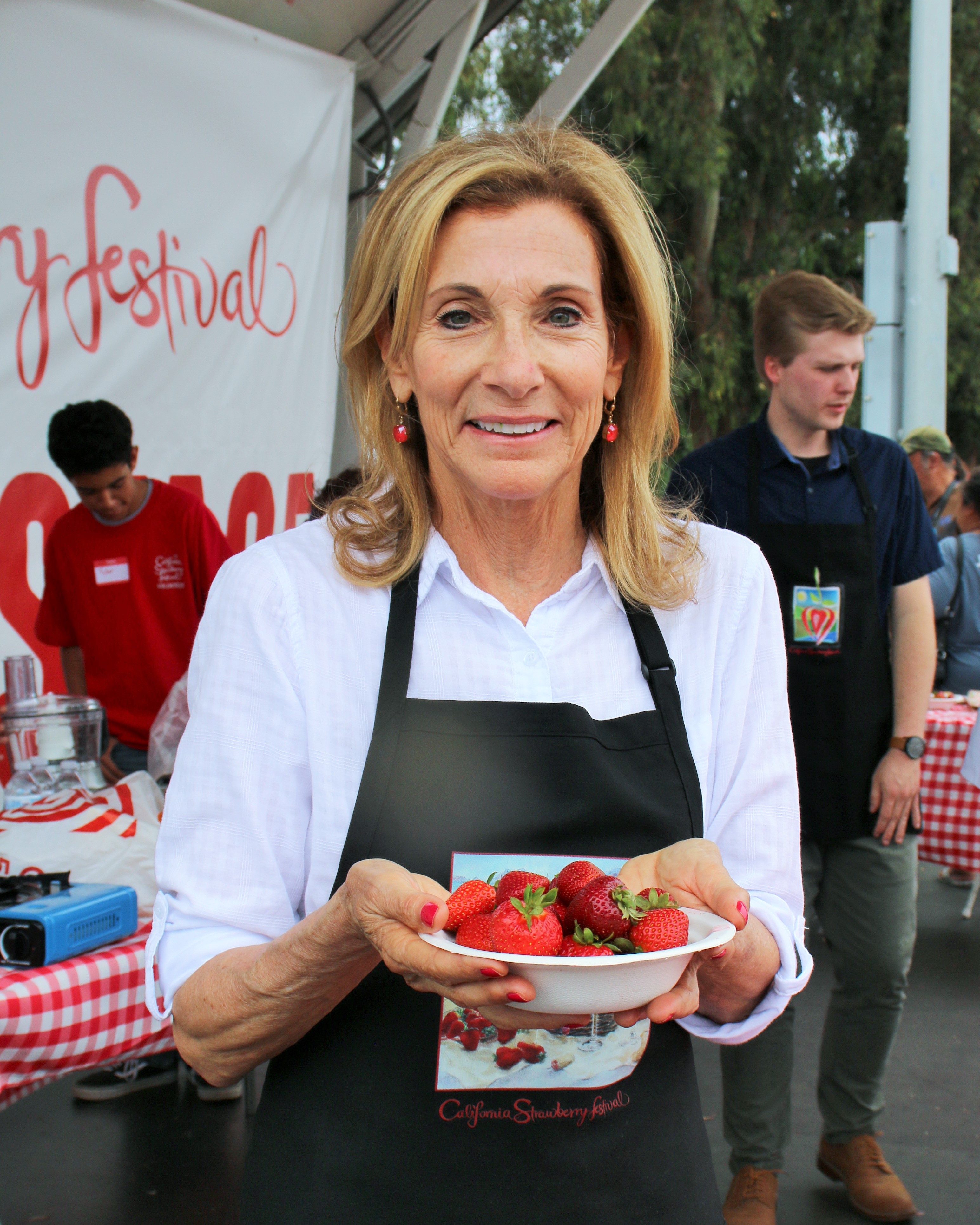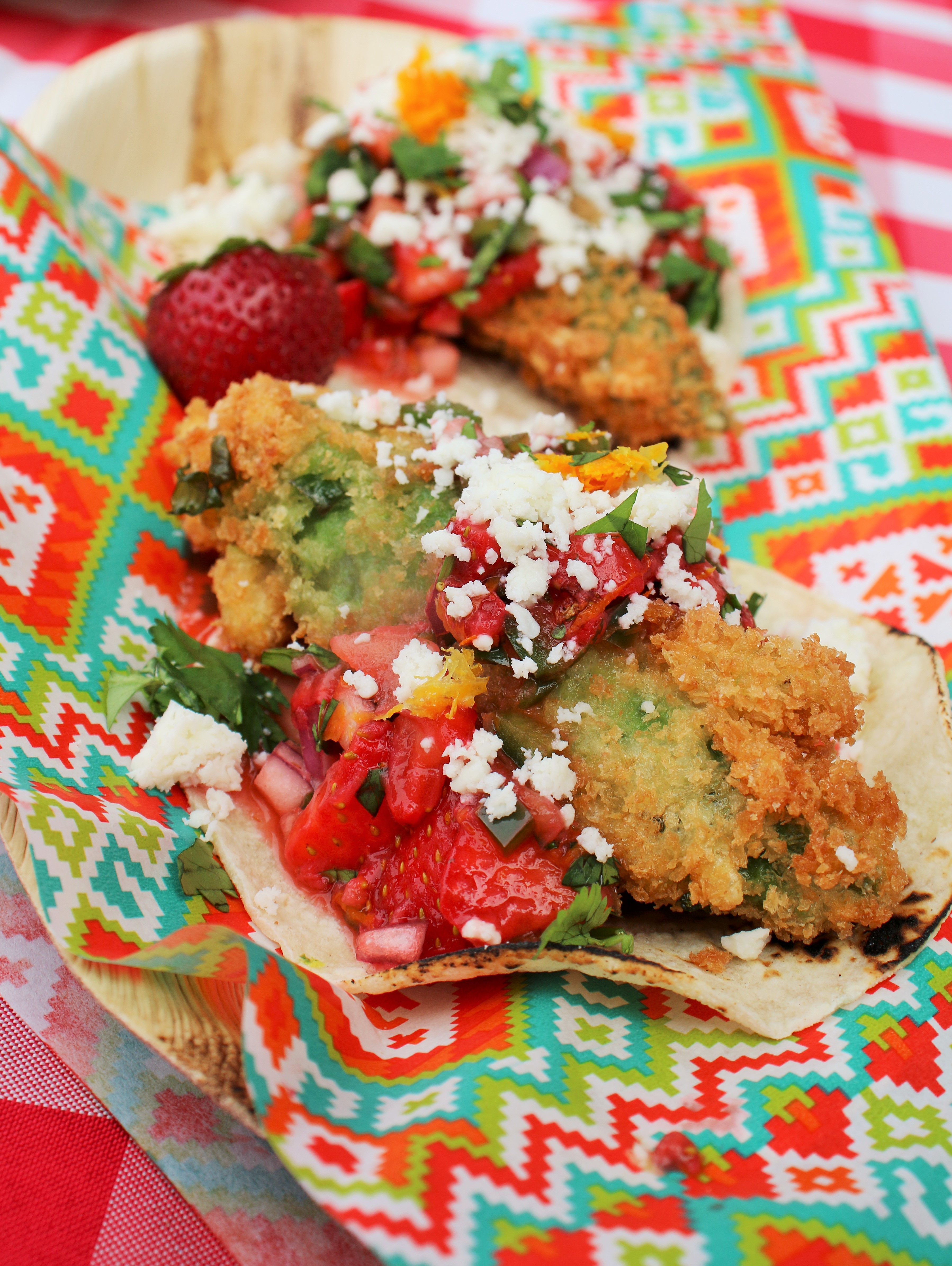 Sweet Spicy Savory Straberry Salsa Drenched Fried Avocado Soft Tacos
Ingredients: Strawberry Salsa: 2 cups fresh strawberries, stemmed, chopped, 1/3 cup red onion, chopped fine, 1/4 cup fresh cilantro, stemmed, chopped, 1 jalapeno pepper, semmed, seeded, minced, 1 tablespoon fresh lime juice, 1 tablespoon fresh orange juice, 1 tablespoon white balsamic vinegar, 1/4 teaspoon salt, 1 teaspoon grated lemon zest, 1 teaspoon grated lime zest, 1 teaspoon grated orange zest. Tacos: 1/2 cup flour mixed with 1/4 teaspoon salt & 1/4 teaspoon pepper, 1 egg, beaten, 1 cup panko bread crumbs, 1 1/2 large ripe but firm avocados, have, pitted, skinned and cut into 10 wedges, 10 small fresh soft white corn tortillas, 2 cups vegetable oil, 1/2 cup cotija cheese, finely crumbled.
Preparation: Make salsa in medium sized bowl, combine strawberries, red onion, cilantro, jalepeno pepper, lime juice, orange juice, white balsamic vinegar and salt. Sprinkle with lemon, lime and orange zest. To prepare fried avocados, place eggs, flour and panko crumbs in 3 separae shallow bowls. Dredge avocado wedges in flour, shaking off excess. Coat with egg and roll in panko crumbs pressing until they stick. In a large deep skillet heat oil until hot and fry wedges a few at a time, turning until golden brown and crisp. about 3 minutes. Transfer to paper towels to drain. For soft taco preparation heat tortillas over an open flame on gas stove turning once until warm and brown on edges. If you don't have a gas stove, use a dry cast iron pan over medium high heat turning once until warm. Assemble tacos by placing a fried avocado wedge in each tortilla, sprinkle with Cotija cheese and drench with strawberry salsa.
_____________________________________________________
Island Time: Retailers Make a Splash in 28th Annual Idaho® Potato Lover's Display Contest
Sweepstakes Winner Awarded Hawaiian Resort Getaway for Two
A sea of showstopping displays from coast to coast made for some tough judging in the 2019 Idaho® Potato Lover's Retail Display Contest, which gave out more than $150,000 in cash and prizes.
"We had so many wonderful entries this year for both large and small displays," says IPC Marketing Manager Jamie Bowen. "It's always difficult to pick winners, but this year was especially challenging. We love it that so many retailers are creating such imaginative Idaho® potato displays, driving sales during what is traditionally a slower time of the year."
HORMEL® Bacon Toppings was a natural choice to partner with Idaho® potatoes in the display contest, since "52 percent of consumers use bacon toppings on their potatoes," says HORMEL® Bacon Toppings Brand Manager Corrine Hjelmen. "It's our fifth year doing the contest, and we are excited about planning the sixth."
Produce shoppers made it their goal to see the football-themed Idaho® Potato Bowl display at Buehler's River Styx in Medina, Ohio, which won 1st place for the 10+ registers category. Tammy Raber, Produce Manager for the store, has received honorable mentions in the IPC contest for many years, so she was especially delighted to capture the top prize for 2019.
"We've done some neat things with the displays over the years, and it's one of my favorite parts of the job," she says. "Potato sales always go up during [Idaho Potato® Lover's Month], and we sell a lot of 10-pounders then."
Tammy Raber, Produce Manager, Buehler's River Styx, Medina, Ohio: "Every year we do the Idaho® potato display, and our customers really like it."
At Broulim's in Shelley, Idaho, a HORMEL® Bacon Toppings character stole the show surrounded by rows of enthusiastic Idaho® spuds, hand painted by the store's cake decorator. The artwork-filled display, which took 1st prize among stores with 6-9 registers, was a big hit with shoppers too, says Produce Manager Jackie Hanson.
"When I would be out on the floor, it wasn't uncommon to hear kids say 'Look, Mom, it's the theater,' or someone saying 'Isn't that cute?' about the display," she says.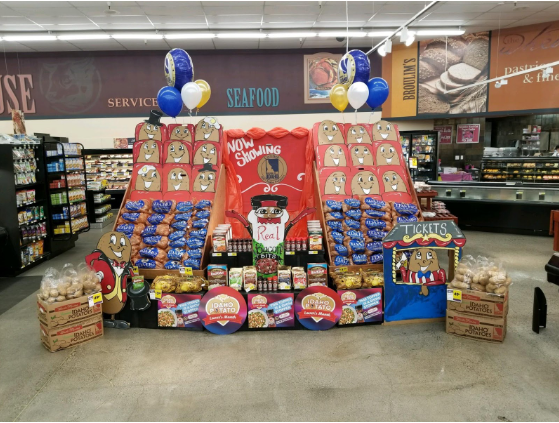 Jackie Hanson, Produce Manager, Broulim's, Shelley, Idaho: "The potato sales were quite a bit higher than they would have been if I had not had the display up."
The local farming and Amish communities helped inspire the country-themed backdrop for Versailles IGA's 1st prize display in the 1-5 registers competition. The elaborate display was truly a team effort from the produce department at the Versailles, Indiana, store, says Produce Manager Bill McRoberts. "We really enjoy doing it, and we sold a lot of Idaho's when it was up," he adds.
Bill McRoberts, Produce Manager, Versailles IGA, Versailles, Indiana: "We put a photo of the display on our Facebook page and got all kinds of remarks on it."
The 2019 retail display contest also included a random sweepstakes drawing for an all-expenses-paid trip for two to the Royal Lahaina Resort on the Hawaiian island of Maui. Robert Olin, Produce Manager of Tops Market in Camillus, New York, was the lucky winner. "I've never been to Hawaii, but it was a dream of mine to go someday," says Olin, who adds that a traditional luau will definitely be on his agenda. The store's category manager will also receive a Maui trip for two as part of the Category Manager Match Program.
Retailers went head to head with other same-size stores in one of three categories: 1-5 cash registers, 6-9 cash registers, or 10+ cash registers. Within each store category, entrants competed for these prizes:
The Category Manager Match Program also awarded equivalent prizes to corporate category managers for stores that qualified for 1st through 5th place prizes. In addition, a free 1.5-liter Toastmaster Air Fryer was sent to everyone who entered.
Each in-store display was required to incorporate clearly marked fresh Idaho® potatoes (bag, bulk or both) with a clear label showing the Idaho name and the "Grown in Idaho®" seal, an Idaho® dehydrated potato product and any variety of HORMEL® Bacon Toppings. The displays also needed to feature IPC special themed point-of-sale materials: double-sided Potato Lover's Month logo display signs, double-sided signs with appetizing photos, and inflatable Mylar™ IPC-branded balloons. Retailers were required to showcase the display in their store's produce section for at least one week between Jan. 14 and March 15, 2019.
For photographs of the winning displays and a complete list of winners, visit www.IdahoPotato.com/Retail.
1st Place Retail Display Winners
1-5 cash registers
Bill McRoberts
Versailles IGA
Versailles, Indiana
6-9 cash registers
Jackie Hanson
Broulim's
Shelley, Idaho
10+ cash registers
Tammy Raber
Buehler's River Styx
Medina, Ohio
About The Idaho Potato Commission 
Established in 1937, the IPC is a state agency responsible for promoting and protecting the famous "Grown in Idaho®" seal, a federally registered certification mark that assures consumers are purchasing genuine, top-quality Idaho® potatoes. Idaho's growing season of warm days and cool nights, ample mountain-fed irrigation, and rich volcanic soil give Idaho® potatoes their unique texture, taste and dependable performance. These ideal growing conditions are what differentiates them from potatoes grown in other states. For more information, visit www.idahopotato.com.
___________________________________
Giada Laurentis  ORZO SALAD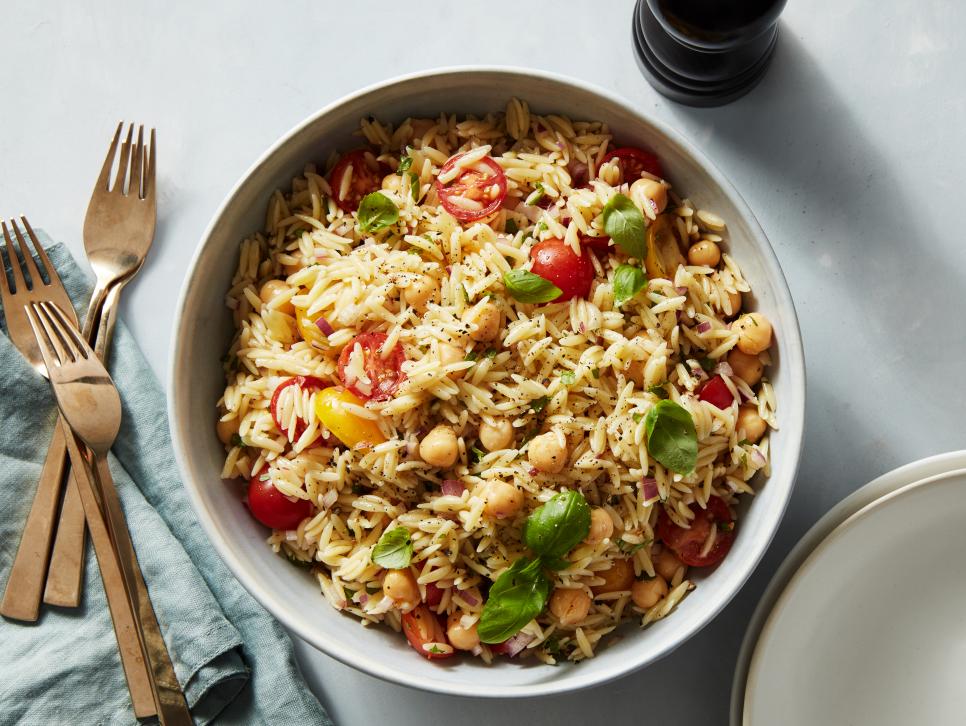 4 cups chicken broth
1 1/2 cups orzo
1 (15-ounce) can garbanzo beans, drained and rinsed
1 1/2 cups red and yellow teardrop tomatoes or grape tomatoes, halved
3/4 cup finely chopped red onion
1/2 cup chopped fresh basil leaves
1/4 cup chopped fresh mint leaves
About 3/4 cup Red Wine Vinaigrette, recipe follows
Salt and freshly ground black pepper
Red Wine Vinaigrette:
1/2 cup red wine vinegar
1/4 cup fresh lemon juice
2 teaspoons honey
2 teaspoons salt
3/4 teaspoon freshly ground black pepper
1 cup extra-virgin olive oil
___________________________________________________________________
Voted Best Authentic Italian Restaurant in Santa Barbara by Italian Tourism LA!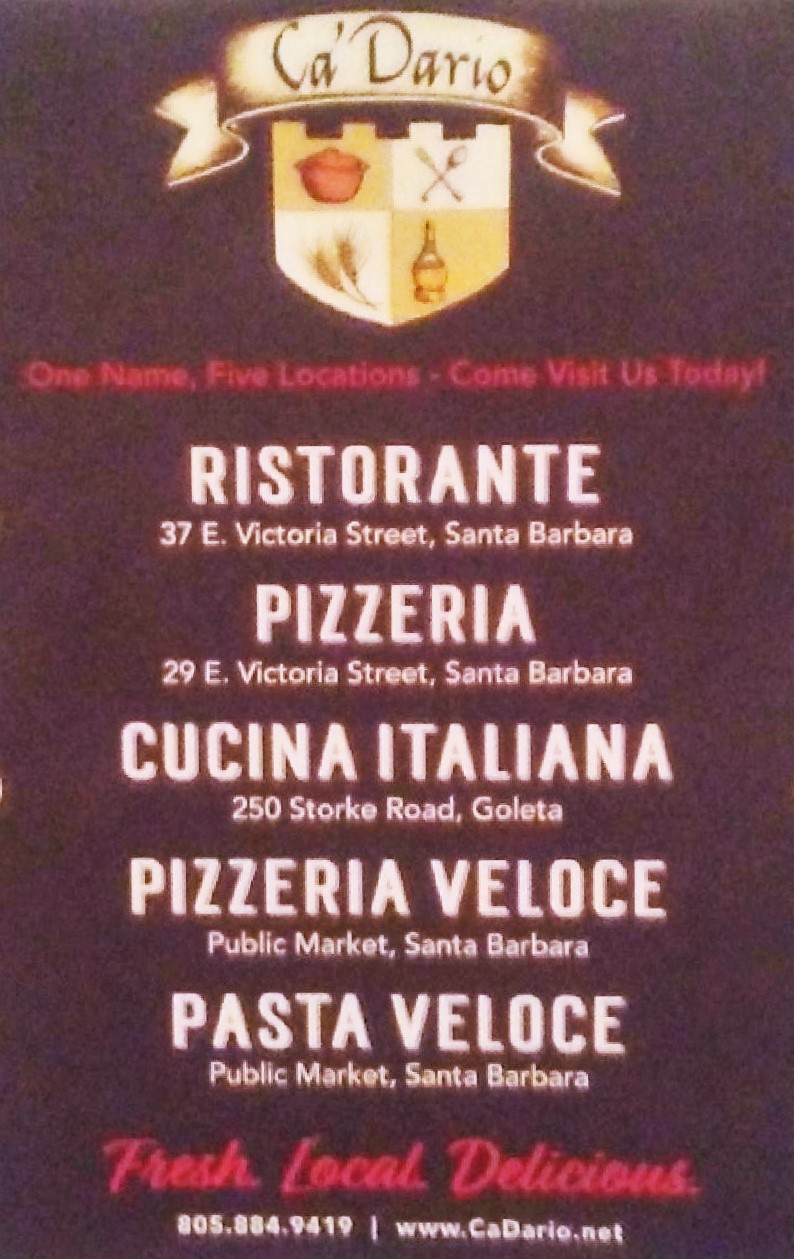 Ca'Dario Ristorante
37 E. Victoria Street
Santa Barbara, California 93101
805-884-9419
---