WELCOME TO JILL'S PLACE
The "Cheers" of Santa Barbara
by Bonnie Carroll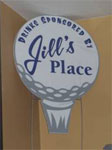 Jill Shalhoob is from a long line of Santa Barbara food industry professionals. Her family opened Shalhoob's Deli and Butcher Shop in 1973 at 632 Santa Barbara Street, and continue to distribute fine meat to businesses in the surrounding area. Jill's family ties with food created a natural transition for this Santa Barbara native, who spent her childhood in the kitchen, to run her own restaurant. Jill's Place is frequented by locals who consider it to be the best steak house in Santa Barbara, and it is described by many as a local's only eatery. It's not that visitors are not welcome, but getting a table can be difficult, even if you're a local.
Situated across the street from the weekly Farmer's Market, it is a favorite lunch destination for Saturday produce shoppers, as well as the surrounding business lunch crowd during the week. The atmosphere in Jill's Place is reminiscent of the 80s television show "Cheers", starring Ted Danson and Woody Harrelson. The restaurant is always jammed, and everyone seems to know everyone at the next table. Jill is a friendly hostess, and moves around the restaurant greeting people as easily as the late Maude Chasen, one of Hollywood's most renowned restaurateurs.
The full service bar is always packed at happy hour with local people who enjoy talking about everything Santa Barbara, and I'm told they make great cocktails. For dinner they have a wine list featuring favorites from local wineries, by the bottle or the glass.
Jill's menu offers a variety of deliciously prepared, reasonably priced items, including meats, lobster, buttermilk fried chicken, burgers, pasta dishes and one great turkey dip sandwich on a toasted bun. The ribs are very tender, and the steak covered with blue cheese is outstanding. People rave about the soup here, and the bananas Shaloob dessert, their version of bananas Foster, is a delightful surprise ending. The restaurant is open for lunch daily and for dinner 5:00-9:30; closed on Sunday. For information visit: www.shalhoobs.com
Jill's Place
632 Santa Barbara Street
Santa Barbara, CA
805-963-0378
---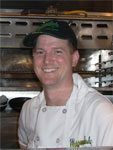 CHEF BRADLEY BENNETT
Marmalade Café, Santa Barbara
Chef Bradley Bennett joined Marmalade Café in December 2007. His culinary journey includes work at Stepps on the Court, Los Angeles and Cutters in Santa Monica. Bennett took over as chef at Piatti in Montecito in 1990, following culinary studies under Chef Steffan Terje, and in 1992 he opened Piatti Restaurants in Seattle, Washington and Thousand Oaks, California. For information visit www.marmaladecafe.com.
---
TRUMP INTERNATIONAL
HOTEL & TOWER NEW YORK ANNOUNCES
JEAN GEORGES CULINARY MASTER COURSE
Three-Night Experience Includes Private Demonstration
With Chef Vongerichten, Three-Course
Trump International Hotel & Tower New York today announced a master class with one of the world's most famous chefs, Jean-Georges Vongerichten, whose culinary vision and execution have defined both professional standards for the industry and the way in which Americans eat.
Designed for a minimum of two persons and a maximum of four, the Jean Georges Culinary Master Course includes a private, two-hour cooking demonstration by Vongerichten in the kitchen of his namesake restaurant. Guests may choose to learn the magic behind the cuisine of his New York establishments Jean Georges (French), JoJo (Mediterranean), Vong (Japanese), Spice Market (Asian) or Perry Street (New American).
 "Our hotel guests have been head-over-heels with Jean Georges – the restaurant and the man – since we opened a decade ago," explained Suzie Mills, the hotel's general manager. "We have created this experience in response to the consistent requests for a more intimate experience with Chef Vongerichten, and are very proud to offer this rare opportunity to our guests."
The experience also includes accommodations in an Executive Park View Suite (Thursday, Friday and Saturday nights; maximum two persons per suite), breakfast for two daily at Nougatine, and a three-course dinner for two at Jean Georges with a bottle of Champagne. Further, guests will receive a signed copy of Vongerichten's new book, Asian Flavors of Jean-Georges, featuring beloved recipes from Spice Market, Vong and 66. The Jean Georges Master Culinary Course is priced at $8,999.
The Jean Georges Culinary Master Course is based on a minimum three-night consecutive stay with arrival on Thursday. A minimum of 30 days' notice is required to book. Reservations are based on availability. Call (212) 299-1000 or visit www.trumpintl.com for reservations.
Located at One Central Park West, Jean Georges opened in 1997 in the Trump International Hotel & Tower New York. Under the direction of Vongerichten, it is been designated Five Stars by Mobile Travel Guide, Five Diamonds by AAA, and Three Stars by Michelin Guide. Additionally, it has earned two four-star ratings from The New York Times.
About Trump International Hotel & Tower New York
The majestic Trump International Hotel & Tower is a New York City icon delivering the highest level of service, style and exclusivity. Soaring above Columbus Circle, the 52-story structure has 167 luxurious guest rooms and suites, complete with European-style kitchens, marble bathrooms, and spectacular views of Central Park, the Time-WarnerCenter and the Manhattan skyline. The comprehensive assistance of Trump Attaché is on hand 24/7 to serve guests' needs before, during and after their stay – from satisfying pre-arrival grocery and floral requests, to arranging for laundry and dry cleaning, personal shopping services, or preparation of personalized business cards and stationery. Other amenities include a 6,000-square-foot spa and fitness center, in-room dining by Jean Georges, in-room computers, and much more. A member of Leading Hotels of the World, it was showcased in the 2007 Travel + Leisure "T+L 500" list and has been a perennial Condé Nast Traveler "Gold List" winner since 2005.
About Trump Hotel Collection
 Launched in October 2007, Trump Hotel Collection is the next generation of luxury hospitality – one that is raising the bar on the top-tier travel experience with a level of customized service unrivaled on the market today. Within its prestigious portfolio are the highly acclaimed Trump International Hotel & Tower New York, and the newly opened Trump International Hotel & Tower Chicago and Trump International Hotel & Tower Las Vegas. Additional hotel projects are under development around the globe, including: Trump International Hotel & Tower Ft. Lauderdale, Trump SoHo Hotel Condominium New York and Trump International Hotel & Tower Waikiki in 2009; Trump International Hotel & Tower Toronto, Trump Ocean Club International Hotel & Tower Panama, Trump Ocean Resort Baja, Trump International Hotel & Tower Palm Jumeirah, Trump Scotland and Trump International Hotel & Tower New Orleans in 2010; and Trump at Cap Cana in 2011. Trump Hotel Collection, a division of The Trump Organization, is headquartered at TrumpTower, 725 Fifth Avenue, New York, NY10022.
---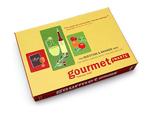 GOOD TO KNOW!


Gourmet Smarts has a wonderful new collection of food facts for foodies that provides a challenging way to enjoy an evening with friends, or just a great way to learn more about your favorite subject. visit: www.gourmetsmarts.com.

---
THE OTHER WHITE MEAT ENLISTS
CELEBRITY ENTERTAINERS/AUTHORS,
Carolina Buia and Isabel Gonzalez to Help Families Celebrate in Style

A recent survey of more than 1,000 chefs across the country reveals: Latin American cuisine is one of the "hottest" ethnic cuisines in 2008. Cinco de Mayo, a holiday that historically celebrates the defeat of the French army by the Mexicans at the Battle of Puebla in 1862, has fast become one of America's most popular occasions for general celebration and entertaining. It is the perfect occasion to bring the dynamic flavor of Latin food to your family's dinner table.

To help home cooks create their own Latin fanfare at home, the National Pork Board has teamed up with entertaining experts and co-authors of Latin Chic: Entertaining with Style and Sass, Carolina Buia and Isabel Gonzalez, to offer tips for Cinco de Mayo cooking and entertaining.

"Requiring little preparation, pork is the ideal menu choice for Latin cuisine because the wide arrays of cuts are versatile enough to pair with nearly every flavor," said Buia. "For example, pork chops or tenderloins can be paired with pre-made fruit or vegetable-based salsas and spice rubs with Caribbean and Latin themes." Pork's role in New World cuisine dates back to 1539, when Spanish explorer Hernando de Soto landed in Tampa Bay, Fla. with America's first 13 pigs, beginning a flavorful tradition that we continue to enjoy today.

Delicioso Edible Essentials
"The secret to spicing up mealtime with Latin-style dishes is choosing simple, yet delicious dishes. Pork recipes are the perfect fit -- preparation is as easy as uno, dos, tres so you spend less time in the kitchen and more time with your family and friends," said Gonzalez.

Buia and Gonzalez created two recipes that incorporate the spirited flavor of Mexican street-food fare and require less than 45 minutes in the kitchen:
Velveted Pork Tacos

– a unique and fun alternative to traditional chicken or beef tacos; the self-serve style of this dish makes it the perfect choice for feeding the family or a large crowd!

Pork Medallions with Mirasol and Cherry Cream Sauce

– not only do the moist pork tenderloin medallions meld the piquant bite of Peruvian Mirasol peppers with the candied hint of dried cherries, but pork tenderloin is the leanest cut of pork with only 2.98 grams of fat per 3-ounce serving, making it as lean as a skinless chicken breast. 

 
Serve these delicious pork dishes with grilled corn on the cob with chipotle butter or black beans garnished with cilantro.

Fixings for a Fabulous Fiesta
In addition to eating with zing, set the mood for your Latin-infused dinner by creating a fun atmosphere with these do-it-yourself décor tips from Buia and Gonzalez.
Charming Centerpieces

– For a truly special table presentation, place several de-stemmed Hibiscus flowers in large, shallow bowls filled with water. Hibiscus flowers are everywhere in Mexico and are often found growing in front and back yards.

Enjoyable Ambiance

– Play some regional music and decorate with festive lights to create the perfect Latin setting.

Tricks and Treats

– Close the night with a piñata for a truly memorable fiesta, for adults and kids alike!
CLICK HERE for Cinco De Mayo Recipe: Velveted Pork Tacos
---