BREAD & ROSES FOR THE SANTA BARBARA FUND
A Who's Who Event in the City of Santa Barbara
by Bonnie Carroll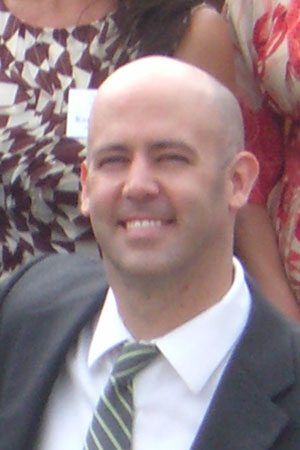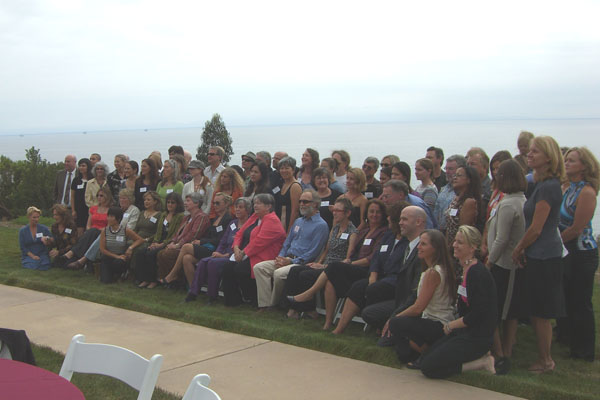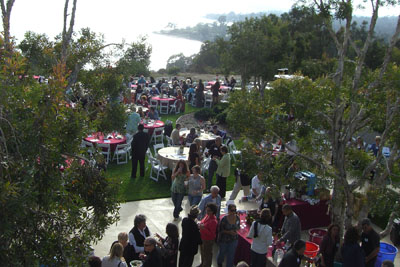 The Fund for Santa Barbara Bread & Roses sixteenth annual fundraiser, held at the QAD Headquarters, was once again the event to be at, not only for the outstanding dinner and beverages served, but to enjoy the opportunity to raise funds that assist so many worthy causes in the City. The QAD property offers one of the most dramatic views on the Santa Barbara coast, and was a magnificent location for the well attended event.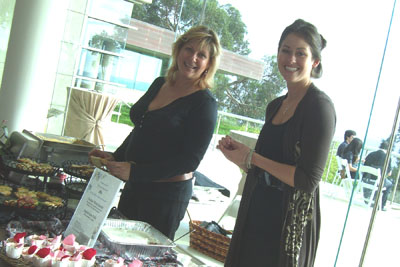 Volunteers and Geoff Green worked up to the last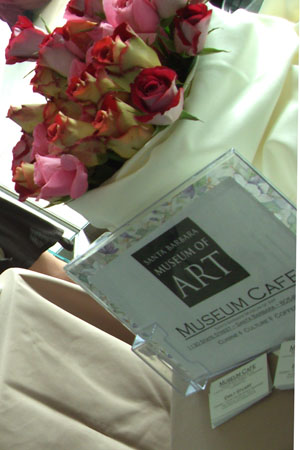 minute making sure everything was perfect for entering guests. This group has an army of helpful volunteers who do a wonderful job each year. The food purveyors worked from beginning to end providing special menu items to attendees of the event, including Mayor Marty Blum and husband, Mayoral hopefuls, Das Williams, and a bevy of law enforcement and legal representatives from throughout the county. The silent auction was brimming with wonderful gifts including a week in Kauai, a Swiss ski trip, a membership in the Santa Barbara Museum of Art, Granada Theatre tickets, dinner certificates at great restaurants, special massages, jewelry, weekend trips, hotel stays and more.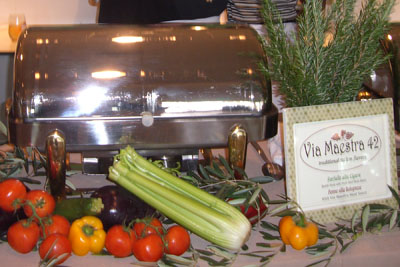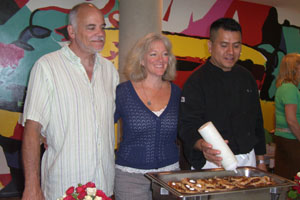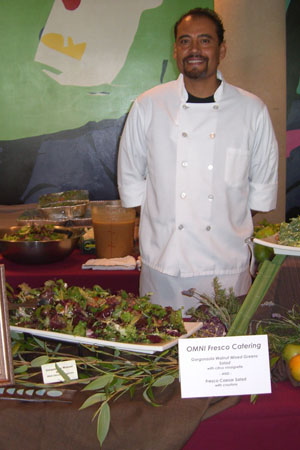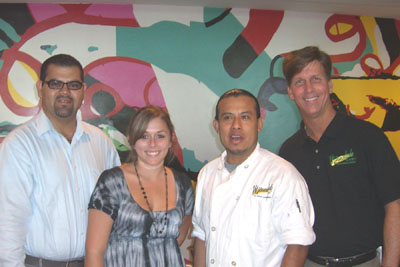 Restaurants included: Santa Barbara Museum of Art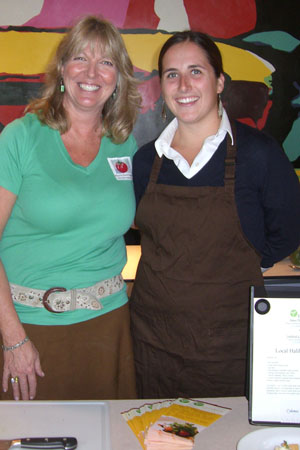 Café, Hollister Brewing Company, Jade, Jessica Foster Confection, Lindsay Gould Catering, Louie's, Marmalade Café, Mmm... Cake, Olive or Twist, OMNI Fresco Catering, Pascucci, Plow To Porch Organics, The Secret Ingredient, SOhO, Via Maestra 42, Thekla and Richard Sanford's Alma Rosa Winery & Vineyards, Buttonwood Farm Winery, Kalyra Winery, Stolpman Vineyards, Ex Cellars Wine Agencies, and Caribbean Coffee Company.
Sponsors Included: Deckers Outdoor Corporation, The Santa Barbara Independent, Brownstein Hyatt Farber Schreck, Hutton Foundation, QAD, Rabobank, Verizon.
Coastal Management Resources, Greenproject Consultants, Noozhawk.com, Santa Barbara Foundation, SBParent.com, SEIU Local 620
Ameriprise Financial Advisor Kate Silsbury, Amgen, Cox Communications, Montecito Bank & Trust, Mosaic Networks, Mullen & Henzell, Padaro Floral, The Towbes Group, Walden Asset Management.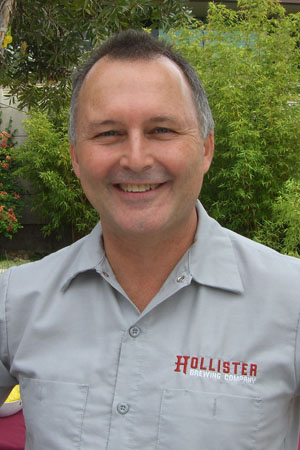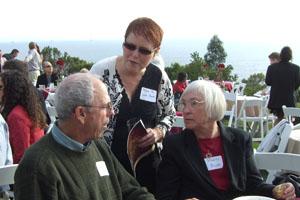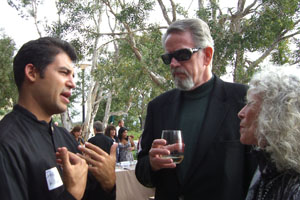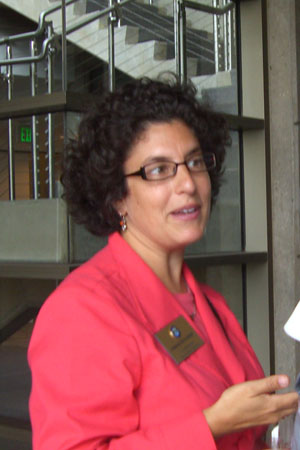 Over $150,000 was raised this year.
            For additional information visit: www.fundforsantabarbara.org.
---
CELEBRATING OKTOBERFEST WITH
GERMAN STYLE SAUSAGES AND RECIPES

Oktoberfest is the annual Bavarian Festival that celebrates German food, music and beer. The tradition began with the wedding celebration held for Crown Prince Ludwig (later King Ludwig I of Bavaria) in 1810.  On October 12th, after he wed Princess Therese von Sachsen-Hildburghausen, a festive party was held in a spacious meadow at Munich's center. The party proved so popular, the Crown Prince threw an identical fest at the same place the following year, starting a world-famous German tradition. Today, the massive Bavarian festival begins each year in mid-September and ends 16 to 18 days later on the first Sunday in October.  Oktoberfest is staged each year on the original 31-hectare field in Munich, where revelers from all over the globe consume prodigious amounts of sausage, beer, pretzels and pastries. In Germany, festivities get off to an official start when Munich's mayor (Oberburgermeister) taps the first beer keg and yells, "O'zapft is!" ("It's tapped!").
Tips on Cooking Sausages from Saags:
To get you started, here are some recommended ways to cook sausage. At Saag's we never put them in the microwave because it toughens the casing.
Parboil
- In a pot large enough to hold your sausages, heat water to boiling. Turn off the heat, add the sausages, cover and let stand 10 to 15 minutes. Then grill or pan fry over medium-high heat, turning frequently until evenly browned.
Grill or Pan Fry
- Cook sausages on a lightly oiled grill or skillet over medium heat, turning frequently until heated through and evenly browned, about 10 to 15 minutes.
Braise
- Prick sausages two or three times with a fork and arrange them in one layer in a skillet.  Add about 1/4-inch water and cook the sausages over medium-high heat, turning from time to time, until all of the water has evaporated and the sausages are lightly browned on all sides, about 15 minutes.
Synthetic vs. Natural Casings:
Bay Area sausage maker Saag's uses natural casings on all its sausages, which allow the sausages to cook evenly without flavor escaping. Natural casings make a "snap" and release a burst of flavor when you bite into them. Be careful not to burn your mouth!
OKTOBERFEST RECIPES from Saag's Sausages and Specialty Meats
Saag's Brat Tub
 
Makes 12 sandwiches
 
12 oz Saag's Classics Bavarian Brats
12 oz Saag's Classics Smoked Brats
12 oz Saag's Naturals Chicken Brats
1/4 cup olive oil
3 large yellow onions, chopped
2 red bell peppers, chopped
2 yellow bell peppers, chopped
1/4 cup chopped garlic
4 cups beer, about 3 bottles
1 stick (4 oz) butter
12 hot dog buns, lightly toasted
 
1.    In a heavy bottom pot on medium heat cook onions and peppers in oil until tender, 5 to10 minutes. Add garlic and continue to cook until caramelized, stirring often to prevent burning. Add beer and butter; simmer 15 minutes.
2.    Score sausages about an inch apart on two sides. Grill over medium heat until browned on both sides, about 5 minutes; transfer to beer mixture. Keep warm.
3.    Serve brats in lightly toasted buns. If desired, carefully dip some of the onion and pepper mixture out of the pot, draining away most of the liquid, and serve on brats.

Oktoberfest Platter (Bauernschmaus)

The sour taste of sauerkraut complements the seasoned, smokey flavor of the meats in this traditional autumn recipe. With just four ingredients, it's also quick and easy to prepare.

2 pounds (4 cups) drained sauerkraut
3 Kasseler Chops
3 Bavarian Bratwurst
3 German Franks

Layer half of the sauerkraut in the bottom of a medium-sized roasting pan. Arrange meat on top of sauerkraut and cover with remaining sauerkraut.

Cover and bake at 375˚ F for 1 hour.  Mound the sauerkraut on a warm serving platter.  Cut meats in half or thirds, if desired, and arrange on top.

Serve with a choice of traditional German mustard and rye bread.

Makes 6 entrée servings.

Sausages in Pilsner Mustard Sauce

Serve as a hot appetizer with rye toast or as an entrée with fresh coleslaw, crusty bread and butter. Pilsners make good companions to grilled foods and work well in recipes that call for smoked sausage.

12 ounces Pilsner beer
1 cup Sweet Dijon Mustard
1 teaspoon olive oil
1 medium red bell pepper, sliced
1 medium yellow onion, sliced
3 Swiss Bockwurst, cut into 1-inch slices
3 Smoked Bratwurst, cut into 1-inch slices

Combine beer and mustard in a small saucepan and heat to a simmer; reduce by half.

Sauté pepper and onion in olive oil over high heat for 1 minute; add sauce and cook for another minute. Stir in sliced sausages and pour into a greased 9-inch square baking pan.

Bake at 350˚ F for about 15 minutes or until hot and bubbly.

Makes 6 entrée servings.

Oktoberfest Beer-Braised Sausage Palooza

This recipe calls for a Dunkel lager which gives this one-pot meal a deep caramelized flavor. You can substitute another dark lager. Plan ahead to allow for braising the vegetables a day in advance and about an hour to finish the dish.

1/4 lb. pound bacon, cut crosswise into 1/4-inch pieces
2 medium onions, sliced thinly
4 pounds (8 cups) rinsed and drained sauerkraut
4 medium carrots, sliced 1/4-inch thick
5 cups Dunkel lager
1 cup chicken broth
3 bay leaves
1 teaspoon salt
1/2 teaspoon whole back peppercorns
4 Saag's Kielbasa, cut into thick slices
4 Saag's Bockwurst, cut into thick slices
4 Saag's Kasseler Chops

In a large heavy skillet cook the bacon over moderate heat, stirring, until golden. Pour off all but about 2 tablespoons drippings and add onions to the bacon. (Reserve the remaining drippings.) Cook, stirring, until onions are softened. Add the carrots and cook a few more minutes.

Press any remaining liquid from the sauerkraut. In a large flameproof roasting pan combine the sauerkraut with the bacon mixture, beer, broth, bay leaves, salt and peppercorns. Bring to a boil and boil 1 minute. Cover pan tightly with foil and place on the middle rack of a 325˚ F oven to braise for 4 hours.

(The dish can be prepared up to this point 1 day ahead. Remove the cover and cool before wrapping tightly, and store in the refrigerator. Reheat sauerkraut before proceeding.)

Heat 1 tablespoon of the reserved drippings in a heavy skillet over moderate heat until hot but not smoking and, in batches, brown the sausages. (Don't worry about heating them through.) Add all of the meats to the sauerkraut, partially submerging them. Cover tightly and continue braising 30 minutes. Transfer to a heated platter, discarding bay leaves.

Makes 6 servings.

Braised Red Cabbage & Apple

Simple and seasonal, this side dish brings cider, cider vinegar and chunks of sweet Gala or Fuji apples together for an Oktoberfest feast. Serve with browned  sausage or Kasseler chops and Horseradish Mashed Potatoes.

2 garlic cloves, smashed
3 tablespoons butter
2 lbs. pounds red cabbage, cored and cut into 1-inch pieces
1 or 2 Gala or Fuji apples (8 to 12 ounces total weight), cored and cut into 1/2-inch pieces
1/2 cup apple cider
1 teaspoon salt
1/2 teaspoon freshly ground black pepper
1/2 teaspoon caraway seeds
1 1/2 tablespoons apple cider vinegar

Cook garlic in butter in a heavy skillet over medium heat, stirring, about 1 minute. Add all but the apple cider vinegar and cook, covered, stirring occasionally, until cabbage is tender, 15 to 20 minutes.

Add vinegar and cook, uncovered, stirring until liquid has evaporated, about 2 minutes. Season to taste with additional salt and pepper.

Makes 6 to 8 side dish servings.

Horseradish Mashed Potatoes

Use baking potatoes for a light and creamy texture. Adjust the milk and creamy horseradish to suit your preference.

2-1/2 pounds potatoes, halved if large
1/3 cup milk
1/4 pound (1 stick) butter, softened
1/4 cup Creamy Horseradish
Salt and freshly ground black pepper

Put potatoes in a saucepan with cold water and 1/2 teaspoon salt and bring to a boil over medium heat. Boil until tender when pierced with a fork, 20 to 30 minutes. Drain well.

Peel or slip the skins off the potatoes and mash how you are accustomed to mashing potatoes - press through a ricer back into the pan and beat in remaining ingredients with a wooden spoon or combine all ingredients in the pan and mash with a potato masher or use an electric mixer. Season to taste with salt and freshly ground black pepper.

Makes 6 servings.

Warm German Potato Salad

Waxy potatoes work best for salad because they hold their shape. You'll find them sold as round red, yellow or white and various red varieties.  Serve with  Bavarian Bratwurst and Country Style Dijon Mustard.

2 pounds round red potatoes
4 strips bacon, chopped
Coarse salt
1/4 cup chopped onion
1/2 cup white wine vinegar
1/4 cup chicken stock or water
1/2 cup olive oil
2 teaspoons coarse-grained mustard
1/4 cup slice green onion, include the light green parts
1 tablespoon chopped parsley

Put potatoes in a saucepan with cold water and 1/2 teaspoon salt and bring to a boil over medium heat. Boil until tender when pierced with a fork. Drain well; transfer to a warmed bowl and cover with foil.

Fry bacon in a large skillet over medium heat until brown. Transfer bacon to paper towels. Reserve 2 tablespoons drippings. Add onion and sauté for about 3 minutes. Add the vinegar and stock and bring to a boil. Simmer for 3 minutes. Whisk in the olive oil. Stir in the remaining ingredients and remove from heat.

Slice potatoes into 1/4-inch slices and toss with the dressing and bacon. Traditionally served warm, but can also be served cold.

Makes 6 to 8 servings.
---
A Mediterranean Approach to
Flavorful LivingHealth and Taste Benefits
Earn Herbs and Spices  --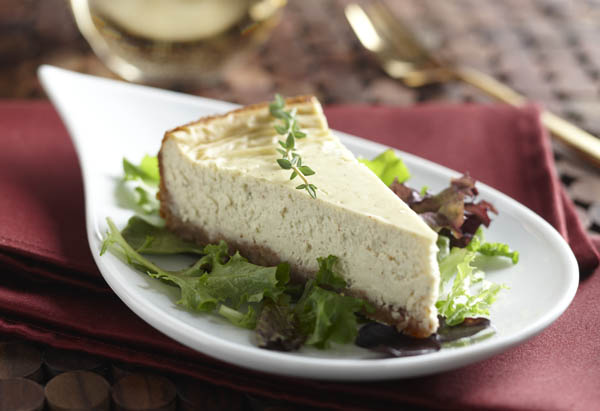 BUTTERMILK BLUE AND CANDIED WALNUT CHEESECAKE
Makes  1 (9 inch) cake - about 12 servings
Crust
1 cup walnuts                                                                                
½ cup whole wheat flour                                                           
1/ 2 cup butter, melted                                                              
2 tablespoons honey                                                                  
1 tablespoon sugar                                                                                         
1 teaspoon salt                                                                 
Preheat oven to 300°F.
In food processor, combine all ingredients and process until nuts are finely ground.  Press mixture over bottom and partway up sides of greased 9-inch spring form pan.  Place pan on baking sheet and bake 15 minutes.  Set aside.  Leave oven on.
Cheesecake
12 ounces cream cheese, softened                                              
8 ounces  Roth Kase Buttermilk Blue Cheese, room temperature                   
2 teaspoons finely chopped shallot                                                              
½ teaspoon salt
½ teaspoon dried thyme leaves                                                        
¼ teaspoon cayenne Pepper                                                              
4 eggs                                              
½ cup milk, room temperature
1 teaspoon lemon juice                                                             
In food processor, process cream and blue cheese, shallots and seasonings until smooth.*  Add eggs, one at a time, processing after each addition, until smooth.  Add milk and lemon juice and blend.  Pour into cooled crust.  Place pan on middle rack of oven and bake until wooden pick inserted just off-center comes out clean, about 1 hour and 10 minutes.  Cool on rack.  Serve warm slices of cheesecake on bed of lettuce.
*if mixture looks curdled at this point, pour into a bowl and whisk over warm water until smooth.
Scott Johnson, Executive Chef
Blair Hill Inn
Greenville, Maine 
---
                                           GIRL GOURMET SWEETS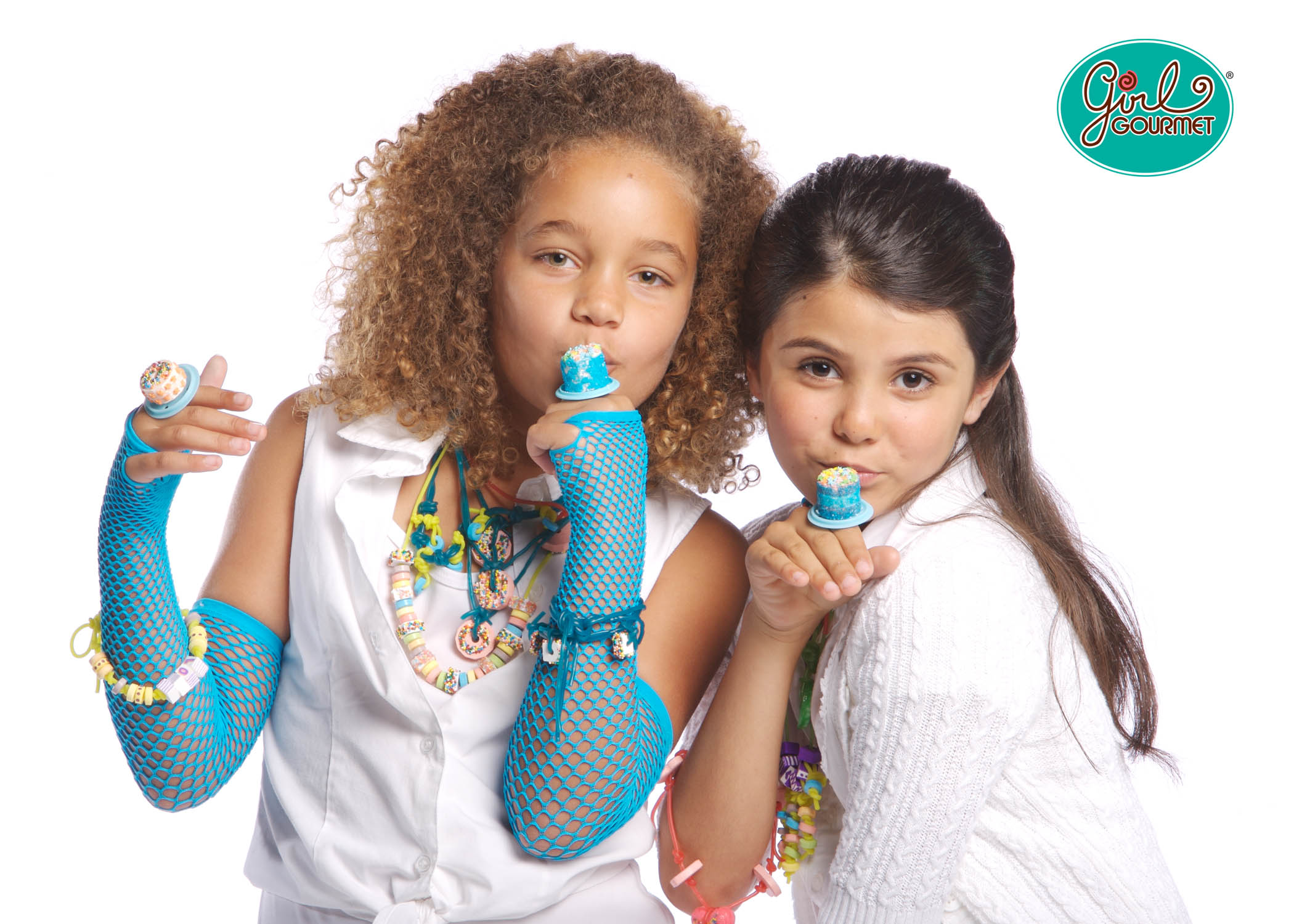 Girl Gourmet Sweets Candy Jewelry Factory allows little fashionistas to design , bake, wear AND eat scrumptious candy jewelry such as necklaces, bracelets and rings. The set features a small baking oven and a variety of molds to create jewelry charms and sweet gems. Just fill the molds with the candy chips and pellets included in the set and add colorful sprinkles to decorate. Bake the soon-to-be-gems for 12 minutes, mold into the sweet creations and voila…delicious wearable candy jewelry! The Sweets Candy Jewelry Factory includes a safe baking oven, 2 silicon molds, 2 packs of translucent hard candy chips/pellets for melting in strawberry and green apple flavors (approx. 90g.), sprinkles in a variety of shapes, 2 plastic ring bases, 2 clear plastic ring covers, 1 clear plastic locket cover to protect charms, an oven tool for removing molds, and an instruction booklet. Ages 8+, Suggested Retail Price: $29.99. JAKKS Pacific, Inc.
---
Real Italian Cuisine hits Los Angeles

Executive Chef Giacomo Pettinari
Giacomo Pettinari, age 30, is the new Executive Chef of Trastevere Restaurant of Santa Monica, Trastevere Restaurant of Hollywood, and La Piazza Restaurant, at the Grove.
He is young, creative and brilliant when it comes to the culinary arts.
Giacomo grew up in Loreto, Italy which is located on the Adriatic Coast. He began his career unbeknownst to anyone at a very young age – watching his Mom. At age 14 he enrolled in Panzini Culinary School – one of the top culinary schools in Italy – graduating at 19.
Giacomo moved to London, age 20, and worked with the famous Chef Fabio Trabocchi, in the Two Star Michelin rated restaurant, called Floriana, for 2 years. This is where he learned the Art of Fine Dining and the Importance of Presentation.
After London, Giacomo moved to Barcelona and worked with one of the best Chefs in the world, Ferran Adria. 'Adria' invented molecular cuisine. From there he went to Bangkok, Thailand to learn the Art of Sushi.
Age 26, Giacomo was told that Piero Selvaggio, the owner and Chef of Valentino's in Los Angeles, CA was looking for a Chef. He flew to Los Angeles, instead of sending a resume, cooked for Selvaggio, and was hired. He worked as a Chef at Valentino's for 4 years.
In July of 2009, Giacomo was hired as the Chef of Trastevere Restaurant in Santa Monica. Within a month and half of working at Trastevere, the company made Giacomo the Executive Chef of all three restaurants.
Giacomo created a new menu, which he has brought to Los Angeles – delicious, authentic Italian cuisine – usually only found in Italy on vacation. Giacomo makes his food exactly as his Mom always stated: "Keep the flavor real and authentic." Starting from salads, appetizers, handmade pasta, fish and meat, the food is lighter, healthier and the ingredients are organic, as much as possible.
For those who like to sit outside and people watch while eating the best Italian food in Santa Monica – then Trastevere, Santa Monica is the place be. In Hollywood go to Trastevere at the Kodak Center. Or, if visiting the Grove, La Piazza is the place to be.
Go to Trastevere or La Piazza. Ask for Giacomo. He is very personable and likes to meet the customers of the restaurant. Taste a bit of Italy.
---
                  Mc Cormick Mediterranean Menus
                              Sample The Latest Diet Pyramid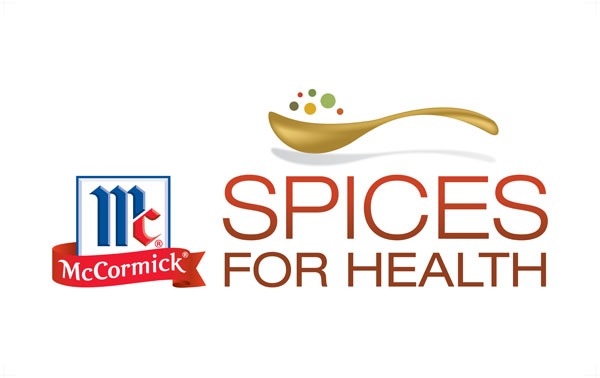 Warmth and passion have lured people to the sunny Mediterranean for centuries. Rich flavors, the promise of health and vitality and a lifestyle that celebrates friends and family around the table have attracted many chefs, nutritionists and health-minded Americans to the Mediterranean Diet since it was introduced to the United States in the 1990s.  
Recently, the Mediterranean Diet Pyramid was updated to showcase the role of herbs and spices, placing them at the heart of every meal for the flavor and health-promoting antioxidants they provide.
 "Updating the pyramid to emphasize herbs and spices was an easy choice, considering the role they play in the flavor profile of Mediterranean cuisines," said K. Dun Gifford, President of Oldways, a nonprofit food issues think tank. "There is also a growing body of research linking herbs and spices, and their high levels of antioxidants, with an array of promising health benefits." 
Exploring the flavors of the Mediterranean can be as simple as opening the spice cabinet. Familiar favorites like Rosemary, Oregano, Thyme and Red Pepper/Paprika are mainstays in Mediterranean cuisines. These herbs and spices are also part of the group of Super Spices, highlighted by McCormick for their high levels of antioxidants - as impressive as some of today's "super foods," like colorful berries and leafy green vegetables. For example, just one-half teaspoon of oregano has as many antioxidants as three cups of fresh spinach.1 Since dried herbs and spices no longer contain the water of fresh produce, they offer a big antioxidant punch in a very compact package.
Savor the Flavors of the Mediterranean - No Passport Required
The Mediterranean way of eating epitomizes the rich culture and cuisine of the nations surrounding the Mediterranean Sea, including Spain, France, Italy, Greece, Morocco and others.  It encourages eating a variety of fresh foods including:
Fruits and vegetables such as citrus, grapes, pomegranates, garlic, eggplant and broccoli

Legumes such as beans, peas and peanuts

Whole grains such as brown rice, whole wheat flour and bulgur

Healthier fats like those found in olive oil, nuts like almonds and walnuts, and seafood

Moderate amounts of red wine
It's easy to incorporate herbs and spices into the bountiful flavors of the Mediterranean with simple tips like these:
For a Greek vinaigrette dressing, stir 1/2 teaspoon Oregano Leaves and 1 to 2 tablespoons reduced fat feta cheese into 1/2 cup bottled vinaigrette dressing.

Thyme brings out the flavor of mushrooms. Sauté 1 pound sliced mushrooms in 1 tablespoon olive oil. Sprinkle with 1/2 to 1 teaspoon Thyme Leaves.

Make a delicious Mediterranean roasted chicken. Before roasting, brush chicken with olive oil.  Sprinkle all over with 2 teaspoons crushed Rosemary Leaves, 1/2 teaspoon Thyme Leaves, Sea Salt and Ground Black Pepper. Serve with lemon wedges.
 Embrace the Mediterranean lifestyle by sharing a meal with family and friends featuring flavorful and antioxidant-rich foods. Start with Mediterranean-Spiced Artichoke Bake, a lighter version of
the traditional dip, enhanced with the addition of several Super Spices. For a satisfying main dish, try Tomato Florentine Pasta Bake or Mediterranean-Style Stuffed Peppers. And, Thyme and Cinnamon Poached Pears make for a healthful dessert with both sweet and savory notes to finish the meal.
In an effort to help Americans add Mediterranean foods into daily meals, Oldways developed the Mediterranean Diet Pyramid in 1993 to graphically represent the lifestyle's food groups and recommendations. Herbs and spices were incorporated in the most recent redesign of the pyramid. Visit www.spicesforhealth.com for more recipes, tips and information about the Super Spices.
---
CHEF JACQUES PEPIN JOINS MANISCHEWITZ COOK-OFF
Grand Prize Winner Receives $25,000 Prize Package
Including GE Profile Kitchen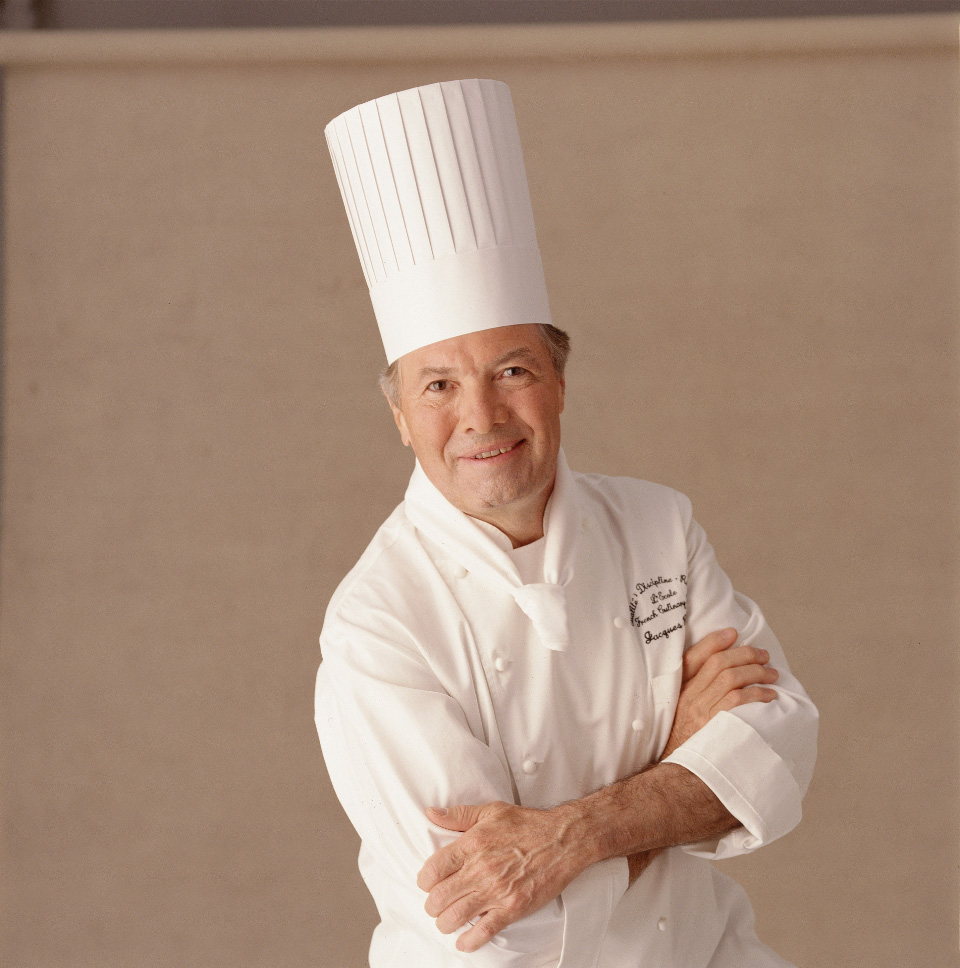 Just in time for the holiday season, The Manischewitz Company announces the launch of the 4th Annual Man-O-Manischewitz Cook-Off, a cooking contest designed to encourage home cooks to challenge themselves in preparing a meal that is kosher, simple and delicious. The contest encourages home chefs to experiment with different ethnic foods and to think of preparing a Kosher inspired meal as part of that experience, in the same way people enjoy preparing Japanese, Italian, Mexican, Chinese and other popular ethnic cuisine.
 
Entrants will compete for a chance to be crowned the "King or Queen of Kosher" and win the $25,000 grand prize package including GE Profile kitchen appliances, cash and more. Five finalists will win an all-expense paid trip to NYC to compete live on March 18th at the Jewish Community Center of Manhattan.  The contestants will be judged by an on-site cooking panel consisting of food media and other culinary experts.
 
This year the cook-off will be bigger and better than ever with legendary acclaimed chef, Jacques Pépin as the celebrity guest of honor who will act as MC, head judge and award prizes. Pépin is one of America's best-known chefs, widelyrecognized as the host of eleven acclaimed public television cooking series and the author and publisher of twenty-six cookbooks. He is also a founder of The American Institute of Wine and Food (WIWF) and has been the Dean of Special Programs at the French Culinary Insitute (New York) since 1988.
 
"I am thrilled to be a part of the 4th Annual Manischewitz Cook-Off!" said Chef Pépin. "I always encourage people to experiment with new types of ethnic cuisine and products."
 
Chef Jacques Pepin has created some exciting recipes using the new Manischewitz Broth which will be available in the recipe section of www.manischewitz.com.
 
"Over the past three years over 10,000 people across the country, spanning all ethnic backgrounds, have shared some amazing recipes." says David Yale, President and CEO, of The Manischewitz Company.  "As the leader in the kosher market, we pride ourselves on our wide range of specialty products that inspire cooks of all types to create exciting kosher inspired recipes."
 
Just-in-time for the Cook-Off, The Manischewitz Company has added a new line of ready-to-serve broths to its extensive portfolio of kosher products, giving you additional items to add to your creative recipe!  New Manischewitz Broth starts with a recipe, not a formula, and is slow cooked in small batches.  Filtered water is added to all natural ingredients and real kosher chicken and beef stock to deliver that homemade taste.  Manischewitz Broth is packaged in a 14 ounce, easy open, pop-top can or a 32 ounce easy to pour reusable carton and is available in three flavors: Chicken, Reduced Sodium Chicken and Beef.  Look for these wholesome broths inthe kosher and soup section of supermarkets nationwide.Suggested retail price for the can is $1.69 and $2.99 for the carton.
 
As an added bonus, this year's event will benefit Jewish American Heritage Month (JAHM), a national  month of recognition of the more than 350-year history of Jewish contributions to American culture. Updates on JAHM will be available on www.Manischewitz.com shortly and will continue through the end of JAHM on May 31, 2010. The Manischewitz Company is the official corporate sponsor of JAHM, and will work with the JAHM steering committee to drive awareness of events and programs.
 
How it works
 
The Manischewitz Cook-Off invites U.S. residents 18 or older to submit an original, easy-to-prepare entrée.  All recipes must be original, kosher, include a new Manischewitz Broth product, have no more than a total of eight ingredients and be prepared and cooked in one hour or less. For official contest details log onto www.manischewitz.com and complete the official entry form and submit your recipe online. You can also enter by mail by sending your recipe entry to: Manischewitz Cook-Off, c/o BHGPR, 546 Valley Road Upper
Montclair, NJ 07043. All entries must be received by January 31, 2010
 
For more information, prize details, rules and regulations, log onto www.manischewitz.com. For media inquiries please contact Helen Magg at Helen.Magg@bhgpr.com.
 
To inspire you for Cook-Off try this delicious chicken dish:
 
Pot of Olive Oil Broth Poached Chicken with Artichokes and TomatoeS
 
Ingredients:
 
1 whole chicken, cut up
3 tablespoons olive oil
1 1/2 cups onions, diced
      1 1/2 cups celery, diced
      2 tablespoons garlic, chopped
      42 oz Manischewitz® Chicken Broth (3 cans)
      1 tablespoon fresh thyme leaves, chopped
      2 bay leaves
            2 cans artichoke hearts, drained and halved
      2 whole tomatoes, chopped
      1/4 cup fresh basil, cut into thin strips
 
Preparation:
 Preparation:
1.  In a large stock pot sear chicken skin side down in olive oil; remove.
2.  In same pot, sauté onions, celery and garlic.
      3.  Add Manischewitz® Chicken Broth, thyme and bay leaves; bring to a boil, then reduce heat
      4.  And chicken.
      5.  Simmer 30 to 45 minutes or until chicken is fully cooked and tender, skimming off any fat or 
           broth that comes to the surface; add water if necessary to keep chicken covered.
6.  Remove chicken and set aside on serving platter.
7.  Skim off any remaining fat or froth; add artichokes, tomatoes and basil; simmer briefly.
      8.  Serve with chicken.
 
Serving Suggestion: Strain 1 1/2 cups of stock and add to 1 1/2 cups of couscous for a quick side dish.
 
NUTRITION INFORMATION
·     Servings per Recipe: 6
·          AMOUNT PER SERVING:
·          Calories (kcal): 709
·          Total Fat: 47g
·          Cholesterol: 226mg
·          Total Carbs: 24g
·          Dietary Fiber: 9g
·          Protein: 50g
---