CULINARY COUP  .   .   .
SAN FRANCISCO CHINESE NEW YEAR PARADE FUN
Bonnie Carroll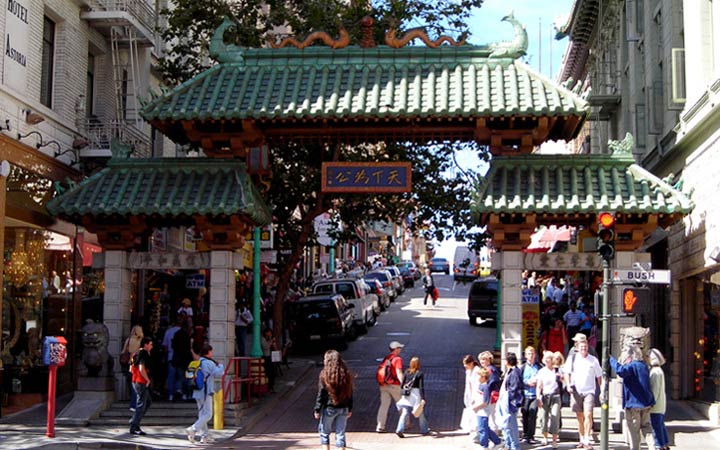 The San Francisco Chinese New Year will be held February 11 in 2017 at 5:15 p.m. at the corner of 2nd & Market Streets. This historical and colorful Parade began in the 1860s by Chinese citizens who came to the United States seeking work and who stayed during the Gold Rush. The parade incorporates Chinese and American tradition and includes over 100 entries and is one of the largest of its kind in the world.
The Chinese New Year Parade route travels through China Town and ends at Jackson and Kearny Streets around 8:00 p.m. Organizers recommend getting there at least one hour in advance of scheduled start time for a good front row view. Route map can be seen at website below. Parking will be available at garages around Union Square, and daily costs varies from $30-$50. BART transportation drops attendees two blocks from the parade.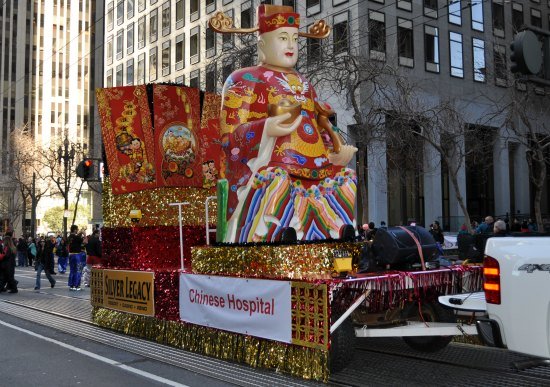 Top hotels near the action include the Westin St. Frances and Hilton San Francisco, which are on the parade route. Many consider dining in China Town the most delightful part of attending the event. I consider San Francisco one of the great 'foodie" cities in America, and my favorite Chinese dining destination is Z&Y Restaurant, which has been honored by Zagat and other food critics. Additional great restaurant choices include House of NanKing, which has an amazing authentic menu selection; Hunan Home's Restaurant, offering familiar Chinese menu items; for many years Hakkasan, an upscale/modern Union Square favorite offering Chinese, Asian and gluten free menu items. Additional travel details can be found on the San Francisco Chinese Parade site at www.chineseparade.com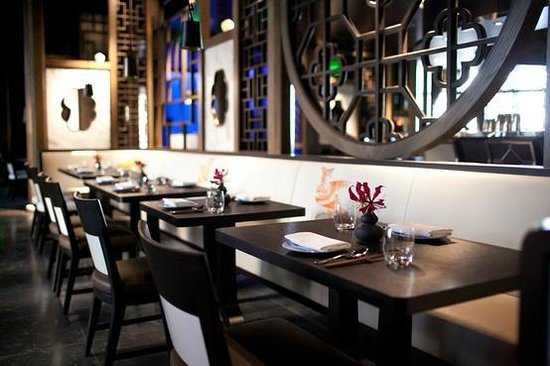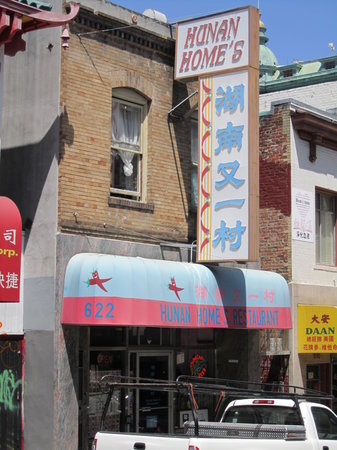 Hakkasan Restaurant         Hunan Home's Restaurant
Enjoy the Chinese Year of the Rooster in San Francisco. I will be doing my best to be there!
GONG XI FA CAI
2017 Year of the Rooster
____________________________________________________________________
REGENSBURG HISTORY & GASTRONOMIQUE by Bonnie Carroll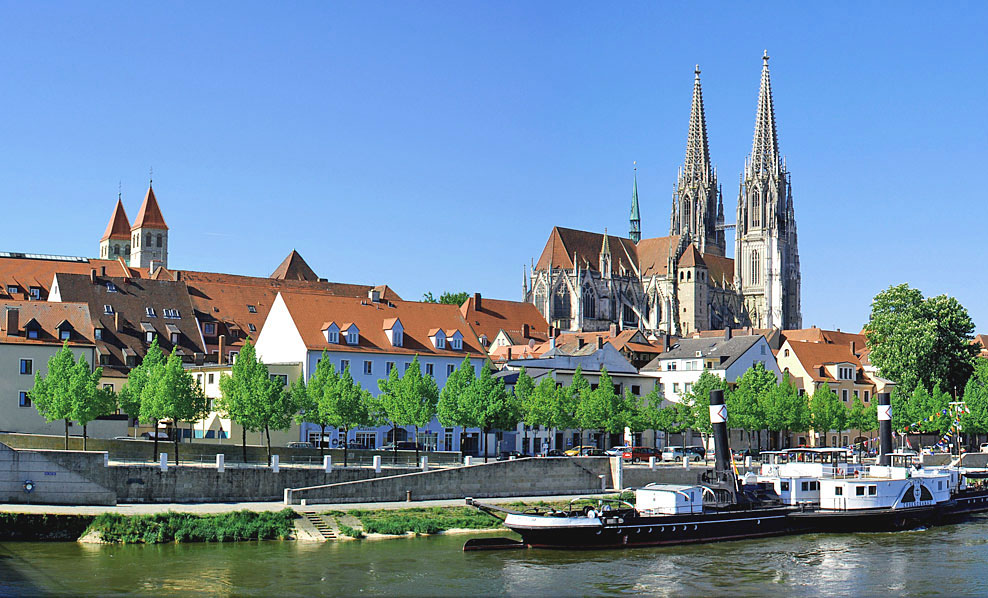 Regensburg View from the Danube
One of Germany's oldest towns, founded by the Romans in 179 AD, is the German federal state of Bavaria, at the northernmost point of the river Danube. Regensburg is a thriving city of about 137,000 inhabitants, two universities and many landmarks and little chapels, most dating back to the Middle Ages that include Cathedral of St. Peter, the Old City Hall, and the Stone Bridge. Perusing the historic streets of Old Town in Regensburg offers a unique opportunity to experience the food, style and rich past of this beautiful destination. The holiday season brings out the best in tourist activities, fun and cozy food adventures.
Gourmet Dining Destination
One of the best gastronomy experience to be enjoyed is Michelin Star Dining at ECK in the heart of the Old Town of Regensburg. The vault in the building is from the 16th century and was once a chapel for salt carriers when the salt trade was an important source of income for the city in medieval times. "Historisches Eck" is now the home of Anton Schmaus, who is a member of Jeunes Restaurateurs d'Europe a renowned culinary organization. The chef's name Schmaus literally means feast, and goes back to the 18th century when his family opened a restaurant in the Bavarian Forest, which is a restaurant and hotel that is still in operation today. After having cooked in the famous "F12 in Stockholm, Per Se Restaurant near Central Park in Manhattan and Talvo in Switzerland, Anton Schmaus returned to open his own restaurant in Regensburg. I enjoy the daily challenge to arrange a great lunch or dinner for my guests and I love having the possibility to be creative, says Anton Schmaus. ECK offers a nice synergy between traditional and modern cuisine that blends perfectly in the UNESCO World Heritage City of Regensburg.
Lunch at WurstKuchi (Sausage Kitchen)
A venerable historic stop for lunch near the Old Stone Bridge is the Wurstkuchi, the oldest sausage tavern in Regensburg, is not to be missed. This over 500 year-old historical venue has changed very little since the days in the Middle Ages when Regensburg stone masons and dockers treated themselves to refreshment at this tavern. Guests can watch preparation on the charcoal grill, enjoy homemade sausages, sauerkraut fermented in their own cellar and the Wurstkuchl mustard, replicated from the original historical recipe of Elsa Schricker. Guest can dine inside or on the outside patio, where live music is also on the menu for special occasions.
Prinzess Royal Sweets
For a dessert you should not miss Confiserie Prinzess, which is Germany's oldest confectioner's shop. As long ago as 1676, delicious sweets and chocolates were made here and sold to the ambassadors attending the Perpetual Imperial Diet. And customers still cannot resist the temptation to buy chocolates with names like Barbara's Kisses, Smart Gloria or Danube Shells that reflect Regensburg history. This shop also supplies sweets and confectionery by appointment to the House of Thurn und Taxis.
Designer Hat Shop
Traveling the winding streets you will find an amazing collection of delightful designer shops that include Der Hutmacher, which offers original hat designs for men and women. I spent some time trying on these original designs and taking photos. The Panama hats for men were exceptional, and the smart ladies hats for winter or summer were a big hit with travelers.
The Regensburg Market
Hand made jewelry and gift items can be found in the outdoor market, featuring specialty jewelry and beautiful hand blown glass necklaces and earrings that are artistic and colorful. The Old Town Center has a bevy of booths selling a variety of gift items, as well as vendors selling delicious pastries fresh, fruits and vegetables or lovely flowers. I found the business owners in the market to be very helpful and charming.
Spirits with a History
Try a drop of Regensburg Karmelitengeist, a type of spirit distilled from herbs that has been made for centuries in this area, using a secret recipe by the Carmelite friars. It perports to not only be excellent for settling the stomach but can also be applied externally, offering relief from all sorts of aches and pains. Karmelitengeist could be considered the local digestif and is sold at the Tourist Information Centre on Rathausplatz. Locally unique and original spirits like this one are very popular throughout European cities, where each location has their original disgestif recipe.
Enjoy a Historic Brew
In the heart of the historic Old Town of Regensburg, you will find the brewery Kneitinger at the Arnulfsplatz or Arnulfs Square. The brewery has been brewing beer here for more than 150 years. It is a rather small brewery which is conscious of tradition and works with state of the art equipment. The brewery has a special offer for its guests. Kneitinger offers tours with beer tastings in the brewery cellar where guests can learn some secrets of brewing traditional Bavarian Beer and even earn a Beer Diploma. Beaufitul German beer mugs are available in shops throughout Regensburg.
Gothic Religious Treasure - Cathredral of St. Peter
The Regensburg Cathedral is a magnificent architectural masterpiece. It is the bishop's church and the principal church of the Regensburg diocese. It is also the home of the Regensburger Domspatzen cathedral sparrows, a world renowned choir rich in tradition. The structure is considered the most significant Gothic work in southern Germany.
A first bishop church was built around 700, at the site of the present-day cathedral parish church Niedermünster tomb. Around 739, St. Boniface chose the area of the Porta Praetoria or North Gate of the old Roman fort for the bishop seat, and the site of the cathedral has remained there since.
The Cathedral is also the burial place of important bishops, including Johann Michael von Sailerr, 1829-1832, memorial built by Konrad Eberhard in the south chancel, George Michael Wittmann, 1832-1833, memorial also by Konrad Eberhard in the north chancel, and Archbishop Michael Buchberger 1927-1961, likewise in the north chancel. In the western part of the central nave stands a bronze memorial for the Prince-Bishop Cardinal Philipp Wilhelm, brother of Duke Maximilian I of Bavaria, deseased in 1598.
Furstliche Schatzkammer Museum
This is a museum containing items from the Thurn and Taxis family which have been accumulated over hundreds of years. The items are beautifully displayed and they offer an English audio-guide available at no extra cost. The snuff box collection is fascinating, and they offer an amazing array of items unique to the destination to view.
Getting Around Regensburg
Bring your walking shoes and an umbrella for a walking tour of this historic city. Regen means rain in German, and it does rain there. A large part of the historic city center as well as the Stone Bridge cannot be accessed by private cars or motorbikes, and car-parks are quite expensive and rare, that's why it is recommended to park somewhere outside the center and walk or use the bus. If you are traveling on a Viking or other river cruise ship up the Danube, it is a short walk to Old Town from the designated area where ships are docked. Many tourists arrive in Regensburg on Viking River Cruise ships and enjoy pre-scheduled afternoon tours.
 A visit to this charming and rich historic German destination should be on everyone's bucket list, and I hope you find this teaser on places to visit helpful. For additional information go to: www.Germantourism.com, or http://regensburgtravel.com/
---