ULTIMATE HOLIDAY GIFT FOR THE GOURMET:
JEAN-GORGES VONGERICHTEN
CULINARY MASTER COURSE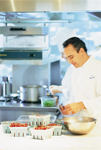 The Jean Georges Culinary Master Course with world-renowned chef Jean-Georges Vongerichten, available exclusively at Trump International Hotel & Towel New York, is a foodie's fantasy come true. This exquisite experience includes a two-hour, private cooking lesson with the maestro himself in the kitchen of his namesake restaurant, Jean Georges, one of the only restaurants in New York City to receive a four-star review from The New York Times and three Michelin stars.
Guests may choose to learn the magic behind the cuisine of his New York establishments Jean Georges (French), JoJo (Mediterranean), Vong (Japanese), Spice Market (Asian), Perry Street (New American) or Matsugen (Japanese).
The experience includes:
A two-hour, private cooking lesson with Jean-George Vongerichten in the kitchen of

Jean Georges

Three nights in one of Trump International Hotel & Tower New York's luxurious Executive Park View Suites

A three-course dinner for two with a bottle of Champagne

Breakfast for two daily at Nougatine

A signed copy of Asian Flavors of Jean-Georges
Price: $8,999
The Jean George Culinary Master Course is based on a three-night consecutive stay, with arrival on Thursday. The course is designed for a minimum of two people and a maximum of four. In order to guarantee availability, a minimum of 30 days' notice is required to book.
---
ROYSTON'S, OCEAN ECHO RESTAURANTS
DEBUT AT THE REEFS
Bermuda Resort Unveils Two New Restaurants and New Kitchens
The kitchens and restaurants at The Reefs have undergone an "extreme makeover," and the result is nothing short of spectacular.  More than $3 million have been invested in the complete redevelopment of the kitchens alone at The Reefs.  The two expanded and redesigned restaurants, Ocean Echo and Royston's designed by Vision Design (Rosewood's Mansion on Turtle Creek), have just reopened. 
The new kitchens, designed by William Caruso and replete with more than $1 million in state-of-the-art appliances and operational flows honed by Baring Industries, will ensure superlative service.  The entire culinary undertaking is being directed by The Reefs Escoffier Chef Laurent Ajas.  Chef Laurent, solidly grounded in the basics of fine French cuisine draws on his experiences from around the world — Toulouse, Cannes, Ireland, Grand Cayman, Luxembourg, Thailand and Bermuda — to provide guests innovative international dining.  "The hotel always has been famous for its dining, and now Chef Laurent will have a platform to take gourmet dining to the highest level," says Managing Director Ben Tutt.
Ocean Echo, located in the newly-renovated south side of the main clubhouse, feels like an ocean lookout with a large curved window-wall providing nearly 180-degree views of the horizon from its perch high on the cliffs. Designed to be Bermuda's most serene fine dining experience, Ocean Echo features colors and materials chosen to enhance the native Bermudian architectural elements of coral stone and high peaked ceiling with cedar trusses.  Silvery blue-green tones for the furnishings are accented by a select collection of Bermudian works of art and nautical antiques. 
Bermudian classic starters like Cod fish cakes served on a chayote squash slaw and Bermuda fish chowder are offered alongside salmon "gravlax" or asparagus with wasabi hollandaise.  The main course will feature a daily fresh Bermudian delicacy as well as enchanting pasta and risotto dishes, pan fried rock fish, grilled beef tenderloin and seared maple duck breast.  The menu has mouth watering descriptions.  Inside Ocean Echo jackets are recommended but not required; patio dining is slightly less formal.
Royston's, on the north side of the clubhouse, has the feel of a supper club, a huge fireplace, beamed ceiling and views of the display kitchen where chefs plate their creations.  Attention to detail is apparent in the lighting – showcasing custom fixtures and a wall of candle niches with glowing alabaster shades to create a warm and convivial atmosphere. 
The ambiance is casual affluence, staying true to the traditions of Bermudian hospitality that have been developed over the last 60 years.  Food is ample in portion and elegant.  The supper club feel is reflected in the menu with items like Gosling soaked pork chops and Steak Wellington. 
Royston's accents The Reefs' impressive wine list, by featuring an adjoining Wine Room, built around a custom-built, temperature-controlled, mahogany wine storage fixture holding over 1,200 bottles.  The Wine Room, with Bermuda stone on the walls, can be separated from Royston's by double doors to serve as your private dining room.  After a dinner at Royston's a nice Cognac would be the norm.
The popular Reefs beachside dining venue, Coconuts, has been cited as "best place to fall in love in Bermuda."  Its private pink sand beach, available for reservations May through November, provides the island's most romantic dining beneath the stars, complete with tiki torches and the rhythm of the waves. 
Development of the The Reefs Club next to the resort has allowed The Reefs to expand and enhance its amenities, providing the utmost intimate and luxurious experience.  Guests already are raving about the completion of Phase I, the redesigned bar, lounge and terrace providing elegant and relaxing places to unwind.  The newly-unveiled restaurants undoubtedly will be in high demand. 
La Serena Spa, the first spa in Bermuda to offer the relaxing Thai massage therapy, is one of the most popular spas on the island.  Being so popular it was oftentimes difficult for guests to secure an appointment due to its small size. That will all change once the New La Serena Spa opens in 2009.  The facility will more than quadruple in size going from 2 to 8 treatment rooms.   The new spa will sport two saunas and a full locker facility along with expanded manicure and pedicure stations.  A large relaxation area with expansive views of the Atlantic Ocean is a new feature sure to please every guest.
The 19 private residences of The Reefs Club are planned for completion mid-2009.  Those who enjoy visiting The Reefs to "feel perfectly at ease" in beautiful Bermuda, now can "live perfectly at ease" with fractional ownership of these two- and three-bedroom homes.  For information on the residences, please visit www.reefsclub.com. 
Since 1947, The Reefs has been providing the ultimate in hospitality for its guests, many of whom return year after year.  For information and reservations at the hotel, call 800-742-2008 or visit www.TheReefs.com.
For reservations call (800) 742-2008 or your favorite travel agent, or visit www.thereefs.com.
---
CHEF NOTES...Santa Barbara
NEW FACES AT UNIVERSITY CLUB OF SANTA BARBARA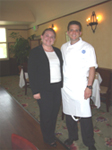 Harley Hall, Executive Chef is the new talent on the staff at the University Club of Santa Barbara, located at 1332 Santa Barbara Street. The renowned club was founded in March, 1923. Chef Hall has a remarkable background in the culinary arts, and says he is delighted to be a part the team at Santa Barbara's original private business club,  Katie Osberg is the new Food & Beverage Manager  and she explained that although it is a membership club, community business owners may hold special events on the property. Osberg is also a credentialed pastry chef and sommelier. Together the talented new duo are designing menus and special events for the enjoyment of club members. Visit: www.uclubsb.org
COAST RESTAURANT CHEF AT CANARY HOTEL PRESENTS MARKET DINNERS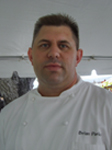 Executive Chef Brian Parks, Coast Restaurant & Bar, in the newly renovated Canary Hotel in Santa Barbara is now serving a Farmer's Market Dinner each Tuesday that focuses on dishes featuring fresh produce from the State Street market. Examples are the cold corn chowder, served with a crown of fresh lobster, drizzled with olive oil, and the corn soufflé with blueberries and bourbon dessert that are so good! The hotel is currently holding a weekly wine tasting on the roof from 5:00-8:00 p.m. It includes tasting and appetizers at a cost of $20, first come first serve. Visit: www.canaryhotel.com for tasting dates. Visit:www.canaryhotel.com.
IN THE PINK AT EPIPHANY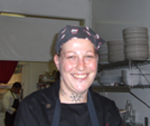 Executive Chef Crystal Harris, known to friends as "Pink" is serving plates well worth a taste. She is a very shy culinary talent, who does not know how good she is. Her grilled lamb with brown butter mash and glazed carrots would delight Joachim Splical of Patina, and her sea bass with sugar snap risotto in white peach glaze would surely please the palate of Austrian Wolfgang Puck. This girl really can cook, and has invested years learning from the best in Santa Barbara and throughout California. Epiphany has a lively bar, and will serve pink champagne to enjoy with your 'Pink' inspired plates if requested. Visit:www.epiphany.com
---
ERIC RIPERT, CHEF/CO-OWNER OF
 LE BERNARDIN LAUNCHES WEBSITE
"We Cook Therefore We Are" Says Ripert
 
Renowned New York Chef and Restauranteur has launched http://aveceric.com/ to bring his devotees simple gourmet dishes using everyday kitchen appliances. The website is updated weekly with new recipes and videos of Ripert cooking. Bon Appetit!

---
FUN CLASSES OFFERED AT CSCA IN PASADENA
"Organic Beer Making 101" Cooking Class Offered at the California School of Culinary Arts in Pasadena on September 6 & 20
California School of Culinary Arts will host a cooking class, "Organic Beer Making 101," on September 6 & 20, 9 a.m. to 1 p.m.  Chef instructors will teach the craft of extract brewing from beginning to end, including the fundamentals of how yeast works and how to clean and sanitize brewing equipment, select the best organic ingredients, cook and cool wort and bottle and savor home brew.  Students will brew 48 bottles of beer in time for Oktoberfest.  Menu items organic India Pale Ale or Organic Nut Brown Ale, both of which require a 1-2 week resting period following the bottling session in the second class. Class will be held at the CSCA East Campus, 521 East Green Street in Pasadena. Class costs $295 and includes the cost of brewing equipment.  This class is open to adults 21 and older.  Register by calling or visiting the CSCA Campus Cookstore, (626) 683-1354. For more information about California School of Culinary Arts, go to www.csca.edu.
"Sugar-Free Cakes" Cooking Class Offered at the California School of Culinary Arts in Pasadena on September 13
California School of Culinary Arts will host a cooking class, "Sugar-Free Cakes," on September 13, 9 a.m. to 1 p.m.  Chef instructors will teach how to make moist and flavorful sugar-free cakes.  Menu items chocolate angel food and orange chiffon cake.  Class will be held at the CSCA East Campus, 521 East Green Street in Pasadena. Class costs $145 and is open to adults 18 and older.  Register by calling or visiting the CSCA Campus Cookstore, (626) 683-1354. For more information about California School of Culinary Arts, go to www.csca.edu.

---
RENOWNED ITALIAN CHEF UMBERTO MONTANO
TO PREMIERE NEW MENU AT THE METROPOLITAN
OPERA'S GRAND TIER RESTAURANT
Executive Chef Jeff Raider To Travel to Italy and Execute Montano's Vision
Patina Restaurant Group announced that the September 23rd opening of The Grand Tier Restaurant at the Metropolitan Opera House will introduce both a new chef and menu.  The restaurant's new Executive Chef, Jeff Raider, will execute the menu of the Florence-based chef and restaurateur, Umberto Montano.
Montano is known for balancing sophisticated Italian cuisine with age-old, traditional techniques, set beneath world-class art – a combination that made his restaurant Alle Murate one of Florence's most famous.  Alle Murate boasts breathtaking medieval art on its ceilings and walls that were uncovered by Montano and his staff.  The frescoes date to the 14th century and include the only known portrait of Dante Alighieri.
The Grand Tier Restaurant menu will reflect Alle Murate's, where Montano writes the menu by hand each day according to the produce available in the markets.  Chef Raider will travel to Florence with Montano for two weeks to study his style and method, learning the menu.  The team will then return to New York and Montano will oversee The Grand Tier Restaurant's opening in September.  "I am excited to reinvent The Metropolitan Opera's Grand Tier Restaurant with my friend, Umberto Montano," said Nick Valenti, CEO of Patina Restaurant Group.
Among Montano's signature dishes that will be introduced in New York are gragnano pasta with a ragout of red snapper sauce and basil pesto, a mixed seafood stew with toasted rustic bread (noted for not including shellfish), free-range chicken stuffed with figs and prosciutto, crunchy veal with tuna sauce, beef filet marinated with balsamic vinegar and a parmesan soufflé. In addition, The Grand Tier Restaurant will unveil photographs of Alle Murate's frescoes that will be displayed innovatively in the restaurant to enhance the dining experience. Chef Raider's background includes time with Ed Brown, formerly of The Sea Grill.  Raider has most recently held the executive chef position at One Restaurant in Irvington, New York.
Pre-ordered intermission dining is available to ensure a quick return to the performance, along with pre-curtain dining.  The Grand Tier Restaurant is open to all Lincoln Center guests.  Located on the Grand Tier level of the Metropolitan Opera House, the restaurant boasts impeccable service, a view of two breathtaking Chagall paintings and a wall of windows overlooking Lincoln Center's fountain.
The Grand Tier Restaurant is located in the Metropolitan Opera House at Lincoln Center Plaza, 150 W 65th St, New York, NY 10023.  Open at 6:00 pm to Lincoln Center ticket holders for pre-curtain and intermission dining.  For reservations, guests can call (212) 799-3400.
About Patina Restaurant Group
Patina Restaurant Group (www.patinagroup.com) is the nation's leading multi-concept operator in the premium segments of the restaurant and food service industry.  On the East Coast its portfolio features New York City's world-famous Rockefeller Center Ice Rink, Rock Center Café, The Sea Grill, Brasserie, Brasserie 8 ½, Naples 45 and The Grand Tier Restaurant at the Metropolitan Opera. Other East Coast properties include Tutto Italia Ristorante at the Epcot World Showcase in Orlando, FLA and Tanglewood Music Center in Lenox, MA.
On the West Coast the portfolio includes the renowned Patina Restaurant in Walt Disney Concert Hall, Paperfish in Beverly Hills, Nick & Stef's Steakhouse, Café Pinot at the Maguire Gardens, Zucca Ristorante, Catal and three other restaurants in Anaheim's Downtown Disney District®, Leatherby's Cafe Rouge at the Orange County Performing Artscenter, Pinot Brasserie in Las Vegas and catering and food service in museums and cultural centers throughout Southern California.

---
NOTED CHEF RENE BAJEUX TO DIRECT
CULINARY OPERATIONS AT CAP JULUCA
Newly Appointed Executive Chef to Oversee Three Restaurants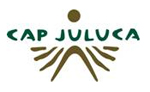 Cap Juluca – the award-winning luxury resort on the pristine Caribbean island of Anguilla – has tapped acclaimed classic French chef Rene Bajeux to spearhead its culinary operations.
Cap Juluca's General Manager Gary Thulander stated that Bajeux will take charge as executive chef for the resort, overseeing three restaurants, as well as in-room dining and catering.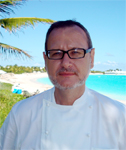 "Rene Bajeux's impeccable credentials, creativity and tireless work ethic will be essential to our management team as we look to upgrade this renowned, world-class resort," Thulander said.  "He has an impressive track record in the culinary and hospitality industries, and we are very proud to have him join our team of industry professionals."
Added Bajeux, "I am thilled to take this new position and am very excited about the opportunities Cap Juluca has to offer. The resort has an important legacy to live up to, with stellar service and dedicated staff who are ready to take Cap Juluca to the next level."
In his new position, Bajeux – born and raised in Alsace-Lorraine, France – will lend his considerable expertise to the development of new concepts and menus for the resort's three restaurants, including the fine dining venue Pimms', George's and Kemia which will be re-concepted as a Pan-Asian restaurant. In addition, he will supervise approximately 80 employees and oversee staff training and development.
Bajeux certainly has the expertise and credentials to take this already impressive resort to even higher standards of excellence. One of just 50 French Master Chefs in the United States – as designated by the Maître Cuisinier de France – he began his culinary career as an apprentice at age 14, and then trained as a cook in the French Navy. He spent his early career in Montreal, working at some of the city's finest restaurants, and then moved to Maui, where he worked as executive chef of the Four Seasons Resort, eventually relocating to the Four Seasons Beverly Hills in the same position. He also worked at several fine dining restaurants in Chicago, including a stint as executive chef/partner at Bristrot Zinc, a three-star bistro.
More than ten years ago, he moved to New Orleans to work as executive chef at the city's venerable Windsor Court Hotel, overseeing its fine dining venue, The Grill Room – Louisiana's only Mobil Five-Star and AAA Five Diamond restaurant. He later joined the prestigious Renaissance Pere Marquette Hotel, serving up authentic French cuisine at its acclaimed Rene Bistrot. Last year, he took the helm of another classic French venue, La Provence in Lacombe, Louisiana, where he was hired as a chef/partner to advance the restaurant's "farm to table" agenda.
Throughout his more than three-decade culinary career, Bajeux has accrued numerous accolades for his classic culinary approach, among them Esquire magazine's "Best New Restaurants," "Chef of the Year" from the American Tasting Institute; and inclusion among "America's Top Tables," Gourmet magazine. He has hosted many dinners at The James Beard House in New York City and was designated "Outstanding Member, 1997-2000" by The James Beard Foundation.
 
About Cap Juluca
Insulated from the outside world, yet only minutes by air or boat from St. Maarten, Cap Juluca resort is a private self-contained enclave on Anguilla in the British West Indies, situated along two miles of the most pristine white sand beaches in the Caribbean. Offering a spectacular private getaway, Cap Juluca's spacious Moorish villas with 98 luxurious suites and bedrooms, five-star restaurants, exotic landscaped tropical gardens, and friendly and gracious service professionals provide an unparalleled level of luxury. The twenty-year-old property has received one prestigious designation after another – consistently ranking at the top of every list of the best hotels and resorts in the Caribbean and the world – and is a member of Leading Hotels of the World.  
The resort was recently purchased by an investor syndicate, Cap Juluca Properties Ltd., led by respected travel industry executive Adam M. Aaron, previously chairman and CEO of Vail Resorts and RockResorts and president and CEO of Norwegian Cruise Line Ltd. For more information, visit www.capjuluca.com.

---