"CIAO BELLA" WHITE LIGHTNING TAKES 4 th AT CHILI COOKOFF
by Bonnie Carroll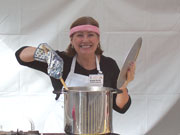 For nearly two decades I have devoted my time to interviewing and writing about top chefs around the world, and last month I took all that culinary wisdom and put it to work creating an original chili recipe for competition in the 11 th Annual Beverly Hills Chili Cook Off.
This was my very first cooking competition of any kind, and I arrived at 6:00 a.m. armed with all my knives, recipe ingredients, a big pot and my favorite apron. Only one side of my Bunsen burner stove worked, and it kept going out; I had to relight it seven times during the contest. By 9:00 a.m. my meat and vegetables were all golden brown and in the pot simmering with the additional menu ingredients. The original recipe was the result of an evening adventure with my cookbooks, that included studying the ingredients and preparations of some old cowboy kick-a—recipes, and then creating a recipe from their basic scheme that included choice ingredients from my Italian cookbooks. The end result was "Ciao Bella" chili; a northern Italian inspired concoction that was completely white, and a total contrast to the red hot chili presented by the other nine contestants.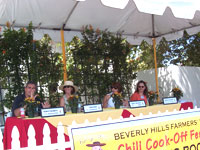 Executive Chef Celestino Drago of the Drago restaurant dynasty, and his daughter Franchesca came by to wish me luck, and a project producer named Derek from the Ellen Degeneres Show filmed me cooking and interviewed me for consideration to appear on a cooking segment with the popular show host. It was fun, I felt like Emeril for fifteen minutes, but I substituted 'Bam' with Tuto Bene! Bindu Kundanmal, last years 1 st place winner-- who ultimately became a second time winner in this years competition, was cooking her Indian inspired red hot chili in the space next to me, and we had great fun laughing and sharing food stories.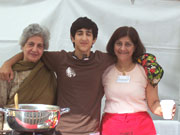 The sample bowls of my chili to be sent to the judges looked perfect, and I felt obligated to live up to my chef mentors by providing a presentation that was spectacular. My miniature bread sticks, sitting next to sliced tiny red & yellow tomatoes, resting on a basil leaf. were picture perfect, and the fresh Romano cheese was the coup de gratin. Following the judging we gave samples to the show attendees, and I was filled with pride by the people's choice approval I was given for my hard work. For possibly the first time I really understood how a chef must feel when they peak around the kitchen door to see a food writer gleefully gobbling up their signature entrée.
Thanks to all the dear chefs who have obviously, and possibly through osmosis, peaked my imagination and skills to not only inspire me to create an original and different dish, but to have the bravado to stand by it in the face of stiff competition. To me that is what great cooking is all about; courage and imagination! I love you all, and thank you for your talent and the special gifts you have shared with me over the years. Salute!
---
THE 23rd ANNUAL AMERICAN WINE & FOOD FESTIVAL TO BENEFIT LOS ANGELES MEALS ON WHEELS PROGRAMS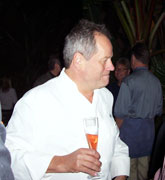 Wolfgang Puck and Barbara Lazaroff Bring Together the World's Most Visa Signature & ConAgra Foods Join Talented Chefs, Wine and Spirit Purveyors for Spectacular Culinary Event
On September 24, 2005, a line up of today's most prominent chefs will converge at the Universal Studios back lot in Los Angeles from 6 to 11 p.m. for the 23rd Annual American Food and Wine Festival. A star-studded gathering where 55 celebrated chefs will come together with more than 60 fine wine and spirit purveyors in support of the charitable celebration.

The Annual Wine & Food Festival is open to the public and will feature live bands, a live and silent auction - including fabulous vacation getaways, great wines and fine dining gift certificates - and, of course, an epicurian feast. The Festival's high-energy lounge will showcase the talents of Las Vegas' Bellagio Hotel's Bartender Extraordinaire Tony Abu Ganim, award-winning Spago Pastry Chef Sherry Yard and an unforgettable blues band. An estimated 2,500 guests are expected to attend.

This year's festival will feature Frontera Grill's Rick Bayless, Patina's Joachim Splichal, LeBernardin's Eric Ripert, Olives' Todd English, The Food Network's Bobby Flay, Babbo's Mario Batali, and Nobu Matsuhisa of Matsuhisa & Ubon, among others.

Wolfgang Puck and Barbara Lazaroff Charitable "Foundation has supported the American Wine and Food Festival since its inception in 1982, raising more than $11 million for Los Angeles Chapters of Meals on Wheels; who serve thousands of meals each day to Los Angeles' homebound senior citizens, disabled and terminally ill patients.

A list of participating chefs and sponsors follow:
This year's star chefs will include:Mario Batali, Rick Bayless, Matt Bencivenga, Thomas Boyce, David Burke, Floyd Cardoz, Sam Choy, Tom Colicchio, Gary Danko, Robert Del Grande, Luis Diaz, Lissa Doumani, Eddie Echoes, Todd English, Walter Ferretto, Bobby Flay, Michael Ginor, Suzanne Griswold, Vincent Guerithault, Kerry Heffernan, Lee Hefter, Christopher Lee, Steven Lewandowski, Nobu Matsuhisa, Jennifer Naylor, Drew Nieporent, Bradley Ogden, Frank Ostini, Francois Payard, Mark Peel, Luciano Pellegrini, Stan Perkins, Alfred Portale, Stephan Pyles, Eric Ripert, David Robins, Mitch Rosenthal, Steve Rosenthal, Stephen Samson, Jimmy Schmidt, Piero Selvaggio, Lydia Shire, Nancy Silverton, Hiro Sone, Joachim Splichal, Robert Stettler, Norman Van Aken, Yuji Wakiya, Jonathan Waxman, Jasper White, Sherry Yard and Alan Wong

Sponsors for the event will include: Visa Signature, ConAgra Foods, American Airlines, Mansour Travel, Electrolux Appliances, Food & Wine Magazine, Fine Living TV Network, Nestle Waters, Moet & Chandon, Belvedere, The Patron Spirit Company, Niche Media, Universal Studios, Los Angeles Confidential, Renaissance Hotel, Classic Rents, Peet's Coffee and Tea, Southern Wine and Spirits, 10 Cane Rum.

Festival tickets are available through the Puck-Lazaroff Charitable Foundation for $250 per person, and $300 per person at the door, as space allows. Table reservations are available from $3,000. For more information or reservations, please call 310-777-3707 visit www.awff.org, or e-mail tickets@wolfgangpuck.com.