THE CRESCENT HOTEL
Hosting Beverly Hills
by Bonnie Carroll
The newly renovated Crescent Hotel in Beverly Hills is a charming edition to a city know for its hospitality to visitors from around the world. The beautifully appointed hotel on Crescent Drive, just a block from the Beverly Hills City Hall, and two blocks from Rodeo Drive, is a perfect destination for those visiting from across the country, the world, or just to enjoy a romantic dinner.
The BOE Restaurant offers modern American cuisine for dinner, as well as providing room service to Chef Erik Ritter will amaze your sensibilities with his creative presentations. The appetizers include a French fries served in a rolled down paper bag, with delicious tomato dipping sauce, as well as his own shrimp and tuna dishes; entrees offered combinations with Mexican, Asian and Middle-Eastern inspiration, and they are all culinary delights. The dessert menu is the ultimate for a de je vous back to your girl scout days with the arrival of a variation on s'mores. Yes, marshmallows on a skewer to be cooked on a little grill and dipped in chocolate. It's fun, familiar and delicious! The cocktails and wine menu at Boe are quite varied and offer something for everyone. The signature cocktail is a beautiful pink martini. Four tiny burgers can also be enjoyed with this unique cocktail. The food here is artistic and flavorful, with original one-of-a-kind presentations.
According to Chef Ritter "we buy the freshest produce, as well as the finest fish and meat products for our menus." "We are constantly trying new items and reinventing old dishes to give them a now appearance and taste." Guests at the hotel find the inside restaurant/bar and patio restaurant a hot venue to have business meetings by day, and a private place after dark, where a bevy of romantic candles create a very romantic ambiance.
The 35 luxurious hotel rooms are beautifully appointed in American modern style, have every amenity, including state-of-the-art electronics, and luxurious guest bath products. The Crescent offers a convenient and relaxing venue where vacationing guests or traveling business executives can connect with personal and business acquaintances. The Boe bar has become a popular cocktail spot for the hip young professional crowd in Beverly Hills, where they can network at hotel special events, or enjoy dinner with a date. For information call 310-247-0505.
Recipe by Eric Ritter, BOE Restaurant
---
ROY'S FOR DOWNTOWN LADIES
by Bonnie Carroll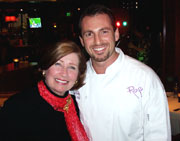 Roy Yamaguchi brought a little bit of Hawaiian heaven to 8th & Figueroa Street in Los Angeles this month with the opening of yet another wonderful namesake restaurant, featuring all the delightful Hawaiian faire he has become famous for.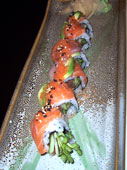 Many of the traditional favorites are on this menu, and include to-die-for sushi specials, Ahi tuna dishes, and salads; a braised Hawaiian beef entrée that melts in your mouth, and desserts designed by their renowned Corporate Pastry Chef Noah French. The fish dishes are, as always, perfectly prepared and pleasingly presented.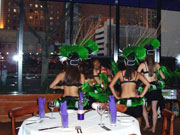 For their opening, they presented Hawaiian music and dancers to entertain their guests, and with the genuine love that I have for the people and destinations in Hawaii, I was very happy to be there to share the evening with Roy's staff. For reservations and location information see www.RoysRestaurant.com.
---
AFTERGLOW IN SOUTH BEACH
A Celebration of Food, Drink and all other Life Empowering Human Endeavors
by Bonnie Carroll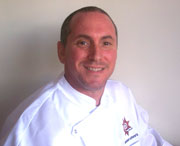 Michael Schwartz, Chef
Afterglow, owned by Dr. Tim Hogle, and his wife Irina Korneeva, is located at 1200 Washington Avenue in South Beach, and offers an international Beauty Cuisine, that is comprised of fresh locally farmed organic products, wild game and seafood from sustainable sources. Flavors, spices, ingredients, products, and recipes span the globe and each dish is prepared within specific beauty parameters.
Through the ages many foods have been recognized to be beauty enhancing. Both the Egyptian and the Greek cultures revolved around the importance of beauty. All of nature responds positively to the quality of beauty. A beautiful young person is the result of genetic lottery. A beautiful older person is a work of art. Hogle believes you are the artist and the work of art, what you choose to put inside shines out.
The elements of sunlight, fresh air, pure water, restful sleep, laughter, and daily exercise are important, but these restaurateurs believe that regular consumption of beautifying food is necessary to achieve the ultimate beauty results. According to the couple seven qualities are important to consider in selecting beautifying food:
1.low glycemic index ratings. 2. anti-inflammatory properties. 3. PH affect (alkalizing reaction) of food on the body. 4. High Enzymatic content. 5. High Elemental content. 6. High Syntropy value. 7. Use of the Full Food Color Spectrum, with abundant amount of minerals and vitamins.
Below is a delicious recipe from AFTERGLOW – Enjoy!
---
FRENCH CHEFS SELECT ART INSTITUTE FUTURE CULINARY STARS
by Bonnie Carroll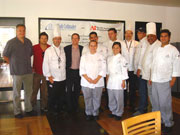 The winners of the Fourth Annual Stainless Steel Student Chef Competition were announced at the Art Institute of California during a cocktail reception in the AI Santa Monica diningroom, where Christian Monchatre, President of the Club Culinaire of French Cuisine and Executive Chef of the Jonathan Club, critiqued their dishes. "It is your food", said chef Monchatre. After thanking the Chef judges and the sponsors from Air France, Contessa, Moet&Chandon, Smart & Final, Valrhona and West Central Produce, who make the awards for this event possible, Chef Monchatre announced the winners.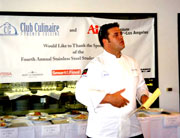 First Place went to Juan J. Vasques, who will receive an all-expense-paid internship for two weeks at the 2-Star Michelin rated Bristol Hotel in Paris, under the instruction of Chef Eric Frenchon, and a Club Culinaire of French Cuisine jacket. Second Place went to Sarah K. Chan who received $500 and a CCFC jacket. Third Place went to Luis Jasso, fourth to Kenneth A. LaCroix, and fifth to Shannon Far; all were presented a CCFC chef jacket. (Ai) The Art Institute is located at 2900 31st Street in Santa Monica, California.