CULINARY COUP  . . .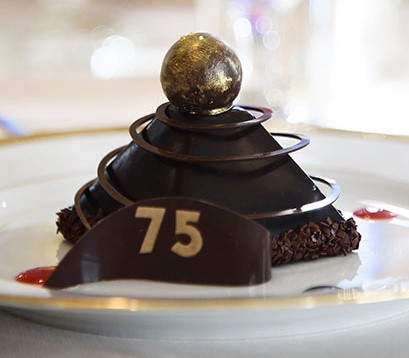 75th GOLDEN GLOBE AWARDS . . . GOURMET DINNER FOR THE STARS
Host Seth Meyers brings the fun as film and television stars are honored at Hollywood's 2018 Party of the Year TM. The host of NBC's critically acclaimed "Late Night with Seth Meyers" will take center stage at the Beverly Hilton when he hosts this year's live, star-studded awards show celebrating the very best in television and film.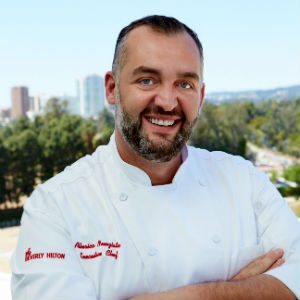 The Beverly Hilton Executive Chef Alberico Nunziata
The popular three-hour ceremony serves as the official kickoff to awards season and will be broadcast live coast-to-coast. This year's Golden Globe nominees include Mary J. Blige, Sterling K. Brown, Jessica Chastain, Daniel Day-Lewis, Armie Hammer, Tom Hanks, Hugh Jackman, Nicole Kidman, Eric McCormack, Elisabeth Moss, Octavia Spencer, Meryl Streep, Denzel Washington, Reese Witherspoon and Shailene Woodley. For the full list of winners and nominees please visit: https://www.goldenglobes.com/winners-nominees.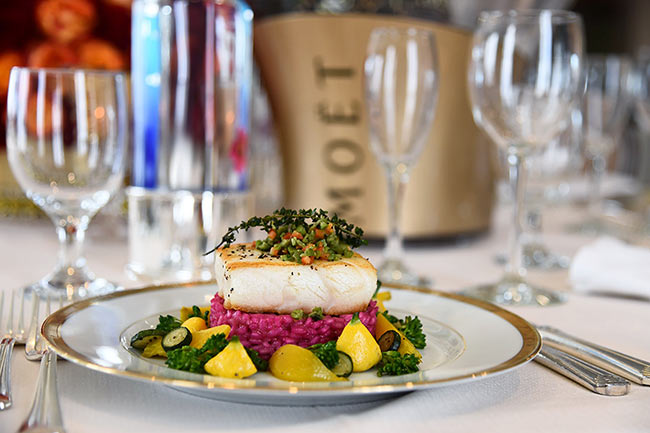 Mediterranean Chilean Seabass

Following the Awards VIPs, Award Winners, and Presenters enjoyed a divine curated three-course dinner created by Executive Chef Alberico Nunziata and Pastry Chef Thomas Henzi. followed by Mediterranean Chilean seabass with red beet parmesan risoto, Castelvetrano olive tepanade, broccolini florets, golde stripe baby beets, yellow squash and zucchini. Dinner includes a "Delicata" appetizer of burrata cheese, opal basil, teardrop tomatoes, Taggiasca olives, golden frisee, garlic flowers, roasted butterut squash and purple sweet potatoes with extra virgin olive oil and balsamic vinegar. The sinful ending is the "Efendi" made with white chocolate coffee cream, coffee liqueur biscuit, Frangelico mascarpone and crunchy praline. Sunday marks the 43rd consecutive year (47 total) the Golden Globes Awards have been held at The Beverly Hilton. The signature cocktail for the event is "The Moet 75" (see recipe below).
75th Golden Globe Awards "The Moet 75" Cocktail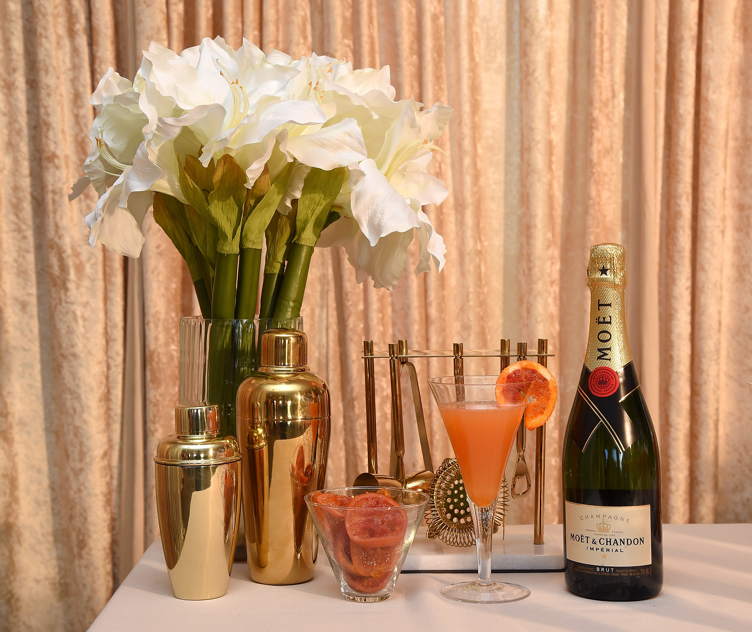 THE MOËT 75

4 oz. Moët & Chandon Imperial Brut Champagne
1 oz. Volcan Tequila
2 oz. Fresh Blood Orange Juice
1 oz. Honey

PREPERATION: Shake tequila, fresh blood orange juice and honey into a cocktail shaker and mix until honey is dissolved.  Pour mixture into a modern tulip glass. Gently pour chilled Champagne. Garnish with a candied blood orange slice or fresh blood orange slice.

SERVED: Straight up; without ice

GARNISH: Candied blood orange slice or fresh blood orange slice

THE INSPIRATION: This cocktil captures the boldness and creativity that shines on Hollywood's biggest night with a cocktail that mixes sweet and tart notes and beautifully sparkles with a candied blood orange slice garnish. "The Moët 75" plays to the senses with the aroma of honeyed citrus paired beautifully with the bright fruitiness and elegant maturity of Moët's iconic champagne, Moët & Chandon Impérial.
The popular three-hour ceremony serves as the official kickoff to awards season and will be broadcast live coast-to-coast. This year's Golden Globe nominees include Mary J. Blige, Sterling K. Brown, Jessica Chastain, Daniel Day-Lewis, Armie Hammer, Tom Hanks, Hugh Jackman, Nicole Kidman, Eric McCormack, Elisabeth Moss, Octavia Spencer, Meryl Streep, Denzel Washington, Reese Witherspoon and Shailene Woodley. For the full list of winners and nominees please visit: https://www.goldenglobes.com/winners-nominees.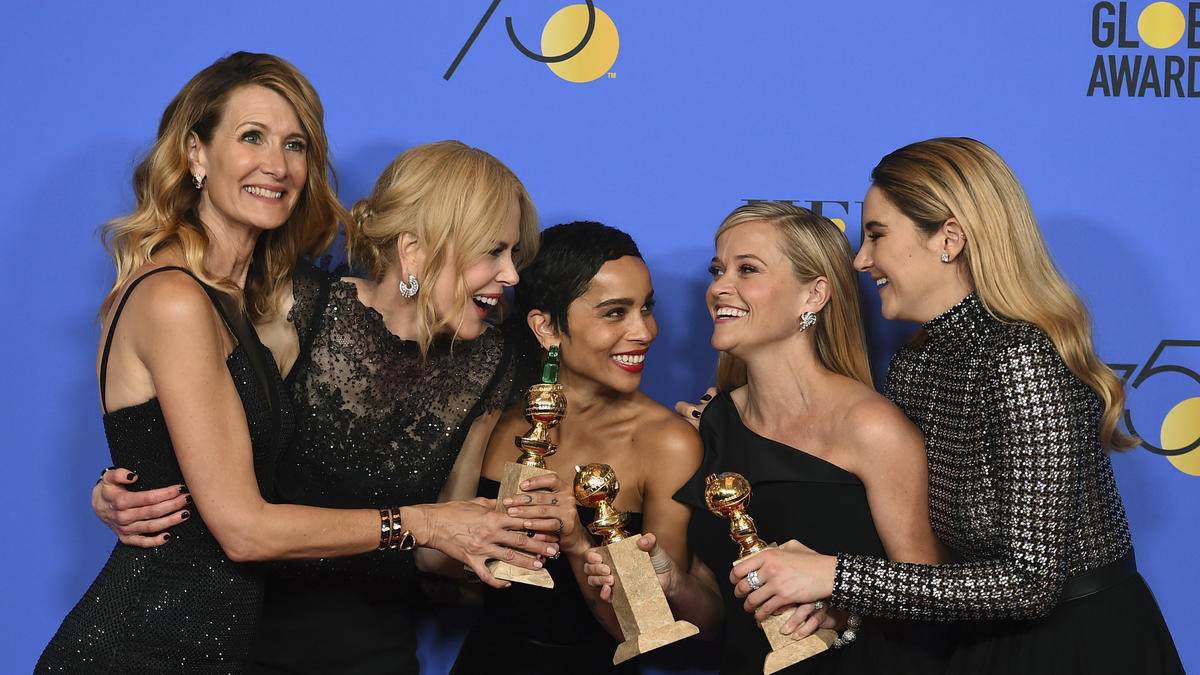 Laura Dern, Nicole Kidman, Zoe Kravitz, Reese Witherspoon and Shailene Woodley pose in the press room on Sunday, Jan. 7, 2018 with awards for "Big Little Lies" at the 75th annual Golden Globe Awards at the Beverly Hilton Hotel. The HBO series won four awards on the night, including Best Television Limited Series Or Motion Picture Made For Television. (Photo by Jordan Strauss/Invision/AP)
"Lady Bird" and "The Shape of Water" took home big awards, and "Big Little Lies" took home four awards. Emma Stone and Billy Jean King shared inspiration on equal rights for women, while Oprah blew the roof off the place sharing about little girls who could expect a new future. The cast of "Stranger Things" were adorable on the carpet, and so many determined women in beautiful black gowns was so impressive. It was a historic night for women, not doubt about that!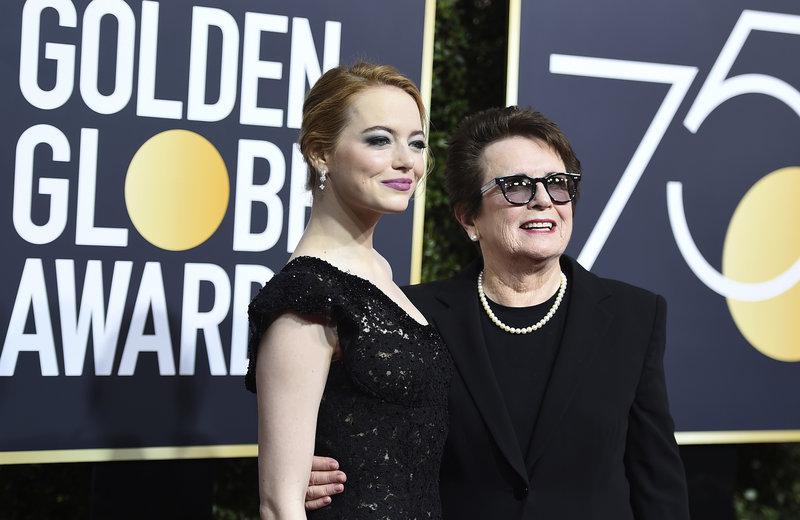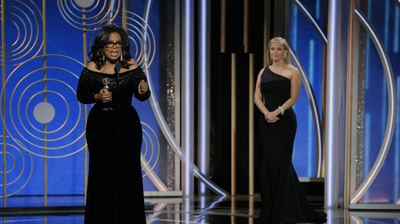 Emma Stone & Billy Jean King                                           Oprah Winfrey & Reese Witherspoon
_____________________________________________
Bluewater Grill Santa Barbara
Will Support Thomas Fire Fund
When it Opens Jan. 22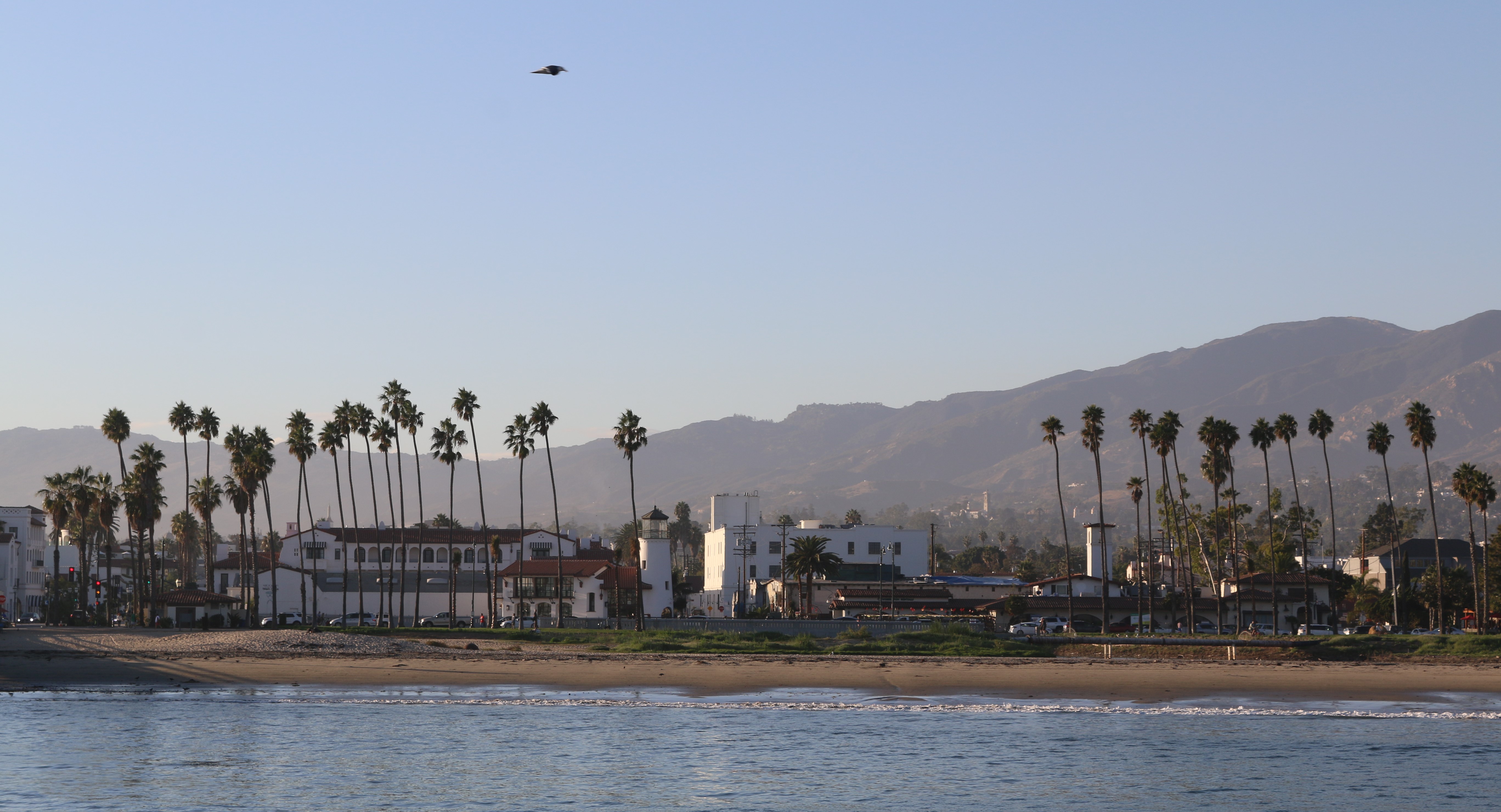 Bluewater's eight destination restaurant
will occupy historic lighthouse at foot of Stearns Wharf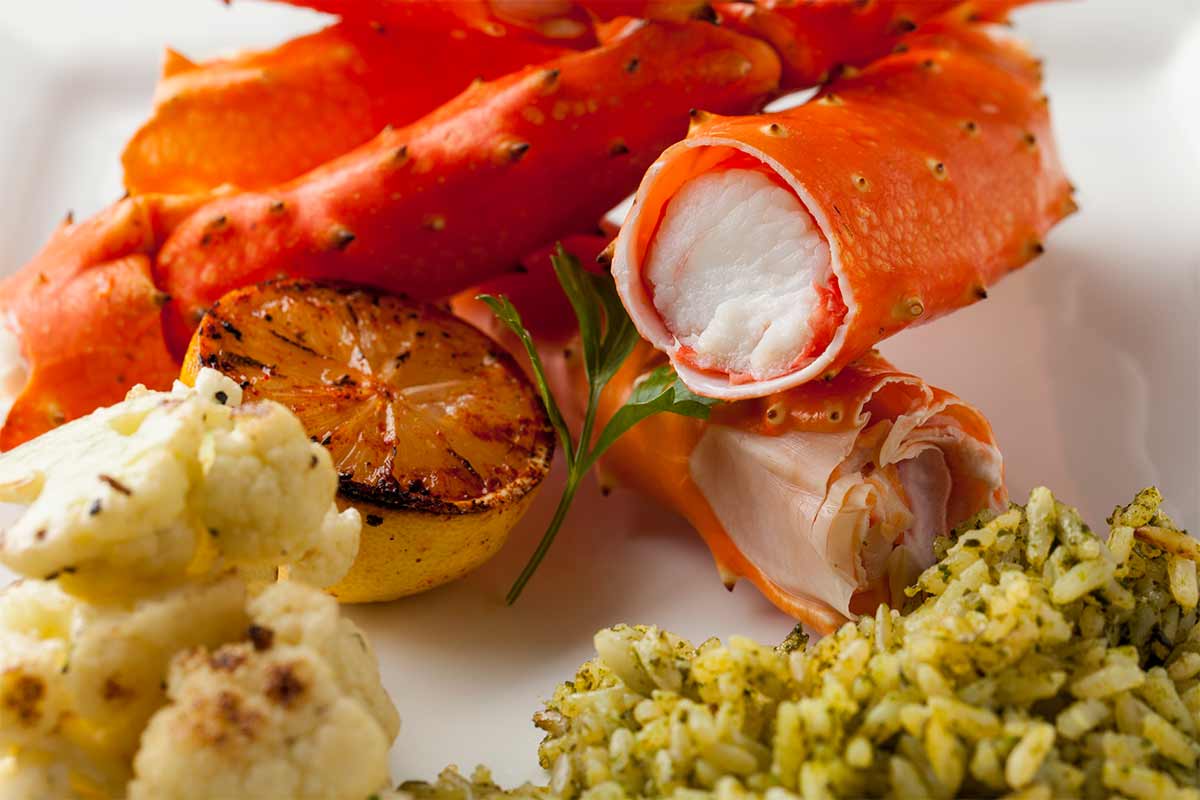 Bluewater Grill Seafood Restaurants has announced that it will support residents and first responders impacted by the Thomas Fire when it opens its eighth Bluewater Grill destination restaurant at the foot of Stearn's Wharf on the Santa Barbara beachfront on Jan. 22, 2018.
Bluewater Grill Santa Barbara will combine fresh, sustainable seafood with monthly chef's tastings, Central Coast wine pours and neighborhood happy hours in a rebuilt historic lighthouse structure previously occupied by the famous Castagnola Lobster House at 15 E. Cabrillo Blvd.
            In response to the devastating Thomas Fire, the restaurant will donate a percentage of its proceeds in 2018 to the Thomas Fire Fund, established by the United Way of Ventura County, United Way of Santa Barbara County, American Red Cross of Ventura County and Ventura County Sheriff's Office of Emergency Services. 
            "We've been working with the City of Santa Barbara for more than a year so already feel a part of this close-knit community," explained Jimmy Ulcickas, Bluewater co-founder and co-owner.  "In addition to directly supporting the fire-relief effort, we look forward to doing what we can in 2018 to come alongside residents, firefighters and others impacted by the fire."
Bluewater Grill Santa Barbara becomes the eighth Bluewater neighborhood restaurant, joining locations in Newport Beach, Redondo Beach, Temecula and Coronado, Calif., and Phoenix; and Bluewater Avalon on Catalina Island. Bluewater Grill Carlsbad debuted in Carlsbad Village in November.
Earlier this year, Bluewater announced Chanel Ducharme, former chef de cuisine at the Hungry Cat in Santa Barbara, as executive chef, and Colin Lohenry, part of the team at the original Bluewater Grill in Newport Beach's Cannery Village, as Bluewater Grill Santa Barbara general manager.
            The former Castagnola Lobster House is being rebuilt with an inside/outside second-story bar to take advantage of spectacular sunset and ocean views. Offering a sophisticated local twist on Bluewater seven other locations, Bluewater Grill Santa Barbara will blend an upscale coastal casual theme with subtle references to the Bluewater founders' ties to Santa Barbara.  Avid fishermen, Staunton and Ulcickas regularly fish the Channel Islands aboard Bluewater's own Pilikia swordfish harpoon boat to humanely catch pristine-quality swordfish.
            Bluewater Grill Santa Barbara will serve lunch, dinner and small plates daily on two floors of the newly constructed building, an oyster bar, dining counter overlooking an open kitchen and an upstairs dining patio and bar offering beach views, local Santa Barbara County wine flights and locally caught seafood purchased directly from local commercial fisherman.
            The new restaurant will print new lunch and dinner menus regularly to be able showcase the freshest seafood and shellfish, and offers a separate kid's menu certified by the National Restaurant Association's Kids LiveWell program and a popular weekday small plates menu of $4, $6 and $8 drink and appetizer specials.
Another expected highlight will be a year-long calendar of seasonal seafood specials and monthly Chef's Tasting events pairing seafood with hand-selected wines, sakes or specialty draught beers. Hosted the second Tuesday of every month, the events have become a popular monthly diversion for local seafood aficionados and Bluewater Grill's fan base.
To learn more about or donate to the Thomas Fire Fund, go to http://vcunitedway.org/.
For more information about Bluewater Grill Santa Barbara, visit the restaurant's constantly expanding web and Facebook pages. For menus, locations and operating hours for the seven other Bluewater restaurants in Southern California and Arizona, go to www.bluewatergrill.com.
 About the Thomas Fire Fund
The Thomas Fire Fund is a strategic partnership between the United Way of Ventura County, United Way of Santa Barbara County, the American Red Cross of Ventura County and the Ventura County Sheriff's Office of Emergency Services helping the community impacted by the Thomas Fire. 100% of proceeds goes directly to the fund. For information, go to http://vcunitedway.org/.
 
About the Bluewater Family of Seafood Restaurants
Bluewater Grill serves the freshest sustainably caught or farm-harvested seafood, innovatively prepared, in an atmosphere of casual style and at a surprisingly affordable price.
 In addition to the original location in Newport's Cannery Village, there are Bluewater Grills at King Harbor in Redondo Beach, in the Camelback neighborhood of central Phoenix and in Temecula Wine Country in Southern California's Inland Empire.  As part of the company's commitment to one-of-a-kind settings, Bluewater Avalon and Bluewater Boathouse Seafood Grill serve locally caught seafood from two of Southern California's most picturesque locations: over the water on Avalon Bay on Santa Catalina Island, and in the former Hotel del Coronado boathouse on Coronado Island in San Diego, respectively.

Bluewater founders opened a seventh restaurant in Carlsbad Village in November 2017 and announced plans for an eighth location on the Santa Barbara beachfront in early 2018.
For details, go to www.bluewatergrill.com or visit us on Twitter or Instagram. Each Bluewater restaurant also has its own Facebook page for restaurant-specific menu offers, recipes, events and local happenings.
____________________________________

SPECIALTY FOODS NEWS
Here are the Trendspotters' predictions for the top 10 food trends of 2018:
1.    Plant-based foods. Plant-based options are proliferating in many categories beyond meat substitutes. Segments like cheese and frozen desserts are enjoying growth in plant-based subcategories. As for meat alternatives, algae is winning fans. 2018 will bring more plant-based convenience foods too.
2.    Upcycled products. As consumers become more aware of how much food is wasted in the U.S., upcycled products made of ingredients and scraps that would have otherwise been discarded, will hold bigger appeal. We're already seeing pressed juice made from imperfect fruit, chips made from fruit pulp, and snack bars made from spent grain from the beermaking process. Expect more to hit the market in the coming year.
3.    Filipino cuisine. Often overshadowed by other Asian cuisines, the foods of the Philippines have not yet captured a broad U.S. audience. That's shifting, as American palates have become more sophisticated and attuned to the complex flavors and bitter or sour notes of Filipino dishes. Chefs and tastemakers are taking to this cuisine that infuses Asian and Latin flavors, and #filipinofoodmovement, founded in 2012 to create awareness and appreciation of Filipino culinary arts, is a growing force.
4.   Goth food. Possibly a reaction to the 2017's deluge of rainbow and unicorn foods, black is the new black. Activated charcoal—produced by heating coconut shells to extremely high temperatures until they are carbonized—is gaining superfood status for its reported detoxifying attributes and is being used as a surprising twist in everything from pizza crust to lemonade to ice cream. We'll see it spread in the coming year. 
5.    Alt-Sweet. With sugar topping the list of dietary watch-outs, consumers continue to look to alternative sweeteners for lower glycemic impact, fewer added-sugar calories, and intriguing sweet flavors as well as sustainable footprints. Syrups made from dates, sorghum, and even yacon and sun root will join monk fruit on the market as emerging options for sweet.
 6.    Product labeling 2.0. More is more when it comes to product labeling. Consumers will seek greater on-label visibility into the farms, ingredient sources, and supply chain of each item in their shopping basket. GMO transparency is among the most prioritized details, but shoppers want new depths of information across the spectrum, including Fair Trade certification, responsible production, and no animal testing.
 7.    Root to stem. Between nose-to-tail butchery and reducing food waste, a few forces are combining to inspire root-to-stem cooking—utilizing the entire fruit or vegetable, including things like stems or leaves that are less commonly eaten.
8. Cannabis  cuisine. As more stat3es legalize recreational marijuana, the varieties of pot-enhanced food and beverage will increase. Look out for continued interest and acceptance in a host of snacks, treats, beverages and a little something extra.
(*The Specialty Food Association recognizes that Federal law prohibits the possession, sale or distribution of marijuana, but its sale and use is declared legal under some state laws. In recognizing cannabis as a food trend, the SFA in no way endorses or encourages activities which are in violation of state or Federal law.)
9.    A (deeper) feast from the Middle East. Foods like hummus, pita, and falafel were easy entry points, but now consumers are ready to explore the deep traditions, regional differences, and classic ingredients of Middle Eastern cultures, with Persian, Israeli, Moroccan, Syrian, and Lebanese influences rising to the top.
10. The rise of traditional bread. Although much attention has been placed on gluten-free options in recent years, the traditional side of bakery has also been elevated by the same sourcing and fine-tuned production processes we see with proteins and vegetables. Bakers are using local grains, milling the day before baking, and incorporating long proofing times, re-inventing what good bread means.
 Additionally, the Trendspotter Panel says we'll see even more:
·       cricket flour and non-grain sustainable proteins;
·       fermented foods;
·       cocktail mixers and bitters for home use;
·       savory flavors where one would expect sweet;
·       pasture-raised animals for welfare, better health, and taste;
·       bananas transformed into milks, snacks, frozen desserts, and flours and baking mixes.
 Also on the radar: Eating for beauty with products like collagen-infused foods; moringa as the new superfood; mushrooms (extracts, powdered, or whole) as a functional ingredient in everything from chocolate to lattes.
 The Trendspotter Panel will reconvene at the Winter Fancy Food Show in San Francisco from January 21-23. The Winter Fancy Food Show is a trade-only show. More information can be found at specialtyfood.com
About the Trendspotter Panel:
Kenneth Blanchette, FreshDirect  
Blanchette is director of sourcing for online grocer FreshDirect where he travels the world curating products. On recent sourcing trips through Italy, Blanchette selected Olio Novello, farm- and field-specific tomatoes in Campania, and DOP prosciutto and roasted meats from Emilia-Romagna.
 Jonathan Deutsch, Drexel University  
Jonathan Deutsch, Ph.D., is professor of culinary arts & food science at Drexel University. He oversees Drexel Food Lab, a good food R&D lab. He is the author or editor of six books including "Barbecue: A Global History" (with Megan Elias). He can also be found behind his tuba.
 Kara Nielsen, CCD Innovation
Kara Nielsen is a food and beverage trend expert with over a decade of experience translating trends for strategic brand growth and innovative product development. She is vice president, trends & marketing at CCD Innovation, a strategic food and beverage innovation agency based in the San Francisco Bay Area, where she was a trendologist for many years earlier in her career. She has also been involved in consumer and culinary trend content and services at Innova Market Insights, Sterling-Rice Group, and CEB Iconoculture Consumer Insights. Nielsen is a frequent speaker on food trends at industry trade shows and conferences, and is quoted regularly in national and industry media. Her success at placing trends in a larger societal and cultural context comes from her background in culinary arts and restaurant hospitality as well as her Master's degree studies in Gastronomy at Boston University.
Perla Nieves and Alysis Vasquez, Midnight Market
Perla Nieves and Alysis Vasquez are long-time friends and Jersey City, N.J. residents. Originally from central New Jersey, they moved to Jersey City to seek opportunity and become part of a vibrant urban community. Vasquez, the owner and chef of Chilltown Kitchen, has been featured on Food Network's Chopped and boasts 14 years in the hospitality industry. Nieves has a background in social media marketing and currently works as an assistant property manager for Silverman. They opened Midnight Market with the vision of creating a more accessible Jersey City for small businesses and the community at large.
 Alison Tozzi Liu, James Beard Foundation 
Alison Tozzi Liu oversees publications, communications, and marketing at the James Beard Foundation. In her 12 years at JBF, she has helped grow the Foundation's social media and multimedia programs and helped increase awareness of the James Beard Foundation across the country.
 Elly Truesdell, Whole Foods Market
As global senior coordinator of local brands, product innovation & development, Elly Truesdell leads strategic partnerships for local purchasing programs across Whole Foods Market. Her expertise in food trends and brand development grew from eight years of leadership in purchasing and marketing at Whole Foods Market's Northeast Region. Elly made her mark by identifying and launching local products, overseeing the Northeast's grocery program, and cultivating emerging suppliers for national distribution. When she's not discovering new brands, she spends her time cooking, traveling, hiking, and enjoying life with friends and family.
 About the Specialty Food Association
The Specialty Food Association is a thriving community of food artisans, importers, and entrepreneurs. Established in 1952 in New York, the not-for-profit trade association provides its 3,500 members in the U.S. and abroad with resources, knowledge, and connections to champion and nurture their companies in an always-evolving marketplace. The Association owns and produces the Winter and Summer Fancy Food Shows, and presents the sofi™ Awards honoring excellence in specialty food. Learn more at specialtyfood.com.

---