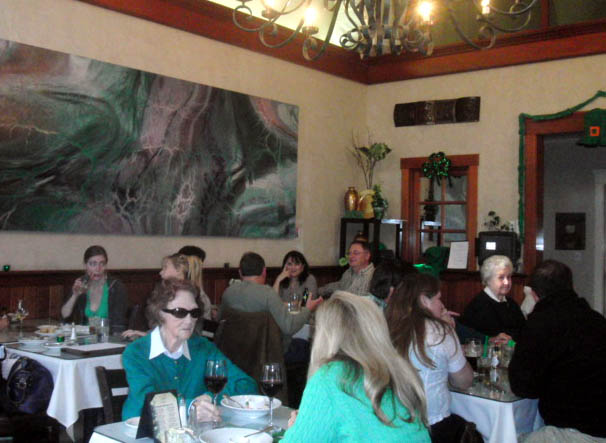 St. Patty's Day with Willie & Trina at La Arcada Bistro
by Bonnie Carroll
Upper State in Santa Barbara was alive with the authentic sounds and cuisine of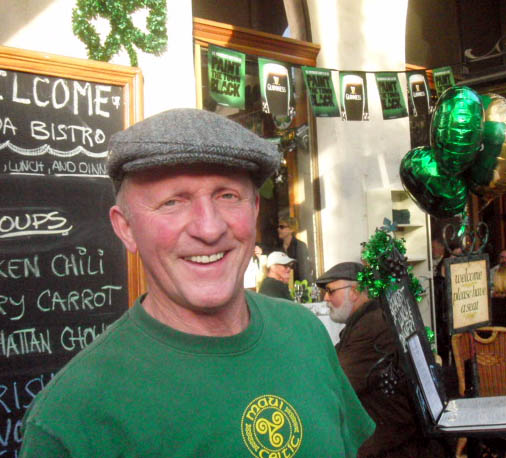 Ireland for St. Pat's Day. Willie & Trini Quinn, proprietors of La Arcadia Bistro at 1112 State, a few doors from the Santa Barbara Museum of Art, were serving corned beef with cabbage and a signature Lamb Shepherds Pie that would have charmed my dear grandmother, who was by the way born near County Mayo in Ireland, which is also the birthplace of Willie Quinn. We loved the Irish soda bread served with fresh salmon or Dubliner cheese and Kerry Gold butter.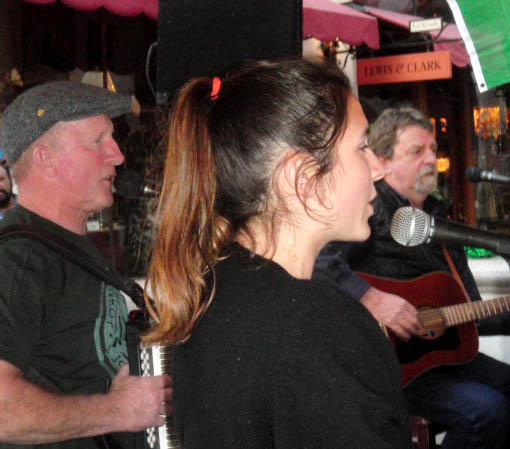 With Willie's Irish band, dancing and singing by his beautiful daughters, and an atmosphere of great fun and good cheer the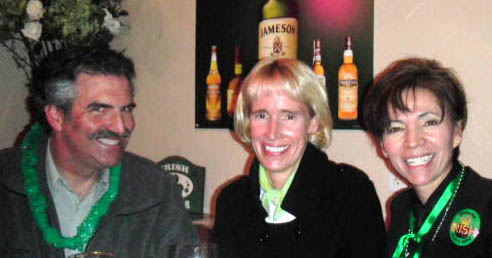 restaurant and outdoor patio was overflowing with people having a tasty and memorable St. Pat's, including Santa Barbara politico Dale Francisco, and KEYT 3 TV senior reporter John Palminteri. It was inspiring to see huge families of ten dining together in celebration of  the 'green' holiday.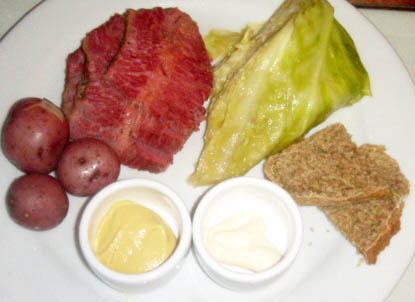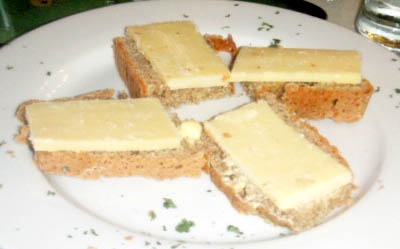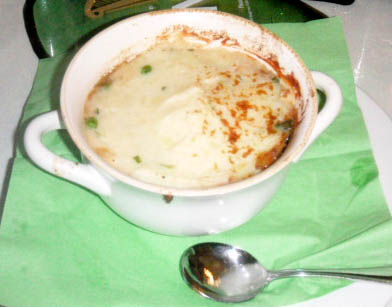 Irish faire is always on the Bistro menu, along with a sizable breakfast, lunch and dinner list of delicious continental and American plates. They offer a variety of delicious home-made soups with sandwiches daily, and a collection of wonderful salads. Their main courses include everything from pasta, fish selections, NY steak, chicken piccata, beef burgers, and Irish specialties, along with countless sides, and a wonderful breakfast menu.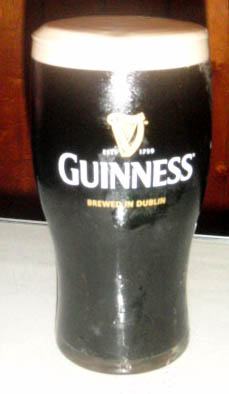 Guinness pints and a signature Irish coffee that could rival the old Buena Vista's in San Francisco, as well as a full bar of cocktails provide endless options to wet your whistle. Their wine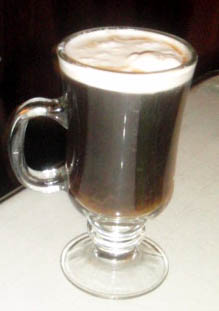 list is quite good and affordable, by the bottle or the glass.The outdoor patio offers patrons a view of State Street activity and is a pleasant resting place for shopper's, tourists and locals. 
It's nice to see another new place to eat on State Street, with owners who dearly understand the meaning of warm hospitality.  Slainte! (to your good health in Gaelic).
For information call (805) 965-5742 or visit www. laarcadabistro.com/.
___________________________________________________________________
SHARP CHEFS USE SHARP KNIVES  
By Bonnie Carroll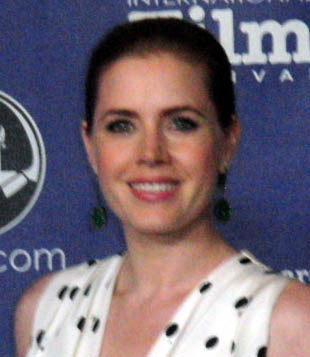 During a recent interview of Amy Adams who was being presented the Santa Barbara International Film Festival's Cinema Vanguard Award at the Arlington Theatre the petit and talented actress discussed her role in Julie & Julia, in which she portrayed a writer determined to cook her way through Julia Child's "The Joy of Cooking". "I am not really a cook, but the one thing I have learned is that you absolutely must have a sharp knife to cook" said Adams. The audience laughed because we all understood the basic truth in her statement.
Any professional chef will tell you that his/her knives are his/her life blood, and enable them to do their finest culinary creations with precision and efficiency. Following 9/11 when countless chefs arriving at airports traveling on their way to participate in Wolfgang Puck's Food & Wine Festival at Universal Studio were stopped and told they could not fly with their knives, and many declined to take the flight and stayed home rather than lose their valuable cooking essentials. A good knife will make or break you in the kitchen and this is a known fact to home chefs and master chefs alike.
In my own kitchen I prefer the Chef's Choice small hand sharpener,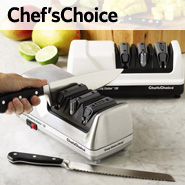 however, the company recently came out with a professional knife sharpening station that looks sensational and works like a charm. The new system safely sharpens all types of knives, including straight edge, serrated and even pocket knives.
Really good knives are a lifetime investment, and caring for them is important. Getting them sharpened professionally for free at Sur la Table has always been my elected mode until I tried a Chef's Choice in my own kitchen, which has worked well for me ever since. My good German knives are dear to me and keeping them in good shape is vital. I noticed recently that Chef's Choice also sells cooking knives that are a value.
Whether you are paring vegetables or fruits or carving a turkey it is all about the right knife and sharp edges to make it all work. If you are tight on space or on a budget get a small hand sharpener. If you do a huge amount of cooking the new sharpening station may be ideal for your needs. Either way don't forget that even Academy Award winning stars know that you have to have a sharp knife to cook!
For more assistance on achieving culinary star prowess using the right knifes and sharpening methods visit www.chefschoice.com.
__________________________________________________________________
 Epicurean Adventures
PROMENADES GOURMANDES KICKS OFF SPRING WITH NEW OFFERINGS AND A NEW GENERATION OF TALENT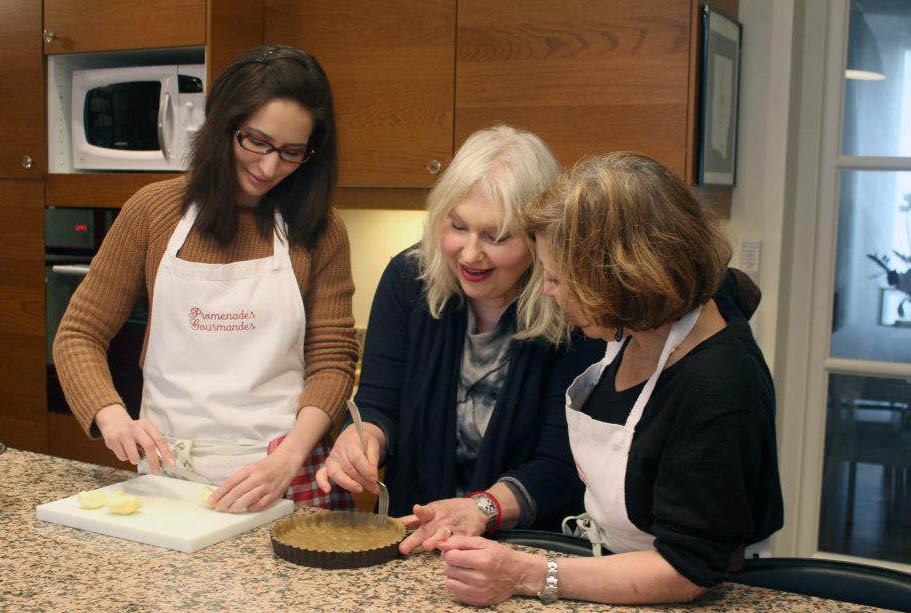 PARIS' MOST AUTHENTIC SOURCE FOR RECREATIONAL CULINARY EDUCATION TO OFFER NEW PROGRAMS, NEW TOURS, INTIMATE DINNERS AND SPECIAL GUESTS FOR UPCOMING SEASON
As springtime approaches, recreational cooking school, Promenades Gourmandes and its founder Paule Caillat, have announced a new roster of activities to entice culinary enthusiasts looking for a taste of French cuisine and culture during the upcoming tourist season in Paris. Also announced was the addition of business partner, Aude Barbera, a 30 year old native Parisian and trained chef, with vast private chef and restaurant experience.
Promenades Gourmandes' new offerings, many inspired by the Caillat-Barbera team's unique expertise and vast industry relationships, include intimate dinners in a true Parisian home for up to 10 individuals; revamped markets tours featuring new purveyors such as Terroirs d'Avenir; special events and hands-on master classes with acclaimed chefs including Daniel Rose (Spring); and gourmet walks with itineraries that showcase some of Paris' best and unique purveyors such as Olivier Roellinger.
"Given the ever changing landscape of the culinary world, the addition of new offerings and more importantly, Aude Barbera to the team, will ensure that Promenades Gourmandes maintains a truly contemporary vision," said Ms. Paule Caillat. "I am thrilled to share culinary insight and expertise from a new generation of talent with our students."
Born and raised in Paris, Aude Barbera started her career in London, like many French people of her generation. It was not in food, although the passion had always been there. Four years ago, Aude moved to Cape Town, South Africa and shortly after quit her technology job to study at a Cooking Academy. Back in Paris permanently, she has joined forces with Paule Caillat as a full time partner at Promenades Gourmandes. In addition to sharing cooking class, market tours and gourmet walk responsibilities, Aude's focus at Promenades Gourmandes will be to enhance the patisserie training program, launch a dinner series and work with a new generation of chef talent for a special event master class series.
Promenades Gourmandes, founded by Paule Caillat in 1997, is Paris' most authentic source for recreational culinary education. With hands-on classes in a true Parisian home, market tours and gourmet walks with two generations of native Parisians, Promenades Gourmandes is an incubator of French cuisine and culture. The school's unique cooking courses, from serious amateur to recreational classes, its unmatched hospitality, knowledge of French cuisine and culture, its state-of-the-art facility in the heart of the Marais and its proximity to the historic Les Halles, provide the very best environment for culinary enthusiasts to develop their French repertoire.
For additional information on Promenades Gourmandes or to make a reservation on any of the classes, please call+ 33 1 48 04 56 84.Visit Promenades Gourmandes online at www.promenadesgourmandes.com.
__________________________________________________________________ 
---