CULINARY COUP    .    .    .
  COASTING with BONNIE CARROLL
SENSATIONAL BITES TO SAVOR IN SOLVANG
Mad & Vin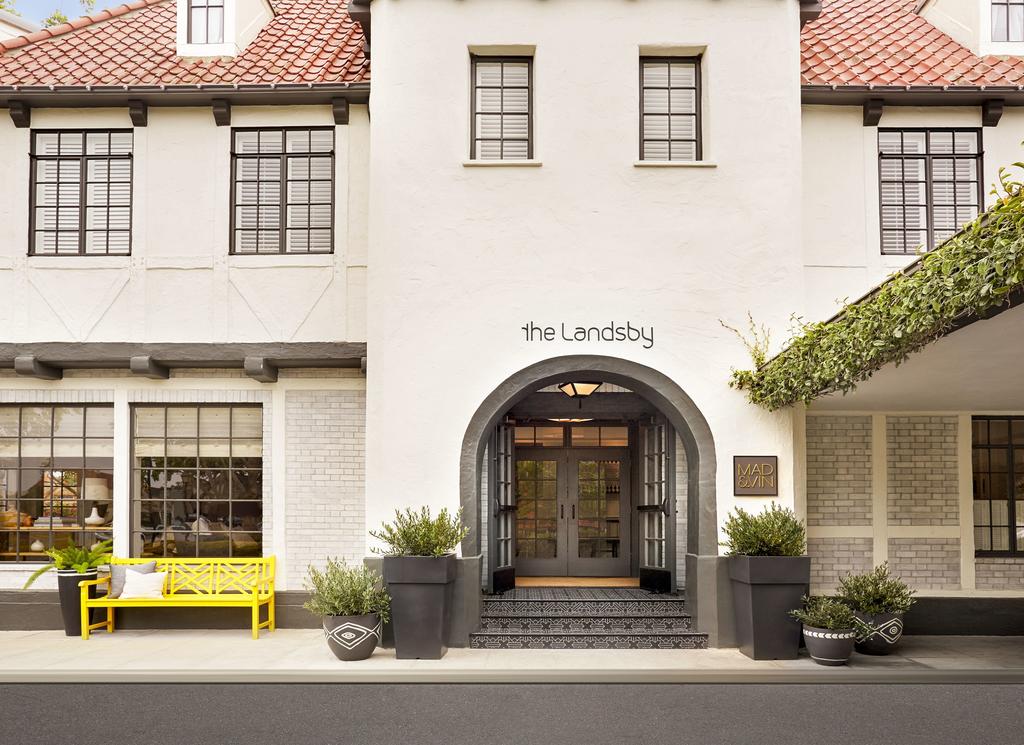 Mad & Vin at The Landsby Hotel on Mission Drive in Solvang offers a delicious collection of small plates with local wines or creative cocktails in the lounge or on their relaxing outdoor patio, complete with a firepit for romatic summer evening socializing. The lounge has a living room appeal that is welcoming and an enjoyable place to listen to music and enjoy a signature cocktail. The outdoor patio has scheduled live entertainment and is a fun atmosphere on weekends and in the evening to meet for food and beverages with friends.
The dining room offers a full menu of delicious entrees, salads, and excellent home-made soups paired with outstanding area wines for dinner, as well as a delicious full breakfast and lunch menu filled with familiar favorites and some unique chef offerings.
Guests at the hotel enjoy the charm of an historic Danish design building, but with all the state-of-the-art comforts in their newly renovated rooms and suites. My personal favorite perk at this hotel is the Mc Connell's ice cream; room service will deliver it to guests to enjoy in bed at the end of a busy day shopping and sight seeing day in Solvang. This is one of my own ultimate favorite get-a-way destinations. Visit: www.thelandsby.com
The Succulent Wine Cafe and Charcuterie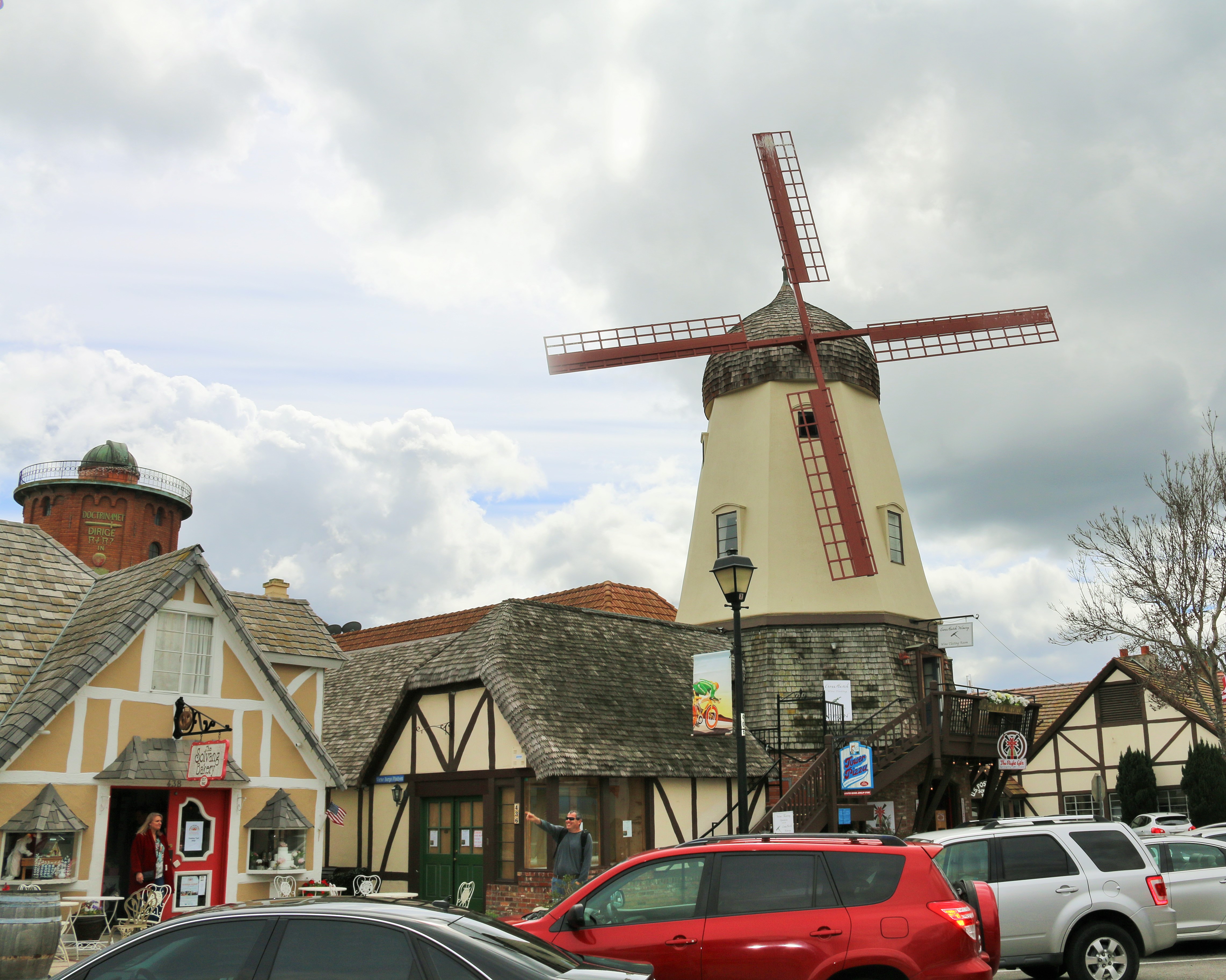 Located across the street from Mad & Vin at 1555 Mission Drive The Succulent Wine Cafe and Charcuterie is open for a hearty or quick on the go breakfast, leisurely lunch and candle lit dinners. If you enjoy wonderful service, a charming atmosphere and some of the best pork dishes you will find anywhere this is your 'go to' place. The owner's take great pride in the menu they have personally designed, and their wine list is among the best in the area.
The patio is large and has a warm and welcoming appeal where guests enjoy breakfast in the morning and in the evening it becomes a lively dinner venue where couples and whole families gather to enjoy summer evenings over great food and wine. My favorite dish was three little pigs, a dish of pork tenderloin wrapped in bacon, but they also offer an outstanding braised beef dish and finger lickin' good chicken. I've heard that Bacon lovers come just to experience their bacon sunday dessert.
The wine list at Succulent is extensive and very impressive, with wines from around the world and many favorites from the Santa Barbara and Santa Ynes area. Their attractive wall of wine in their warm and inviting diningroom displays the wines available to enjoy with your meal. Visit: www.succulentcafe.com.
Olsen's Danish Bakery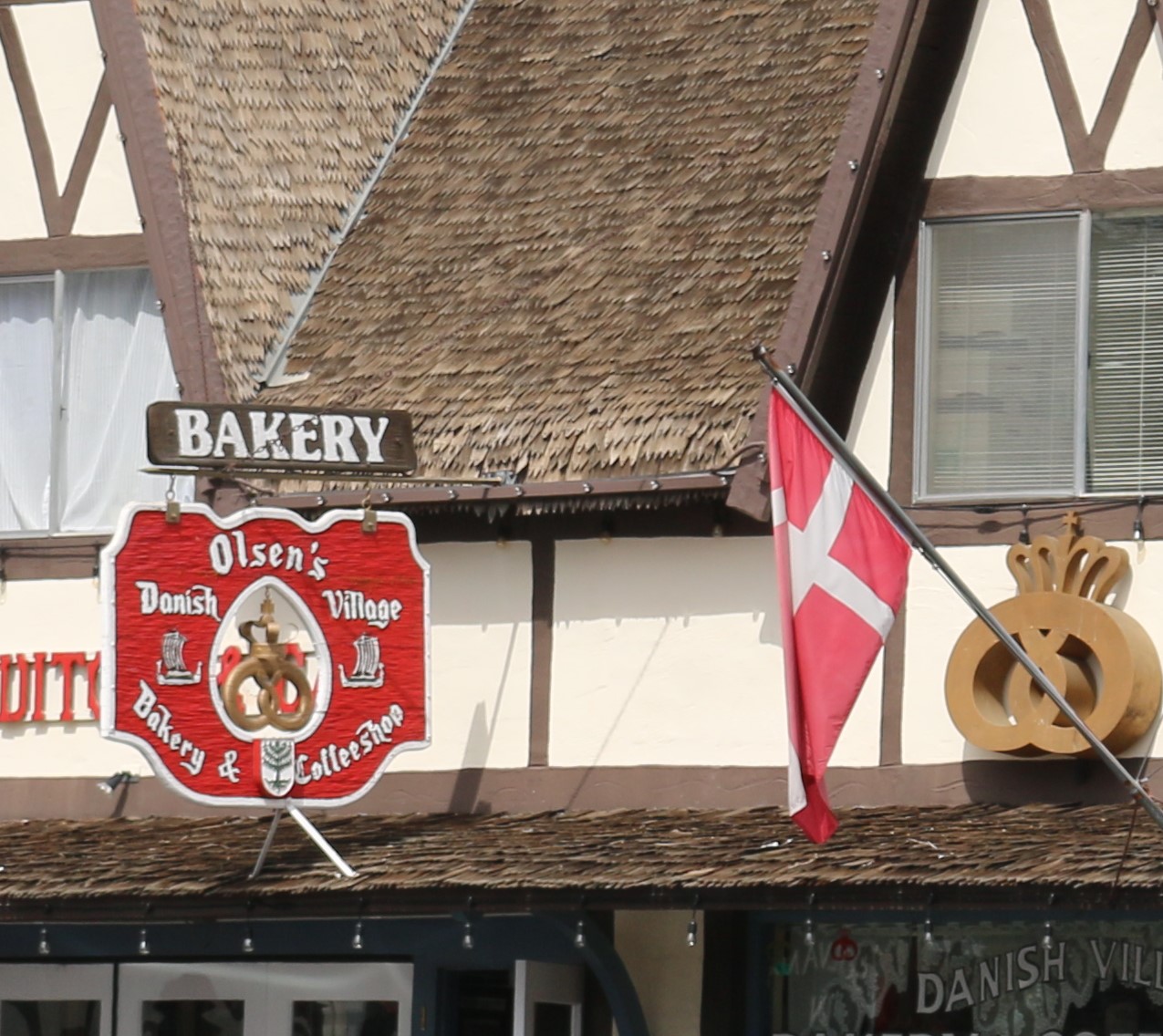 Olsen's Bakery is located at 1529 Mission Drive, down the street from The Landsby Hotel, and has been a favorite of mine for over twenty years. Olsen's was established in Denmark in 1890 and has been operated by four generations of the Olsen family. They offer breakfast and lunch, but are known for their outstanding Danish pastries including cookies, cakes and a bevy of divine baked sweet treats. The bakery is a bee hive of activity and is always packed with locals and tourists wishing to savor some authentic Olsen favorites with coffee or tea.
My personal favorite is their chocolate eclair that is simply outstanding, as well as their original Danish pastries. The Olsen's cookies can be purchased in a large tub to take home or give as a gift. The owners of this bakery have won many awards but most importantly they have won the hearts of people like me who enjoy sharing Danish cookies with my grandson in a charming European style bakery/restaurant. Visit: www.olsensdanishvillagebakery.net.
For information on what to do while in Solvang visit www.solvangusa.com.
____________________________________
JESSICA PRÉALPATO NAMED
THE WORLD'S BEST PASTRY CHEF AS PART OF 
THE WORLD'S 50 BEST RESTAURANTS AWARDS 2019
The Head Pastry Chef at Alain Ducasse au Plaza Athénée in Paris, Jessica Préalpato, has been voted TheWorld's Best Pastry Chef 2019. Préalpato receives her award, which is sponsored by Sosa, in advance ofThe World's 50 Best Restaurants 2019 awards ceremony, which takes place on 25 June in Singapore. TheWorld's 50 Best Restaurants, sponsored by S.Pellegrino & Acqua Panna, is a celebration of the pinnacle of global gastronomy, bringing together a unique community of world-leading chefs, restaurateurs, food- lovers and global media for the Oscars of the dining world.
Born into a family of pastry cooks, dessert was always going to be a key player in Préalpato's life. Growing up in Mont de Marsan, she first pursued a degree in psychology, before realising her true calling: to create natural desserts. Her work majors in the best use of seasonal produce, creating plates that are high in flavour, but also light on the palate.
____________________________________
    LOCAL FARMS GETTING READY FOR FIRST COUNTY SB FARM DAY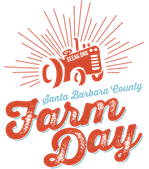 Local farmers are preparing for the first Santa Barbara County Farm Day Saturday, September 28. On Farm Day, ranches, wineries and nurseries in Santa Maria Valley will open their doors to the public so visitors can see how their food is grown. Farm Day is free.
 "We are excited to participate in Santa Barbara County Farm Day as we see this as an excellent opportunity for farmers and ranchers to share their stories while also allowing the public to learn about the origins of their food," says Andrew Rice, vice president of production, Southern District, Reiter Affiliated Companies (RAC). RAC's Union Valley Ranch will be open for tours where it grows organic Driscoll's blackberries and blueberries.
"On Farm Day, we'll be explaining how we grow Driscoll's berries, from the research and genetics that Driscoll's utilizes in developing new varieties, to the cultural growing practices we use to care for and harvest the fruit that you eat, from our farms to your families," says Rice.
Tour hours are from 10 a.m. to 3 p.m. Farm Day visitors travel at their own pace since they drive themselves to the farms they select. Each location is unique, but all feature a number of activities such as educational tours and free produce sampling. A barbecue lunch is available for purchase at Engel & Gray, Inc.
"Farm Day is a chance for the public to see firsthand how their food is produced; there is a lot of misinformation out there, and this gives us the opportunity to help people see for themselves how it actually works. We are very confident that they will like what they see," says Alexandra Allen, co-owner, with her husband Paul, of Main Street Produce, a Farm Day participant that grows strawberries, raspberries and vegetables on over 1,000 acres in Santa Maria Valley.
"As
time
moves
on,
the
general
public
is

farther

and

farther

removed

from

the

farm,

and

yet

more

interested

than

ever

in

where

their

food

comes

from,"

says

Allen.

"Farm

Day

can

bridge

that

gap

and

help

people

learn

firsthand

how

commercial

agriculture

really

works."
Besides Reiter and Main Street Produce, participating agricultural organizations include Allan Hancock College's Agriculture Program, Babé Farms, Bonipak Produce Company, Innovative Produce, Engel & Gray, Inc., L&G Chavez Family Farms, Plantel Nurseries, Primus Labs, Rancho Laguna Farms, Riverbench Vineyard & Winery and Tres Hermanas Vineyard & Winery. More are expected to be added.
Santa Barbara County Farm Day officially kicks off the night before, Friday, September 27 at Tres  Hermanas Vineyard & Winery. From 5 p.m. to 8 p.m., the public can enjoy live music, a "Farm-to-Table" Santa Maria-style barbeque dinner and a Tres Hermanas wine flight. Local produce will be used from some of the participating Farm Day locations.
Santa Barbara County Farm Day is organized by the nonprofit Students for Eco-Education and Agriculture (SEEAG). SEEAG's mission is to help children understand the farm origins of their food
through classroom agricultural and nutrition education and free farm field trips. SEEAG has been hosting Ventura County Farm Day for six years (the seventh takes place November 9). The Ventura County version attracts over 5,000 visitors each year.
"We're thrilled that so many agricultural operations are part of the first Santa Barbara County Farm Day," says Mary Maranville, SEEAG CEO and founder. "It shows that there is a strong desire by the ag community to connect with the public. We're hoping Farm Day will grow to become a treasured annual community event."
For information about participating farms and dinner, visit www.SantaBarbaraCountyFarmDay.com or call 805-901-0213.
____________________________________
CALIFORNIA STRAWBERRY FESTIVAL "BERRY BLAST OFF"RECIPE
Two finalists were selected during the semi-finals round of the 36th Annual California Strawberry Festival's to compete in the May 18th "Berry Blast Off" Recipe Contest finals." Elizabeth Koseyan of North Hills and Emily Falke of Santa Barbara competed on the cooking stage for top honors during the festival on May 18th at Strawberry Meadows of College Park in Oxnard.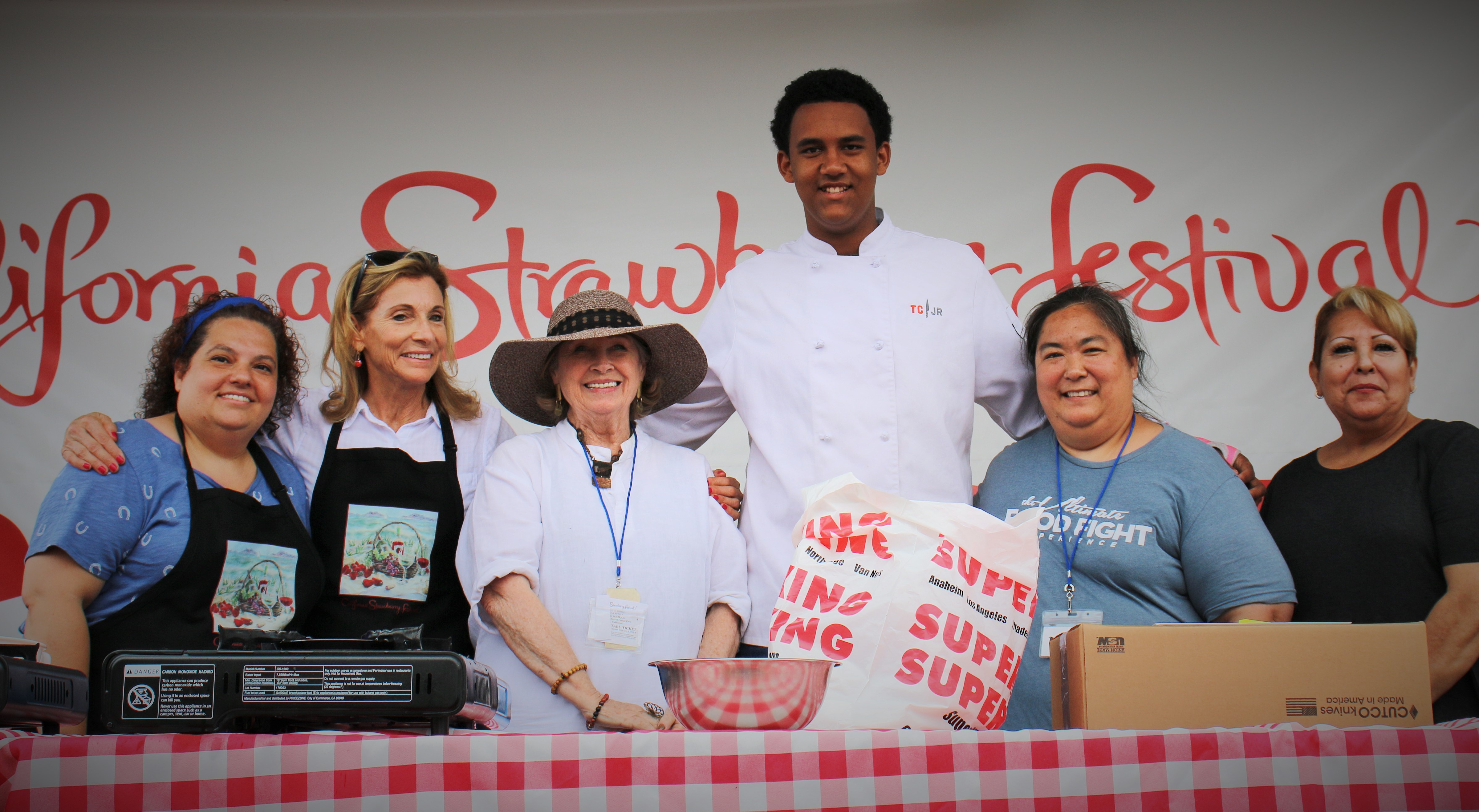 Chefs Elizabeth Koseyan, Emily Falke & Judges Bonnie Carroll, Carson Peterson, Chelsea Madren
Sponsored by the Ventura County Star, the semi-finals for Berry Blast Off were held on May 7 at the Chef's Kitchen in the Courtyard by Marriott, Oxnard. The four semi-finalists, selected from a pool of 72 recipe submissions, had one hour to prepare their recipes and then present them to the five judges for tasting (Judges were Anne Kallas, editor of Ventura News Service, Wendy Leung, Ventura County Star reporter, Chuy Renteria and Mike Lodi, chefs Courtyard by Marriott in Oxnard, and Mark Spellman, Lazer Broad. They prepared their dishes again during the final round, beginning at 1:30 p.m. on the Festival Stage. 2018 winner and defending champion Jake Hagen was emcee for this year's Berry Blast Off. The grand prize winner Emily Falke received a 4-day, 3-night getaway vacation at a Welk Resort property and a Cutco studio knife set valued at nearly $500. The runner-up Elizabeth Koseyan received a 1-night stay at the Courtyard by Marriott Oxnard, a $100 gift certificate to Maddalena Restaurant at San Antonio Winery.
WINNING RECIPE: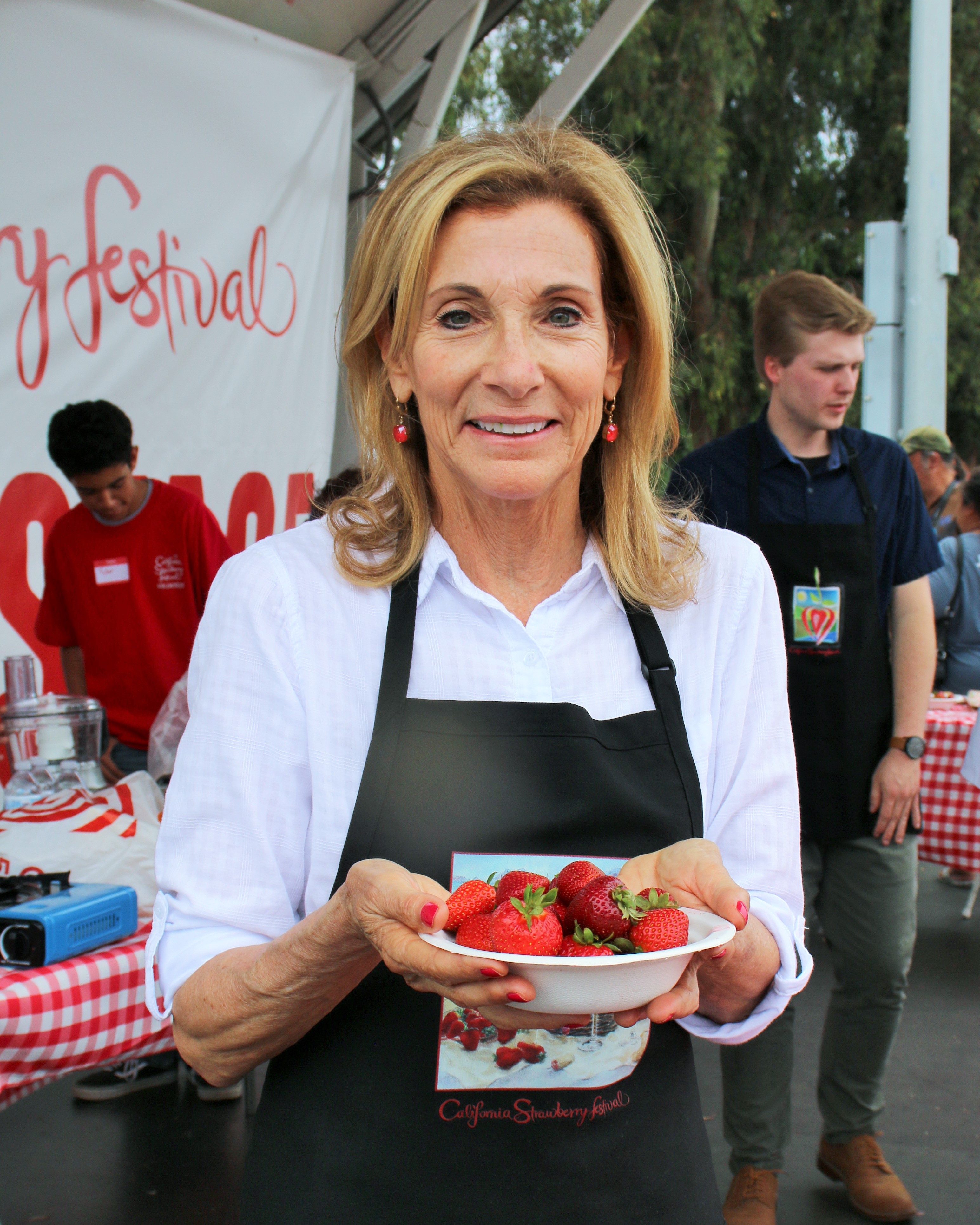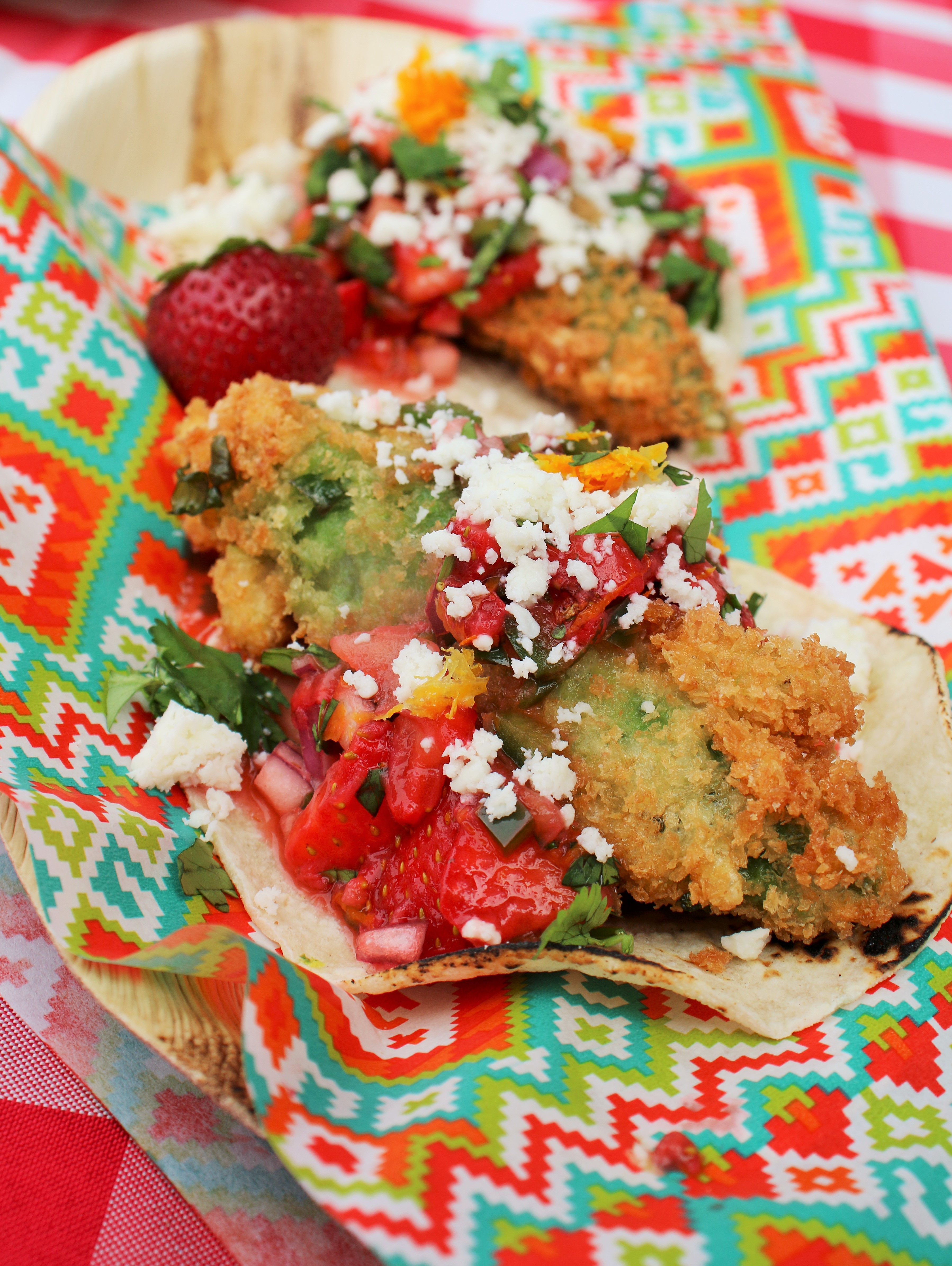 Sweet Spicy Savory Straberry Salsa Drenched Fried Avocado Soft Tacos
Ingredients: Strawberry Salsa: 2 cups fresh strawberries, stemmed, chopped, 1/3 cup red onion, chopped fine, 1/4 cup fresh cilantro, stemmed, chopped, 1 jalapeno pepper, semmed, seeded, minced, 1 tablespoon fresh lime juice, 1 tablespoon fresh orange juice, 1 tablespoon white balsamic vinegar, 1/4 teaspoon salt, 1 teaspoon grated lemon zest, 1 teaspoon grated lime zest, 1 teaspoon grated orange zest. Tacos: 1/2 cup flour mixed with 1/4 teaspoon salt & 1/4 teaspoon pepper, 1 egg, beaten, 1 cup panko bread crumbs, 1 1/2 large ripe but firm avocados, have, pitted, skinned and cut into 10 wedges, 10 small fresh soft white corn tortillas, 2 cups vegetable oil, 1/2 cup cotija cheese, finely crumbled.
Preparation: Make salsa in medium sized bowl, combine strawberries, red onion, cilantro, jalepeno pepper, lime juice, orange juice, white balsamic vinegar and salt. Sprinkle with lemon, lime and orange zest. To prepare fried avocados, place eggs, flour and panko crumbs in 3 separae shallow bowls. Dredge avocado wedges in flour, shaking off excess. Coat with egg and roll in panko crumbs pressing until they stick. In a large deep skillet heat oil until hot and fry wedges a few at a time, turning until golden brown and crisp. about 3 minutes. Transfer to paper towels to drain. For soft taco preparation heat tortillas over an open flame on gas stove turning once until warm and brown on edges. If you don't have a gas stove, use a dry cast iron pan over medium high heat turning once until warm. Assemble tacos by placing a fried avocado wedge in each tortilla, sprinkle with Cotija cheese and drench with strawberry salsa.
______________________________________________________
MOSTO CRUDO WINS BEST LUNCH MENU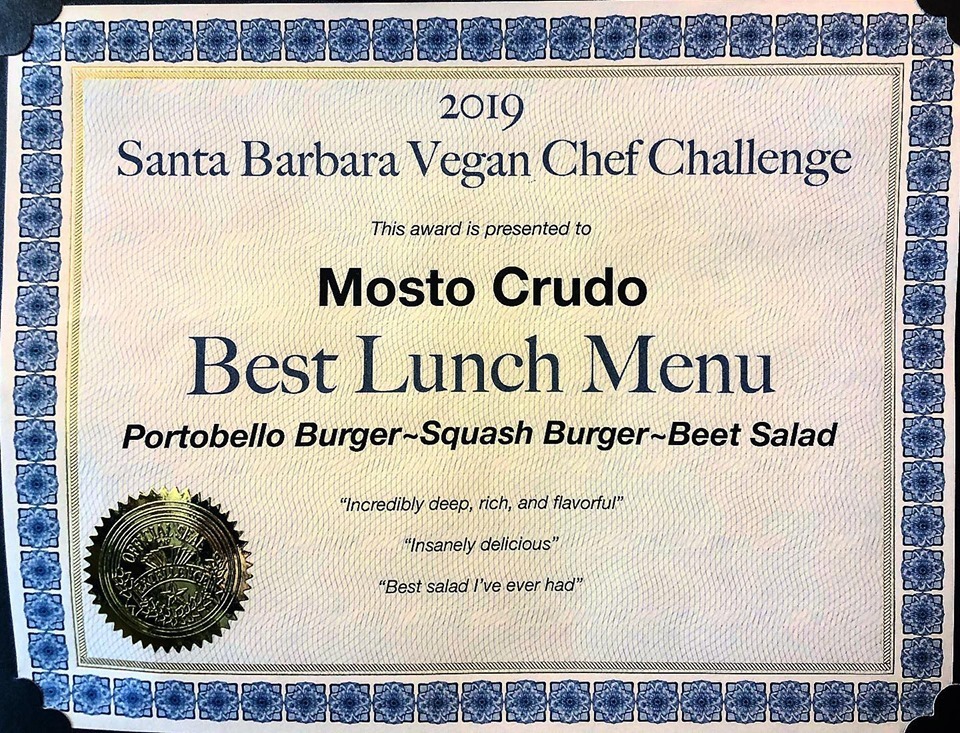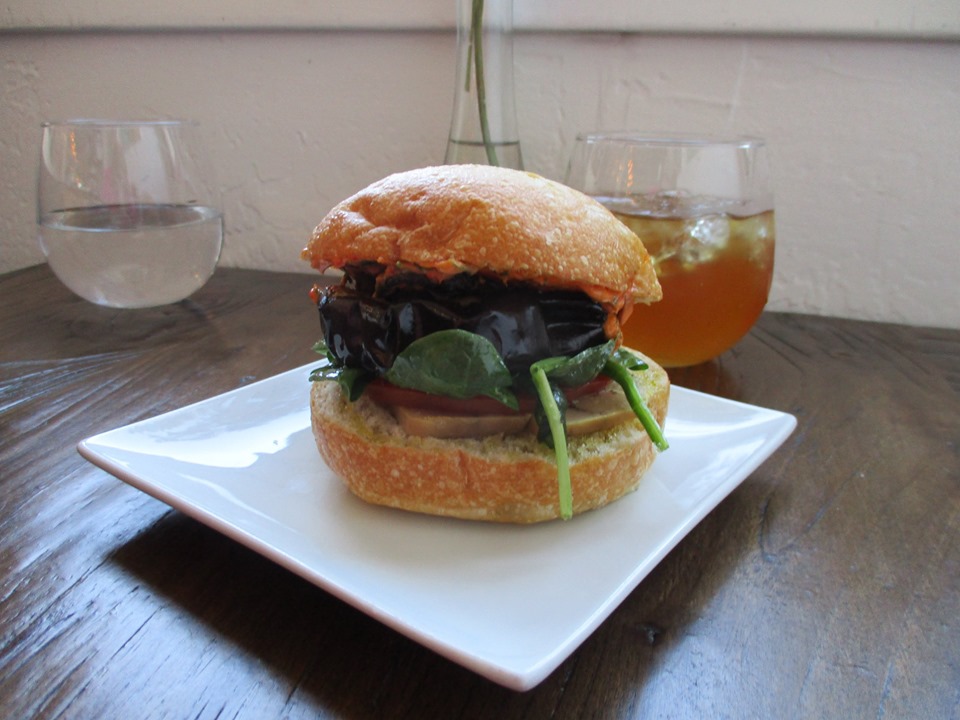 Mosto Crudo was honored for their fabulous lunch menu this month. I love their food and enjoyed a tasting lunch designed by the chef for this competion. The mushroom buger was so flavorful and delicious, salad with strawberries sitting in balsamic is a very filling and tasteful lunch with a soda, juice, cappacinno or wine. The owner/chef is a charming host at this cozy spot, brimming over with great flavors and unique plates, on 7 W. Haley Street, Santa Barbara. Treat yourself to a great tasting and inventive healthy lunch! www.mostocrudo.com.
___________________________________________________________________
Voted Best Authentic Italian Restaurant in Santa Barbara by Italian Tourism LA!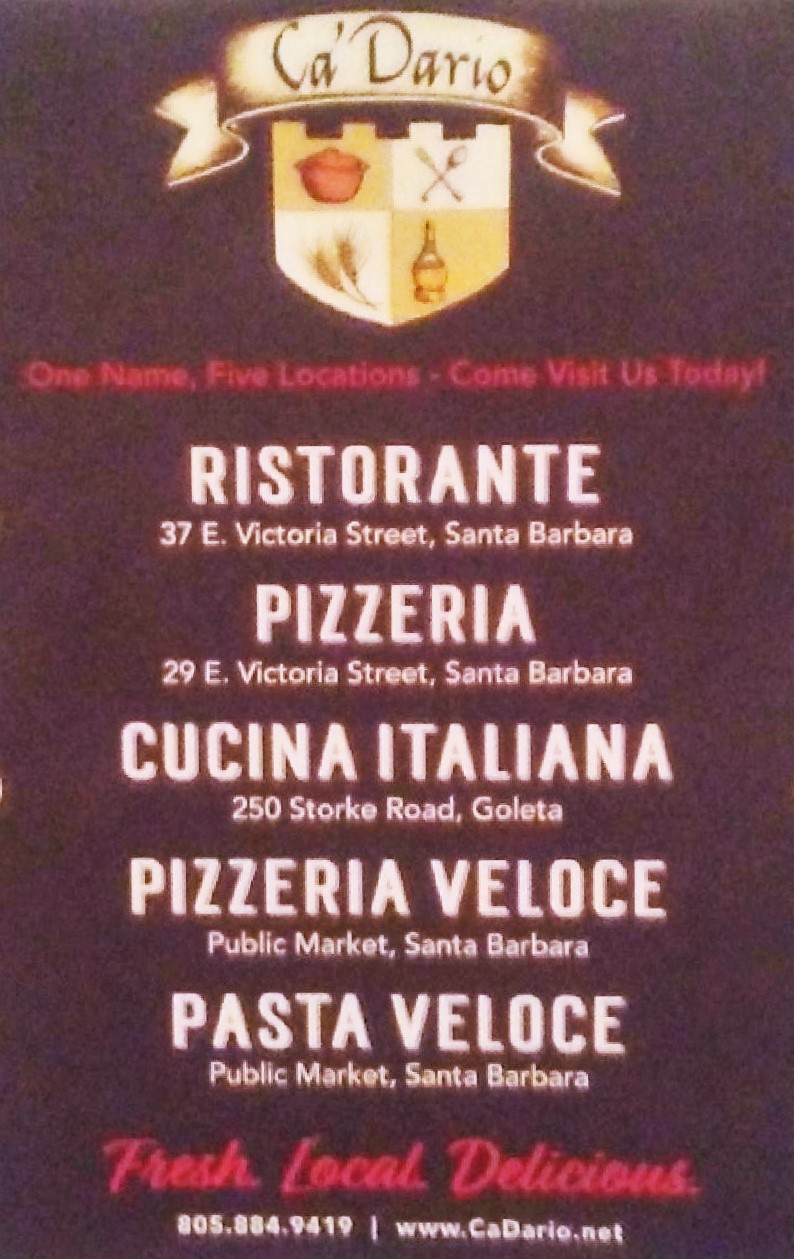 Ca'Dario Ristorante
37 E. Victoria Street
Santa Barbara, California 93101
805-884-9419
---