CULINARY COUP  .   .   .
  COASTING with BONNIE CARROLL

Some Great Santa Barbara Haunts for Summer Enjoyment
ISLANDS – HOME 0F FINE BURGERS & FAMILY FUN
Now Open at La Cumbre Plaza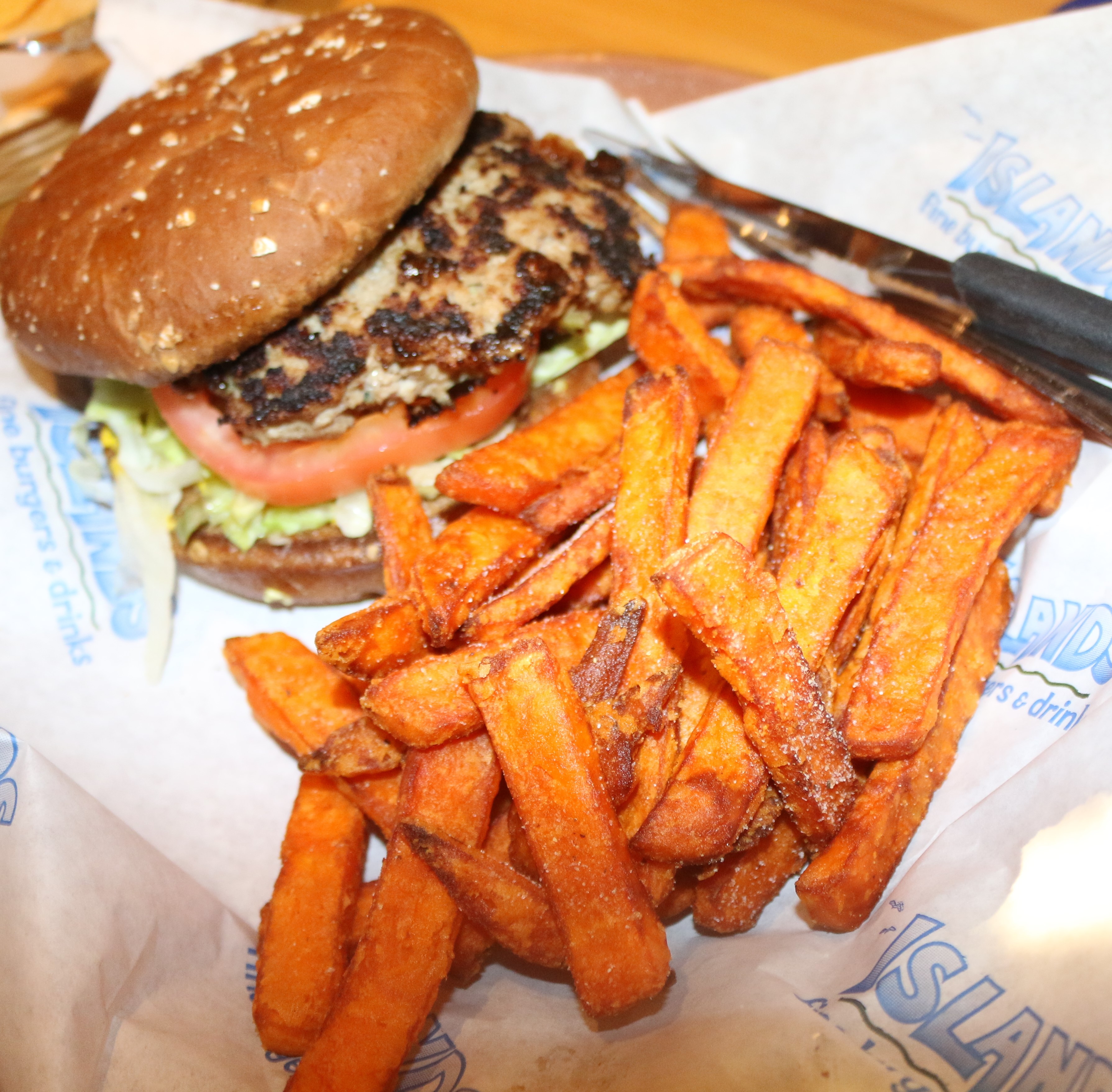 Finally a great food group that understands the needs of the Santa Barbara La Cumbre crowd. For many years this location was a beloved Red Robbin restaurant that attracted people of all ages, and was mourned when it left. Once again locals are smiling because they have a very family friendly new place to gather for fun dining moments with family members, friends and business associates.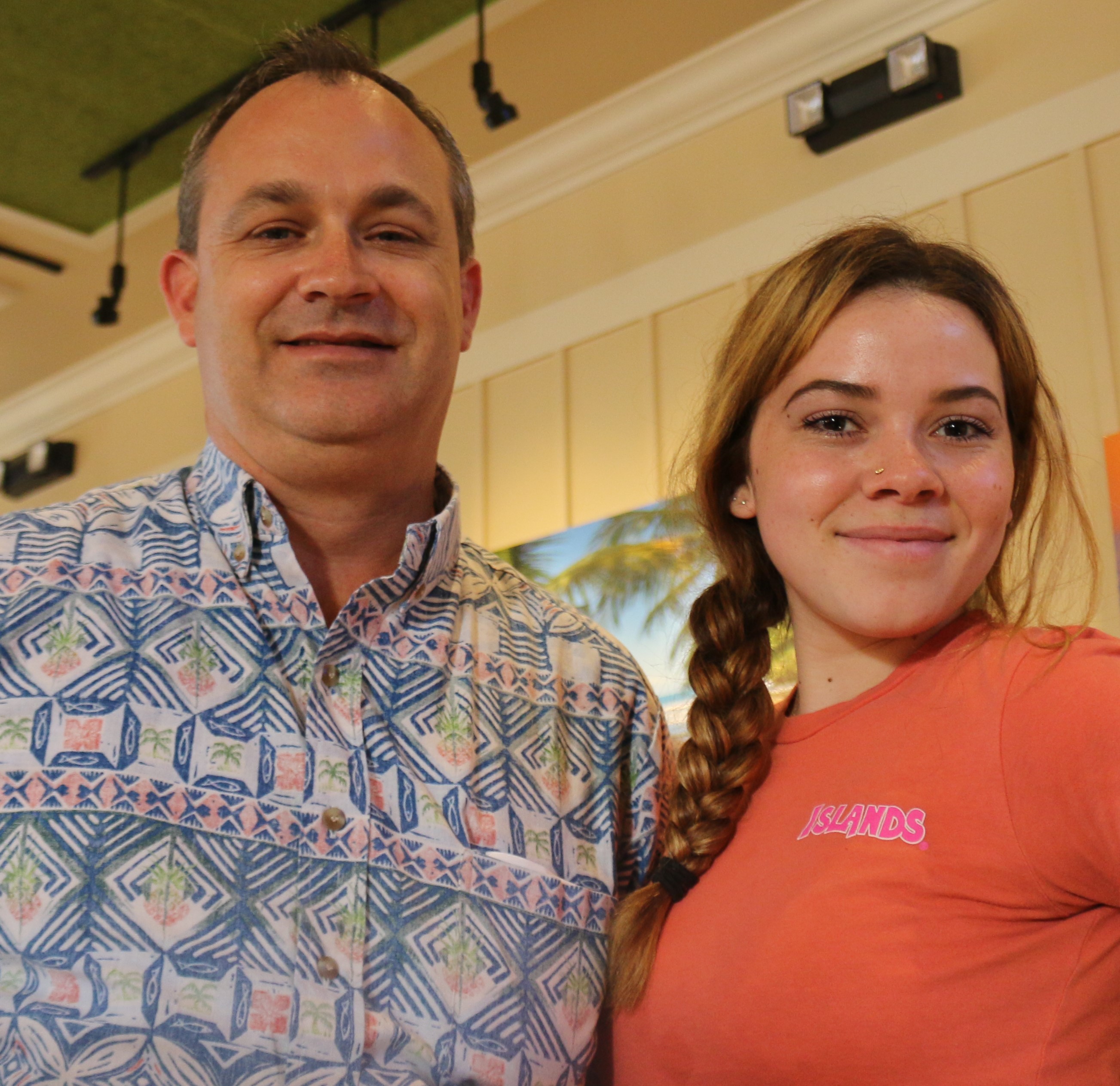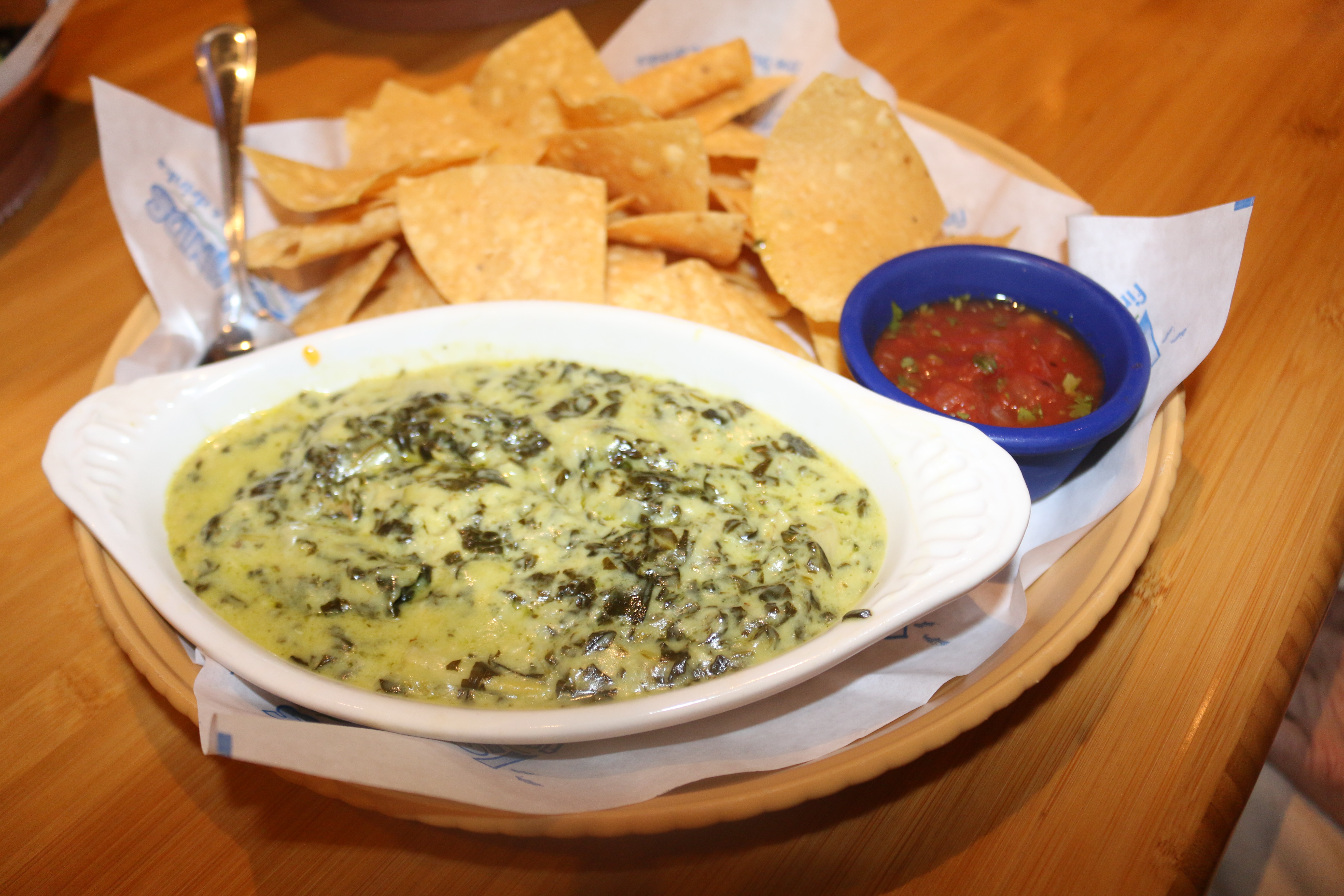 No one can dispute they have amazing burgers at Islands, especially me. I love the Big Wave Burger with their original sweet potato fries (possibly the best I've ever tasted), and the lite turkey burger will be appreciated by patrons watching their weight. From tortilla's to taco's to wraps they have it all down at Islands. Appetizers start the experience and the spinach & artichoke dip is my favorite. Salads and soups for healthy diners offer some tasteful surprises, including their unique Tortilla soup, along with a collection of delicious 'Birds of Paradise' chicken choices.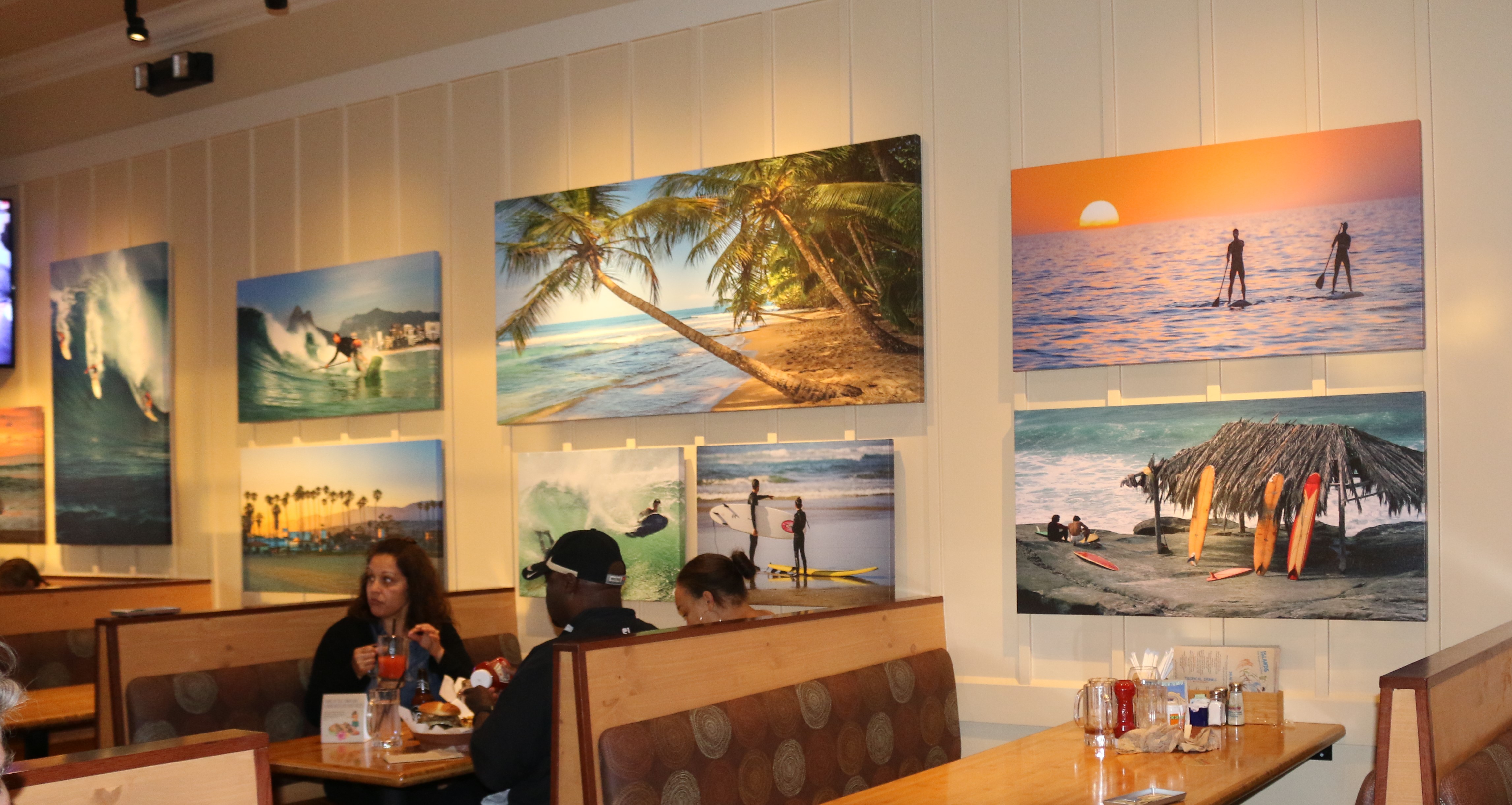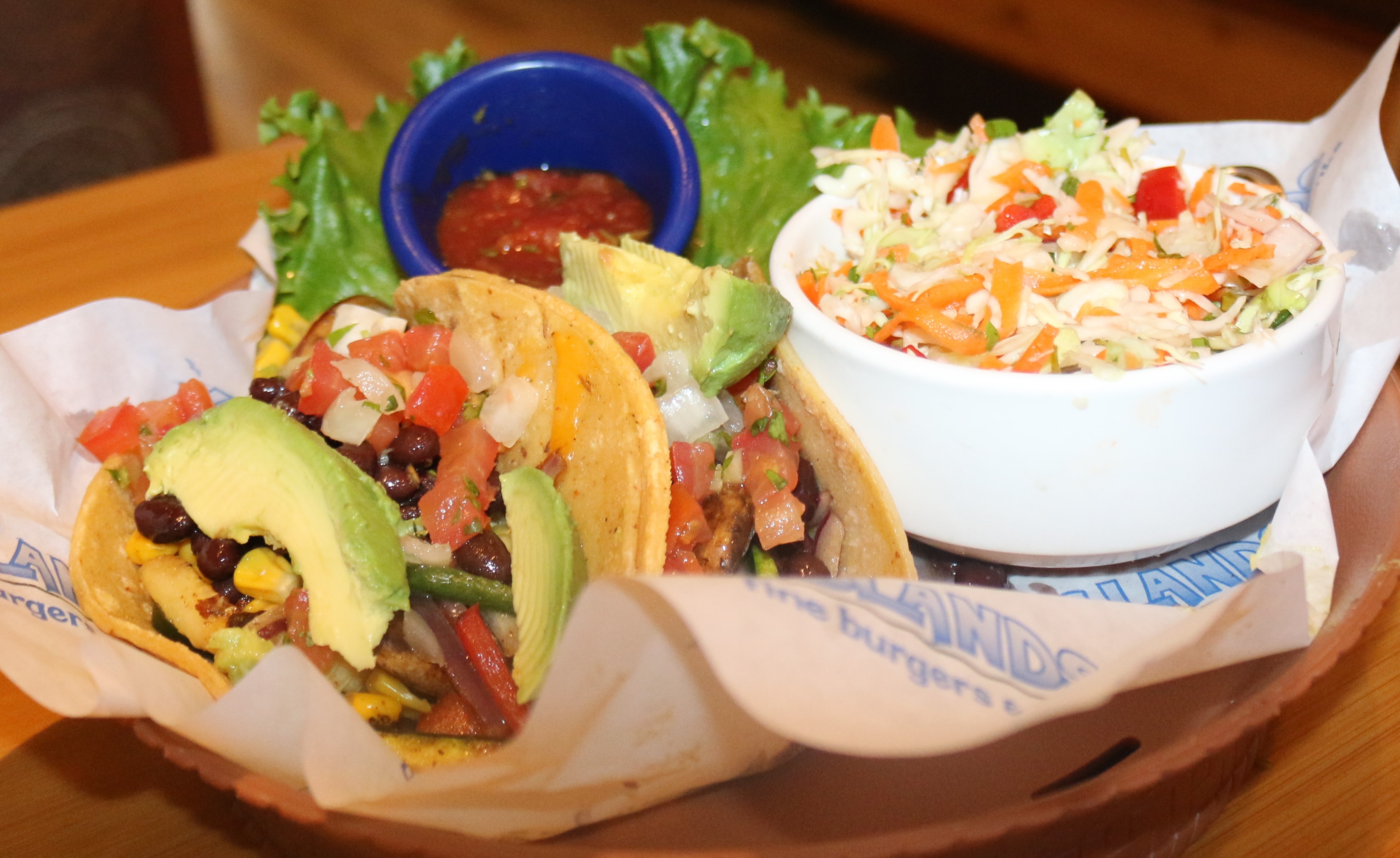 Of course, there are shakes and smoothies, a bevy of beverages (full bar available with tropical drinks) including local wines and draft beers, as well as some fantastic desserts. The chocolate lava cake is one sinful ending to a delicious and fun dinner.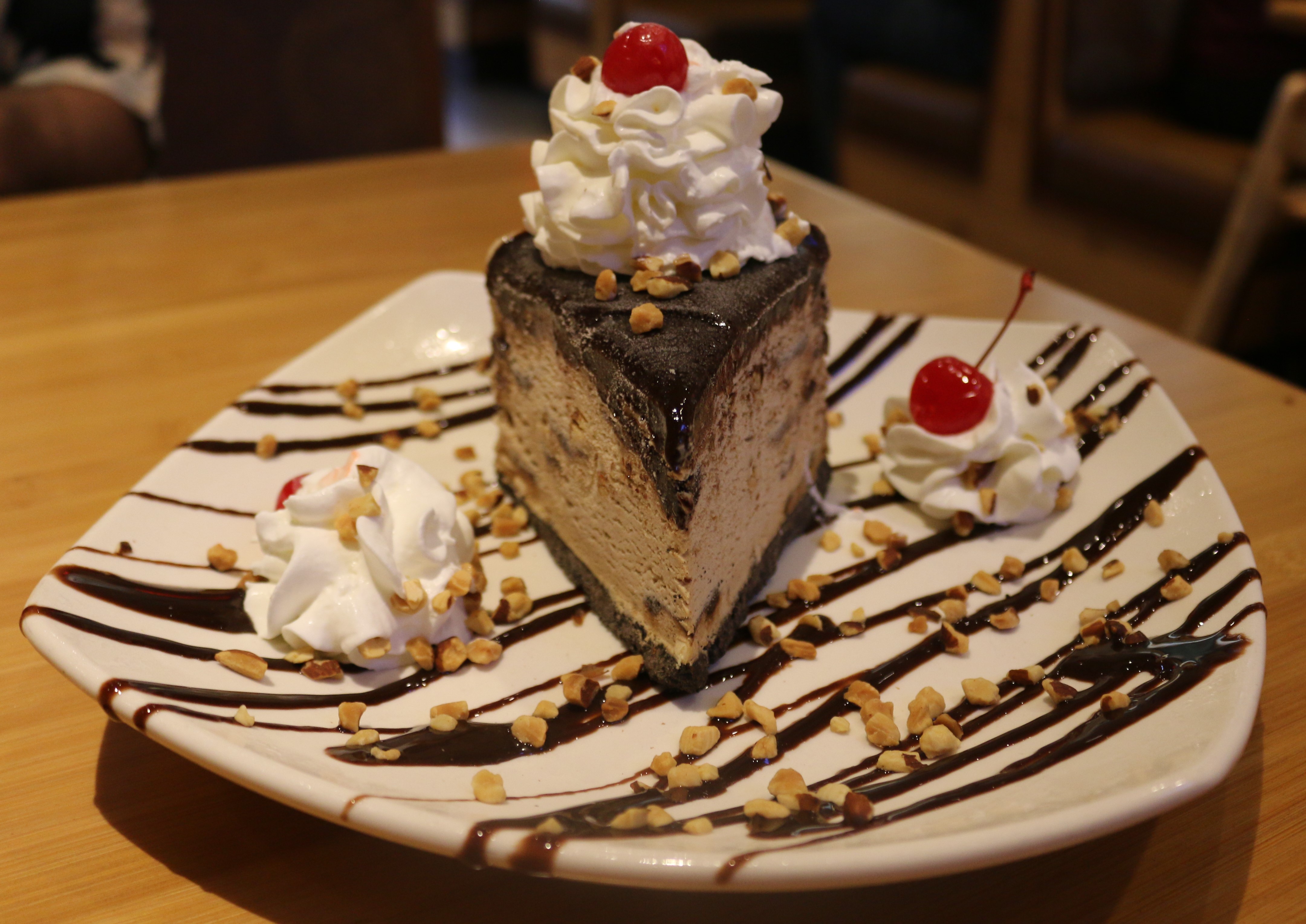 This is a fun atmosphere for families and friends of all ages to savor some great Island specials, watch their favorite games on television and just chill out! Visit: www.islandsrestaurants.com/locations/santa-barbara.com.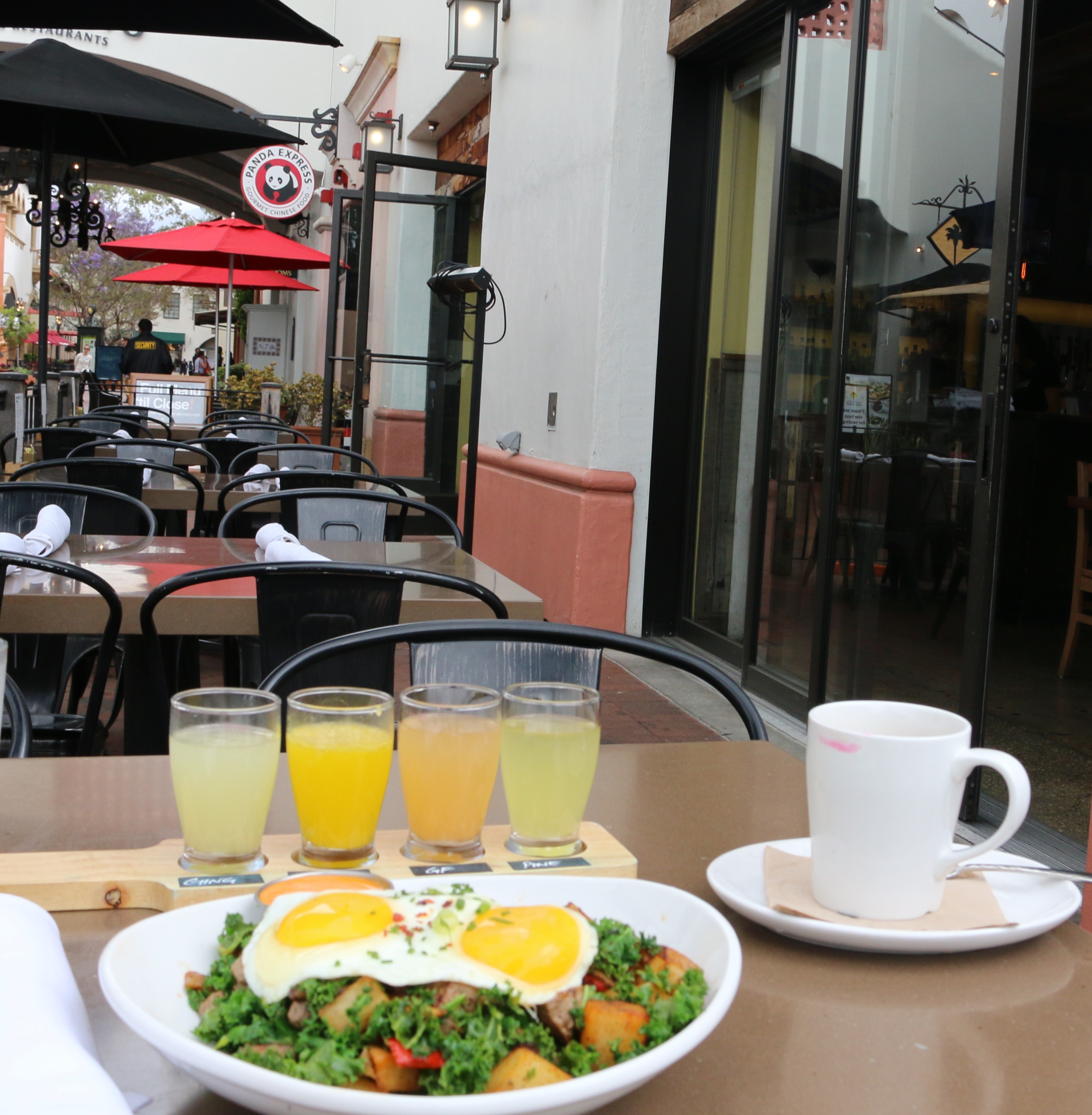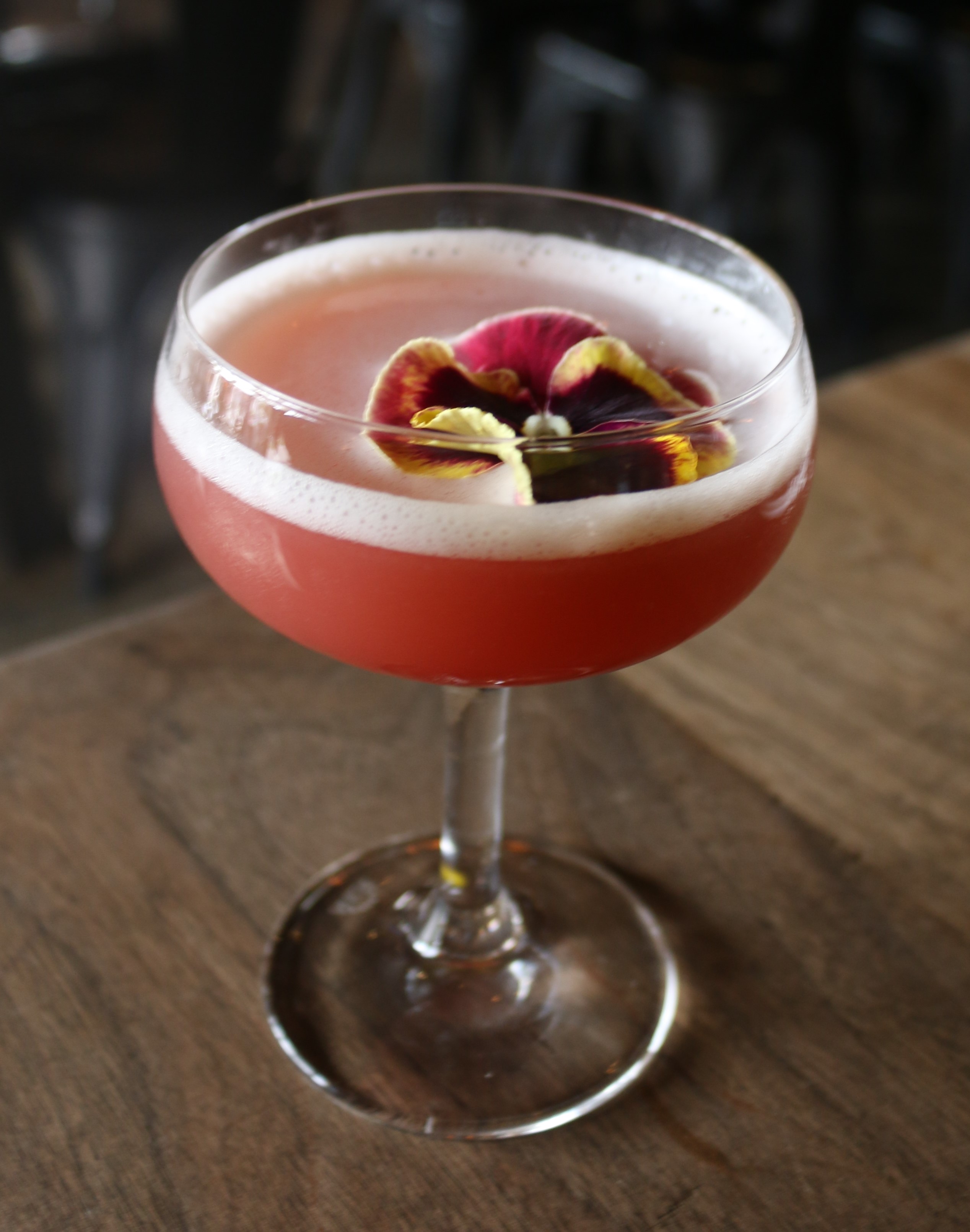 EUREKA! GREAT FOOD BEFORE OR AFTER A MOVIE
Paseo Nuevo Favorite For Film Buffs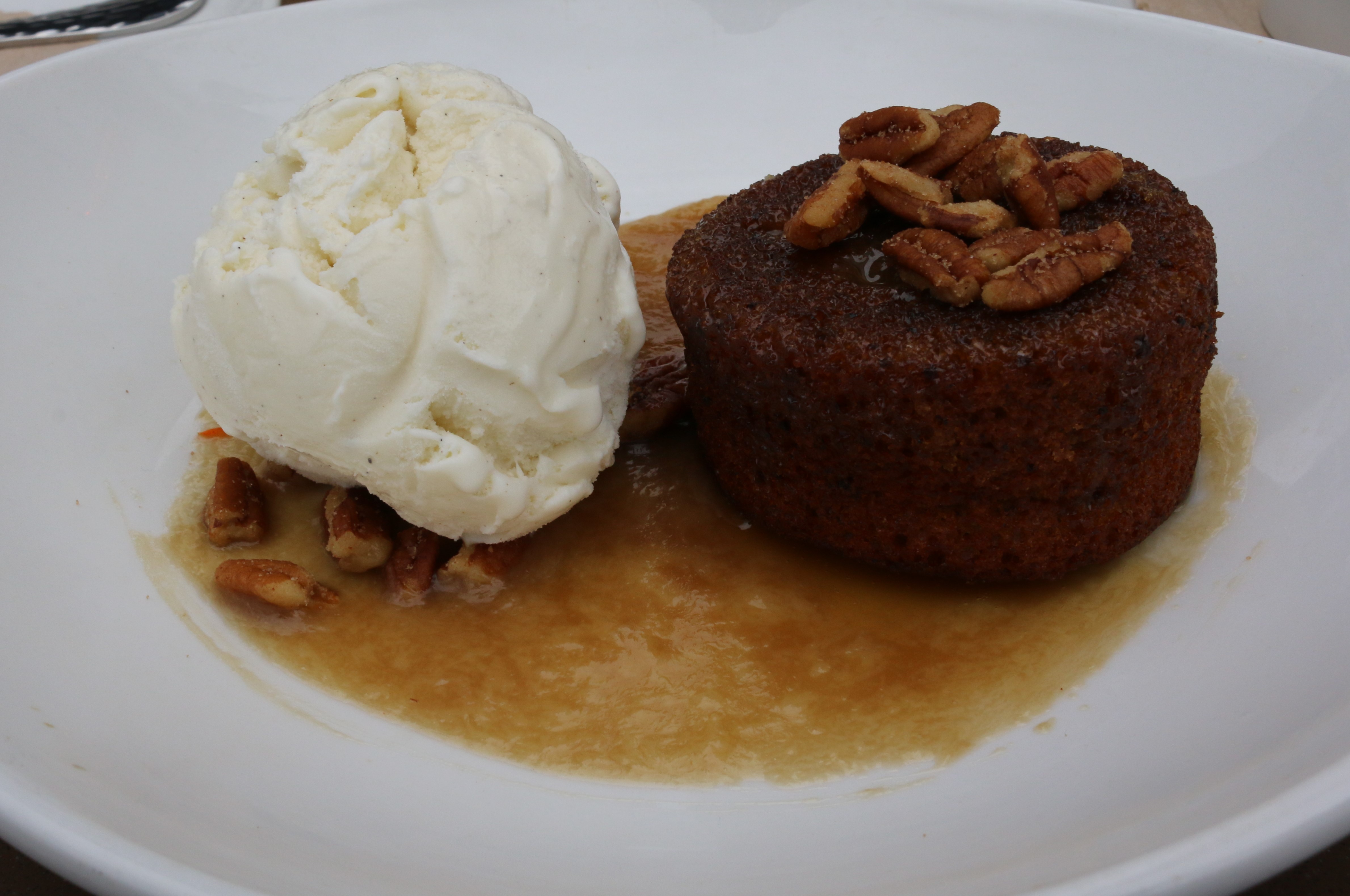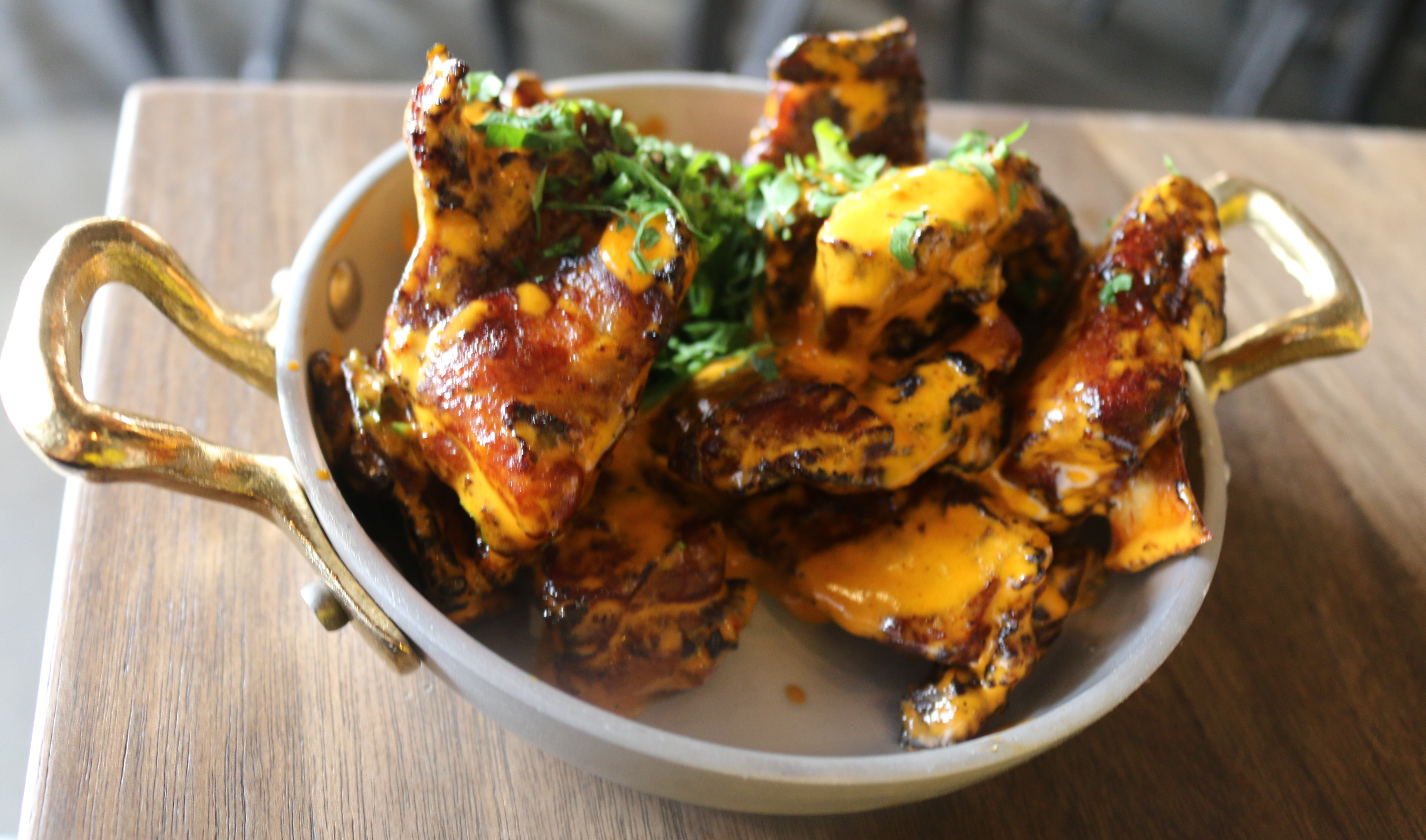 Eureka! Bourbon Cake  &  Hot Rib Appetizer
Eureka! is alive on the weekends, were couples and families stop to enjoy lunch or dinner when attending a movie at the Metropolitan Theatre. The lovely cocktails and luscious appetizers on the menu offer a nice lifht snack. Original and unique falafel, hot short ribs and shrimp ceviche are sensational starters to enjoy with a bevy of beer and ale options, wine and delicious more. General Manager Michael Kennedy and his staff aim to please. It is also a great place to relax with friends who prefer a Bloody Mary lunch, which is what you get – a salad in a glass.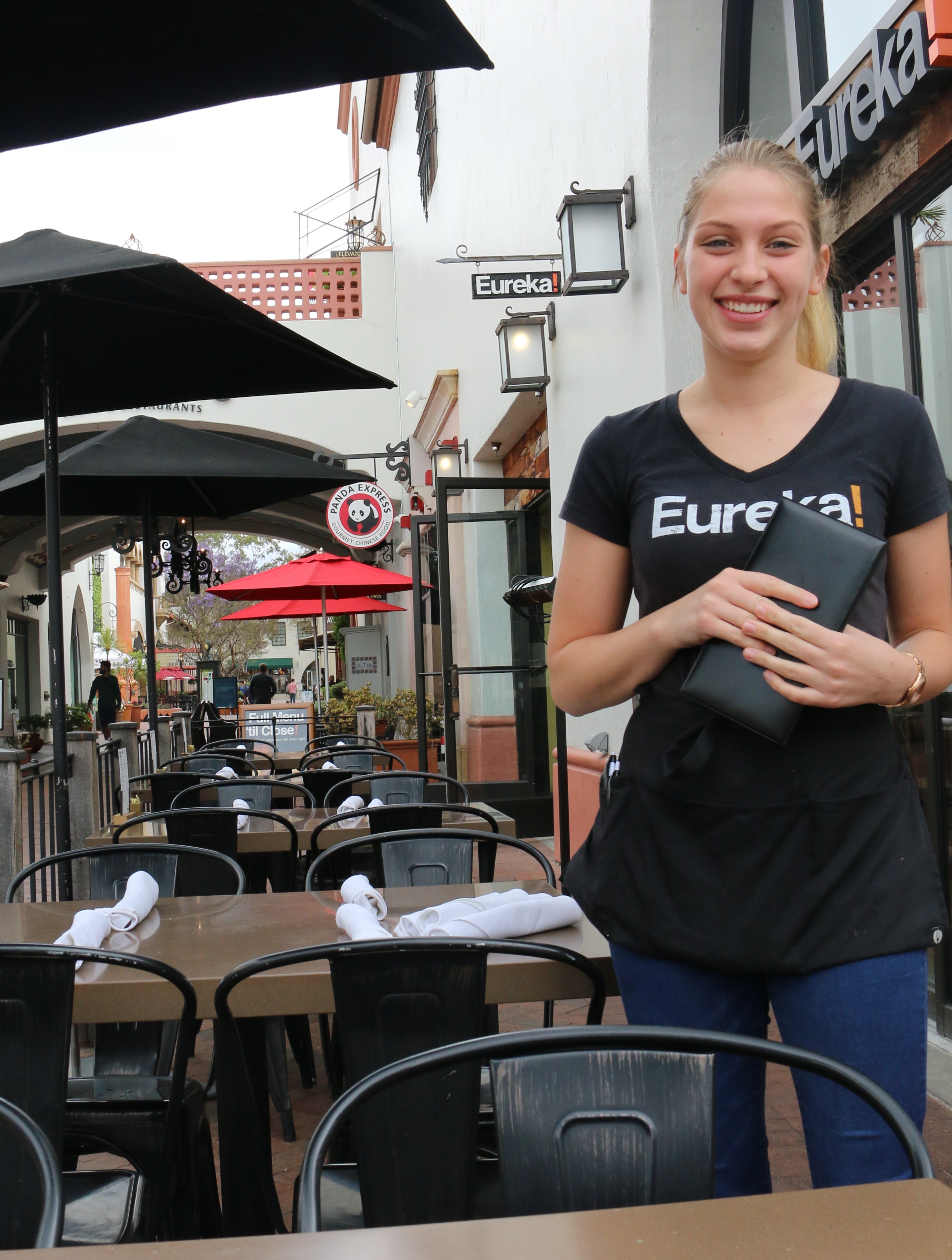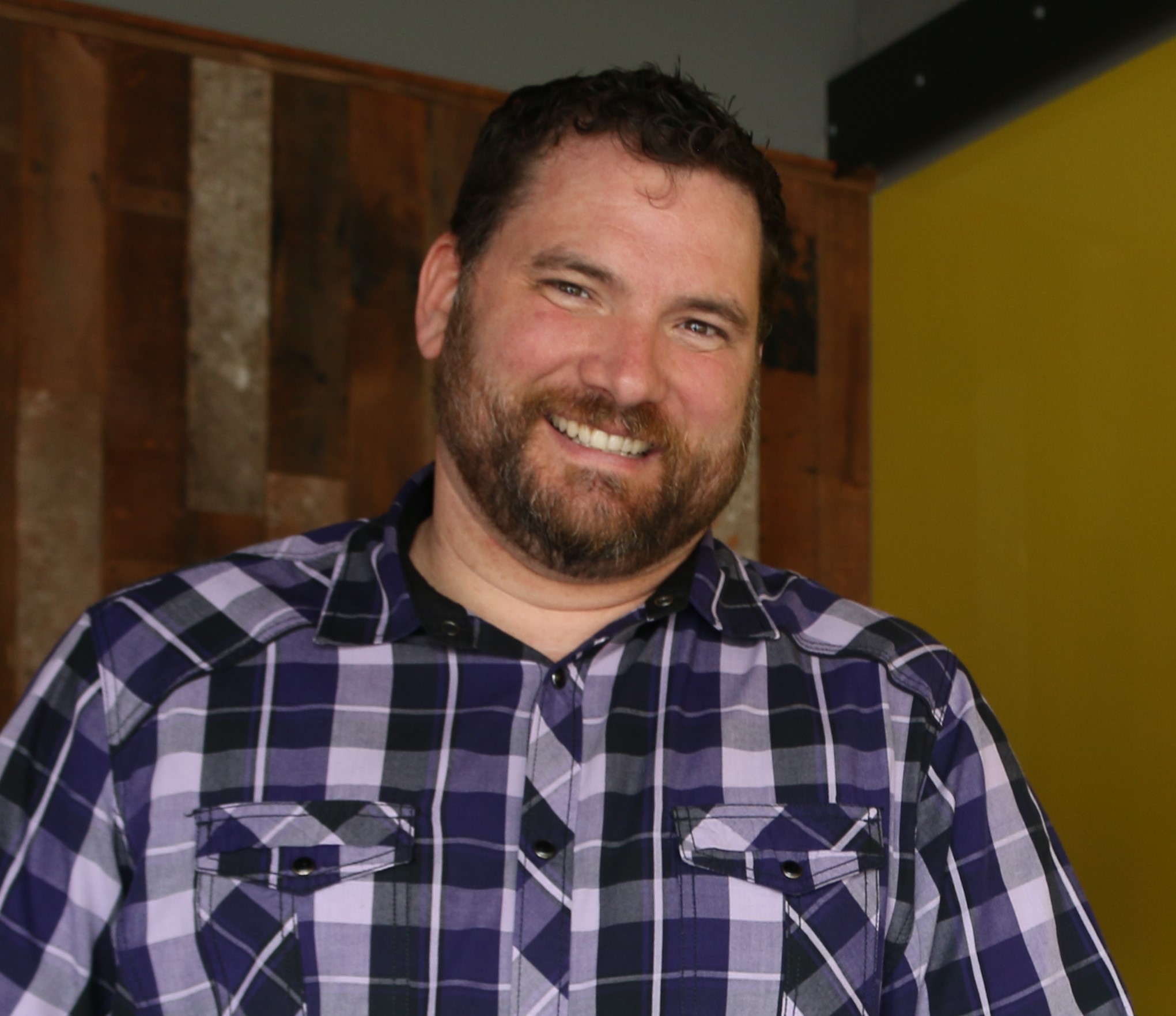 Jessica Ross  and  GM Michael Kennedy
My Perfect Mother's Day at Paseo Nuevo in Santa Barbara was a Mother's Day brunch at Eureka! complete with a MOMosa Flight paired with a steak & eggs platter covered with all you could wish for in a 'good to the last bite' brunch, and then came the bourbon cake topped with Mc Connell's ice cream that is covered with pecans and for sure a treat that any mother would have loved. Everyting at Eureka! Is delicious, and a big thank you to server Jessica Ross for the wonderful start to my special day at Eureka! Eureka has ongoing special to enjoy so go to their website and see what's cookin' at this friendly neighborhood favorite spot. For additional menu and event information visit: www.eurekarestaurantgroup.com.
____________________________________________________________________

JULY FAVORITE
California Fig Socca Flatbreads with Caramelized Onions and Blue Cheese From California Fig Advisory Board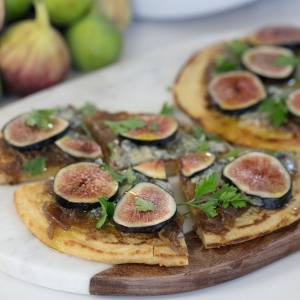 Ingredients
3 tablespoons plus 1 teaspoon extra-virgin olive oil, divided

1 large red onion, thinly sliced

1 teaspoon red or white wine vinegar

1 cup plus 1 tablespoon chickpea flour

¾ cup plus 1 tablespoon water

½ teaspoon kosher salt

2 ounces blue cheese, such as Cambazola (about ½ cup broken up into pieces)

1 heaping cup diced California Fresh Figs (about 3 figs)

1 teaspoon minced parsley
Procedure
Heat 1 tablespoon of the olive oil in a large nonstick or cast iron skillet over medium-high heat. Saute, stirring regularly, until the onions are tender, deeply browned, and caramelized. Transfer to a bowl and stir in the vinegar. Set aside. 

Put the chickpea flour, water, 1 tablespoon of the olive oil, and salt into a medium bowl and whisk vigorously until smooth. It will be similar in consistency to pancake batter. 

Set the same skillet you used to cook the onions over medium-high heat. Add 1 teaspoon of olive oil. When the oil is hot, pour ? cup of the socca batter into the pan, tilting it to help the batter spread until it's at least 5 inches across. 

When the bottom of the flatbread is golden brown and little bubbles appear across the top, 3 to 4 minutes, use a spatula to turn it over. As soon as you flip it, lay ¼ of the onions over the surface of the socca, followed by ¼ of the cheese, ¼ of the figs, and ¼ of the parsley. Cook until the bottom is brown, another minute or 2.  

Transfer to a cutting board. Repeat with the remaining batter and toppings until you have made 4 socca flatbreads. Cut each one into quarters.  

Makes four servings.
NUTRITION FACTS (per serving)
Calories 290 (% from Fat); Total Fat 17g; Saturated Fat 4.5g; Sodium 420mg; Carbohydrate 25g; Sugar 7g; Dietary Fiber 4g; Protein 9g;
___________________________________________________________________

Ca' Dario Cucina Italiana
250 Storke Street
Goleta, California 93117
Ca' Dario Ristorante

37 E. Victoria Street
Santa Barbara, California 93101
805-884-9419
---