CULINARY COUP  .  .  .
STAR FOOD TEASERS FROM WOLFGANG PUCK AT OSCARS 2018
by Bonnie Carroll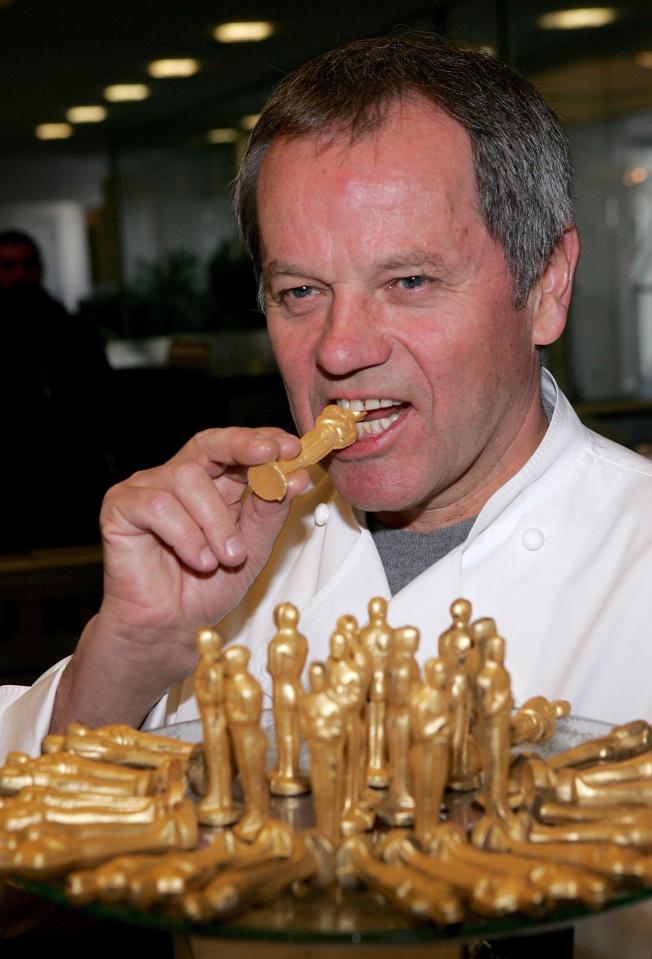 The 90th Academy Awards on Sunday 4 March at the Dolby Theatre in Los Angeles will be a big huge night for the cast and crew behind The Shape of Water, having been nominated 13 times, and Christopher Nolan's Dunkirk got eight nods. And once again, Jimmy Kimmel will return to the stage as host.
The Governor's Ball is the official post-Oscars celebration, which immediately follows the awards ceremony. It is hosted by Academy governor Lois Burwell, event producer Cheryl Cecchetto, and master chef Wolfgang Puck. It will be a world of culinary wonderment at the Governor's Ball, the official after-party of the Academy Awards, hosted in the Ray Dolby Ballroom immediately after the awards ceremony. An estimated 1,500 guests have been invited to the event, including this year's nominees and presenters. In honour of the special 90th anniversary of the awards show, the Governor's Ball is set to pay tribute to the history of cinema with original artefacts and music from every era of film.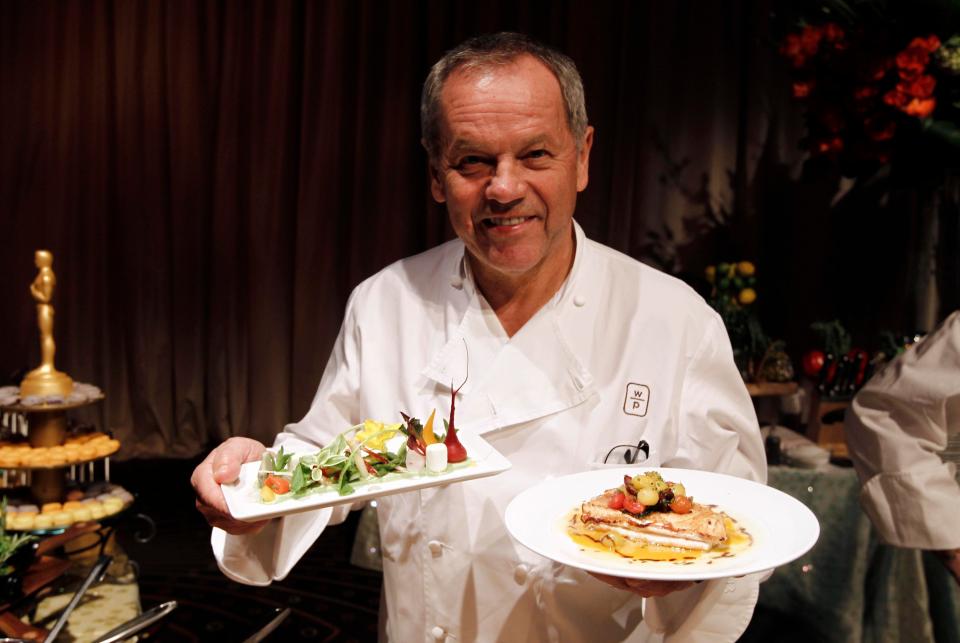 Included among the more unusual dishes Chef Puck and his staff will serve are caviar parfait dusted with 24-carat gold, caramel passionfruit lollipops. The coup de gras are always those famous chocolate Oscars – handmade by Wolfgang's team and covered in 24 carat gold dust. Meanwhile, the chef has ensured he is bringing back some of his signature dishes such as Wagyu beef sliders, pizzas and chicken pot pie, which he says is a particular favourite of Barbara Streisand. Caviar, lobster and truffles are all also on the menu for the Governor's Ball after the 90th Oscars ceremony, which is created by Wolfgang Puck each year. When the Oscar party gets started more than £1,400 bottles of Piper Heidsieck Cuvee Brut will be poured.
The menu starts with delicious nibbles such as wagyu beef tartare, puffed black rice, and spicy tuna tartare. The stars then feast into the small plates including white asparagus soup, caviar, truffle pot pie, black bass, and scallops. There is even a raw bar which has oysters, sea urchin, caviar parfait, and crab claws and legs.
As Chef Puck points out, by the time they get dinner, they've been so busy getting ready they won't have eaten all day. He said: "They might have had an espresso, a cup of tea in the morning. That was it. So they are all really hungry." Kudos to Wolfgang and his staff and congratulations to all the winners, presenters and nominees of the 2018 Oscars. Visit: www.wolfgangPuck.com, www.Oscars.org.

____________________________________________
2018 Taste of Solvang Features New Events for 26th Annual Celebration ~Tickets Now Available at www.solvangusa.com/taste-of-solvang/  

Solvang, California, USA – From Wednesday, March 14 through Sunday, March 18, 2018, visitors from near and far as well as local residents are invited to experience the 26th annual Taste of Solvang. Enjoy locally grown foods, wines, beers and diverse cuisine plus discover the rich cultural and culinary heritage of the area. The popular Taste of Solvang favorites of Friday evening's Sip +Savor (March 16 from 7:00-9:00 p.m., $45); Saturday's Tasting Trail (March 17 from 11:00 a.m-4:00 p.m., $30) and Saturday & Sunday's Wine & Beer Walk (March 17 & 18; $45) are joined by two, new 2018 Taste of Solvang exclusive events in 2018.   

 Cecco Ristorante Owner/Chef David Cecchini is coordinating the new Taste of Solvang Farmers Market Dinner. NEW on Wednesday, March 14, 2018 4:00-7:00 p.m. Taste of Solvang: Farmers Market Dinner Experience this new, family friendly farm-to-table event during the weekly Solvang Farmers Market featuring truly freshfrom-the-market ingredients prepared by Chef David Cecchini of Cecco Ristorante and Mathew Raab of Fresco Valley Café. Savor hearty seasonal stew, small bites, and dine al fresco at communal tables in Solvang Park (Mission Drive & First Street) while enjoying the sounds of the Bryan Titus Trio (bring your own beer/wine). Net proceeds benefit Santa Ynez Valley Veggie Rescue. ($15 adults, $5 children under age 12) Space is limited; reservations are required online.

K'Syrah Executive Chef Brooke Stockwell is creating the new Danish Sunday Brunch.  NEW on Sunday, March 18, 2018 11:00 a.m-2:00 p.m.  Taste of Solvang: Danish Sunday Brunch with Bottomless Mimosa OR Bloody Mary Bar OR Bottomless Coffee Created by Executive Chef Brooke Stockwell at K'Syrah Catering Events Center (478 Fourth Place) this fresh menu includes pork belly bites with real maple syrup, mini yogurt parfaits with sweet balsamic reduction, 'Aeeggkage' Danish style mini-egg frittatas with caramelized onions and gruyere; local Danishes and breads with whipped cream cheese & house made jams, organic field greens salad with Solvang Olive Co. citrus vinaigrette, home-style breakfast potatoes with farmers market vegetables, house made Danish sausages, scrambled eggs with sautéed squash, house cured and smoked lox with goat cheese mousse, pickled red onion, fried capers and micro greens on Solvang-everything bagels. Choose from EITHER bottomless Farmers Market mimosas OR bottomless "Build-Your-Own Bloody Mary Bar" featuring American Star Vodka from Ascendant Spirits OR bottomless coffee. ($65 with alcohol—be 21 years of age +; or $50 with coffee). Space is limited; reservations are required.

The signature Taste of Solvang Weekend Passport all for only $110 per person, includes tickets to Sip + Savor Opening Night with VIP Access,  Saturday's Tasting Trail and the two-day Saturday & Sunday Wine & Beer Walk; as well as souvenir wine glass, collectible  item, map, and tote bag. Individual event tickets are also available ala carte. All events are rain or shine and tickets are non-refundable. Advance purchases of passports or ala carte tickets are highly recommended online at www.solvangusa.com/taste-of-solvang/ 
The 2018 Taste of Solvang is presented by the Solvang Conference & Visitors Bureau, produced by Cultivate Events with sponsorship support from Visit Santa Ynez Valley and City of Solvang.  
For more information about lodging, dining and attractions year-round in Solvang visit www.SolvangUSA.com 


__________________________________________________________________
AMAZON & WHOLE FOODS OFFER TWO HOUR DELIVERY
Amazon and Whole Foods Market are introducing free two-hour delivery of groceries from Whole Foods Market to customers with an Amazon Prime membership in Austin, Cincinnati, Dallas and Virginia Beach. The companies plan to expand the service across the United States in 2018.
Customers with a Prime membership may shop thousands of items across the categories of produce, bakery, dairy, meat and seafood and everyday staples from Whole Foods Market at primenow.com or through the Prime Now app. Prime members receive free two-hour delivery or delivery within an hour for $7.99 on orders of $35 or more.
Digital collided with brick and mortar last August when Amazon finalized its $13.7 billion acquisition of Whole Foods Market. That same day, Whole Foods Market lowered the prices of some best-selling grocery staples across its stores. Since then, the companies have introduced Amazon lockers in Whole Foods Market stores. Customers may have products shipped from Amazon.com to a local Whole Foods store for pickup, or consumers may send returns back to Amazon via the lockers.
"We're happy to bring our customers the convenience of free two-hour delivery through Prime Now and access to thousands of natural and organic groceries and locally sourced favorites," said John Mackey, co-founder and chief executive officer of Whole Foods Market. "Together, we have already lowered prices on many items, and this offering makes Prime customers' lives even easier."